Want a classic turkey day with family all gathered around a dining room table? Take inspiration from the Classic Thanksgiving dinner menu featuring an herb-brined roast turkey. Want to host a more upscale dinner and serve classics with a twist? Serve the "get fancy" menu. Want to add a punch of flavor to the feast? Go with the "Out-of-the-box" Thanksgiving dinner menu which combines classic preparations with some more unique flavor inspiration like the chili rubbed turkey with orange. Opting for a "Friendsgiving" potluck this year instead of a larger family gathering? Check out some inspiration for easy and unique dishes to bring to your Friendsgiving. Trade a whole turkey for a more manageable turkey breast roulade or stuffed pumpkins.
Ultimate CWCR Thanksgiving Recipe Roundup
These Thanksgiving recipes are timeless for a reason. They are the tried and true ones my family turns to year after year. While brining the turkey takes a bit of planning and prep work, the tender, juicy meat is well worth it!
I start the feast with a Butternut Squash Soup with Maple Cream. The Herb Brined Turkey is served with Garlic Mashed Potatoes, Honey-Glazed Roasted Carrots, Buttermilk Biscuits. The meal is followed by Apple Crisp topped with lots of vanilla ice cream for dessert.
For classic Thanksgiving décor decorate the table with intertwined eucalyptus branches (I also like to use willow, silver dollar and true blue) and small candles on a wood table with a simple table-runner.
This colorful Thanksgiving dinner spread features a turkey made with a unique preparation called – "sous vide" to slowly cook the meat at a precise temperature. Start the feast with a brightly-colored Fall Roasted Squash Salad with Yogurt-Tahini Dressing. The Turkey is served alongside Roasted Acorn Squash with Sage and Brussels Sprouts Gratin topped off with a Sweet Potato Pie with Meringue Topping.
Try decorating your table with simple, monochrome garnishes to let the vibrant dishes shine. Think white mini pumpkins lining the table with candlesticks, white dishes, white napkins and gold silverware.
Starting with an appetizer of Pancetta and Toasted Breadcrumbs, this menu stars a flavorful Chili-rubbed Turkey with Orange and is served alongside unique dishes like Roasted Garlic Cauliflower Soup, Whipped Sweet Potatoes with Gorgonzola & Walnuts and Cheesy Mushroom and Kale Strata with Brioche. Finish with a German Almond-Apple Butter Cake for dessert with coffee.
Add bright and colorful elements to the table with fruits like pomegranates and flowers like dahlias or chrysanthemums. They provide shades of red and orange which can be filled in with vibrant green branches. Add small sprigs of sage or rosemary above the silverware on the napkins and also above the plates.
Since "Friendsgiving" is typically a potluck. don't let anyone take on the daunting task of roasting a turkey for everyone. That job is stressful (and expensive) for one person to do themselves! Instead opt to incorporate turkey in different ways.
Use a whole turkey breast and make Turkey Roulades with Sausage Cornbread Stuffing, or use ground turkey which is easy to buy and on the cheaper side for recipes like Mini Thanksgiving Turkey & Cranberry Pot Pies, Thanksgiving Turkey Meatballs with Gravy & Red Wine Cranberry Sauce, or Ground Turkey & Brown Butter Sage Stuffing Filled Mini Pumpkins. For a super simple side (read, foolproof for those who don't cook except for the holidays) opt for the Roasted Balsamic Brussels Sprouts with Bacon.
As for the Thanksgiving table décor, keep it simple for easy cleanup – choose an assortment of mix-and-match china. To ensure that there are enough place settings for everyone, ask for volunteers to each bring several or opt for sustainable single use plates like the bamboo ones found here. One year we went with kids Thanksgiving placemats and crayons on the table for a nostalgic feel.
A Few Other Thanksgiving Recipe Ideas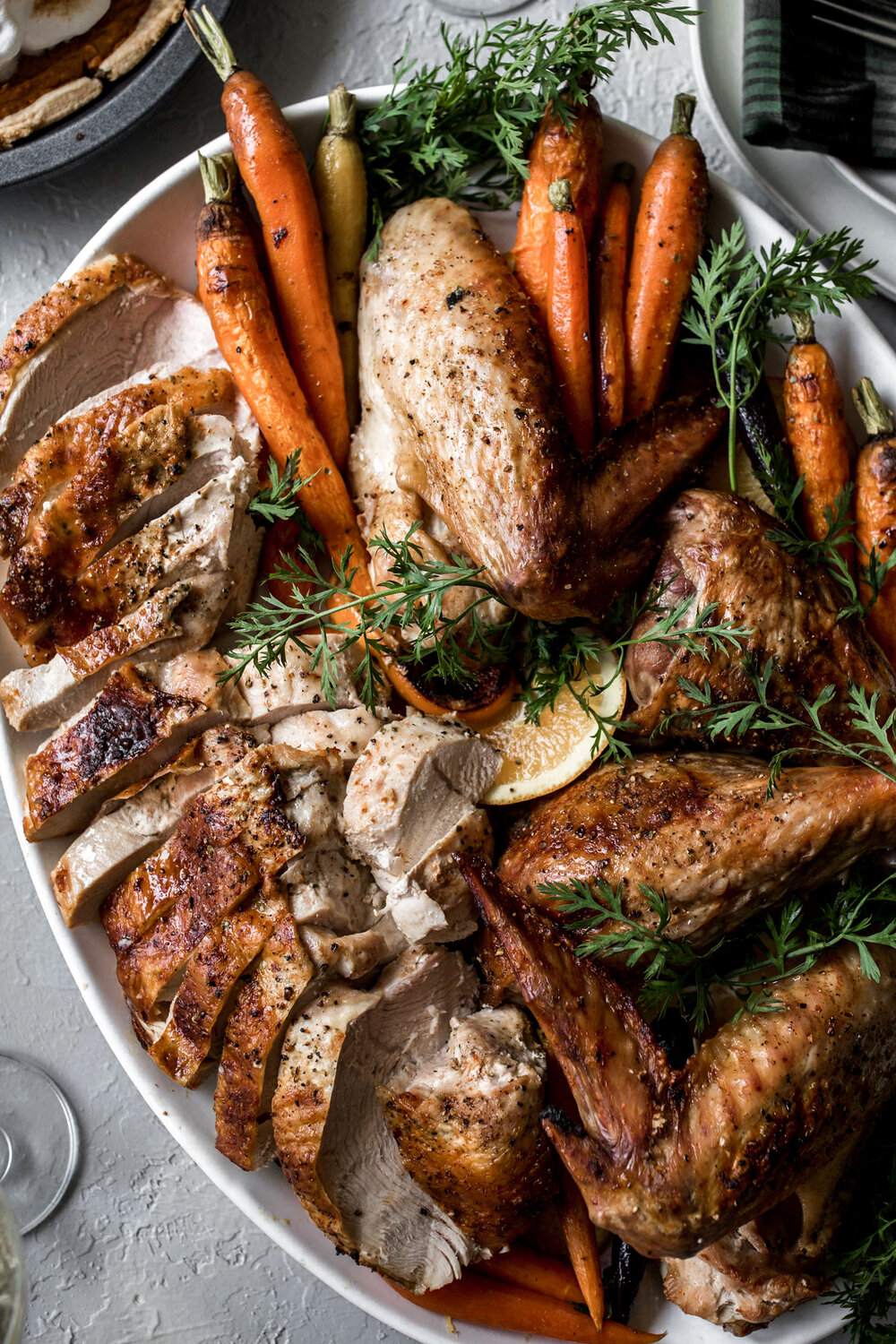 Check out some of my Thanksgiving hosting tips here! No matter the menu I love to go around the table and share what I'm thankful for! This year I am thankful for all of you reading this post and for all the others on my site – thank you for enabling me to do what I love every day.