Look no further for the best apple crisp recipe! Slices of honeycrisp apples are tossed in a cinnamon sugar mixture and sprinkled with oat topping and baked until crisp on top. I find it impossible to resist eating the sugary oatmeal crumble off the top of the dessert before, during and after cooking it!
Apples are one of my favorites when it comes to fall produce. My family always goes apple picking one weekend during fall and we make sure we bring my brother, who is 6'4" with us so he can pick the apples that no one else can get to. That way we end up with the best ones. My Nana always makes this easy apple crisp recipe, my favorite fall dessert, with the apples we bring home. She is the only one who is patient enough to peel all of the apples.
Apple Crisp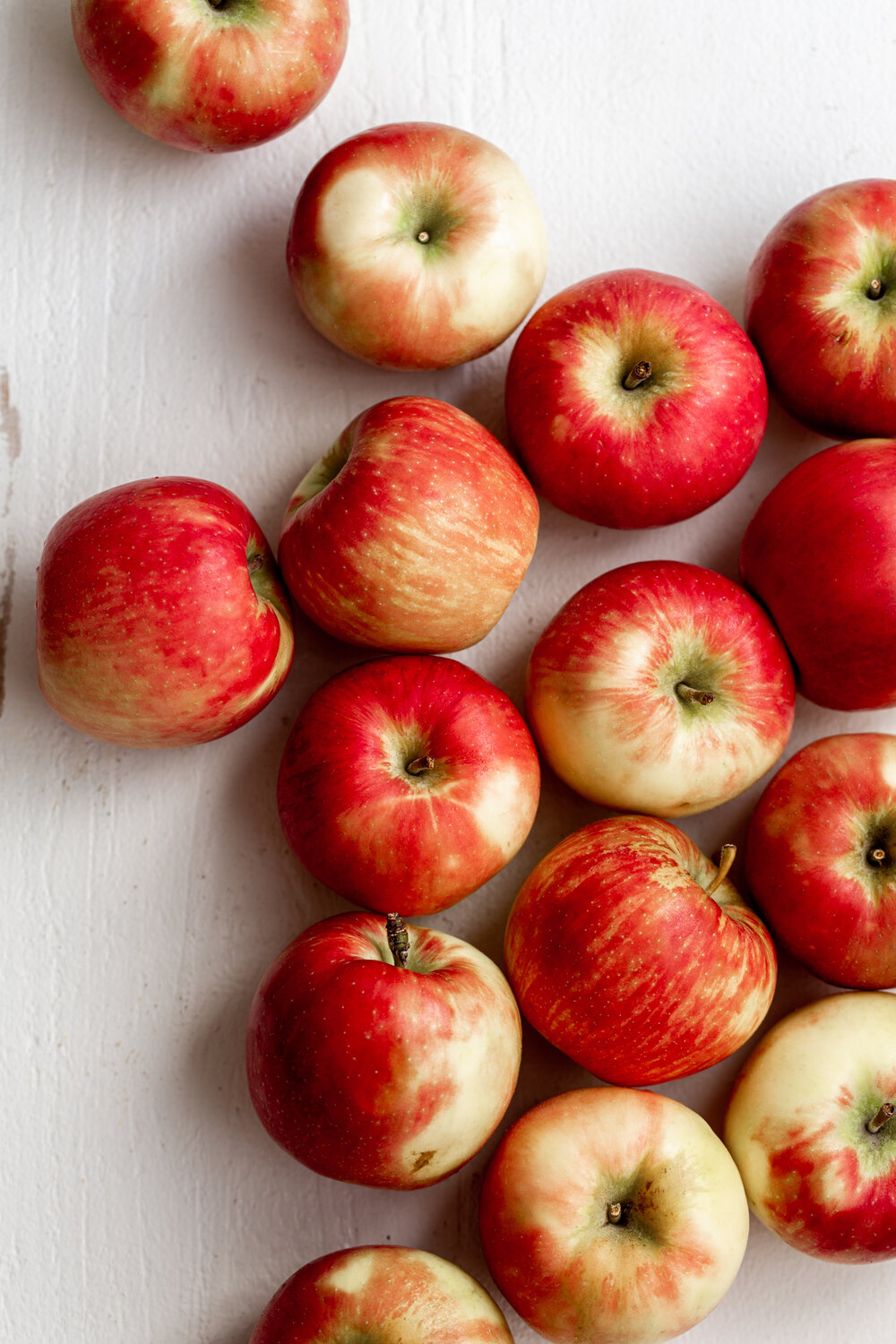 What Apples Should I Use For Baking?
You can't generalize apples when it comes to baking. Not all varieties of apples will create the same dessert.
While any semi-sweet apple will work, I chose honeycrisp apples. While they are also great just for eating they are just as great for baking. They are easy to find, very sweet and their crisp texture holds up as the apples bake in the apple crisp.
If honeycrisp apples aren't available, Golden delicious, McIntosh, Cortland or Jonathan apples are good alternatives. Tart apples like granny smith are also great for baking because they offset the added sugar though using too many can be overpowering. Try using a few of them mixed with another variety rather than all granny smith.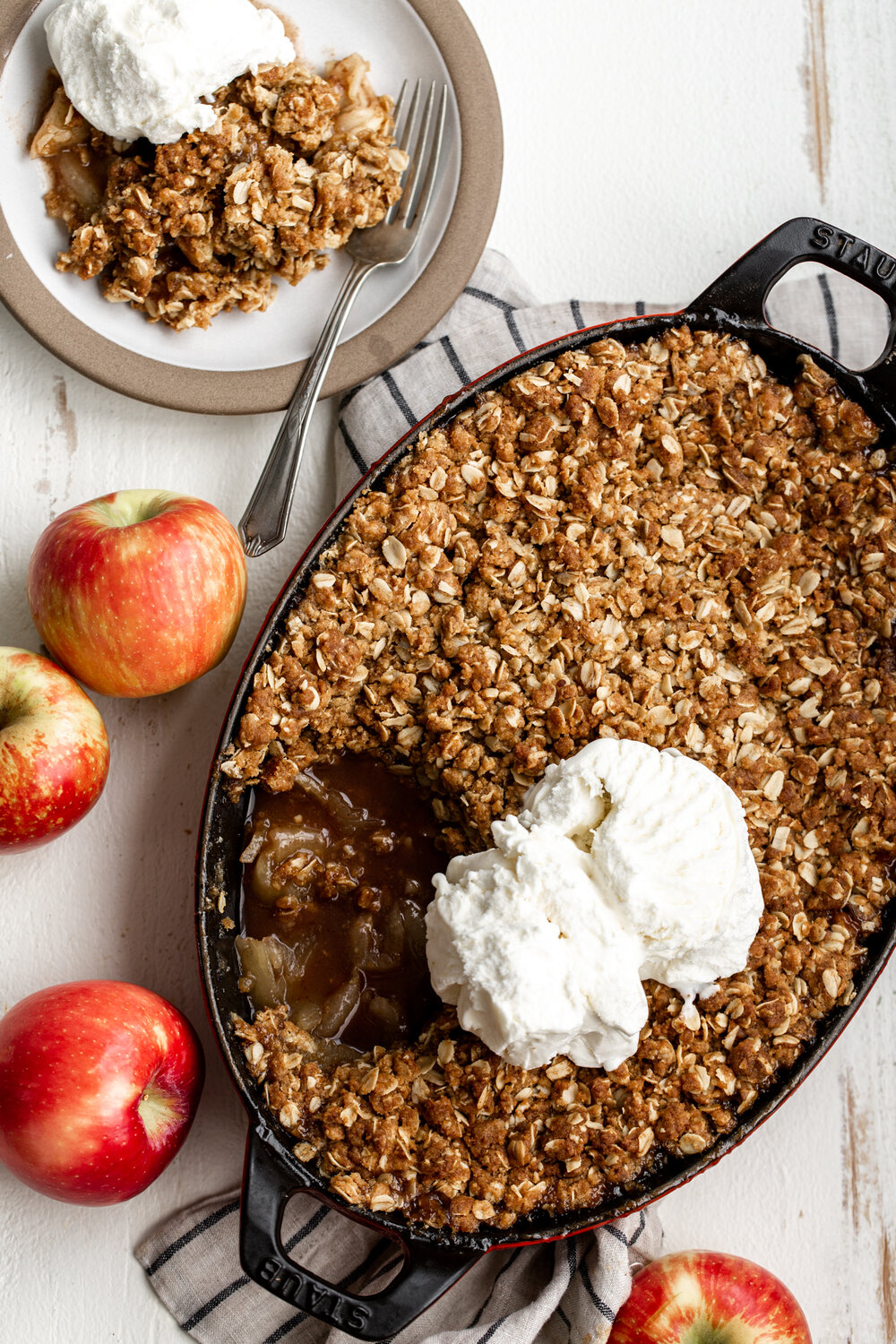 Key Ingredients in This Recipe
Apples – When buying apples look for unblemished and unbruised apples. They last about 5 to 7 days on the counter and about 3 weeks in a pantry (or another cool, dark place).
Oats – I use old-fashioned also called rolled oats in this recipe. They absorb more liquid and cook faster than steel-cut oats and add the perfect texture to this oat topping.
Brown sugar – I use dark brown sugar in this recipe which refers to the amount of molasses in the sugar. Dark brown sugar contains about 6.5% molasses (in comparison to 3.5% in light brown sugar). Be sure to tightly pack the brown sugar in a measuring cup to get an accurate measurement.
Flour – The flour is used to bind together the apple crisp topping with the oats, butter and sugar as well as adding body to the apple filling.
How to Make Apple Crisp
Step 1: Make the apple filling.
Preheat the oven to 350°F (180ºC). Add the apples to a large bowl. Add apples to a large bowl. Pour the granulated sugar, 2 tablespoons (16g) of flour and cinnamon over the apples and toss until all the slices are evenly coated.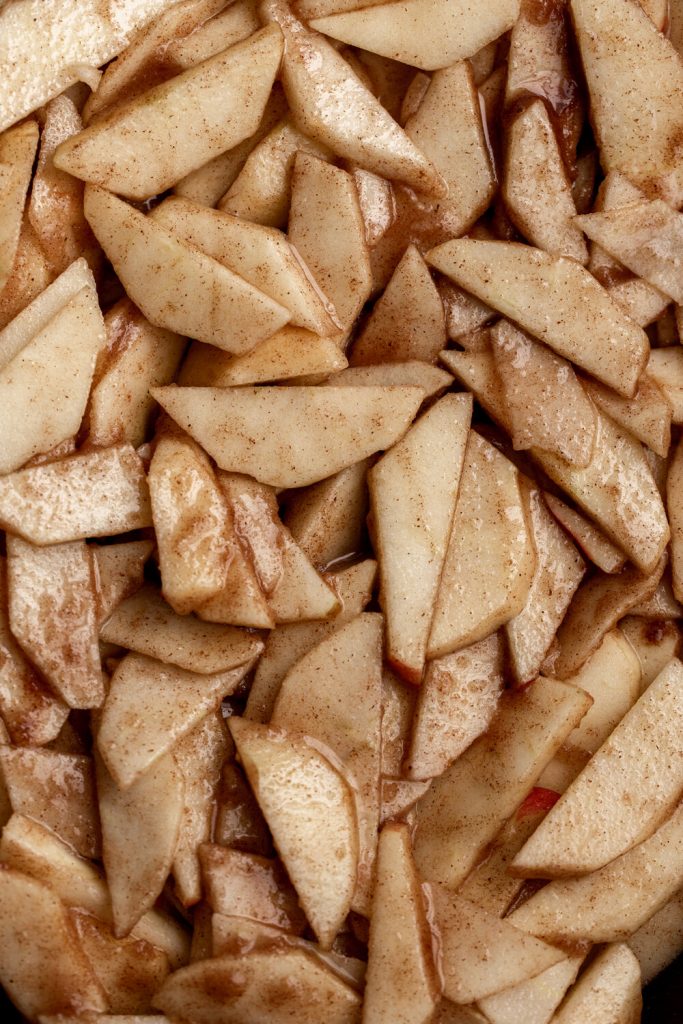 Step 2: Arrange the apples in the pan.
Spread the apple mixture evenly in a 9 x 13" glass baking dish or another similar size pan. Pour ¼ cup water evenly over the top gently moving the apples around in the pan to coat them. This helps to keep the mixture moist.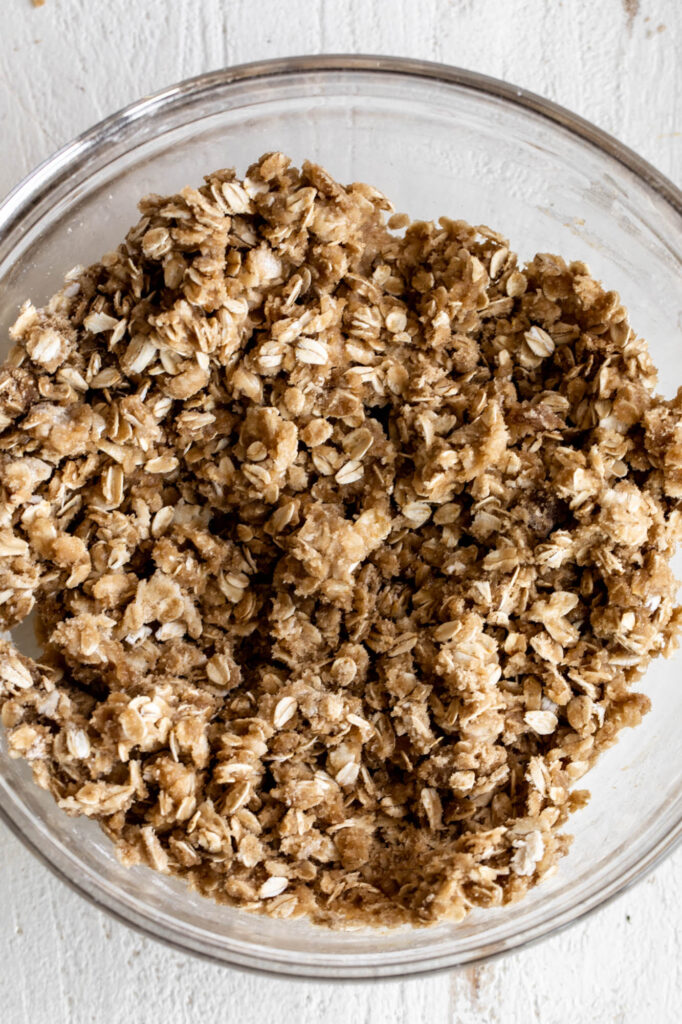 Step 3: Make the oat topping.
In a medium mixing bowl combine the oats, remaining cup of flour, brown sugar, melted butter, baking powder and baking soda together.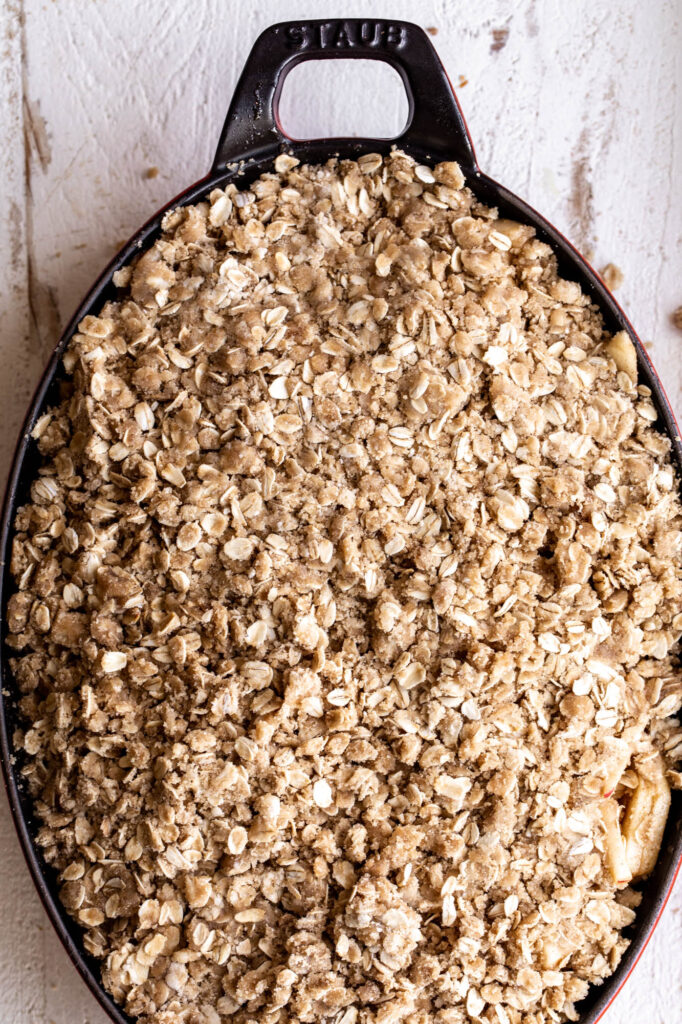 Step 4: Bake the apple crisp.
Crumble the oat topping evenly over the apple mixture. Bake the crisp until the top of the apple crisp is golden brown, about 50 to 60 minutes.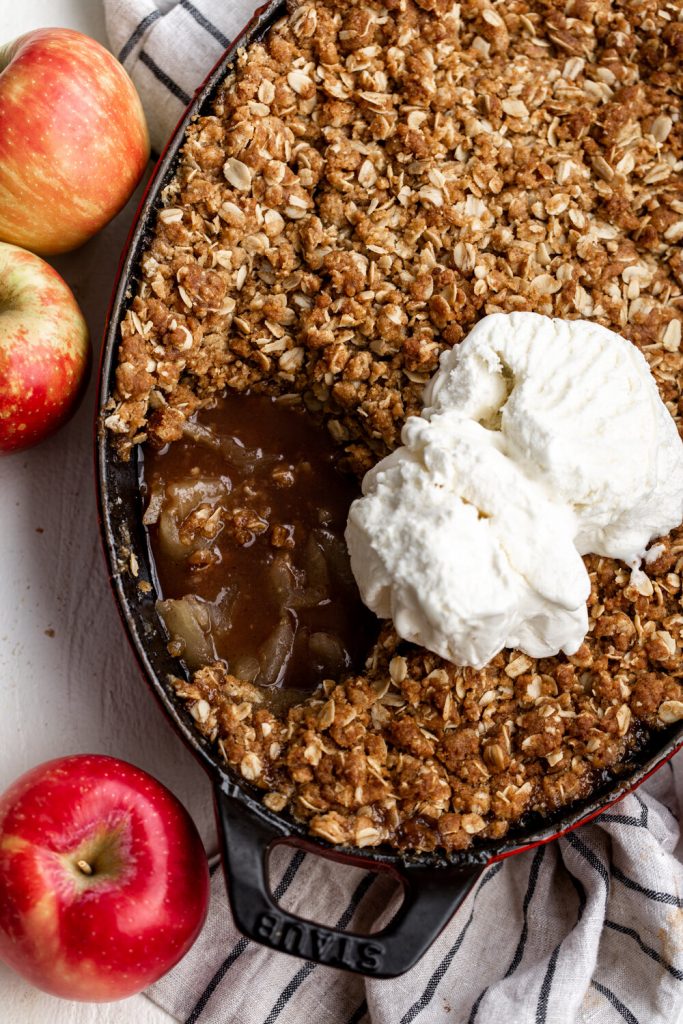 Step 5: Serve.
Let cool for about 10 minutes. Slice the warm apple crisp into squares and use a spatula to scoop into bowls topped with vanilla ice cream. Serve warm.
Tips and Tricks for This Recipe
How to Tell How Many Apples Are Needed For This Recipe
The size of apples can vary. In this recipe 10 cups of apples are needed.
1 medium apple (about 2½" across) equals about 1⅓ cups sliced.
There are about 4 medium apples are in 1 pound.
Preparing the Apple Mixture
To prevent the apples from turning brown after or as cutting, prepare a water bath. Add the apples to a ratio of 1 tablespoon of lemon juice to every 1 cup of water. Soak them as you finish cutting the apples then drain and dry the apples before making the filling.
Serving Suggestions
Let the apple crisp cool for about 10 minutes before serving. By letting it cool prior to slicing the crisp the filling has time to set so it stays together better.
Serve this fall dessert on its own or topped with a scoop of vanilla ice cream. If you're a little more adventurous try serving with salted caramel or buttermilk-based ice cream instead. I like to serve each portion with about 1/2 cup of ice cream.
Many people like pairing apple pie with slices of sharp Cheddar cheese. The salty cheese also complements apple crisp!
How to Store Leftover Apple Crisp
Apple crisp can sit covered with aluminum foil or plastic wrap at room temperature for 2 days or refrigerated for up to 5 days.
To reheat you can either microwave individual portions or reheat in the oven. The syrup that develops from the apple filling will make the oat topping soggy when it sits over time but broiling the top will help to crisp it up again.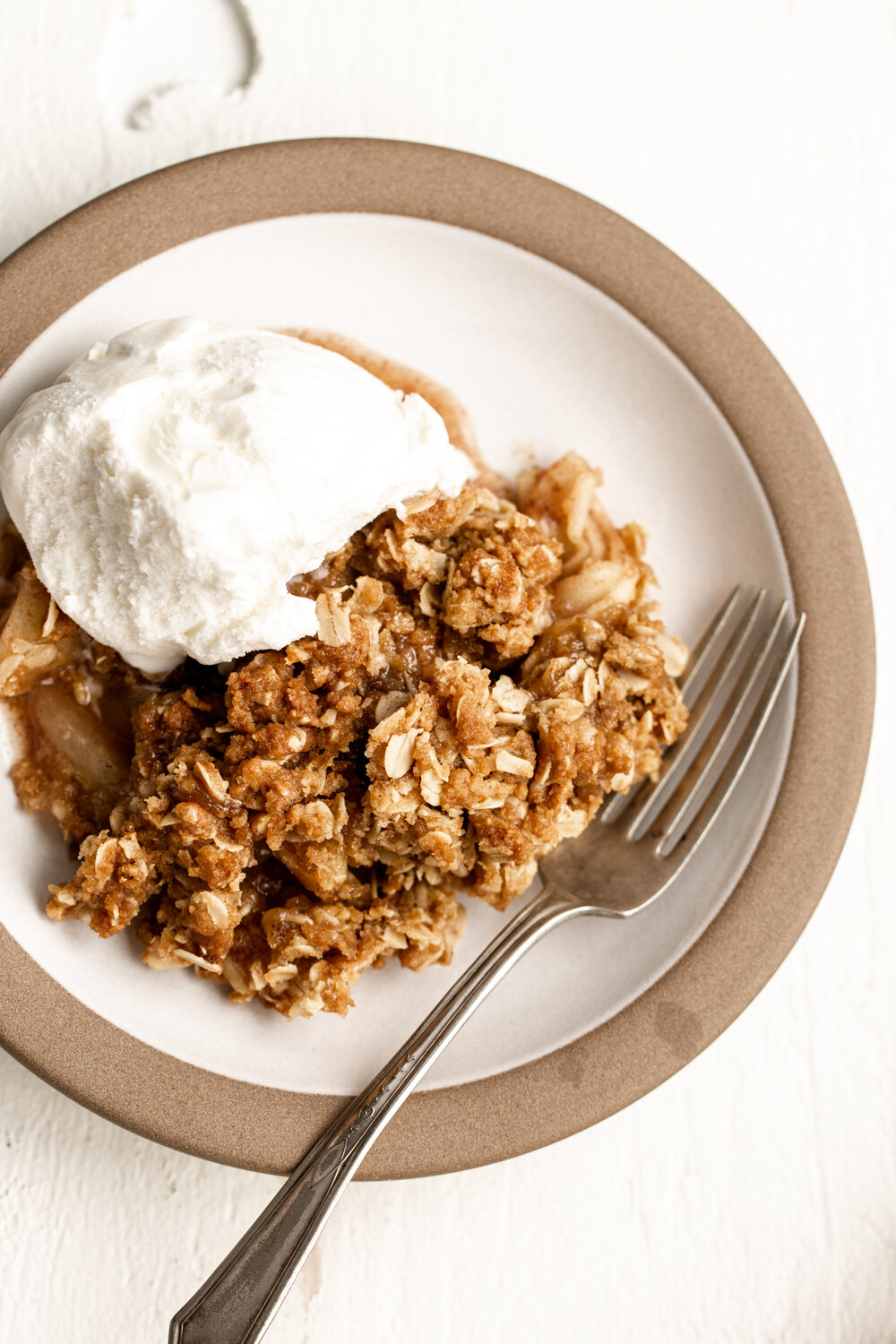 Other Recipes to Try
If you enjoy this homemade apple crisp recipe, I recommend checking out some of these:
Apple Crisp
10

cups

peeled cored and sliced Honeycrisp apples

1

cup

granulated sugar

2

tablespoons,

plus 1 cup all-purpose flour

2

teaspoons

ground cinnamon

2

cups

rolled oats

1½

packed cups dark brown sugar

¾

cup

unsalted butter,

melted

¼

teaspoon

baking powder

¼

teaspoon

baking soda
DID YOU MAKE THIS?
TAG ME ON INSTAGRAM TO BE FEATURED ON MY STORIES! @cookingwithcocktailrings