Thanksgiving Hosting Tips
If you've made the decision to host your family or friends for Thanksgiving this year I recommend following my advice to use your time efficiently and prep ahead of time as much as possible. Whether you're an old pro or new to the hosting game, the food will be so good you won't be bothered by that crazy family member who got drunk at noon.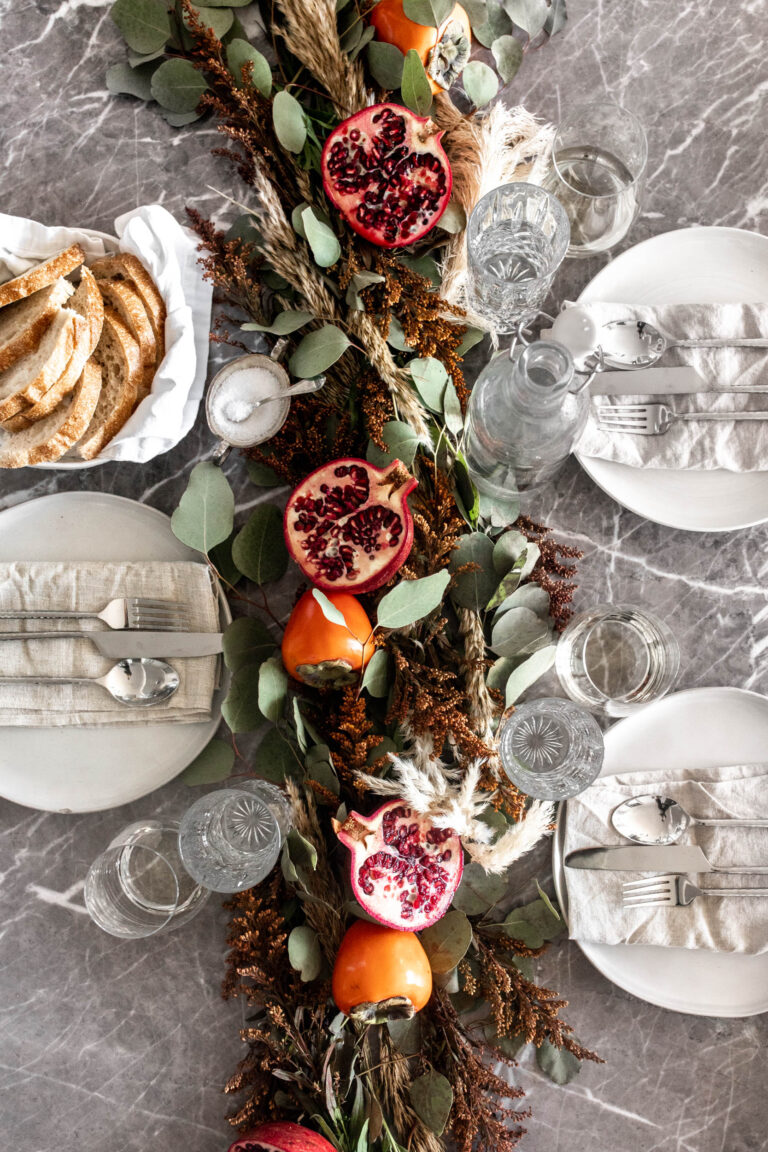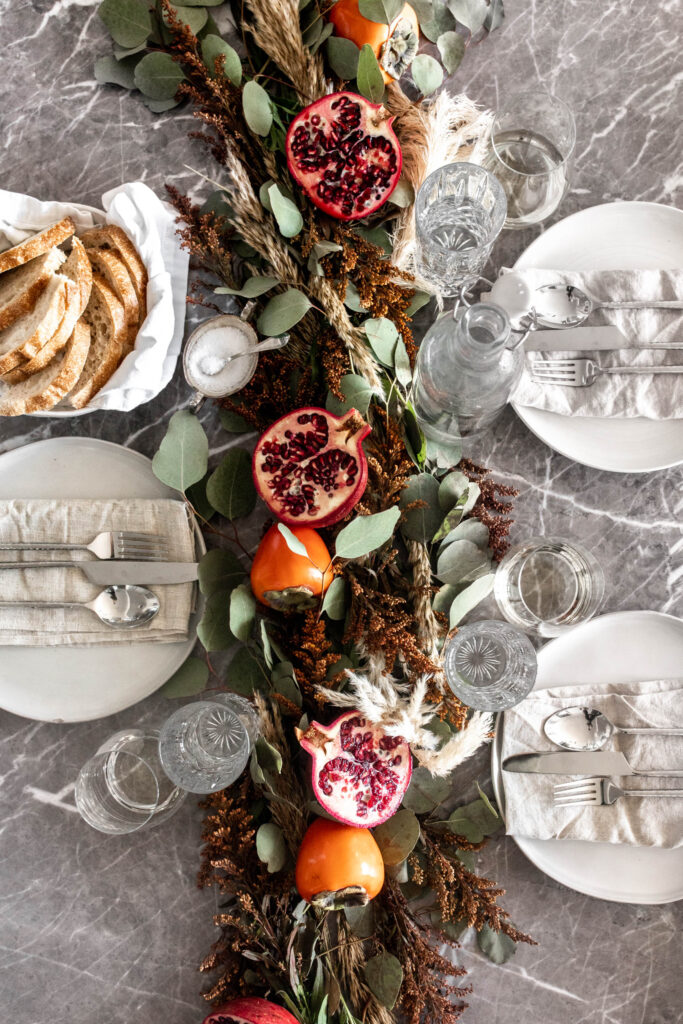 Figure out your guest list ahead of time.
Knowing how many people are coming allows for easier planning. I always recommend buying enough for one to two extra guests. If you are anything like my family a few people could potentially join at the last minute.
Order and thaw your turkey ahead of time!
I love buying a fresh turkey (meaning never frozen) from our local butcher for Thanksgiving. Because of a limited supply I make sure to place the order a few weeks in advance to ensure I get the size I want.
Thoroughly thawing the turkey before roasting is important to make sure it cooks evenly. One of the biggest mistakes people make is forgetting to move the turkey from the freezer to the fridge to defrost. Plan on 24 hours of fridge thawing for every 5 pounds of frozen turkey. Yes, that means a 20-pound turkey will take 4 days to fully thaw.
My family favorite turkey recipe is this Herb Brined Turkey, get the recipe here.
Prep your recipes (and do any test runs).
If you're preparing new recipes in addition to your family classics, I recommend testing the new dishes ahead of time. This helps with both planning, the timing and ensuring the recipe is up to par for a holiday debut. Check out my Thanksgiving menu ideas here for all types of entertaining and styles.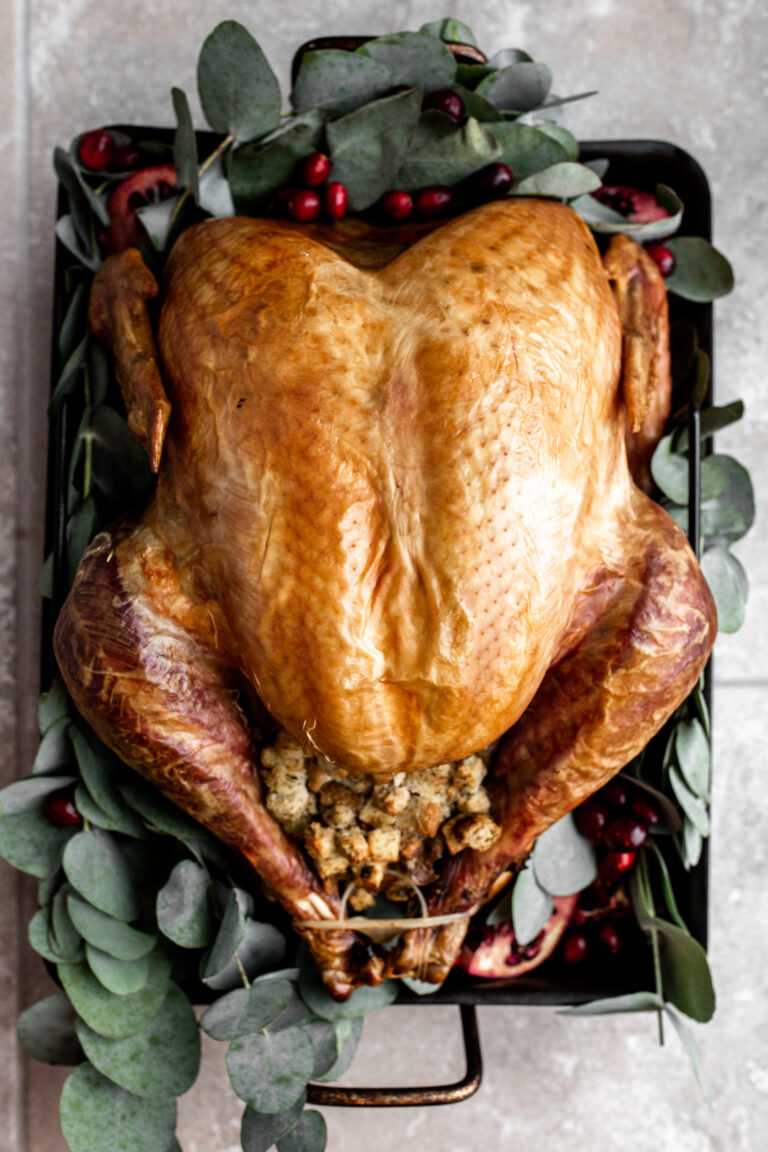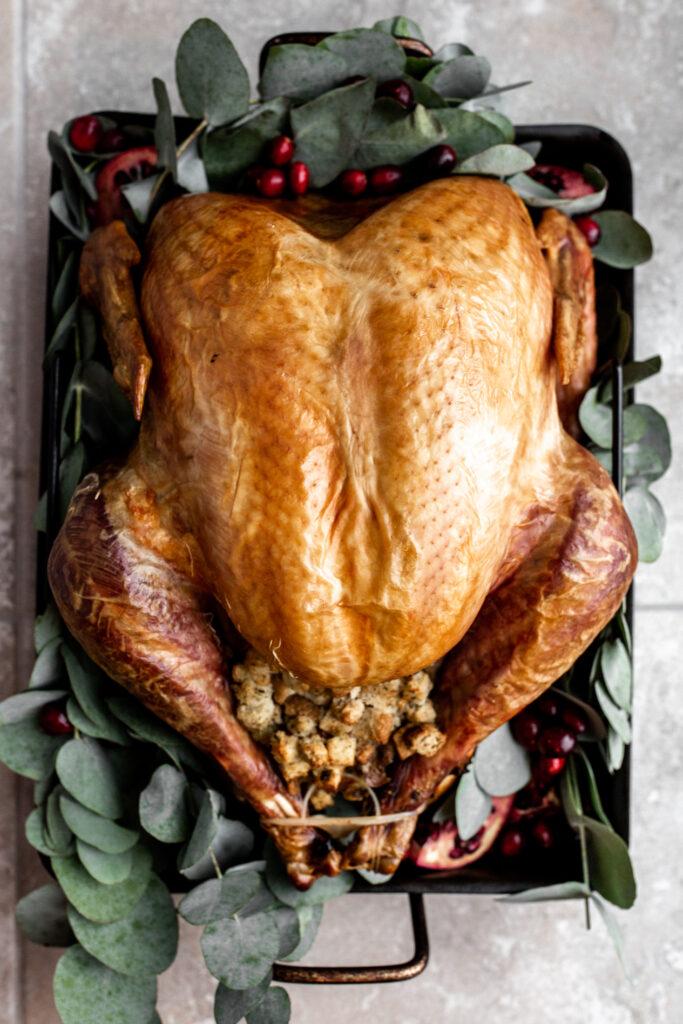 Make a grocery list.
Once you have finished your test runs, make your grocery list and do your shopping a day or two before the actual holiday. That way you can choose from the best ingredients and avoid crowds of people doing last minute shopping. I recommend organizing your grocery list by section for efficient shopping.
Plan how much to make per person.
I typically abide by the rule of thumb of buying and planning for about:
1¼ – 1½ pounds of turkey per person. If you are someone who likes to have plenty of leftovers to make sandwiches and turkey hash then lean more towards 1½ pounds per person.
4 to 6 hors d'oeuvre bites or 2 ounces of both cheese and charcuterie per person
1½ to 2 cups of salad per person
⅓ cup Cranberry sauce
½ cup to ¾ cup stuffing
1 to 2 rolls per person
¾ cup to 1 cup mashed potatoes
If you're serving wine, make sure you have plenty.
Nothing brings an evening to a close like running out of libations. Each bottle of wine has 750mL which equates to about 5 glasses of wine total. I recommend planning on about ½ a bottle to 1 bottle per person (depending on the length of the night!). I like to buy a mix of red and white to account for personal taste.
You can also create a self-serve cocktail like red wine sangria or apple sangria.
To chill wine in a pinch, wrap a bottle in a damp dish towel or paper towel and freeze for 10 to 15 minutes.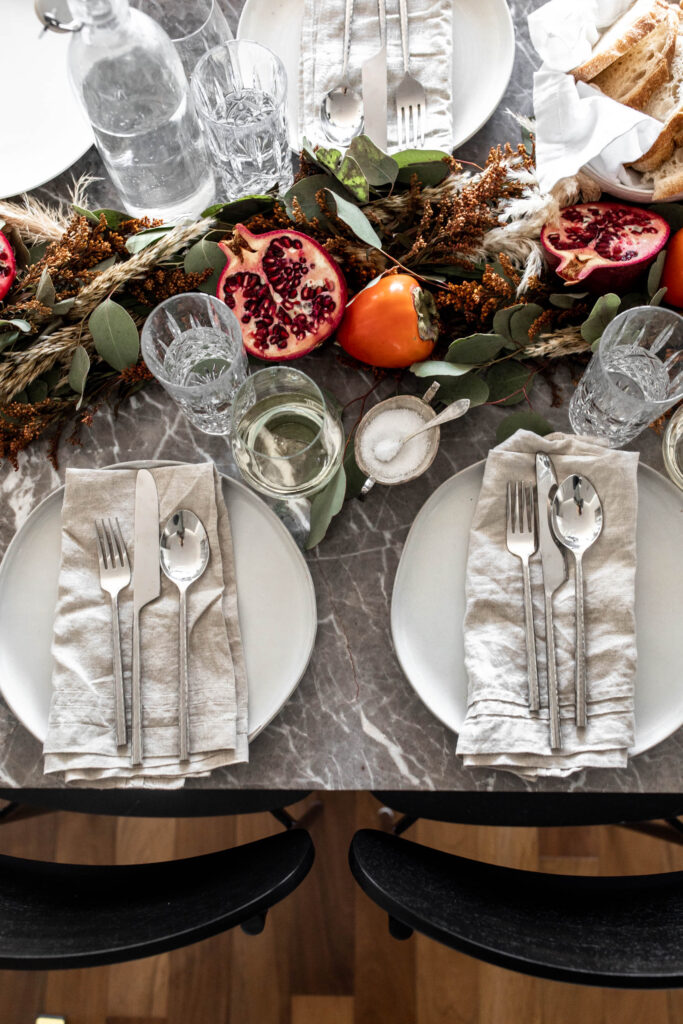 Prep, prep, prep!
To save time I recommend prepping anything you can ahead of time. The turkey will take most of the oven space so I bake desserts like pies ahead of time. Make sauces or dressings and store so they can be reheated. Chop vegetables like mirepoix (onions, celery and carrots) ahead of time and store in a container. Check out some of my tips for home cooks to maximize your time.
Get appliances and cookware ready.
Can't remember where you put your nice china or serving dishes? Find them ahead of time rather than when you're halfway through a recipe. Empty the dishwasher and take out the trash ahead of time for easy cleanup after dinner.
Use a cooler or ice chest as additional fridge space.
To put it simply, fridge space is precious around the holidays. Use a large cooler filled with ice or ice packs to clear your fridge from random dressings and assorted ingredients or use it to brine your turkey. If you live in a place with cool temperatures, you can use the garage as a fridge for things like pie if the temperature has dropped down low enough.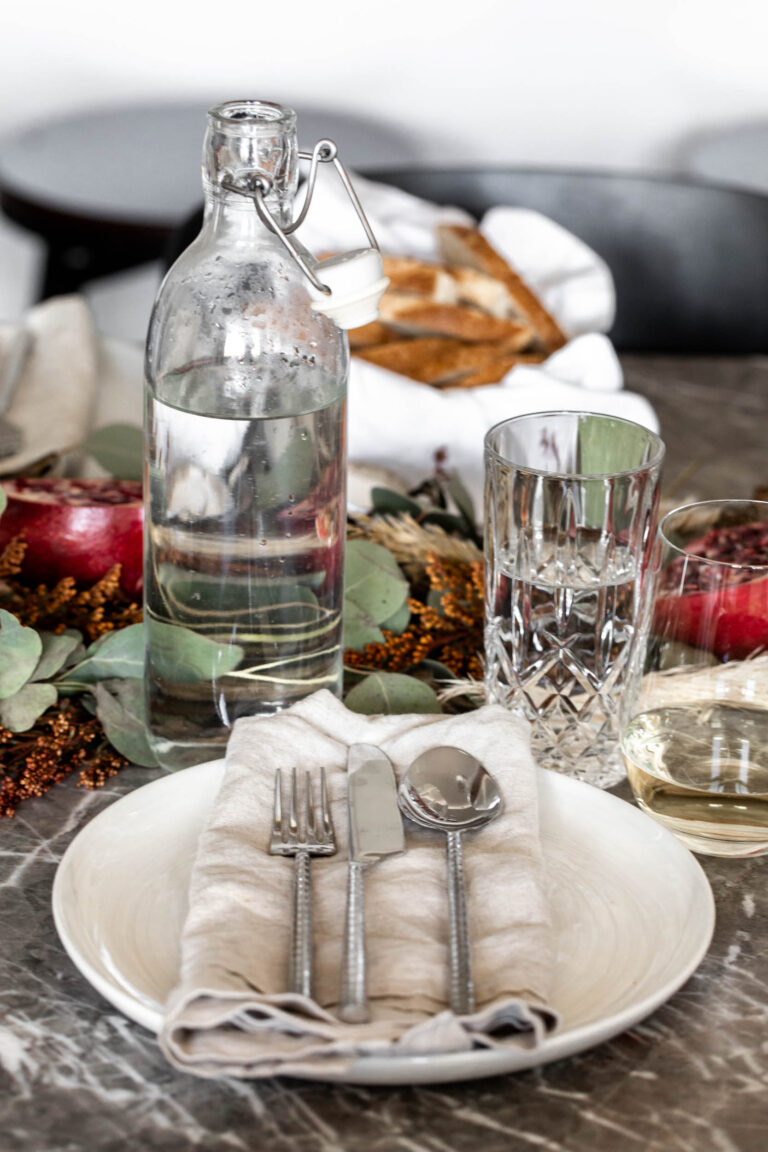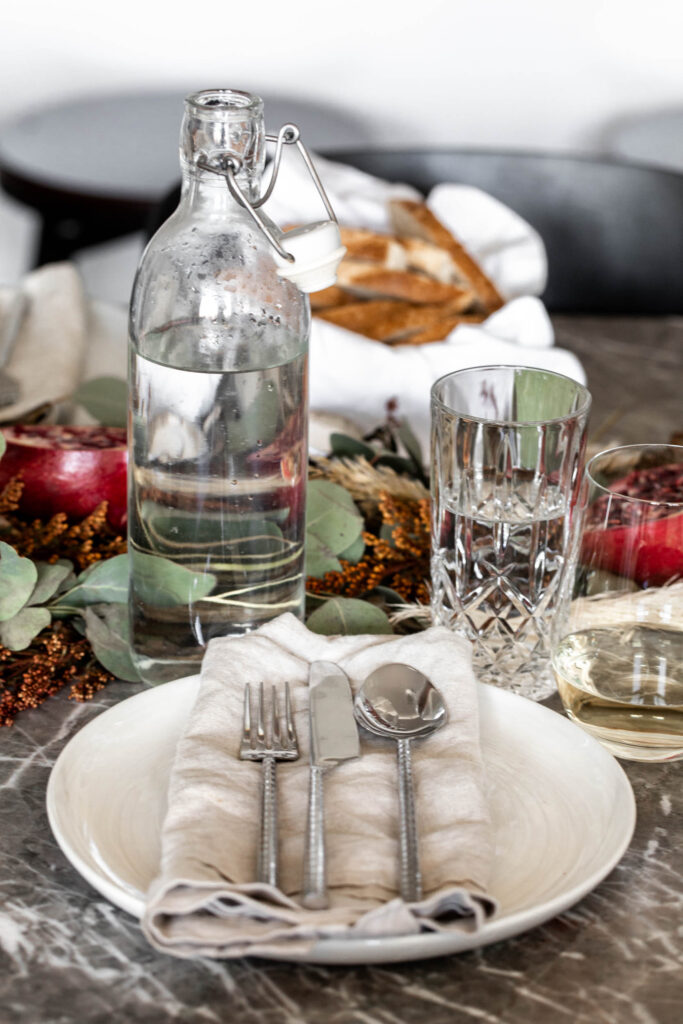 Set the table.
This November holiday lends itself easily to autumnal themes and colors like orange and green hues. I like to weave eucalyptus branches with festive gourds and candles for Thanksgiving centerpieces. I recommend setting the table the night before so it's one less task to worry about.
Make a playlist!
I have a few playlists I like to rotate through including one featuring crowd-pleasing classic rock. Some background music can set the tone for the evening.
Save takeout containers ahead of time.
When I order takeout I always save my takeout containers so that I can repurpose them rather than throwing them out. It's a great way to give friends food because I don't really care whether I get the containers back or not. I recommend saving some takeout containers ahead of time so you can easily send guests home with leftovers. Check out my recipes for reinventing leftovers here.