Instead of going out to an overbooked restaurant and sitting jammed at communal tables overhearing other people's conversations, and paying for overpriced holiday tasting menus, try staying at home with your loved one and making dinner together. Ok, I might be being a bit dramatic here but its much more romantic if you decide on a menu of your favorite foods and cook together in the kitchen over a bottle of wine. While going out for a special occasion is nice, I would rather do it on a night when everyone else isn't doing the exact same thing. Sometimes just taking a little time to spend together is all you need.
Valentine's Day Recipes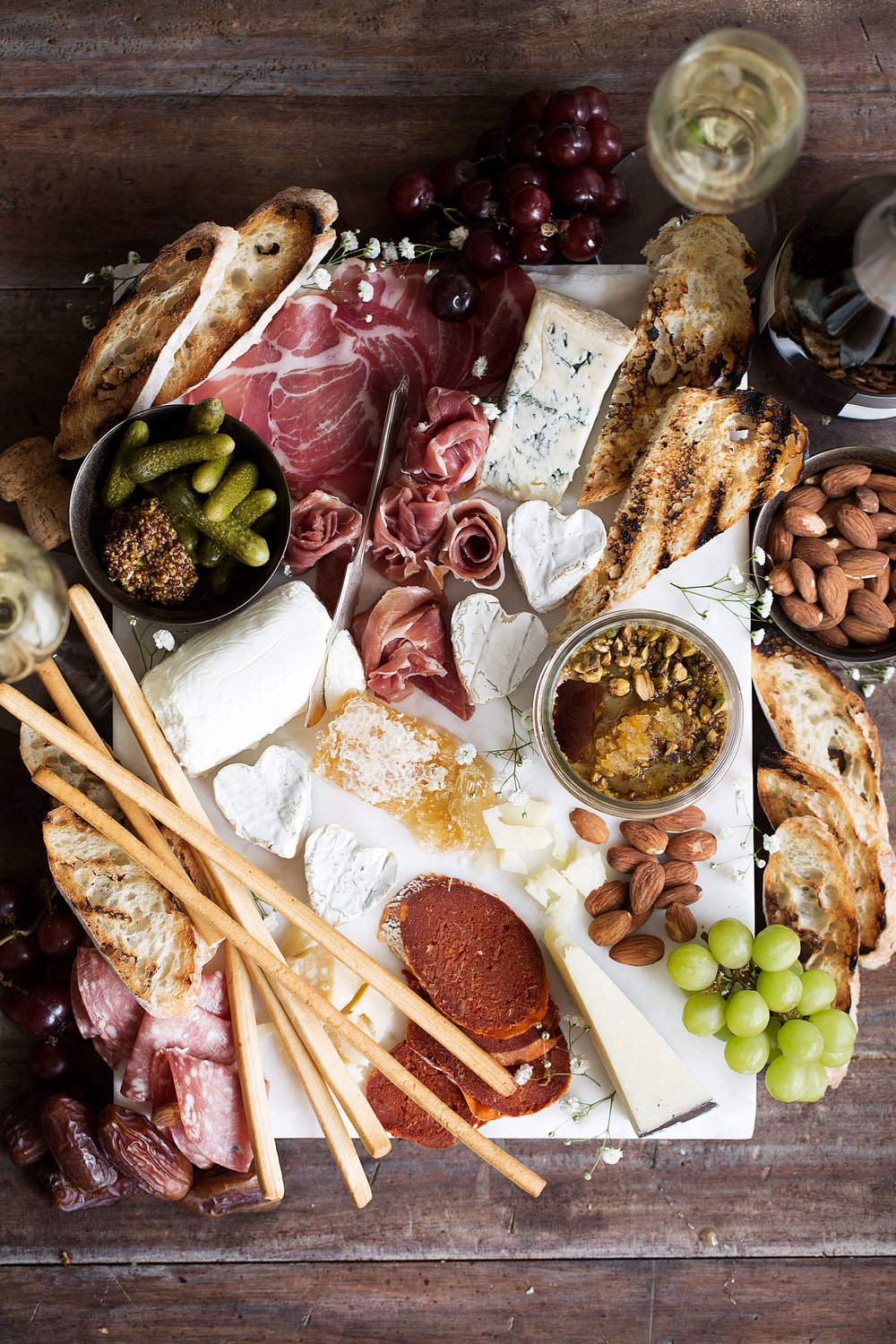 Valentine's Day Plans
Last year Valentine's Day fell on a Sunday so my boyfriend, Aaron, and I spent all day making homemade dumplings together. This year, we picked a night the week before to do a fancy dinner out (easier for reservations) – we went to Animal, the trendy "new American" restaurant from chefs Jon Shook and Vinny Dotolo. The small restaurant vibe and minimalist décor made it a new favorite spot of mine, not to mention the outstanding food. We ate everything from spicy pork tendon chips with onion pho dip to bone marrow with chimichurri and caramelized onions as well as their famed dish, foie gras biscuits and gravy.
For the actual "holiday" we will both be working so I will probably throw together another cheese board such as this one. It's perfect since one of our ideal date nights is going out for a cheese board and a bottle of wine. When one of our favorite local restaurants, Aestus in Santa Monica, shut down, we have turned to making out own.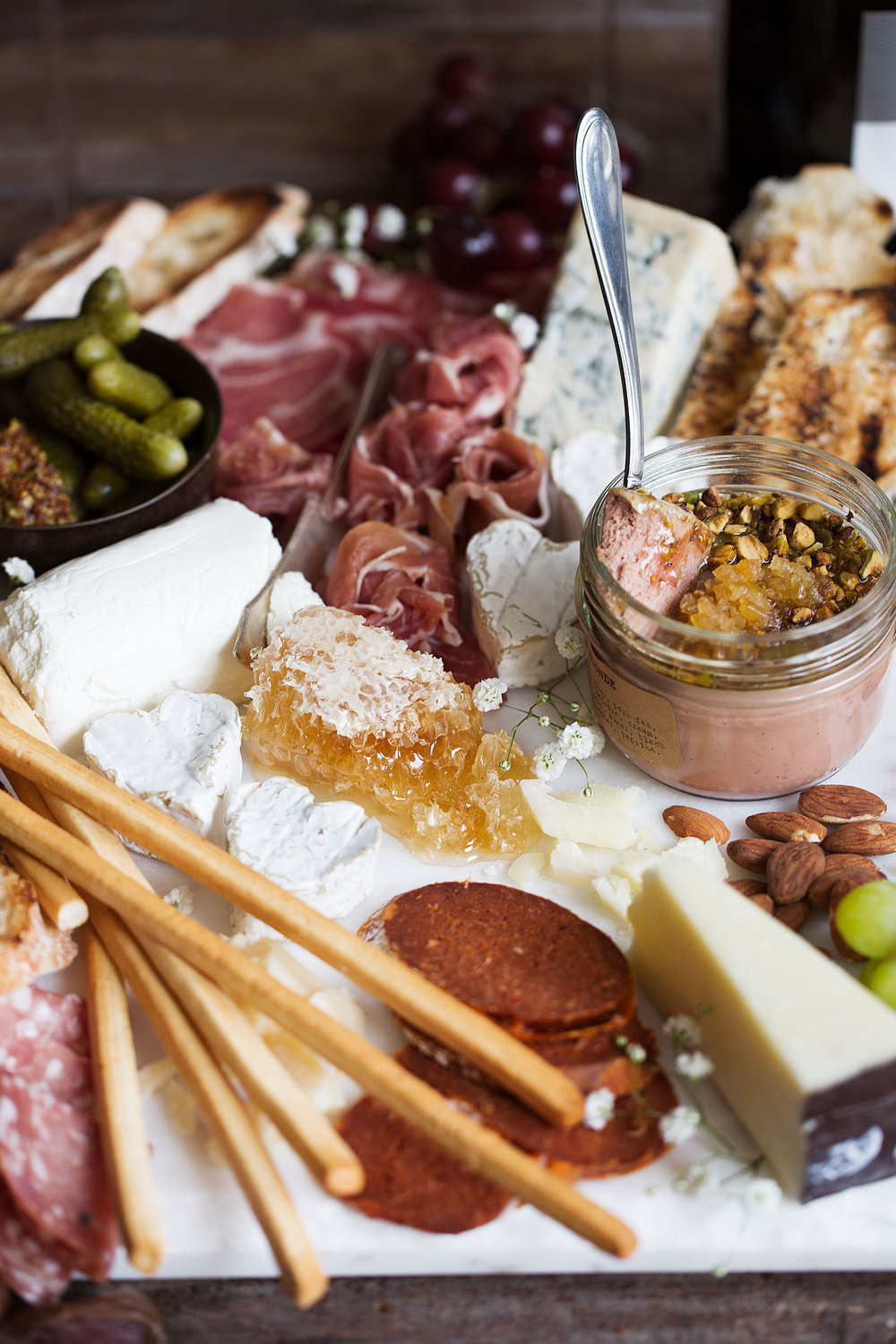 Where to Source Cheeseboard Ingredients
While most of the cheese is a selection from Whole Foods I picked up a paté from Ester's Wine Bar in Santa Monica. It's called a "foie blonde" a chicken liver paté in a jar topped with honey, pistachio and crabapple mostarda and it pairs perfectly with a glass of wine and a side of grilled bread. I also made a stop at Belcampo to pick up some Belcampo x Mario Batali ''Nduja", a spicy pork salami cured in a hard salami casing but maintaining a soft texture on the inside.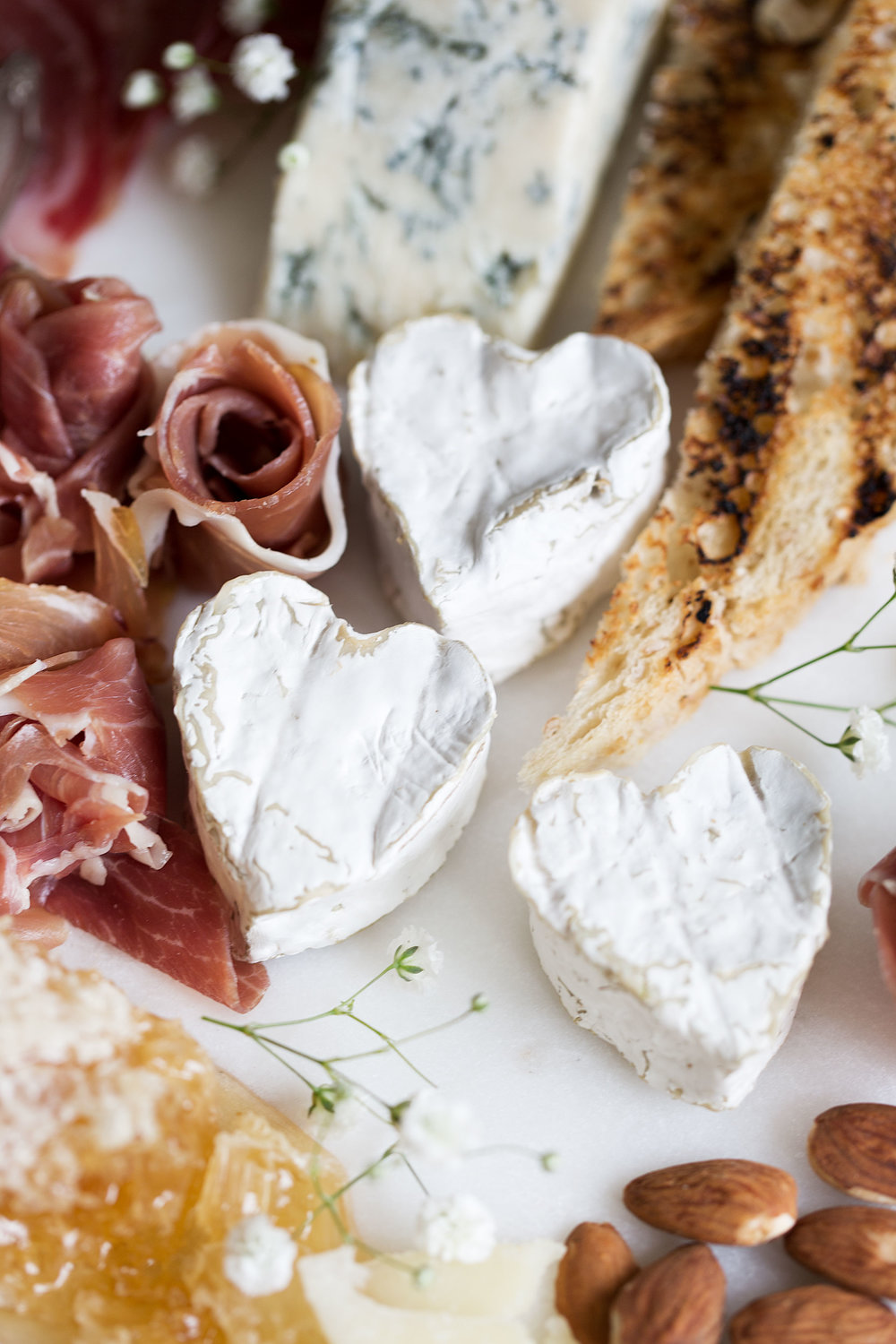 Cheese Selection
The cheeses I selected for this spread are Pecorino Romano, heart shaped brie, Parmesan, chèvre and blue cheese. The cheeses are served alongside prosciutto formed into little roses, calabrese salami, capocollo, almonds, cornichons, whole grain mustard, grapes and dried dates. If you aren't sure what charcuterie to buy I love the Trader Joe's Italian and Spanish sampler packs.
For additional tips for putting together a cheese and charcuterie board check out my post here.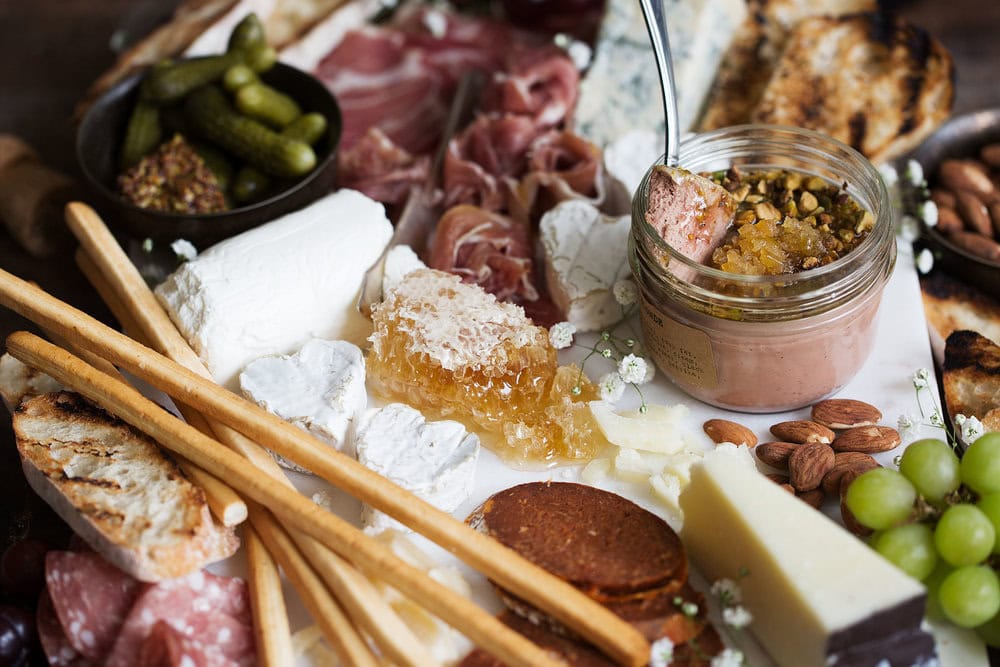 Valentine's Day Recipes
For some other Valentine's Day inspiration, check out these recipes:
Red Wine Braised Short Ribs with Celery Root Purée
Crispy Salmon with Soy Tamarind Sauce over Sautéed Spinach
Raspberry Cream Cheese Brownies