This cacio e pepe recipe is essentially a grown up version of mac and cheese that is acceptable to order at a nice Italian restaurant and still seem like an adult. It's also just as easy to make as mac and cheese so no need to be intimidated! This pasta is has no added cream, it is a sauce composed entirely of cheese.
Cacio e pepe has its roots in the 15th century when Romans would eat pasta with light cheese. It has stood the test of time for a reason, it is simple yet delicious. For another creamy pasta recipe with just a few ingredients try bucatini carbonara.
Cacio e Pepe Recipe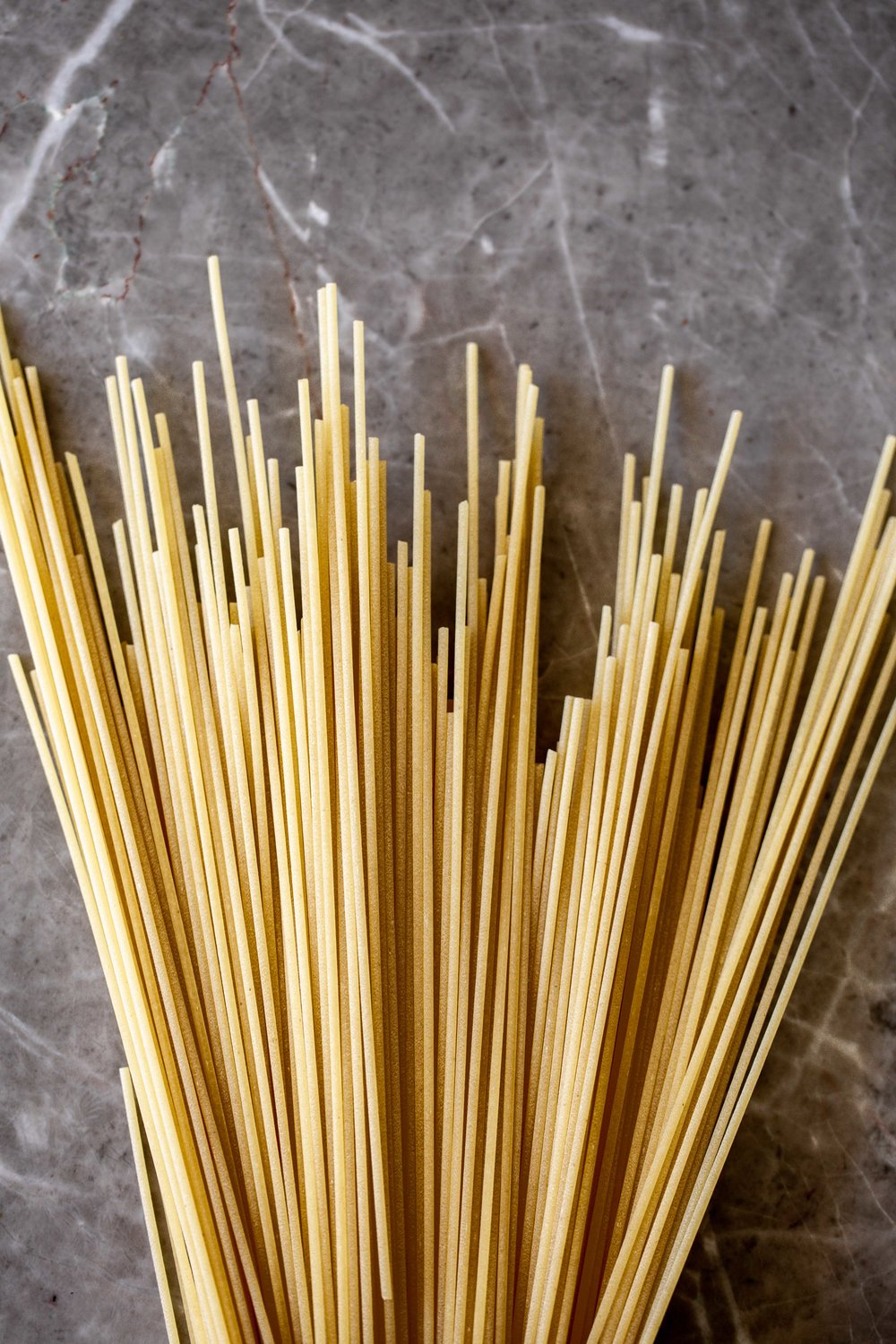 More About Cacio e Pepe
My dream is to get one of those giant wheels of Parmesan cheese that John Legend got Chrissy Teigen (#goals) as a present. It is a giant wheel of Parmesan hollowed out so when you put the hot pasta in, it slowly melts the cheese and creates a sauce. Sure you can go to a restaurant and get it but I would love to add a wheel of Parmesan cheese to my permanent apartment decor.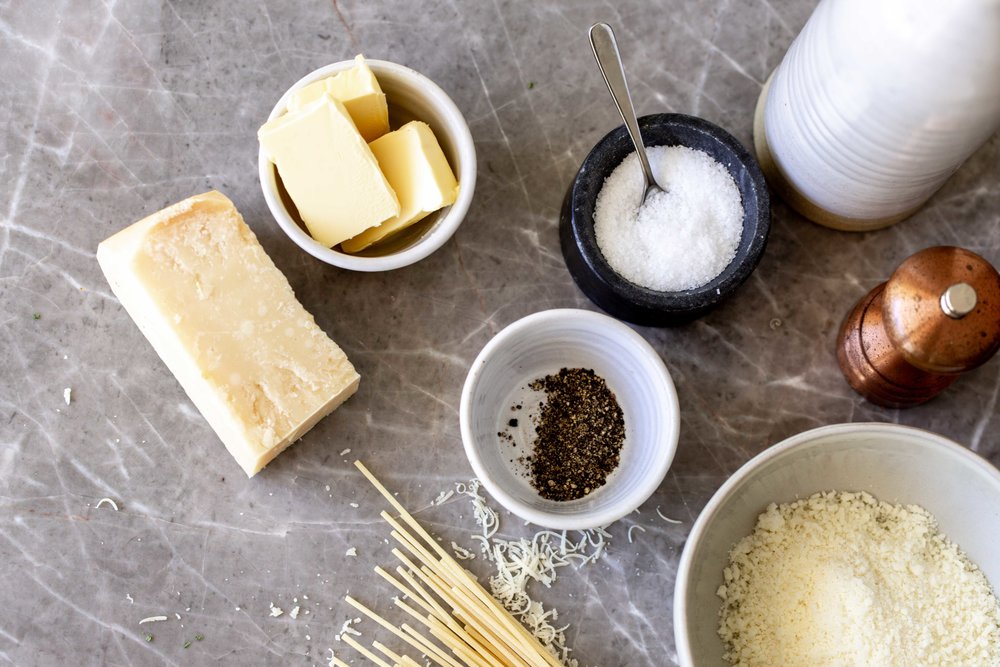 Key Ingredients in This Recipe
Spaghetti
Cacio e pepe is typically made with spaghetti though it can be swapped for another noodle like tubular bucatini or flat, wide noodles like fettuccine can be used instead. I'd recommend sticking with dried pasta rather than using fresh pasta for this recipe since the sauce is made by stirring the pasta with the cheese and pasta cooking water. Fresh pasta can sometimes be too delicate. The pasta cooking water is used to create the creamy cheesy sauce.
Black Pepper
I recommend using freshly cracked black pepper in this recipe. If your pepper grinder doesn't do a coarse grind, use the flat side of a knife to press down and roll over the peppercorns.
Pecorino Romano
Pecorino Romano is a hard, salty Italian cheese made from sheep's milk. While I like the flavor of the combination of both cheeses in this recipe, it can easily be made with one or another.
Parmesan
Parmesan-Reggiano is definitely one of my favorite cheeses. It's a hard cow's milk cheese aged for different lengths of time. I'd recommend buying a roughly cut piece of wrapped cheese from the grocery store – it's typically a higher quality cheese. In this recipe I'd recommend grating it just before adding to the pasta to get the smoothest sauce possible.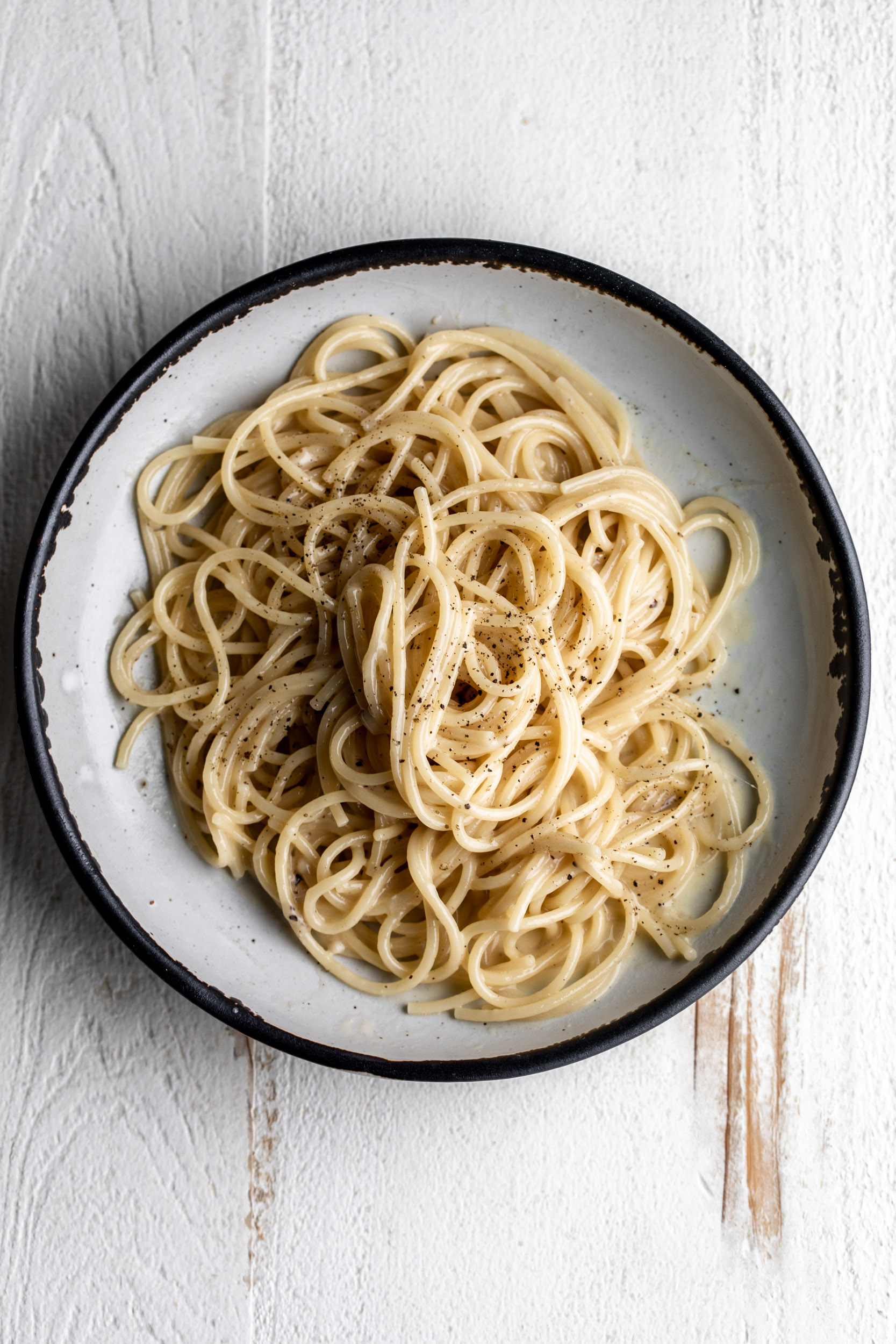 How to make Cacio e Pepe
Step 1
Cook the pasta until it's al dente. Reserve some of the pasta cooking water then drain the pasta.
Step 2
Toss the pasta in the olive oil to coat.
Step 3
Sauté the pepper in the butter until fragrant.
Step 4
Add some of the reserved pasta water, stirring to combine. Add the pasta, tossing to coat in the pepper mixture.
Step 5
Combine the grated pecorino and Parmesan and cheeses in a small bowl. Turn the heat off and slowly add the cheese a little bit at a time, tossing the pasta to coat.
Step 6
Serve immediately in warmed pasta bowls.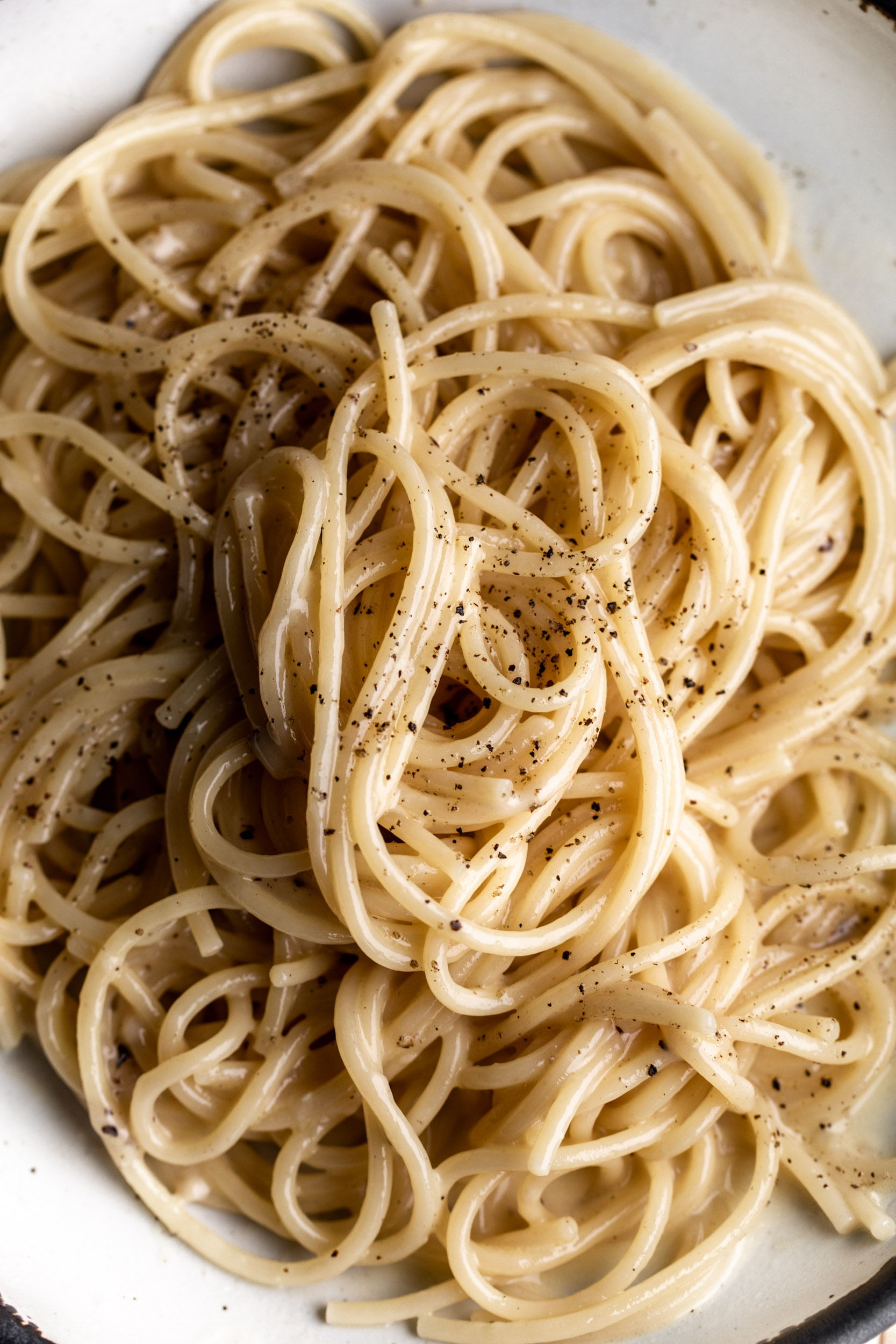 Other Recipes to Try
Use this cheese and black pepper combination on other dishes as well.
I use it as a bianco pizza topping on this cacio e pepe pizza
If you like cacio e pepe give this other simple pasta dish, pastina, a try.
Cacio e Pepe Recipe
Bring a large pot of water to the boil; add the salt and bring back to the boil. Pour in the pasta and cook, stirring occasionally, until more al dente than normal since it will continue to cook later, about 6 minutes.

Drain the pasta, reserving a cup of the cooking liquid, and return the pasta to the pot. Toss the pasta in the olive oil to coat.

Heat a large flat-sided sauté pan over medium heat, add the butter and allow it to melt. Add the black pepper and let cook, stirring constantly, until the pepper is fragrant, about 1 minute.

Add ½ cup of the reserved pasta water and stir to combine. Then add the pasta, tossing to coat in the pepper mixture.

In a small bowl combine the grated pecorino and Parmesan and cheeses. Turn the heat off and slowly add the cheese about 2 tablespoons at a time, constantly tossing the pasta to coat.

If the sauce gets clumpy, add more of the cooking liquid a tablespoon at a time. Remove the pan from the heat and continue to toss until the pasta is entirely coated with the creamy cheese sauce.

Serve immediately in warmed pasta bowls.
DID YOU MAKE THIS?
TAG ME ON INSTAGRAM TO BE FEATURED ON MY STORIES! @cookingwithcocktailrings