In this recipe, chunks of lobster meat are combined with a creamy base loaded with potatoes, carrots, leeks and shallots and topped with buttery, flakey puff pastry. The filling of this lobster pot pie is seasoned with a hint of cayenne and chopped fresh tarragon, which compliments and enhances the flavor of the lobster.
The holidays are the perfect time to splurge a little on an elegant dish. It is my family's tradition to eat seafood on Christmas Eve and this pot pie might just make the rotation.
The pot pies can be shared among two people each (if you want to share). I like to eat it right out of the baking dish rather than serving it in additional bowls.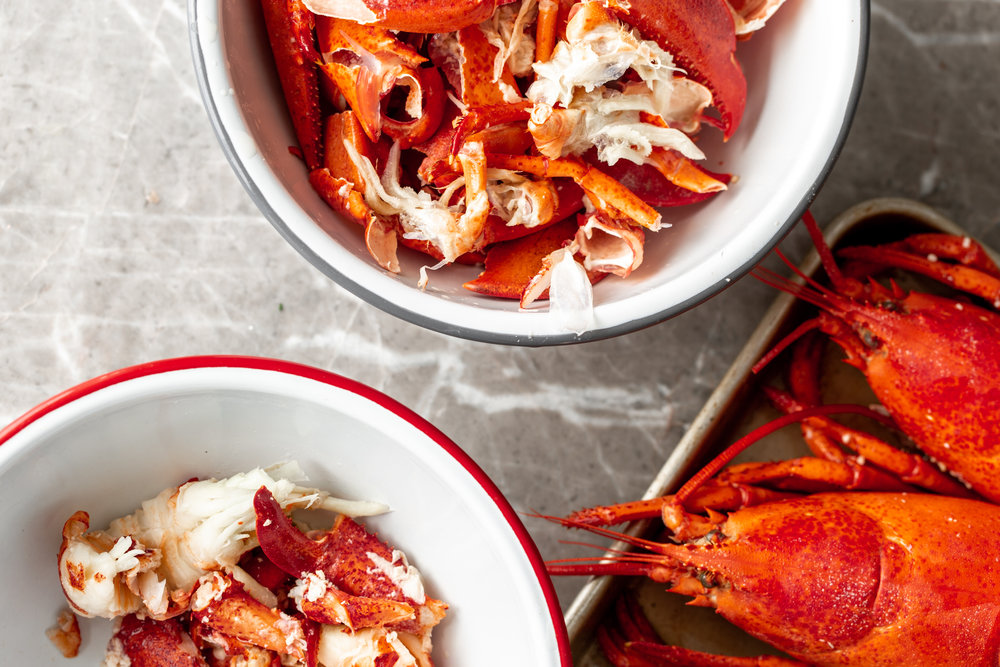 What's in the Filling?
Lobster
Shallots
Leeks
Carrots
Celery
Red Potatoes
Herbs
Ingredients in Lobster Pot Pie
Lobster
While during the summer I usually buy live whole lobsters and cook them myself for dishes such as this Maine lobster pot pie or creamy lobster pasta, during the cooler winter months a lot of times I opt to have the fishmonger boil or steam them so that I can just pick them up. Easier still, you can find lobster meat already cooked, broken down and removed from the shell at some specialty seafood markets.
Puff Pastry
Also known as pâte feuilletée, this dough creates very flakey, crisp layers. It's made with laminated dough with plenty of butter throughout. Since it's a more complex dough I typically opt to use store bought puff pastry rather than making it.
Mirepoix
The combination of carrots, onion and celery is referred to as mirepoix. This aromatic combination of vegetables is a classic base for soups and recipes like this.
Shallots
I use shallots in this recipe for their mild, slightly sweet flavor though they can easily be swapped with yellow onion.
Leeks
Leeks are an allium that add sweet, oniony flavor. The top green parts are too tough and are discarded or saved for another use while the lower white parts are thinly sliced and sautéed.
Red Potatoes
These potatoes have a super thin skin so the texture doesn't; change even if they aren't peeled. They are a firmer potato so they are great for soups or stews (like the base filling of this recipe).
Sherry
Sherry is used to enhance the flavor of soups. I use it to bring out the flavors of the lobster filling as I would a lobster bisque. 
Seafood Stock
Seafood stock is made from simmering the shells of lobster, shrimp, crab shells or other fish bones with white wine and other aromatics. I often buy seafood stock though you can easily make your own – especially if you cook whole lobsters for this recipe.
Tarragon
This herb has a subtle licorice flavor that pairs really well with seafood like lobster.
Heavy Cream
The lobster filling gets the creaminess from heavy cream in this recipe. I'd recommend using the heavy cream rather than swapping for something else like half and half.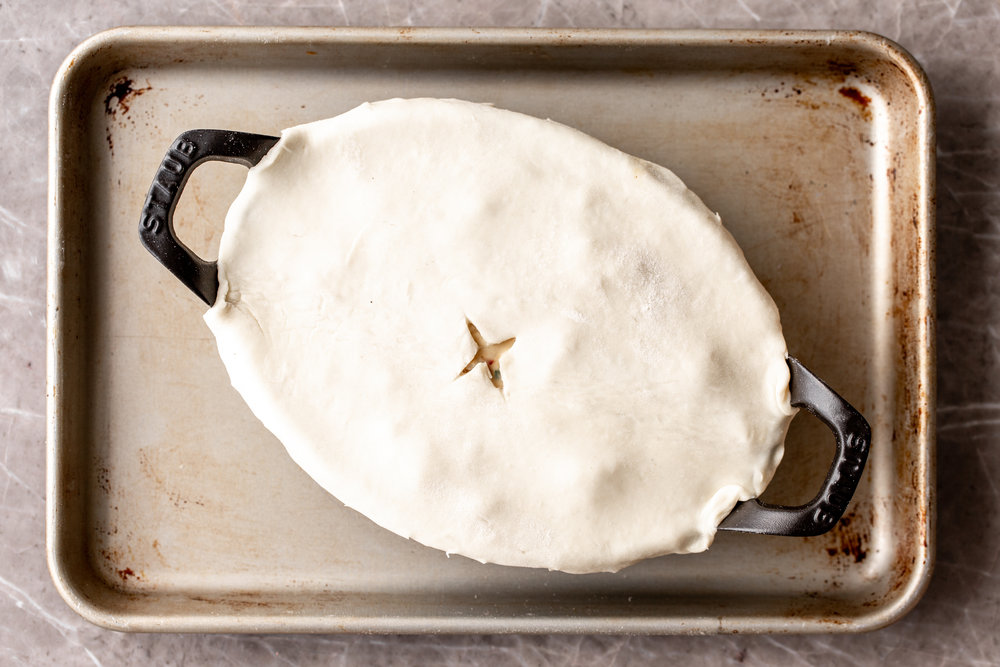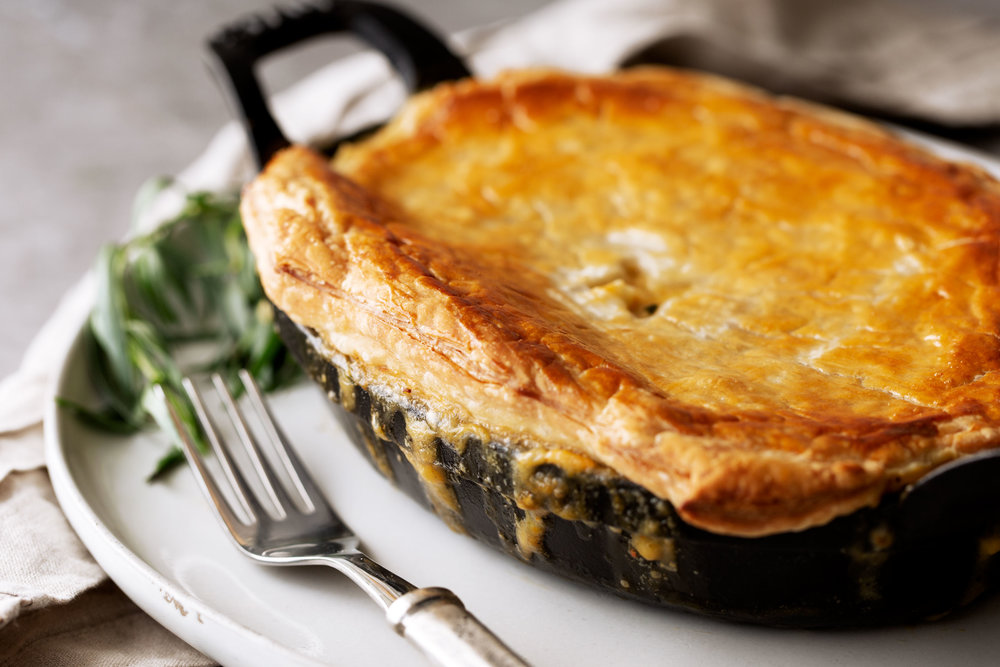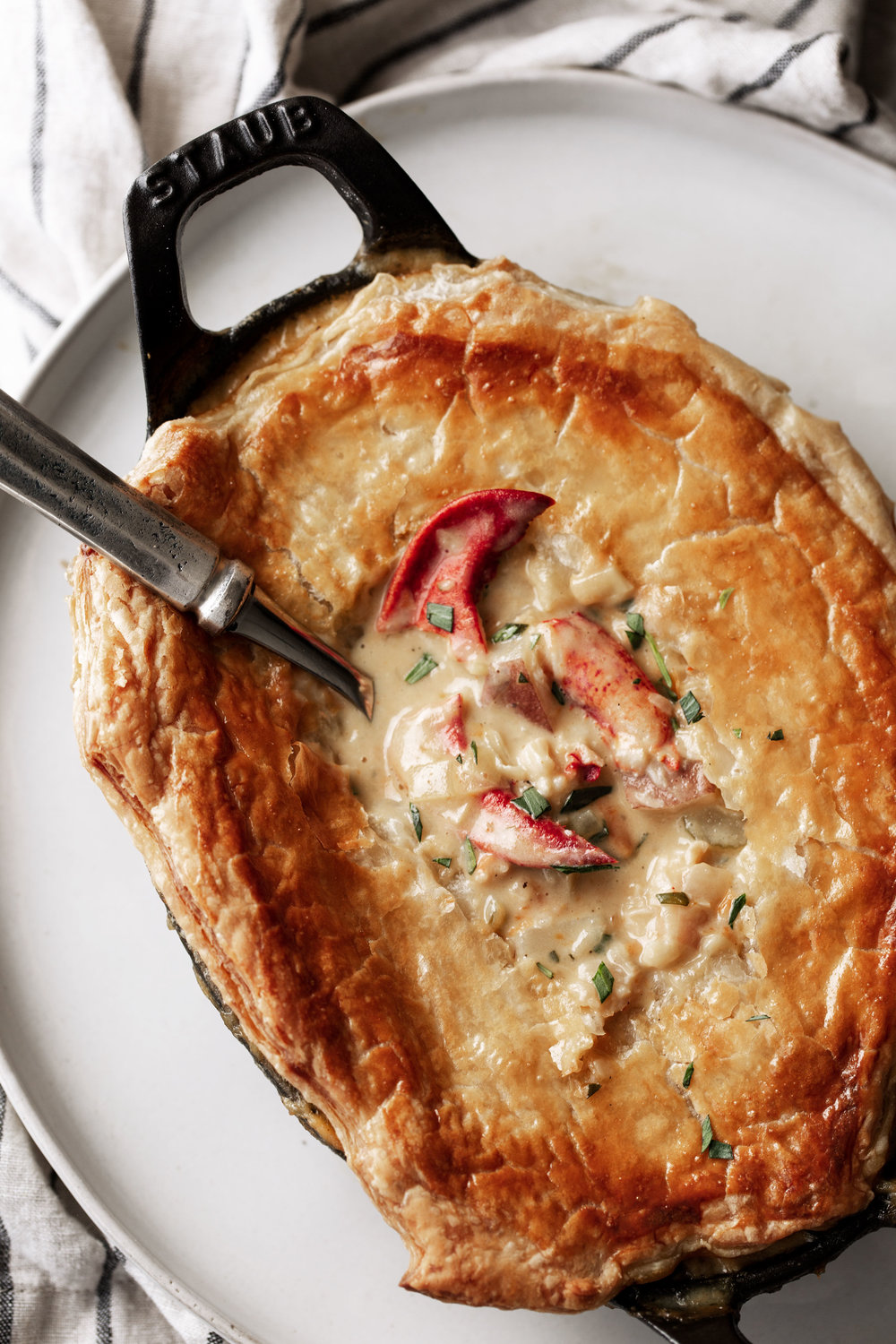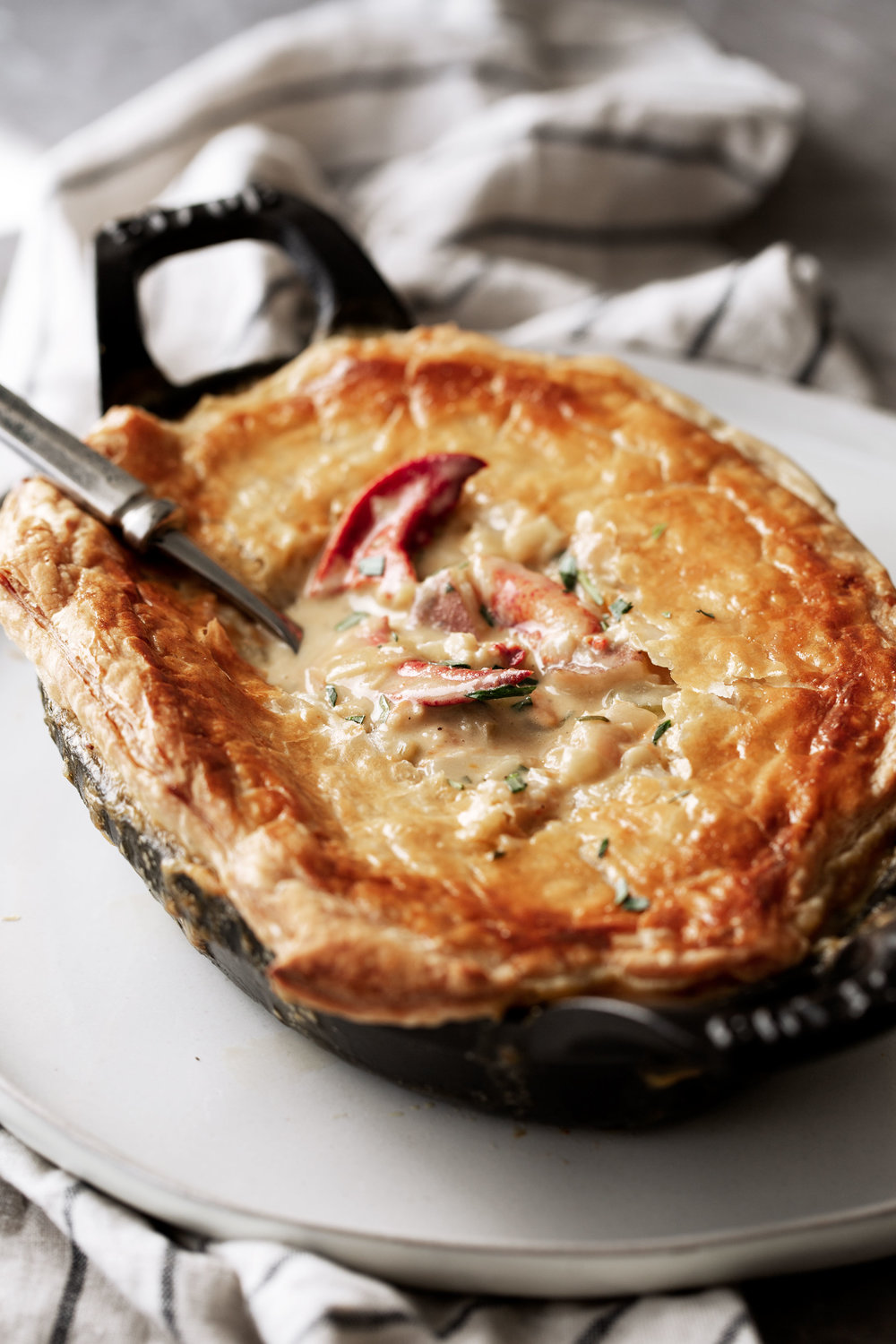 Lobster Pot Pie
2

tablespoons

extra-virgin olive oil

2

medium shallots,

diced

1

medium leek,

chopped, whites only (discard greens)

2

medium carrots,

peeled and diced

1

stalk celery,

diced

2

red potatoes,

washed and diced

½

cup

sherry

2

tablespoons

unsalted butter

3

tablespoons

all-purpose flour

2

cups

seafood stock

1

tablespoon

diced tarragon

1/8

teaspoon

cayenne

Kosher salt,

as needed

Freshly ground black pepper,

as needed

½

cup

heavy cream

¾

pound

chopped cooked lobster meat,

tail and claws

1

sheet puff pastry,

thawed

1

egg,

beaten
Heat a large pot over medium heat, add the olive oil and heat through. Add the shallots, leeks, carrots, celery and potatoes and sauté, stirring occasionally until the vegetables are tender, about 6 minutes.

Pour in the sherry and continue to cook until it has almost all evaporated, about 5 minutes.

Add the butter and allow to melt then stir in the flour and cook, stirring constantly, until pale brown, about 1 minute. Add the stock and the tarragon and bring to a simmer over medium-low heat, until the sauce thickens, about 10 minutes.

Stir in the cayenne and season to taste with salt and pepper. Whisk in the cream then add the lobster meat and set aside.

Heat oven to 400ºF (200ºC).

Add to 4 (8-ounce) oval baking dishes or 1 large 12″ oval baking dish. On a clean, lightly floured surface, roll out the puff pastry dough so that it is ¼-inch thick.

Cut two oval shapes ½ larger than the baking dishes and cut an 'x' in the middle of each oval (for steam to escape). Lay the dough over the top of each baking dish so the edges hang over the side.

Brush the puff pastry with the beaten egg. Bake until the top is golden brown and puffed up, about 25 to 30 minutes. Serve hot.
DID YOU MAKE THIS?
TAG ME ON INSTAGRAM TO BE FEATURED ON MY STORIES! @cookingwithcocktailrings