I love this recipe because the salmon is crispy on the outside and juicy on the inside. The salmon is coated in cornstarch and pan-fried until a crisp, outer shell forms and then it is served with a side of garlic sautéed spinach and jasmine rice topped with a sweet and sour soy tamarind sauce. (Tamarind is a tree that produces a pod-like fruit that tastes similar to lime but with more sweet and tart flavor.)
This recipe is based on a dish at one of my favorite restaurants in New Jersey, Origin, an eatery specializing in French and Thai fusion food. It's at the top of my list of stops to make every time I go home. Sometimes my mom even picks it up for me before coming to get me from the airport. It's one of those restaurants where everyone knows exactly what their order is.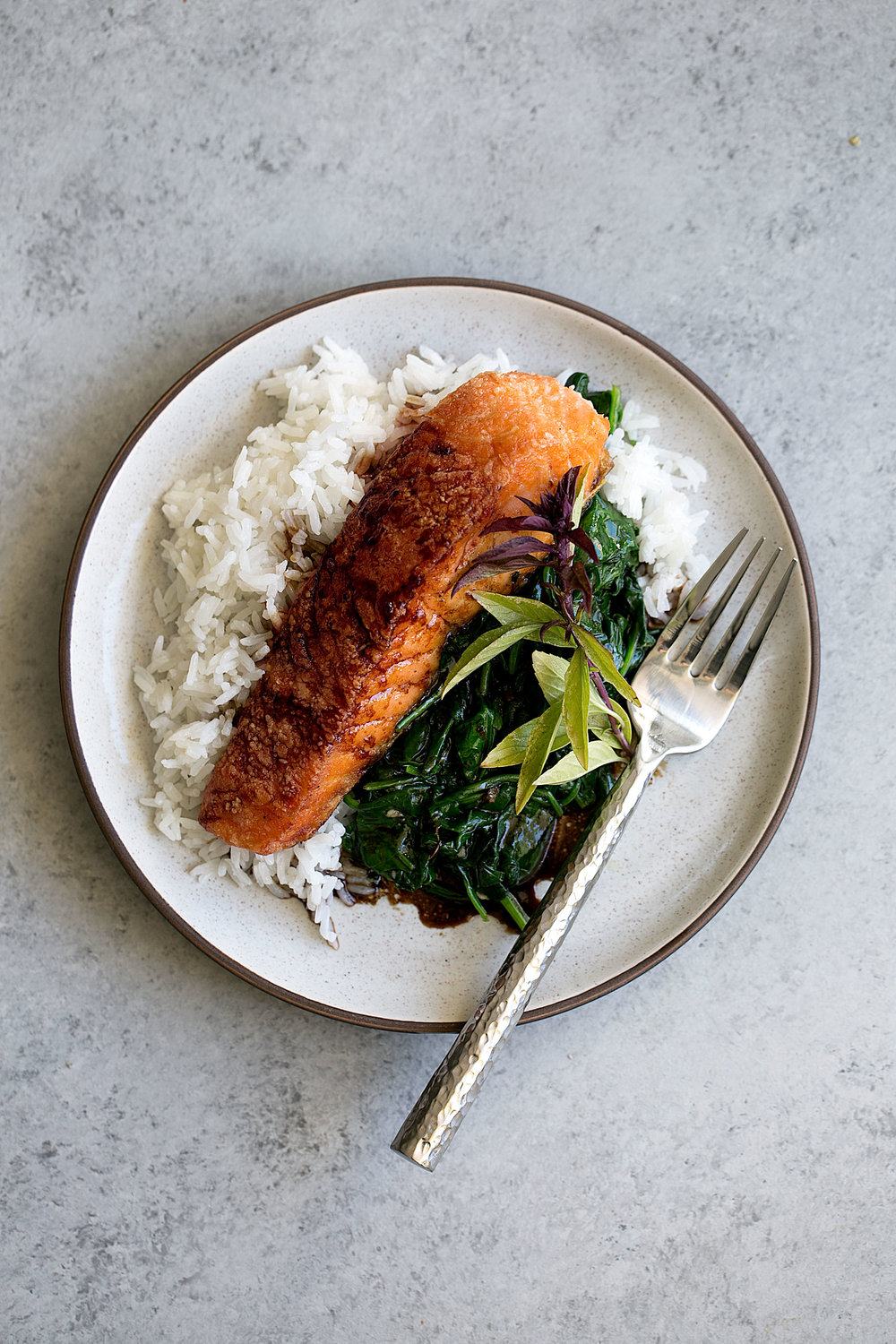 And so, when I make crispy salmon, I think of home. Everyone gathers around our big kitchen table (the dining room is reserved for special occasions, usually holidays) – and there are always extra chairs available to accommodate friends who drop in at the last minute. Each person grabs their "usual" from some takeout bags and we all start telling stories and eating, everyone talking over each other and laughing. No, I don't have a large family, there is actually just my mom, my dad, my brother and me in our immediate family but we have many friends that have become part of our extended family. And food and family, immediate and extended, make for a wonderful combination.
This is a great recipe if you've already bought tamarind for Pad Thai!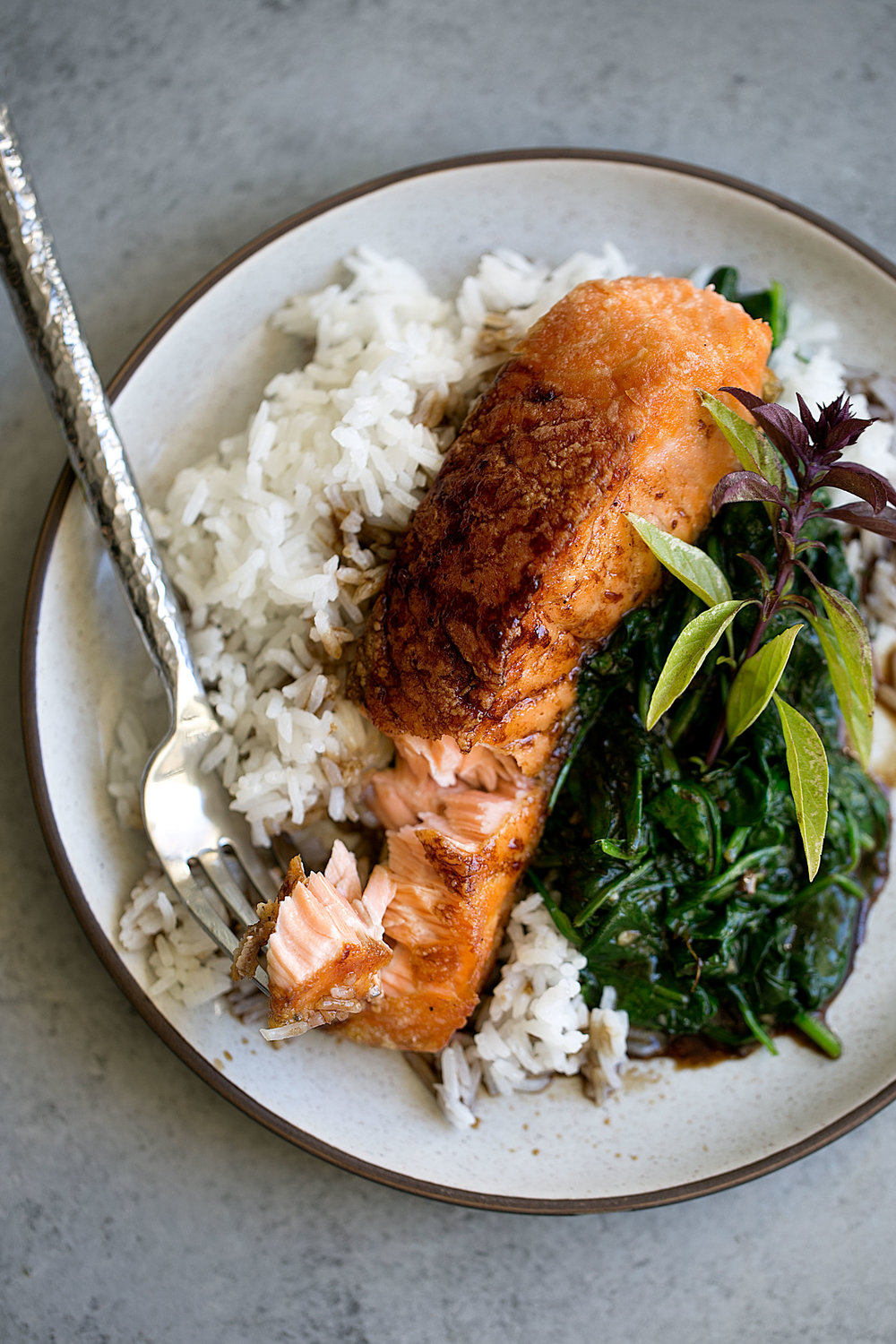 Crispy Salmon with Soy Tamarind Sauce Over Sautéed Spinach
For the soy tamarind sauce:
For the crispy salmon:
1

pound

salmon filet,

cut into 4 servings

3

tablespoons

cornstarch

¼

cup

vegetable oil

4

cups

cooked jasmine rice,

for serving
For the soy tamarind sauce:
Heat a medium saucepan over medium heat, add the vegetable oil and heat through. Add the ginger and garlic and sauté until fragrant, about 30 seconds. Add the soy sauce, tamarind, brown sugar, fish sauce and 6 tablespoons of water, whisking to combine.

Bring to a simmer, stirring occasionally, until the sauce has thickened slightly, about 10 minutes. Season with salt then remove from heat and set aside.
For the sautéed spinach:
Heat a large sauté pan over medium heat, add the olive oil and heat through. Add the garlic and sauté, stirring constantly until fragrant, about 30 seconds. Then add the spinach and sauté until wilted, about 5 minutes. Season with salt and pepper and set aside.
To serve:
Serve the salmon on a bed of rice and the spinach. Ladle the tamarind sauce over the top.
DID YOU MAKE THIS?
TAG ME ON INSTAGRAM TO BE FEATURED ON MY STORIES! @cookingwithcocktailrings
*Note: Tamarind paste can be found at specialty grocery stores and most Whole Foods in the Asian foods section.