Creamy Lobster Pasta
Taverna Tony is a well-known Greek restaurant in Malibu, California. Malibu is known as an upscale beach town but it also happens to be where I went to college. Since I didn't have a kitchen my freshman year at Pepperdine University but I had my car, occasionally when I felt I needed a reward or a break from cafeteria food I would drive down to Taverna and order a similar lobster pasta to go.
Since it was such a large serving I could make it last for three separate meals. It is considered a special item on their menu and every time we go my mom gets nervous that they may not have it… they always do. It's been that way for the last 8 years.
I like serving this pasta dish with bucatini pasta, a thick spaghetti-like noodle with a whole in the middle, because it holds the light seafood sauce well and some gets inside the noodle as well.
The sauce for the pasta is similar to lobster bisque, a creamy smooth sauce flavored with seafood stock and aromatics. And if you don't know how to cook lobster tails? Don't worry it's easier than you think.
To cook lobster tails you simply bring a large pot of water to a boil and add the raw tails and cook for about until the meat is no longer opaque, about 8 to 12 minutes then remove from the pot and let cool. There are two different ways to break down lobster tails from here.
The first way is to use the palm of your hand and press down hard on the rounded red exterior of the shell to break it then pull away the meat inside.
The second is to use scissors and cut along the underside of the tail then use your hands to break away the shell and remove the meat.
Meat from whole lobsters can also be used in place of lobster tails in the recipe, I find lobster tails are the most readily accessible.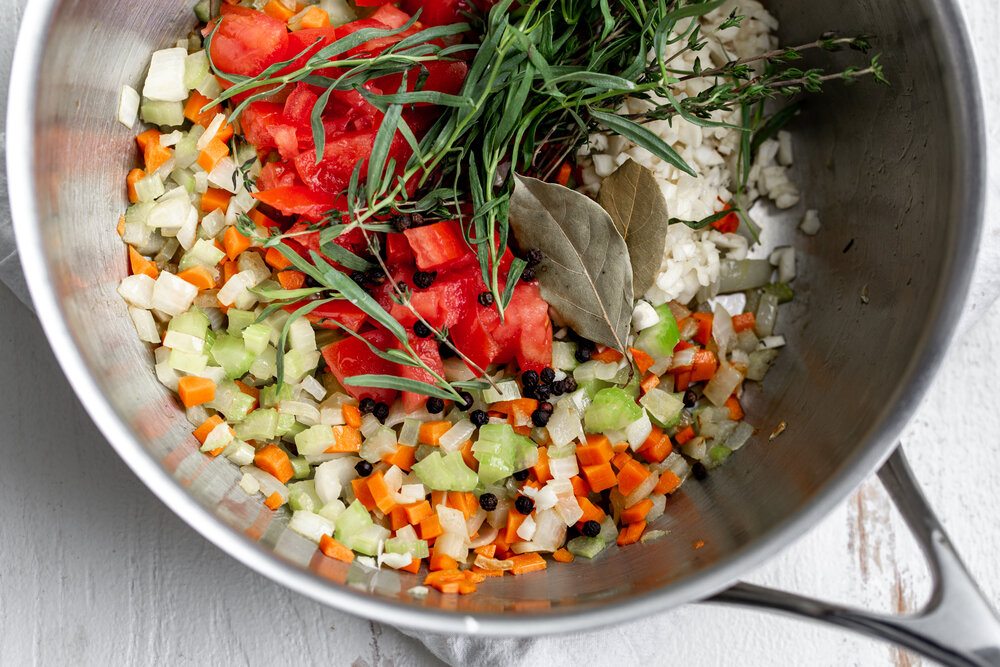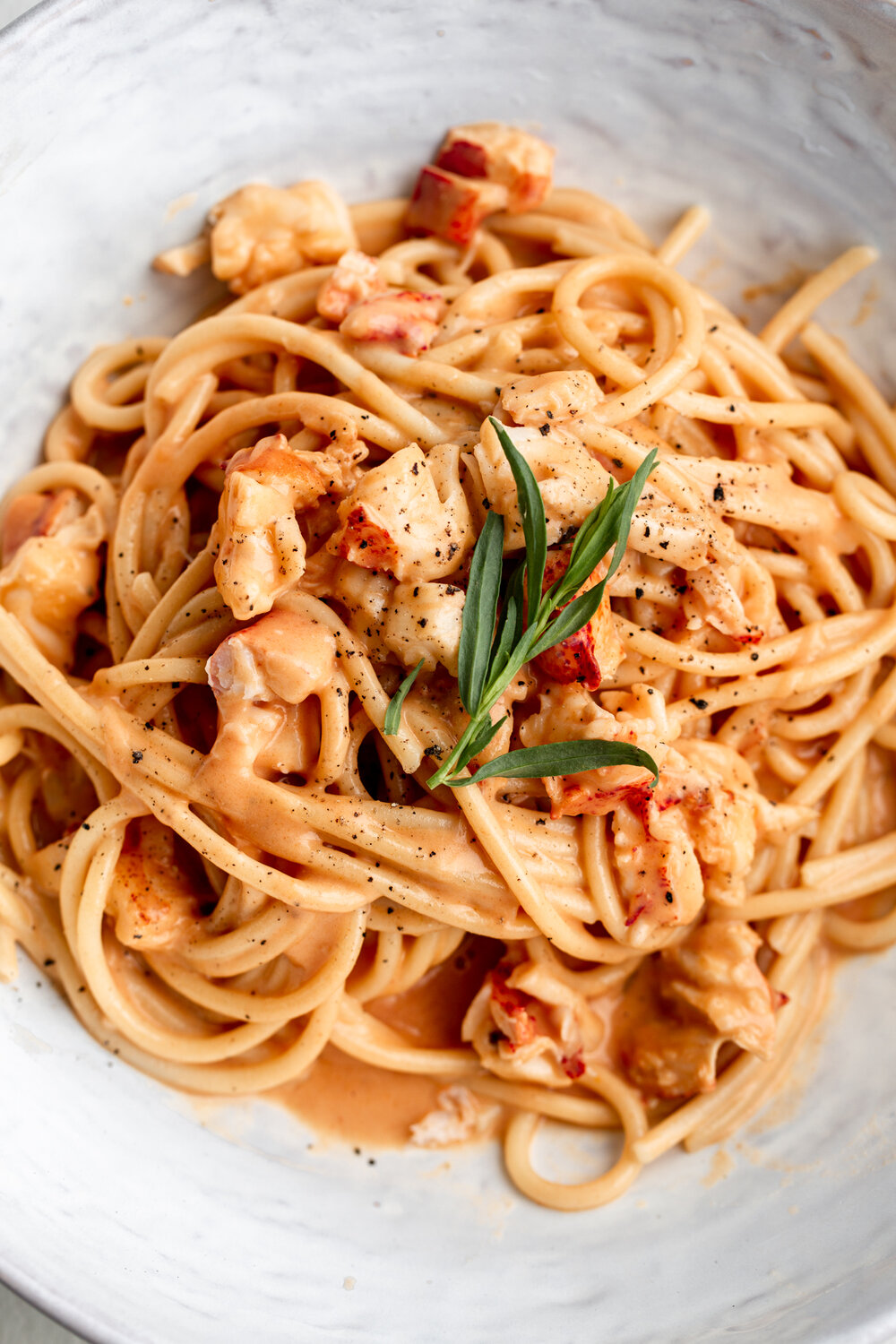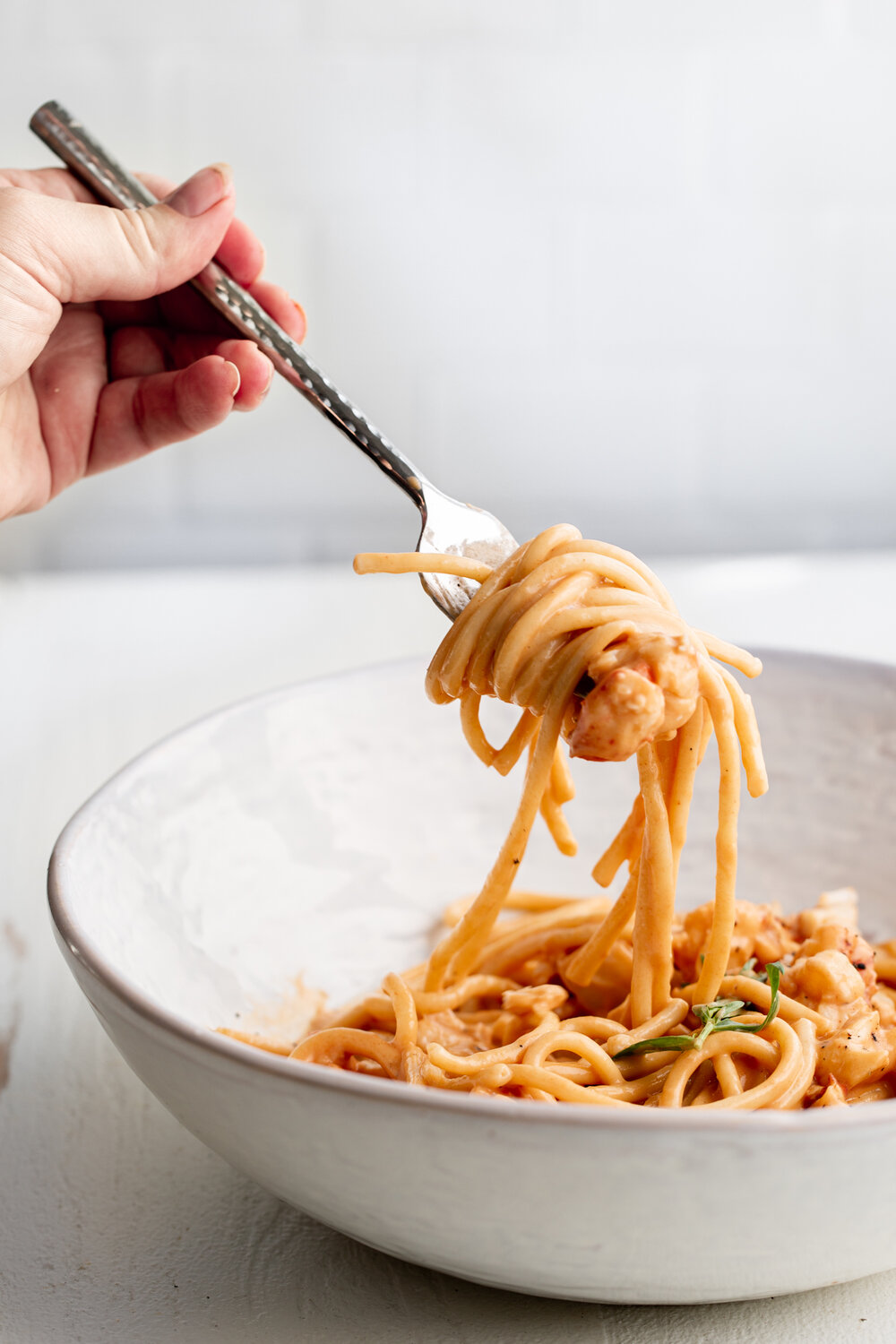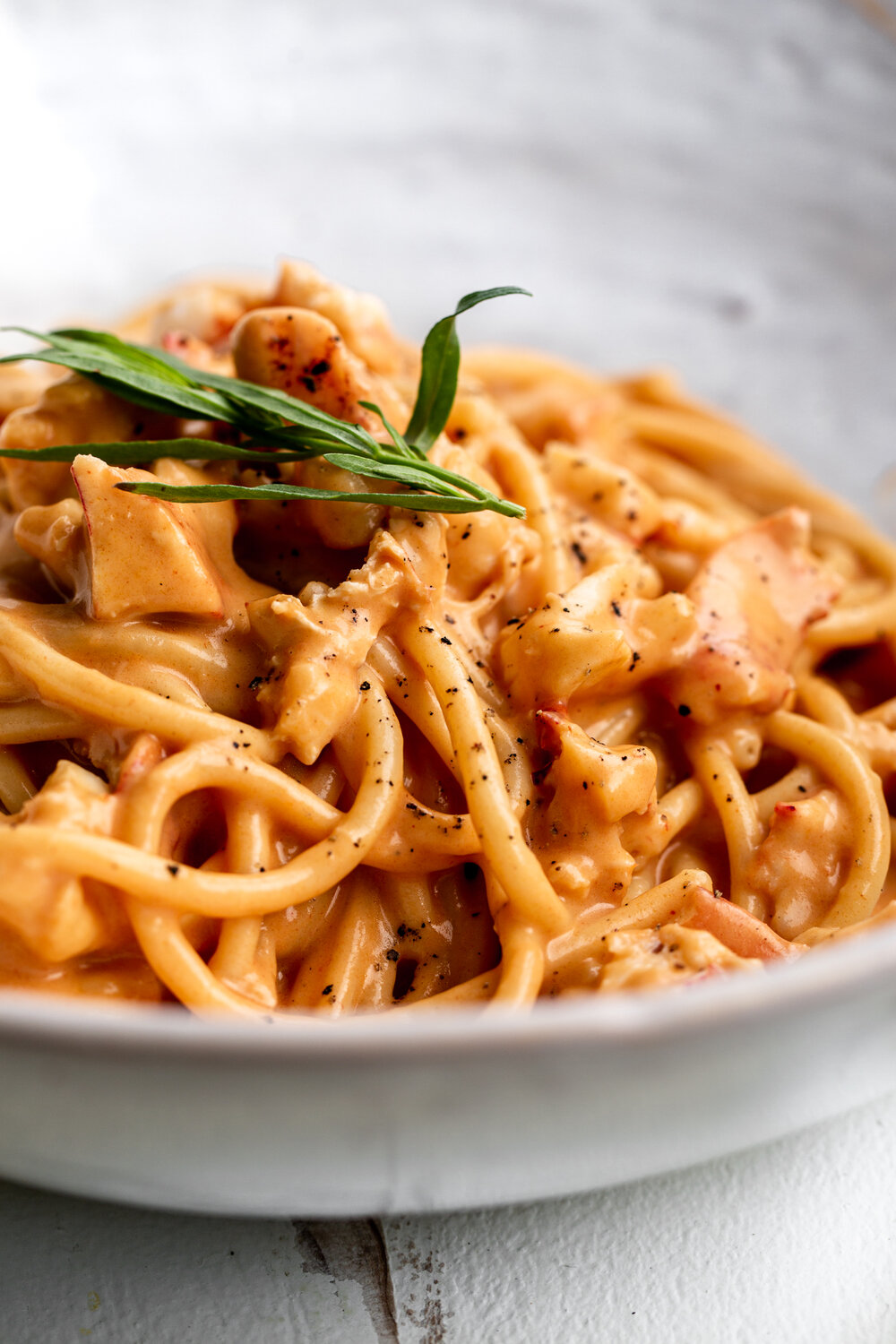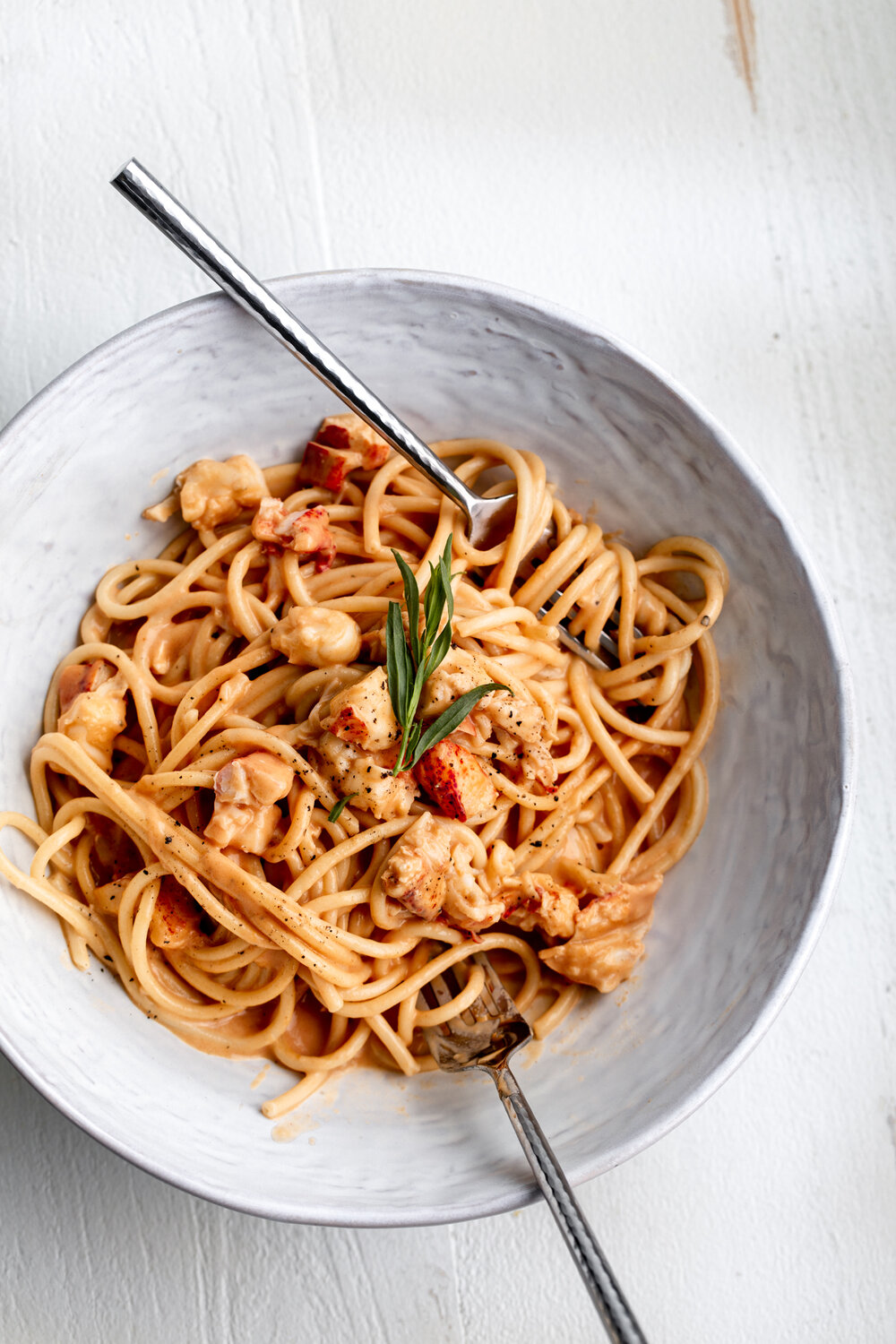 Creamy Lobster Pasta
5

tablespoons

extra-virgin olive oil

1

medium yellow onion,

diced

1

large celery rib,

chopped

1

large carrot,

chopped

1

medium red tomato,

chopped

7

cloves

garlic,

minced

1

tablespoon

chopped fresh tarragon leaves

1

tablespoon

chopped fresh thyme

2

bay leaves

¼

teaspoon

whole black peppercorns

½

cup

brandy

½

cup

sherry

4

cups

fish stock

3

Maine lobster tails,

uncooked (about ½ pound meat total)

2

tablespoons

tomato paste

2

cups

heavy cream

Kosher salt

as needed

Freshly ground black pepper,

as needed

1

cup

unsalted butter,

cut into ½-inch cubes

1

pound

bucatini pasta,

I like Setaro brand
Heat the oil in a large heavy pot over medium-high heat until hot. Sauté the onion, celery, and carrot (a mirepoix) until the onion becomes translucent and soft, about 10 minutes. Add the tomato, garlic, thyme, tarragon, bay leaves, peppercorns, brandy and sherry, stirring, until almost all liquid is evaporated, about an additional 5 to 8 minutes.

Add the tomato, garlic, thyme, tarragon, bay leaves, peppercorns, brandy and sherry, stirring, until almost all liquid is evaporated, about an additional 5 to 8 minutes.

Stir in the fish stock and simmer the mixture on medium-low heat, uncovered, stirring occasionally, for about 45 minutes until the mixture has reduced by about half.

While simmering, bring a large pot of water to a gentle boil. Add the lobster tails and poach for about 5 minutes, until just cooked through (do not overcook the lobster or the meat will become rubbery.)

Remove them from the water and set aside to cool. Once cool, hold the lobster tail in your hand with the underside facing up. Using scissors cut up the underside and pull out the meat. Chop the meat into bite-size pieces and set aside.

Remove the pot from the heat and pour the mixture through a fine sieve into a large saucepan, pressing on the solids to extract as much liquid as possible; discard the leftover solids. Whisk the tomato paste into the strained broth then whisk in the cream. Simmer for 15 minutes, until the broth is slightly thickened, stirring occasionally.

Turn the heat down to low and season with salt and pepper, to taste. Begin to whisk in the butter one cube at a time until it has all been added to the sauce. Add the lobster meat, stirring to combine, and continue then remove from heat.

Bring a large pot of water to the boil; add the salt and bring back to the boil. Pour in the pasta and cook, stirring occasionally, until al dente, about 10 minutes. Drain and return the pasta to the pot. Ladle in the enough of the sauce to lightly coat the pasta.

To serve, ladle the pasta with sauce into warmed pasta bowls. Serve hot.
DID YOU MAKE THIS?
TAG ME ON INSTAGRAM TO BE FEATURED ON MY STORIES! @cookingwithcocktailrings