If you have ever been to NYC's Italian restaurant Carbone then you have definitely had their famous spicy rigatoni. You can't make the trip without ordering it. At Carbone, the house-made rigatoni is tossed in a chunky, spicy bright orange sauce the color of the Hermés logo; and it tastes just as luxurious.
Spicy Rigatoni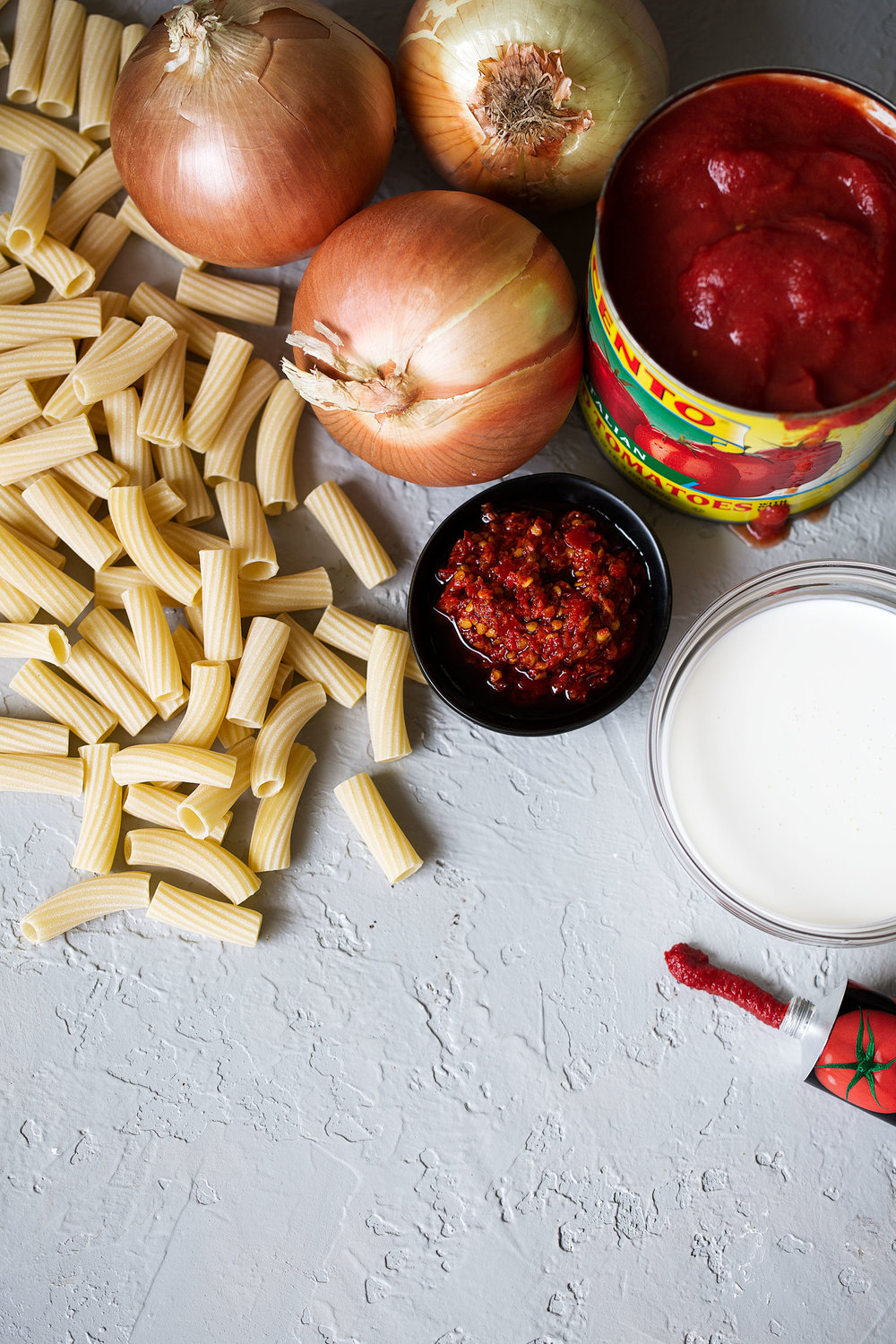 What is spicy rigatoni sauce?
While some refer to it as a vodka sauce, it's more than that (plus the Carbone spicy rigatoni recipe doesn't actually use vodka in their sauce) – it's different than other vodka sauces that I've had and is definitely spicier. It's more similar to a creamy arrabbiata sauce.
Restaurant's like Los Angeles hot spot Jon + Vinny's have a similar spicy fusili dish where a similar sauce is served pureed until smooth before it's tossed with the pasta. Pro tip: you can have them add burrata to theirs! Try it at home with this recipe.
I've been to the restaurant's location in Las Vegas twice and since there isn't one in Los Angeles, and after eating there, I knew that I had to find a way to recreate a similar version of the recipe to satiate my carb cravings. Watch a how-to video for my version of the Carbone spicy rigatoni recipe here.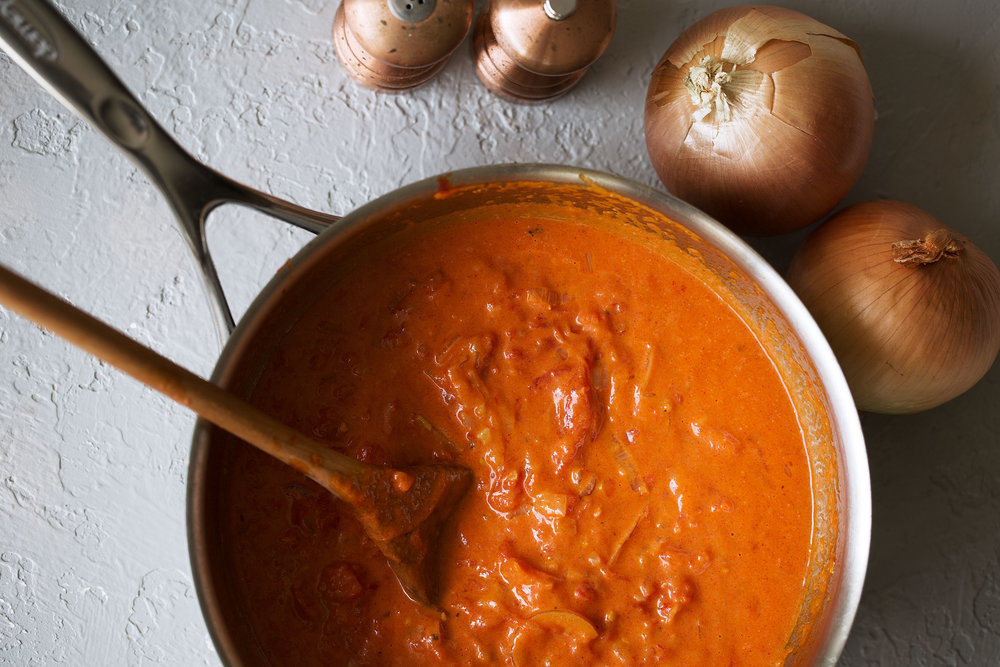 What's in the spicy rigatoni sauce?
Onion soubise (slow simmered onions)
Garlic
Whole peeled tomatoes
Cream
Calabrian chili
Crushed red pepper
What is onion soubise?
My personal mission was to create a comparable dupe sauce to the one I found myself craving. The base of the sauce is an onion soubise, an easy, three-ingredient French sauce. The onions are cooked over a long period of time at a low heat until they become tender and flavorful. Onion soubise is classically puréed with cream as an accompaniment to meat such as a seared steak or roast chicken.
The goal isn't to put color on the onions but to coax out the flavor so don't try to rush it. Make the onion mixture a few days ahead of time and reheat when needed in order to minimize the day of prep.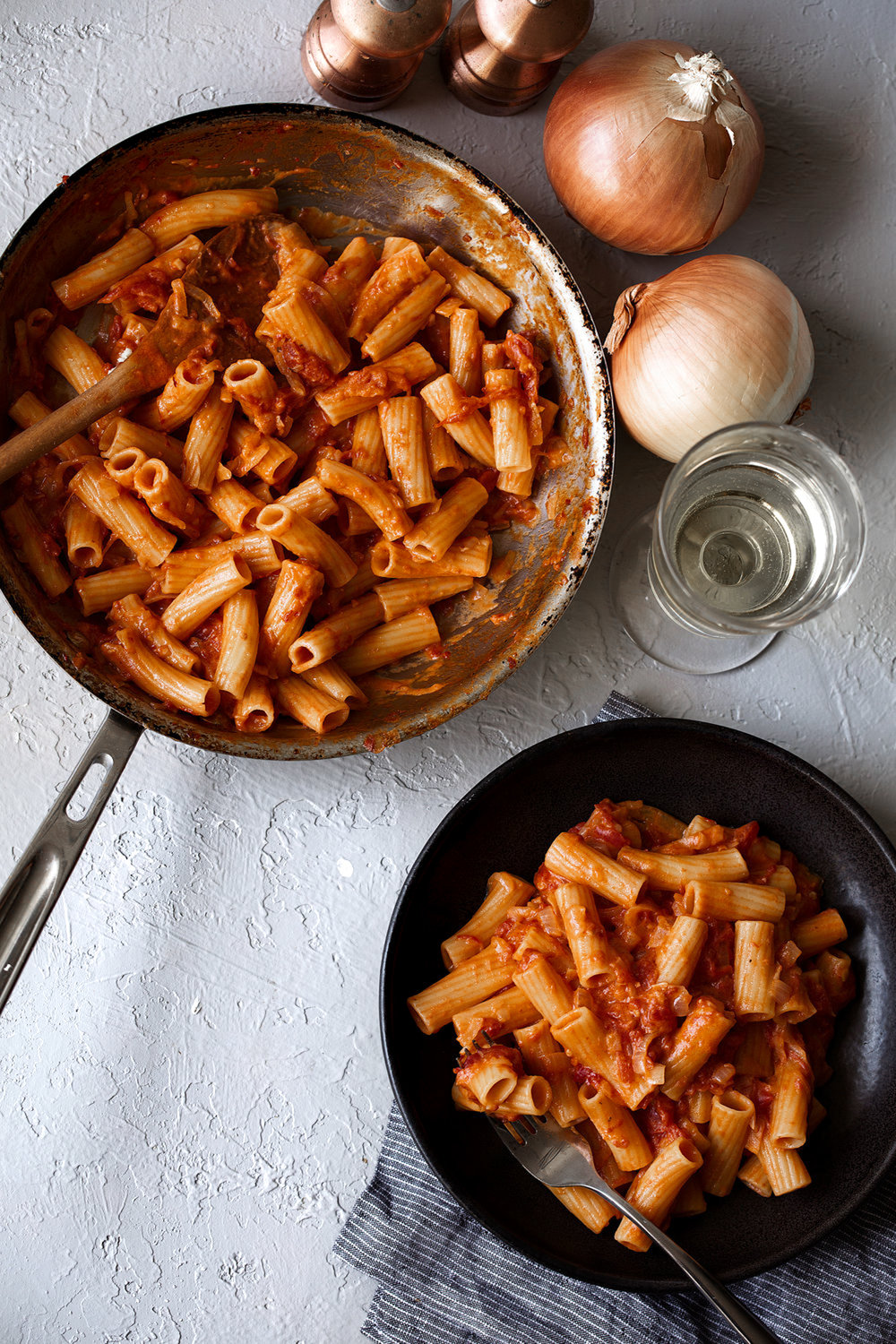 How to make spicy rigatoni
Step 1
Make the onion soubise by slowly simmering the onions in butter and a little water.
Step 2
In a large pot sauté the garlic then add the tomato paste, tomatoes and sugar.
Step 3
Simmer then season with salt
Step 4
Add the onion soubise followed by the cream, chili paste and red pepper flakes.
Step 5
Cook the pasta, making sure you save some of the pasta cooking water.
Step 6
Ladle the sauce over the pasta, stirring to combine and adding pasta water as needed to make the sauce creamy.
Step 7
Serve and enjoy!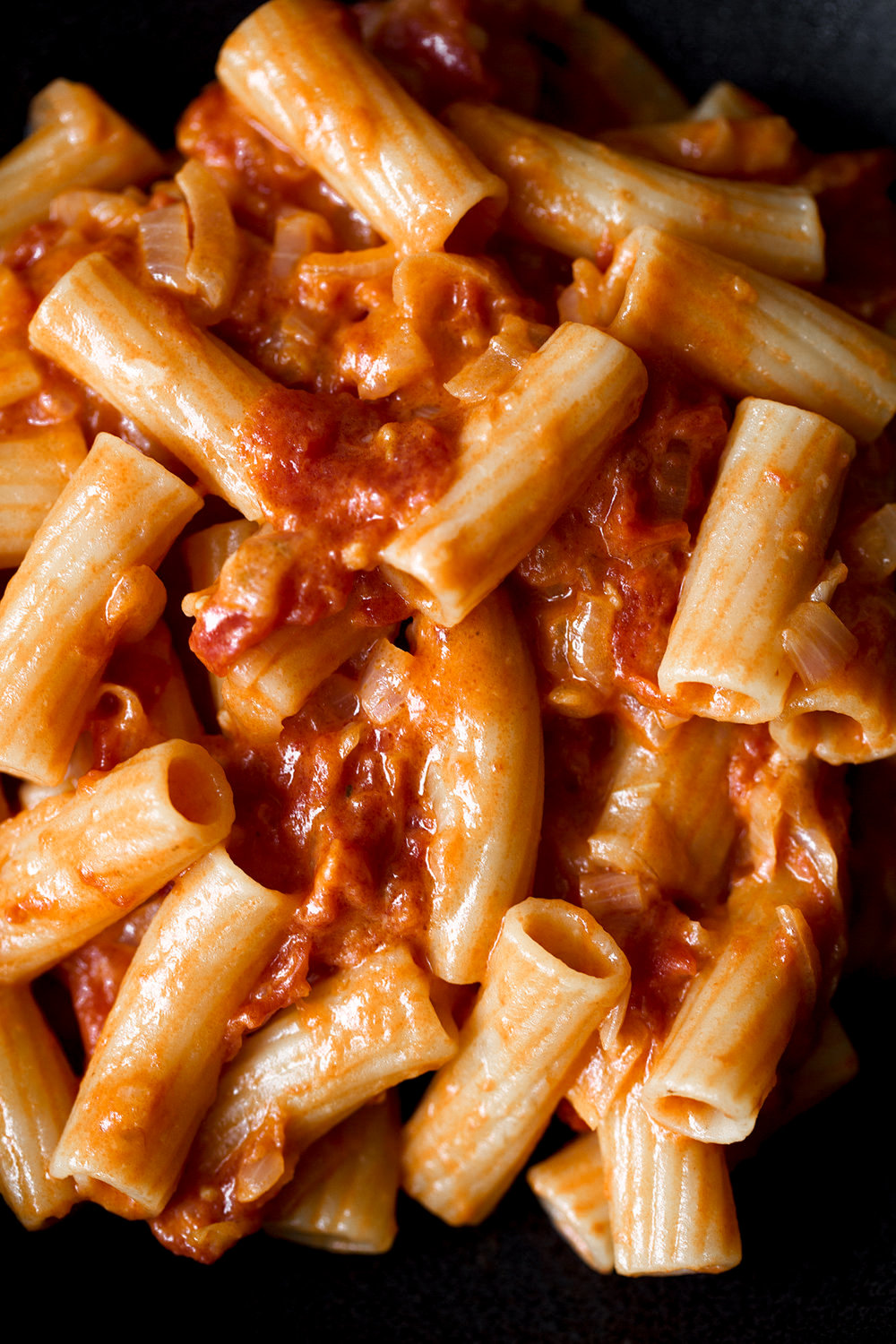 FAQ – Frequently Asked Questions
What if I can't find calabrian chilies?
While they are becoming more widely available (Trader Joe's Bomba sauce is a good substitute) if you can't track down calabrian chili paste then I'd recommend finely chopping fire roasted red peppers and stirring them together with crushed red pepper flakes to form a paste. It won't have the exact same flavor but it will do in a pinch.
If you can't find calabrian chili paste at your local store I'd recommend ordering a jar from Williams Sonoma or Amazon. If you can only find whole jarred Calabrian chilies, simply remove the stems and finely chop them.
Do I really need to simmer the onions for that long?
Yes! Slowly cooking them coaxes out the subtle, sweet onion flavor and turns it into a buttery, jam-like consistency. It mellows the harsh flavor of onions. You don't want caramelized onions for this.
Should I add olive oil to my pasta water?
No! You want this sauce to bind to the noodles – this is aided by the addition of the pasta water. Adding oil when cooking the noodles will make them slippery and the sauce won't stick as well.
How is this creamy arrabiata sauce different from vodka sauce?
It's more of a creamy arrabbiata sauce. Vodka sauce such as this one here don't typically have whole tomatoes, the base of the sauce is just tomato paste and cream flavored by shallots, a touch of vodka and red pepper. This sauce gets it's flavor from the slowly simmered onions while the spice comes from the Calabrian chilies and red pepper flakes.
Can I blend the sauce?
Yes! If you like a creamier, silky sauce, then throw all or half the sauce into the blender. This will make the sauce be more similar to the famed pasta dish from Jon & Vinny's in Los Angeles.
What else can I do with Calabrian chilies once I've bought them?
So you bought a jar of Calabrian chili peppers and want some more uses? Try my Angry bee pizza with Calabrian chilies and honey, this porchetta, egg and cheese breakfast sandwich with calabrian chili ketchup, spicy Calabrian chili beef ragu or this Italian sloppy Joe.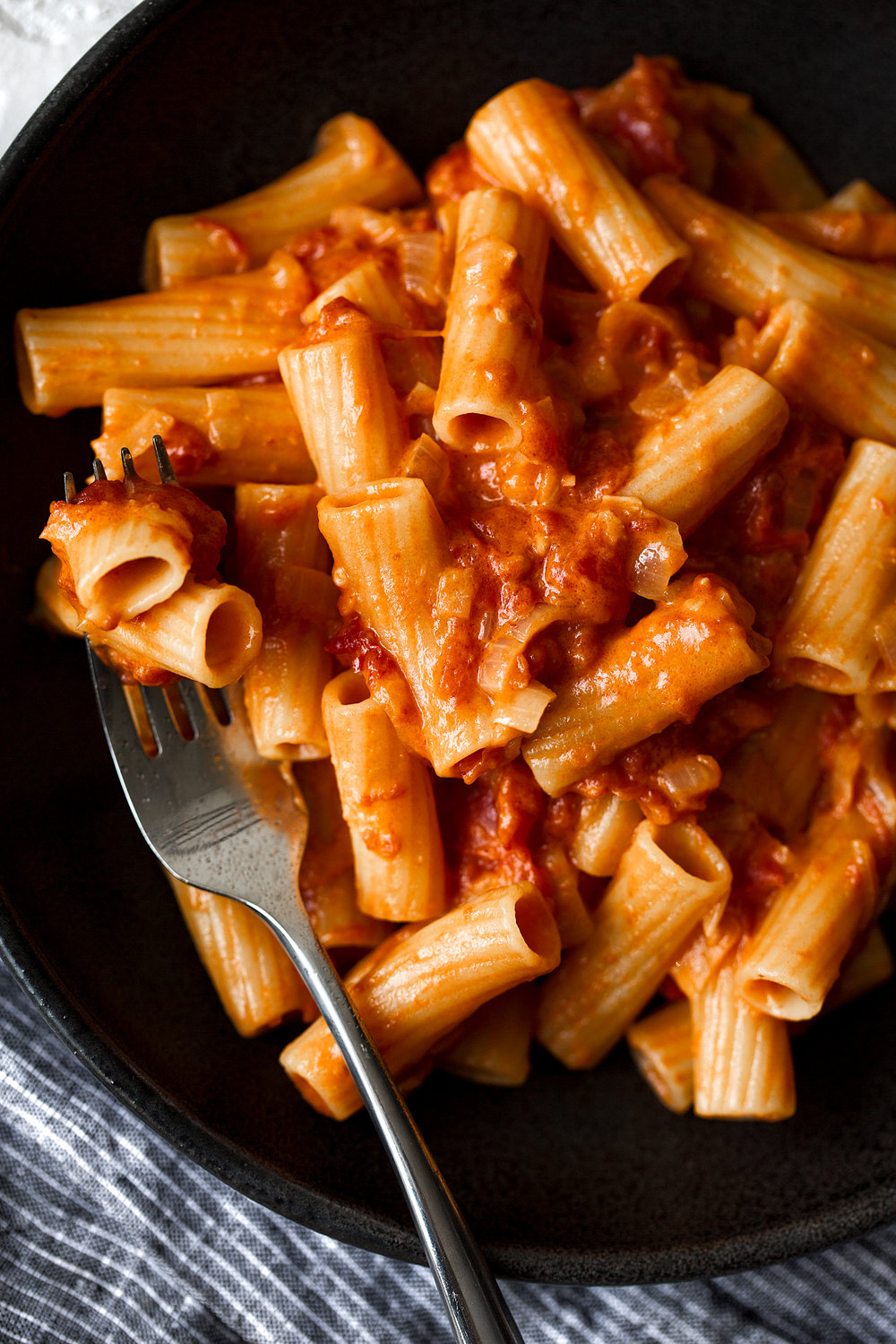 Other Recipes to Try
If you enjoy this spicy rigatoni recipe, I recommend checking out some of these:
Spicy Rigatoni
2

medium yellow onions,

halved and thinly sliced

5

tablespoons

unsalted butter

Kosher salt,

as needed

¼

cup

extra-virgin olive oil

2

cloves

garlic,

chopped

2

tablespoons

tomato paste

2

(28-ounce) cans whole peeled tomatoes,

drained and roughly chopped

2

tablespoons

granulated sugar

½

cup

heavy cream

2

tablespoons

Calabrian chili paste*

¼

teaspoon

crushed red pepper

1

pound

rigatoni

(or penne, lumache or pipe rigate)
Heat a medium saucepan over low heat. Add the butter, ½ cup of water and the onions to the pan. Continue to simmer the onions over low heat, stirring occasionally, until they are tender, about 1½ hours. Season with salt then set aside and let cool.

In a large pot over medium heat add the olive oil and heat through. Add the garlic and sauté briefly, then add the tomato paste, the tomatoes and sugar, stirring to combine.

Let simmer for 15 minutes, then season to taste with salt.

Add the onion mixture to the pot and stir to combine then whisk in the cream, chili paste and chili flakes.

Bring a large pot of water to a boil; add the salt and bring back to the boil. Add the pasta and cook, stirring occasionally, until al dente, about 8 minutes. Reserve 1 cup of the pasta water then drain, and return the pasta to the pot.

Ladle the sauce over the top and toss to combine, cooking for an additional minute. If the sauce is too thick, add the pasta water 2 tablespoons at a time to thin the sauce.

Serve the spicy rigatoni hot in warmed pasta bowls.
Calabrian chili paste is a spicy mixture made from crushed and oil-packed Calabrian chilies; a smoky and sweet pepper that adds a lot a flavor and just the right amount of spice. Be careful, a little goes a long way. It can be found at some specialty grocery stores, Italian markets or online on Williams Sonoma here.
DID YOU MAKE THIS?
TAG ME ON INSTAGRAM TO BE FEATURED ON MY STORIES! @cookingwithcocktailrings