At its base vinaigrette is a simple ratio of 1 part acid to 3 parts oil. The fat (oil), and acid (lemon or vinegar), emulsify to create a salad dressing which gets flavors from the addition of salt and pepper as well as shallots and Dijon mustard, both of which also help it to emulsify. Use this basic recipe as a simple dressing or as a base for more unique and complex salad dressings with embellishments like fresh herbs and other spices. It is a simple and heart-healthy salad dressing made with basic pantry staples and is an incredibly flexible recipe that can be adjusted based on taste. The oil to vinegar ratio can be used to easily scale this recipe up or down. To start, I use ¾ cup of oil to ¼ cup acid.
For the most part I have completely stopped using store bought salad dressings. I prefer to make my own vinaigrette and use it as a salad dressing, marinade or sauce over meats and fish. The recipes can also be made in larger batches and stored in the fridge for easy use as needed. Making this at home ensures there are no additives and you have control over the ingredients.
If serving over salad, test the flavor of your vinaigrette by dipping a leaf of lettuce (or whatever green you are using) in it. You will then know if the flavor complements the salad.
The Best Simple Vinaigrette Recipe
Table of contents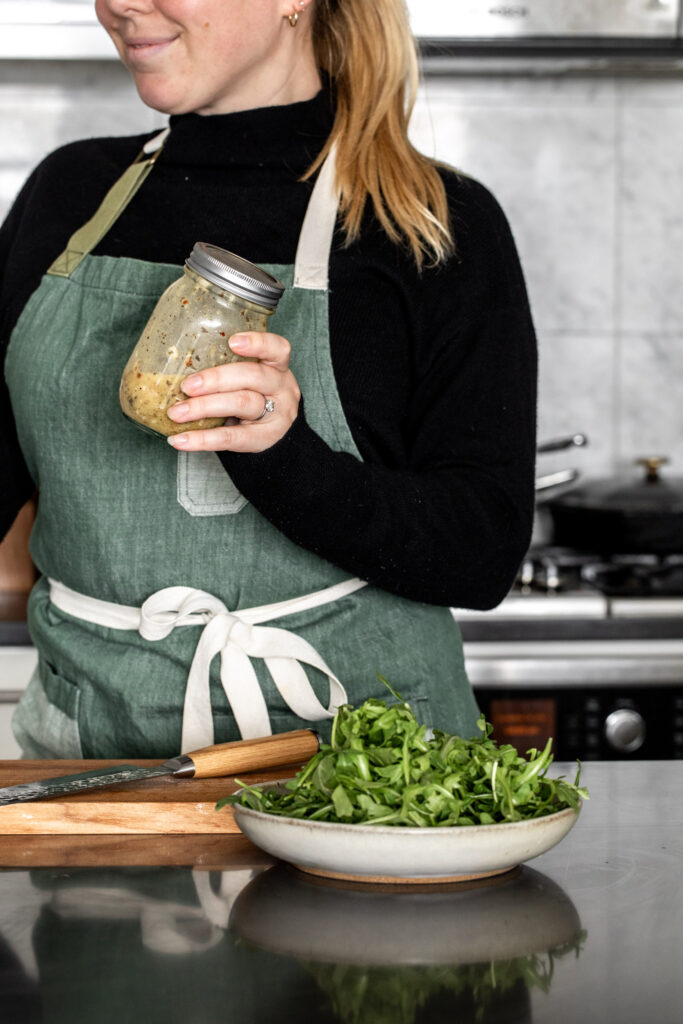 Key Ingredients in This Recipe
Olive oil – While all olive oil comes from the fruit of olive trees, it's not all created equal. Extra-virgin olive oil is unrefined and made from pure, cold-pressed olives, giving it more of a true olive taste. Regular olive oil is made from a blend of both cold-pressed and processed oils. When deciding between the two, I typically cook with extra-virgin olive oil. While olive oil adds a richer flavor to dressings, other oils, like a neutral vegetable oil, allow other flavors to shine. Be aware that a strongly flavored oil like extra-virgin can overpower some dressings.
Acid – Classically, either white wine or red wine vinegar is used for vinaigrette, though other vinegars like rice vinegar, apple cider vinegar or even a citrus vinaigrette (like lemon or orange) can be used. I wouldn't recommend using white vinegar – it is too harsh and acidic for most dressings.
Dijon – Dijon mustard is an emulsifier, helping to keep the oil and acidic elements together. Dijon also has a mellow mustard flavor with a balanced taste.
Salt and pepper – After making the dressing I season it with salt and pepper, adjusting to taste. Seasoning before emulsifying the ingredients may result in an overly salty or peppery dressing.
Seasonings – While oil and vinegar make a great base, they need some additional seasoning to make a good salad dressing. Diced shallot, which is an allium with a milder flavor than onions, is classically included in a basic vinaigrette. I frequently swap chopped garlic for the shallot in my vinaigrettes.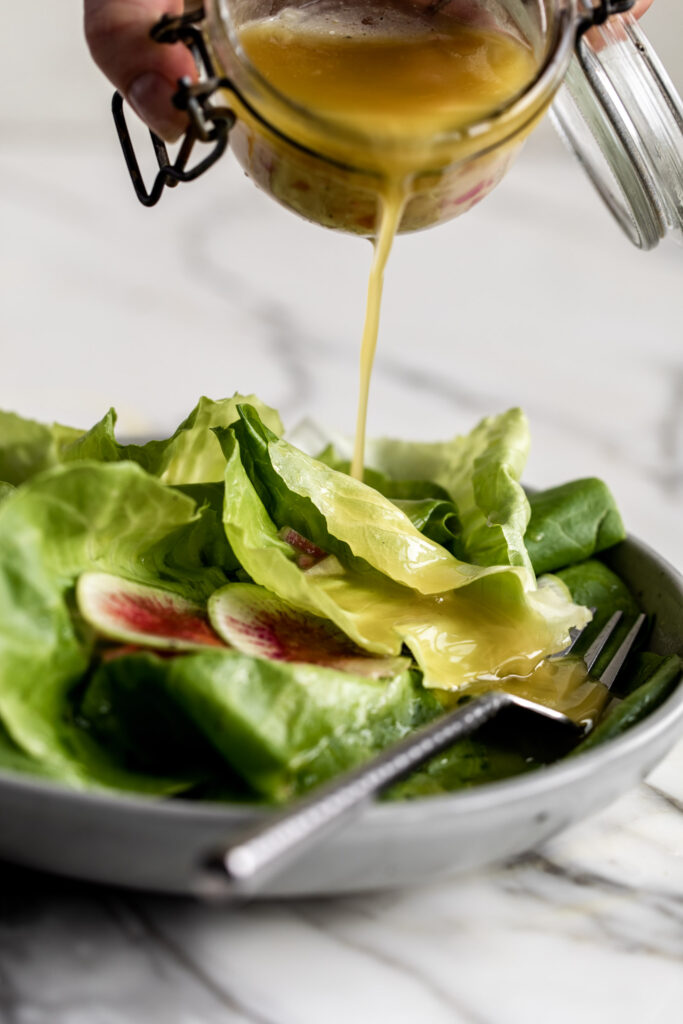 Instructions to Emulsify Your Dressing
Oil and vinegar naturally separate into layers. Shaking or whisking them forces them to combine, creating a blended dressing though sometimes they need a bit of help staying together. Ingredients like Dijon mustard help to bind those ingredients together and hold the emulsion.
There are three different ways to get those molecules to combine and attain the desired texture:
1 . Whisk in a bowl using a whisk or fork.
This method works well when making a small batch that you will use immediately.
2. Shake the dressing in a mason jar.
Use this method when taking a salad dressing on the go or when making it in a larger batch that you will store in the refrigerator.
3. Blend using a blender, immersion blender (handheld blender) or food processor.
This method works best when you want a really creamy or uniform dressing. For example a creamy balsamic vinaigrette or blended raspberry vinaigrette.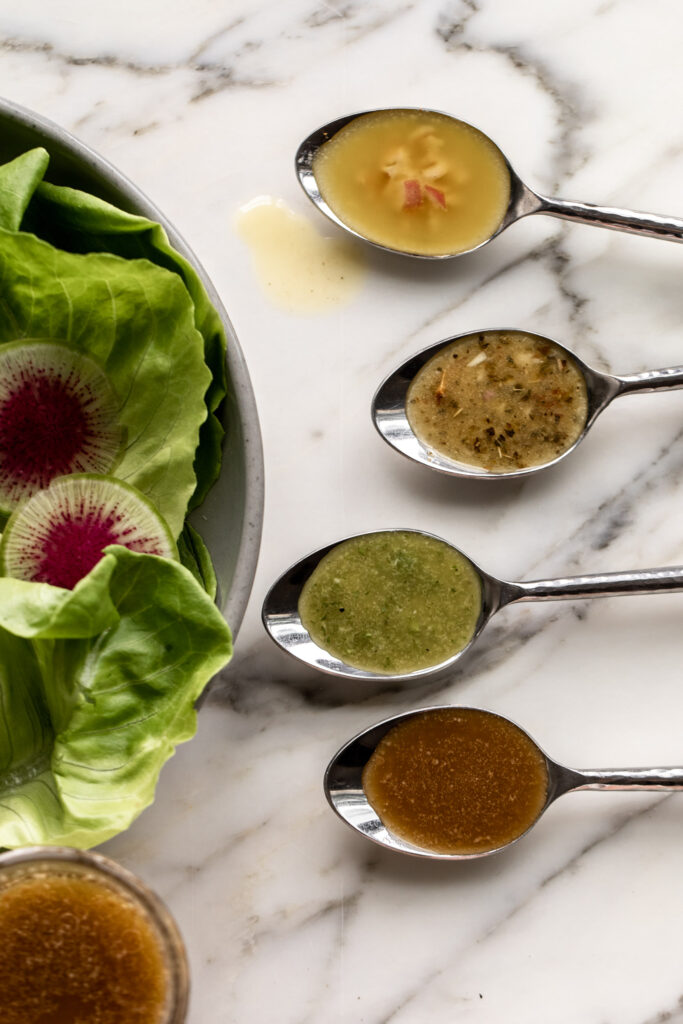 Vinaigrette Variations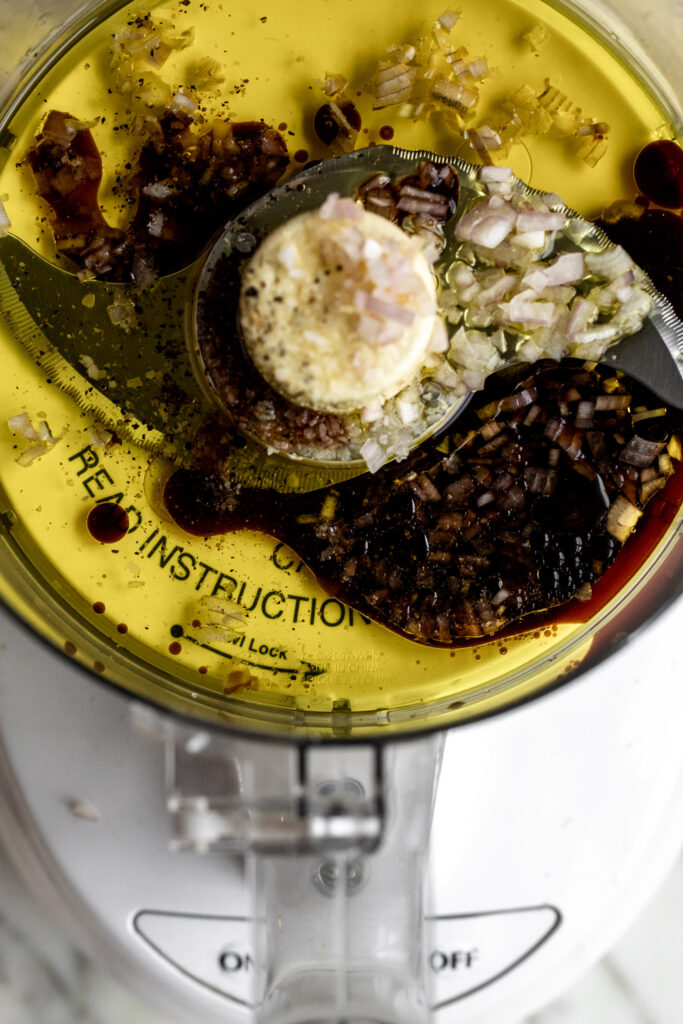 Balsamic vinaigrette
Use balsamic vinegar as the acid in this recipe and use a blender, immersion blender or food processor to make a creamier vinaigrette or simply whisk and use for a classic vinaigrette.
Balsamic is sweeter and more syrupy than other wine vinegars. It's made from the unfermented juice of grapes, called "must", and aged for 12 years or more.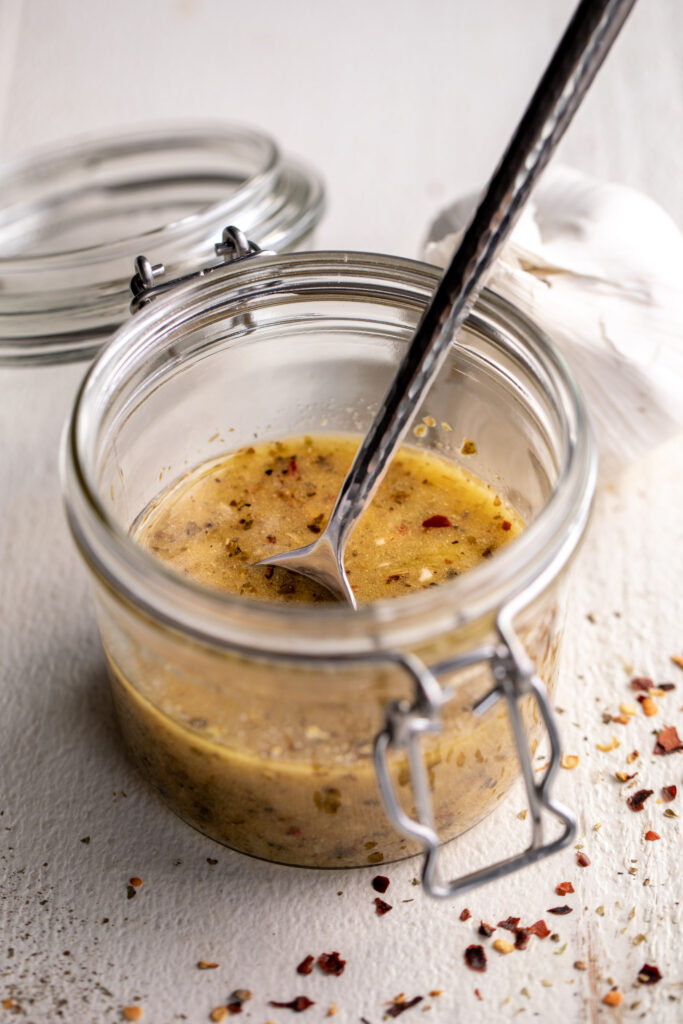 Italian vinaigrette
Use 2 cloves of minced garlic in place of the shallot then add 1 teaspoon dried oregano, 1 teaspoon dried basil and ½ teaspoon red pepper flakes to the basic vinaigrette recipe for fresh Italian flavors. Chopped fresh herbs can also be used though the vinaigrette won't last as long.
This vinaigrette, also known as Italian dressing, pairs well with simple green salads or as a marinade for grilled vegetables or chicken.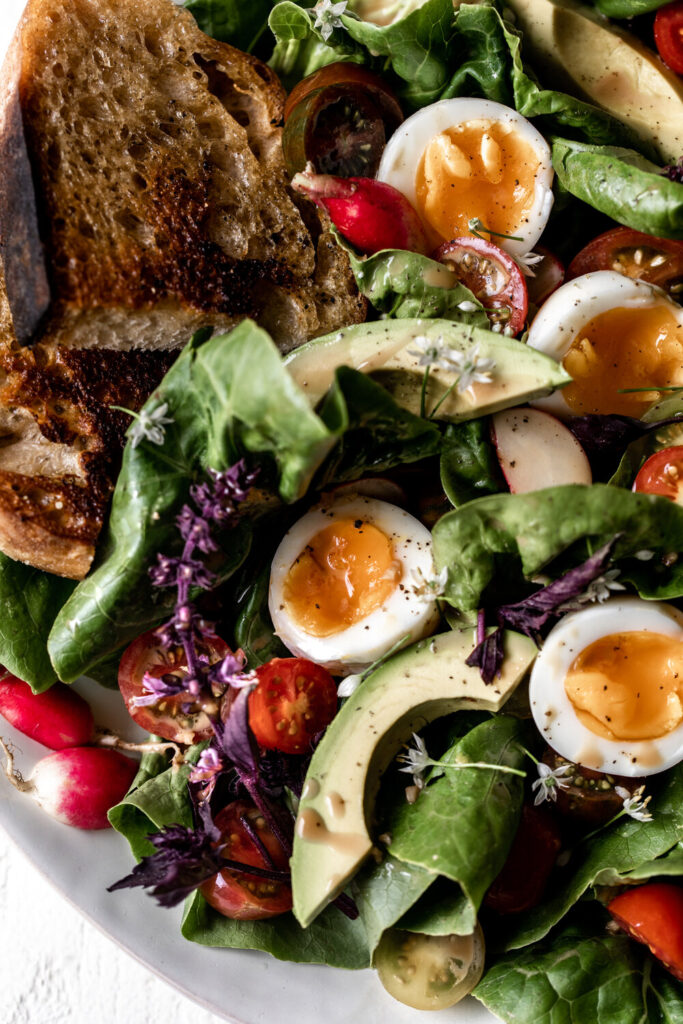 Creamy vinaigrette
For a creamy vinaigrette that holds together add 1 teaspoon of mayonnaise, sour cream or Greek yogurt for every ½ cup of vinaigrette and blend until creamy.
All ingredients but the oil can also be added to a food processor, slowly drizzling in the oil as it's running to help create a creamy texture.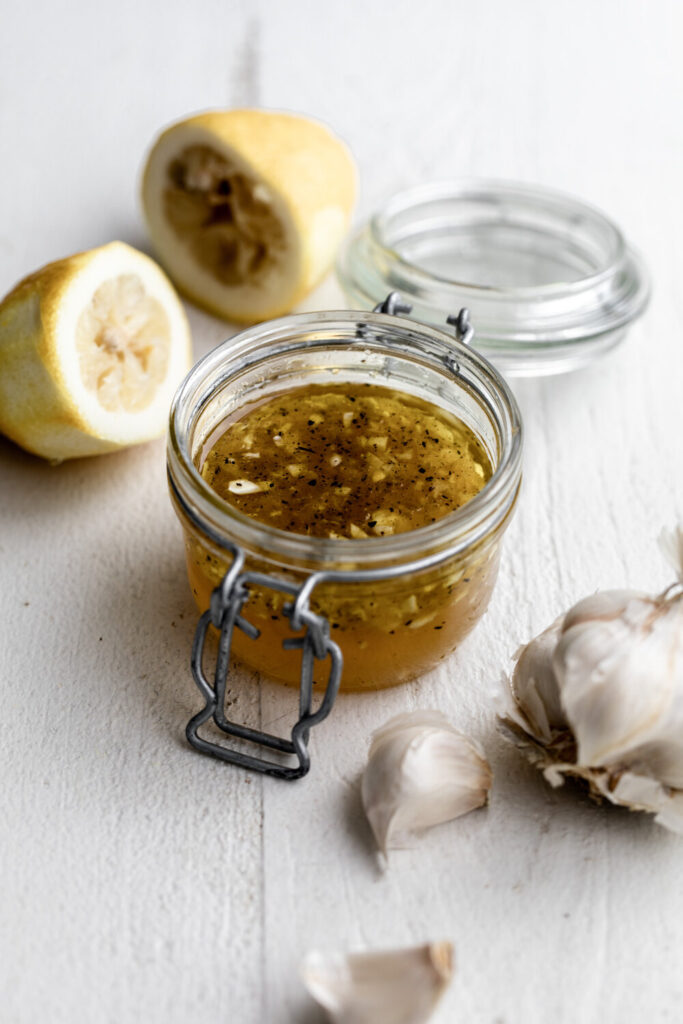 Lemon vinaigrette
Substitute the vinegar in the basic vinaigrette recipe with lemon juice, whisking to combine. Try grilling the lemon first for a more complex flavor.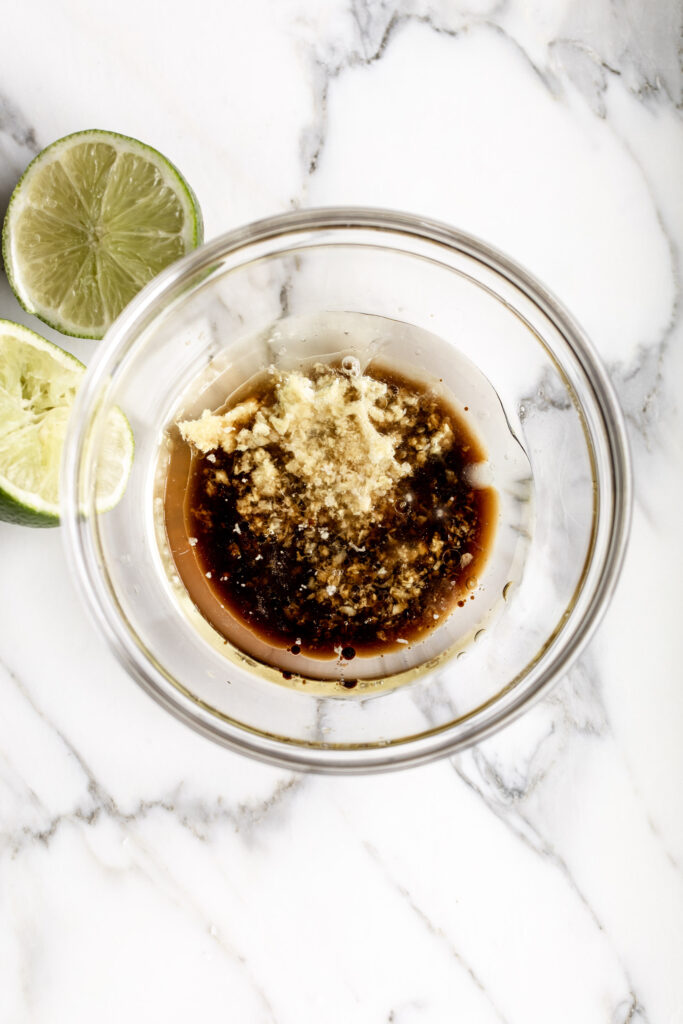 Soy ginger vinaigrette
Use a neutral oil like vegetable or grapeseed oil, use rice vinegar, substitute the shallot with 1½ teaspoons of finely grated ginger, omit the dijon and add 1 tablespoon of soy sauce.
This pairs especially well with this sesame crusted seared ahi tuna recipe
Cilantro lime vinaigrette
Substitute the vinegar in this recipe with lime juice and 2 minced cloves of garlic (substituted for the shallots), and add ½ cup packed cilantro and omit Dijon.
Whisk or add the dressing ingredients to a blender and pulse until the cilantro is chopped for a more uniform dressing.
This dressing goes particularly well over this chipotle BBQ chicken salad made with butter lettuce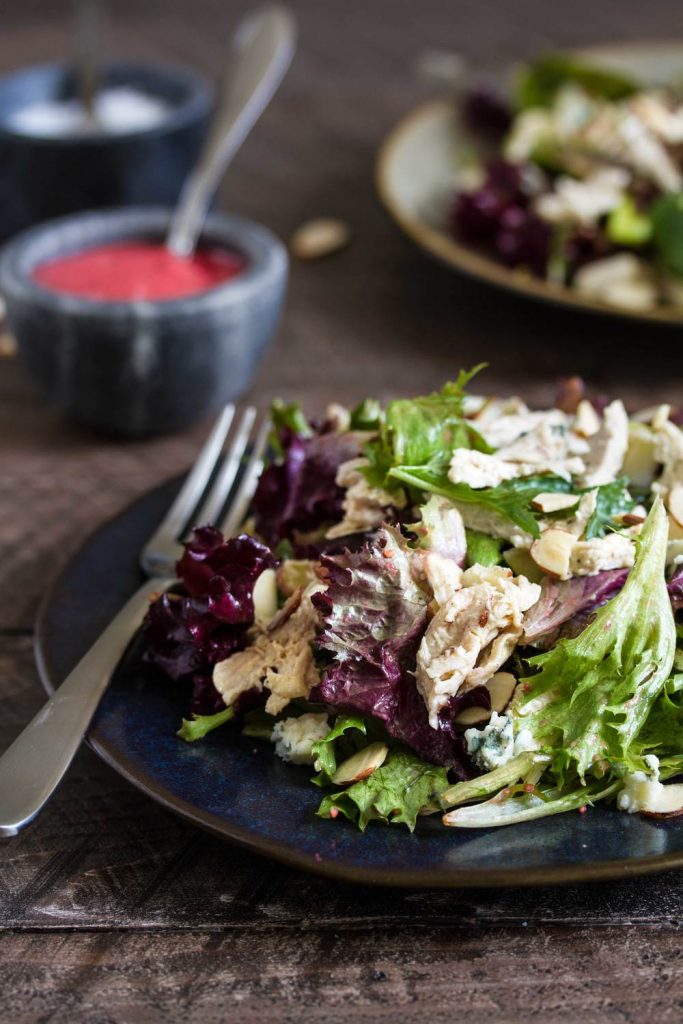 Raspberry vinaigrette
Add ½ cup fresh raspberries to the basic vinaigrette recipe and blend using a blender, emulsion blender or food processor.
I serve this recipe over a mesclun greens salad with chicken
Red onion vinaigrette
Substitute the shallot with diced red onion for a more potent vinaigrette with a stronger onion flavor.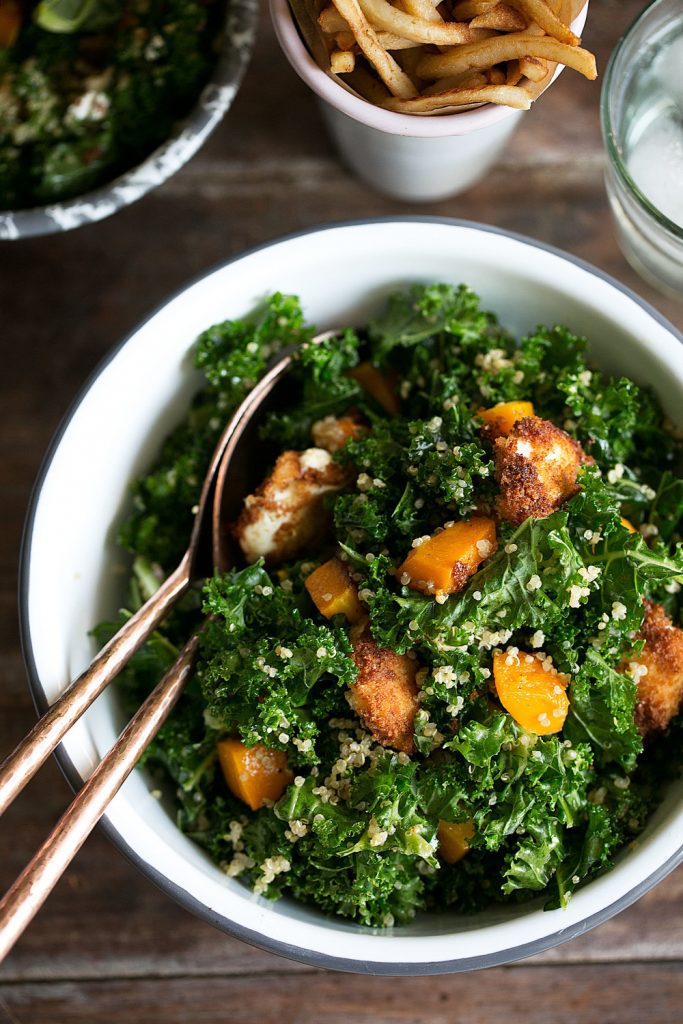 Apple cider vinaigrette
Use apple cider vinegar in this recipe and add 1 teaspoon of maple syrup to slightly sweeten the dressing and offset the acid. Whisk to combine.
Try it over this kale salad with warm goat cheese.
Other Recipes to Try
If you enjoy this recipe, I recommend checking out some of these: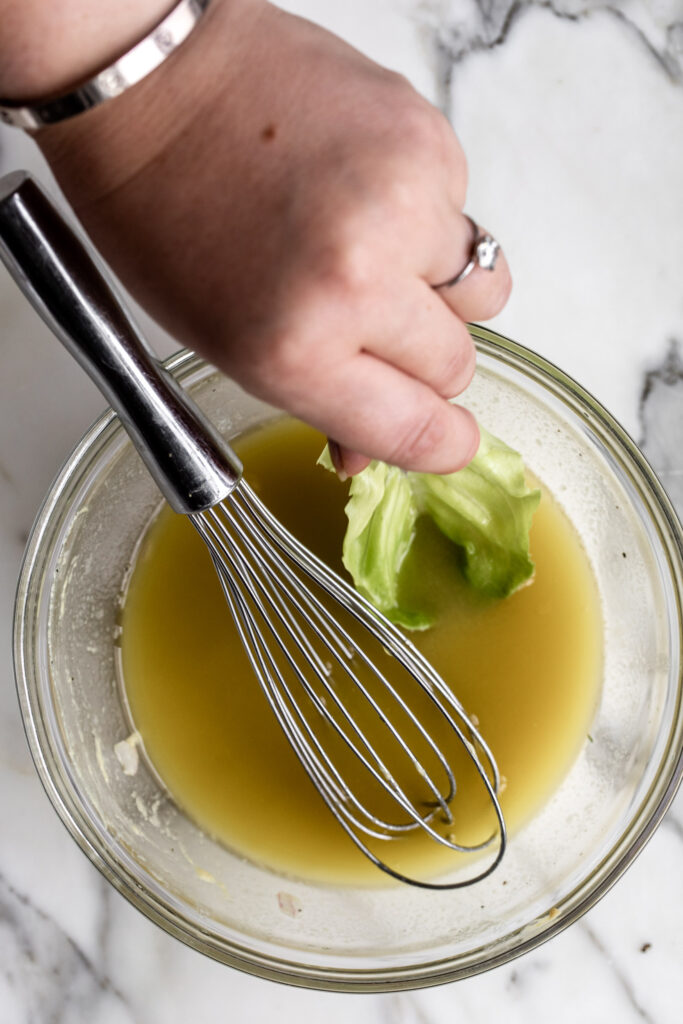 The Best Simple Vinaigrette Recipe
¾

cup

extra-virgin olive oil

¼

cup

red or white wine vinegar

2

tablespoons

minced shallots

2

teaspoons

Dijon mustard

Kosher salt,

as needed

Freshly ground black pepper,

as needed
Add all ingredients to a small bowl.

Whisk to combine until the vinaigrette has emulsified.

Season to taste with salt and pepper.

Use or store the vinaigrette in a container with a lid. Store, refrigerated, for 3 to 5 days.
DID YOU MAKE THIS?
TAG ME ON INSTAGRAM TO BE FEATURED ON MY STORIES! @cookingwithcocktailrings