This seared ahi tuna with sesame seeds is a quick meal that comes together in under 30 minutes for an easy lunch or appetizer. When searing the tuna it is important that the pan is already extremely hot so that you get a crust on the fish without cooking the inside too much. You want it to be medium-rare!
Seared tuna is a staple among menus at many fancy restaurants but it is so easy to recreate at home as long as you have high-quality ingredients. This recipe is for sushi lovers and even those scared of eating raw fish. If you are a fan of seared tuna, I'd recommend this ahi poké recipe or ahi tuna wonton nachos.
Sesame Crusted Seared Ahi Tuna with Arugula Salad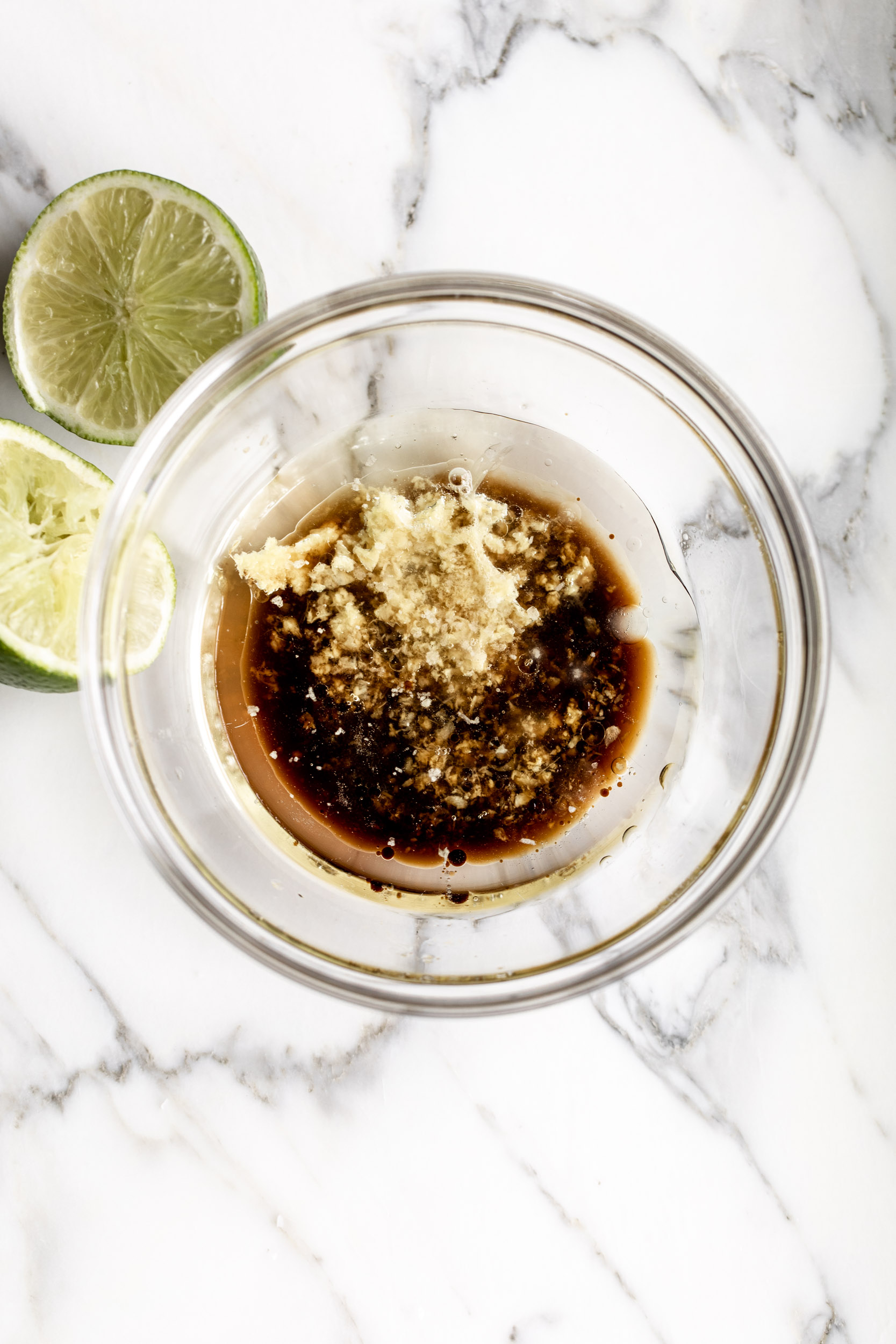 What's in the dressing?
Vegetable oil or other neutral oil – I typically use either grapeseed oil or vegetable oil in dressings where I want the other flavors (like the ginger and lime juice) to shine. A "neutral oil" means they don't really have a flavor whereas olive oil has a distinct flavor.
Ginger – Grate the ginger using a microplane. To peel the skin off the ginger, use a spoon to peel it away easily.
Lime juice – My favorite trick to get the most juice out of a lime is to use your open palm to roll the lime on a cutting board or other hard surface. This will break the walls of the individual segments inside the lime and you get more juice.
Rice vinegar – Rice vinegar is made from fermented rice and is less acidic than many other vinegars.
Soy sauce – I typically use low sodium soy sauce and then season the dressing as needed with salt. I like the ability to control the salt levels depending on personal preference.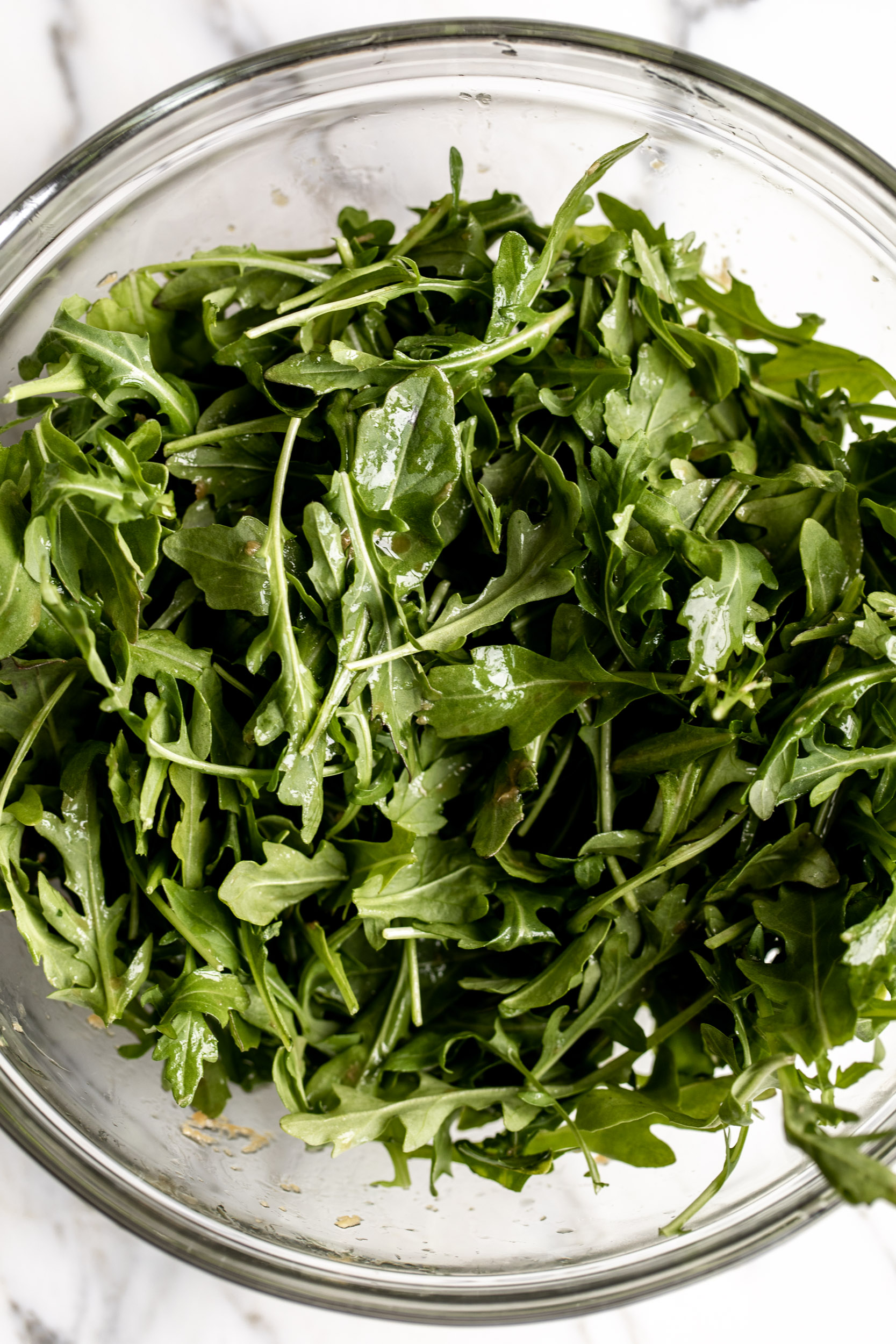 How to Sear Tuna
Step 1
Whisk together dressing in a small bowl and set aside.
Step 2
Season the tuna with salt then evenly coat the tuna steak in sesame seeds.
Step 3
Heat your pan until almost smoking then add the vegetable oil and add the tuna.
Step 4
Sear the tuna on both sides then remove it to a cutting board to let cool.
Step 5
Slice the tuna steaks into strips.
Step 6
Toss the arugula with dressing then add to a plate and top with strips of seared tuna and avocado.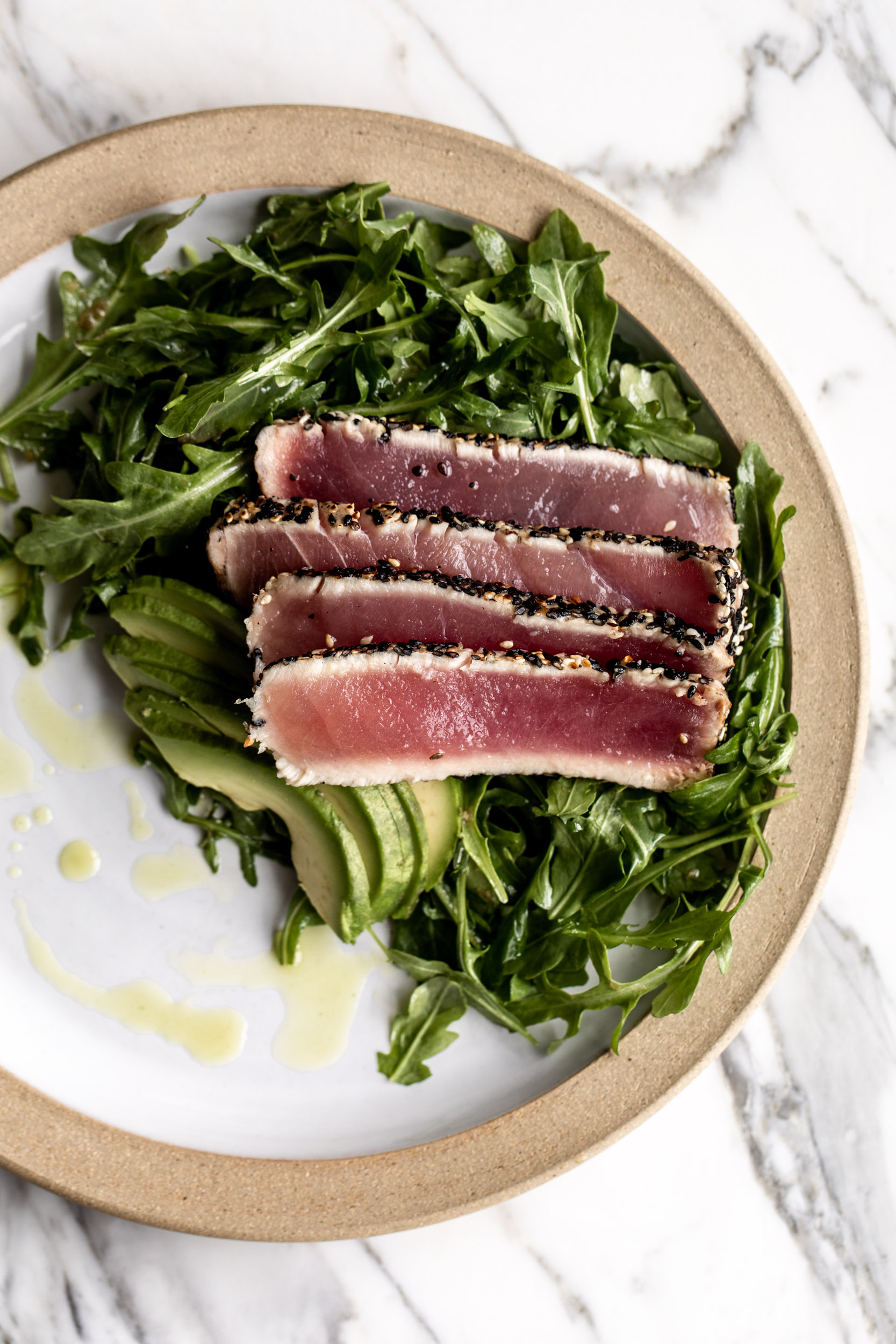 Tips for Making Seared Ahi Tuna
Tips for Buying Tuna
When buying ahi tuna look for fresh fish. Even though searing the outside will kill bacteria you still want to use high quality seafood.
Look for a tuna steak with a deep red color and if it smells "fishy" then don't use it. If you have the option have the fishmonger cut the steaks from the loin at your request, this will ensure the freshest cut.
Cook the tuna until the outside just changes color – overcooking the fish will dry it out and ruin an expensive cut of fish.
Tips for Cooking Tuna
Make sure your pan is REALLY hot! This will cook it quickly and give you the sear you want without over-cooking it on the inside.
Substitution ideas for this recipe
If you only have black sesame seeds or white sesame seeds, don't fret – using one or the other is fine. I prefer both because it's the most aesthetically pleasing.
This salad also tastes great with kale or baby spinach in place of the wild arugula.
Sometimes I even add crispy rice and sliced cucumber to make it a more filling meal!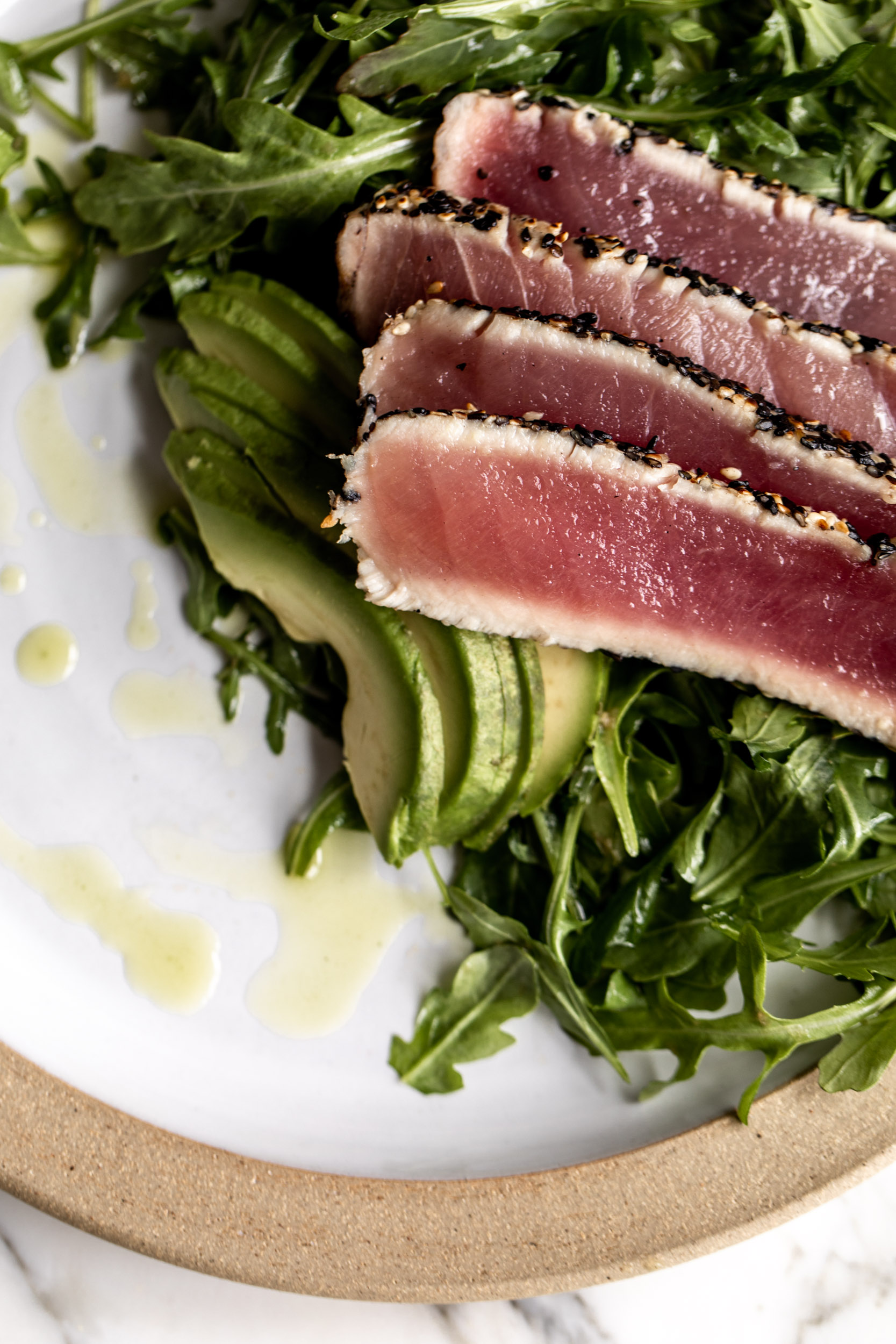 Other Recipes to Try
If you enjoy this seared ahi tuna recipe, I recommend checking out these:
Sesame Crusted Seared Ahi Tuna with Arugula Salad
For the seared tuna:
2

tablespoons

toasted white sesame seeds

1

tablespoon

black sesame seeds

½

pound

Ahi tuna

Kosher salt,

as needed

2

tablespoons

vegetable oil

5

ounces

wild arugula

1

medium haas avocado,

pitted, peeled and sliced
For the dressing:
Add oil, ginger, lime juice, rice vinegar and soy sauce to a medium mixing bowl. Whisk to combine then season with salt and pepper.

Set aside until ready to use. If the dressing separates by the time you are ready to use it, then whisk once again to combine.
For the seared tuna:
In a small bowl stir together the white and black sesame seeds until combined. Season the tuna with kosher salt then the sesame seeds so that it is completely coated in the sesame seeds.

Heat a large sauté pan or griddle over high heat, add the vegetable oil and heat through. Add the tuna to the pan and sear until no longer pink on each side, about 30 seconds each side for rare.

Remove the tuna to a cutting board and slice into ½" thick strips. The tuna should be seared in the outside but mostly raw on the inside.
To assemble:
Toss the arugula salad in about 2 tablespoons of dressing, adding more as desired. Scoop onto a plate and top with the seared tuna and avocado. Serve immediately.
DID YOU MAKE THIS?
TAG ME ON INSTAGRAM TO BE FEATURED ON MY STORIES! @cookingwithcocktailrings