In this grilled chicken caesar salad recipe, halved hearts of romaine are grilled quickly over high heat so that the centers of the lettuce soften and have a charred, smokey flavor but don't wilt. Brush the romaine hearts with olive oil so that they don't stick to the grill as they cook, and they develop beautiful char marks.
The halved lettuce is served on the plate drizzled with homemade Caesar dressing, pieces of crispy bacon, diced chives and shaved Parmesan. I like to serve it whole for an impressive presentation, especially so those char marks can shine, though it can be easily chopped and tossed in a large salad bowl for serving.
This grilled caesar salad recipe is inspired by one my brother had at La Scala in Baltimore, Maryland years ago. He couldn't stop thinking about it even years later. So we worked together to create our own easy version, perfect for the summer grilling season!
Grilled Caesar Salad with Bacon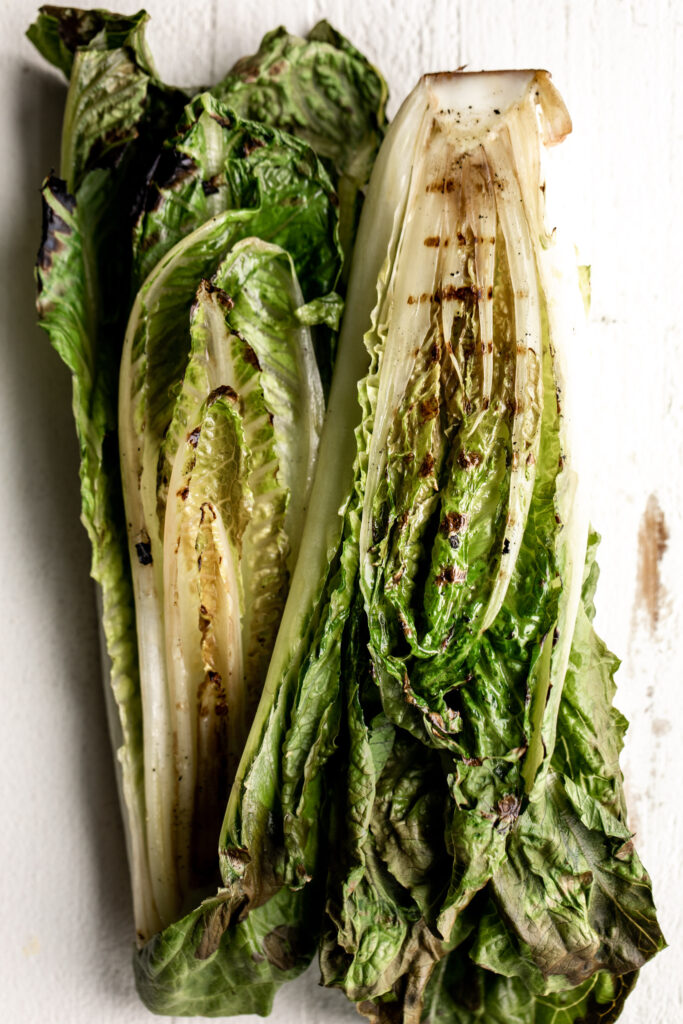 What makes this caesar dressing different?
The elements of the dressing come together for a briny, bright and umami packed creamy dressing that pairs perfectly with any Caesar salad. I don't enjoy most store-bought creamy caesar dressing recipes – they typically don't have the best flavor and aren't made with fresh ingredients. You can make this dressing up to three days in advance. Store it refrigerated in an airtight container until ready to use.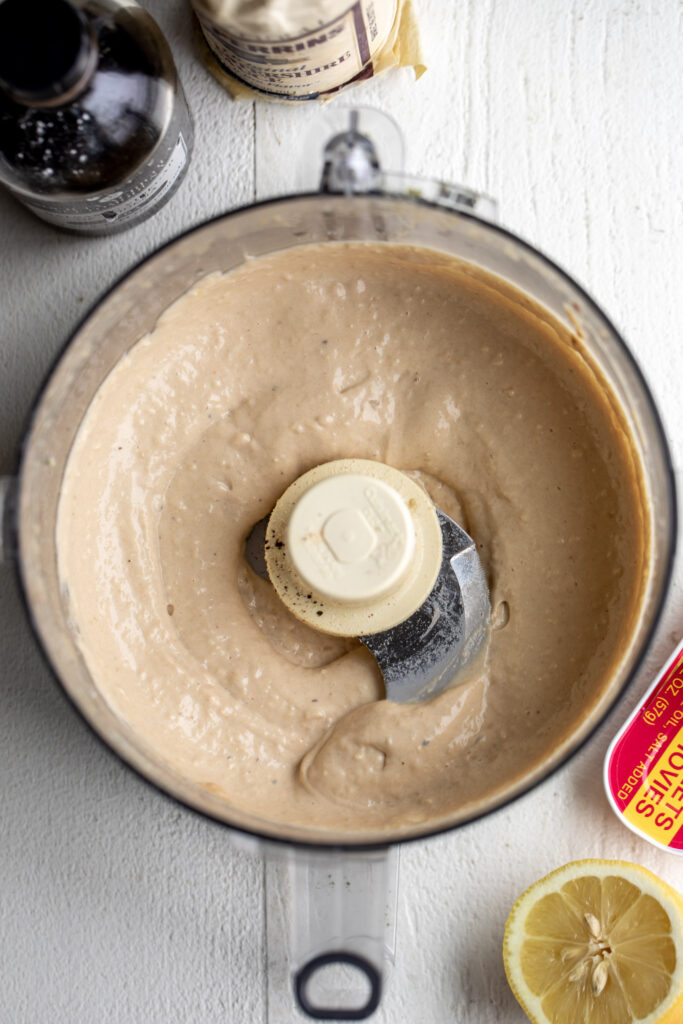 What's in the Caesar dressing?
Egg yolks – egg yolks help to emulsify the dressing (as they would a mayonnaise or aioli)
Sour cream – this helps to make the dressing creamy and thick.
Anchovies – Many people have gone years eating caesar salad without knowing there are anchovies in the dressing. They add a subtle, briny flavor – even the pickiest eaters won't be able to tell they're in there.
Lemon juice – Freshly squeezed lemon juice adds some acidity to the creamy dressing.
Balsamic – Balsamic adds a slightly sweet, acidic note to this Caesar dressing. Balsamic is sweeter and more syrupy than other wine vinegars. It's made from the unfermented juice of grapes, called "must", and aged for 12 years or more.
Worcestershire – The original Caesar dressing recipe didn't actually have anchovies, it just had Worcestershire. I use both to add extra flavor.
Dijon – Like the egg yolks, Dijon mustard is an emulsifier, helping to keep the oil and acidic elements together. Dijon also has a mellow mustard flavor with a balanced taste.
Tabasco – This adds a hint of spice to create a balance with the creamy and briny flavors. Substitute with another vinegar-based hot sauce if Tabasco is unavailable.
Garlic – Raw garlic has a fairly pungent flavor so a little goes a long way.
Oil – I use a combination of vegetable oil, a neutral oil, and olive oil, which has a specific, robust flavor profile. The two balance nicely in the dressing without overpowering the other flavors.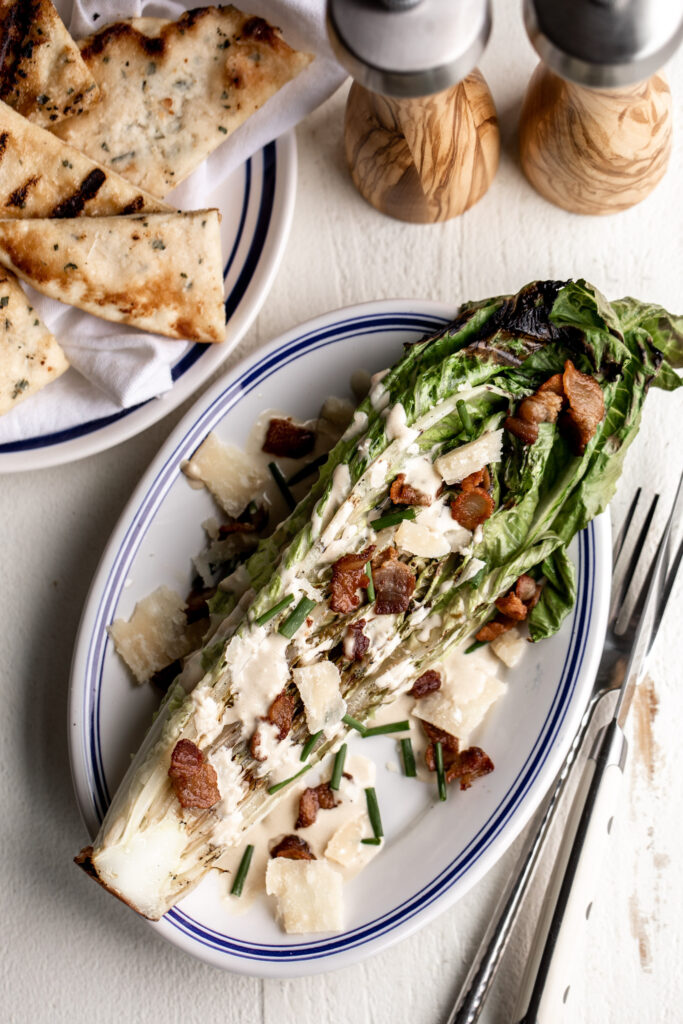 FAQ – Frequently Asked Questions
Why grill romaine?
Grilling the split hearts of romaine over high heat add a smoky flavor without wilting the lettuce too much. 
Can I substitute Greek yogurt for sour cream?
Yes! But use full fat Greek yogurt (5% fat plain Greek yogurt). 
Why are there so many ingredients in the dressing?
They are all ingredients you should have stocked in your pantry already and come together to create a really great dressing with a balanced flavor profile. 
Why are there eggs?
The eggs act as an emulsifier – the eggs whip together with the oil slowly to form the creamy Caesar dressing of your dreams.
What if I like the dressing all over my leaves? 
I'd recommend using a marinade brush to brush each leaf of the romaine with the dressing so it's evenly distributed. I think this is great for serving though the drizzled look may be more aesthetically pleasing!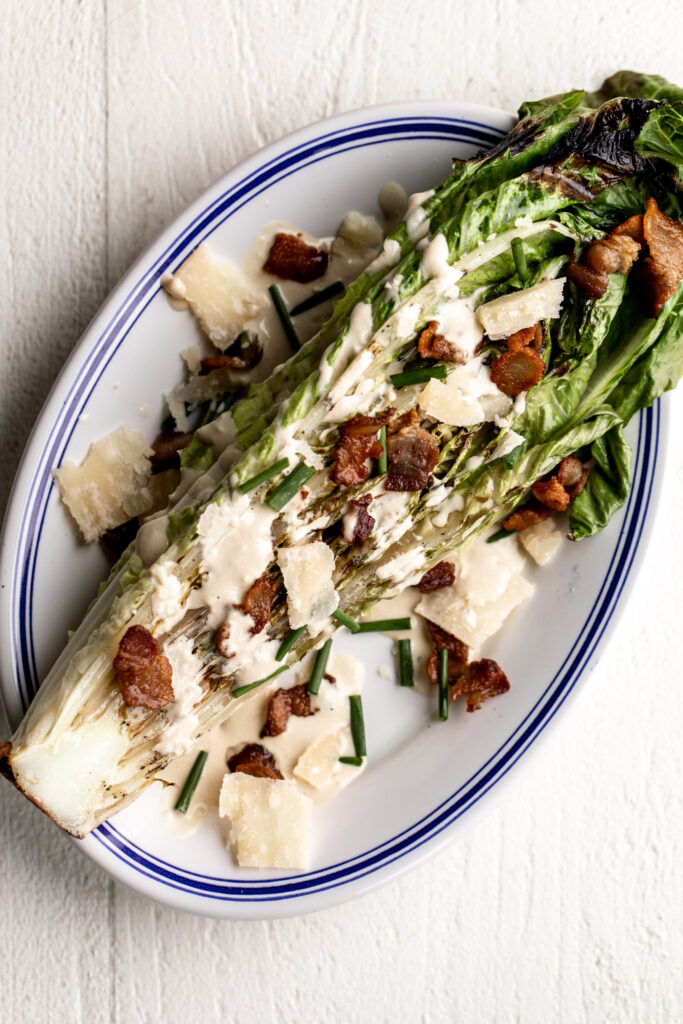 Other Recipes to Try
If you enjoy this recipe, I recommend checking out these:
Grilled Caesar Salad with Bacon
For the caesar dressing:
2

large egg yolks

¼

cup

sour cream

1

(2-ounce)

tin oil-packed anchovies, drained

1

tablespoon

freshly squeezed lemon juice

2

teaspoons

balsamic vinegar

1

teaspoon

Worcestershire

1

teaspoon

Dijon mustard

1

teaspoon

Tabasco

2

cloves

garlic,

minced

¾

cup

vegetable oil

¼

cup

extra-virgin olive oil

½

cup

grated Parmesan cheese

Kosher salt,

to taste

Freshly ground black pepper,

to taste
For the salad:
½

pound

applewood smoked bacon,

cut into ½ " strips

3

romaine hearts,

split lengthwise

1

tablespoon

extra-virgin olive oil

¼

cup

shaved parmesan

1

teaspoon

diced chives
For the caesar dressing:
Add the egg yolks, sour cream, anchovies, lemon juice, balsamic, Worcestershire, Dijon, Tabasco and garlic, to the bowl of a food processor fitted with the blade attachment. Pulse until the mixture is smooth.

With the food processor running, slowly add the vegetable oil, 1 tablespoon at a time. Once all the vegetable oil has been combined, follow with the olive oil. Continuing to blend until the dressing has emulsified.

Add the cheese and pulse to combine. Season to taste with salt and pepper. If the dressing is too thick, whisk in water 1 tablespoon at a time to thin it out.

Set aside if using immediately. Otherwise add to an airtight container and refrigerate until ready to use. The dressing can be made up to 3 days ahead of time.
For the salad:
Add the strips of bacon to a large sauté pan and heat over medium heat. Cook the bacon until the fat is rendered and the bacon is crispy, about 5 minutes. Use a slotted spoon to remove the bacon and set aside on a paper towel-lined plate to drain.

Heat grill to medium-high heat. The temperature should be around 500ºF.

Brush the cut half of the romaine with olive oil. Add the cut side down on the grill grates and grill for 2 minutes without touching the lettuce.

Remove from the grill and set aside.

Add a half of romaine to each serving plate and drizzle or brush each piece with the dressing. Top with bacon crumbles, shaved parmesan and chives. Serve immediately.
DID YOU MAKE THIS?
TAG ME ON INSTAGRAM TO BE FEATURED ON MY STORIES! @cookingwithcocktailrings