While tinned fish has been a popular part of tapas culture (also referred to as conservas) in Europe for a long time now, it's only recently become more popular in the United States. I didn't fully understand the hype until I was in Europe last summer. A wine bar in Amsterdam, Twee Prinsen, offered a full menu of various tinned fish dishes paired with bread for delicious easy appetizers.
In terms of presentation, I like to serve tinned fish (especially ones in pretty tins) like anchovies or sardines with the lids peeled back, but not removed. Serve with bread and accouterments like cornichons, roasted red pepper and more. The tins make it easy to take the meal wherever – for a park picnic or quick date night. Pair with a funky orange wine or a dirty gin martini.
How to Dress up Tinned Fish
What is tinned/ canned fish?
The fish and shellfish can be cooked, fried or smoked then added to tins or cans and packed with oil, brine or water before the containers are sealed, washed and sterilized in the canning process. The method of preserving fish and shellfish in cans and tins makes it shelf stable and able to last a long time.
Why is it so popular right now?
Tinned fish is relatively cheap (though there are many higher end brands now it's still less expensive than a lot of fresh seafood). It's an inexpensive way to transform basics into delicious meals from a simple spread with bread and crackers or into a pasta using shelf stable ingredients. In a sense everything old is new again and tinned fish is a part of the trend cycle. In 2021 it was popularized on TikTok as ":hot girl food", though Alison O'Connor also noted in a video "it's giving Great Depression" (and I can't say I disagree, not that it's a bad thing!).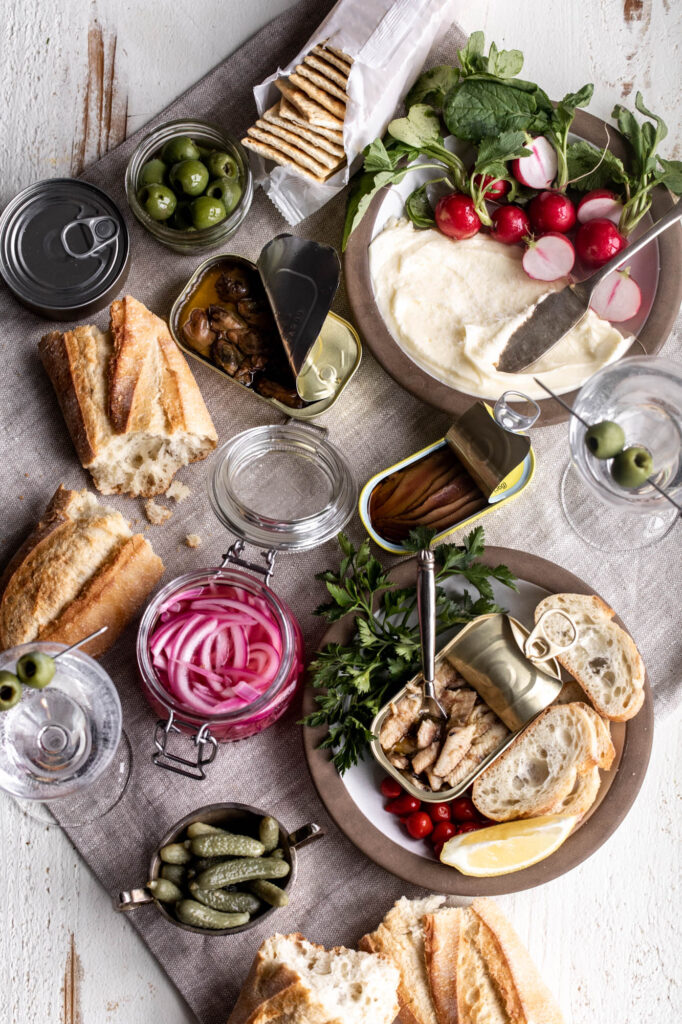 A Brief History of Canned Seafood
The "father of canning", French Chef Nicola Appert worked for 14 years to figure out how to preserve food for the French government. In Breton, France, fishermen were known to fry sardines and keep them preserved in clay jars. By the end of the 1800's France led in canned seafood production, however, it wasn't long before Spain and Portugal took over, preserving fried or grilled fish in oil before packaging them.
How long does canned seafood last?
Tinned fish and canned seafood is shelf stable. Because it doesn't need refrigeration it makes for a great pantry staple. But how long does it actually last? Commercially canned seafood lasts for up to 5 years. However, once a container has been opened it should be consumed within 1 to 2 days (and stored refrigerated once opened).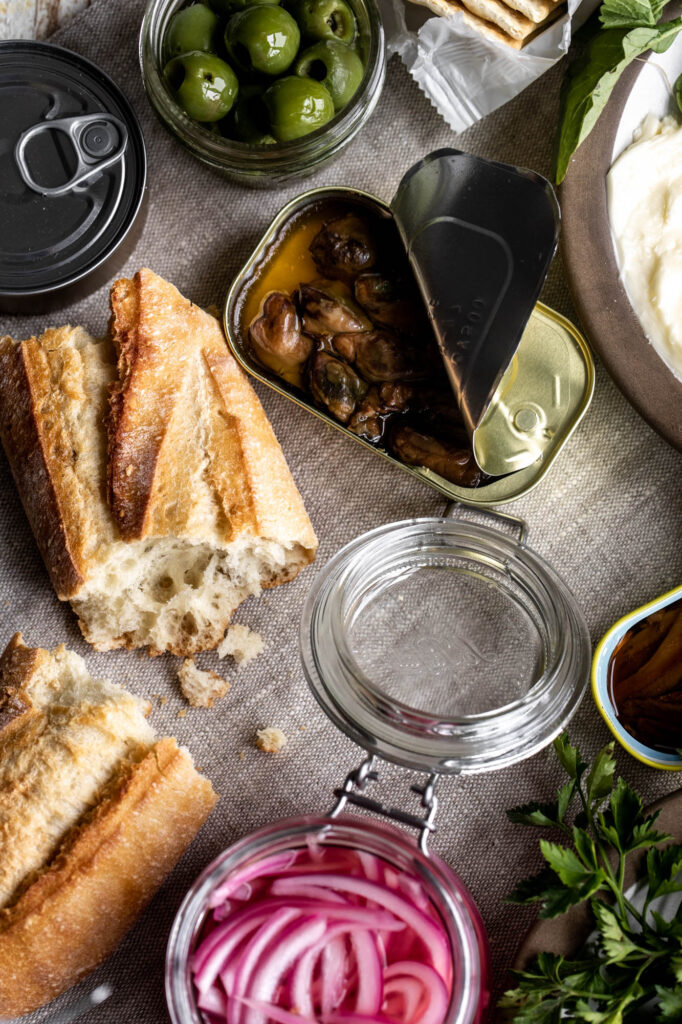 My Favorite Types of Tinned Fish and Conservas
Tuna
Anchovies
Sardines
Mussels
Clams
Salmon
Cockles
Mackerel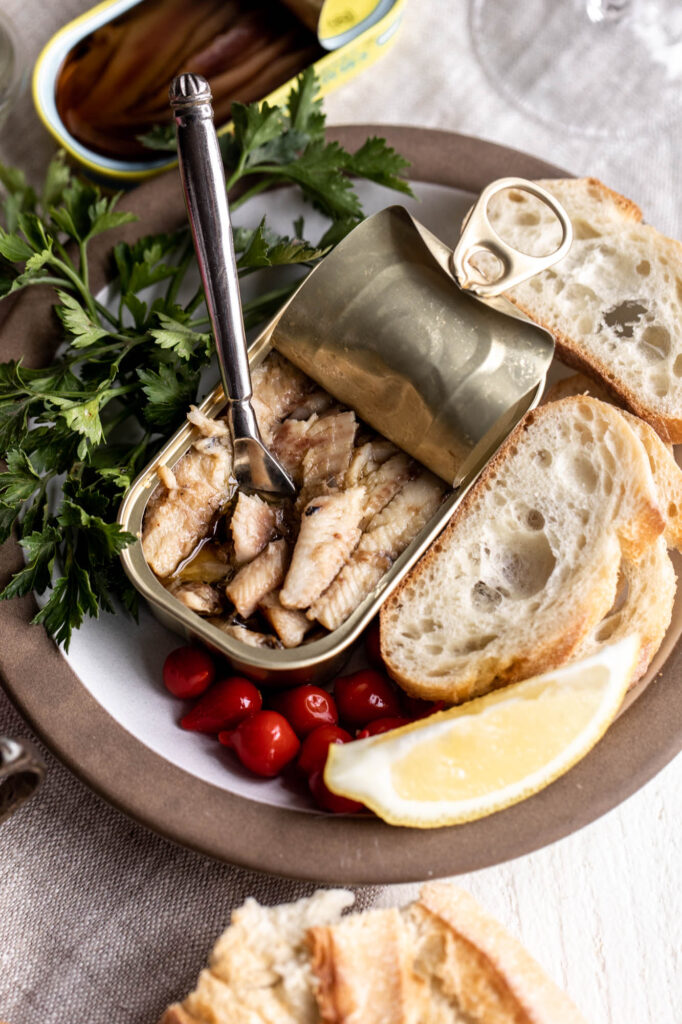 Best Tinned Fish Brands
There are plenty of canned fish brands out there and these are a few of my favorites: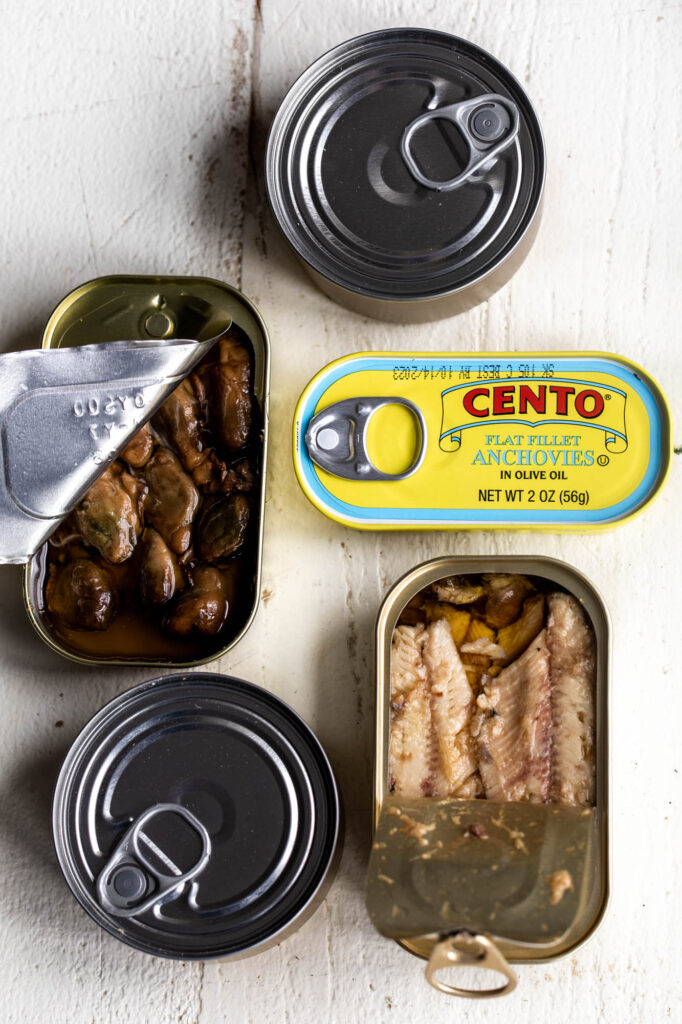 Easy Combinations (No Recipes Needed)
Genoa toast + aioli + boquerones + herbs (a favorite of my friend Emily at her Petite Pasta Joint popup)
Anchovies + vinegar + olive oil + red pepper flakes + potato chips
Saltines + tomato marinated mussels
Sardines + lemon mayo + roasted red pepper + chopped chives
Toasted bread + canned tuna + mayo + Cheddar cheese
White rice + canned tuna + avocado + chili crisp
Recipes Using Tinned Fish
In addition to eating them on their own or paired simply with bread, I love adding tinned fish like anchovies over salads (or in the dressing), pizza, and pasta sauces. I'm sharing some of my favorite recipes for a few different types of canned seafood below:
Anchovy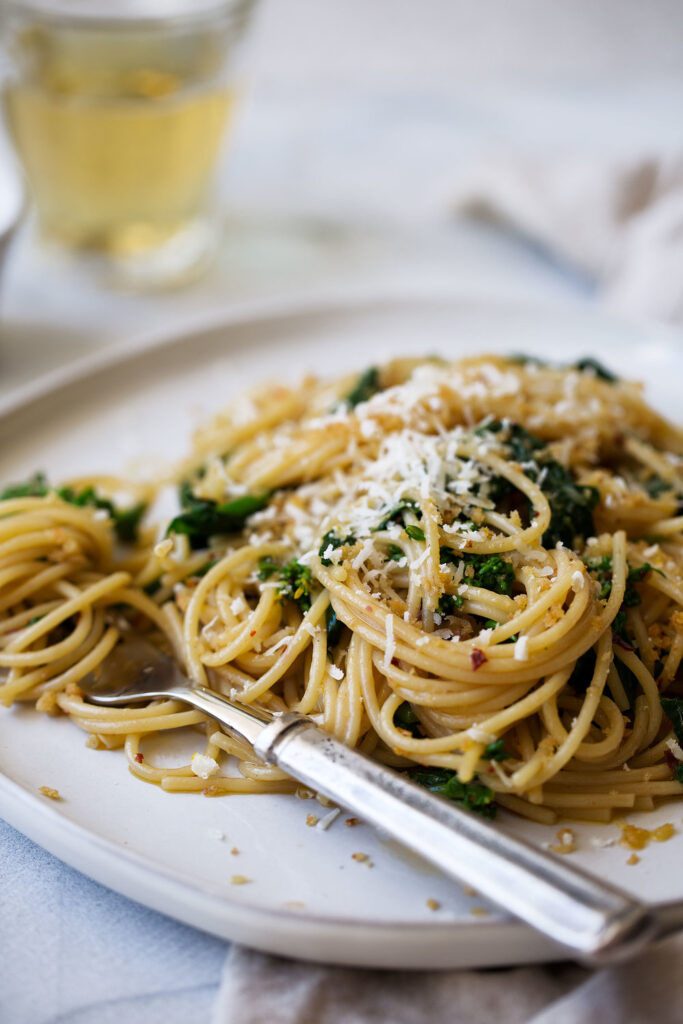 This pasta is a cheap and easy twist on the classic pasta dish, spaghetti agilo e olio, which translates to garlic and oil pasta. Anchovy adds a flavorful, savory element to the easy dish!
This twist on the classic is made with homemade spicy caesar dressing, a mixture of kale, romaine and buttered breadcrumbs.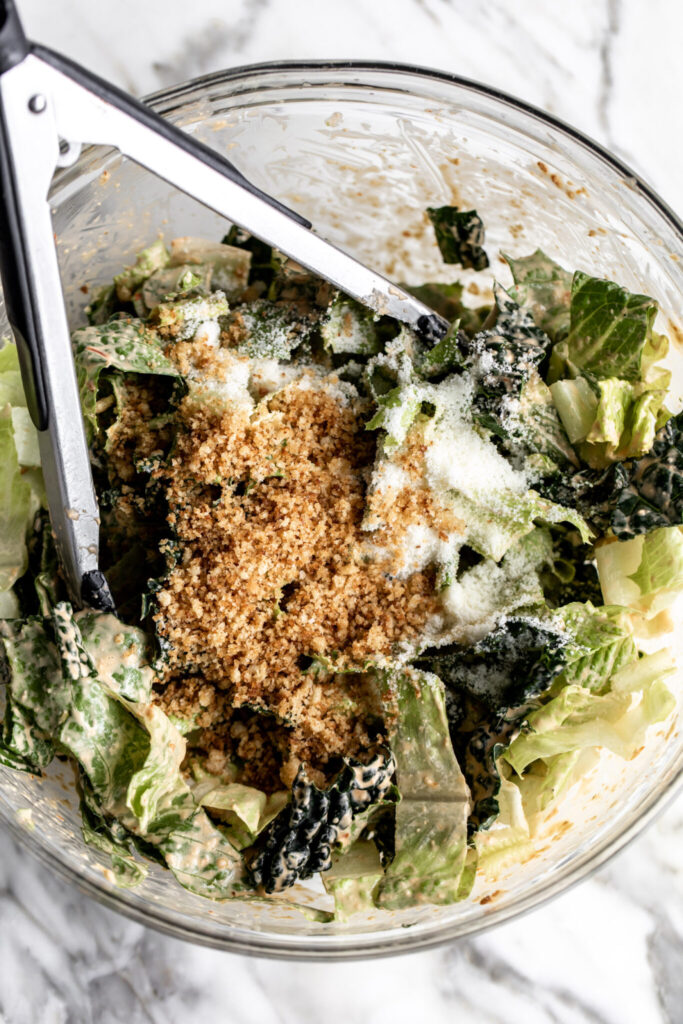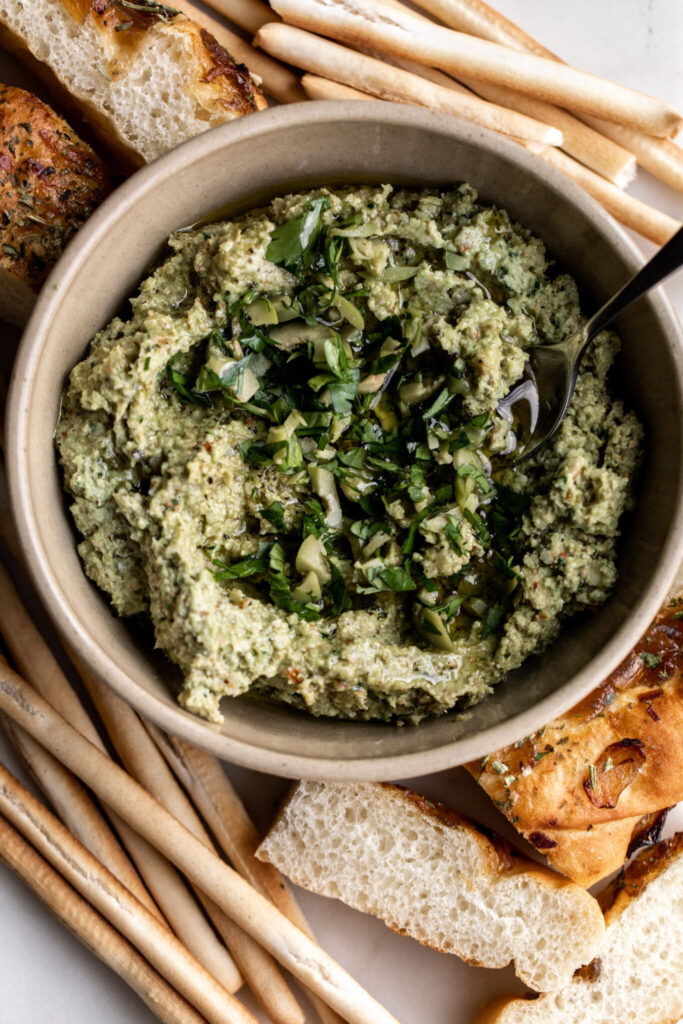 Tapenade is a garlicky and salty dip from Provence made from olives, garlic, anchovies, almonds and capers. It's great for dipping warmed breads like foccacia.
Bagna Cauda is a dish from the Piedmont region of Northwest Italy. Italians typically eat this warm dip in the fall and winter paired with vegetables.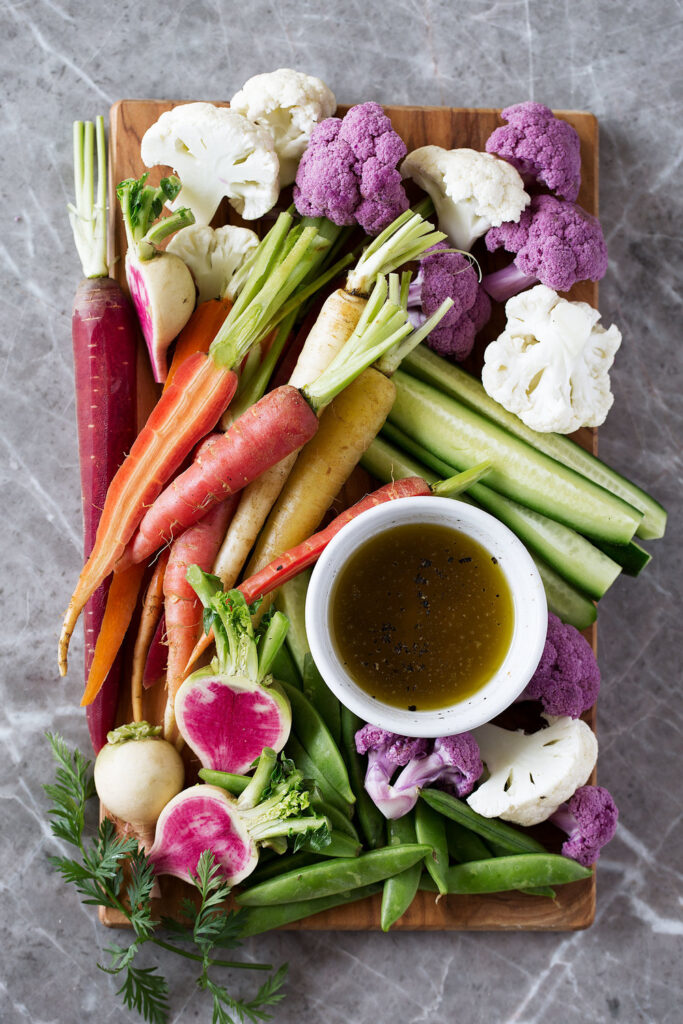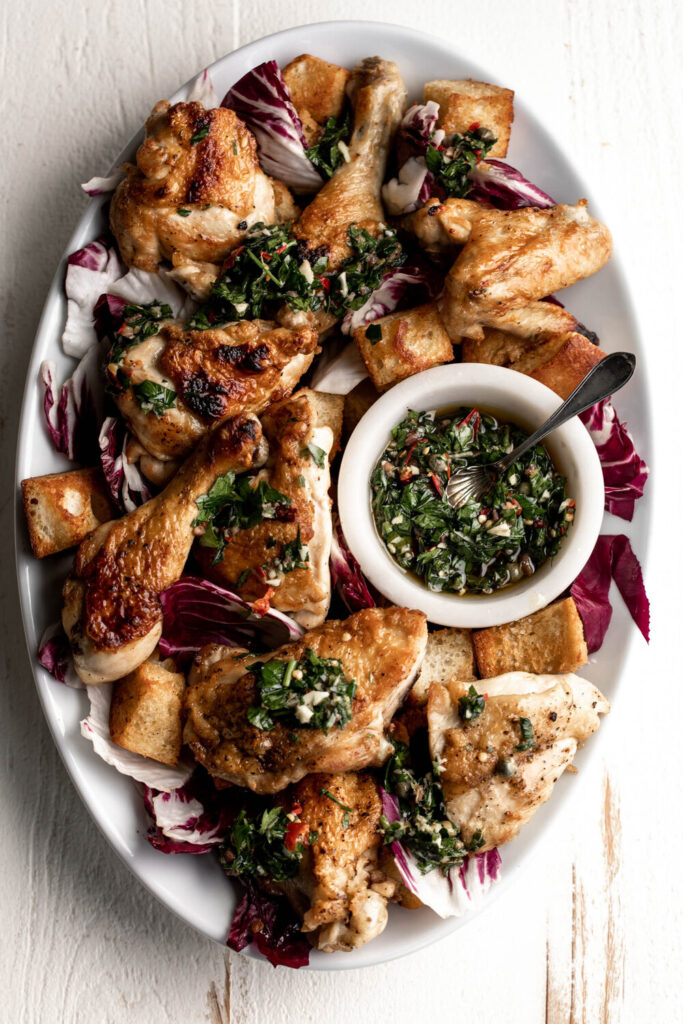 The rendered chicken fat is tossed with cubes of fresh bread and cooked into flavorful, crispy croutons served over bitter radicchio. It's paired with salsa verde made from chopped herbs, umami packed flavors of anchovy, briney capers and zesty lemon.
Tuna
This salad can simply be served over rice or greens or piled onto slices of thick sourdough bread and griddled for a Korean twist on the classic tuna melt.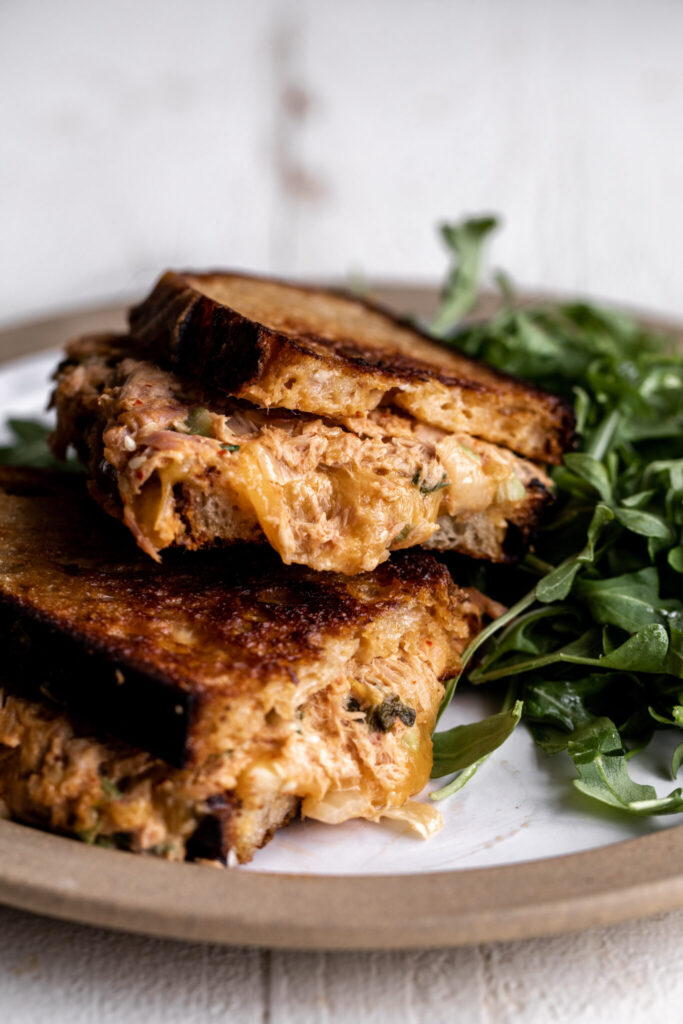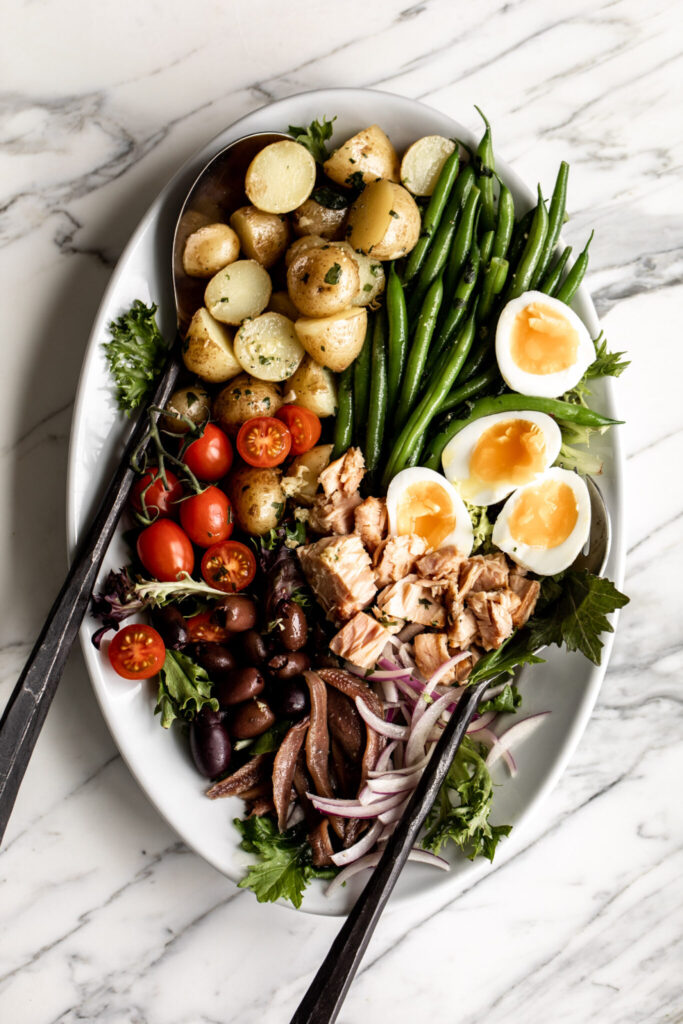 There are many different variations of a Niçoise salad. Niçoise salad is a dish from Nice, the South of France and apart from a few core ingredients the rest are very flexible and can be easily substituted based on seasonal availability.
The contrast of the confit shallots in the tuna salad with the pickled onions and fire-roasted peppers, avocado, cucumber and sprouts makes for a bright yet light summer sandwich.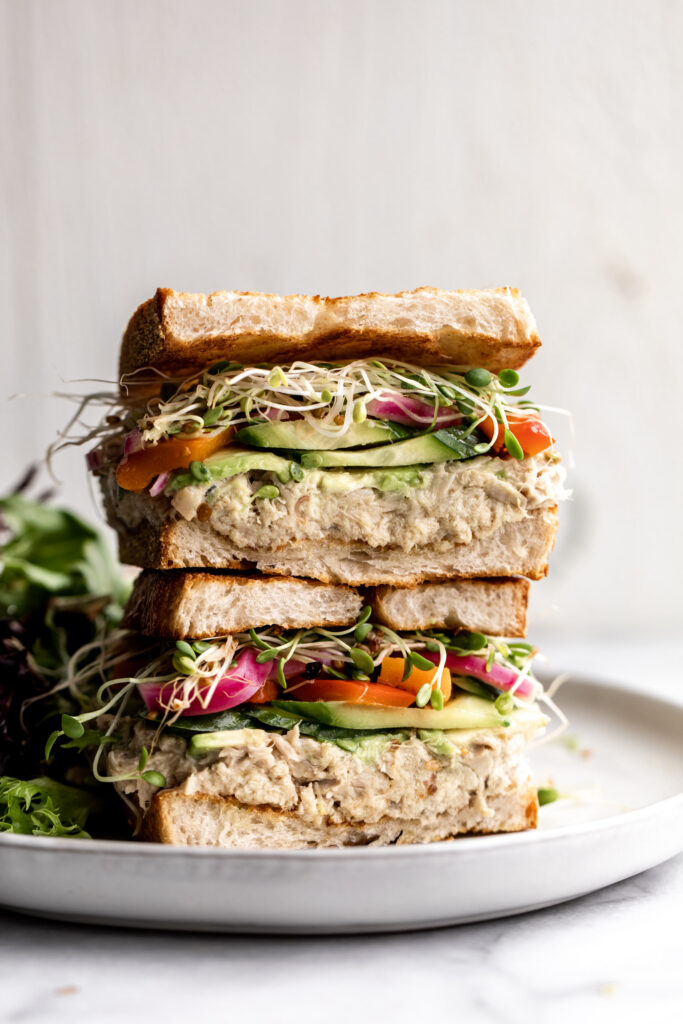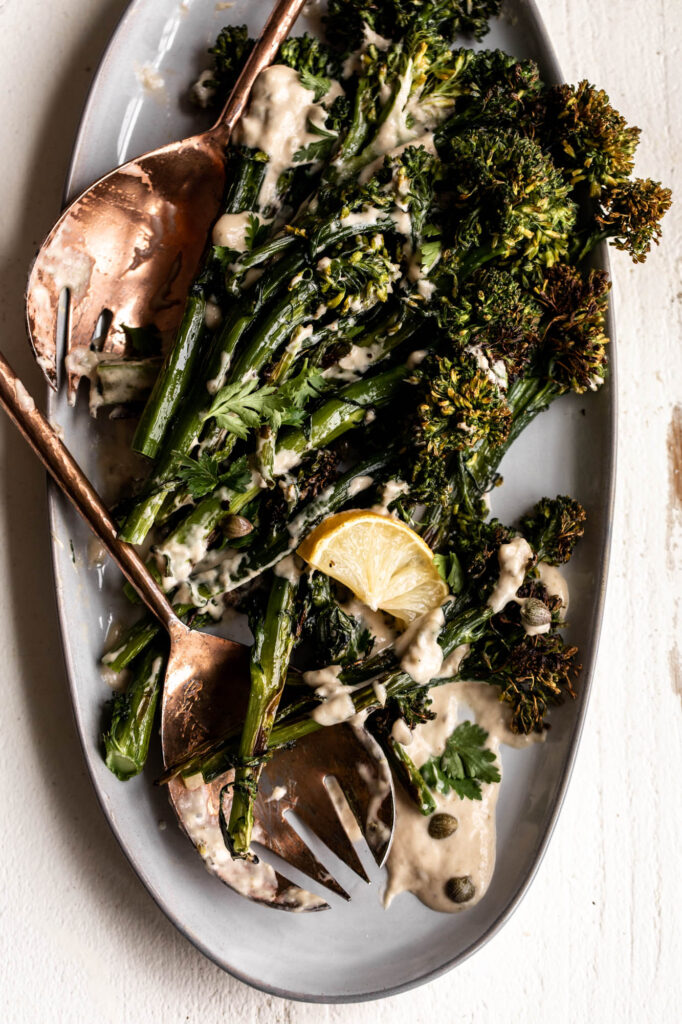 This flavorful vegetable side dish comes together easily with a rich and briny sauce made from canned/ jarred tuna.
Clams
A proper New England clam chowder should consist of a delicate and creamy, slightly thickened broth (but not sludgy) that contains a hint of smokiness from bacon and an abundance of clams.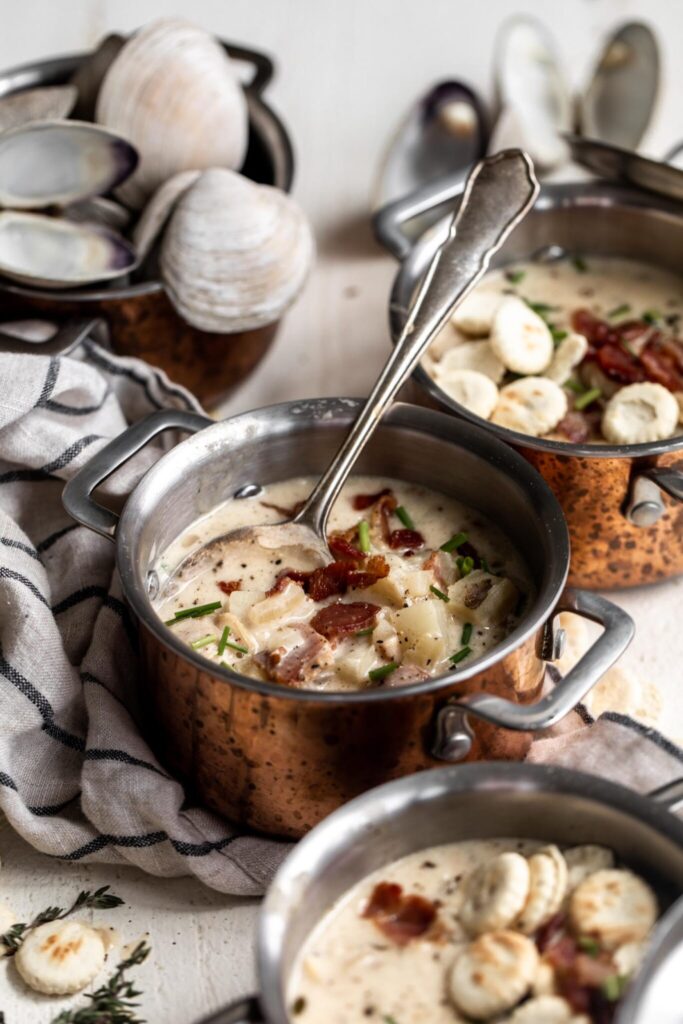 What to pair with tinned fish:
Roasted red pepper
Pickled onions
Cornichons
Olives
Mustard
Baguettes/crackers
Fresh herbs
Radish
Hard/ soft boiled eggs
---
This page may contain affiliate links. If you choose to purchase after clicking a link, I may receive a commission at no extra cost to you. Thank you for your support so I can continue to share recipes with you!