September 7th, 2022 to September 10, 2022
After spending a week in Paris my husband, Aaron, and I took the train to Amsterdam for two days. I love how easy it is to hop on a train in Europe and end up in a new country in just a few hours. This ride only took about 3 hours! Aaron was working from his company's Amsterdam office while we were there so I had plenty of time to wander around and of course, eat. From picturesque cafés to wine bars and museums I loved getting back to the Netherlands. It was actually my third trip though I hadn't been back since 2012. This posting, of course, covers only a fraction of the great offerings of Amsterdam – these are just the places that I had time to visit.
2 Days in Amsterdam, Netherlands
Table of contents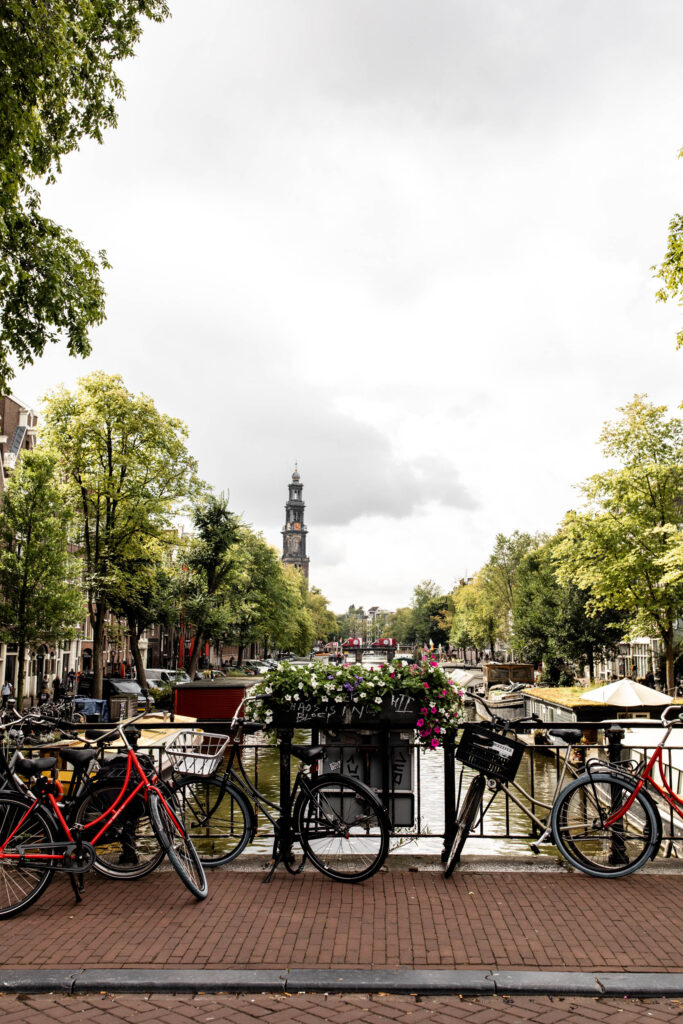 Sweets
Winkle 43
Noordermarkt 43, 1015 NA Amsterdam, Netherlands | winkel43.nl
Winkle 43 is located in Noordermarkt, the heart of the Jewish quarter in Amsterdam. I walked in and grabbed a seat at the bar of the cafe. I naively asked for a menu and was told "we have apple taart". You know a place is good when they specialize in one specific item and it's on every table in the place. Dutch apple taart is like a cross between American apple pie and cake, served in slices with a pile of whipped cream. The dessert is made with large spiced chunks of apple cooked in a batter that caramelizes on the exterior.
Rudi's Original Stroopwafel
Albert Cuyp Straat t/o 182 Stand 134, 1073 BL Amsterdam, Netherlands | originalstroopwafels.com
Stroopwafels are made in a Dutch cast iron press giving them a signature crosshatch pattern on the spiced cookie dough. Two thin waffle cookies, similar to an ice cream sugar cone, sandwich the sweet stroop (a caramel molasses syrup). While often served plain, I ordered mine dipped in chocolate.
The fresh stroopwafels at Rudi's, located in the outdoor Albert Cuyp Market in De Pjip, barely resemble the stroopwafels that come wrapped on United flights. Eating them while the syrup was still warm makes all the difference. Rudi's has been making stroopwafels from their food truck for generations (since 1978) using a traditional recipe that balances sugar and spices for a delicious treat.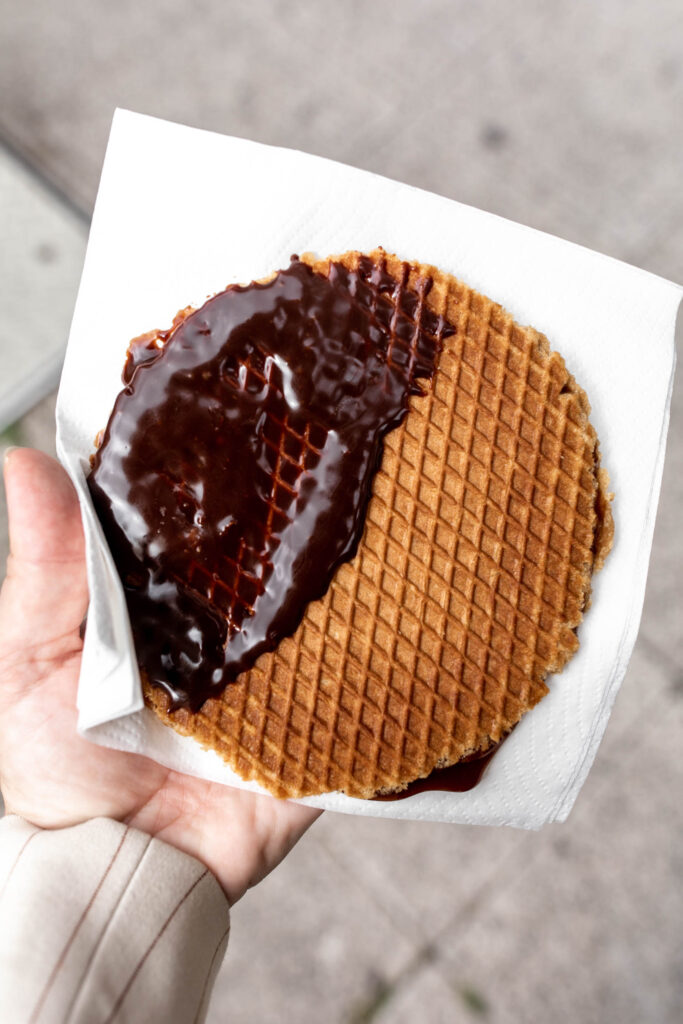 Poffertjes Albert Cuyp
Albert Cuypstraat 161, 1073 BD Amsterdam, Netherlands | albertcuyp-markt.amsterdam
Just down from Rudi's original stroopwafel food truck in the Albert Cuyp Market I found a stall to order the next Dutch specialty on my list: poffertjes. Poffertjes are tiny pancakes served on a paper plate coated in a pile of powdered sugar with a generous pat of butter. If preferred they can also be ordered topped with nutella or caramel. While they are seasonal during the holidays around the Netherlands, they can be found year round in this market. Poffertjes are similar to Danish aebleskivers (they are made in the same special type of pan), however the former is made from a yeast based batter and the latter is made with buttermilk and baking soda and filled with apples or jams.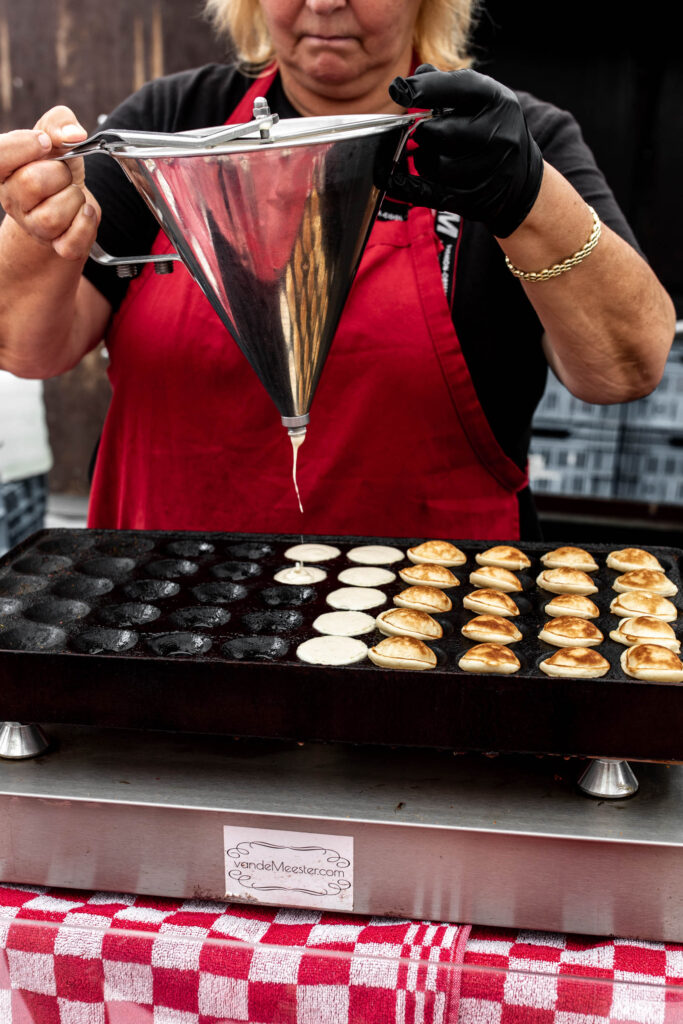 Saint-Jean
Lindengracht 158h, 1015 KK Amsterdam, Netherlands | saintjean.nl
I had the opportunity to meet up with a food blogger I have followed for awhile now, Paola from Cravings in Amsterdam. She showed me around and introduced me to a few of her favorite spots. This chic, minimalist plant-based bakery is filled with rows of cruffins, muffins, brioche loaves and cookies. The cruffins are made with laminated vegan croissant dough baked in muffin tins and filled with an array of creams and jams. Saint-Jean is best known for their pistachio cruffin, filled with housemade pistachio paste.
Breakfast / Lunch
TOKI
Binnen Dommersstraat 15, 1013 HK Amsterdam, Netherlands | tokiho.amsterdam
If you're looking for a cute place to get a latte or a cappuccino, stop at this trendy cafe. The name "toki" translates to "time and opportunity" in Japanese. The café, located in the Haarlemmerstraat, serves specialty coffee and tea with breakfast and baked goods.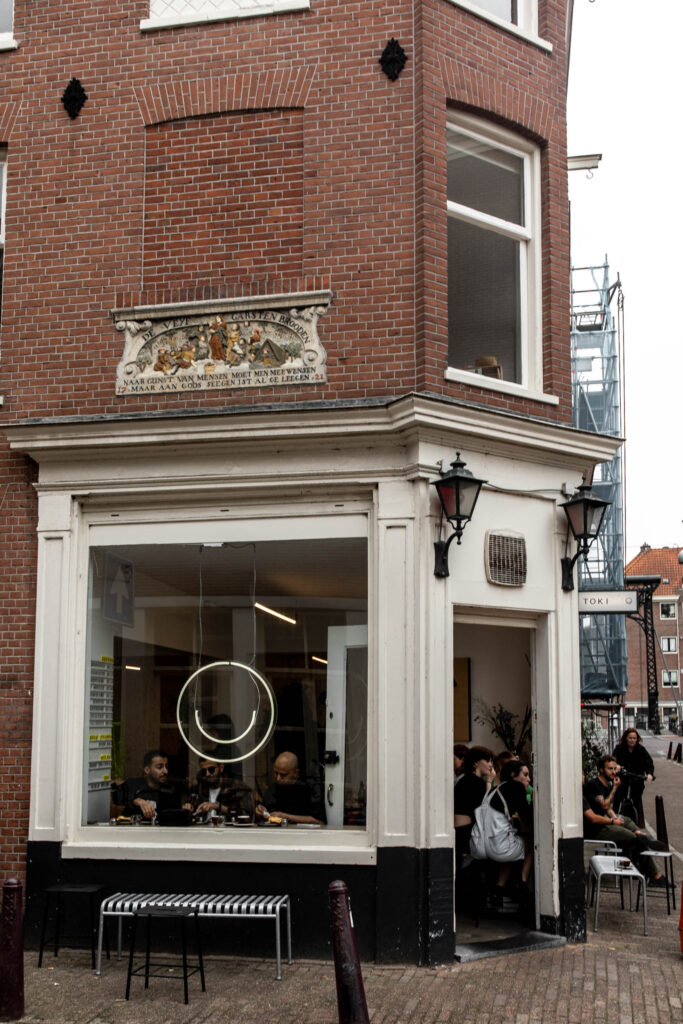 Hick's Diner
Haarlemmerstraat 65, 1013 EL Amsterdam, Netherlands | hicksamsterdam.com
Hick's Diner serves breakfast, lunch and dinner all day in a modern European setting. With a dark wood bar and marble tables it's a great place to sit and get a breakfast sandwich. I recommend ordering "Hick's special egg bun". It comes with crunchy fried chicken cut into strips, caramelized onions, eggs and a creamy whole grain honey mustard sauce.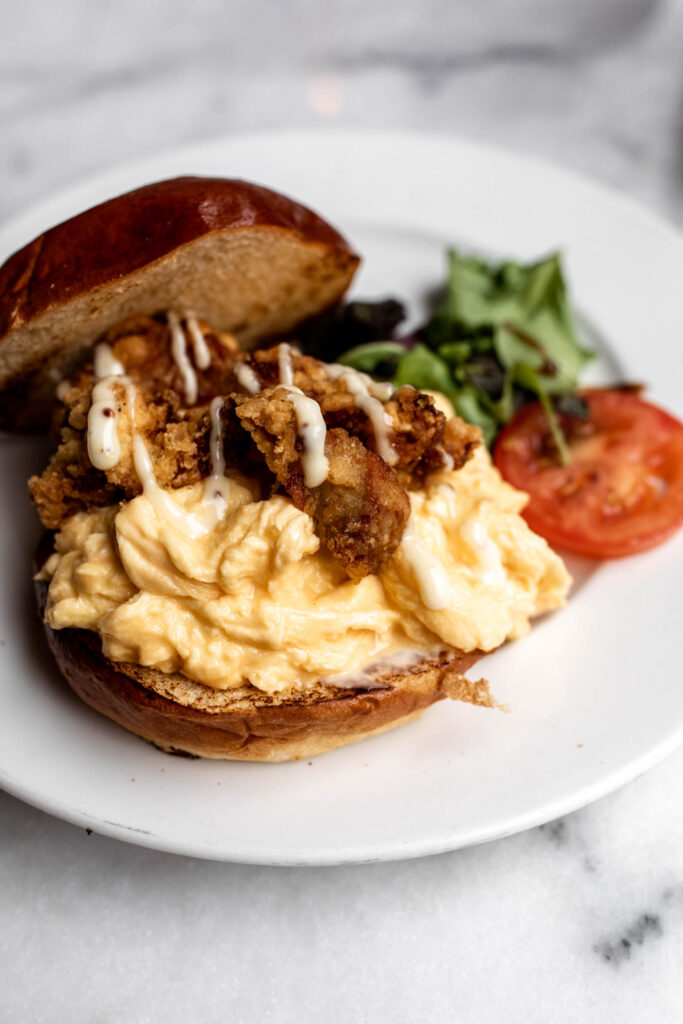 Fabel Friet
Runstraat 1, 1016 GJ Amsterdam, Netherlands | fabelfriet.nl
The Dutch are famous for plenty of fried foods from bitterballen (fried and seasoned meat filled balls served as a bar snack) to friets. At Fabel Friet the fries are cut into thick sticks which are displayed in the window and double fried for the crispiest exterior with a fluffy inside. Their homemade truffle mayo is especially popular though I chose the peanut sauce and raw diced onion instead. Peanut sauce comes from the Indonesian influence prevalent in Amsterdam (Indonesia is a former Dutch colony).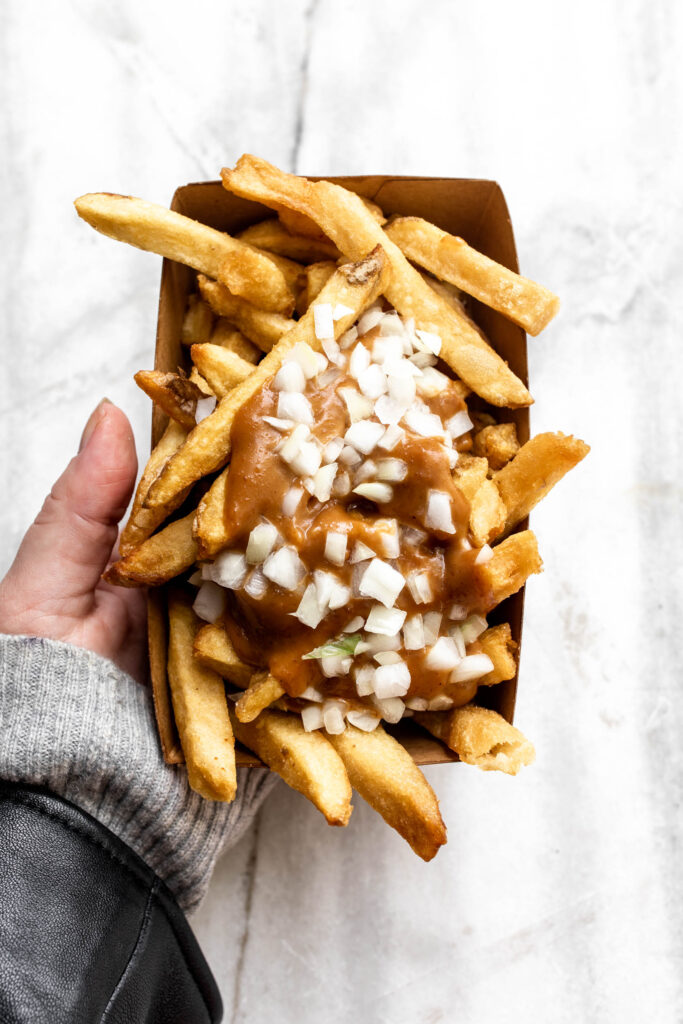 Dinner
Café Binnenvisser
Bilderdijkstraat 36, 1052 NB Amsterdam, Netherlands | binnenvisser.nl
Binnenvisser doesn't take reservations so I recommend going early to put your name in, then walk around and stop at a bar to kill time if there's a wait (that's what we did!). Enjoy seasonal dishes and natural wine in this beautiful building with blown glass windows in Bilderdijkstraat.
One of my favorite dishes was a sliced heirloom tomato starter served in a chilled buttermilk tomato sauce (it reminded me of my spicy rigatoni sauce) garnished with crisp buttery breadcrumbs and dill. Roasted bone marrow served with mini shrimp, herring caviar with pickled shallots and parsley made for a richly balanced dish perfectly spread on thick house-made toast.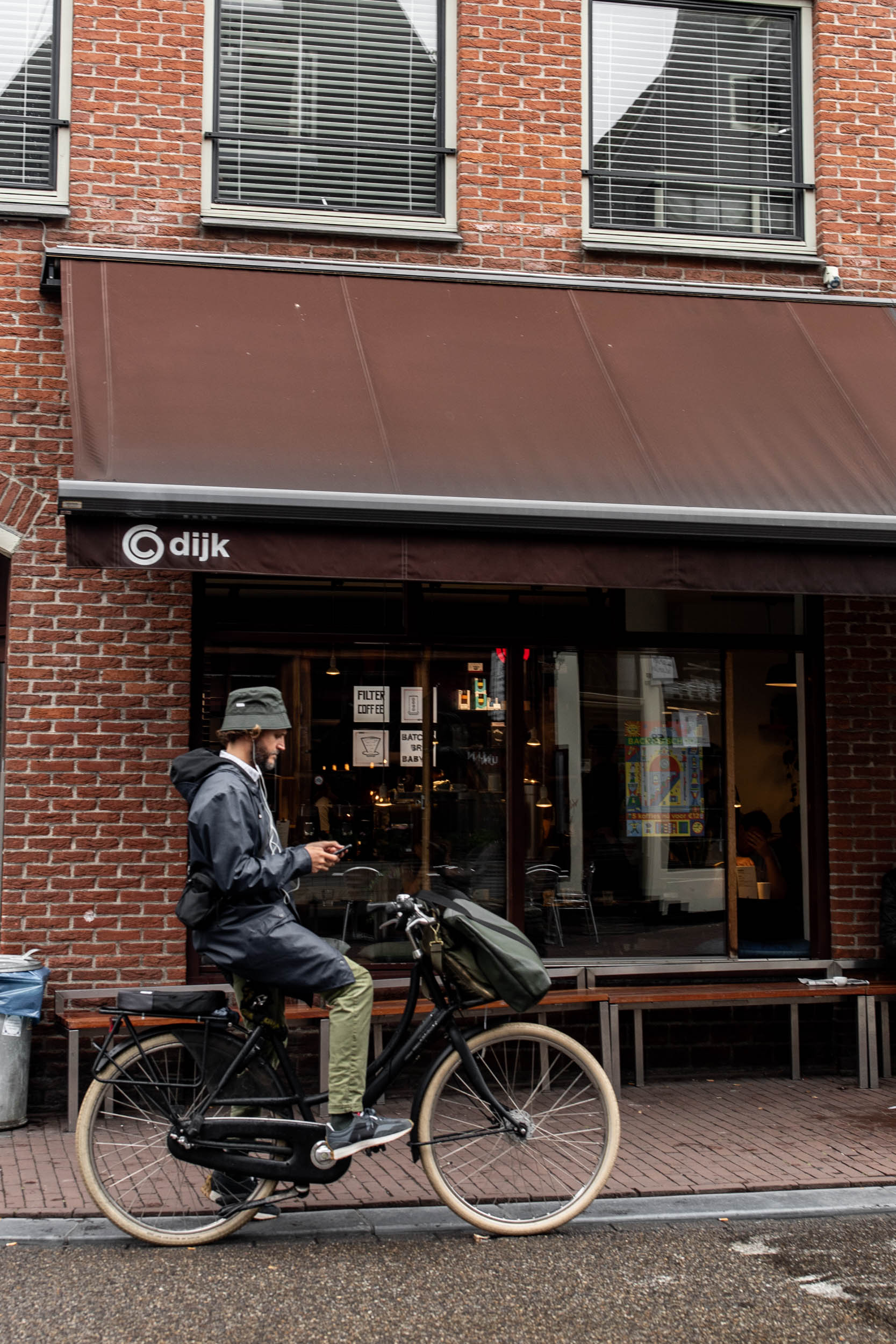 Cornerstore
Papaverweg 11, 1032 KD Amsterdam, Netherlands | csnoord.com
Cornerstore is located in Amsterdam Noord, just across the water from the city center known as the city's "creative playground". The restaurant is housed in a former warehouse with a seasonal, vegetable-forward menu inspired by Asian flavors paired with natural wines and vinyl records played by a DJ. While you can order a la carte, they encourage the vegetarian tasting menu while offering another with meat and fish options.
It seems odd to fixate on the bread but the BBQ brioche served with goat butter was a unique start to the meal and was great to soak up the flavorful sauces throughout the meal. One of the standout dishes included pickled lotus root. The crisp texture and the acidic tang of the pickled vegetable with the spicy zhoug oil it was served in, made for a unique and delicious combination. Another standout dish was tender zucchini served in thick, stump-like rounds with smoked chili and macadamia nuts.
Twee Prinsen
Prinsenstraat 27, 1015 DB Amsterdam, Netherlands | tweeprinsen.nl
This small wine bar just around the corner from Cafe Winkle 43 serves natural wine and upscale bar snacks. Turns out it's a sister restaurant to Binnenvisser (we saw our same waiter there across the city the next night). Get a glass of funky orange wine and burrata pugliese served with puttanesca oil and anchovies with a baguette; or a light and fruity red wine with the tinned smoked mussels in tomato sauce.
What to Do
Amsterdam is a fairly walkable city, planned around the intricate canals. Tram lines run above ground to easily take you to the further areas of the city.
Albert Cuyp Market
This market is in De Pjip, the Latin quarter of the city, is open 6 days a week (close on Sundays). In addition to the food stalls I mentioned above serving Dutch specialties, I recommend stopping by this outdoor market for anything from cheese (hello Gouda!) to fresh fruit and vegetables to meat, seafood and flowers.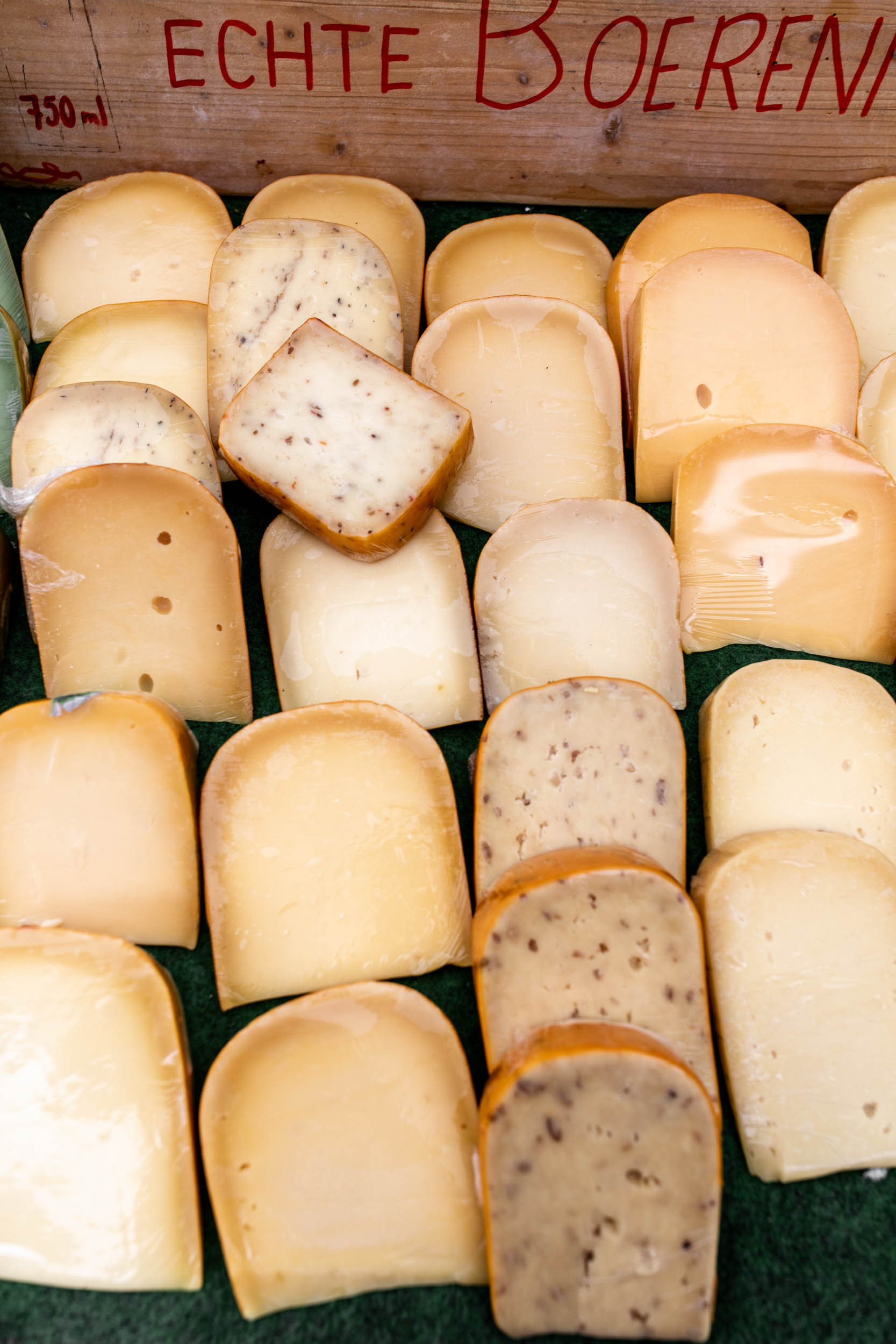 Bike rental
It is intimidating to see the expertise of the locals flying down the bike paths to rent one but plenty of people do it! My friend who lives there told me it took her a few years to get comfortable riding as a local.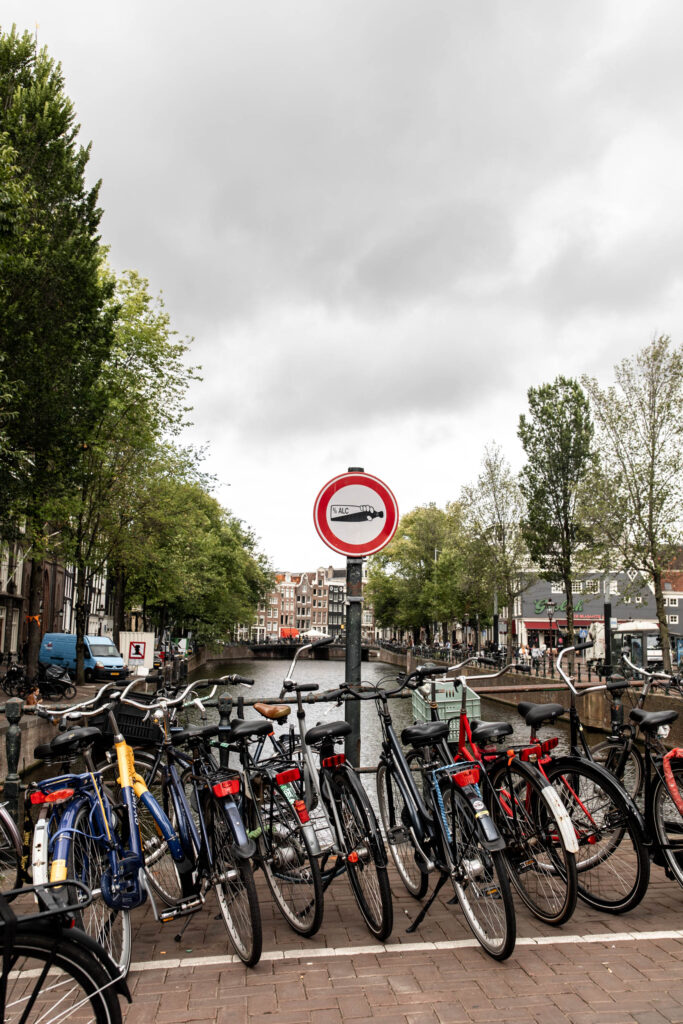 Museums
Amsterdam has no shortage of art museums. I highly recommend the Rijksmuseum, dedicated to Dutch art and history. The collection features 17th-century masters like Rembrandt and Vermeer. The largest museum, it definitely takes some time to work though. If you're looking for a smaller museum, you can visit the Van Gough Museum. It is in the same area and with the works of Vincent Van Gough. Since I had visited those on past trips, I stopped by a modern museum this time, the Moco. It features more contemporary street artists like Banksy and Invader as well as popular artists like Keith Haring and Jeff Koons.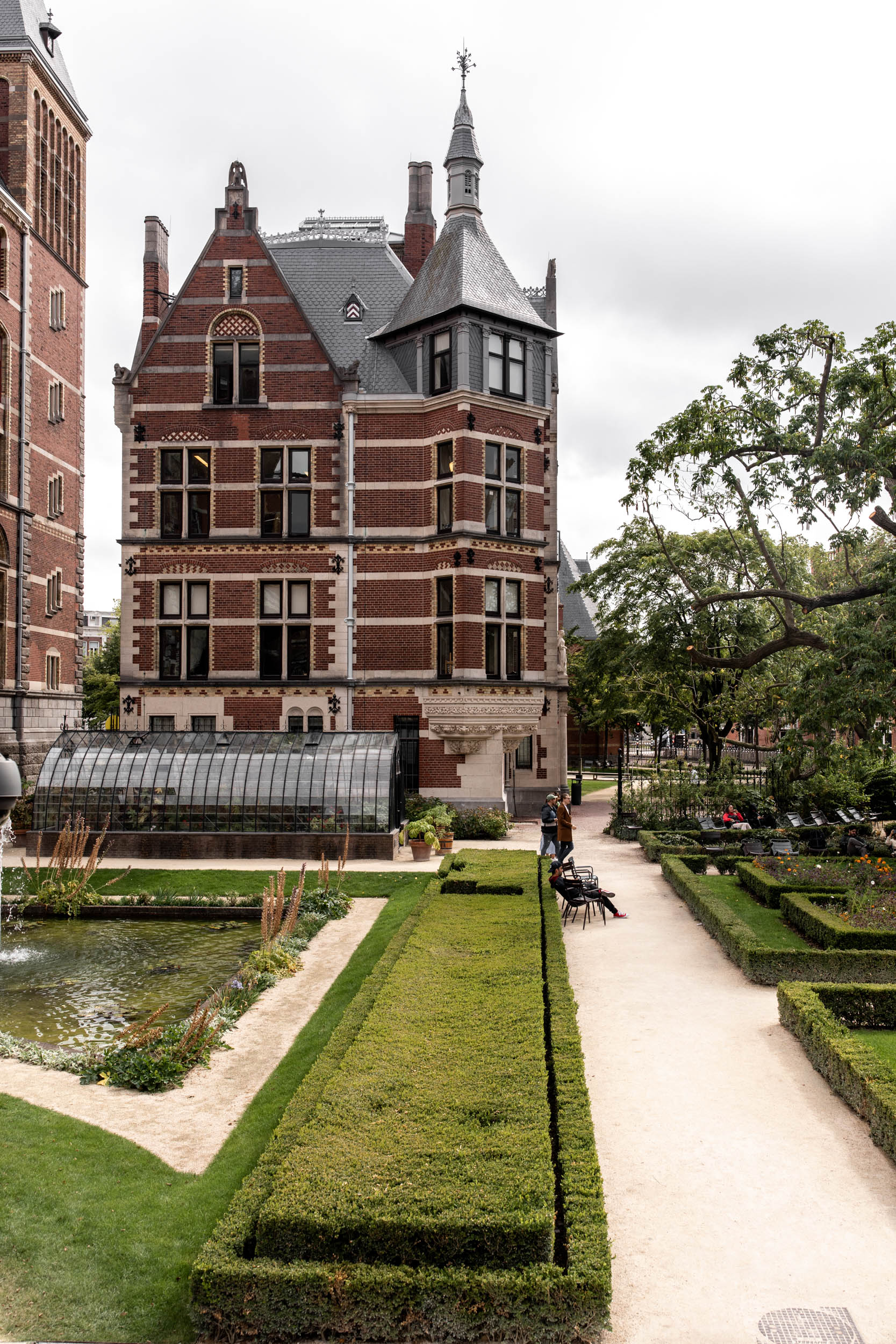 Anne Frank House
A visit to the Anne Frank house is a very moving experience. Also, Anne Frank's house houses the museum and annex where she hid for two years during the war and wrote in her diary. After returning from Auschwitz, the father of Anne Frank opened the museum. 
Heineken experience
On a previous trip I visited the Heineken experience and while touristy, it's a fun activity. The self-guided tour through the brewery ends in a tasting of the beer. I've always been a Heineken drinker but still loved learning more about the product.
Vondelpark
On the outer area of the city, Vondelpark is the largest urban park in Amsterdam, made up of 120 acres. The park has a lot of gardens, ponds and playgrounds as well as a public theater and bike lanes.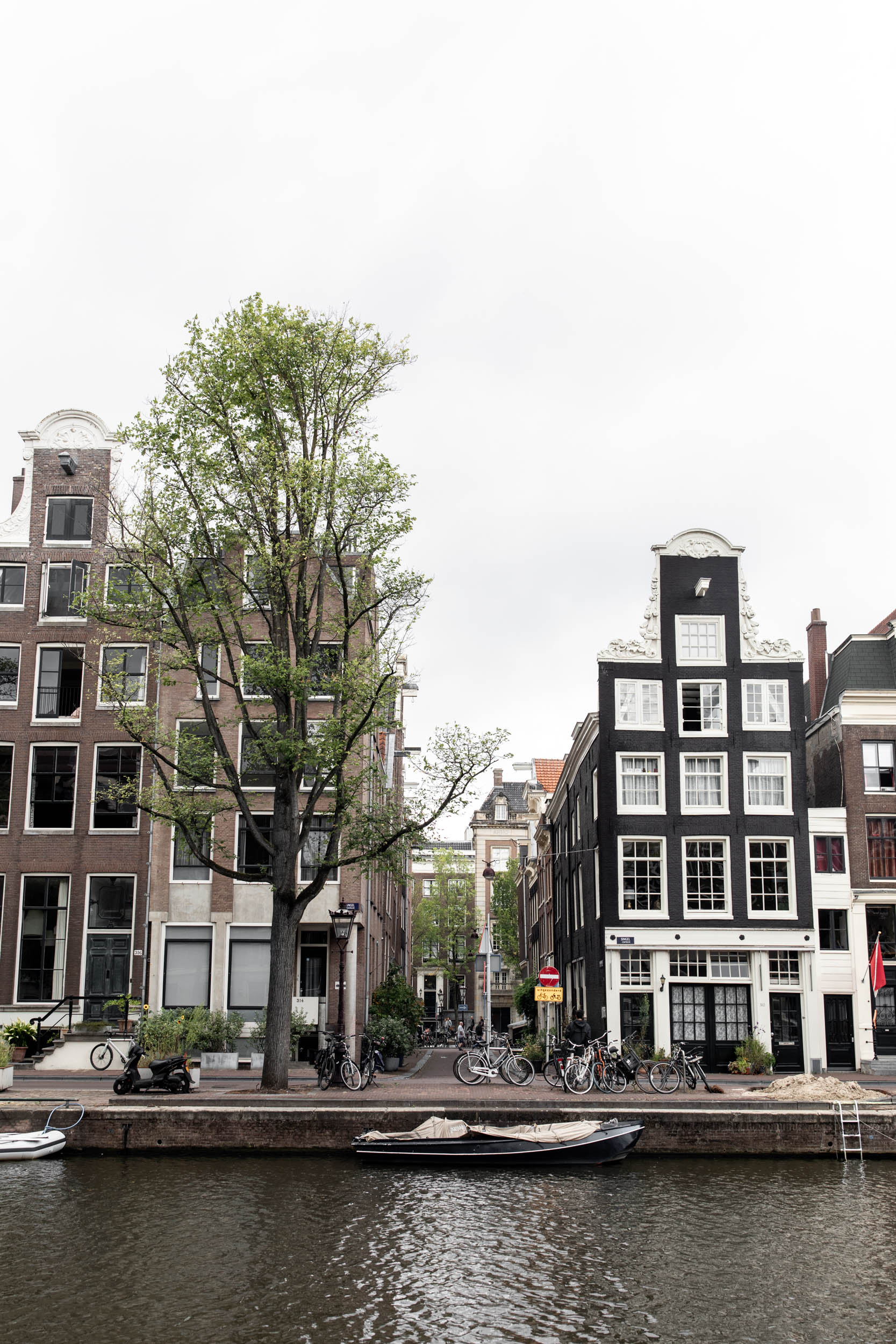 Follow me on Instagram for more updates!