Beer steamed clams make for a great summer dinner. While shellfish can be intimidating once the clams are scrubbed and picked through (discard any broken or open clams) it's just a matter of adding them to a pot with a lid to steam with a can of beer.
Simple Beer Steamed Clams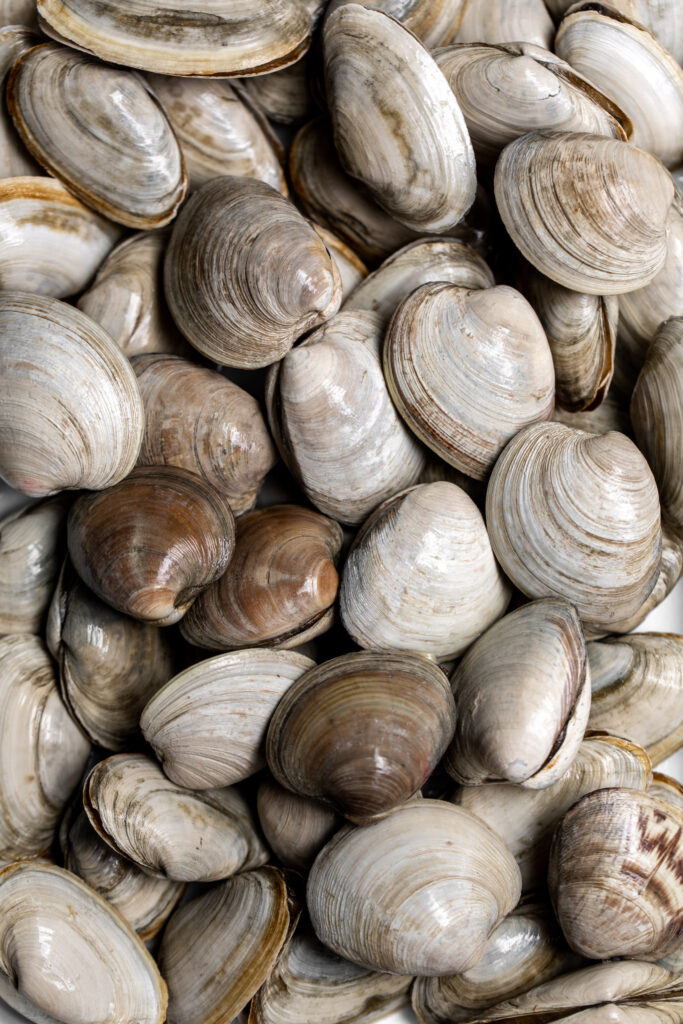 Ingredients for steamed clams:
Clams – I use smaller, more tender littleneck or steamer clams rather than tougher big clams in this recipe.
Beer – I recommend using a lighter beer like a lager in this recipe. The clams will absorb the flavor of the beer and it becomes your broth so you don't want anything with too many overpowering flavors.
Lemon – The acid from the lemon brings out the flavor of the beer and complements the clams.
Bread – A crusty bread is best for dipping in the broth, it absorbs the liquid without falling apart as you eat it! I like to warm it in the oven before serving.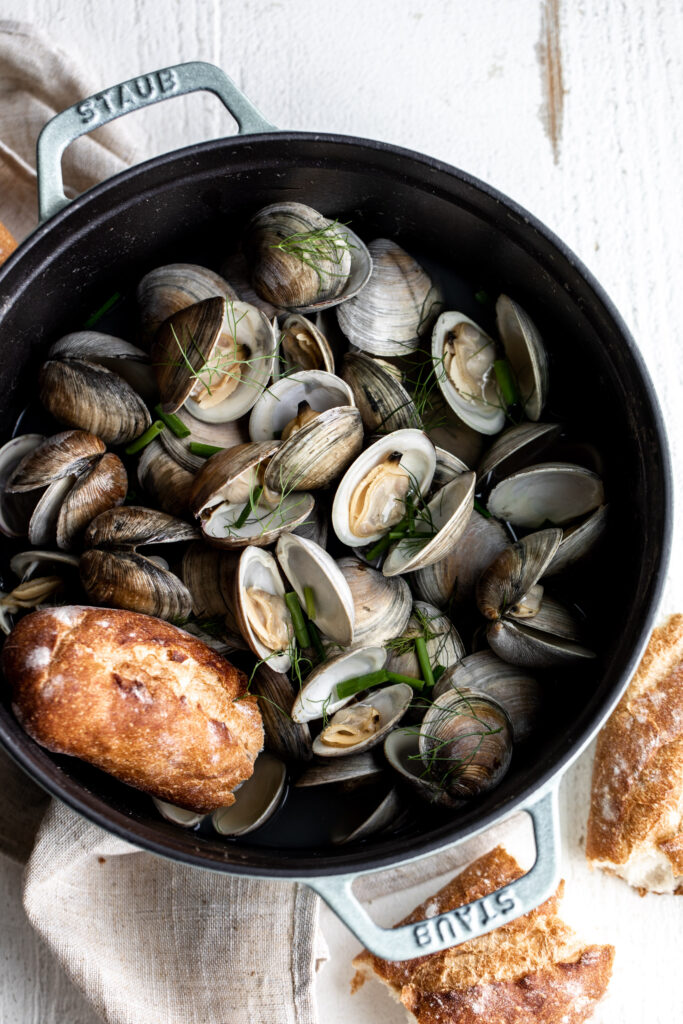 Steps to make steamed clams:
Step 1: Thoroughly wash clams.
Step 2: Add beer to a large pot and bring to a boil. Add the clams.
Step 3: Cover and heat over medium-high heat, cooking until clams open.
Step 4: Serve in large serving bowls with bread for dipping in the sauce.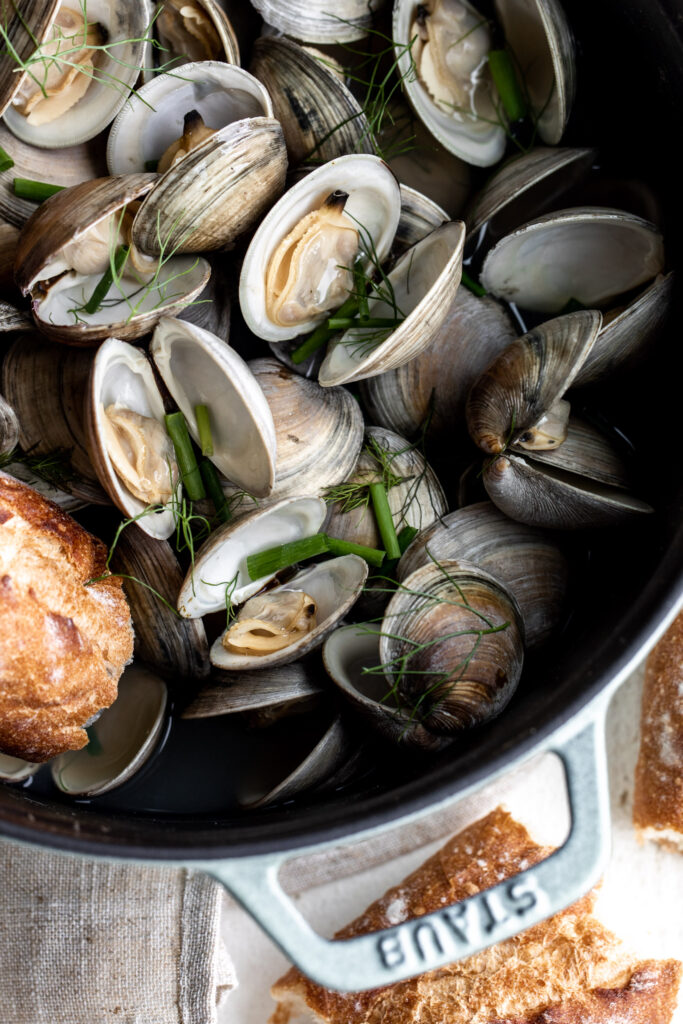 What to look for in clams:
When you are buying clams, look for the smaller ones because they aren't as tough and are ideal for steaming. I always prefer smaller clams like littlenecks or steamers, to larger ones like quahogs or cherrystones.
Discard any clams that are cracked or open prior to cooking – they will already be dead and may be decomposing.
Similarly, discard any that remain closed after cooking, don't try to pry them open.
Make sure clams are thoroughly scrubbed and cleaned before use.
Prior to cooking add the clams to a large bowl of salted ice water. They will quickly expel the extra grit they are holding in the shell.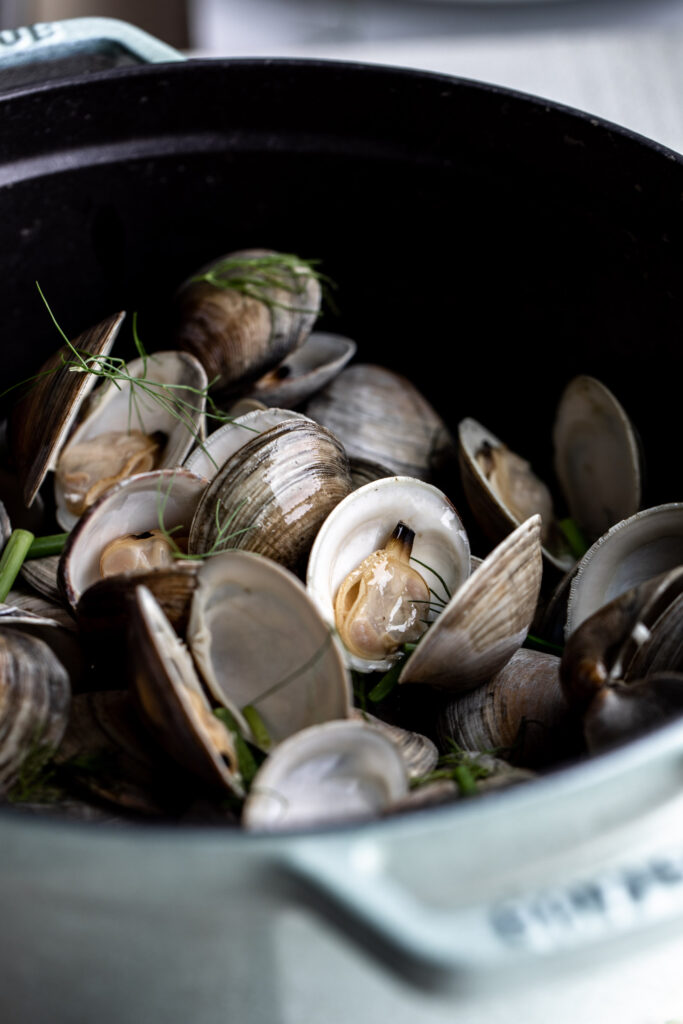 Other recipe ideas for clams
If you like clams I'd recommend trying these:
Simple Beer Steamed Clams
1

(16-ounce)

can lager beer

3

pounds

littleneck clams,

scrubbed

Lemon wedges,

for serving

loaf crusty bread,

warmed, for serving
Add the beer to a large pot and bring to a boil over medium-high heat.

Add the clams to the pot and cover.

Steam the clams until they open, about 6 minutes. Using a slotted spoon transfer the clams to a large serving bowl.

Serve clams with bread. Garnish with herbs like fennel, chives and parsley if desired.
DID YOU MAKE THIS?
TAG ME ON INSTAGRAM TO BE FEATURED ON MY STORIES! @cookingwithcocktailrings