Confit Tuna Sandwich
While confit generally refers to something being cooked in its own oil, the term also applies to the method used here. While it can be served gently flaked apart and added to sandwiches or niçoise salad as is, in this recipe the cooked tuna is broken up and shredded. And then made into a salad with mayonnaise and the confit shallots. While it takes a bit of time, I prefer to make this confit tuna rather than using canned tuna since I have much more control over the seasoning, flavor and how it's cooked. I use rosemary as the aromatics in this recipe.
The contrast of the confit shallots in the tuna salad with the pickled onions and fire-roasted peppers, avocado, cucumber and sprouts makes for a bright yet light summer sandwich. I use sourdough bread (extra points for homemade) though any other bread will work fine.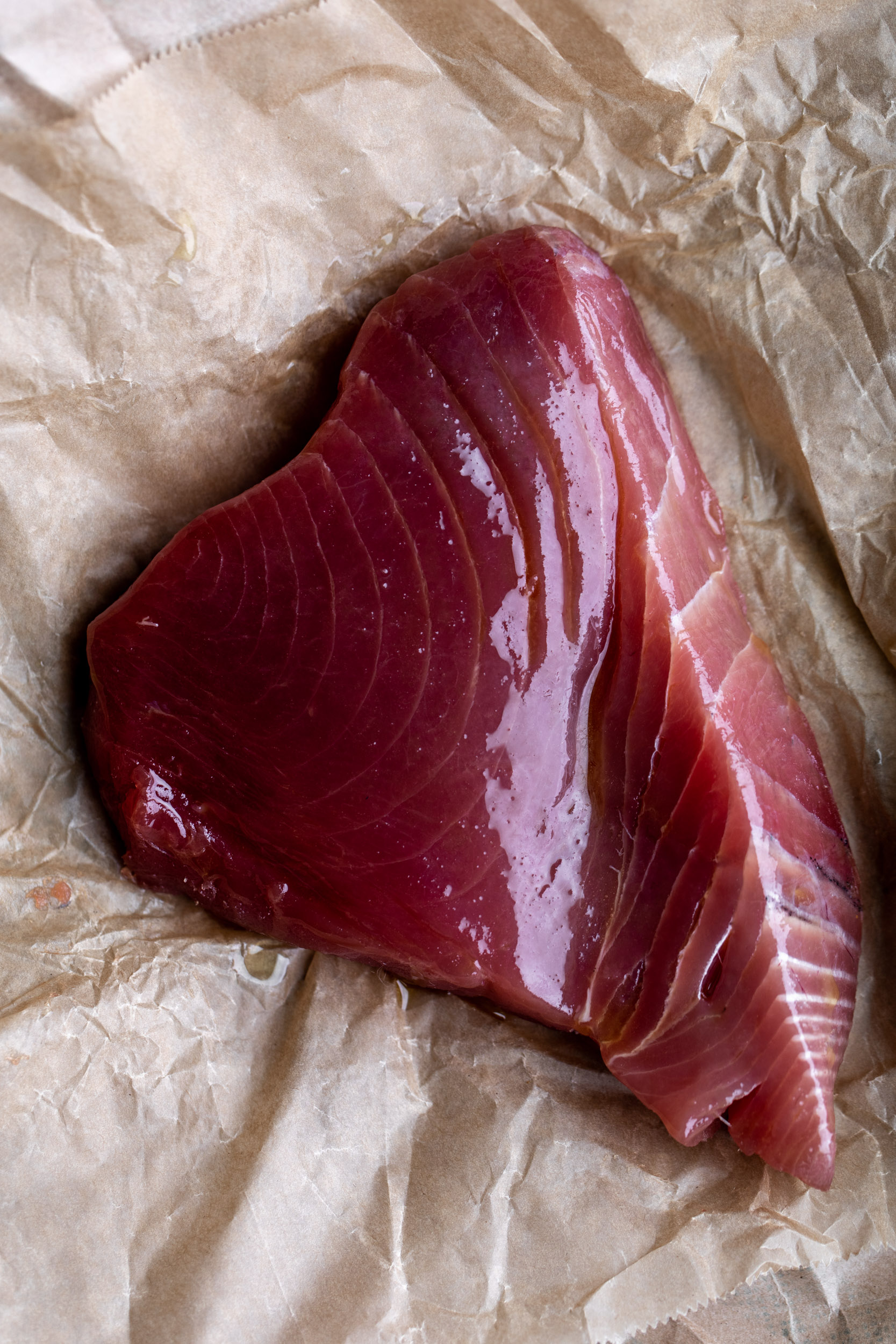 This recipe is inspired by the tuna conserva sandwich from Gjusta in Venice, California. The rustic open-kitchen shop with exposed beams and a long thick marble counter serves everything from sandwiches to pizzas and bread all using house-made ingredients. I appreciate a place that makes most things from scratch. It adds a unique and special touch, plus it's just impressive.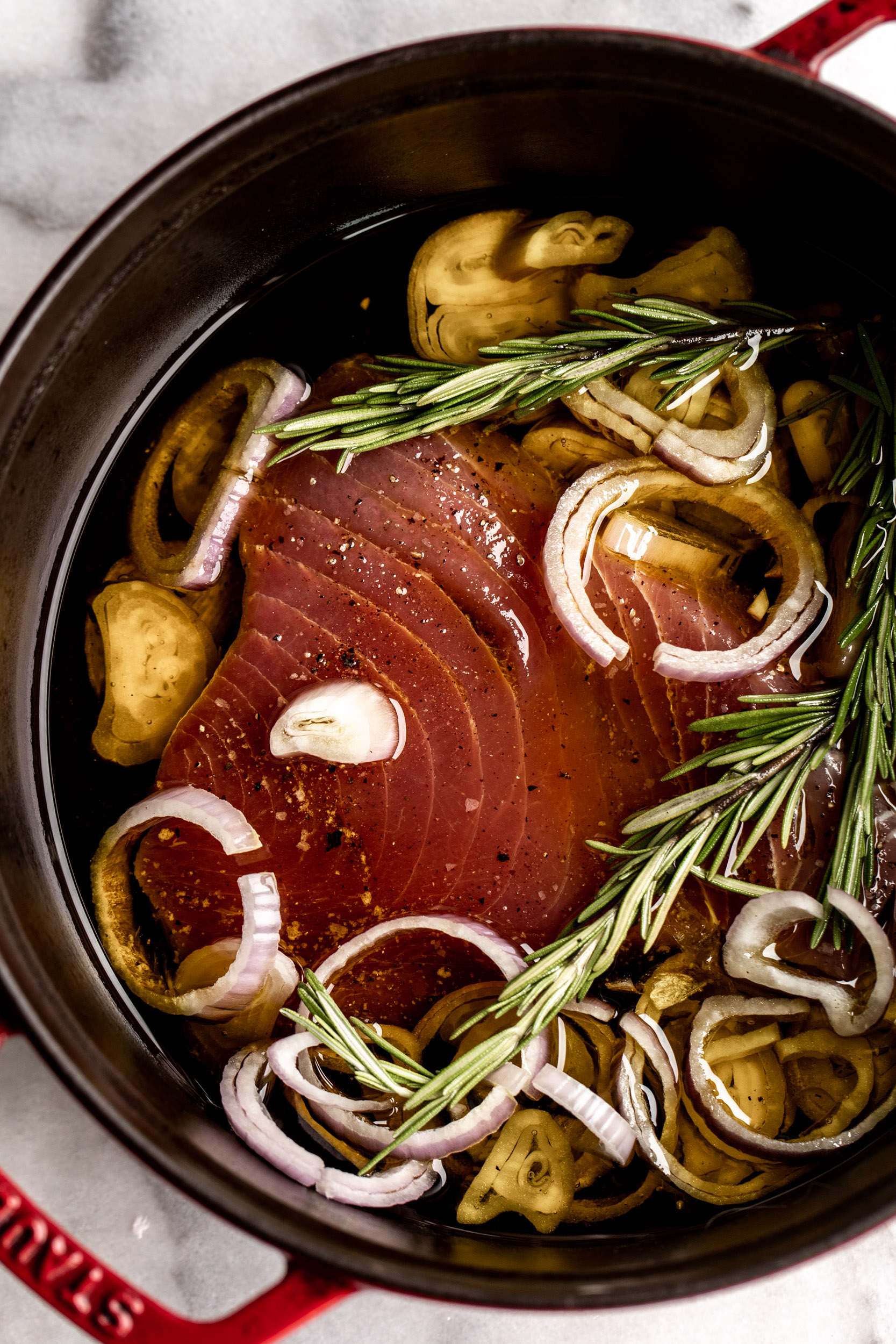 What's in this sandwich?
Confit tuna salad
Pickled red onions
Roasted red peppers
Sliced avocado
Sliced cucumber
Sprouts
Sourdough bread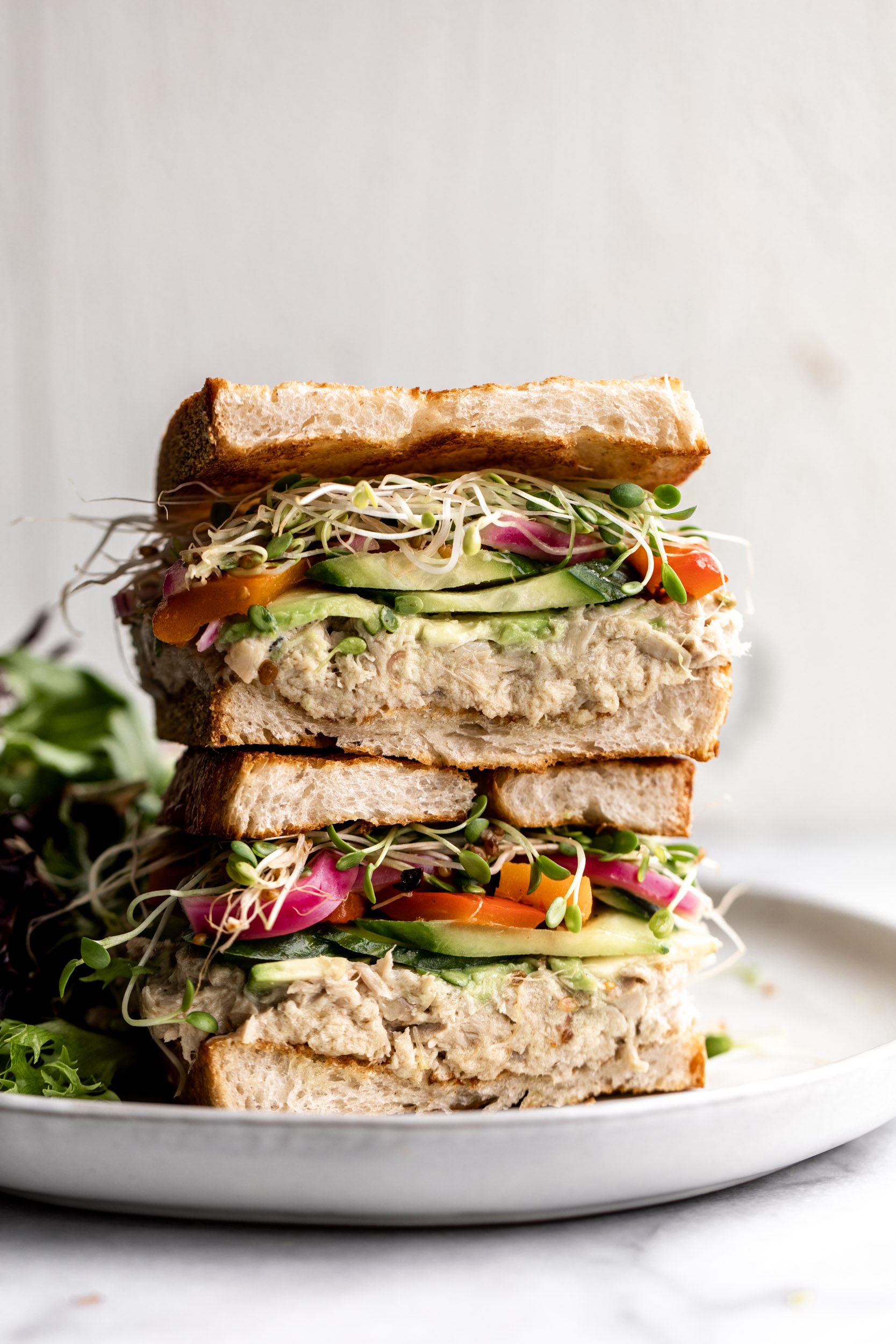 Confit Tuna Sandwich
For serving:
1

medium red bell pepper,

(or substitute with a jar of fire-roasted red peppers, cut into strips)

4

slices

sourdough bread

1

medium Haas avocado,

peeled, pitted and sliced

½

cup

thinly sliced cucumber

¼

cup

pickled onions

1

cup

sprouts
For the confit tuna:
Heat oven to 275ºF.

Season the tuna on both sides with salt and pepper and let sit for 20 minutes.

Add to an oven safe baking dish or Dutch oven and cover with the olive oil, using more if needed so the fish is just covered. Add the shallots and rosemary then cover and bake until the fish is tender and just cooked through, about 30 minutes.

Let cool to the touch, about 15 minutes and discard the rosemary. Add the fish and shallots to a large mixing bowl and save the oil for another use. Add the mayonnaise and vinegar, using a fork to mash up the tuna. Season with salt and pepper then set aside until ready to use.

The tuna mixture can be made a day ahead of time then covered and refrigerated until ready to use.
For serving:
Char the red pepper over gas flame or in broiler until blackened on all sides. Enclose in a paper bag for 10 minutes.

After roasting the pepper, carefully peel off the charred skin. Slice the top part off the pepper discarding the stem and seeds. Cut the red pepper into strips and set aside.

Toast the sourdough bread then top 2 of the slices with tuna salad, avocado slices, cucumber slices, roasted red pepper, pickled onions and sprouts.

Close both sandwiches and carefully slice in half with a bread knife. Serve immediately or wrap in parchment paper and refrigerate until ready to serve.
DID YOU MAKE THIS?
TAG ME ON INSTAGRAM TO BE FEATURED ON MY STORIES! @cookingwithcocktailrings