There are many different variations of a Niçoise salad. Niçoise salad is a dish from Nice, the South of France and apart from a few core ingredients the rest are very flexible and can be easily substituted based on seasonal availability. This recipe is an easy summer dinner to throw together and is nicely paired with a glass of orange or rosé wine. The name, "Niçoise" translates quite literally in English meaning, "in the style of Nice"
Niçoise Salad
The refreshing combination of ingredients and textures with a mix of briny and oily, contrasts with a light citrus dressing. The ingredients are "composed" or separated out on a plate or platter rather than tossed together. It's a "lazy" salad, as the ingredients can be cooked ahead of time and stored in the fridge until ready to eat.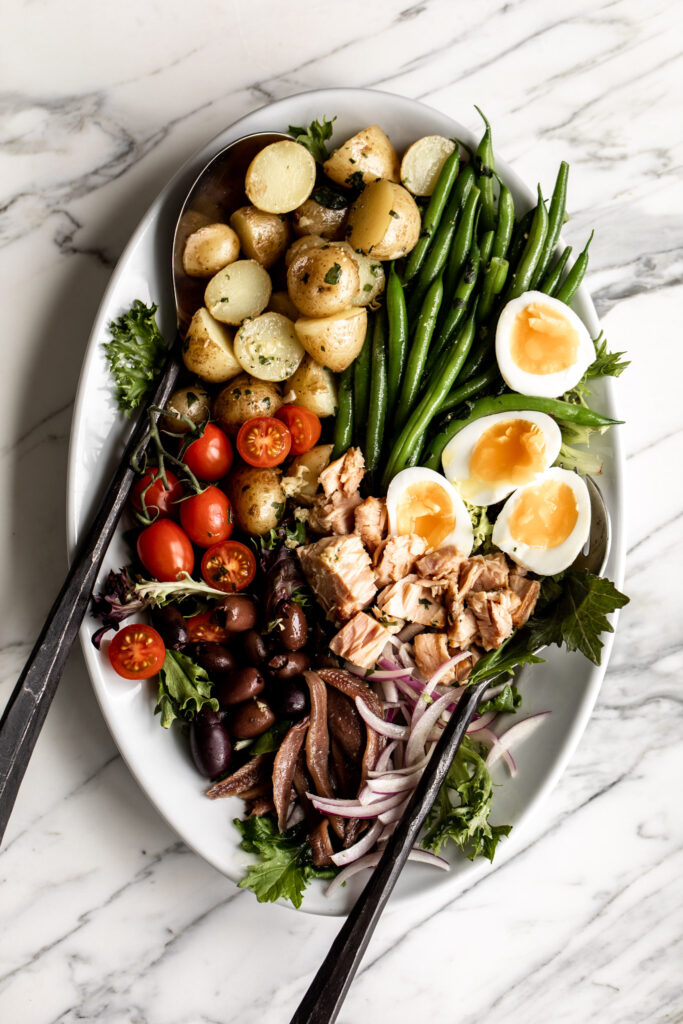 In my opinion a "classic" Niçoise salad should definitely include:
Potatoes – Small potatoes are served boiled and halved. They can be cooked in the same pot as the green beans for easy prep. 
Green beans – Served simply blanched and chopped the green beans and potatoes are tossed with some of the dressing right after cooking so they absorb the flavors. Haricots verts are preferred since they are more delicate than American green beans but either will do. 
Tuna – Oil-packed tuna (Chicken of the Sea) is most commonly used. And gives the salad a rich and tender contrast to the citrus dressing. You can also add leftover seared or cooked tuna if that's what you have on hand. Though I like the meatiness of the oil-packed version. Opt for a high-quality oil-packed tuna, I like Fishwife's Wild-Caught Smoked Albacore. 
Eggs – Hard boiled eggs are traditionally used though I opt for soft-boiled eggs. In addition, I love the texture the jammy yolks add to the salad. 
Olives – While Niçoise olives are classic, I feel these can be substituted for other olives based on availability or preference.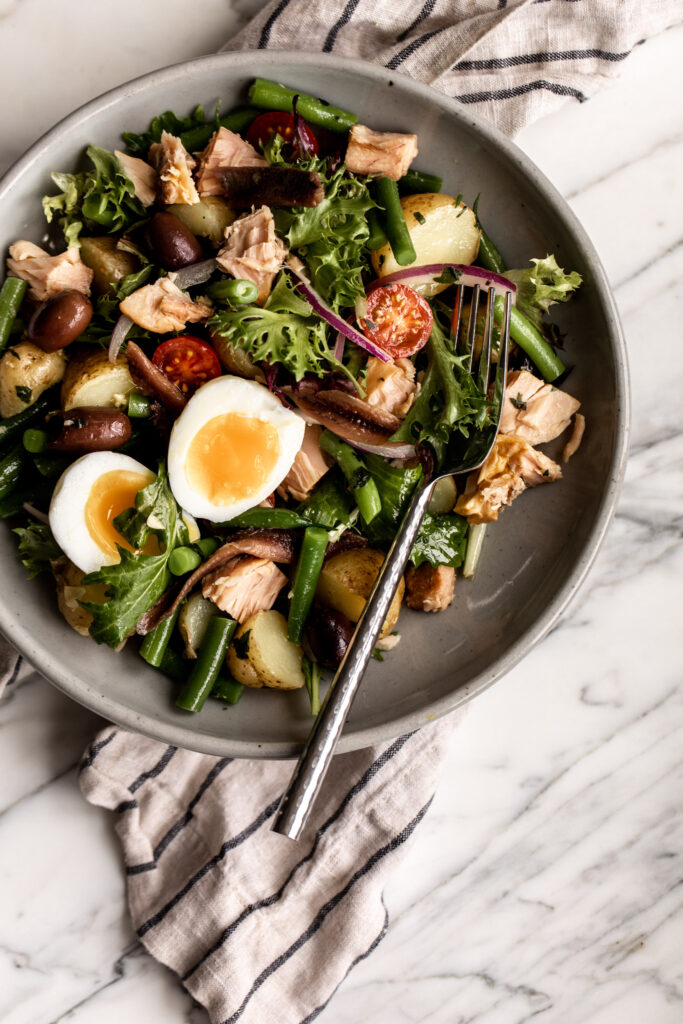 For some seasonal ideas try:
Substituting romaine as the base and add sliced peppers or cucumbers for a summer crunch.
Adding roasted beets for an earthy touch in winter.
Adding halved radishes or fava beans for a light hint of spring.
Substituting the mixed greens with spinach and add oil-packed artichokes in fall.
Niçoise Salad
For the lemon-basil vinaigrette:
¼

cup

extra-virgin olive oil

2

tablespoons

chopped basil leaves

2

tablespoons

freshly squeezed lemon juice

½

teaspoon

dijon mustard

Kosher salt

as needed

Freshly ground black pepper

as needed
For serving:
4

large eggs

6

ounces

haricots verts or green beans

¾

pound

small yellow Yukon potatoes

4

ounces

mixed greens

¼

cup

shaved red onions

½

cup

halved cherry tomatoes

¼

cup

Kalamata olives

2

(3.5 ounce)

can oil-packed tuna

1

(2 ounce)

can oil-packed anchovies
For the lemon-basil vinaigrette:
In a small bowl whisk together the oil, basil, lemon juice, and Dijon, then season to taste with salt and pepper. Set aside until ready to use.
For serving:
Bring a medium pot of salted water to a boil over high heat. Carefully add the eggs and cook for 7 minutes. Use a slotted spoon to transfer the eggs to a bowl of ice water, keeping the pot over high heat. Chill the eggs until cold then peel and set aside.

Add the green beans and potatoes to the boiling water. Cook the green beans until bright green and tender, about 2 minutes. Remove with tongs to a bowl of ice water until chilled then drain and set aside.

Continue to boil the potatoes until tender, about 15 minutes. Drain the potatoes. In a medium bowl toss the potatoes and green beans with half the dressing.

Arrange the mixed greens on a platter and arrange the green beans and potatoes in sections on top followed by the red onions, tomatoes, olives, tuna and anchovies. Drizzle the remaining dressing over the top and serve immediately.
DID YOU MAKE THIS?
TAG ME ON INSTAGRAM TO BE FEATURED ON MY STORIES! @cookingwithcocktailrings