Spaghetti alle Vongole
The fresher the clams the better the dish. The name is fun to say and it means spaghetti with clams, it's that simple. While the name is simple the sauce is anything but boring, it is light, yet rich, without any cream and just a little kick from the crushed red pepper.
It is best to buy clams within about 24 hours of when you plan on cooking with them. Store in a bowl and cover with a damp towel. Do not submerge in water.
When preparing to cook the clams test to make sure they are still alive but smelling them, if they smell fresh like the sea then they are still alive. Discard any clams that do not open on their own when steamed.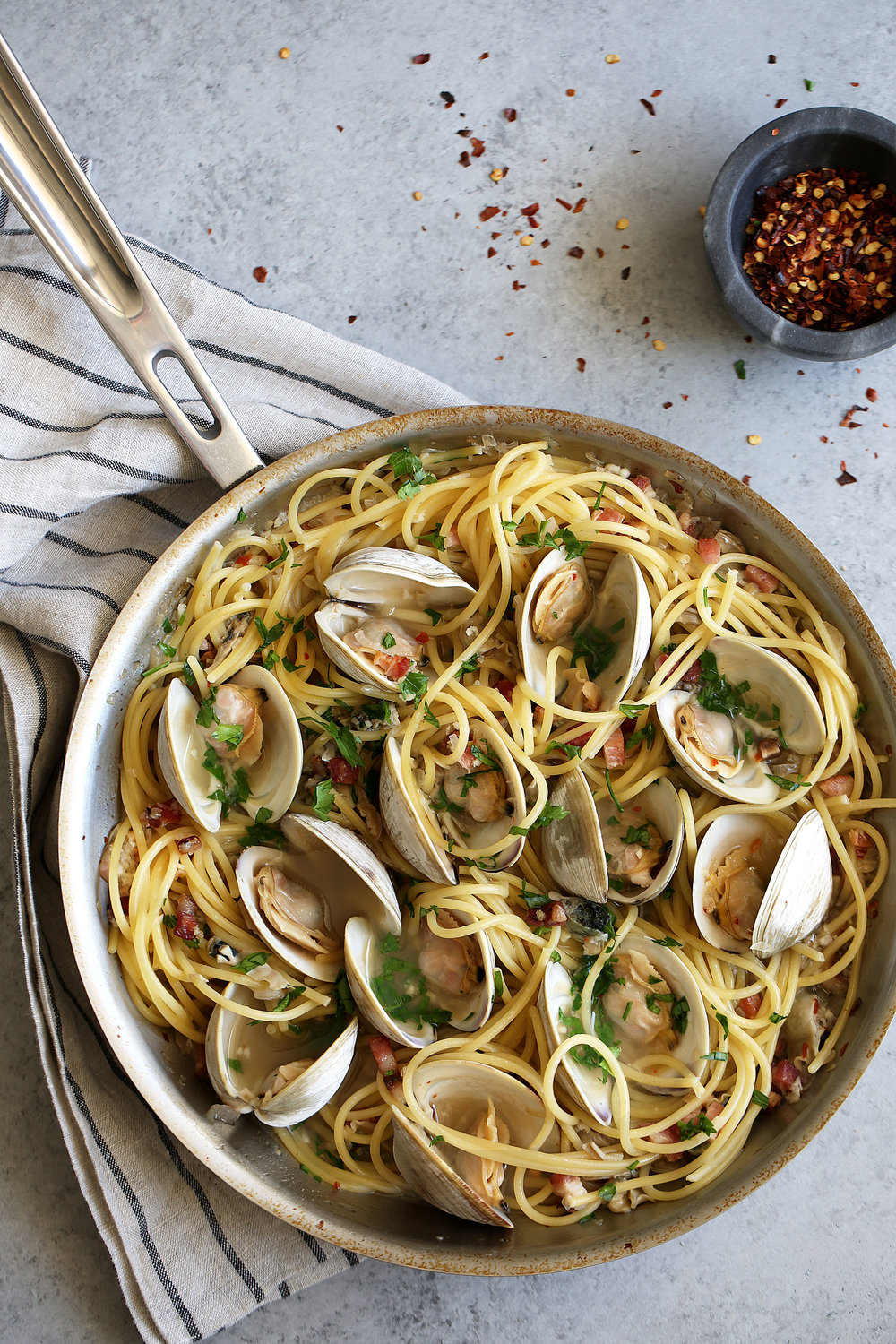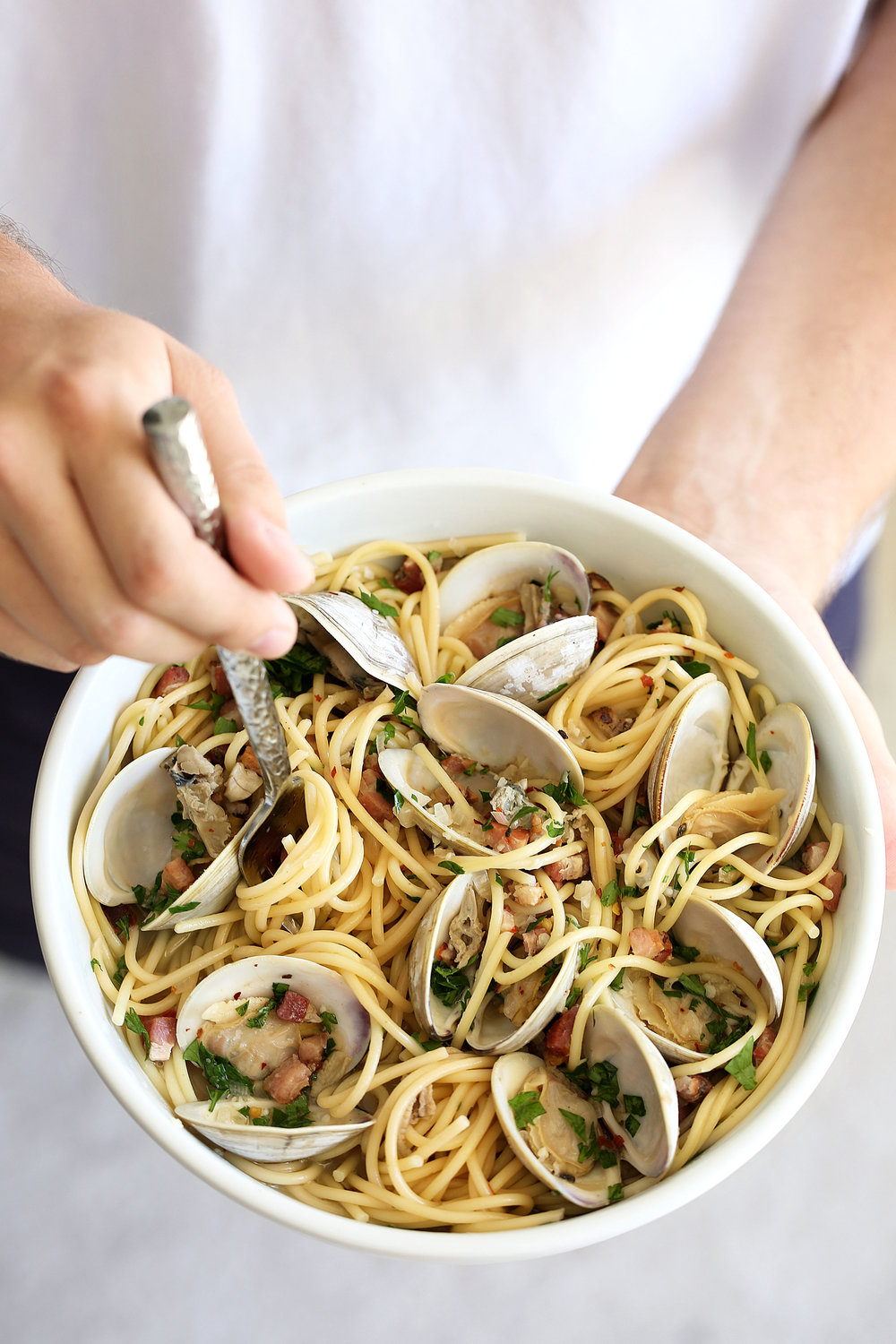 Spaghetti alle Vongole
2

pounds

littleneck clams,

scrubbed

Kosher salt,

as needed

1

pound

spaghetti

3

tablespoons

extra-virgin olive oil

½

cup

diced pancetta

1

shallot,

diced

2

tablespoons

minced garlic

¼

teaspoon

crushed red pepper flakes

1

(6.5 ounce) can whole clams, drained and juices set aside

4

tablespoons

clam juice

1 ½

cups

dry white wine

juice from 1 lemon

2

tablespoons

unsalted butter

2

tablespoons

chopped parsley,

for garnish

1

loaf French bread,

sliced into 1" slices, for serving
Scrub clams under cold water to remove any debris and set aside. Bring a large pot of water to the boil; add the salt and bring back to the boil.

Pour in the pasta and cook, stirring occasionally, until al dente, about 10 minutes. Drain and return the pasta to the pot and set aside.

Place a medium sauté pan over medium heat, add the olive oil and heat through. Add pancetta and allow for some of the fat to render from the pancetta, about 5 minutes.

Add the shallots and garlic and cook, stirring occasionally, until the shallots are tender and translucent, about 5 minutes. Stir in the crushed pepper, canned clams, clam juice, white wine and lemon juice. Simmer, until slightly reduced, about 10 minutes.

Arrange the littleneck clams in a single layer in the pan and increase the heat to high. Cover and steam until the clams open, about 3 to 6 minutes, depending on the size of the clams.

As the clams open, use tongs to transfer them to a bowl. Once all the clams have opened and been removed from the pan, stir the butter into the sauce, stirring until the butter has melted.

Reduce the heat to medium and add the pasta to the pan, tossing in the sauce and covering until the pasta is warm and has absorbed some of the sauce.

To serve, use tongs to transfer the pasta to warm pasta bowls. Top the pasta with the littleneck clams and divide the remaining sauce among the bowls; garnish with parsley.

Serve immediately with bread on the side to dip in the white wine sauce.
DID YOU MAKE THIS?
TAG ME ON INSTAGRAM TO BE FEATURED ON MY STORIES! @cookingwithcocktailrings