Summer is the time for rooftop parties, outside dinner parties and generally anything outdoors. This hummus trio served with a vegetable crudité platter is one of my favorite "Instagram-worthy" spreads to bring to any summertime social gathering.
The spread, with it's sun-dried tomato hummus, spicy hummus and lemon garlic hummus is easy to throw together and goes well with an assortment of vegetables, pita or other bread. It's great to give people options, especially for larger gatherings. The trick is all in the arrangement. For example I like to use a large oval platter and serve the dips in small containers in the middle and fan the vegetables out from there. I leave some of the tops on the carrots and some of the radishes. Anything for the aesthetic.
How to Put Together a Mediterranean Crudités Platter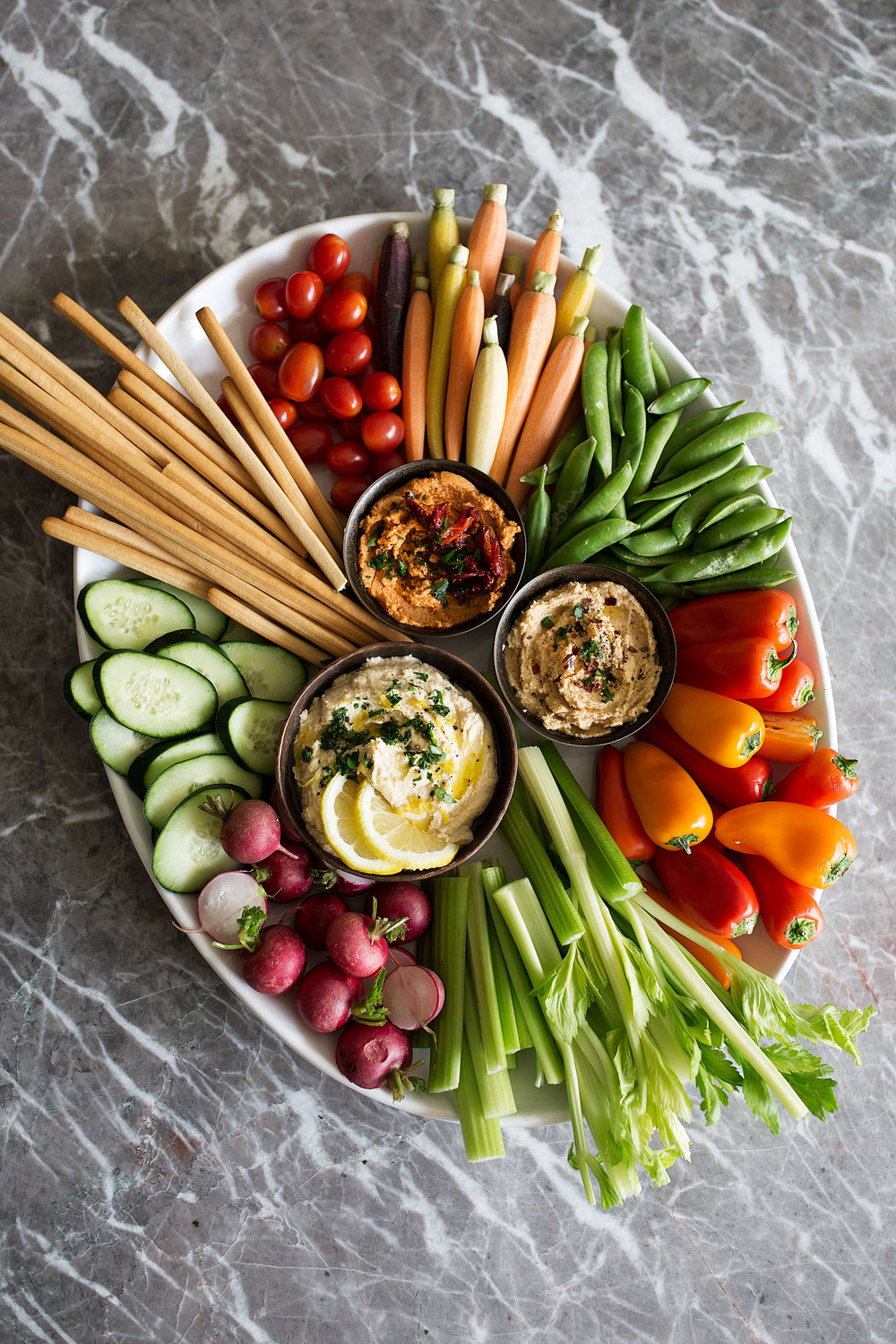 What is Crudité?
Crudités or crudité is a French word referring to an assortment of raw vegetables that are sliced and served with a sauce or dip. In this case I chose a trio of homemade hummus recipes for dipping with the raw vegetables.
More About This Platter
Hummus is an easy dip choice because it's extremely easy to make and the ingredients are fairly cheap. It can be made in a blender in just a few minutes and I love adding different things like sun-dried tomatoes, lemon, garlic or red pepper flakes. It's a great alternative to a cheese and charcuterie plate.
There are always the standard vegetables like broccoli and then there are some under-the-radar options like mini bell peppers or cherry tomatoes. To go along with the Mediterranean theme I typically serve the dips with a side of olives and some nuts.
Mix and Match Ingredient Ideas
I like to mix it up every time but here's a list of good "dip-able" things:
Broccoli florets
Cauliflower florets
Celery stalks
Carrots (I prefer heirloom baby carrots to cut baby carrots for aesthetic purposes)
Grape or cherry tomatoes
Thinly sliced cucumber
Radish, halved

Sugar snap peas
Belgian endive
Mini bell peppers
Sliced bell peppers
Squash blossoms
Breadsticks (a personal favorite)
Crostini
Pita chips
Crackers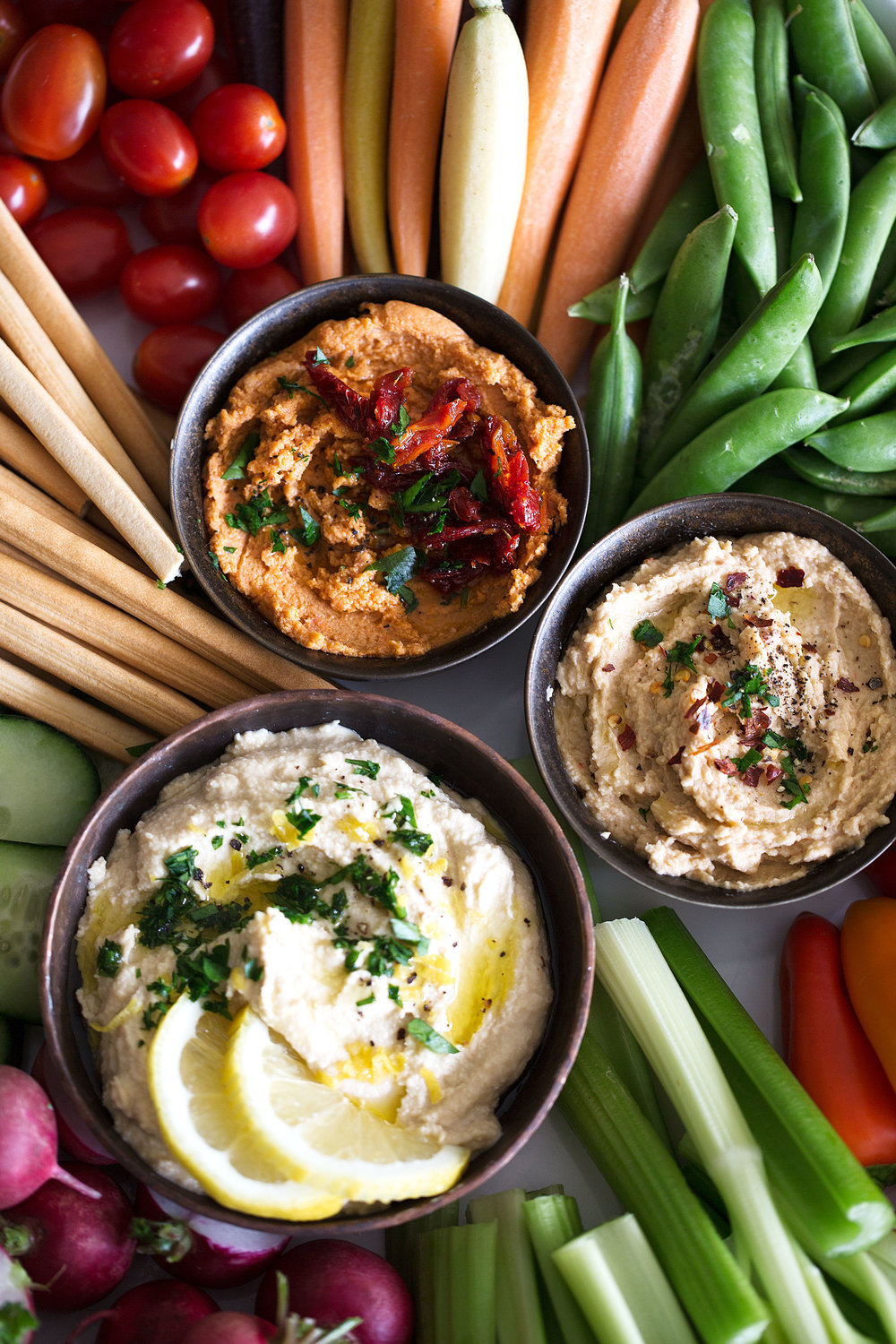 How to Assemble an Mediterranean Crudité Platter
Add hummus to bowls. Arrange hummus in small bowls on the board.
Fill in vegetables. Surround with the vegetables around the platter, opting to closely fill them in. This way the board appears more full at all times.
Add crackers. Add crostini or crackers and serve.
How to Prep This Ahead of Time
If you're busy – as most of us are, then you can make the hummus and arrange the platter ahead of time and cover in plastic wrap and refrigerate until ready to serve. Enjoy all the snacks!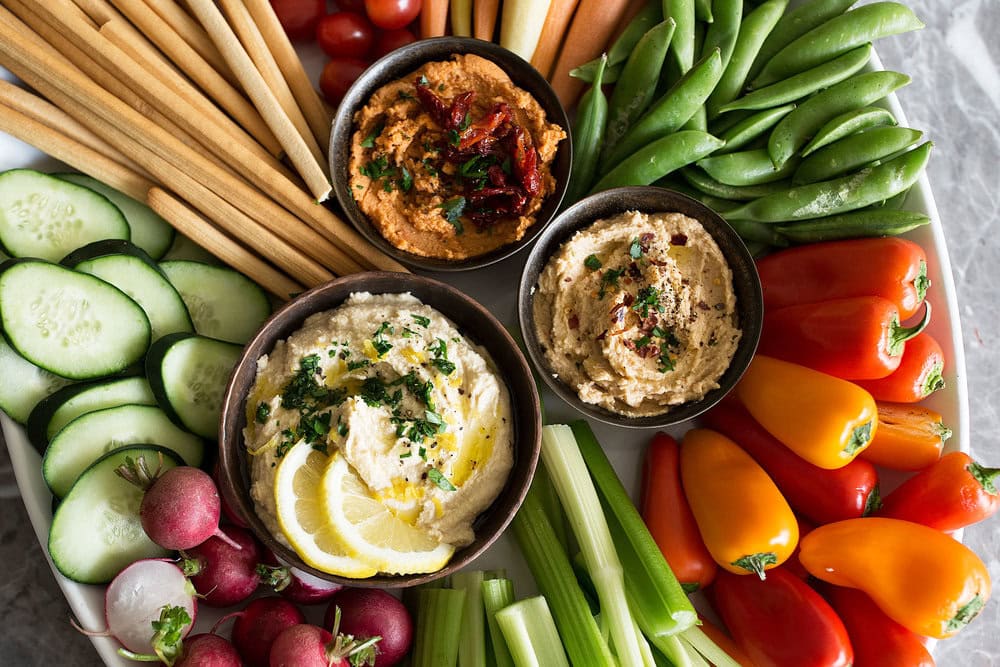 How to Put Together a Mediterranean Crudités Platter
DID YOU MAKE THIS?
TAG ME ON INSTAGRAM TO BE FEATURED ON MY STORIES! @cookingwithcocktailrings