Create Dinner No. 6: French Harvest
Our "create dinners" focus on the various creative talents of the women that attend and this time the theme of the dinner was centered around the harvest, taken a step further to mean the "harvesting of one's creative abilities." Many of the women represented at the dinner are testimonials to the philosophy that a creative talent or hobby, when fostered, can turn into a full time career. Seeing other women turn their creativity into full-time or even part-time careers is incredibly inspiring especially when we all bring such different skills to the table.
The Location
A "French connection" accompanied our harvest theme. The location for this dinner was in Calabasas, CA in a house overlooking a Malibu canyon, but with surrounding fields of wheat and lavender that made it feel as if we were perched on a grassy mount in the French countryside. We were in the hills of Provence rather than on the famed Mulholland Drive. I was excited because the French theme gave me plenty to work with in terms of the menu. I consider myself a Francophile so I was very excited for the opportunity to cook a few rustic French dishes.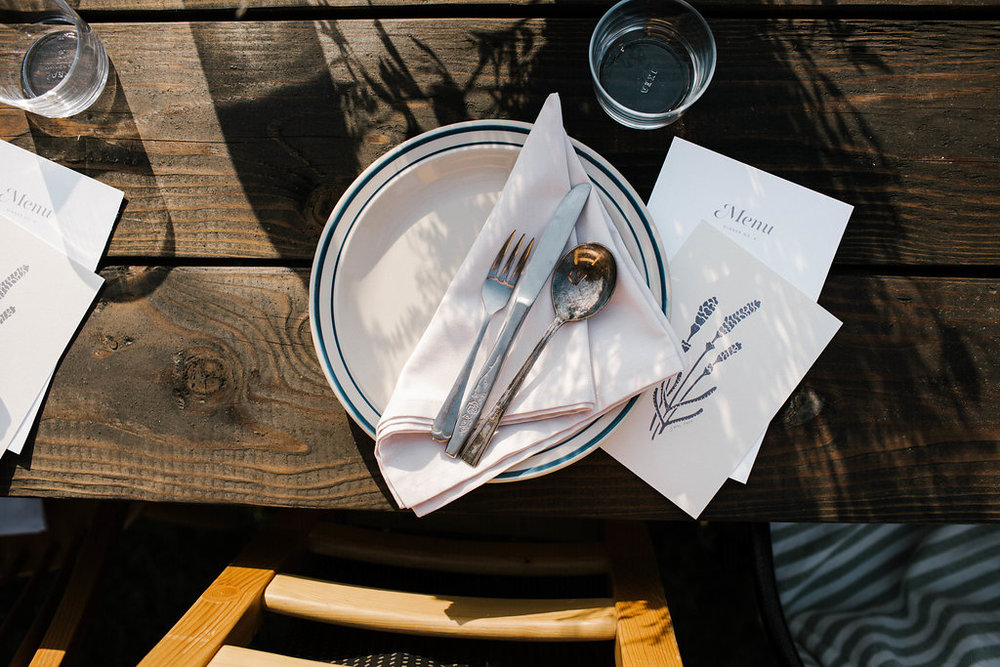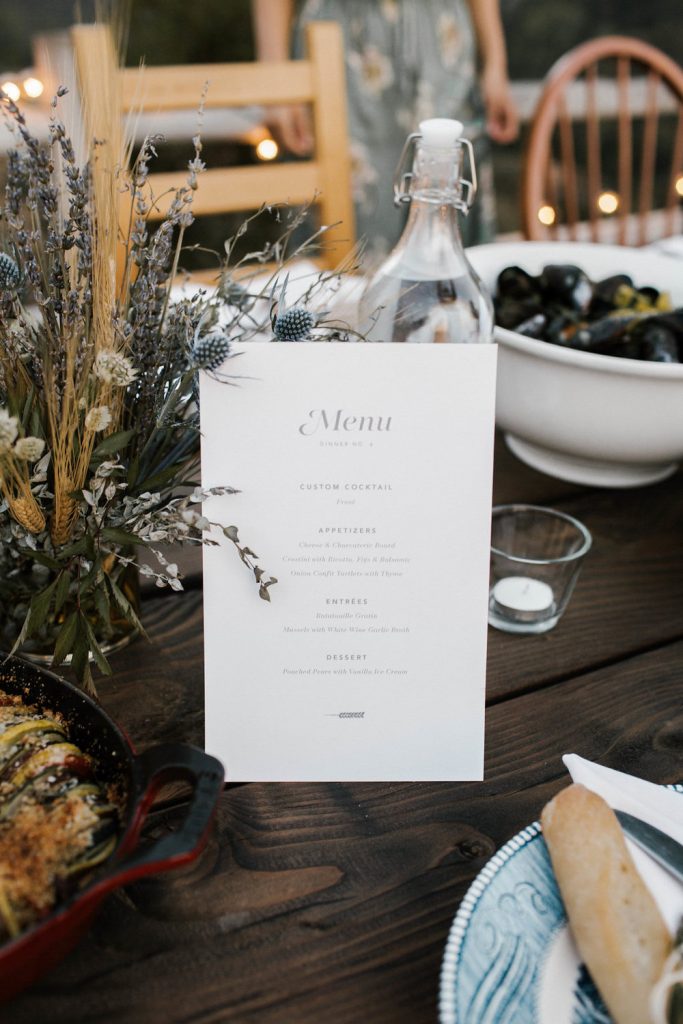 Cocktails
We began the dinner by being swept into the backyard to enjoy some Frozé (a cocktail Kimberly created by blending rosé with fruits and ice) and some appetizers.
Cheese and Charcuterie
To keep with the theme of our dinner party, I chose to serve cheeses from France (and another cheese with just a French sounding name). I started with Brie – the most well known French cheese. The smooth, buttery mild cheese is one of my staples when I put together cheese boards. However, not all brie is created the same. Look for one that gives on the sides and is firm on the outside – and yes you can eat the rind.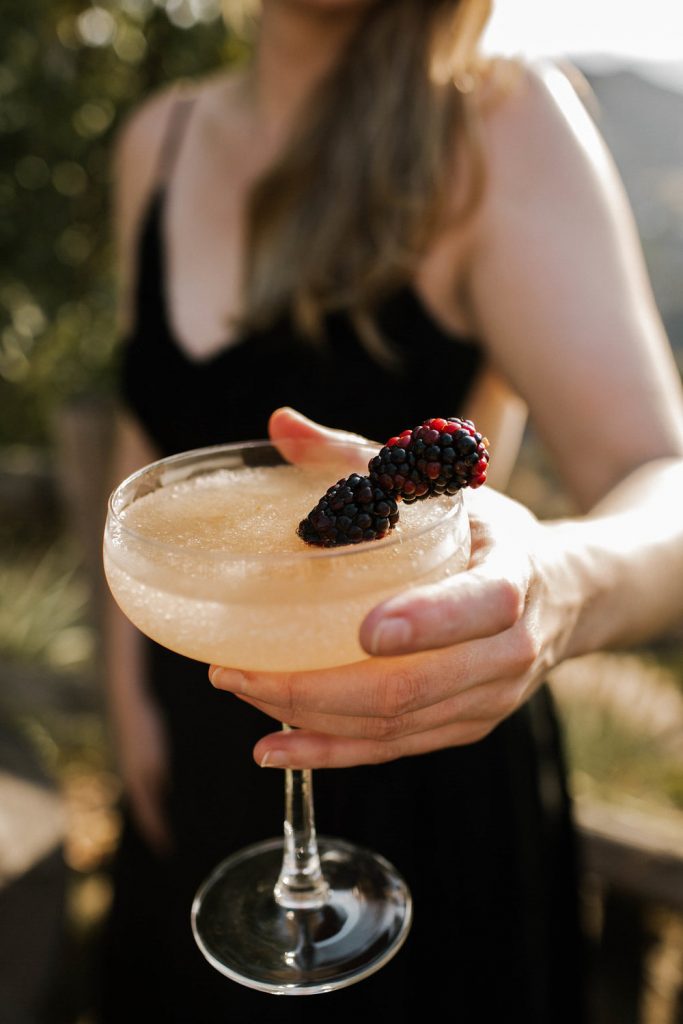 One of my other favorites made an appearance – Gruyère, a hard cheese from Switzerland (sticking with the French theme I bought Gruyere de Comte, the French variety). While it has a pungent smell it is also one of my favorites. Since it is harder, I chose to serve it already sliced. Chèvre, French for goat's cheese, is a creamy cheese made from goat milk that nicely contrasts the harder Gruyère. I love serving it with crackers since it can be crumbly.
While blue cheese can be polarizing – I still chose to serve Roquefort, a tangy, crumbly, sheep's milk cheese from the South of France. Boursin (this one just has a French sounding name) is always a crowd pleaser. Seriously – this creamy, herb and garlic spreadable cheese is always the first cheese gone off a cheese board and I always get questions about what it is. I try to act like it's fancy even though you can find it just about everywhere. Sometimes you just have to give the people what they want!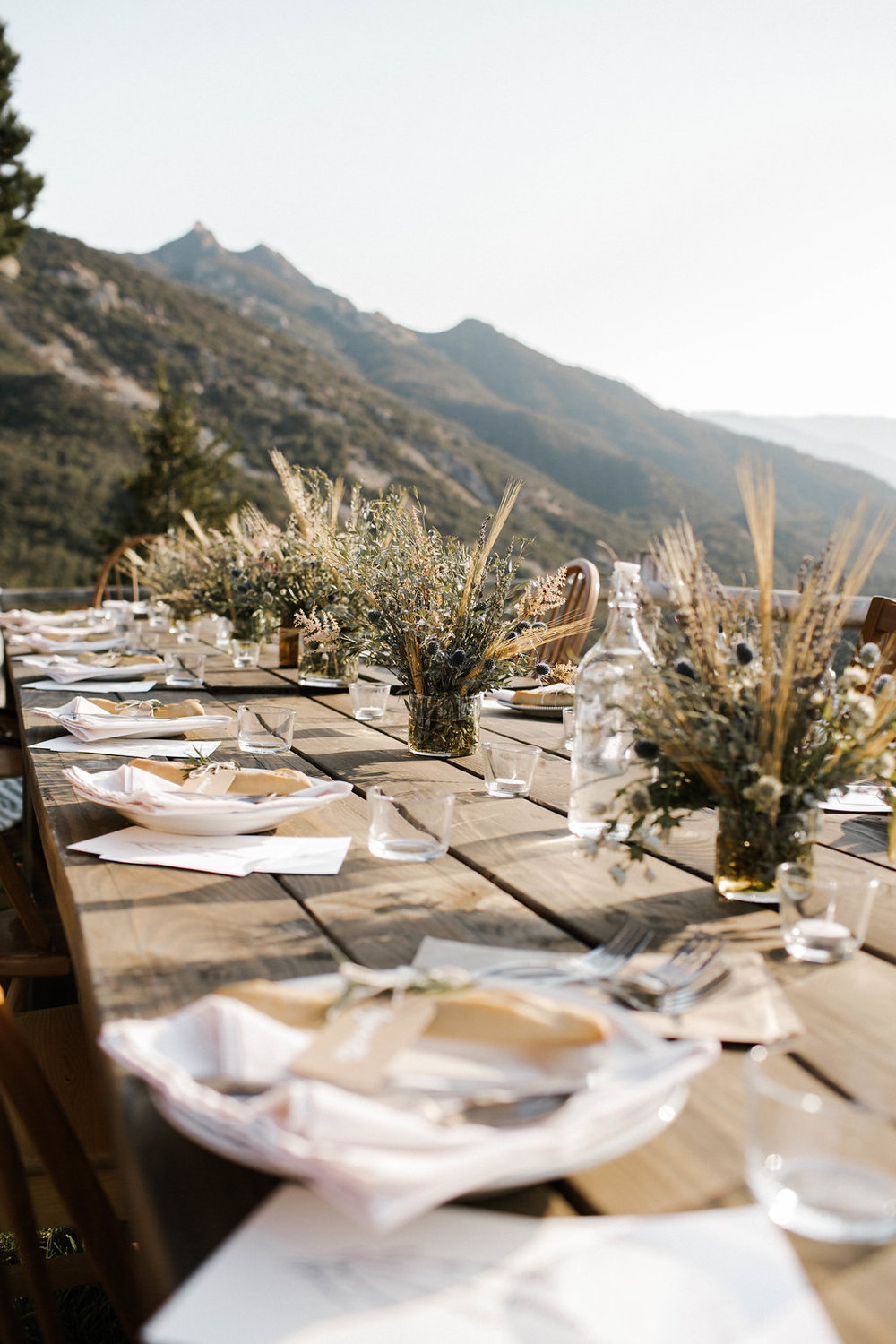 The French know what they're talking about when it comes to charcuterie. While I love a good paté or rillette, not everyone enjoys them as much as I do. I went for a simple prosciutto and saucisson (dry-cured French salami) pairing. I accompanied the meat and cheeses with an assortment of crackers, grapes and mission figs. At the height of their season right now, figs add a great color as well as texture to a cheese spread. And I love adding nuts to cheese boards for easy snacking – for this particular board I went with rich truffle marcona almonds for added extravagance.
Other Appetizers
Along with the cheese board I served French onion soup bites — little puff pastry tartlets with caramelized onion, Gruyère and thyme as well as crostini topped with ricotta cheese, cut figs and a drizzle of balsamic glaze.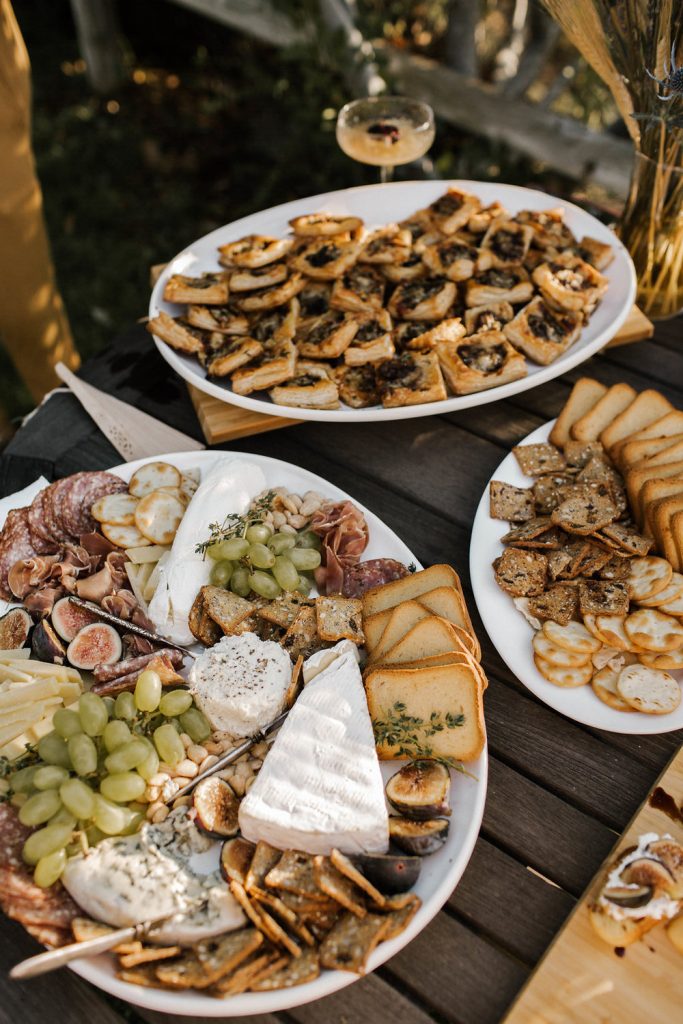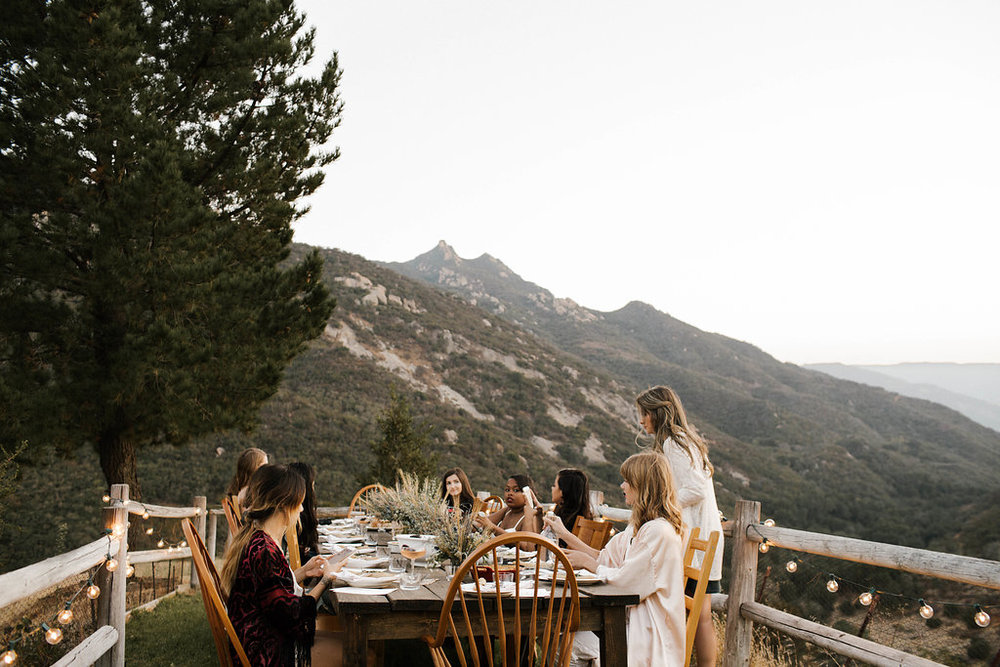 While snacking on appetizers and sipping on frozé, Lynette Cenée, our beauty blogger, hosted a tutorial on how to apply a classically French red lip. As a surprise Lynette had also provided samples of the cosmetics she used for everyone to take home. (A thrilling part of this dinner was the swag– along with the makeup we got to take home, we also received homemade madeleines, custom enamel create dinner pins and fans – not to mention getting to relive it all with the photos later on.)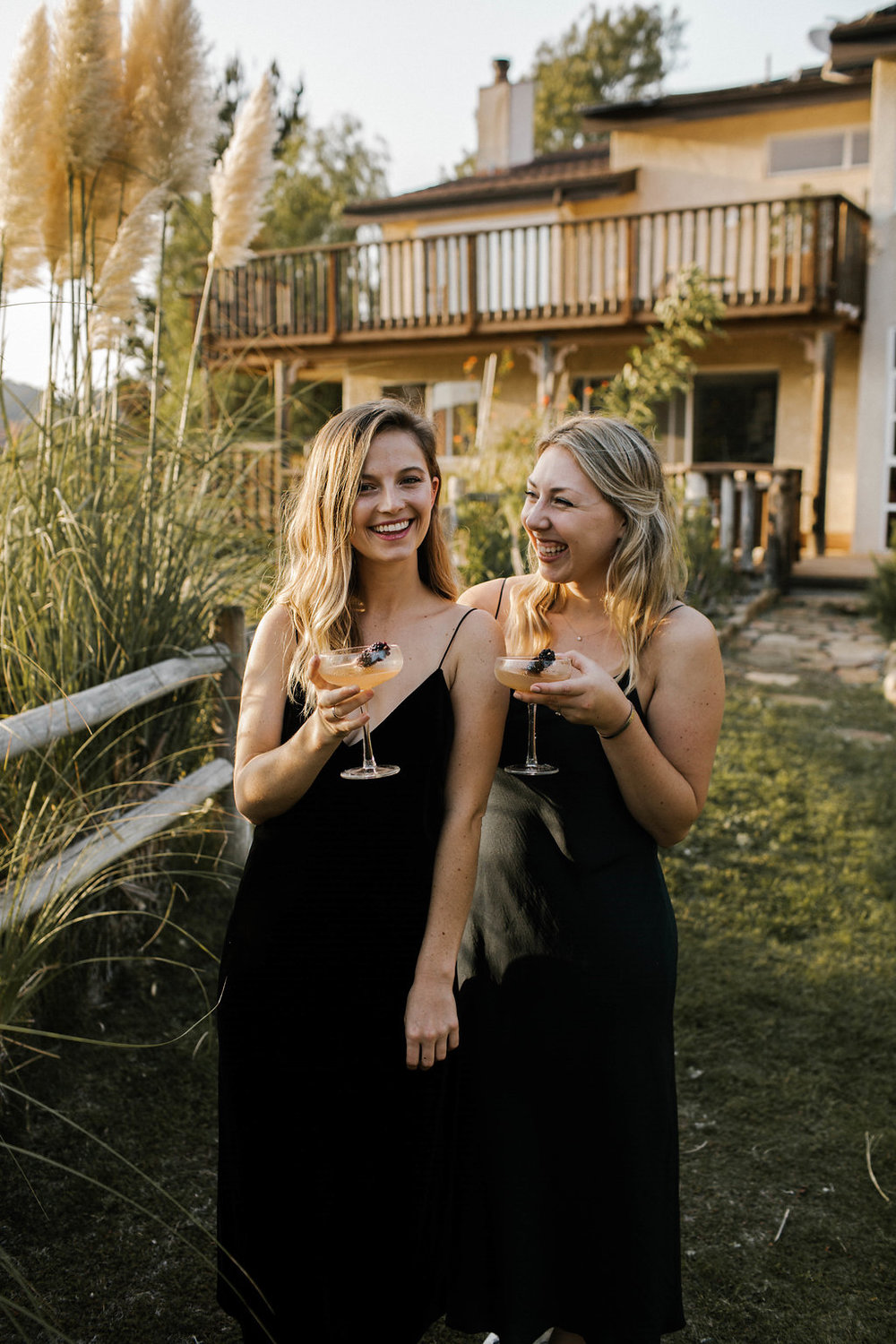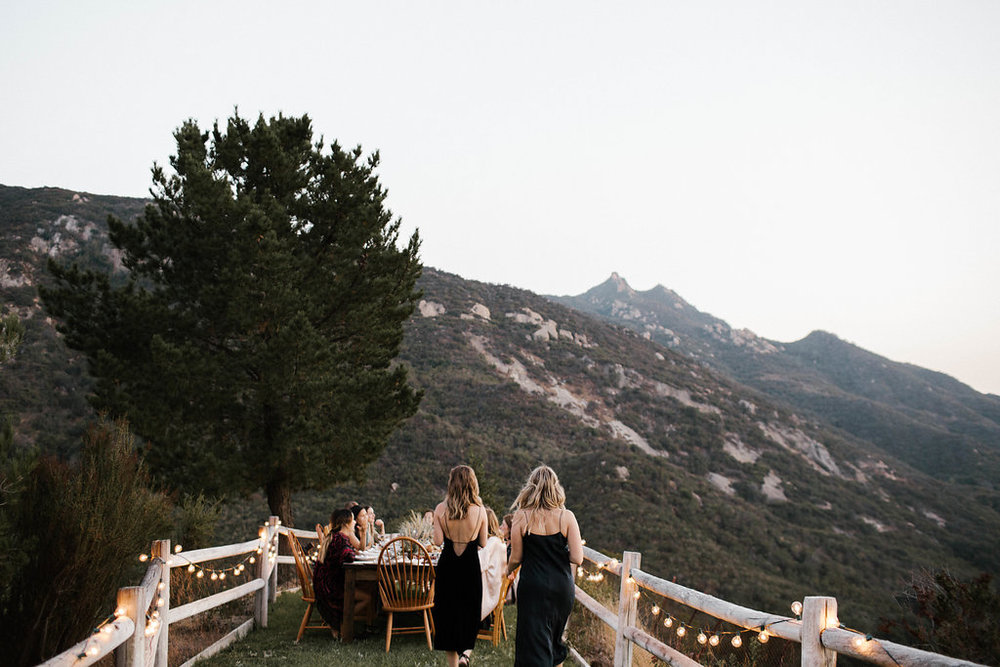 The Entrée
As the sun began to set we refilled our cocktail glasses and moved to the long dinner table set on a grassy alcove in the yard surrounded by romantic glowing lights.
As the conversations continued dinner was served: steamed mussels with white wine garlic broth and ratatouille gratin. I prefer to serve mussels family style — it's trés French and perfect for dinner parties. I love the scene of everyone seated at the table with giant bowls filled with steamed mussels being passed around. Piles of rustic torn baguettes were served alongside the entrée for dipping in the leftover garlic white wine sauce.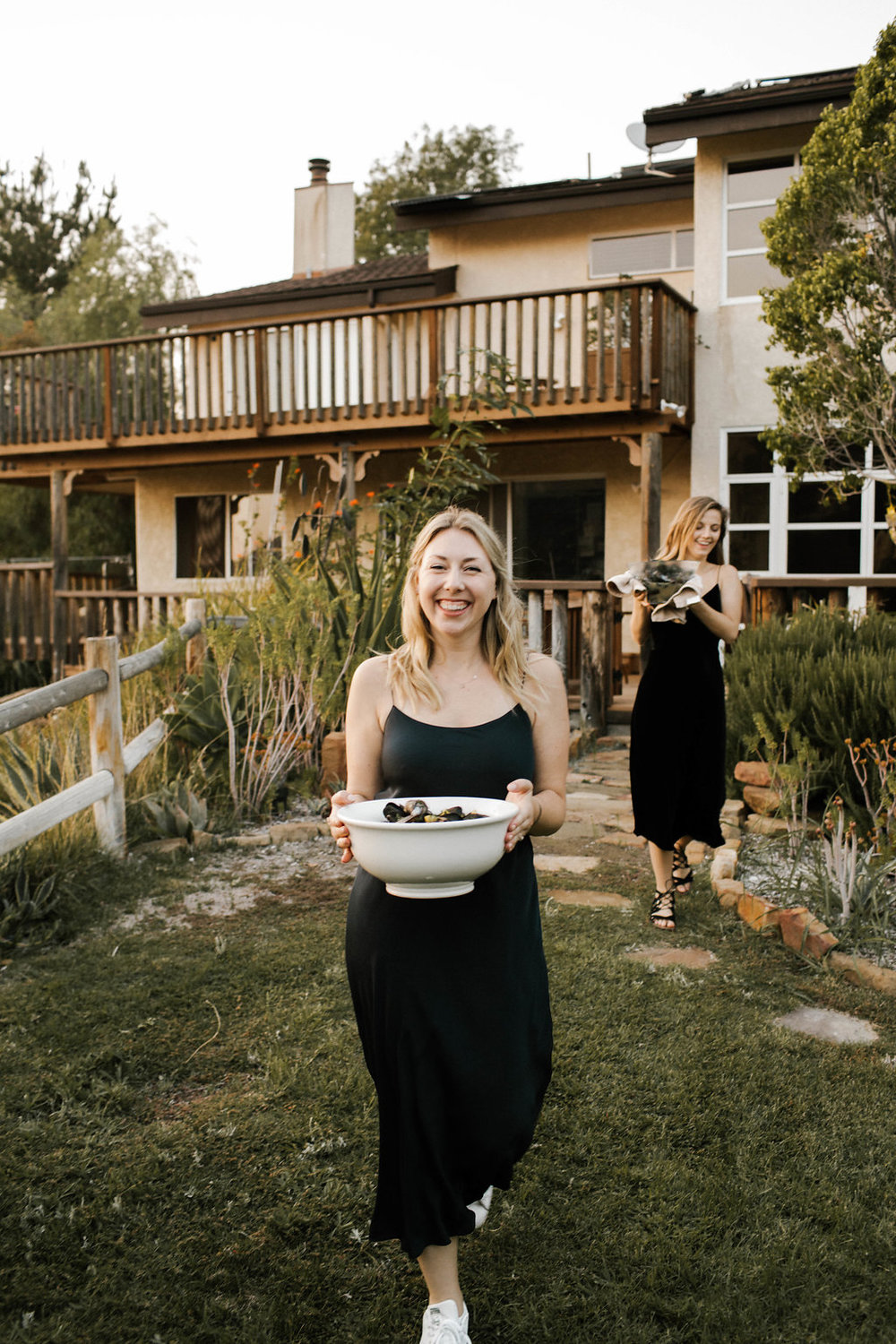 Dessert
Pears are in season right now so I thought it was a natural fit for dessert. I poached bosc pears in a syrupy cinnamon and vanilla mixture – which filled the house with a delicious smelling aroma. The poached pears were served with a scoop of vanilla ice cream on the side.
It's incredible that with a combination of food, dress, flowers and décor we were transported 5,770 miles from California into in the French countryside. Check out my menu for the party below along with the recipes to inspire you and make your own dinner party a success. You can also check out our dinner no. 6 guest list and their various talents below.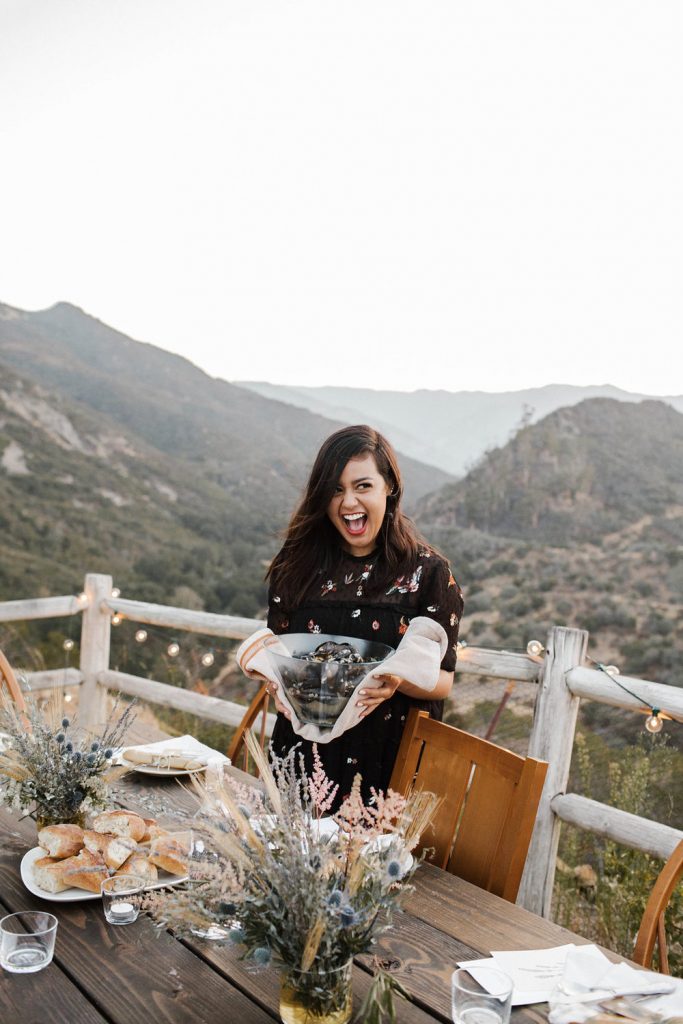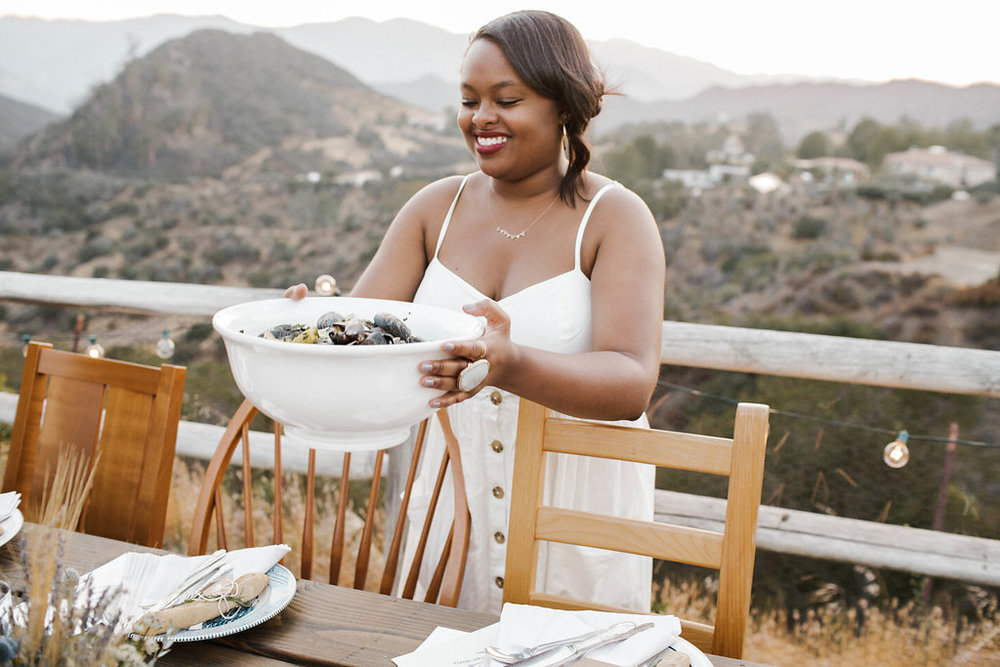 Appetizers:
Crostini with Ricotta, Figs & Balsamic
***
Entrée & Sides:
Mussels with White Wine Garlic Broth & Bread
***
Dessert:
Poached Pears with Vanilla Ice Cream
***
Cocktail: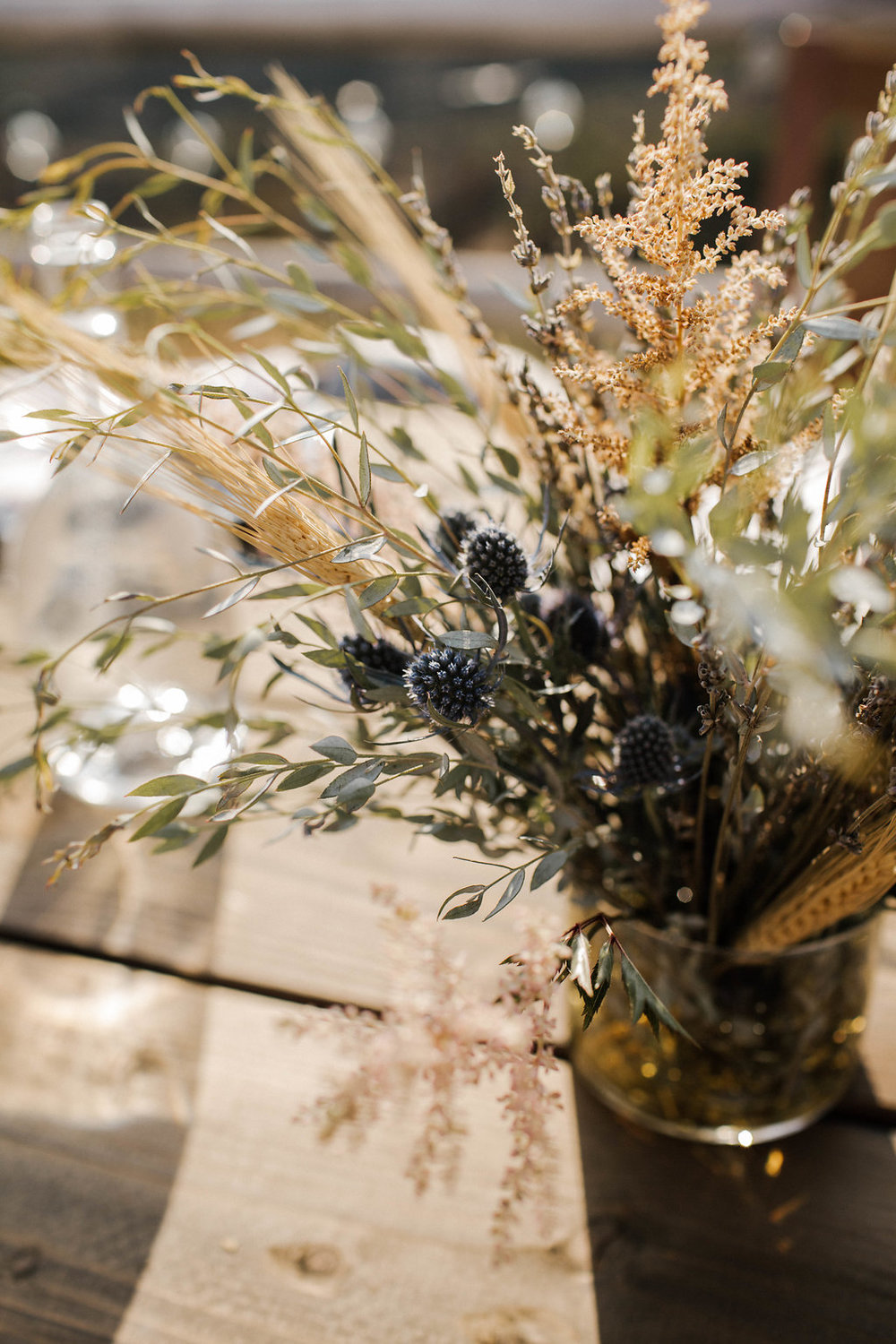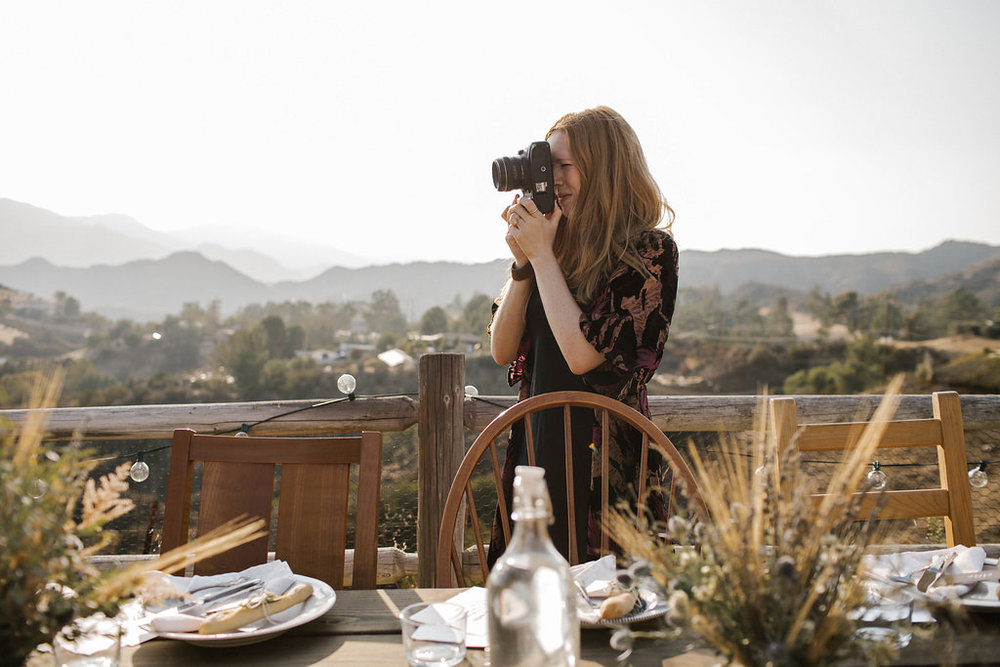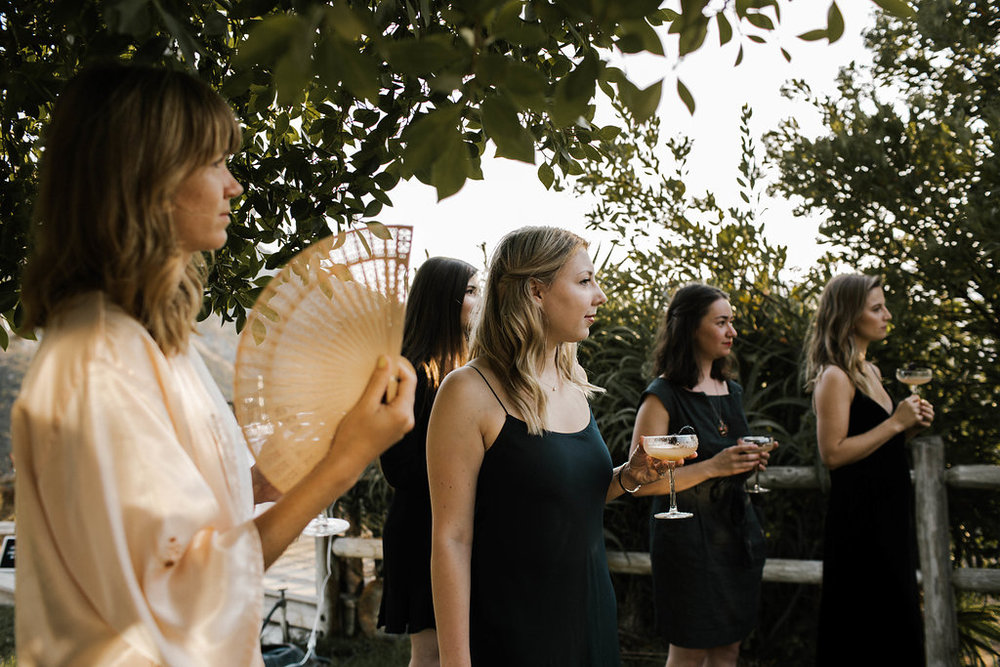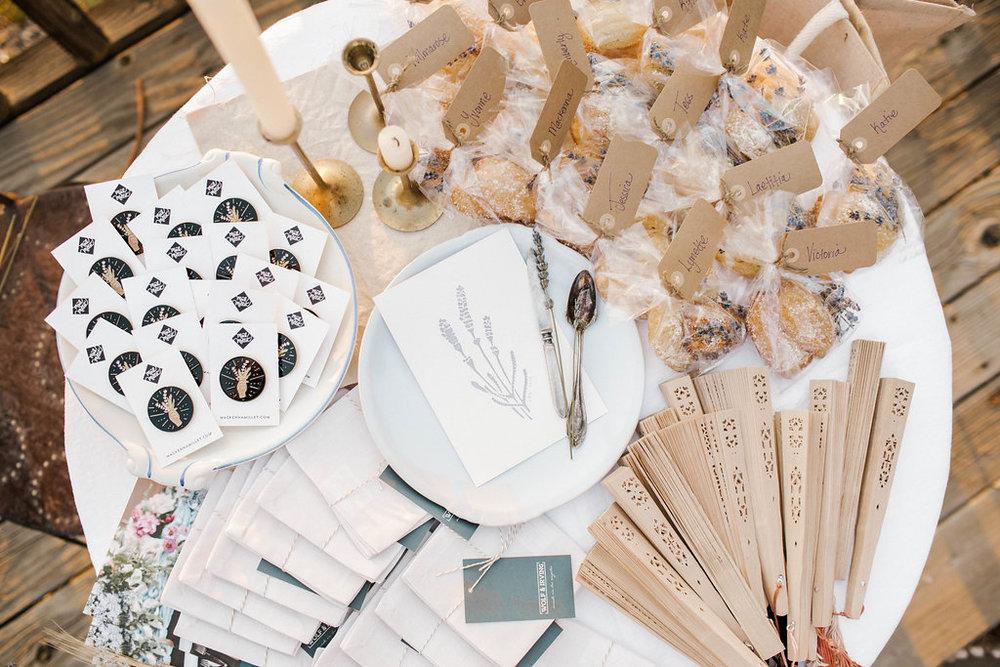 Guest List:
Kate Edwards – Kate was our general party planner and one of our photographers for the night (she also happens to be one of my favorite photographers, just look at her photos here).
Elise Cahill – Elise is part of an extraordinary DIY blogger team called The Happy Hunters and created a style guide with "in-theme" outfit inspiration for the dinner. She had also embellished tasseled fans for everyone to take home.
Katie Marble – Katie is the other half of DIY blogger team The Happy Hunters and was our florist for the night. She made beautiful harvest inspired arrangements featuring wheat, lavender and thistle.
Tess Allen – Tess is one of my closest friends and was my assistant or sous chef for the night. Tess has one of the most wonderful spirits of anyone I know – her passion is evident in every gesture. Tess is a pilates instructor and actress and during dessert she shared a story about the hilarious lengths she went to on a first date.
Kimberly Bozeman – Kimberly, our go-to bartender, created frozé cocktails, blended drinks made with rosé, plums, lemon, honey and blackberries. You can find the recipe here! An aspiring comedy writer she has a blog, where she recounts comedic and yet relatable experiences from everyday life.
Maritsa Smith – Maritsa was one of our hosts for the night, she and her roommate Yvonne live in the guest house on the beautiful property where our dinner was held and they graciously let us use the back yard!
Danielle Campbell – Danielle is a private chef as well as on-set chef/ hand model for recipe videos. We had connected over instagram so it was so nice to meet her in person and to talk about our common interest of food! She made madeleines as a take-home dessert for everyone.
Mackenna Millet – Mackenna is a talented graphic and motion designer. She makes really cute enamel pins and she created a custom pin just for our dinner! As a fangirl of her work I have several of her designs.
Yvonne Tran-MacDonald – Yvonne was our other host for the night and if that weren't already enough she also made the table for the dinner. One of her hobbies happens to be carpentry and it worked out incredibly well for us!
Laetitia Wajnapel – Laetitia was our other photographer for the night, she specializes in fine art and editorial photography. You can check out more of her beautiful work here.
Victoria Harris – Victoria was the videographer for the night, creating a short video of shots from our dinner to give others a look inside. I can't wait to see the finished product.
Lynette Cenée – Lynette is a beauty vlogger with an awesome YouTube channel with makeup tutorials and more. She hosted a live demonstration and better yet she brought makeup from Hourglass for all the women to take home! As the daughter of magicians she grew up around magic and turned her demonstration into a bit of a magic show!
Wilmarose Orlanes – Wilmarose is a stylist who took on the task of styling the event. She brought cute coupe glasses (my favorite) for the frozé, and made sure everything stayed on theme.
Erin Brownstone – Erin makes eco-friendly, stain and fade-resistant handmade table linens using fabric that comes from recycled plastic bottles. It was a natural fit that she provided the linens for our tablescape. She even gave everyone a set of linen coasters to take home.
Jessica Druxman – Jessica designed and printed our menus for the night (always my favorite keepsake from the night). She also created block prints – she stencils and hand cuts rubber stamps and prints them onto paper for an added creative element. In this case she used flowers.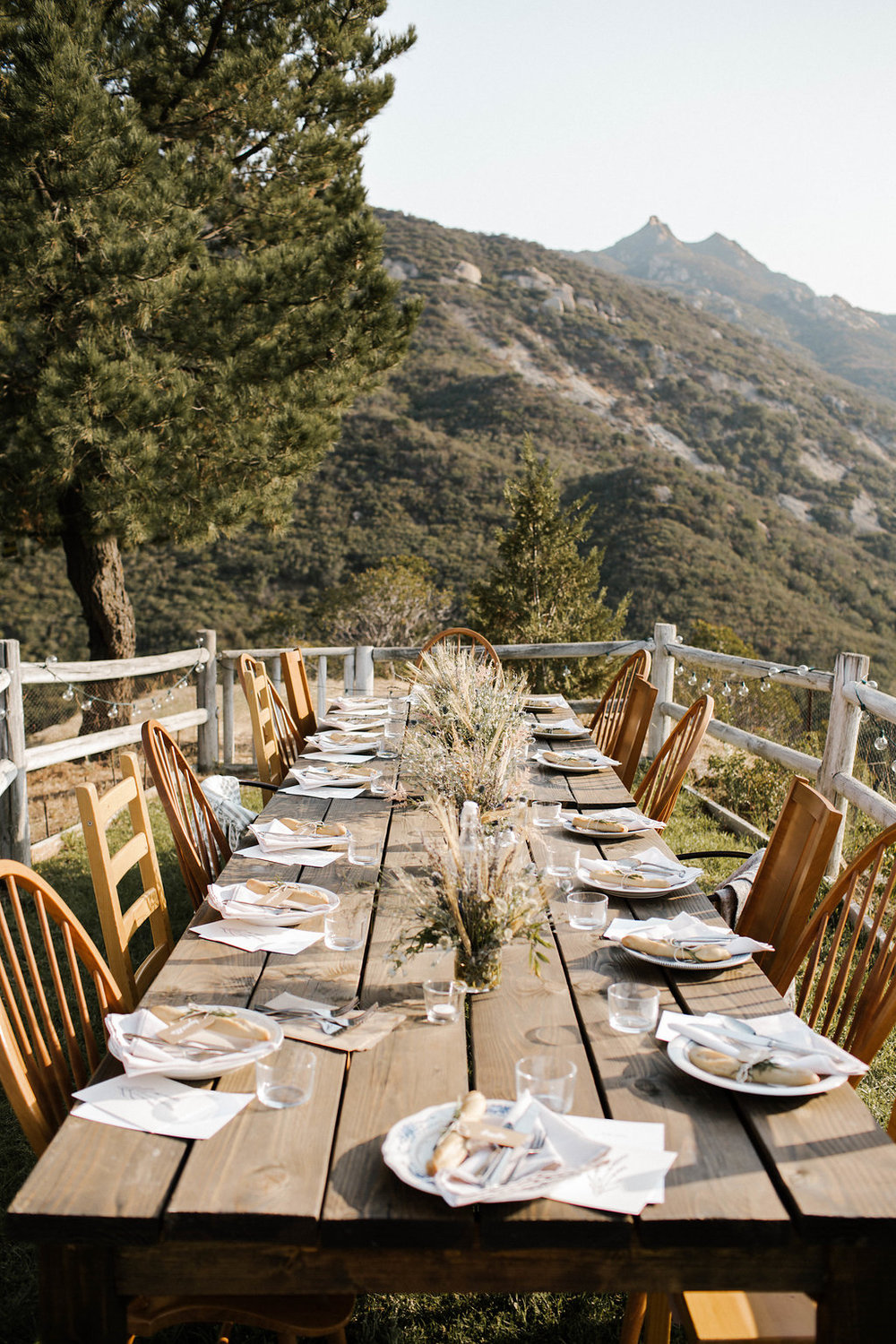 In the last year or so, I have been fortunate to be a part of multiple "create dinners" and it has been an extraordinary experience. I have reconnected with acquaintances, made new friends (and had drinks and dinner dates with them), and have been able to spend time with those I already know and love. Being in a space that allows women to share their talents and form new relationships is inspiring. I have even formed business partnerships with several of the attendees of these dinners over the span of the year they have been going on. For example, some of the glassware and ceramic plates that I use for food styling come from two of my new friends. I am also planning for my June wedding and lo and behold I found a wedding planner, a florist and a photographer among my create dinner contacts.
Since I work from home with Stella (my cat) as my co-worker – having an opportunity to engage with other women who share similar or different talents has strengthened both my personal and work lives.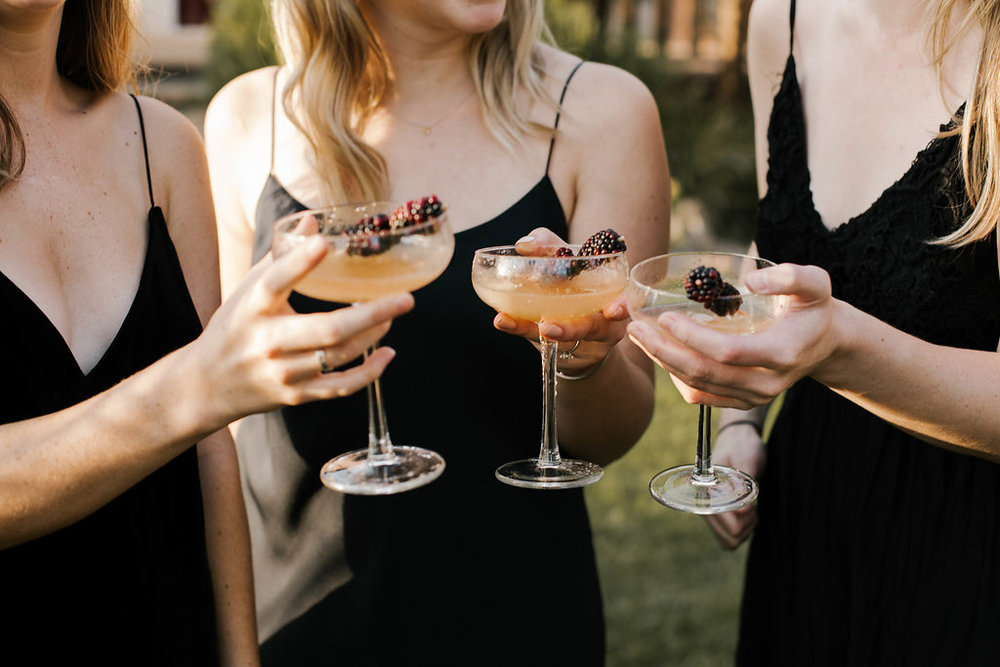 Read More About Create Dinners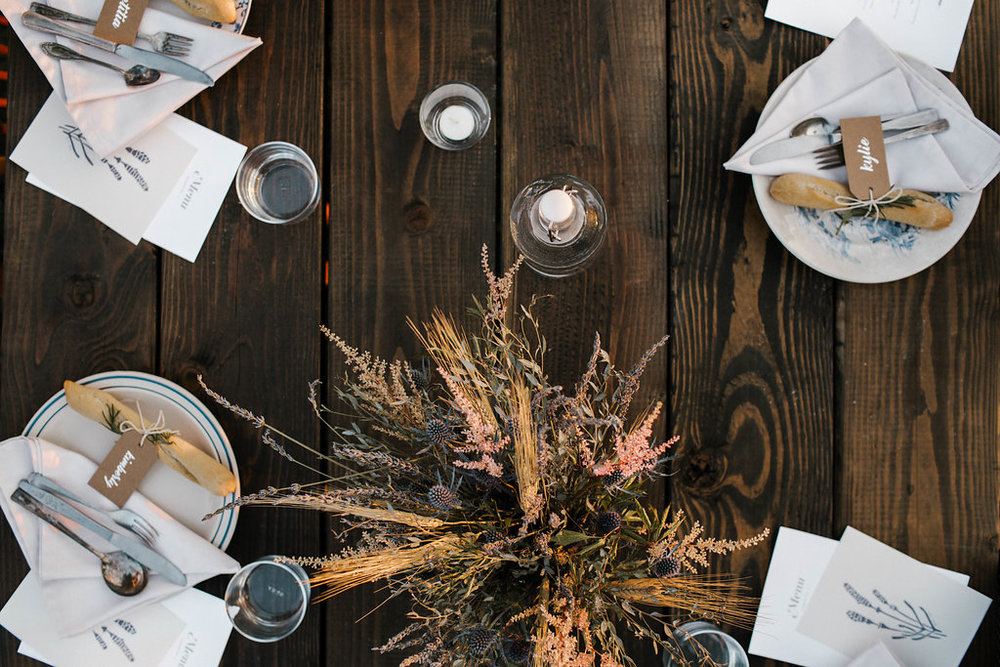 Photo credit: the photos are a compilation of Kate Edwards, Katie Marble, Laetitia Wajnapel and mine.