Dinner No. 2: South x Southwest
Everyone chatting, laughing, networking under twinkling lights in a beautiful backyard in Los Angeles. For those of you who are new to this blog or just stopping by, a few months ago my friend Kate decided that she knew a lot of women with different skill-sets and wanted to get them all together for a creative dinner (now known as "Dinner No.1").
It was a special kind of dinner where we each brought our talent as our "offering". In return we got content and photos for our respective blogs, websites and social media channels. Dinner No.1 was so much fun that we immediately began planning and working out a date for our second dinner. You can read more about our first dinner party here.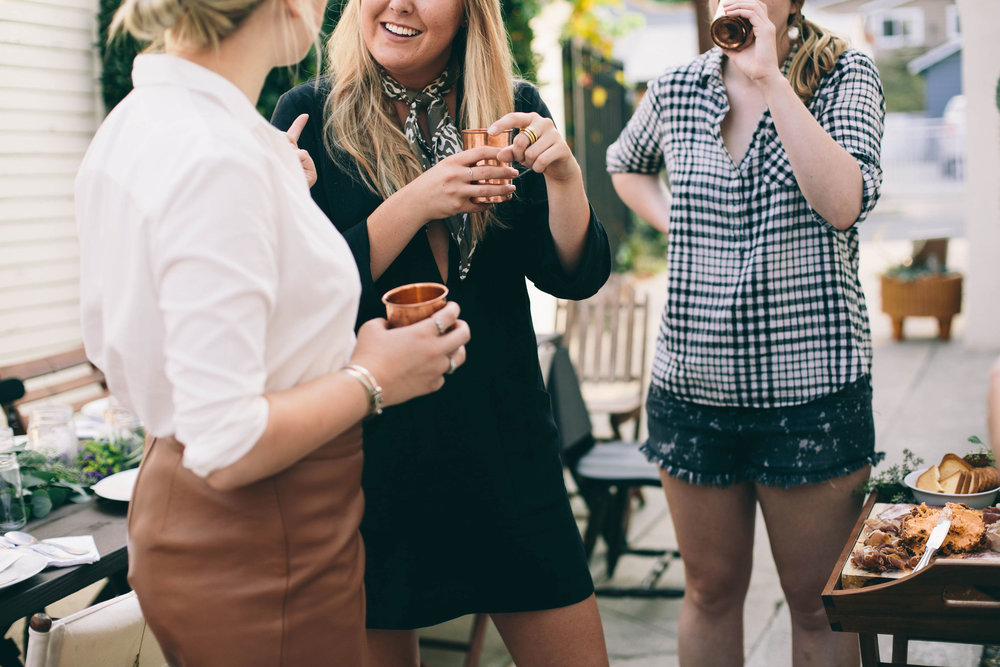 The Location
We were lucky enough to be able to use the same location, a beautiful house in Highland Park, a Los Angeles neighborhood closer to Silverlake and Echo Park.
Kate and I thought that "Dinner No.2" needed a theme so we decided on a southern themed dinner and décor. I planned a menu and sent it to our graphic designer for menu design and printing. I still get giddy when I see food that I have brainstormed, written recipes for, tested and photographed printed on a beautifully designed menu! With so many people coming, we needed a larger table so some of our creatives made a table just for this occasion. They went to Home Depot, bought wood and saw horses then built, sanded and stained a table large enough to fit our growing group.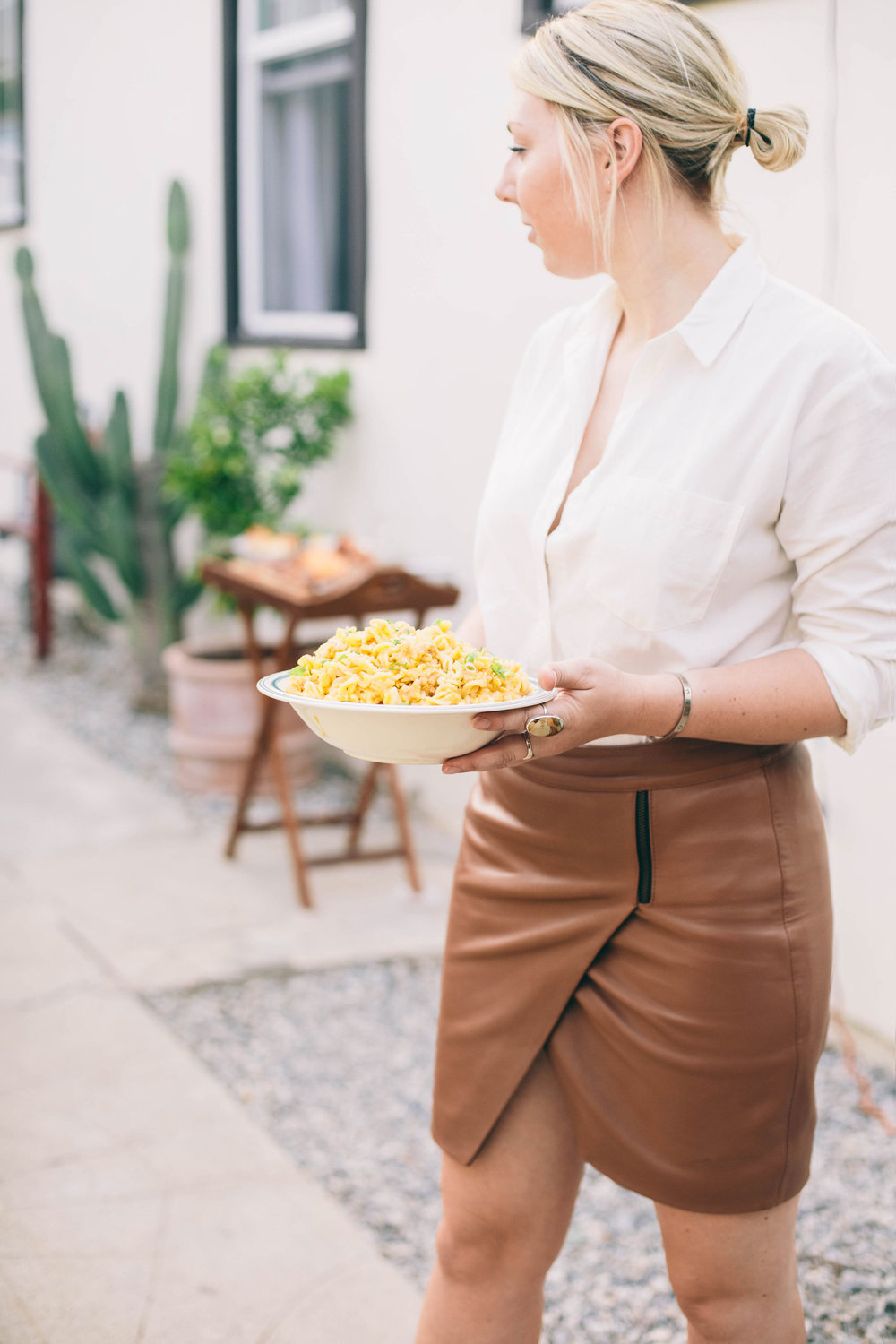 Since this was our second time around, we had a way better idea of what we were doing for this dinner. I prepped and cooked most of the food beforehand so it just had to be reheated upon arrival. My friend Kirsten assisted me as my sous chef as well as hype-man as she had to pep me up a bit and give me more caffeine as I was running scatterbrained around my kitchen trying to get it all done.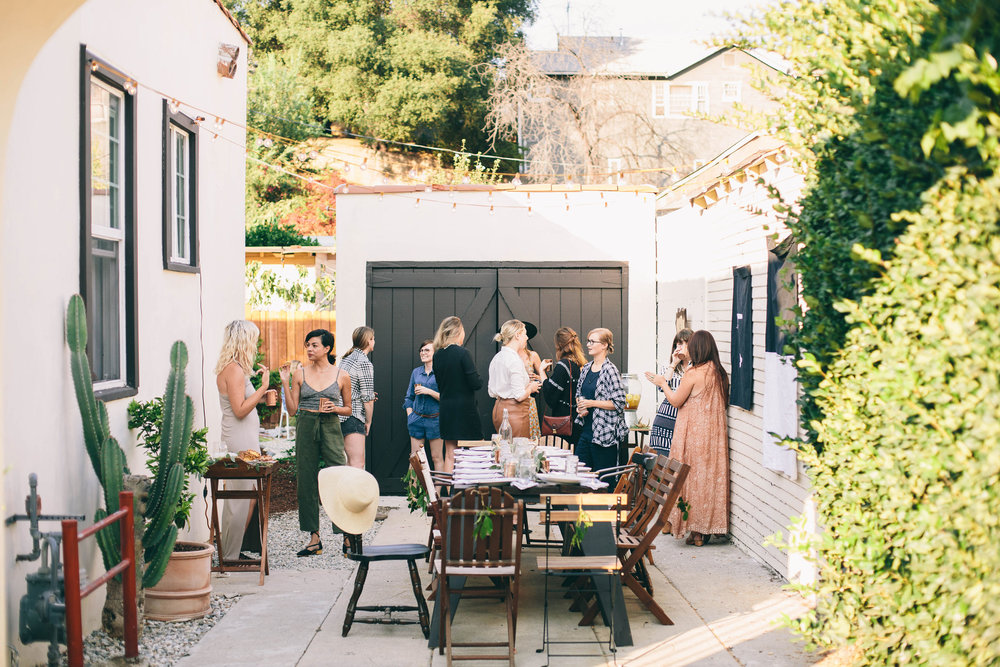 The Decor
The long wooden table adorned with southern themed accessories such as skulls and beautiful green flowers, as well as white plates and copper cups. The attention to detail was so great that even the white napkins were embroidered with different flowers and there were place cards with flawless calligraphy on each plate. We even got to take the menus and place cards home after the meal (I tried to be overly clean; I didn't want to dirty mine!)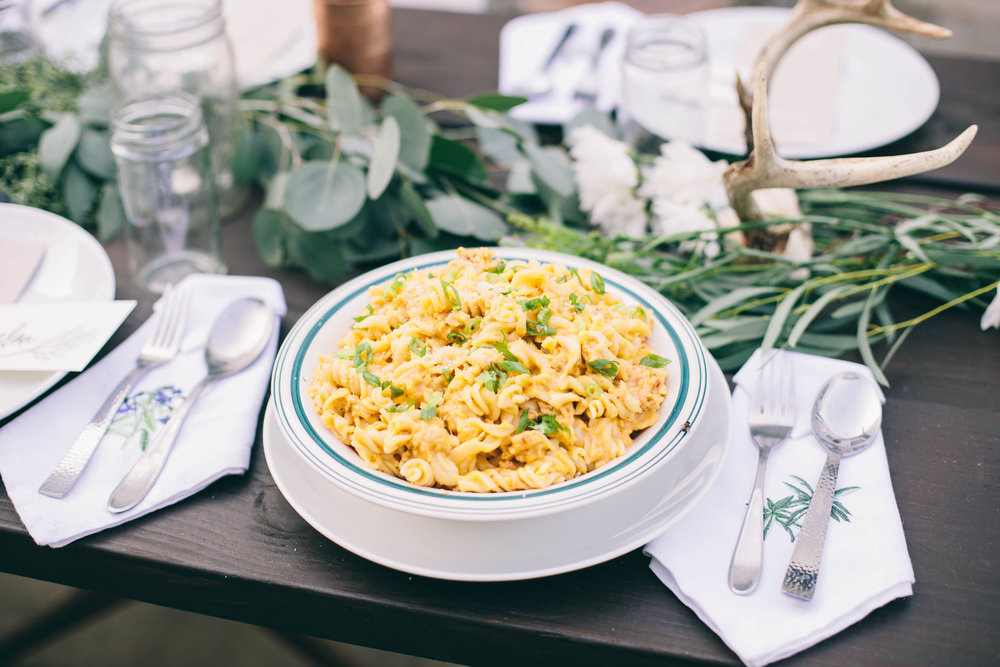 The Craft
The DIY-queens, of the blog the Happy Hunters, led us through a craft, this time we got to make our own perfume with a mix of essential oils and cute little flowers added to the bottles. Everyone smelled great through the rest of dinner! This time there was much more mingling – a larger group allowed for more side conversations. As the night wound down, we had pour-over coffee and conversation turned to what our next dinner would be.
Check out my menu plan for the dinner below along with the recipes to inspire you for your own dinner party. You can also check out our guest list and all of their creative talents.
Appetizer
Pimento Cheese Ball with Assorted Charcuterie
***
Entrée & Sides
Skillet Jalapeño Cornbread with Whipped Maple Butter
***
Dessert
Blackberry and Peach Cobbler with Salted Caramel Ice Cream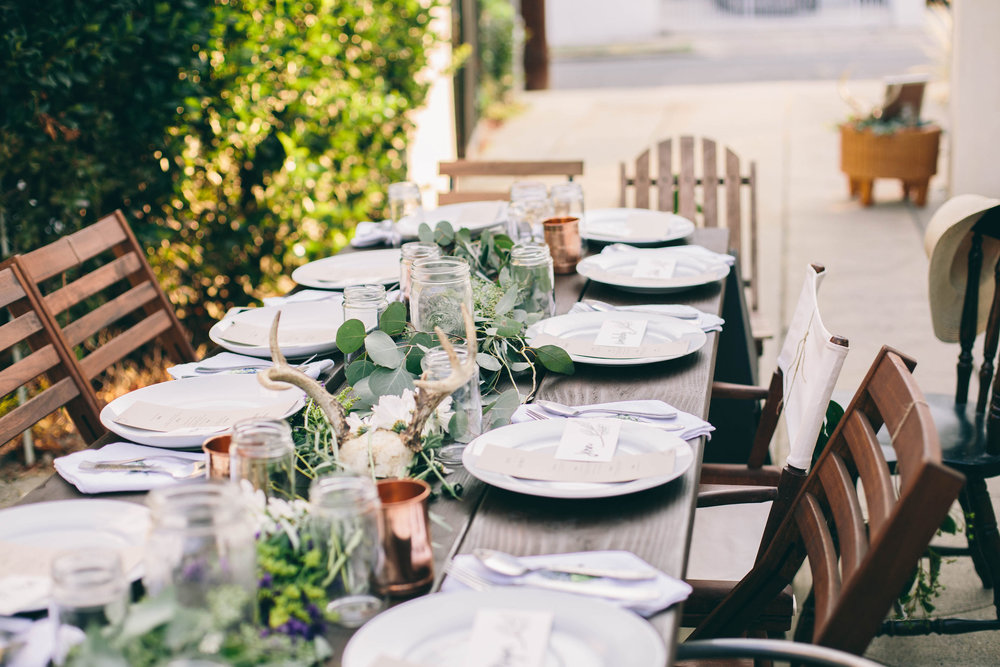 The Guest List
Kate Edwards – Kate was our general party planner and photographer (she also happens to be one of my favorite photographers, just look at her photos here)
Kirsten Robinson – Kirsten is one of my best friends who graciously acted as my sous chef and hype-man; her alter-ego is @DarthdoesLA
Elise Cahill – Elise is part of an extraordinary DIY blogger team called The Happy Hunters who led us through our homemade perfume
Katie Marble – Katie is a "mom-to-be" and the other half of the amazing The Happy Hunters DIY team who led us through our homemade perfume
Kristin Violet – Kristin is a Graphic designer and she put together our beautiful menus – which I am planning on framing on my wall
Lottie Caiella – Lottie did the flowers for the event as well as making us amazing pour-over coffee to go with dessert
Linsey Metcalf – We lucked out and Linsey happened to be in town visiting from Texas, she makes beautiful hand-crafted flags, you can check them out here – Wild Standard
Megan Messina – I am so excited about the napkins that Megan embroidered, each one even had a different flower on it!
Shirlee Fisher – Shirlee makes beautiful ceramics and also made the beautiful place cards on the table
Jenn Cahill – An amazing mom and real estate agent, Jenn so kindly volunteered her house (and didn't get sick of us after the first time!)
Carolin Künzner – Carolin actually lives in Germany and was a foreign exchange student at Kate's high school. She happened to be in town for the weekend looking and reached out to Kate for advice for what to do in LA!
Kimberly Bozeman – First time attendee Kimberly helped everyone set up and helped make the cocktails – I handed her a bottle of rum, some sweet tea and a bag of lemons and said, "make it taste good!"
Corban Poorboy – Also a first time attendee, Corban works in home-staging and pop-ups! We look forward to seeing her visions for our next dinner!