Create Dinner No. 4: The South of Italy
Each person brought their own talent and story to the table and it's always nice to meet new people. I love scrolling through the photos I took and waiting on the wonderful sneak peaks at pictures that Kate sends my way. I feel a connection with friends, new and old and I love that I have shared that night with so many strong and creative women. The ambiance could be described as pure happiness with a picturesque setting.
The Location
The location of Create Dinner No. 4 could not have been more ideal. We lucked out and were able to use a beautiful home in the Hollywood Hills for the setting. It had a sprawling backyard with a fire pit and long wooden table with plenty of seating. Since we live in California we could be outside in early March – it was even hot when we first arrived! It will be a challenge to try to top this lavish location for our next dinner.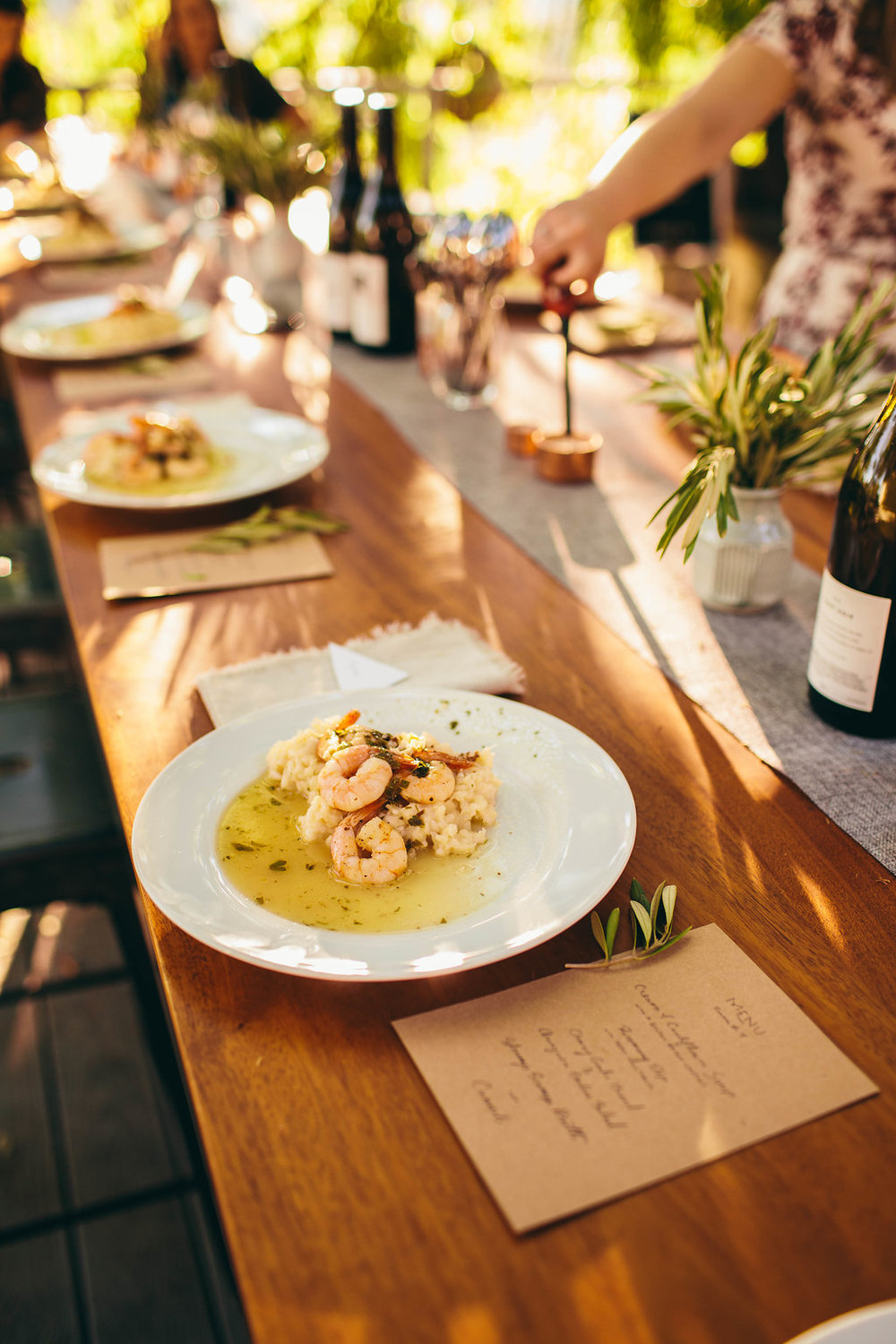 The Theme
We settled on an Italian theme for this dinner, which I took to mean lots of carbs on the menu. I still wanted to keep the food on the lighter and more "spring-y" side — shrimp and risotto rather than a heavy pasta dish or meatballs. Because of course we had to match the color palate of the decor with the food that would be served!
The table décor was characterized by light linen napkins, olive branches in vases and a canopy-like tree that hung over us as we ate (which we didn't even have to work for.) Each place setting had a hand written name card and menu detailing the food for the night. It actually felt like we could be somewhere in the south of France rather than deep into the windy streets of Los Angeles.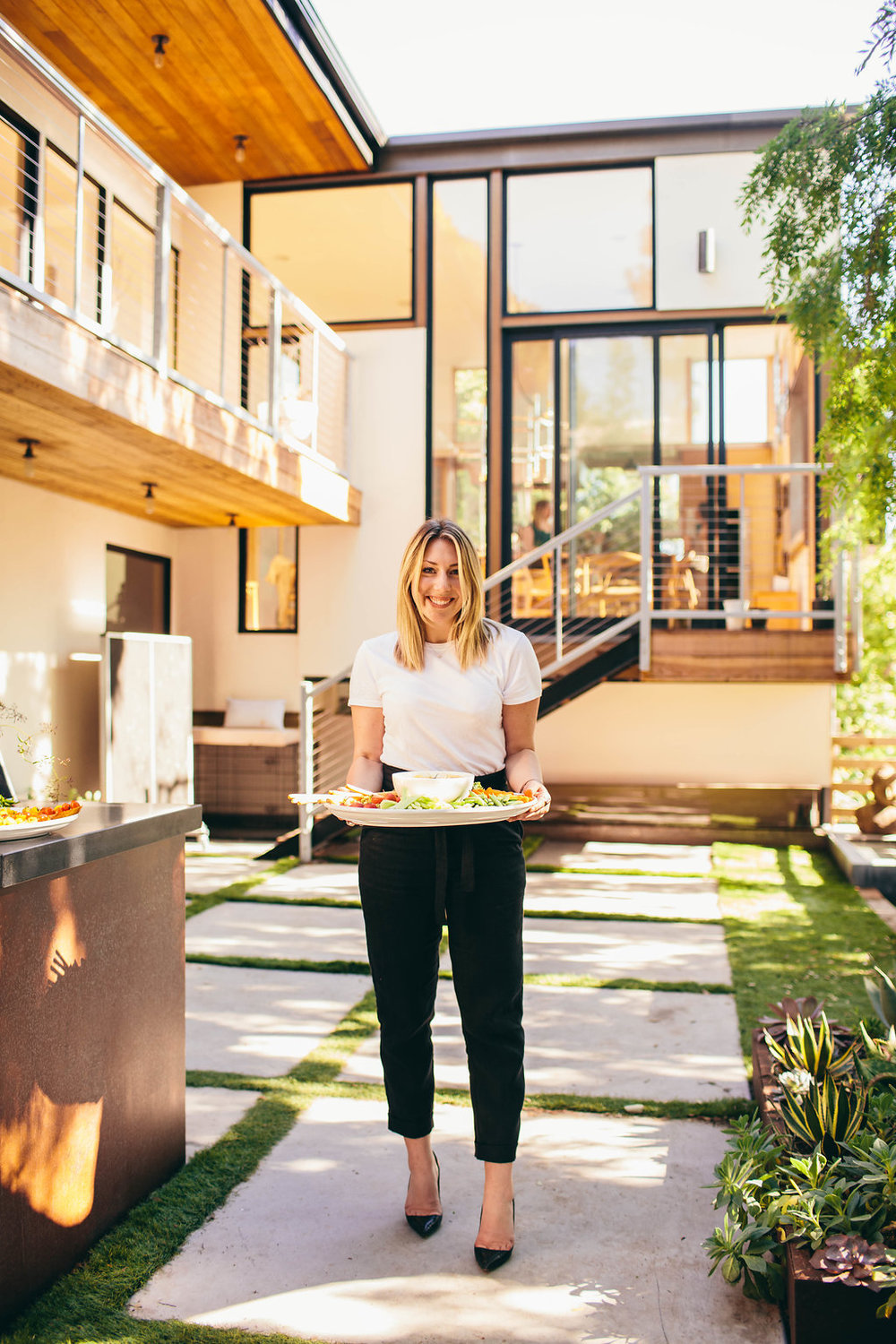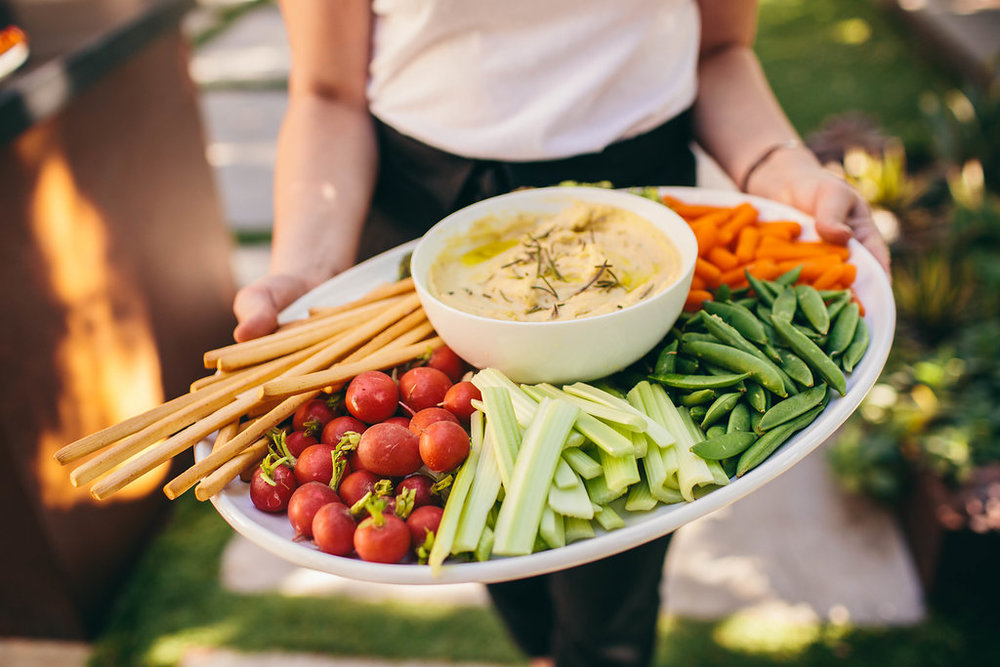 When planning this menu I wanted to go with lighter Italian fare, but I still provided plenty of carbs, it just wasn't as heavy. For our grazing appetizers I made a rosemary white bean dip, one of my favorites for larger dinner parties because it can be made a few days ahead of time and the flavors only deepen over time. The white bean appetizer was served with an assortment of raw dipping vegetables and breadsticks alongside some cherry tomato bruschetta – an easy appetizer served on crostini that also happens to be a crowd pleaser.
Haley, a fellow food blogger, served an amuse-bouche of cauliflower soup shooters topped with golden raisin chutney to kick off the seated dinner part of our meal.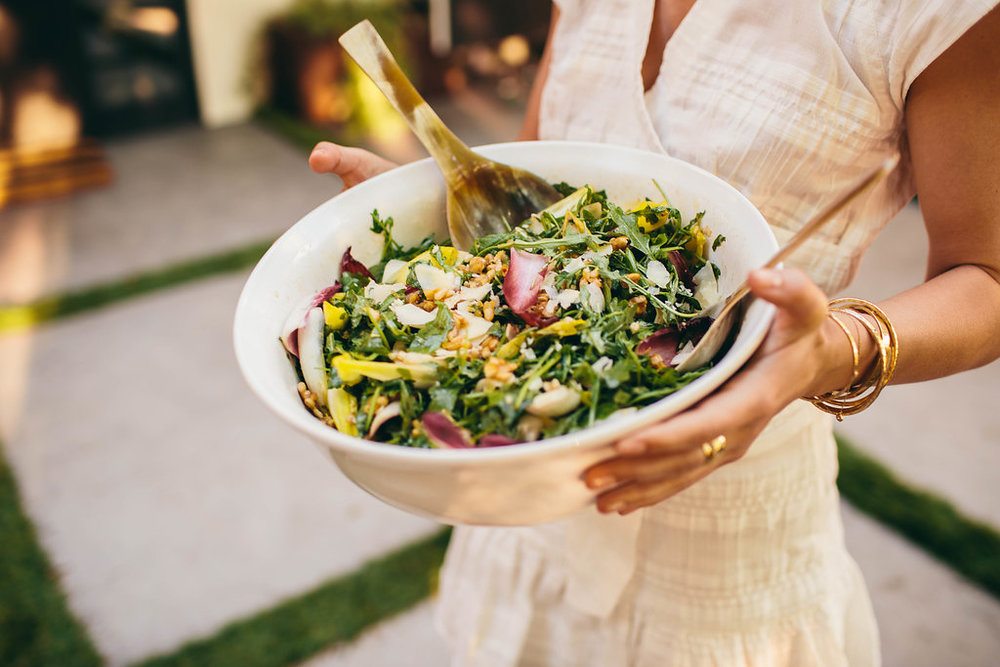 For the main course I chose to serve shrimp scampi risotto. This happens to be a recipe I could make in my sleep (ok that might be going a bit far!) but I really know it well and barely even have to measure. Knowing a recipe well before making it for a dinner party is always helpful because it takes some of the stress out. Rather than stressing about timing and plating you can go through the motions and still engage in conversation and cook at the same time. That way you can still participate in the dinner rather than feeling like you are catering.
Alongside the risotto were piles of cheesy garlic bread and arugula endive salad with candied pine nuts – simple, yet delicious. Of course dinner was served with more wine. The day of our dinner happened to be during daylight savings so we were graced by an extra hour of sunlight, which was beneficial for photos (hello golden hour).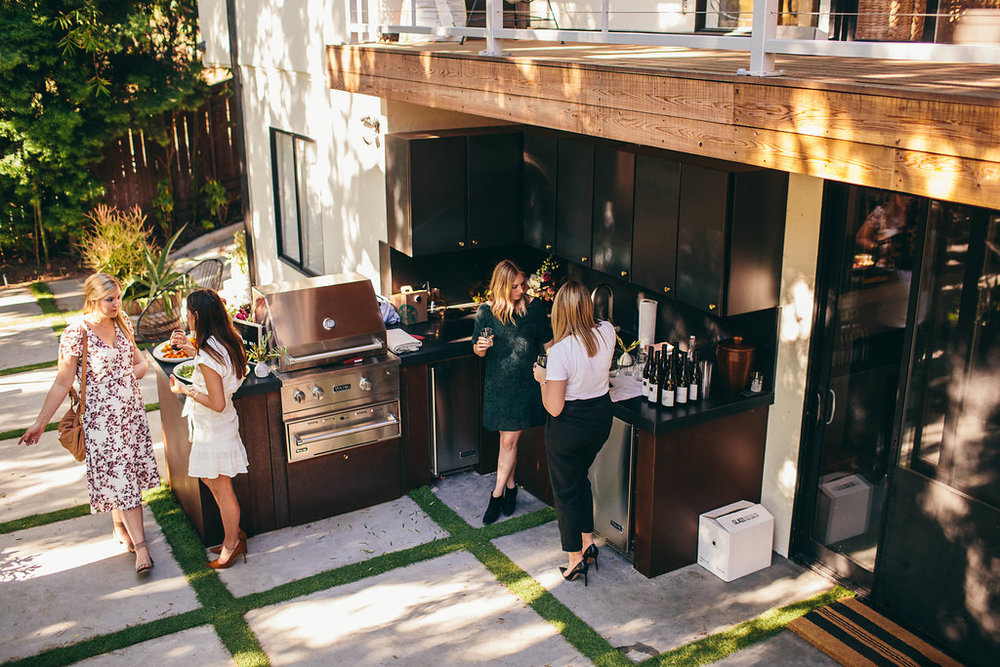 Once plates were cleared we shifted over to the fire pit area where dessert was served, homemade cannolis. You better believe I even made the dough and fried the shells from scratch before filling them with the fluffy ricotta/ mascarpone filling and dusting them with powdered sugar. (I had been torn between making a tiramisu cake or the cannolis but I opted for individual desserts.)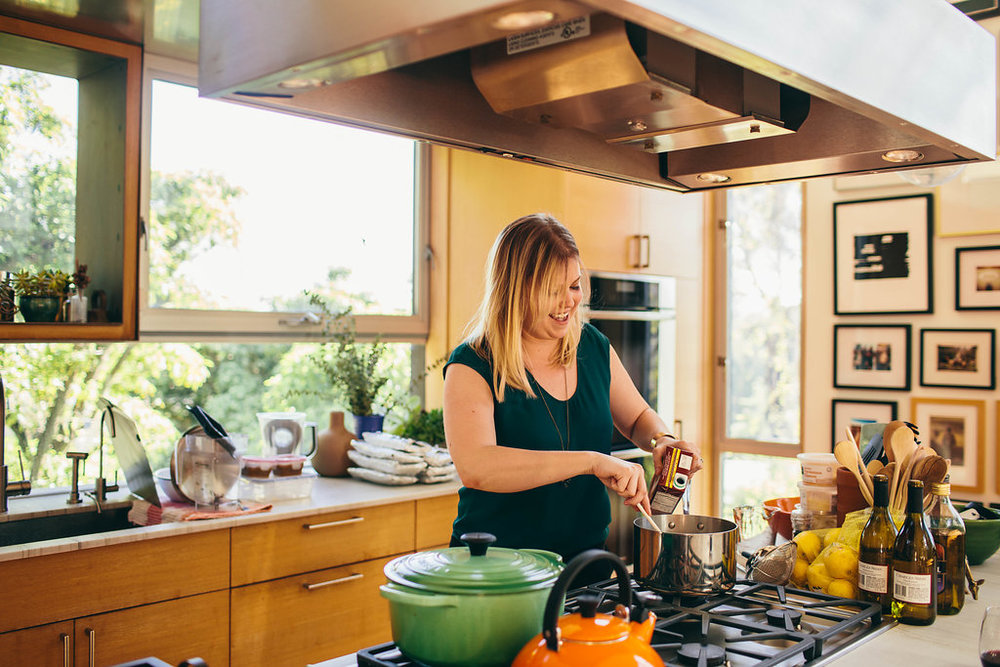 Check out my menu for the party below along with the recipes to inspire you and make your own dinner party a success. You can also check out our dinner no. 4 guest list and their various talents below.

Appetizers
Cherry Tomato "Naked Bruschetta" Crostini
Italian White Bean and Rosemary Dip with Vegetables
***
Amuse-Bouche
Creamy Cauliflower Soup with Golden Raisin Chutney (Haley's Recipe)
***
Sides
Arugula and Endive Salad with Candied Pine Nuts
***
Entrée
***
Dessert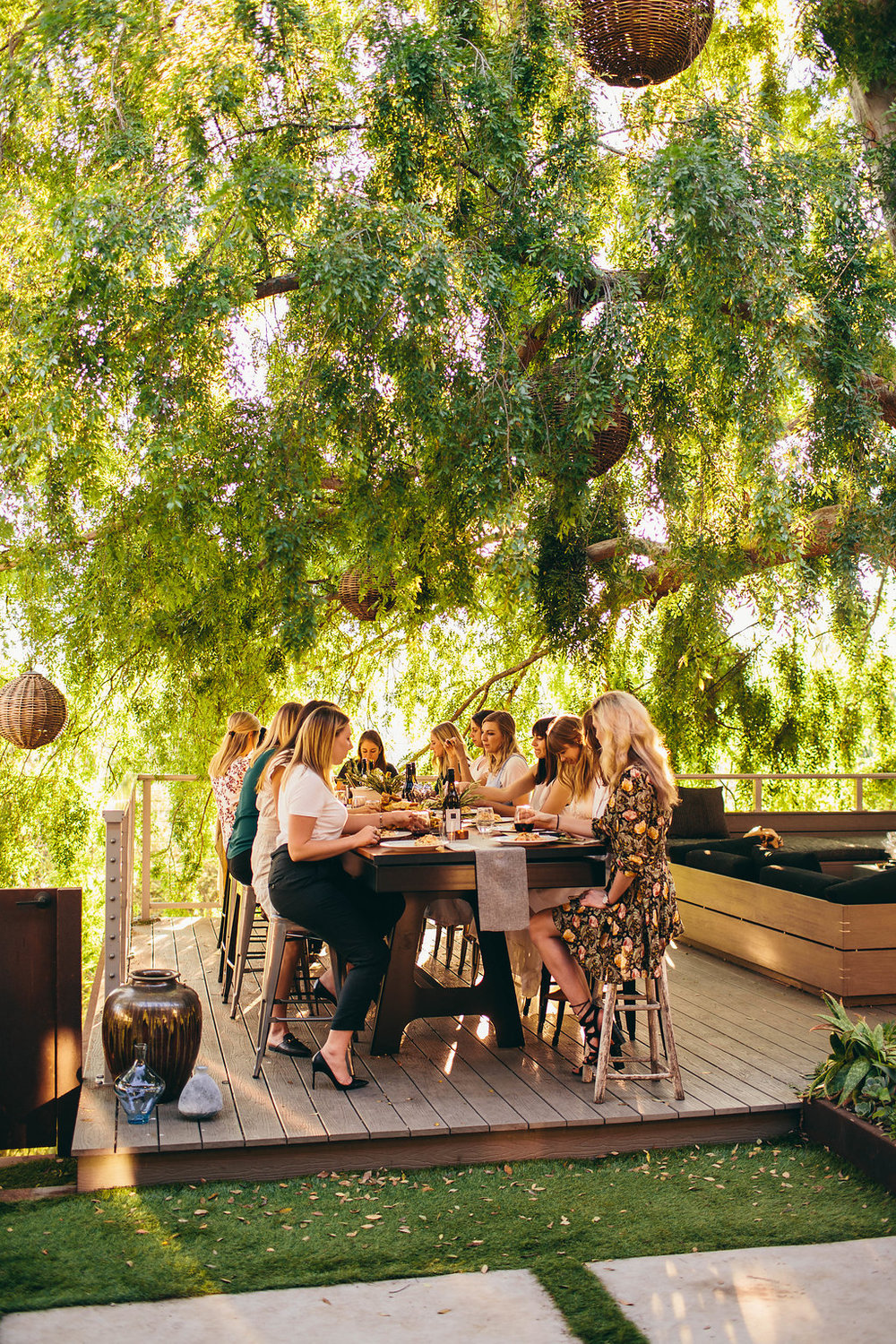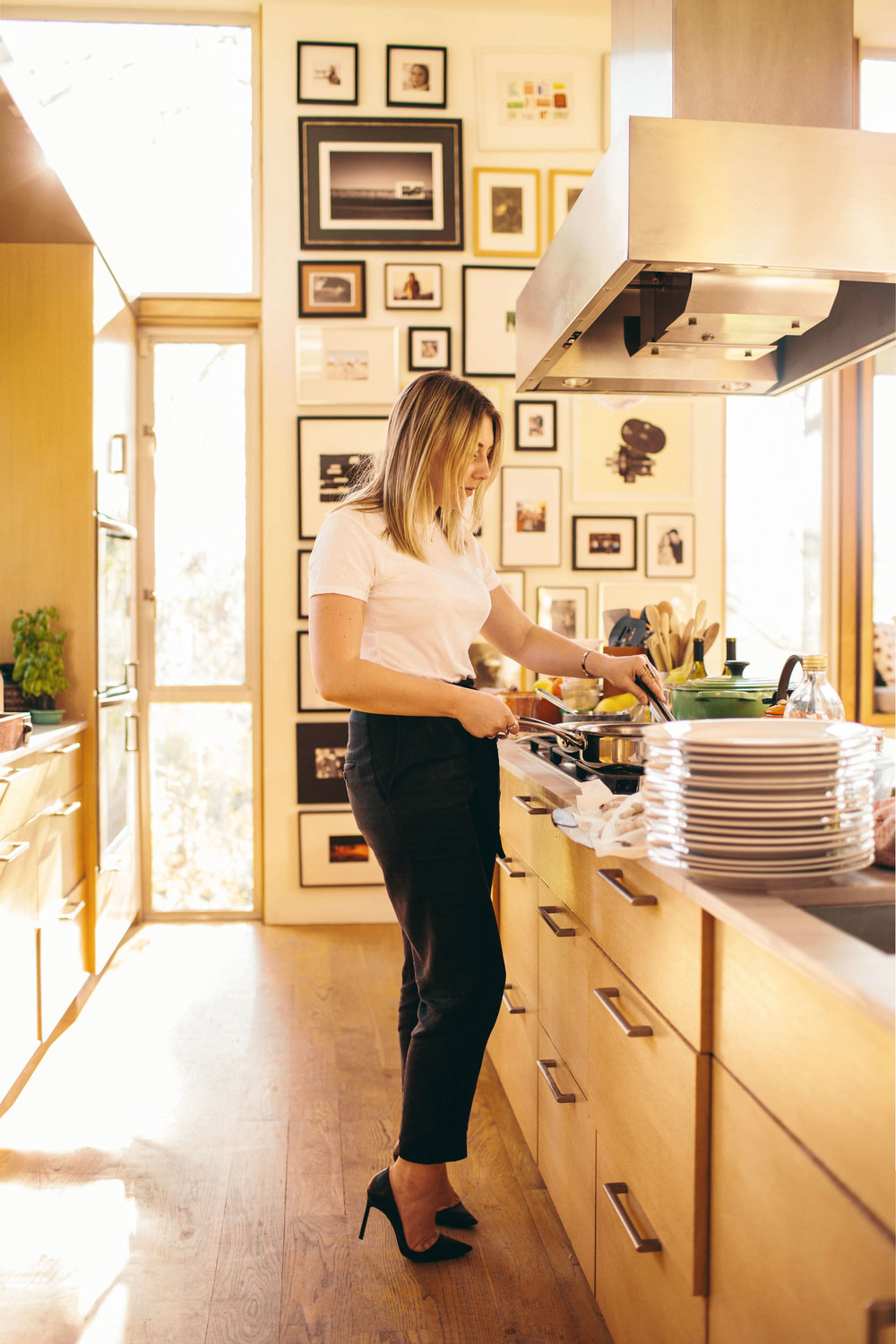 The Guest List
Kate Edwards – Kate was our general party planner and photographer (she also happens to be one of my favorite photographers, just look at her photos here).
Octavia Zamigas – Octavia is one of my close friends and an amazing jewelry designer. You can check out her fine jewelry line here. She also helped me with the cooking for the evening.
Elise Cahill – Elise is part of an extraordinary DIY blogger team called The Happy Hunters and she helped with the general decorating this time.
Katie Marble – Katie is the other half of DIY blogger team The Happy Hunters and also helped with all the decorations. She and Elise made copper candles with caps from Home Depot and old Anthropologie candles.
Allegra Edwards – Allegra is an actress based in New York but happens to be subletting from Kate while she auditions for some television pilots. She shared a story with us about Italy and an extremely outgoing friend that I'm still laughing about as I write this.
Vanessa Magos – Vanessa works in music/ entertainment and was also one of our gracious hosts. I was able to fill my puppy fix playing with their dogs.
Jenny Smart – Jenny works in entertainment and was our other gracious host, we couldn't have thrown such a beautiful event without her and Vanessa!
Rachel Silkowski – Rachel makes her own wine! You can even judge the wine by the cover/ label because it's really pretty and the wine is also damn good! She spent the past 5 years learning to make wine in Santa Barbara and now hopes to open her own LA tasting room. I will definitely be a regular.
Chelsea Carter – Chelsea is a florist and event designer — she made the beautiful floral arrangements for the evening.
Amy Foster – Amy is a florist and stylist with her own company, Hello Honey, where she makes arrangements for events, weddings and scheduled deliveries (which I will definitely be taking advantage of).
Haley Musial – Haley reached out after seeing some of our previous dinners and made some delicious cauliflower soup shooters topped with golden raisin chutney! She just launched a new blog, Frenchie Kitchen.
Hannah Montplaisir – I have known Hannah since our Pepperdine days and she recently launched her own gluten free cookie company! She made us some to take home and she even hand watercolors on all the designs of the cookies.
Shirlee Fisher – Shirlee makes beautiful ceramics including the vases around the table.
Natalia Hoyos – Natalia made a macramé wall hanging by hand that she shared with us at the event.
Mel Ayer – Mel ran our social for the night under the @createdinners handle!
Linsey Metcalf – While Linsey couldn't be there in person this time she still hand wrote all of the menus for the dinner so that she could participate from afar!

I love expanding my network of smart and driven women, and our dinners provide me with the perfect opportunity to get to know women with amazing productive and creative careers. I am so grateful for another dinner party that couldn't have gone more smoothly.
We have already started planning for our 5th dinner set for early June and I am already looking forward to the food for the next theme. Trust me, it's a good one!
If you are interested in joining our "Create Dinners" then check out the link and sign up for the next one. What will you bring to the table?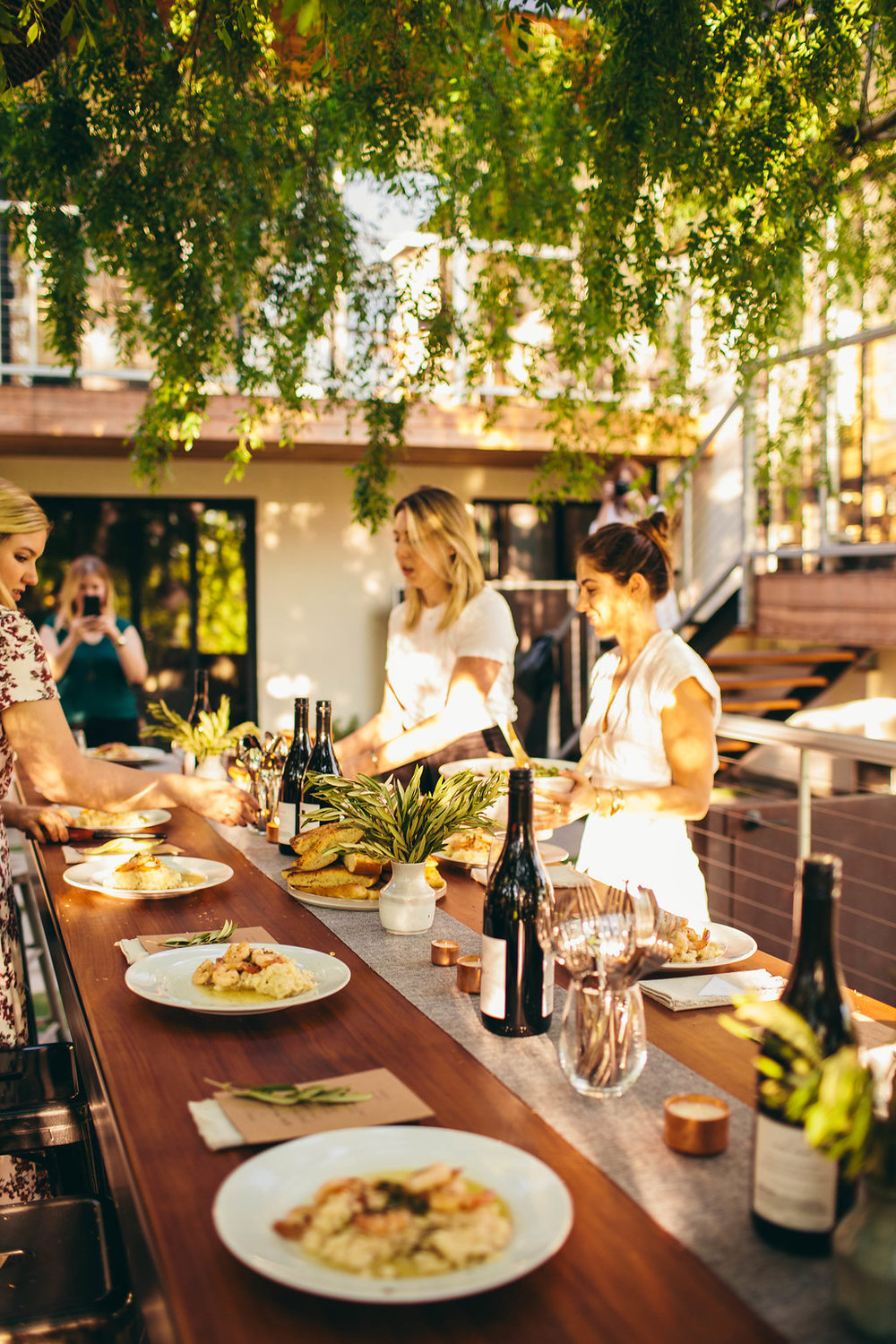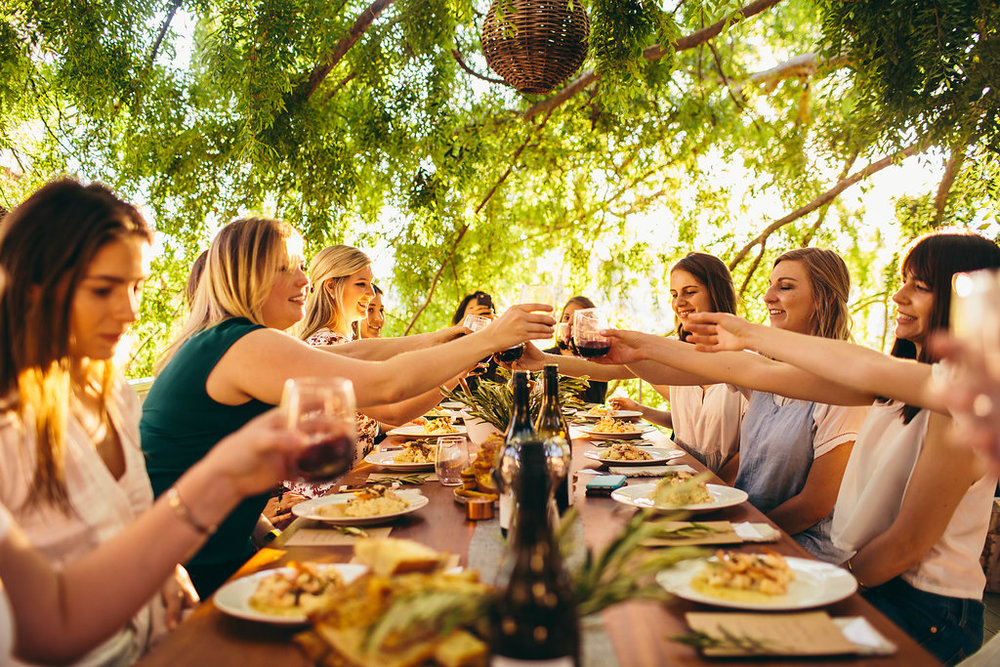 More Create Dinners