Create Dinner No. 3: Deck the Halls
I love everything about December, even the craziness that comes along with it. The onslaught of holiday parties that you get to dress up for, Christmas music, snow (well, in Los Angeles it's fake flurries), taking the time to find the perfect present for everyone on my list, festive comfort food – and cookies – definitely cookies. For the third edition of our creative collaboration dinner party we decided to put a holiday spin on things, but without going too over the top. The décor was along the lines of trendy après ski chic – sheepskin draped over the chairs and benches, a long wooden table, gold candleholders and delicate light colored flower centerpieces. This dinner definitely put me into the holiday spirit.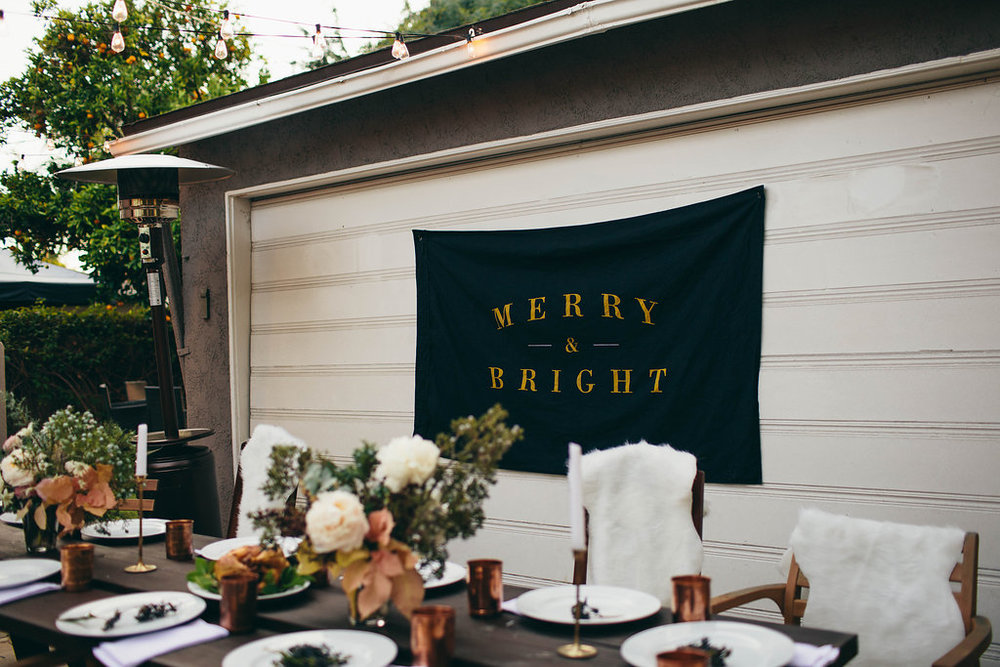 One of the best parts of our "Create Dinners" is that the hosting duties of throwing a party don't fall on one individual. Instead each person pitches in and contributes something that they can also be proud of. (Announcement: we now have a fancy website for our dinners! Check it out here and if you are interested you can sign up for our next event.)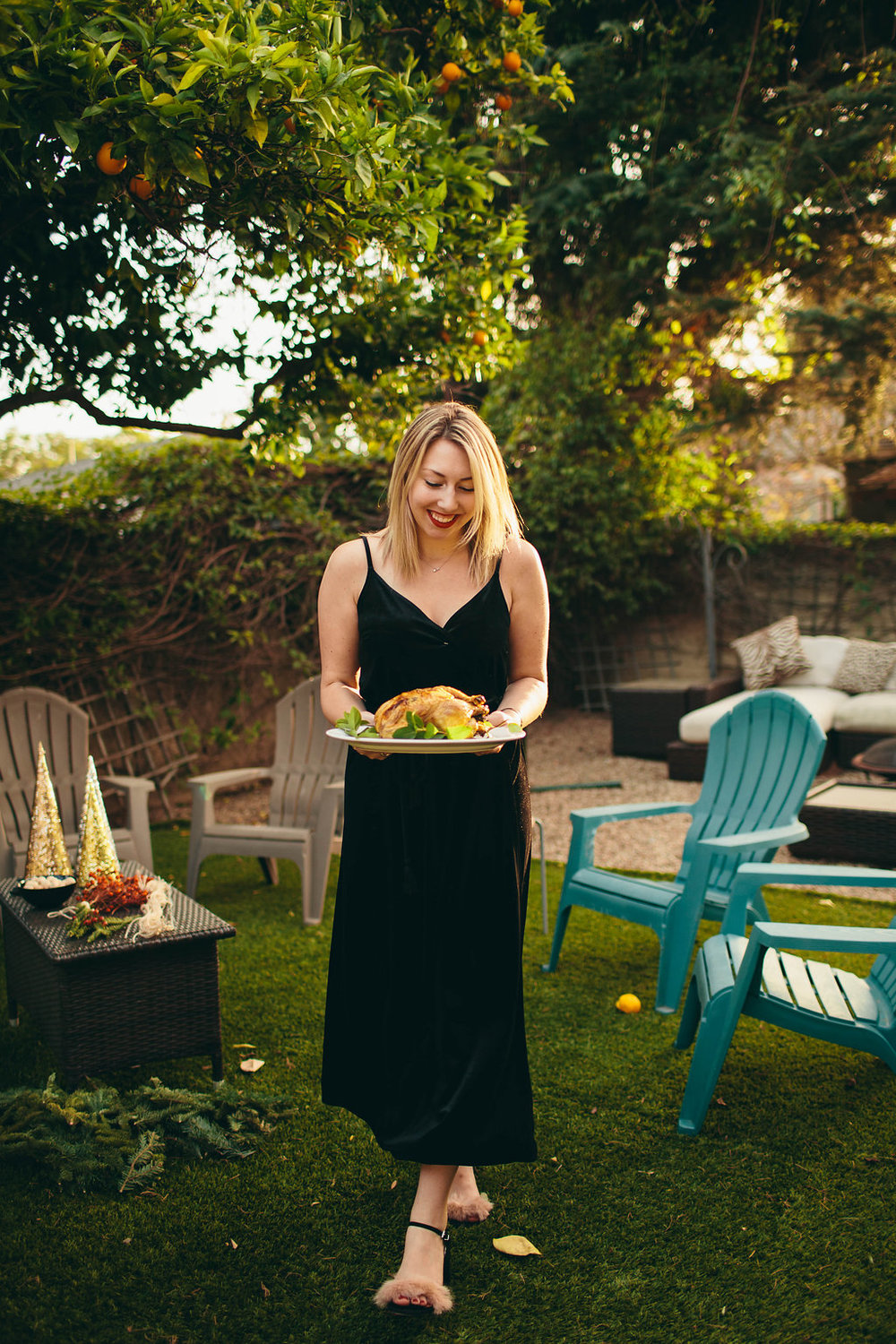 The Prep
The key to the food part of any party is prepping as much as you can in advance. Since the venue for our dinners is always located some distance away from where I am actually prepping the food, I try to make as much as I can ahead of time and then just reheat it when I get there. It makes it easier and much more efficient time-wise.
The Location
For this dinner we moved to a new location; a beautiful home in Santa Monica, which I appreciated because it was a lot closer to my house and made transporting the food easy. The guests arrived and Instagram photos were taken while we still had daylight (photos are always best with natural light), and then we moved to our DIY craft presentation.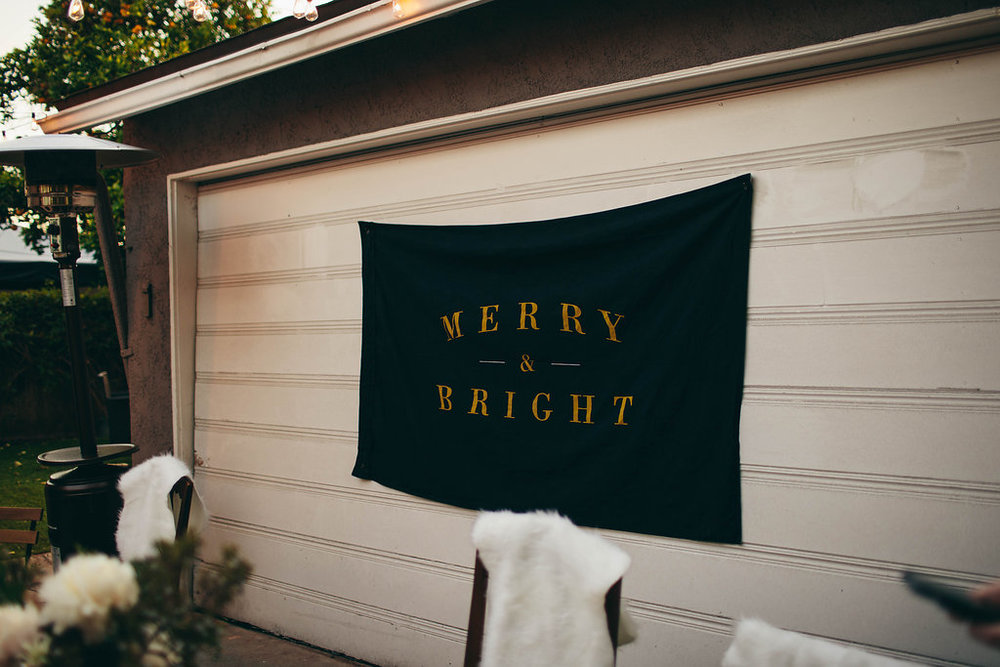 The Crafts
We sat around and learned how to construct small wreaths made with branches tied together with berries and twine all while sipping on our craft cocktails and snacking on baked Brie and charcuterie. After the crafting was complete we moved to the dinner table and took our seats. Each place setting was complete with a name card and printed menu. I have said it before and I will say it again, I always love seeing my food and recipes printed on pristine menus. I also enjoy dinner parties that have name cards because I find it helps you to branch out and talk to new people, perfect for occasions such as this. We try to keep the guest list to 12-16 people. I believe this is the ideal number of people for a larger seated dinner party such as this because you can talk to your seat companions while also enabling the whole table to have a conversation.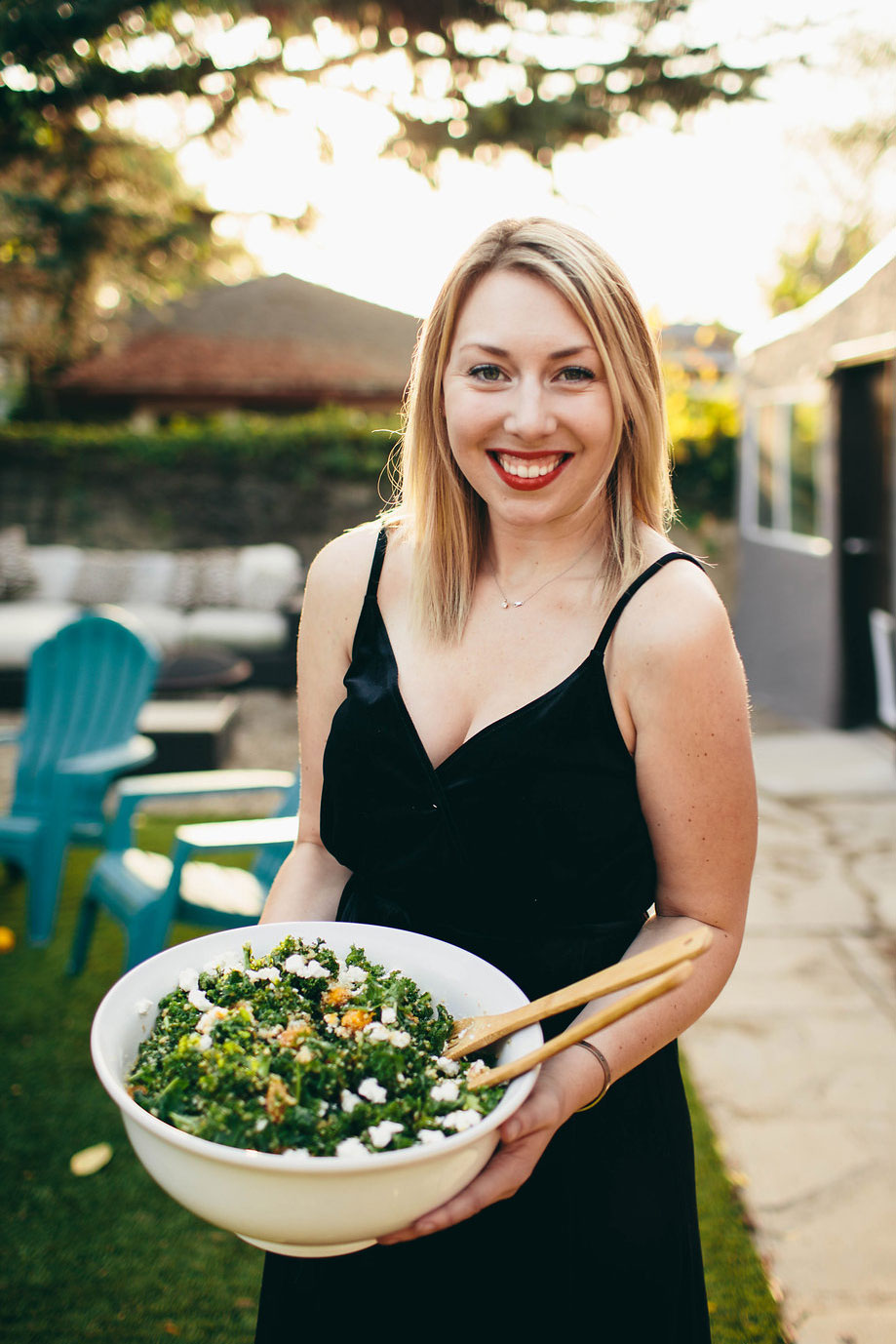 The Food
The hardest part about cooking for a large group of people is figuring out how much food you need so that no one goes hungry but not so much that there are a huge amount amount of leftovers. Since our dinner was right after Thanksgiving I figured most people were a bit sick of eating turkey.
Instead I made dry brined herb roast whole chicken as our entrée. A good rule of thumb when cooking roast chicken is to designate about half a pound per person. Then I typically add an extra pound on top of my estimate just to be safe – it's always nice to have leftovers if it comes down to it.
The butternut squash, quinoa and kale salad I made as a side is one of my new favorites for events such as these. You can dress the salad ahead of time and the kale is tough enough that it won't wilt before serving.
As we moved on to our dessert of apple cider donuts, we were graced by a performance of acoustic Christmas tunes and storytelling. Surrounded by laughter, music and food under twinkly lights, it was the perfect ending for the perfect night. As usual Kate made sure everything ran smoothly and paid attention to even the smallest details. Another successful dinner party in the books.
Check out my menu for the party below along with the recipes to inspire you and make your own holiday dinner a success. You can also check out our guest list and all of their various talents below.
Appetizer
Baked Brie with Raspberry Jam Served with Assorted Charcuterie and Crackers
***
Entrée & Sides
Balsamic Sriracha Roasted Brussels Sprouts
Butternut Squash, Quinoa and Kale Salad with Warm Goat Cheese & Apple Cider Vinaigrette
***
Dessert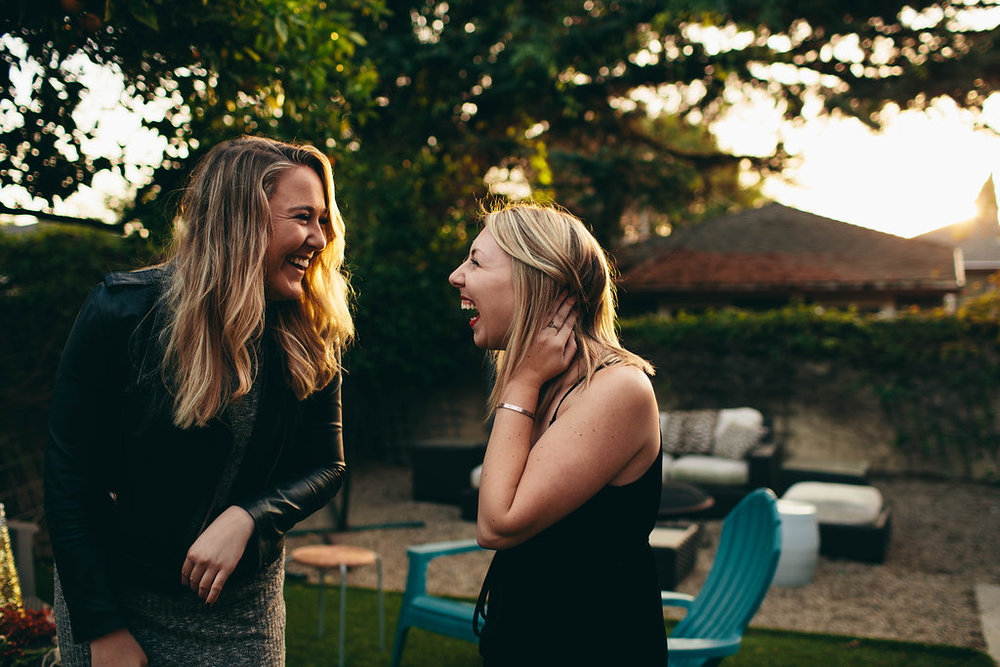 The Guest List
Kate Edwards – Kate was our general party planner and photographer (she also happens to be one of my favorite photographers, just look at her photos here).
Kirsten Robinson – Kirsten is one of my best friends who graciously acted as my sous chef and hype-man; her alter-ego is @DarthdoesLA.
Elise Cahill – Elise is part of an extraordinary DIY blogger team called The Happy Hunters and she was the one who led us through our holiday wreath craft.
Kimberly Bozeman – Kim is now our go-to bartender. After testing various potential drink recipes she made us holiday themed vodka cocktails called Wassail Rosemary Bucks. She's also one of the funniest people I know.
Mallory Cummins – Mallory happens to be my other favorite photographer, she is so talented and has been so kind to let me cook for her and in return she takes photos of me to use on my blog. You can see more of her photography here.
Jenn Sanchez – Jenn is our florist. She makes the most breathtaking flower arrangements. I swear I've never seen flowers like the ones that she brings and they're in the most beautiful watercolor hues.
Emily Elbert – Ok, I want Emily to sing me to sleep at night. She has the most angelic voice, listening to her serenade us with some holiday tunes was magical. You can listen to her music/ buy it here.
Alli Gugliemino – Alli was our gracious host with a beautiful house in Santa Monica. She graciously let us take over her house and her adorable 6-month-old son was also the youngest member in attendance!
Katie Brown – Katie was the first person to find our dinner group through Instagram and reach out! We hope to have more people like her at our next event.
Natalie Seward – Natalie is also a member of my book club (bookworm babes.) She always impresses me with her knowledge of good food, wine and oysters! We look forward to her contributions to our next dinner!
Christina Scamporino – Christiana used her graphic design skills to print our beautiful menus and make individual laser-cut place cards that she hand water-colored.
Jordan Raines – Jordan is native Texan who recently moved to LA (she went to high school with Kate!) and as a first time attendee she brought cinnamon scented pinecones and a holiday wreath.
Heather Sundell – Heather did some storytelling after dinner while we were eating dessert. She described it as a less scary and more relaxed version of standup comedy. We all enjoyed her comedic talents.
Laney West – Laney is a recent graduate from Kansas University and only recently moved to Los Angeles from Oklahoma. It has been so great getting to know her since her move. We look forward to her contributions to our next dinner!
Linsey Metcalf – We lucked out and as Linsey happened to be in town visiting from Texas, she makes beautiful hand-crafted flags, you can check them out here – Wild Standard. Unfortunately, she was sick and was unable to make the dinner but we appreciated that she still provided our holiday themed flag!
Each dinner runs more and more smoothly thanks to the help of so many creative women. We are already working on the next one for the beginning of the New Year! And we always love to hear theme ideas – comment below with any suggestions you may have! If you are interested in joining our "Create Dinners" then check out the link and sign up for the next one. What will you bring to the table?
All photos by Kate Moran Edwards Photography.