One of my favorite fall activities is picking apples at one of the orchards near my parent's house in New Jersey. There's nothing like sitting down on a chilly fall day and drinking a glass of refreshing apple cider and eating a cider donut. I never realized it was an East Coast treat. When I moved to California I was shocked to learn that many of my friends had never eaten an apple cider donut or had never heard of them before so I made these for everyone and trust me they went very quickly.
I reduce the apple cider before making the batter for more concentrated apple flavor. I promise the extra step is worth it – it makes them taste amazing! This apple cider donut recipe is coated in cinnamon sugar before serving though you can also use powdered sugar. You won't be able to go back to store-bought donuts after this!
Baked Apple Cider Donuts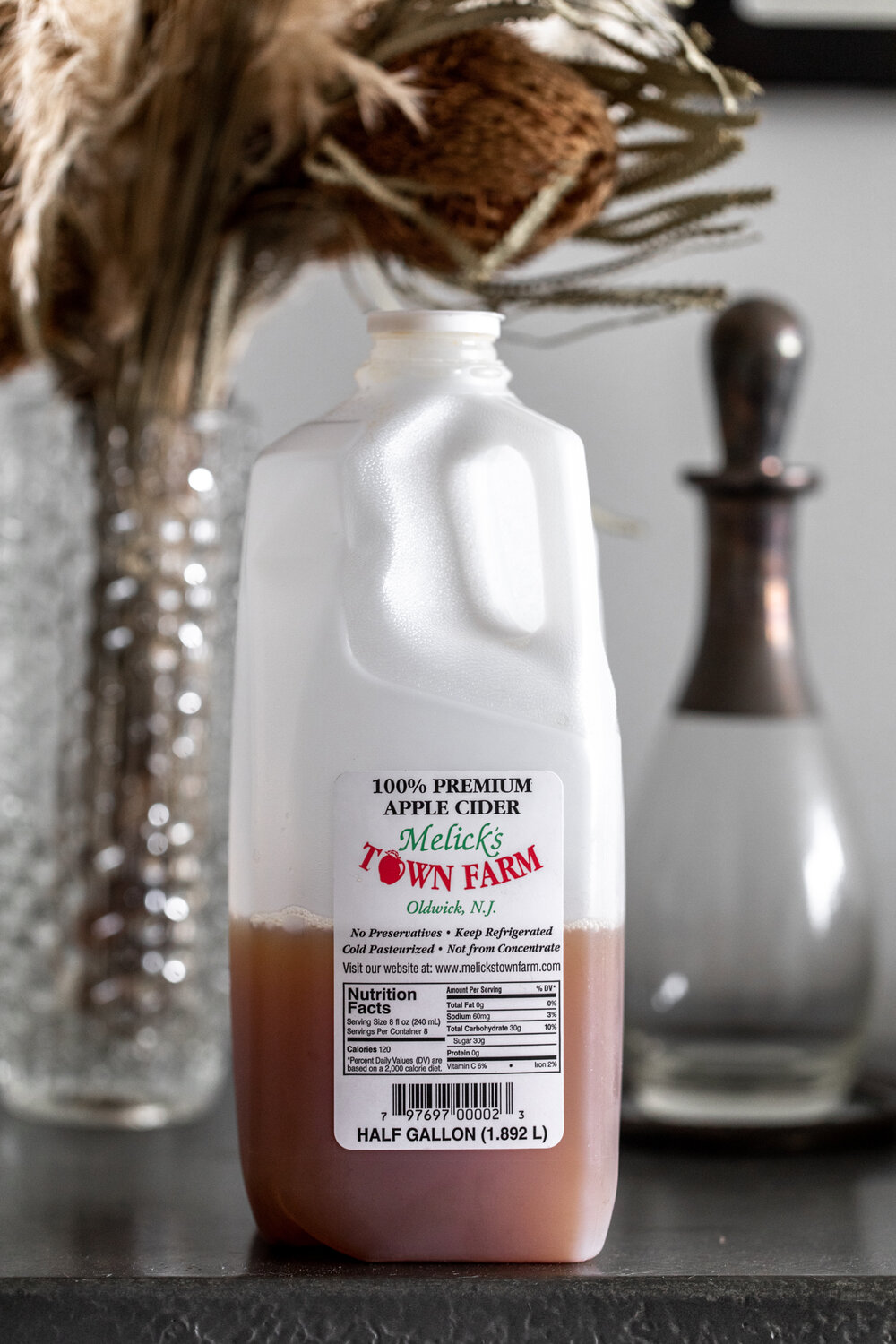 More About Baked Donuts
Baked donuts have a more cake-like or muffin texture to them than fried donuts. While classic cake donuts were fried in fat or oil, I prefer this easy method of baking the donuts in a donut-specific pan. I use this donut pan. One of my least favorite parts about deep-frying is cleaning up the oil afterwards so this method makes it easier!
Key Ingredients in This Recipe
Apple cider – Apple cider is a raw, unfiltered apple juice that has not gone through a filtration process (like apple juice). This makes the seasonal fall beverage slightly darker than apple juice and cloudy. I reduce the apple cider for a more concentrated apple flavor in this recipe. Be sure to use apple cider not apple juice!
Buttermilk – The typical American buttermilk is low-fat. It also has a rich, tangy flavor and a texture more similar to sour cream or yogurt than cream or milk.
Brown sugar – I use dark brown sugar in this recipe which contains 6.5% molasses (in comparison to 3.5% in light brown sugar). To get an accurate measurement, be sure to tightly pack the brown sugar in a measuring cup.
Baking powder/ baking soda – The addition of baking powder and baking soda creates the rise in the donuts, making them nice and fluffy in texture.
All-purpose flour – I use unbleached all-purpose flour in this recipe though bleached works fine as well.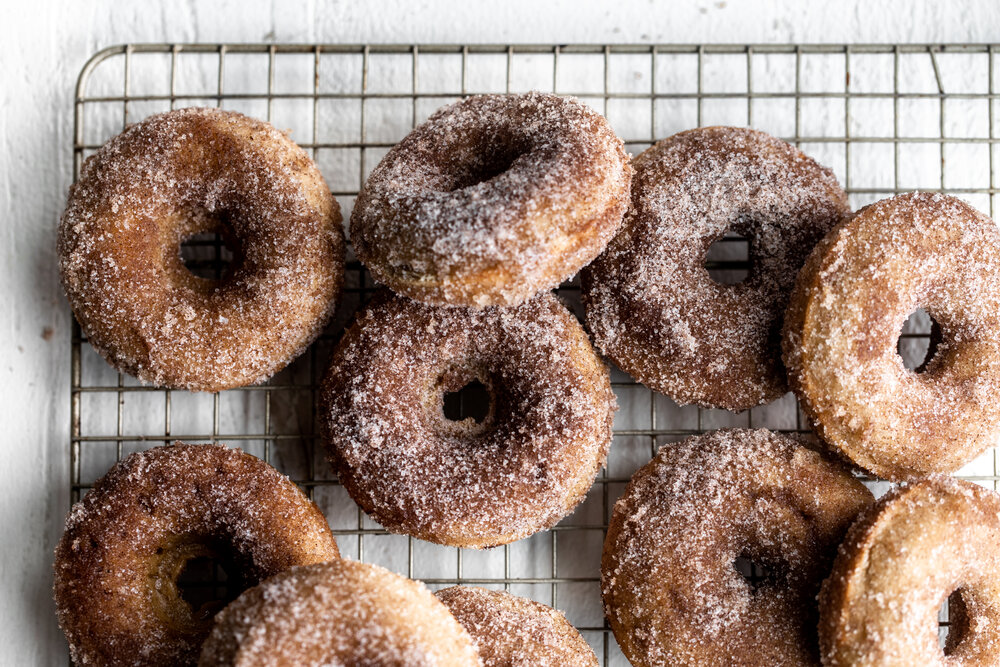 How to Make Baked Apple Cider Donuts
Reduce the apple cider. Preheat the oven to 350°F (180ºC). Heat the apple cider in a small saucepan over medium-high heat. Simmer and reduce the cider to ½ cup.
Mix the dry ingredients. In a large bowl, whisk together the flour, brown sugar, 1 tablespoon of the cinnamon, baking soda, salt and baking powder.
Mix the wet ingredients. In another large bowl, beat together 2 tablespoons of the butter and the eggs until combined. Whisk in ½ cup of the reduced cider and buttermilk.
Combine. Stir the wet ingredients in to the dry until just combined.
Spoon batter into pan. Lightly grease a donut pan with vegetable oil cooking spray. Spoon or pipe the batter into the donut pan until each mold is ¾ full.
Bake donuts. Bake for 10 minutes, until when you stick a knife in the donut, the knife is clean.
Make coating for donuts. In a small shallow bowl, melt the remaining 6 tablespoons of butter. In another shallow bowl, stir together granulated sugar and the other tablespoon of cinnamon.
Dip donuts in cinnamon sugar. Dip both sides of each donut into the melted butter and then the cinnamon sugar mixture.
Serve. Serve warm or room temperature on a platter and store leftovers in a tightly sealed container.
Tips and Tricks for This Recipe
Swaps and Substitutions
Try adding a bit of nutmeg to the cinnamon sugar coating for a little extra warm spice.
Swap the cinnamon sugar coating for powdered sugar.
Brush the butter rather than dipping it for a lighter coating.
How to Store the Donuts
Store the donuts in an airtight container for up to 2 days. If desired add more cinnamon sugar just before serving as it can melt into the donuts.
What Makes Apple Cider Donuts Different?
Apple cider donuts are a cake-like donut made with boiled down apple cider and spices (in this case cinnamon, though you can use nutmeg as well).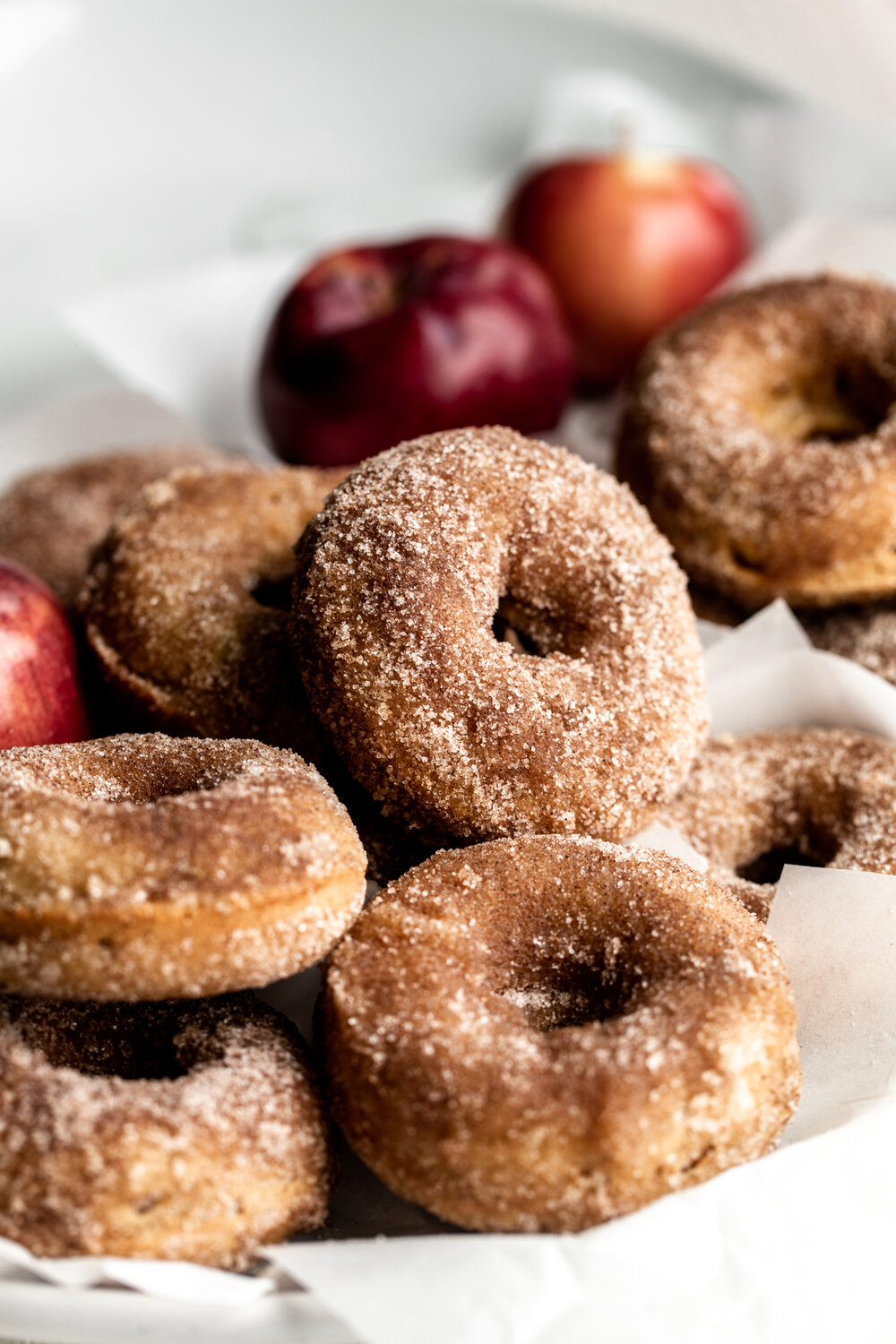 Other Recipes to Try
If you enjoy this baked cider donut recipe, I recommend checking out some of these:
Baked Apple Cider Donuts
1

cup

apple cider

2

cups

all-purpose flour

¾

packed cup dark brown sugar

2

tablespoons

cinnamon,

divided

1 ½

teaspoons

baking powder

1

teaspoon

kosher salt

¼

teaspoon

baking soda

2

eggs,

at room temperature

8

tablespoons

unsalted butter,

at room temperature

½

cup

buttermilk

1

cup

granulated sugar

Vegetable oil cooking spray,

as needed
DID YOU MAKE THIS?
TAG ME ON INSTAGRAM TO BE FEATURED ON MY STORIES! @cookingwithcocktailrings