The simple batter in this sandwich allows the sweet and delicate meat of the soft shell crabs to shine. The sandwich is kept fairly basic as to complement but not overwhelm the flavor of the meat. Calabrian chili mayo can be made up to a week in advance.
Crispy Soft Shell Crab Sandwich with Calabrian Chili Mayo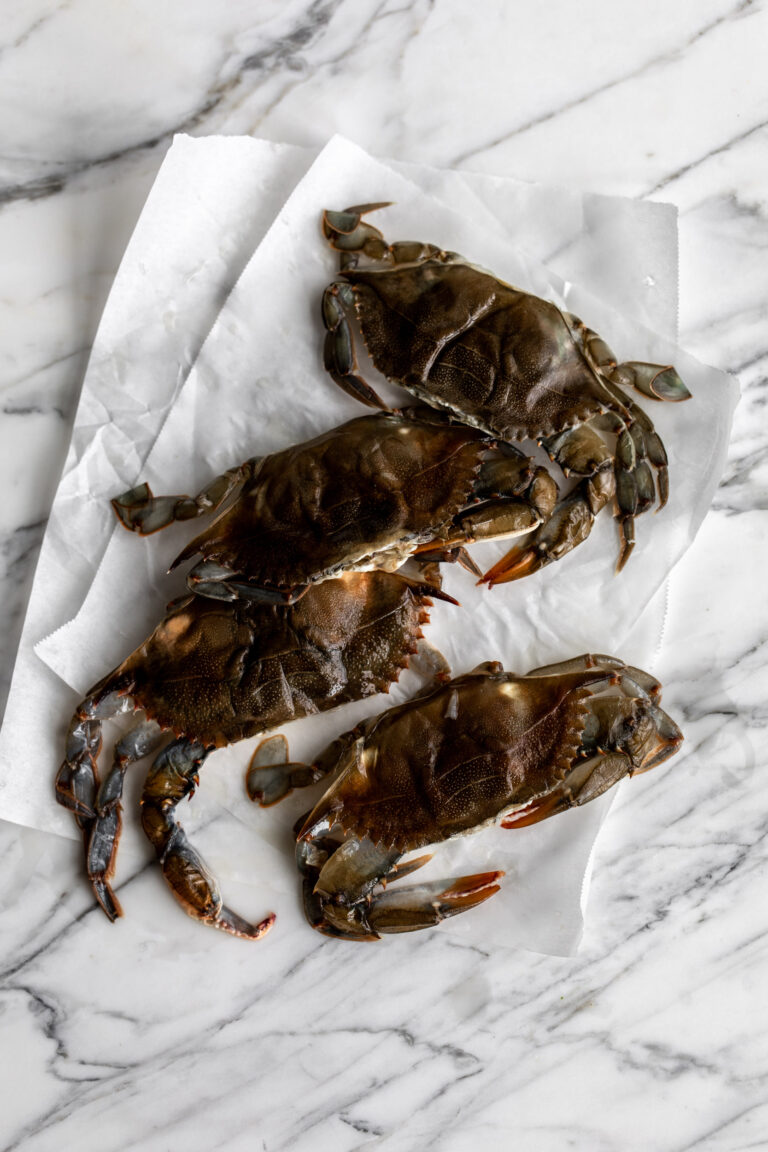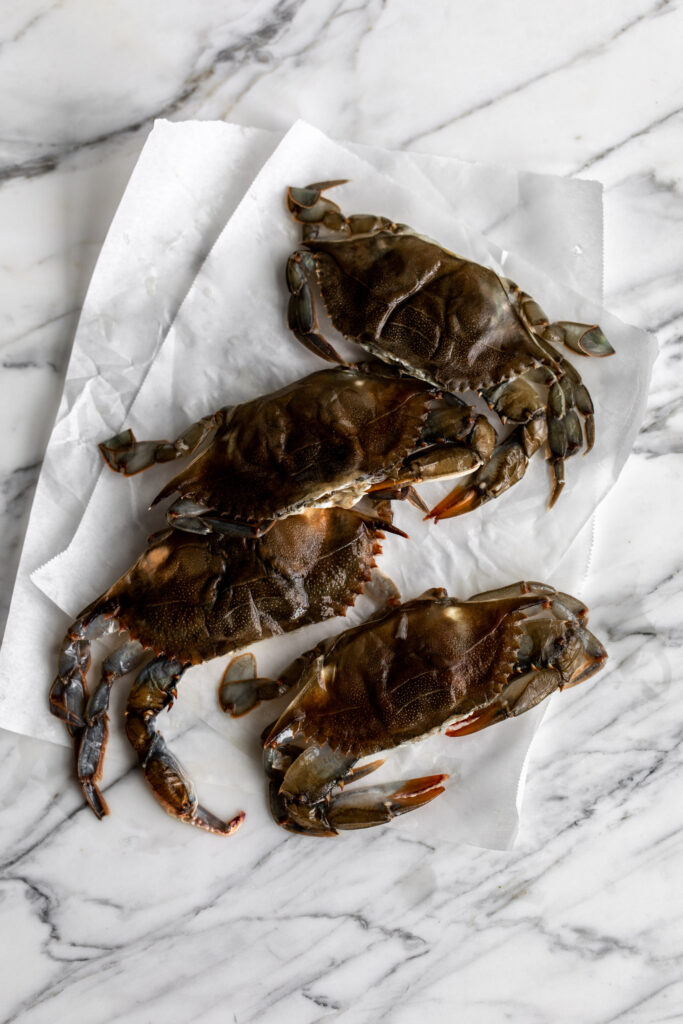 What exactly are soft shell crabs?
Soft shell crabs are not actually a species of crab, as the term refers to the season when crabs (typically blue crabs) shed their exterior shell for summer growth. What's left is a soft "coat", perfect for frying and eating whole. When buying soft shell crabs buy them as fresh as possible.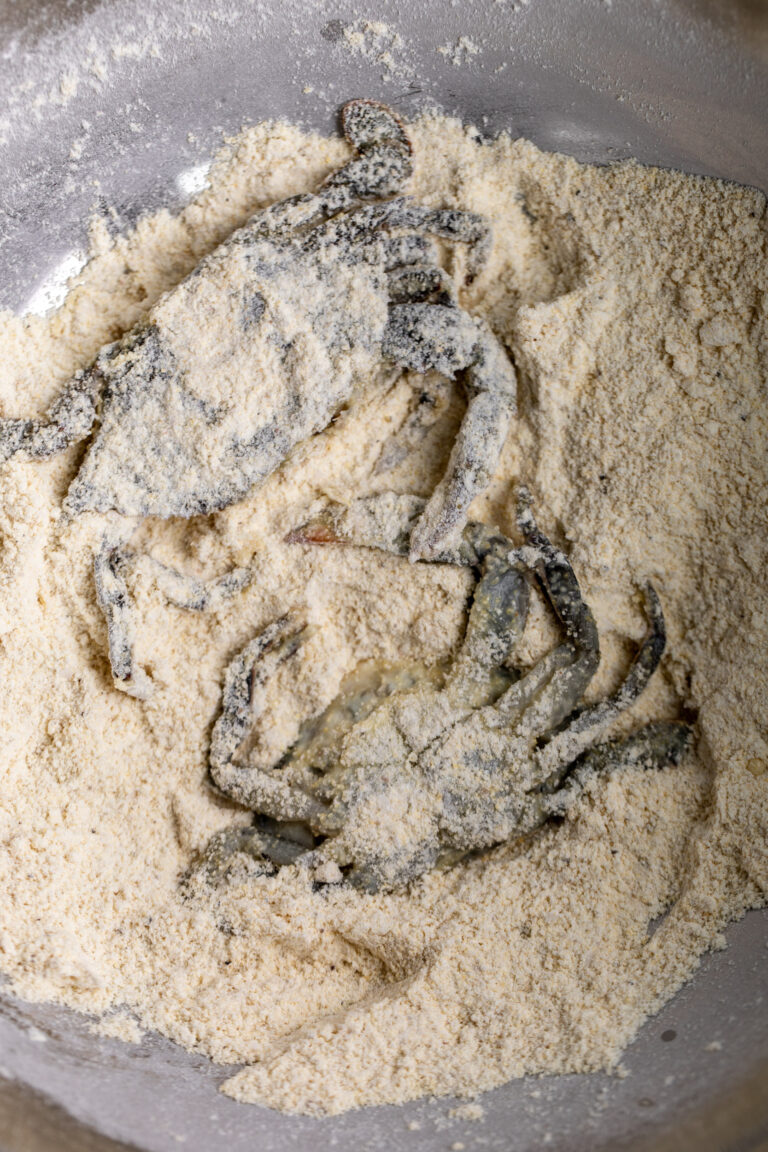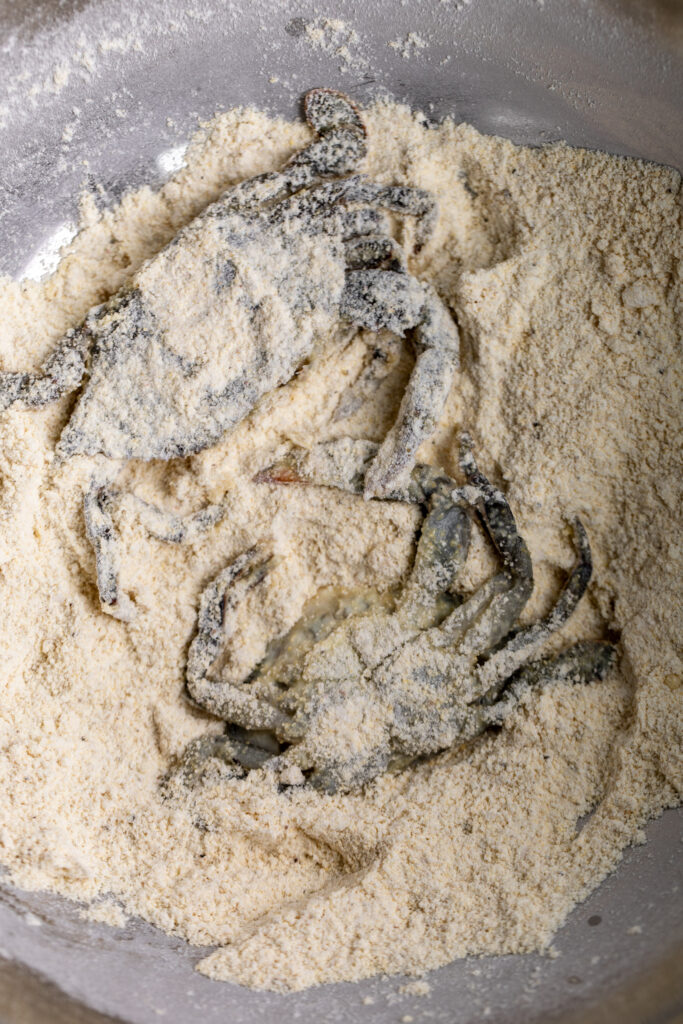 How to clean soft shell crab:
Since they are typically found at higher end seafood markets you can usually ask for them to be cleaned for you. Otherwise it's quite easy to do at home. To clean the crabs, working one at a time, hold the crab in one hand and using a pair of kitchen shears, cut off the front of the crab, about ¼" behind the eyes. Lift up the tapered points on each side of the top shell to show the gills. Pull them out and then discard them. Turn the crab over and pull off the bottom shell and discard it.
When are they in season?
The season lasts from May through September. Since they come around only during these months, it makes eating them even more special. If you like this recipe and have additional soft shell crabs, try this soft shell crab benedict.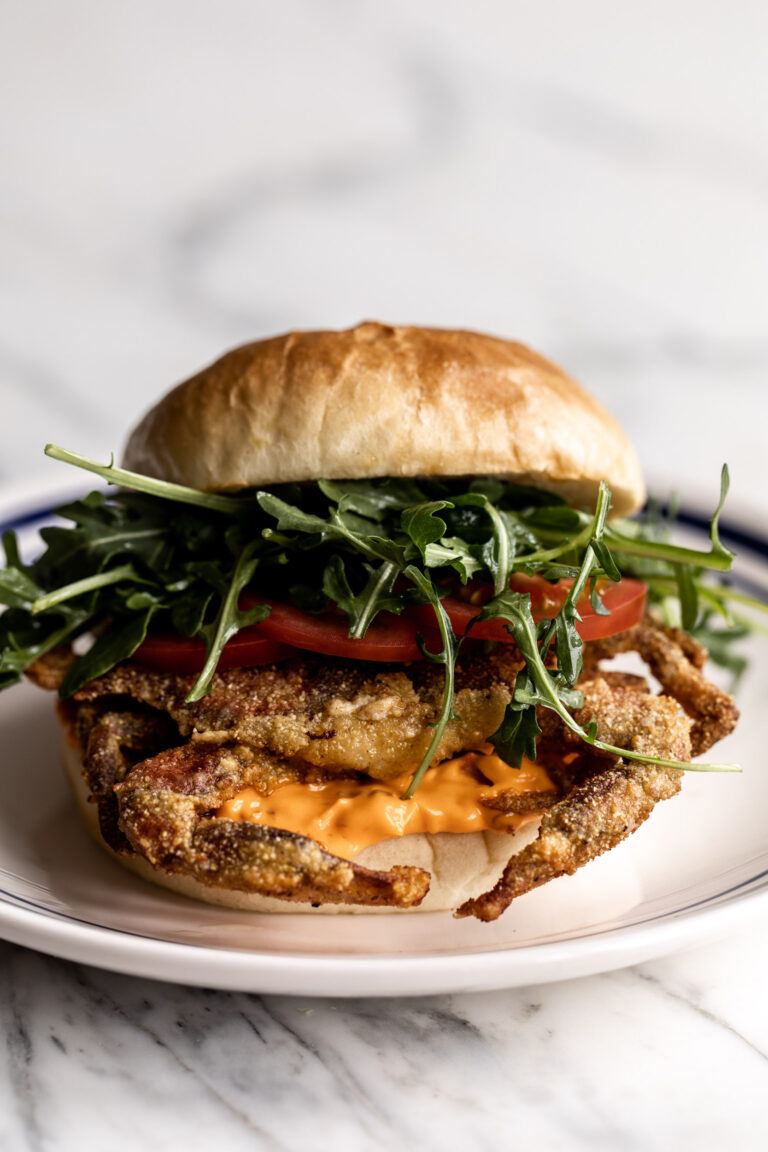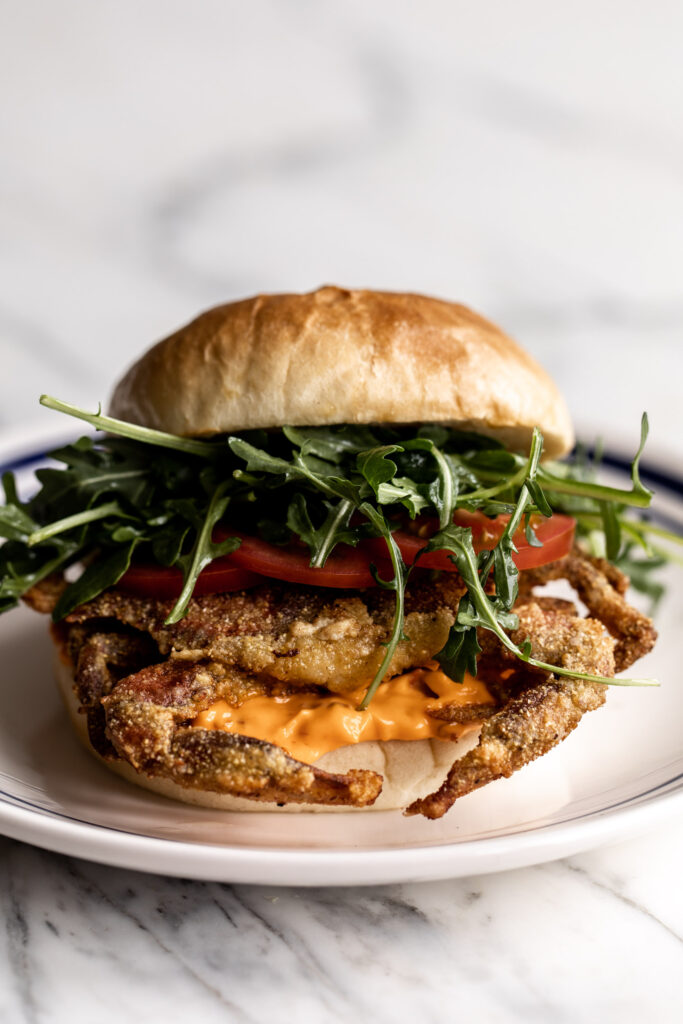 FAQ – Frequently Asked Questions
Can you really eat the whole shell?
Yes! Once you clean the gills from the crab, rinse and cook them so they can be eaten whole. 
What are Calabrian chilies? 
They are little red Italian chili peppers that pack a punch and once preserved in oil (as used here), they are smoky, salty, fruity and spicy all at the same time. 
What if I can't find Calabrian chilies? 
While they are becoming more widely available (Trader Joe's Bomba sauce is a good substitute) if you can't track down Calabrian chili paste then I'd recommend finely chopping fire roasted red peppers and stirring them together with crushed red pepper flakes to form a paste. It won't have the exact same flavor but it will do in a pinch. If you can't find Calabrian chili paste at your local store I'd recommend ordering a jar from Williams Sonoma or Amazon. 
Why do you fry in cast-iron? 
Cast iron is great for frying because it's great for conducting heat. It keeps the oil at even temperature so that the food you're frying cooks evenly.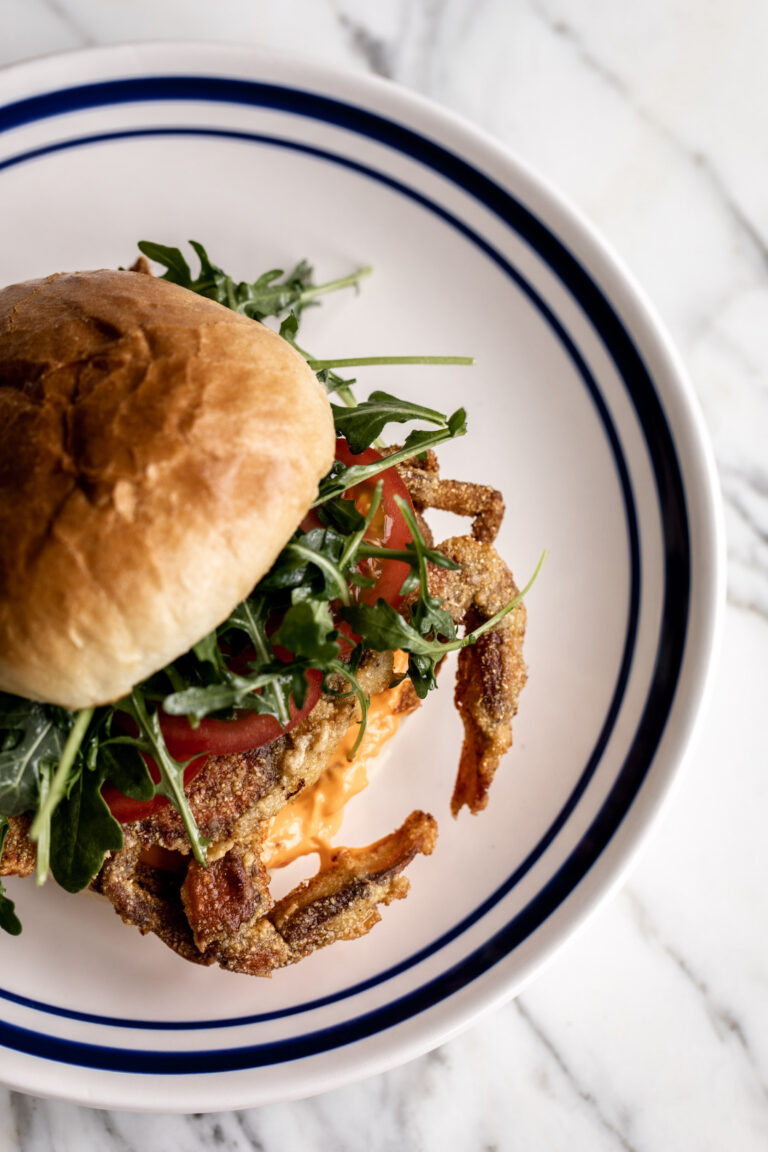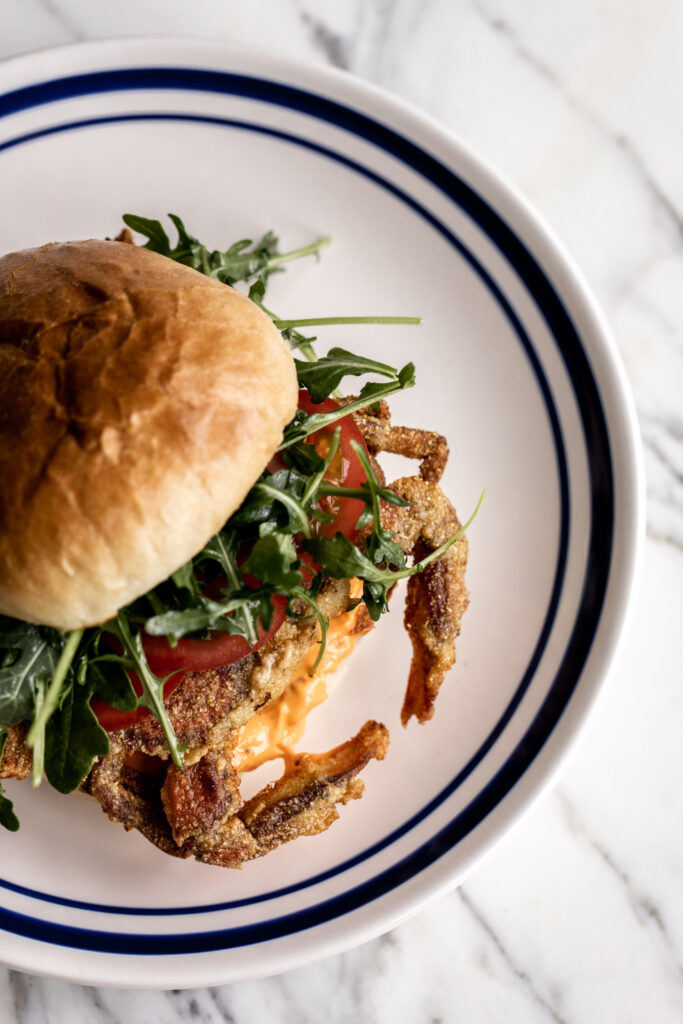 Crispy Soft Shell Crab Sandwich with Calabrian Chili Mayo
For the crispy soft shell crab:
1

large egg

½

cup

whole milk

1

cup

yellow cornmeal

½

cup

all-purpose flour

2

teaspoons

kosher salt

1

teaspoon

garlic powder

½

teaspoon

freshly ground black pepper

4

large or 2 medium soft shell crabs,

cleaned

Vegetable oil,

as needed, for frying
For the calabrian chili mayo:
¼

cup

mayonnaise

2

teaspoons

extra-virgin olive oil

1

teaspoon

Calabrian chili paste
For serving:
2

Brioche buns,

toasted

1

medium tomato,

thinly sliced

1

cup

packed wild arugula
For the crispy soft shell crab:
In a medium bowl whisk together the egg and milk. In another medium shallow bowl whisk together the cornmeal, flour, salt, garlic powder and pepper.

Fill a large cast-iron pan or dutch oven with enough vegetable oil to reach ½" up the pan. Heat the oil to 350ºF (180ºC).

Coat the crabs in the egg mixture then dredge in the cornmeal mixture, shaking off any excess cornmeal.

Add to the cast-iron pan back side down, working in batches if needed, and fry until golden brown, about 3 minutes. Flip and continue to fry the crabs until golden brown, about an additional 2 minutes.

Remove to a cooling rack set over paper towels and set aside.
For the Calabrian chili mayo:
DID YOU MAKE THIS?
TAG ME ON INSTAGRAM TO BE FEATURED ON MY STORIES! @cookingwithcocktailrings