This recipe is inspired by my favorite dish, the Pappardelle Alla Fiesolana, at New York's famed Bar Pitti. This small spot in the Greenwich Village/ West Village area still writes their specials on blackboards and only takes cash. Not only is it a good place for celebrity spotting but their pasta is great. This is one of their most famous pasta dishes, remaining on a menu that frequently rotates seasonally. Better yet it includes just a few ingredients and is easy to make at home!
This dish comes together quickly, in under half an hour – making it a great choice for weeknight dinners or a quick and easy date night. It's made from humble ingredients which come together in a rich rosa or blush sauce turning a pale pink color from the combination of tomatoes and creme fraîche.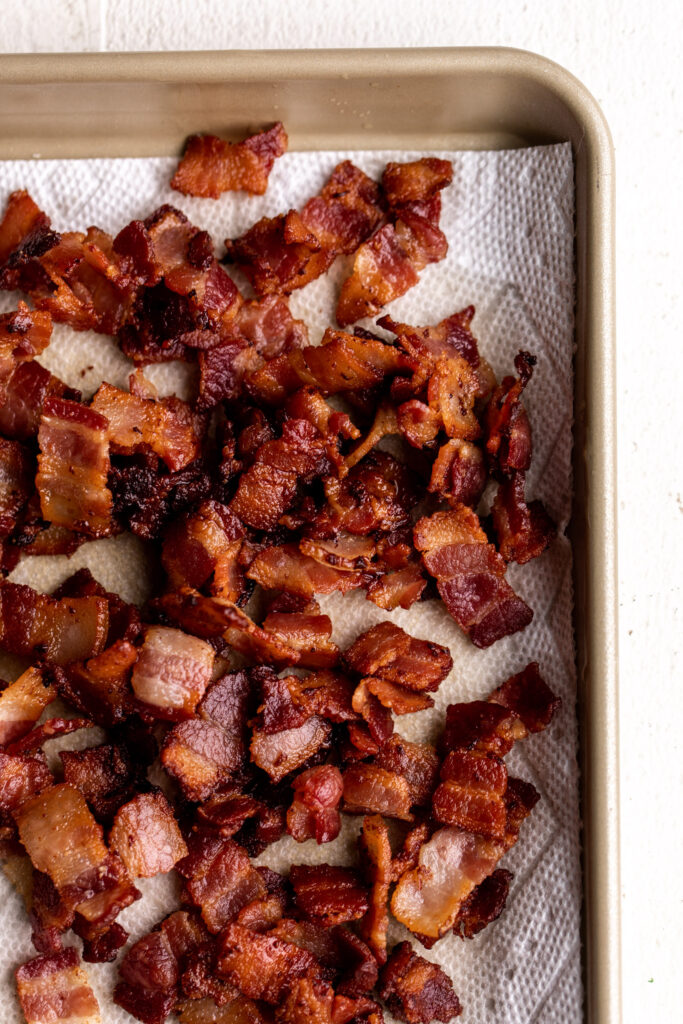 Easy Creamy Tomato & Bacon Pasta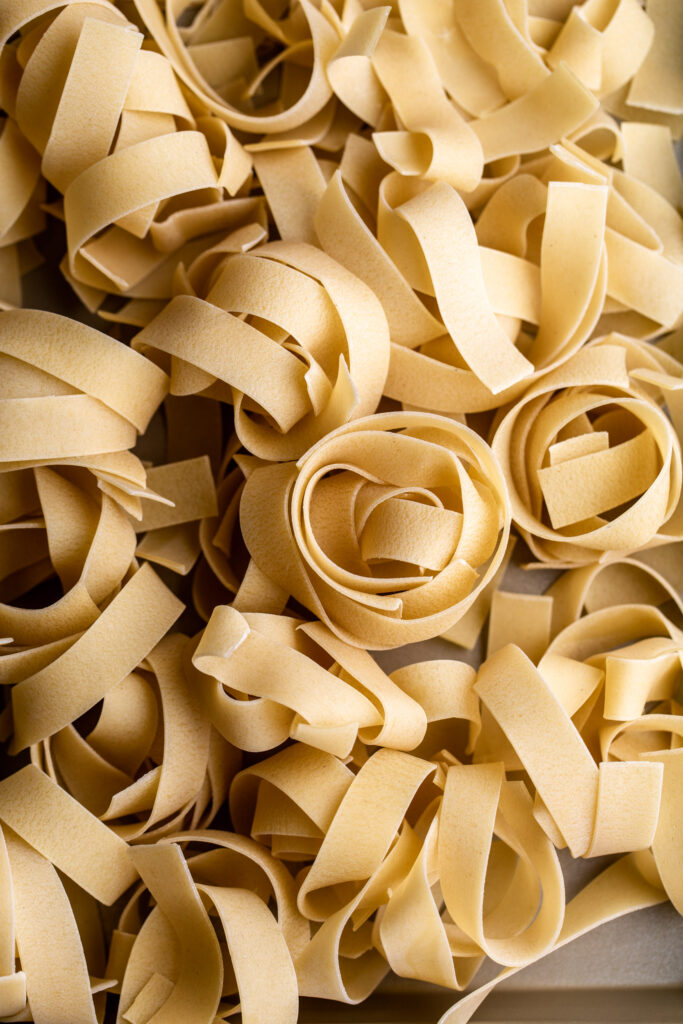 Ingredients in Creamy Tomato & Bacon Pasta
Bacon
The bacon is added to a cold pan so that it cooks evenly and the fat has rendered. The rendered bacon fat is used as a flavorful and rich base for the sauce. I like the smokiness the applewood smoked bacon adds, though it can easily be substituted with pancetta in this recipe.
Yellow Onion
I use yellow onion in this recipe for its mellow flavor when cooked. These onions with a brownish yellow papery skin are a great all-purpose cooking onion.
Garlic
As the garlic is sautéed the flavor mellows so it's not very pungent but adds a base flavor that complements the sautéed onion. I add the garlic after sautéing the onion so it doesn't burn and turn bitter.
Red pepper flakes
Also known as crushed red pepper, this is typically made from small bits of cayenne peppers. They're a great way to quickly add flavor and a moderate heat to recipes.
Roma tomatoes
These tomatoes have a thicker skin and lower water content than many other tomato varieties, making it perfect for this sauce since, as they cook, they won't water the sauce down and there's no need to peel them first. Roma tomatoes are available year-round though tomatoes are at their peak in the summer months.
Heavy Cream
Heavy cream is the thick part of the milk that rises to the top with between 36-40% fat. Whipping cream has slightly less with 30% fat. I recommend using heavy cream rather than substituting it with something with less milk fat like half and half since lighter creams have a tendency to curdle when added with hot liquids.
Creme fraiche
I like the tangy element crème fraîche adds to the sauce. It's rich like cream but a bit more sour and works to thicken the sauce slightly. Easily substitute with additional heavy cream if desired.
Pappardelle
These wide, flat noodles resembling thick ribbons are made from an egg yolk-heavy dough and originate from Tuscany. They're ideal for rich meat filled sauces like this bolognese or creamy sauces such as this. It's often sold in packaged nests or fresh in refrigerated cases.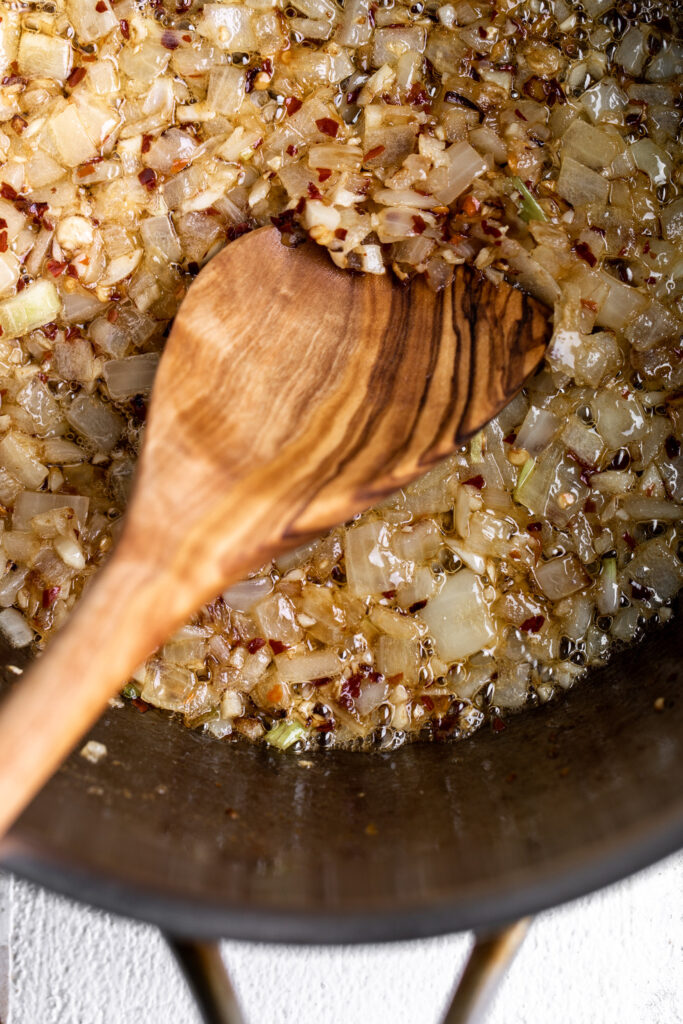 Steps to Make Creamy Tomato & Bacon Pasta
Step 1
Cook the strips of bacon in the pan, setting the bacon aside and reserving the bacon fat.
Step 2
Sauté the onions and garlic.
Step 3
Add the red pepper flakes and tomatoes.
Step 4
Stir in the heavy cream and creme fraiche and season with salt and pepper.
Step 5
Cook the pasta and reserve some of the pasta water before draining
Step 6
Add the pasta back to the pot and toss with the sauce and pasta cooking water. Add the cheese and continue to toss.
Step 7
Serve and enjoy.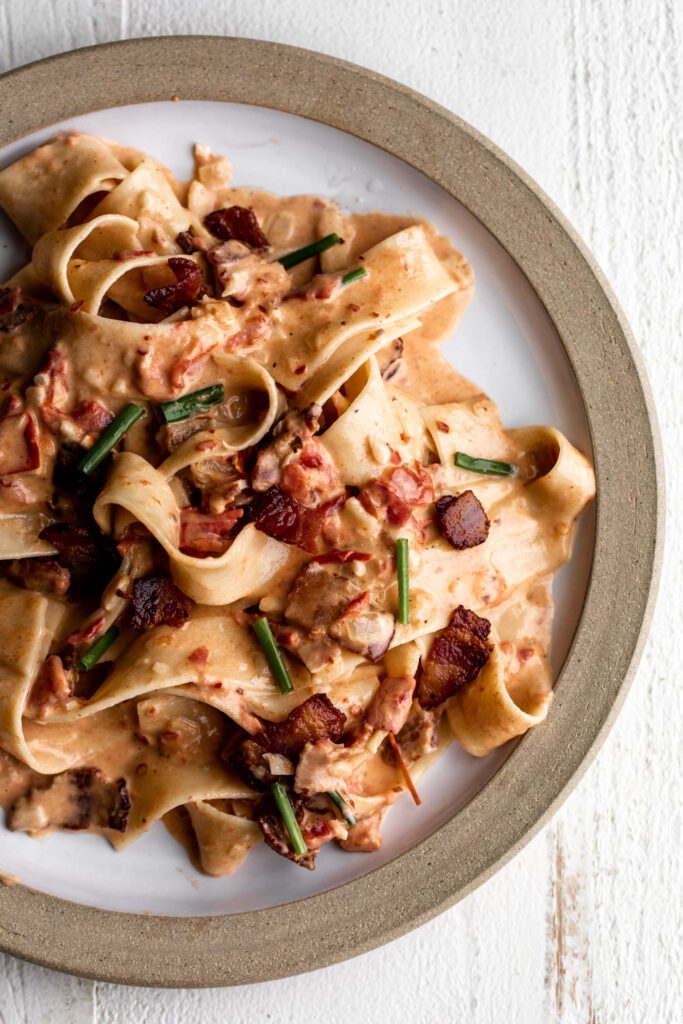 Why Reserve Pasta Water?
I always recommend reserving some of the pasta cooking water before draining your pasta. The salty, starchy water that the pasta is cooked in adds flavor and helps to bind the sauce to the pasta, making a rich and silky sauce.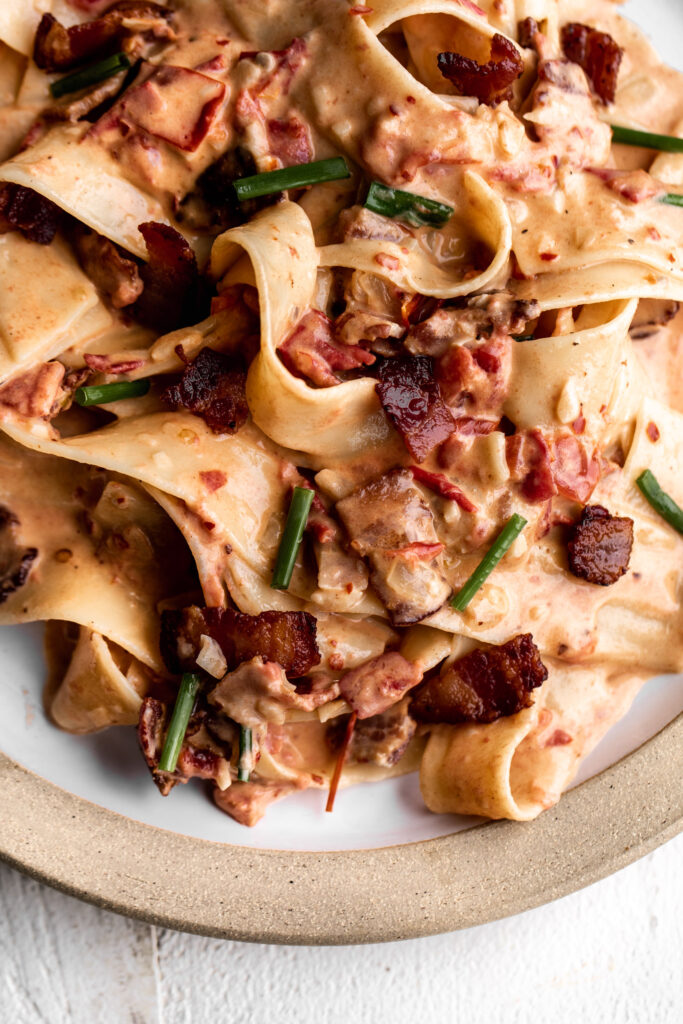 Easy Creamy Tomato & Bacon Pasta
1

pound

bacon,

cut into ½" slices

2

tablespoons

unsalted butter

½

medium yellow onion

3

cloves

garlic,

chopped

1

teaspoon

red pepper flakes

5

medium Roma tomatoes,

cored and diced

½

cup

heavy cream

½

cup

creme fraîche

Kosher salt,

as needed

Freshly ground black pepper,

as needed

½

pound

dried pappardelle pasta

½

cup

freshly grated Parmesan cheese

1

teaspoon

diced chives
Add the strips of bacon to a large sauté pan and heat over medium heat. Cook the bacon until the fat is rendered and the bacon is crispy, about 5 minutes.

Use a slotted spoon to remove the bacon, reserving as much fat in the pan as possible, about ¼ cup.

Return the pan to medium heat, add the butter and allow to melt. Add the onion and sauté, stirring occasionally, until the onion is soft and opaque, about 5 minutes. Add the garlic and red pepper flakes and cook for an additional 30 seconds.

Add the tomatoes, stirring to combine. Let cook until the tomatoes start to break down, about 2 to 3 minutes. Stir in the heavy cream and creme fraiche. Season the sauce with salt and pepper then set aside.

Bring a large pot of water to a boil; add salt and bring back to a boil. Add the pappardelle and cook, stirring occasionally, until al dente, about 8 minutes.

Reserve 1 cup of the pasta cooking water and set aside then drain the noodles and return to the pot. Add the sauce and ½ cup of the pasta cooking water, tossing to coat.

Add the Parmesan and cooked bacon and continue to toss until the noodles are coated and the sauce is glossy.

Divide the pasta among plates and garnish with the chives.
DID YOU MAKE THIS?
TAG ME ON INSTAGRAM TO BE FEATURED ON MY STORIES! @cookingwithcocktailrings