Italian Sloppy Joe Sandwich
This upgraded Italian twist on the kitschy classic, the sloppy Joe, is made with chunky, meat-packed Bolognese sauce, sautéed rapini and melted, creamy burrata piled onto fresh ciabatta. I use homemade ciabatta, making use of a new hobby of mine, baking bread.
The slightly bitter sautéed rapini pairs with the sweetness of the Bolognese sauce and contrasts with the spicy Calabrian chili paste. The crusty bread helps to hold everything in the sandwich together while the Bolognese fills all the nooks.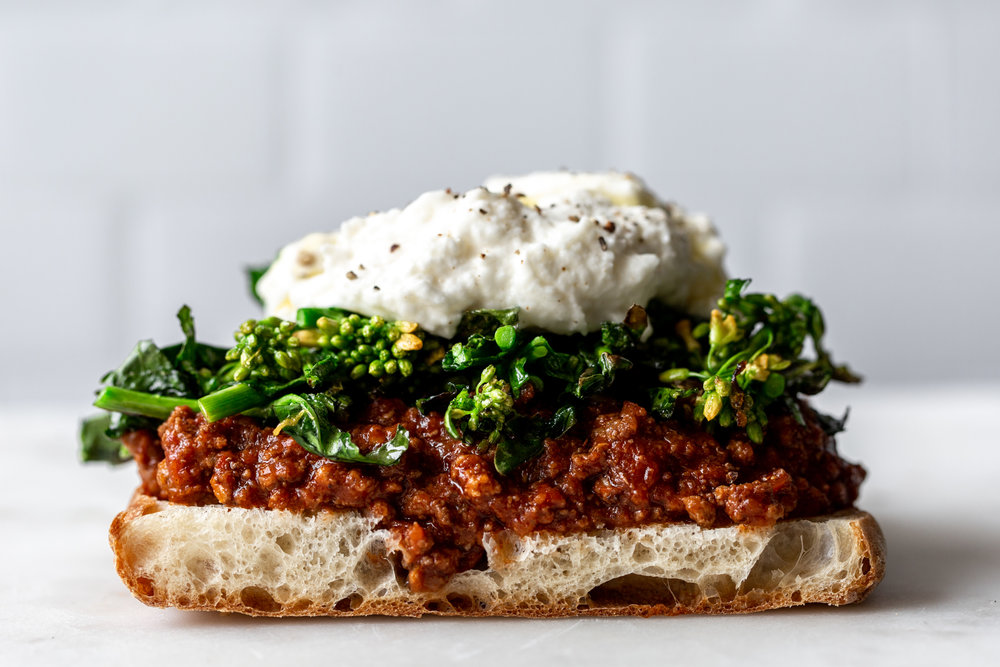 I always make a big batch of Bolognese and end up with leftovers – this sandwich reinvents the leftovers into an entirely new and delicious meal. And don't forget extra napkins, it gets messy.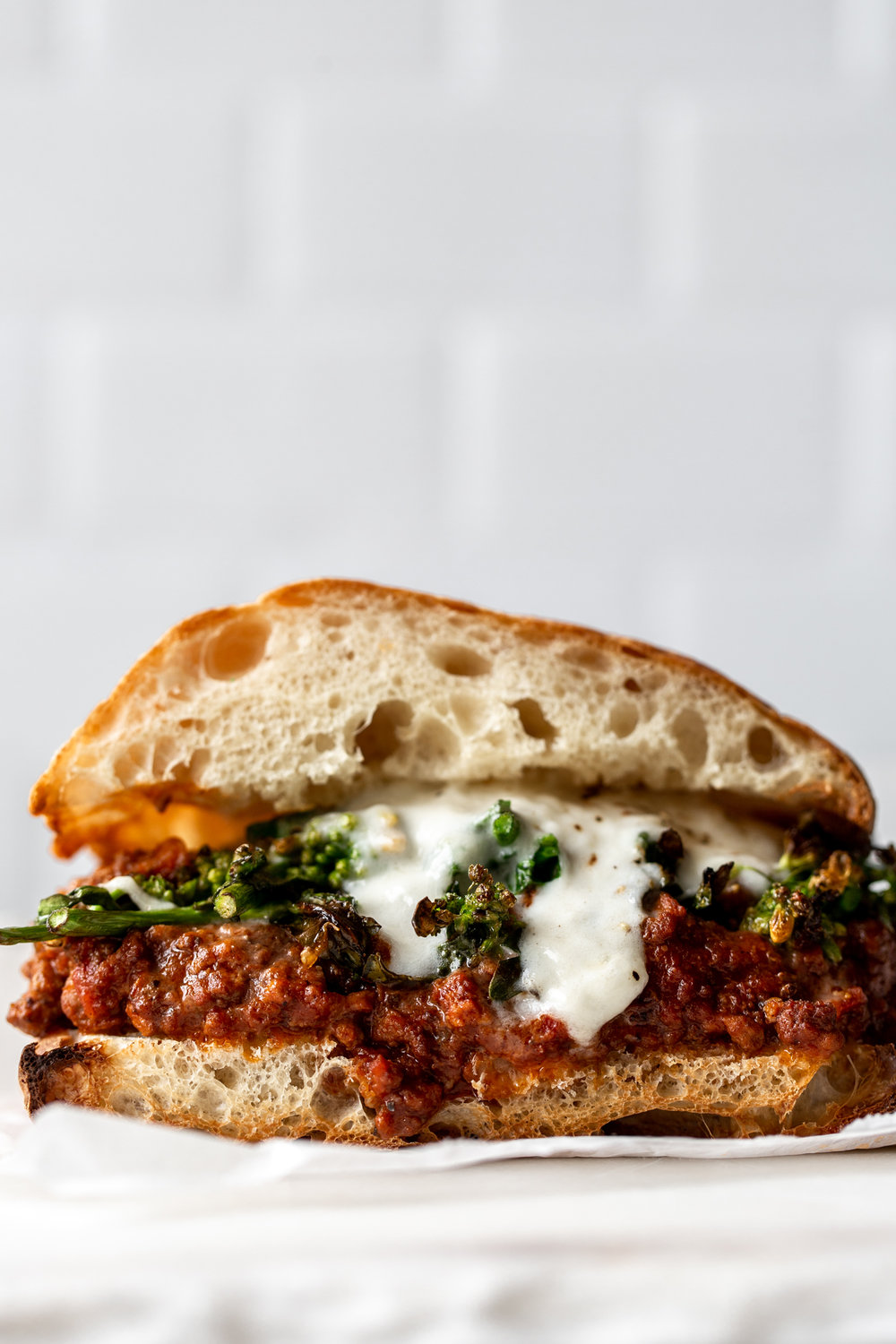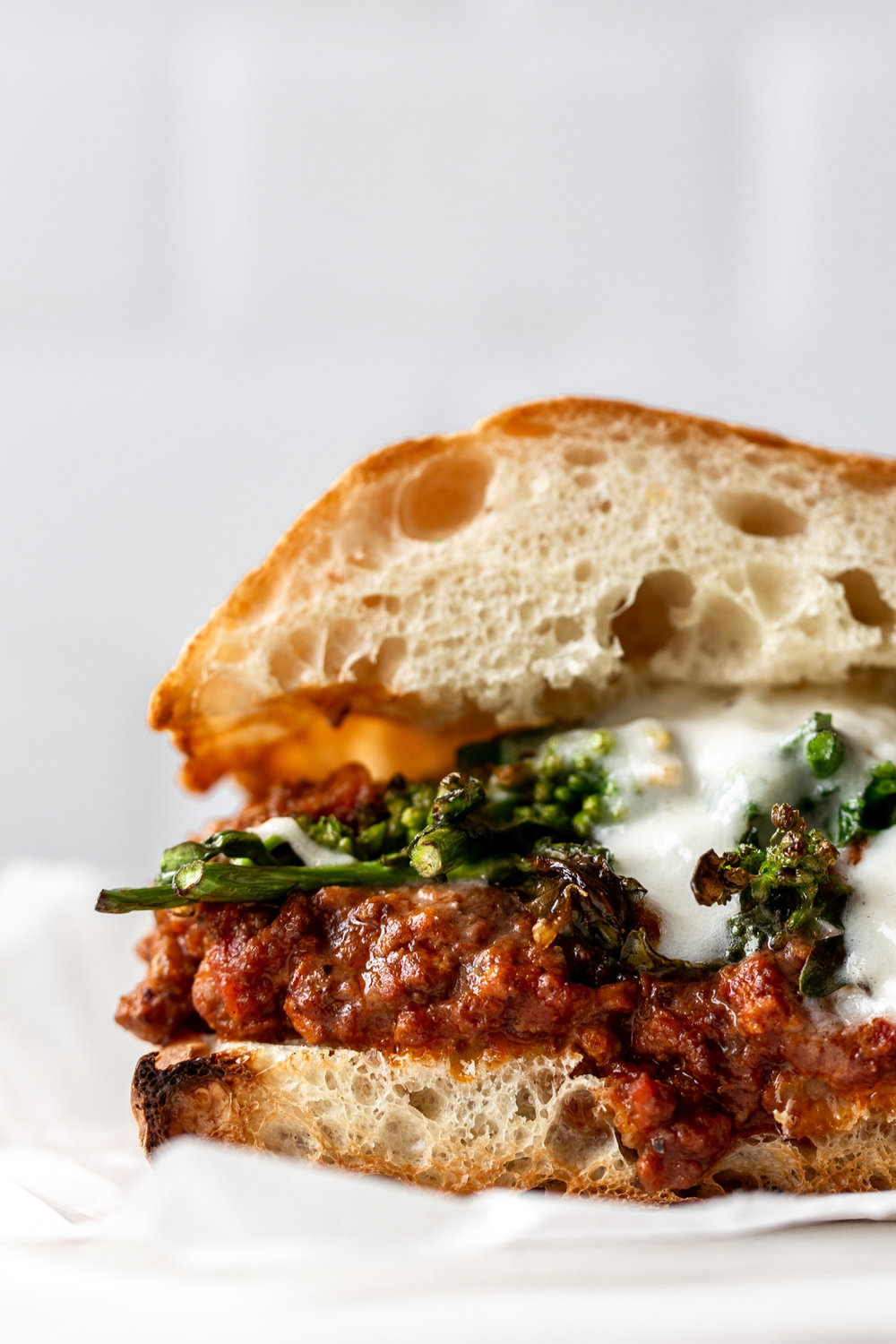 Italian Sloppy Joe Sandwich
Heat oven to broil on high.

In a large sauté pan over medium heat, add the olive oil and heat through. Add the garlic then the rapini. Sauté the rapini until wilted and tender, about 3 minutes. Set aside.

Cut the loaf of ciabatta in half lengthwise and then again widthwise so you have two buns for your sandwiches.

Evenly spread the calabrian chili paste over each of the bottom halves of the sandwiches. Top each with 1 cup of the Bolognese followed by a handful of sautéed rapini and torn pieces of burrata.

Arrange on an aluminum foil-lined baking sheet. Add the top half of the bread to the baking sheet as well. Broil until the burrata is melted and the bread is golden brown, about 1 to 2 minutes.
DID YOU MAKE THIS?
TAG ME ON INSTAGRAM TO BE FEATURED ON MY STORIES! @cookingwithcocktailrings