There is truly nothing like a good bagel sandwich. I will take a good bagel sandwich over going out to brunch any day! A good bagel can bring you back from the deepest depths of a hangover or just make you feel full and happy. The only problem is that being an East Coast-er living on the West Coast, no one around here really understands what makes a great bagel. Yes, I know what you are thinking – I am a bagel snob.
You are correct in that assessment. In my opinion a bagel should have a thin, crispy crust with a chewy flavorful inside and be dense (but not too dense.) There is nothing worse than a cakey bagel or one that is soft inside and out. Give me a plain bagel toasted with cream cheese and I'll be happy the rest of the day, but a bagel sandwich really turns it from a quick bite on the go to a complete meal.
Smoked Salmon Bagel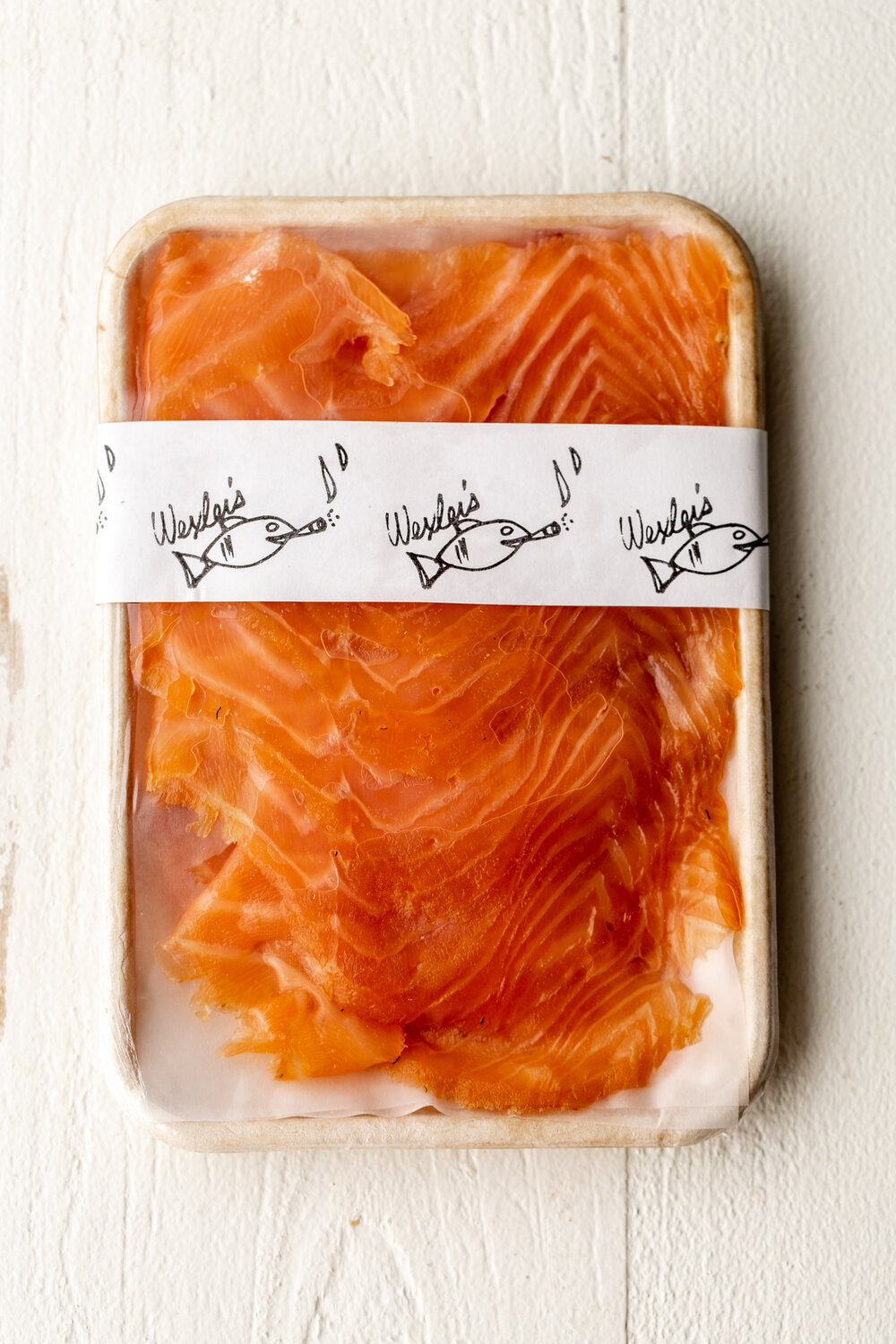 How should prepare my bagel sandwich?
I prefer to eat my bagels open-face. If I am eating them at home but if I need to take my breakfast on the go then closing the halves and cutting them in half is the way to go. It makes it much easier to eat that way – there's a reason why bagel shops will serve it that way!
What is served with a smoked salmon bagel sandwich?
Smoked salmon (the blanket term for any salmon treated with cold or hot smoke) should be served on a toasted bagel with cream cheese, briny capers, thinly sliced red onion. Other optional toppings I like to add include slices of English cucumber and fresh dill or marinated slices of tomatoes and chopped chives on occasion for different variations.
Key Ingredients in This Recipe
Salmon – Make sure to include plenty of smoked salmon. Not all cured/ smoked salmon is created equal! I prefer to splurge for in-house made smoked salmon or lox. It's definitely a higher price tag but it's worth it. It taste way better than what you can buy prepackaged at grocery stores. I love the pastrami smoked salmon from Russ & Daughters in NY or Wexler's Deli in Santa Monica, CA.
Bagel – Choose your favorite bagel as your base. I prefer everything bagels though plain or garlic pair well with smoked salmon as well. Fresh bagels are best, though they can be purchased ahead of time and sliced then stored frozen in resealable plastic bags. Toast until warmed through and golden brown then prepare your sandwich.
Cream cheese – I prefer regular cream cheese to whipped cream cheese (though the later can be easier to spread). Plain, scallion or herb cream cheese are my favorites to spread over the bagel.
Red onion – It's key to thinly slice red onion so the onion isn't overpowering. You can also soak the onions in water for a few minutes to dull the flavor slightly before use.
Capers – Briny capers pair well with the salmon. Look for water packed capers over salt packed.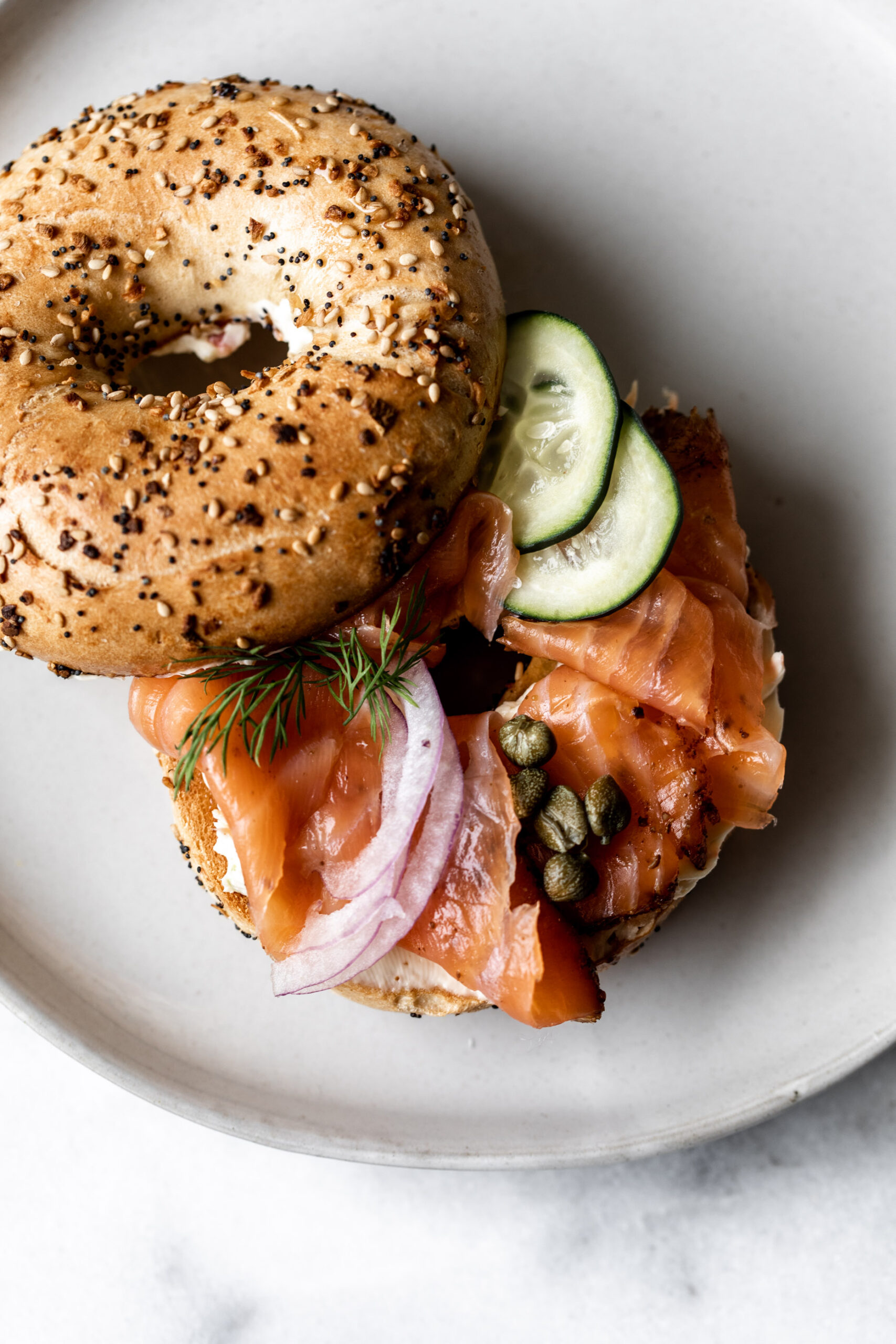 How are bagels made?
Bagels are made from a flour-based dough with yeast that is first boiled then baked with an assortment of toppings. Many believe the reason bagels are better on the East Coast has something to do with the water! I'm not sure if it's necessarily true but I do know that they are just better there!
While I am a bagel snob if you are looking for a good bagel in Los Angeles I really like the bagels from New York Bagel & Deli in Santa Monica. It reminds me of the small bagel shops back home in New Jersey. Find my list of New York Bagels here!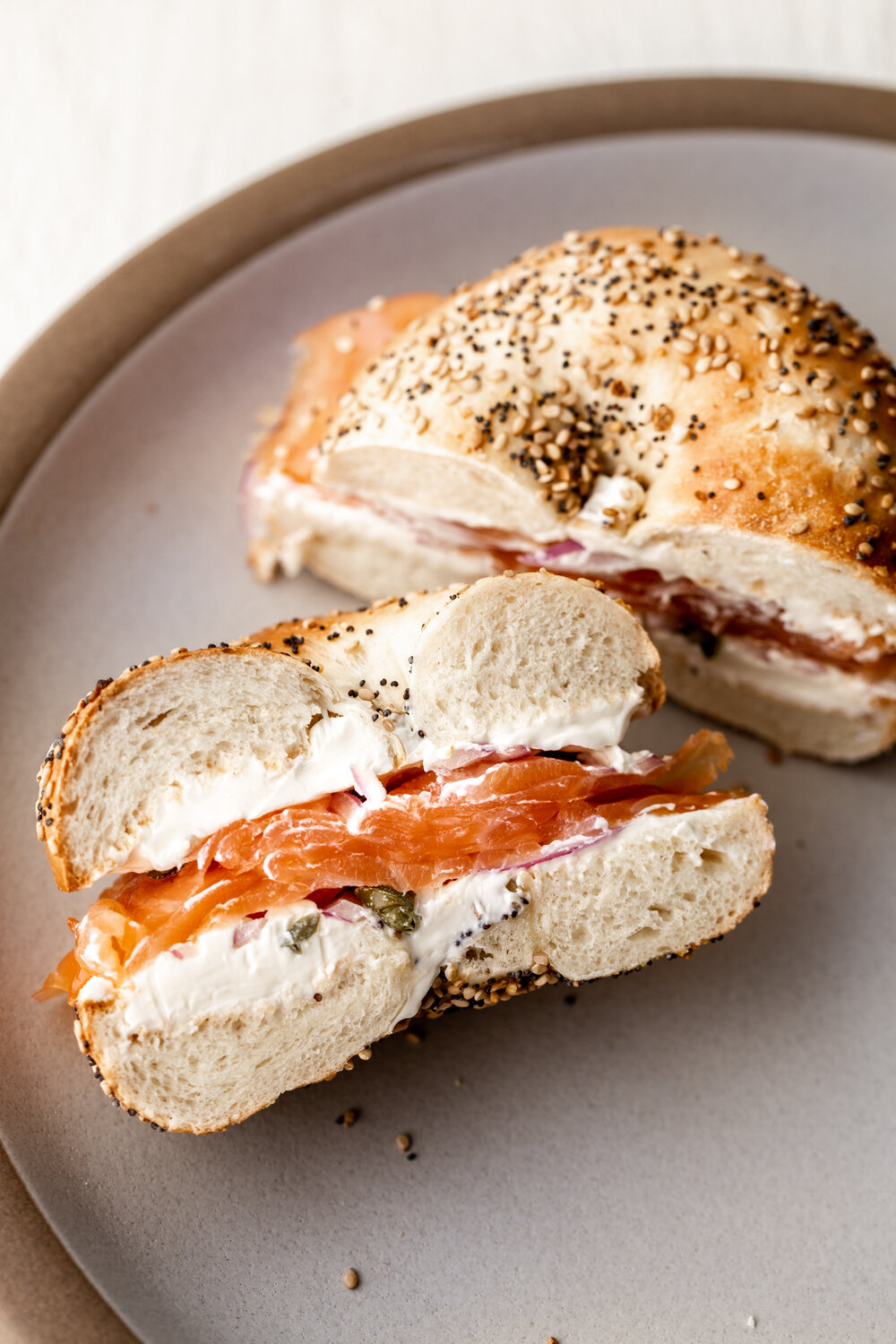 Other Recipes to Try
If you enjoy this smoked salmon bagel recipe, I recommend checking out some of these:
Classic Smoked Salmon Bagel Combo
Spread cream cheese evenly on the bottom half of the bagel then sprinkle the capers on top followed by a few slices of red onion. Next layer the smoked salmon on top of the cream cheese.

Squeeze lemon over the top (if using). Either serve the bagel open-faced or close the bagel then cut the sandwich in half to serve.
DID YOU MAKE THIS?
TAG ME ON INSTAGRAM TO BE FEATURED ON MY STORIES! @cookingwithcocktailrings