I talk about bagels a lot. Just ask my husband. I turn my nose up at west coast bagels, noting they are "too doughy", "too cakey" or "too hard". Just call me the goldilocks of bagels. It's something in the water – east coast bagels from New York and New Jersey are all-around better. For my wedding weekend back in June I even had my parents fly out bagels from home to California for my celebratory brunch the morning after the nuptials.
How to Host a Bagel Brunch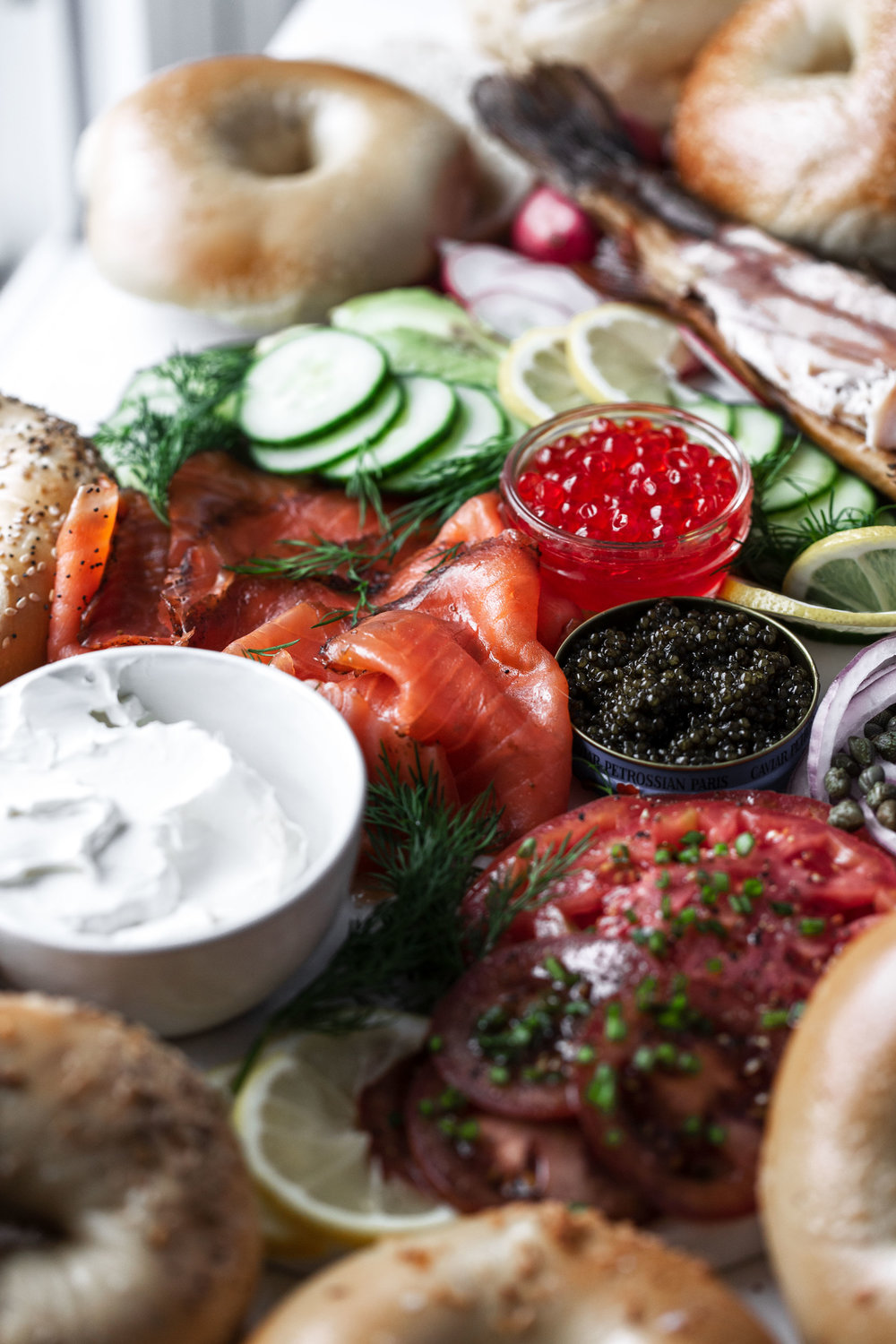 Why Trust my Bagel Advice?
I am from New Jersey, where anything you can possibly imagine can be served on a bagel. In my town and the immediate surrounding area there are no less than 15 different bagel shops and all of my friends and family can point out a single one that they chose to support over all the others. And in high school friends typically spent their time after school earning money working at either a pizza shop or bagel place.
A typical conversation at home in New Jersey is as follows: Mom while driving with a car full of people, as usual, casually asks, "Where do you want bagels from?" My younger brother immediately chimes in, "Budd Lake Bagel – they have the same bagel sandwiches we used to get in high school from the other place that closed". I respond, "No, no that's too far away let's just go get a dozen from Long Valley Bagel – I like the family that owns it." Pat, our friend, chimes in from the backseat, "No, you know I'm Chester Bagels all the way." I respond, "Ugh they are cash only, I'm not doing that." So many bagels, so many opinions and so many decisions.
If you're in New York, check out some of my favorite bagel recommendations here.
The Bagels
What should the perfect bagel be like? In my not so humble opinion it should be dense but not too dense, an imperfect circle (showing it was hand-made), golden brown on top with little bubbles on the surface.
A bagel is more than just a vehicle for its toppings; a bagel brunch is based around the bagels.
Tips for Buying Bagels
Buy the bagels the morning of and pre-slice them before setting them out alongside a toaster.
Choose an assortment and depending on how hungry and how many people are coming for breakfast.
I pick up a dozen for 10 people (I buy 2 extra bagels no matter what, there's no harm in having extra bagels). I buy mostly "everything" and plain bagels then throw in a few interesting and different flavors if people are feeling crazy.
When to Use What Bagel
Plain pairs with any topping and some people like to let the flavors of the toppings shine.Others are purists who prefer just a plain bagel with cream cheese (some days this is me).
Everything bagels make the best sandwiches, as the seasoning of poppy seeds, sesame seeds, garlic and onion enhances the flavors of whatever toppings you choose to add. Whether it's the vegetarian option of cream cheese with tomato, cucumber and avocado or an omega-3 laden smoked salmon topped with capers and red onion.

The Cream Cheese
A bagel without cream cheese is like walking around without underwear. Cream cheese should be layered on before you add the various fixtures. You wouldn't make a sandwich without spreading mayo or some other sauce on would you? (Please say no).
I like to serve the bagels with at least two options of cream cheese – always plain and vegetable, both crowd-pleasers, and then sometimes I toss in a third option to mix things up.
Proper Bagel in Nashville has some of the best cream cheese choices I've ever seen ranging from lavender honey and roasted garlic rosemary to birthday cake. I recommend something that will compliment the other savory items on the menu rather than something overly sweet even though it may seem fun.
The Protein
I take my bagel spreads just as seriously as I take my cheese and charcuterie boards. Typically I choose whitefish or a whitefish salad to contrast with the more flavorful lox.
My Favorite Lox
Every time I visit New York City I take a bagel tour around Manhattan along with many other necessary food stops. My all time favorite is Russ & Daughters; the original storefront opened in 1914 still stands on Houston Street right near the similarly iconic Katz's Deli. When the owner made his daughters equal partners in the business in 1935 it was the first business to have "& Daughters" in the name (the man had no sons). The business has continued to stay in the family. A visit to the shop takes time, first waiting for your number to be called, then waiting as each slice of smoked salmon is tenderly and thinly sliced and placed on butcher paper.
My absolute favorite is their pastrami-cured salmon in which thick cuts of Atlantic salmon are cold-smoked and cured with spices such as coriander, paprika, onion powder, garlic powder and mustard, powder giving the buttery salmon a flavorful, seasoned crust.
All About Lox
Bagels go with lox, that's just the way it is. Opt to spring for the good stuff; while it may be a little pricier, the flavor is worth the price tag. I prefer to pick up my lox (referring to any cold smoked salmon variety, not just traditional lox) from a deli or specialty store like Russ & Daughters. It's even possible to buy it online and fly it in nationwide using Goldbelly. I like to serve at least two different types of smoked fish.
How much should I allot per person?
1 pound of smoked fish will typically feed about 4 people (4 ounces per person, at minimum – about 2 slices per bagel half).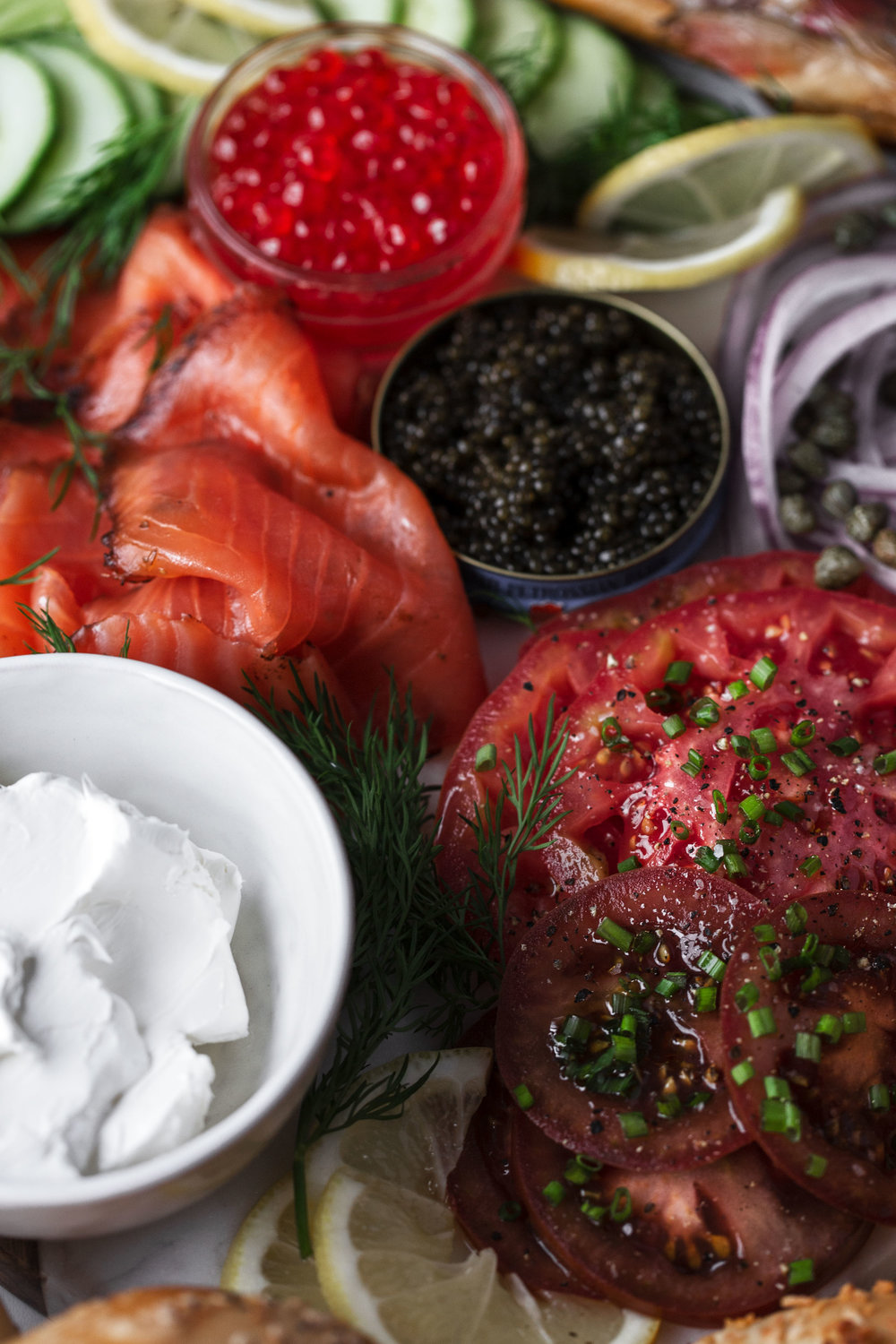 The Embellishments
Curious what to serve with a bagel brunch board? Serve the bagels and lox with a variety of accompaniments such as:
Dill
Capers
Sliced red onion
Avocado
Cucumber
Tomato
Lettuce, separated into leaves
Caviar or roe
Providing a combination of classic toppings and other veggies allows guests to be inventive with their breakfast.
On one of my many food tours around Manhattan I stopped by Sadelle's in SoHo for brunch. They serve bagel towers and any smoked fish of choice supplemented with cucumbers, dill, and marinated tomatoes.
Set out some caviar (the black ones) and trout roe (the bigger orange ones). This adds texture, a hint of salt, as well as add a luxurious note. Take the brunch to the next level!
Marinate Your Tomatoes!
I was inspired to dress up my tomatoes prior to serving. Serve them lightly drizzled with extra-virgin olive oil and kosher salt. This brings out the flavor of the tomato before its added to a breakfast sandwich.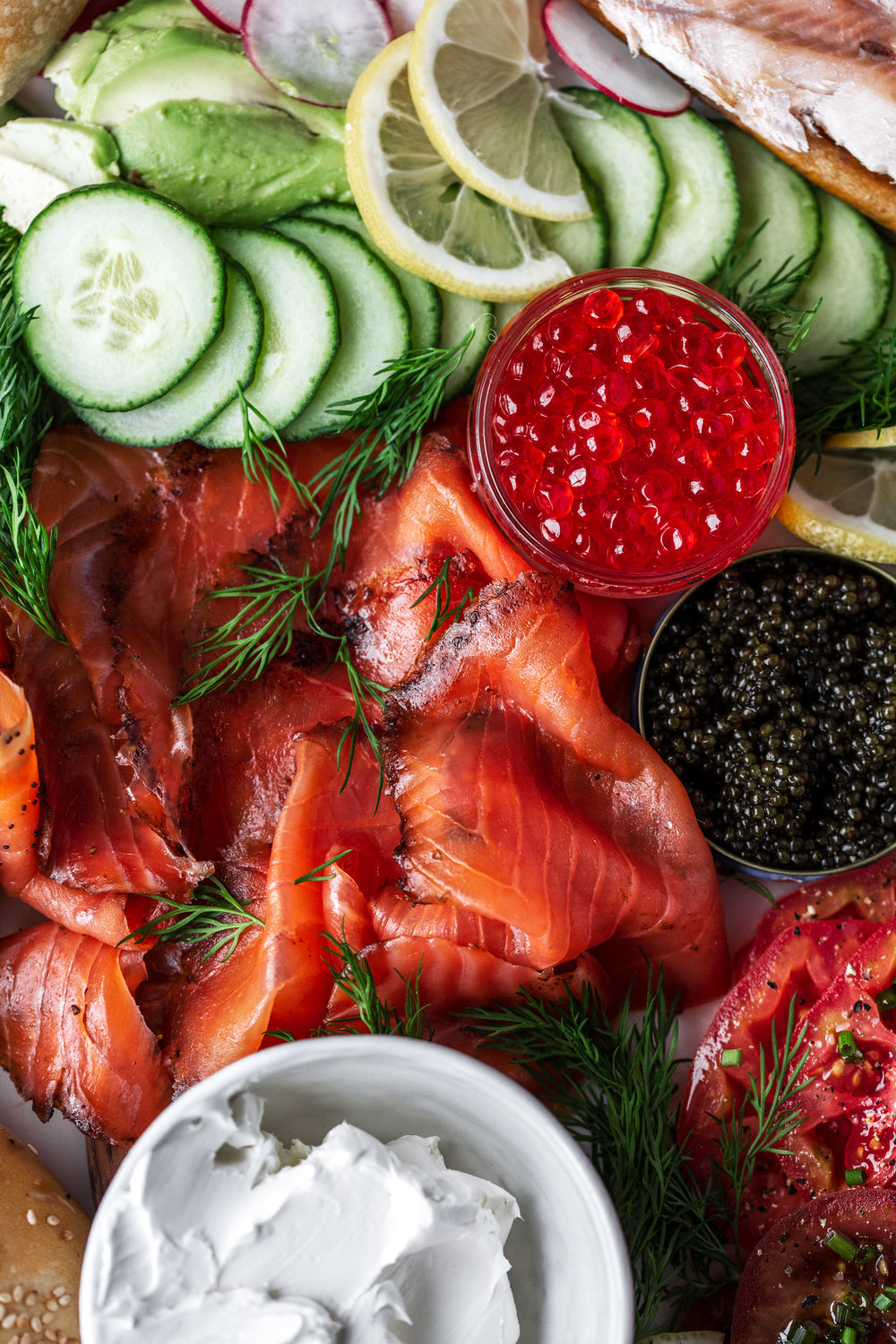 Some of my Favorite Bagel Combinations:
Everything bagel, toasted + a little butter + cream cheese + red onion + capers + smoked salmon
Plain bagel, toasted + veggie cream cheese + tomato + cucumber
Sesame bagel, toasted + cream cheese + whitefish + caviar
Everything bagel, toasted + cream cheese + salmon roe + smoked salmon + dill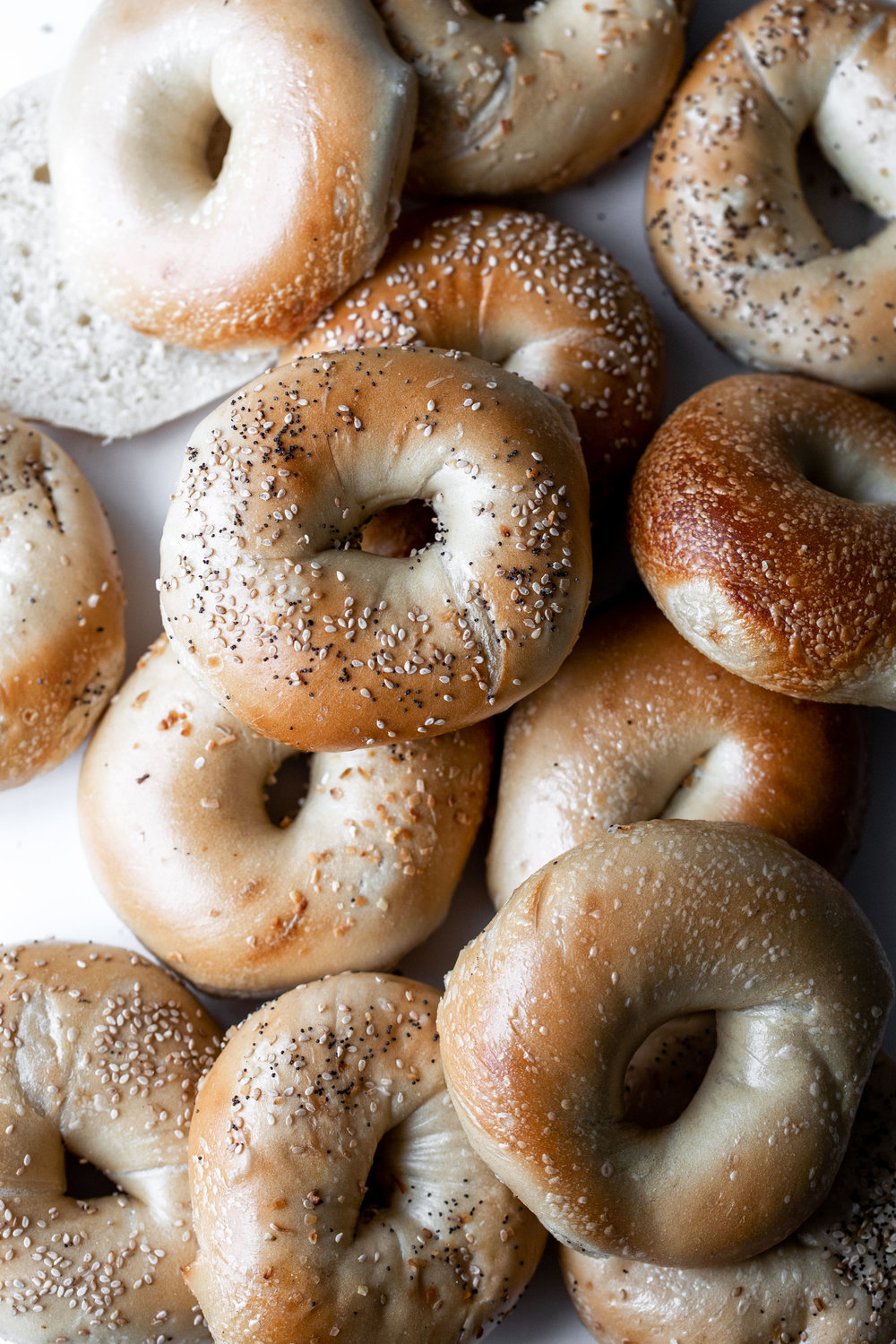 FAQ – Frequently Asked Questions
When should I buy the bagels?
The morning of is best! Bonus points if they're still warm.
How can I toast bagels at once?
While it's great to set out a toaster it can be time consuming with many people. I heat my oven to broil on high and broil the bagels on a baking sheet. Start by broiling them cut side down until golden brown. Flip them over and continue to broil until toasted. This mimics the toaster best.
How much lox or smoked fish should I allot per person?
1 pound of smoked fish will typically feed about 4 people (4 ounces per person, at minimum – about 2 slices per bagel half).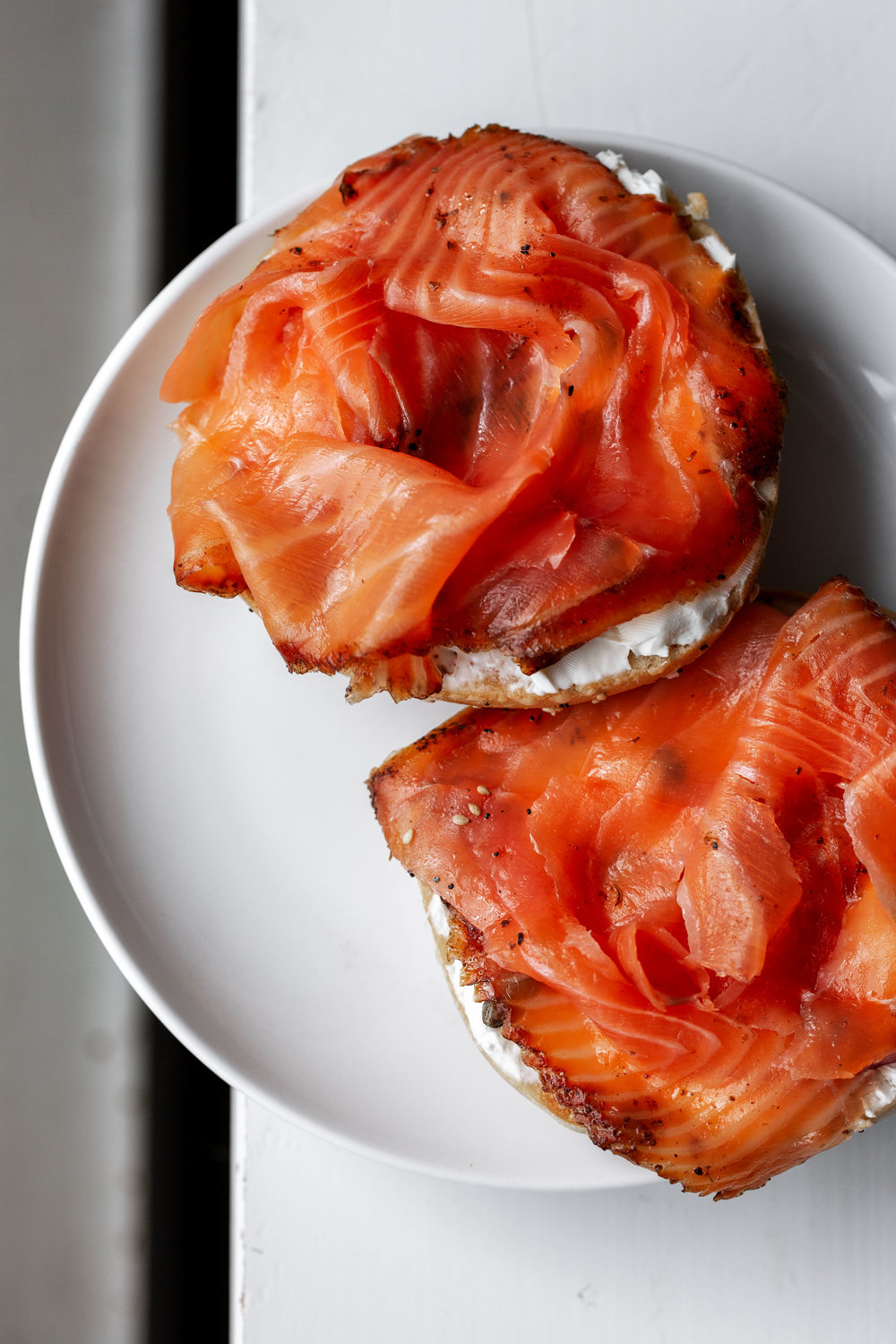 Other Recipes to Try
If you enjoy this recipe, I recommend checking out some of these:
Bagel Brunch
1

dozen assorted bagels

(plain, everything, sesame), halved

1

pound

smoked salmon

1

pound

smoked whitefish

or whitefish salad

1¾

ounces

sturgeon caviar

1¾

ounces

trout roe

6

tablespoons

room temperature unsalted butter

8

ounces

vegetable cream cheese

8

ounces

plain cream cheese

½

medium red onion,

thinly sliced

1

medium cucumber,

thinly sliced

1

large haas avocado,

pitted, peeled and sliced

2

medium beefsteak tomatoes,

sliced

Kosher salt,

as needed

1

tablespoon

extra-virgin olive oil,

2

tablespoons

oil-packed capers,

drained

1

lemon,

seeded and sliced

2

red radish

thinly sliced

¼

cup

fresh dill

2

tablespoons

chopped chives
Set bagels on large platter. Arrange the fish, caviar and roe on the board.

Add cream cheeses and butter to bowls and set on the side with knives for spreading.

Fill the board with the red onion, cucumber, avocado and tomatoes.

Drizzle the olive oil over the tomatoes and sprinkle with salt.

Arrange capers, lemon, radish, dill and chives on the board around the rest of the toppings.

Allow guests to assemble their own bagels.
DID YOU MAKE THIS?
TAG ME ON INSTAGRAM TO BE FEATURED ON MY STORIES! @cookingwithcocktailrings