This post is sponsored by ChowNow.
Los Angeles is a big city. For those who don't live here, it's deceiving; LA is really a county made up of smaller cities. It was the biggest shock to me when I moved here. Each city has its own charms and things to offer, but I spend most of my time in Santa Monica, where I live, and in nearby Venice; both of which are on the Westside of LA. I wanted to share some of my favorite things to do on this side of town.
I love to take full advantage of my weekends and the reliable 75-degree sunny weather. That usually means getting an early start and stopping by a yoga class. After working up a sweat on this particular day, I set out to meet up with some friends for breakfast.
Just as you would imagine, most of my favorite things in LA revolve around food. My friends and I used the ChowNow app. We used it to see what restaurants in the area would be the best for takeout. There are so many options on the app. They can even be sorted by map or list order for easy decision making. The menu is the same as ordering takeout directly from the restaurant.
Best Day on the Westside of Los Angeles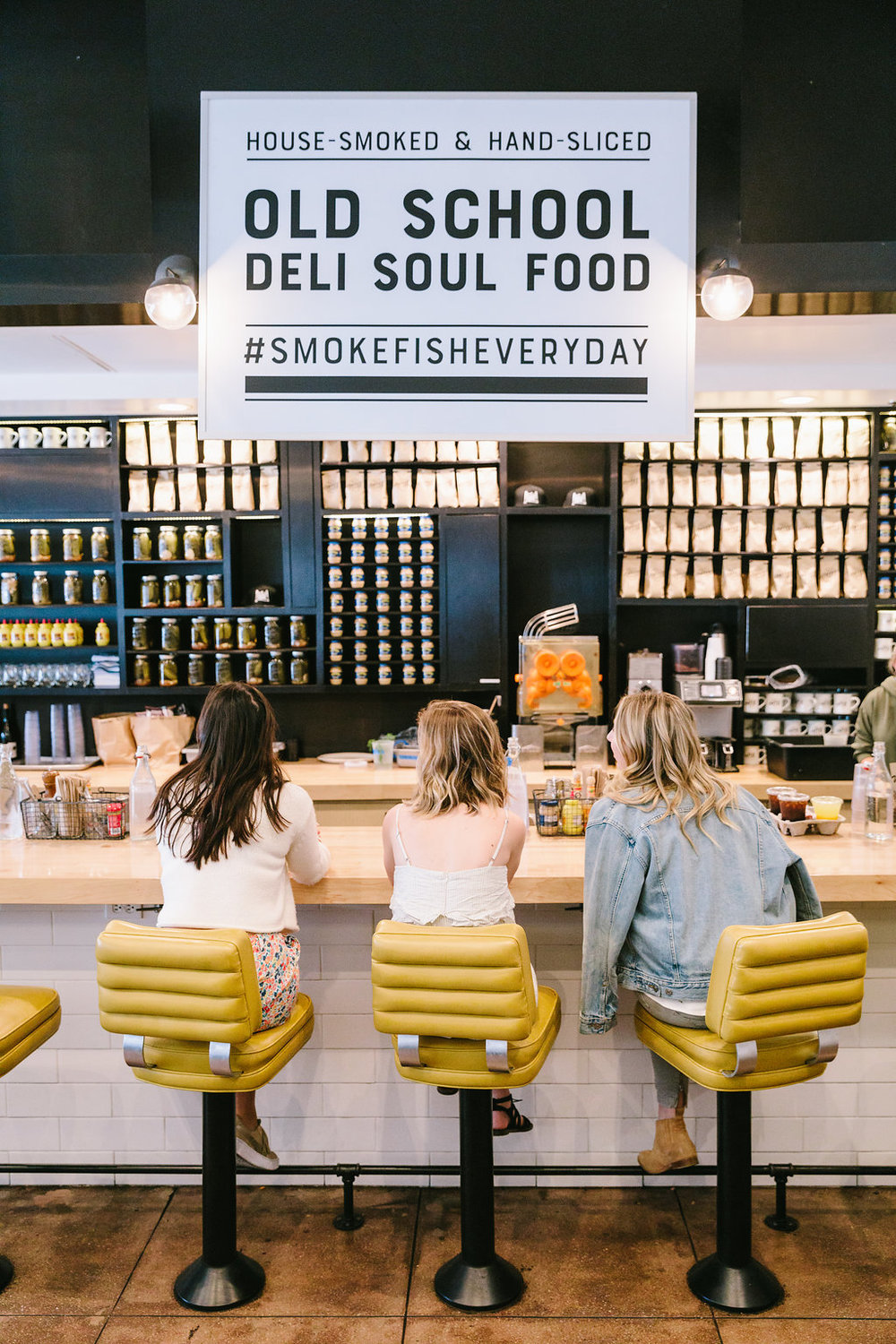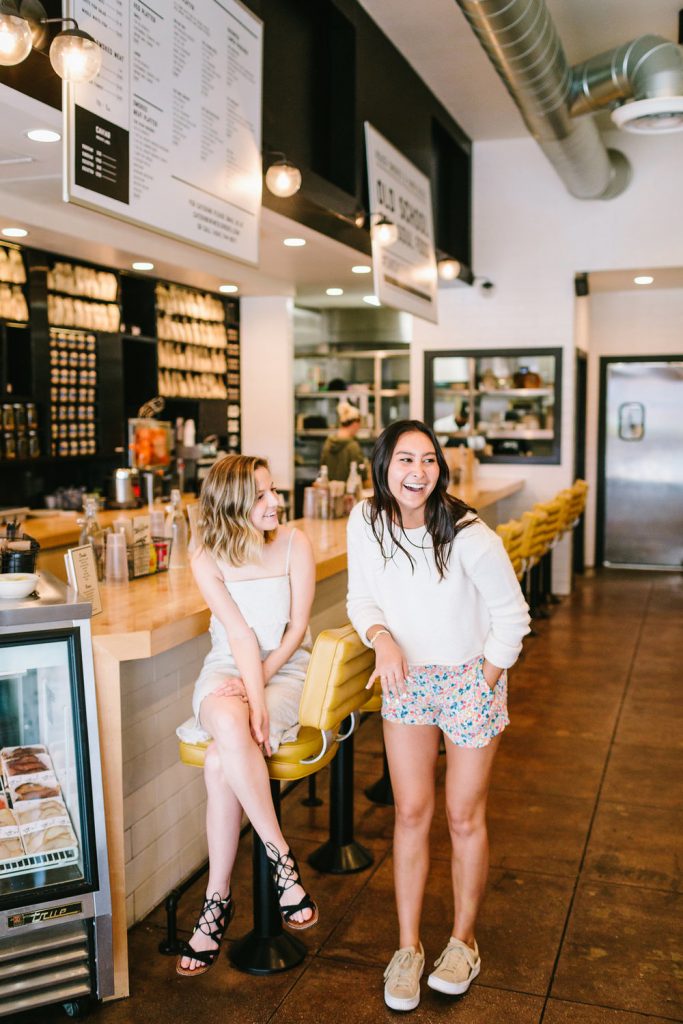 Wexler's Deli
Among so many of my favorite restaurants that ChowNow supports is Wexler's Deli. While the original Wexler's is downtown in Grand Central Market, their Santa Monica outpost is right by my apartment. It's a cool modern take on a classic Jewish deli, complete with Seinfeld references. It also happens to be my favorite hangover spot. Nothing cures a hangover like a toasted everything bagel with cream cheese, pastrami lox, onions and capers.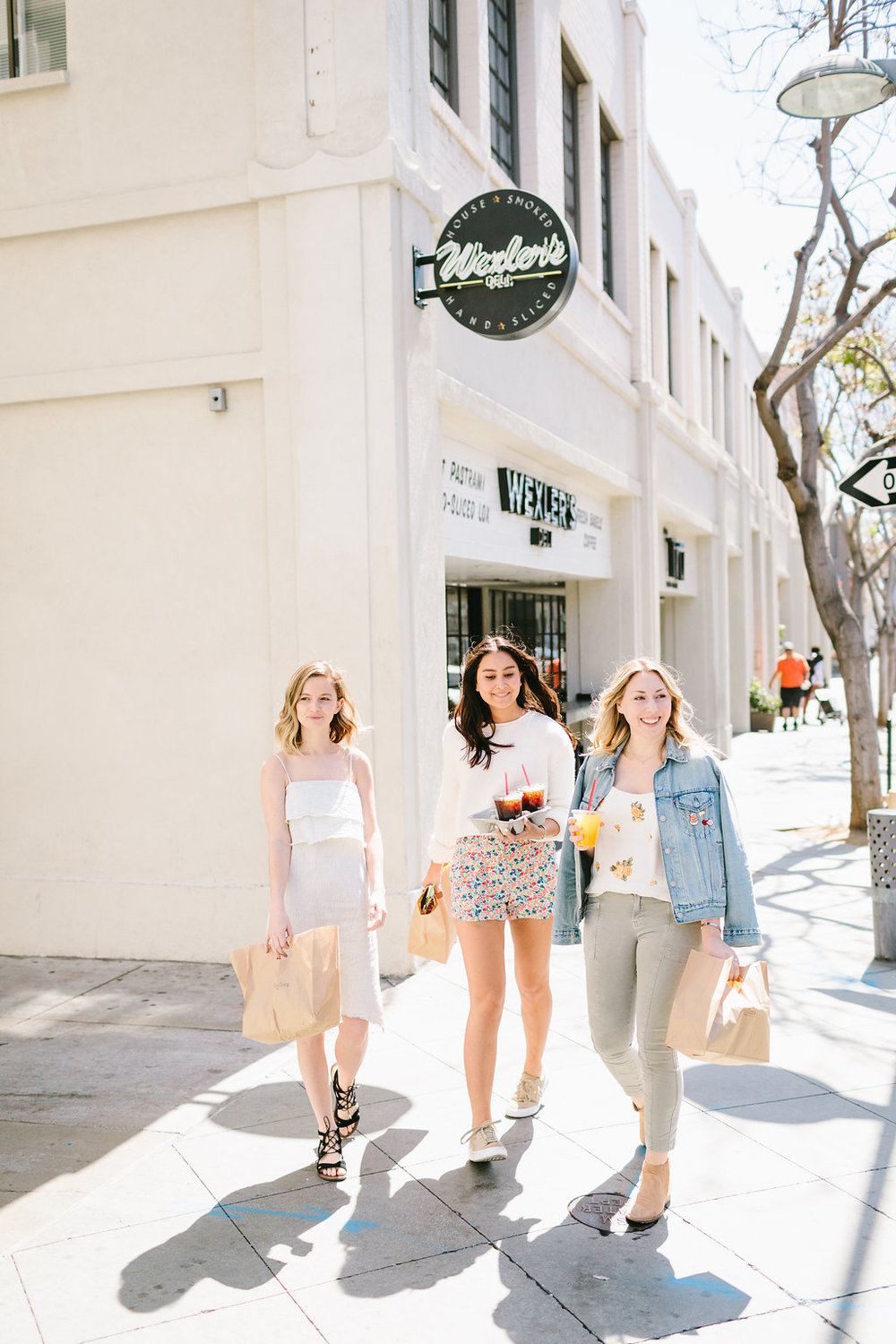 Since Wexler's is also a great spot to grab breakfast with friends it was our first stop on our "best day on the Westside".
In order to keep things easy I had everyone text me their sandwich choice so I could place the order ahead of time using the ChowNow app. That way we could pick the order up with no wait and head straight out for maximum beach time.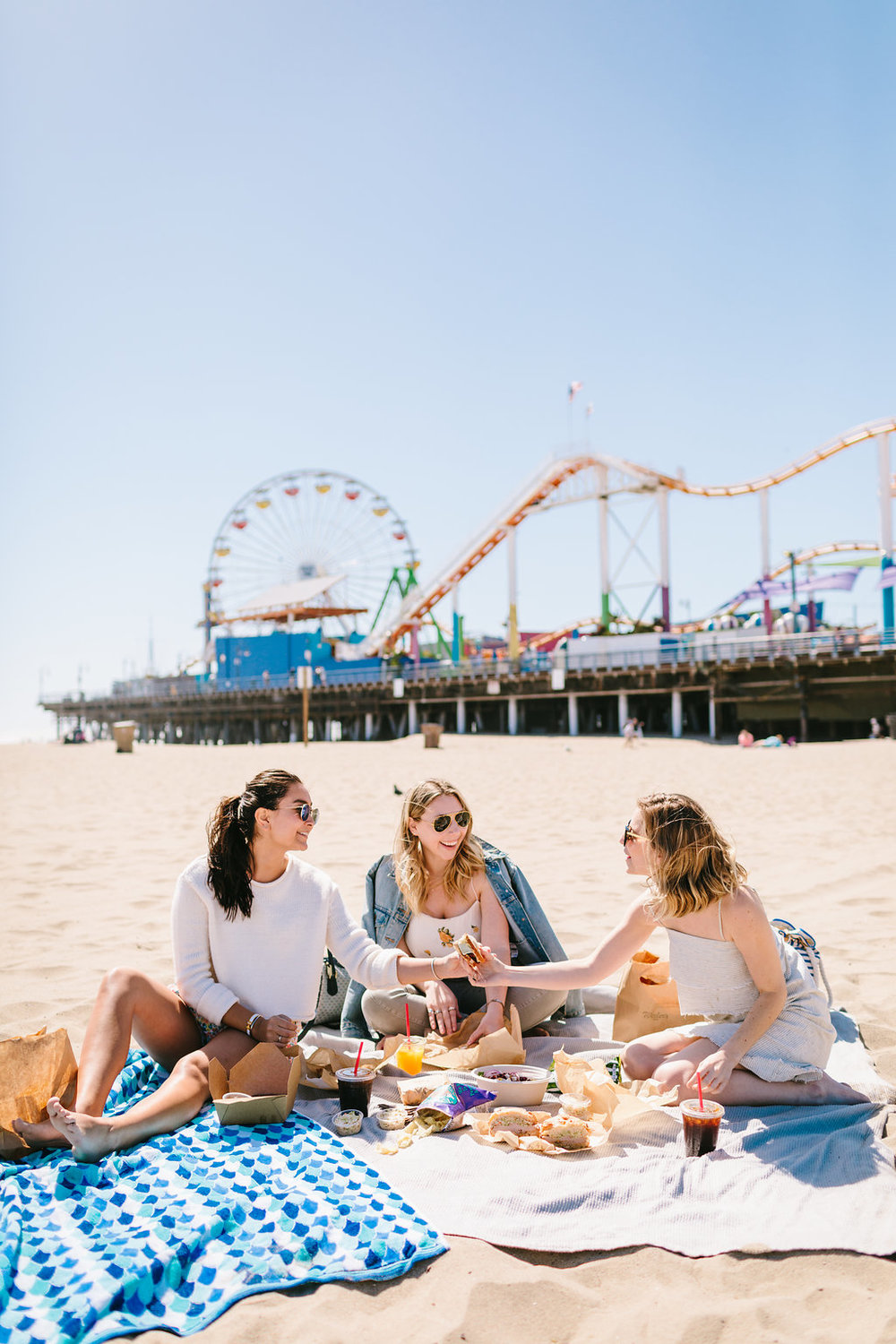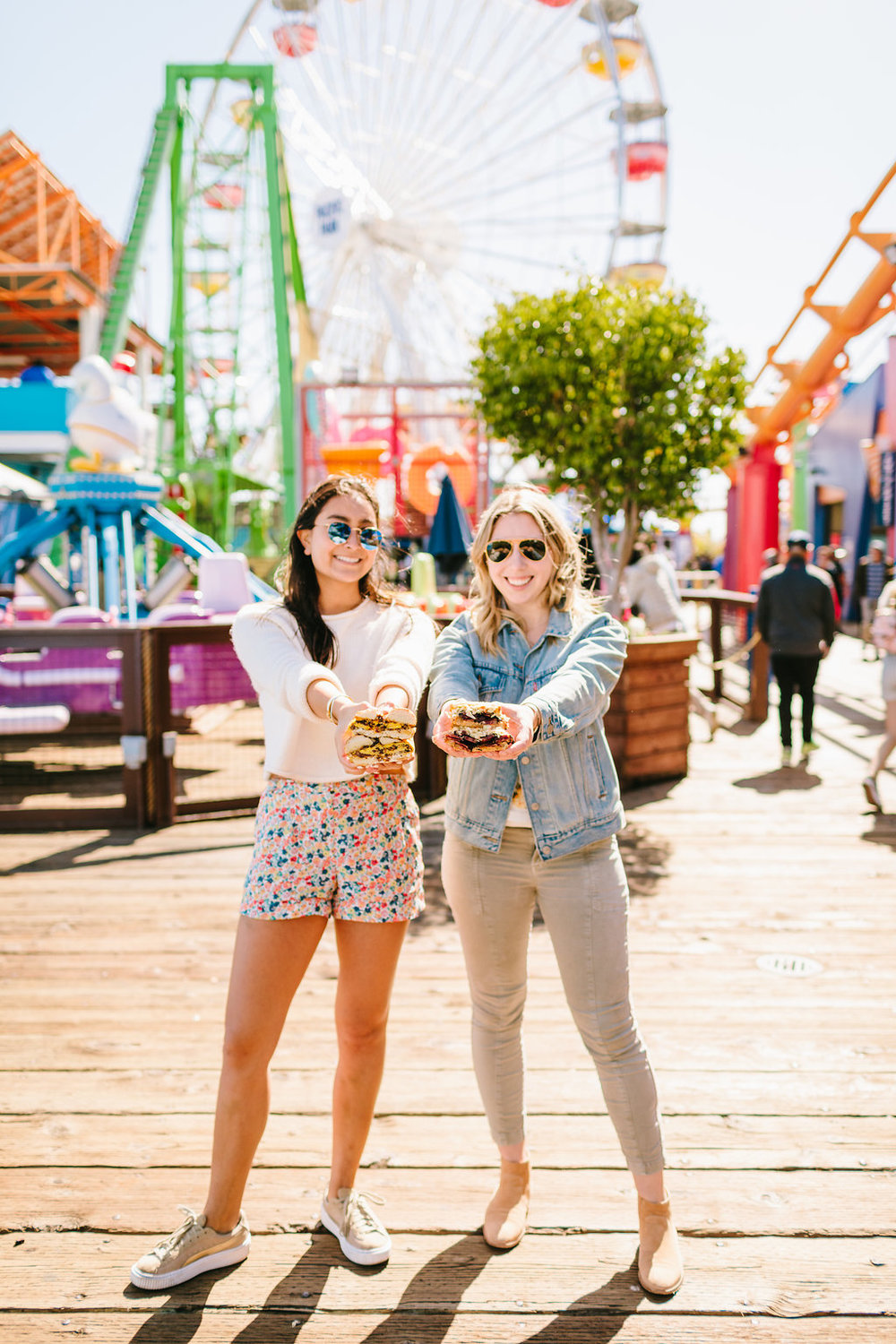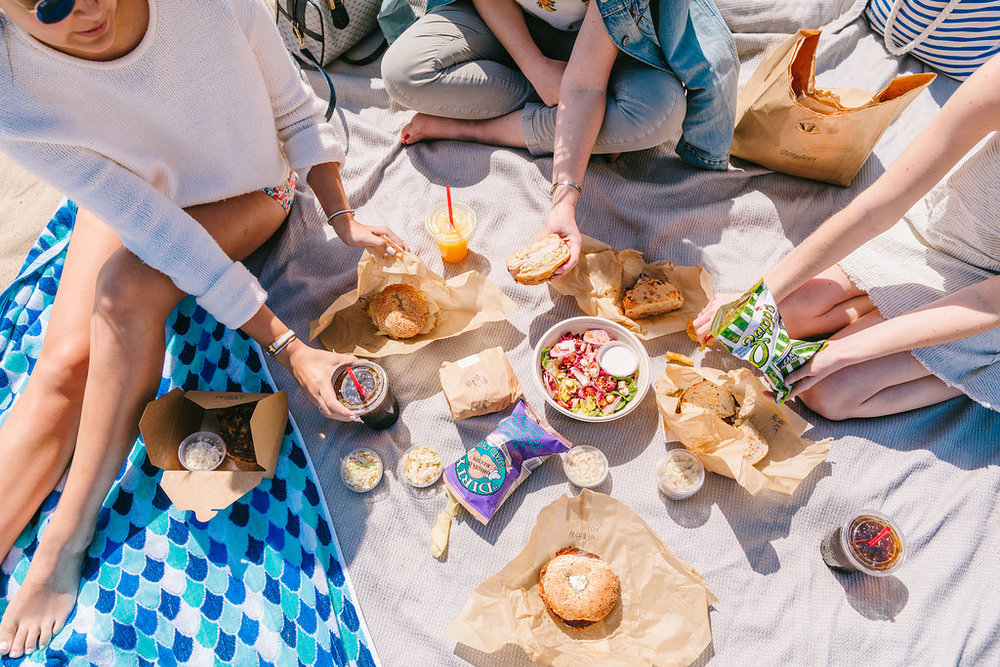 The best thing about being friends with other food bloggers and people who really enjoy food is that our group isn't opposed to ordering a bunch of dishes that can be shared between us so that we can try as many of the items on the menu as possible. Among our choices from the deli were the "big poppa" composed of pastrami, egg and cheese on an everything bagel, "the O.G." a pastrami sandwich on rye with mustard, the "L.A. bird" a turkey sandwich with Russian dressing and coleslaw on a Kaiser roll, a pastrami lox bagel, a smoked sturgeon bagel and "the big salad" with fresh veggies from the farmer's market because we collectively decided we needed some greens.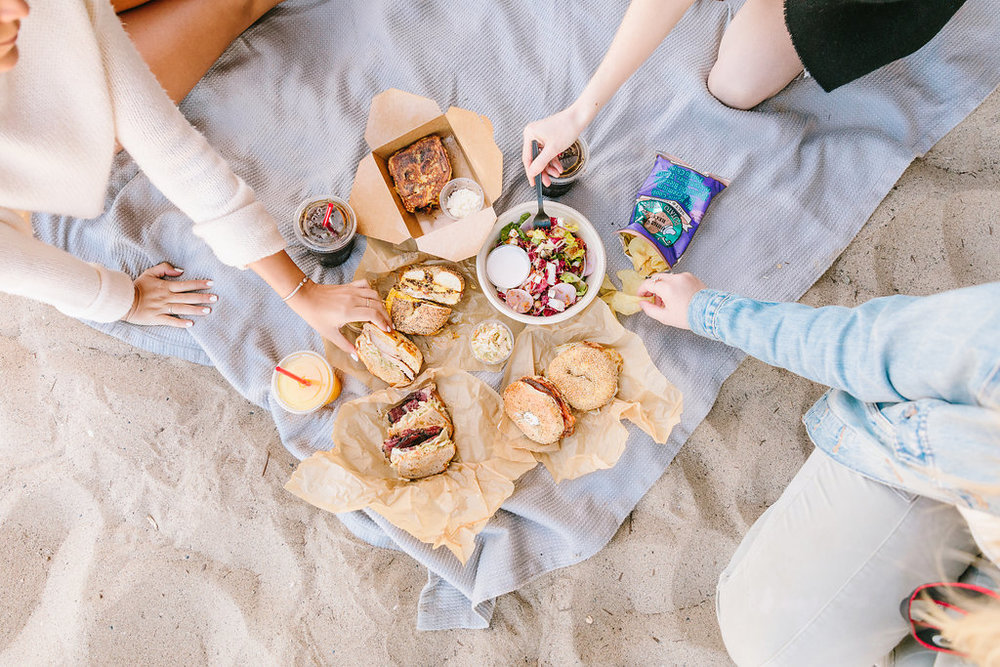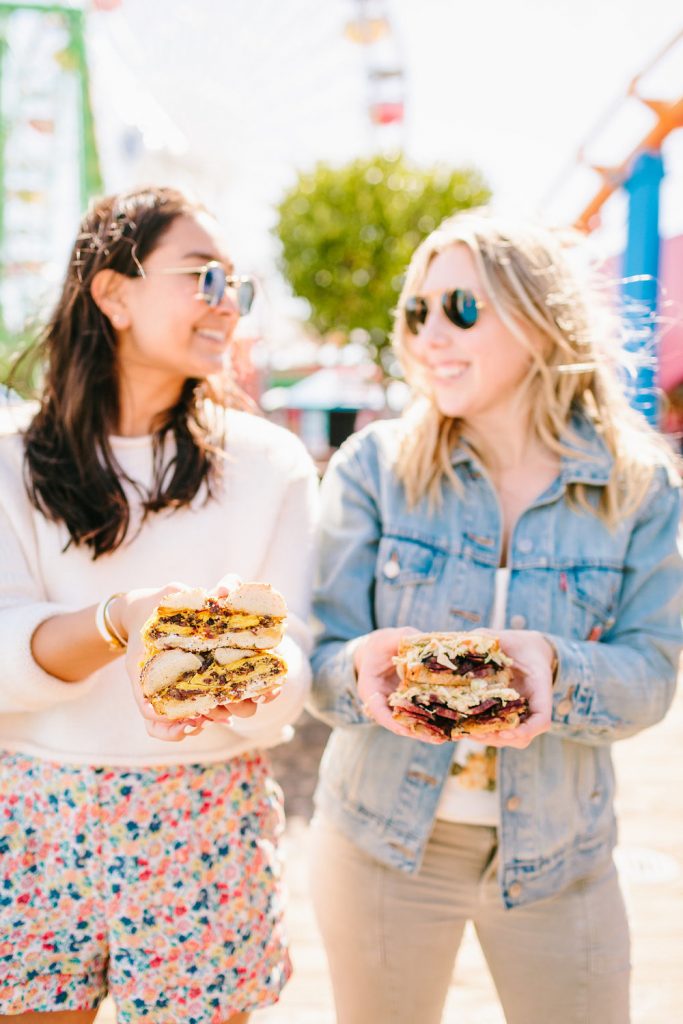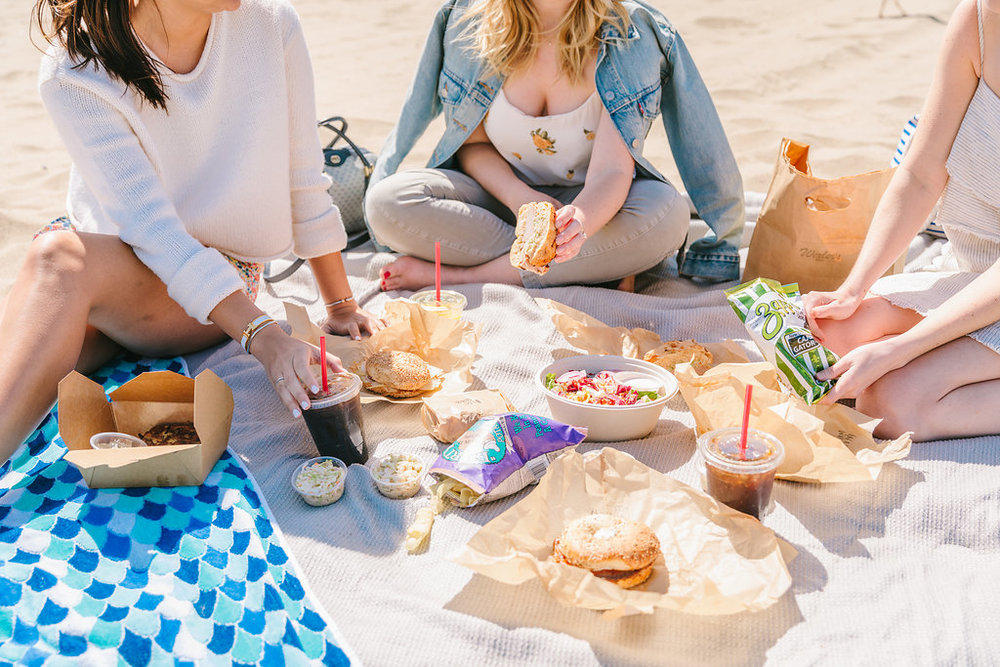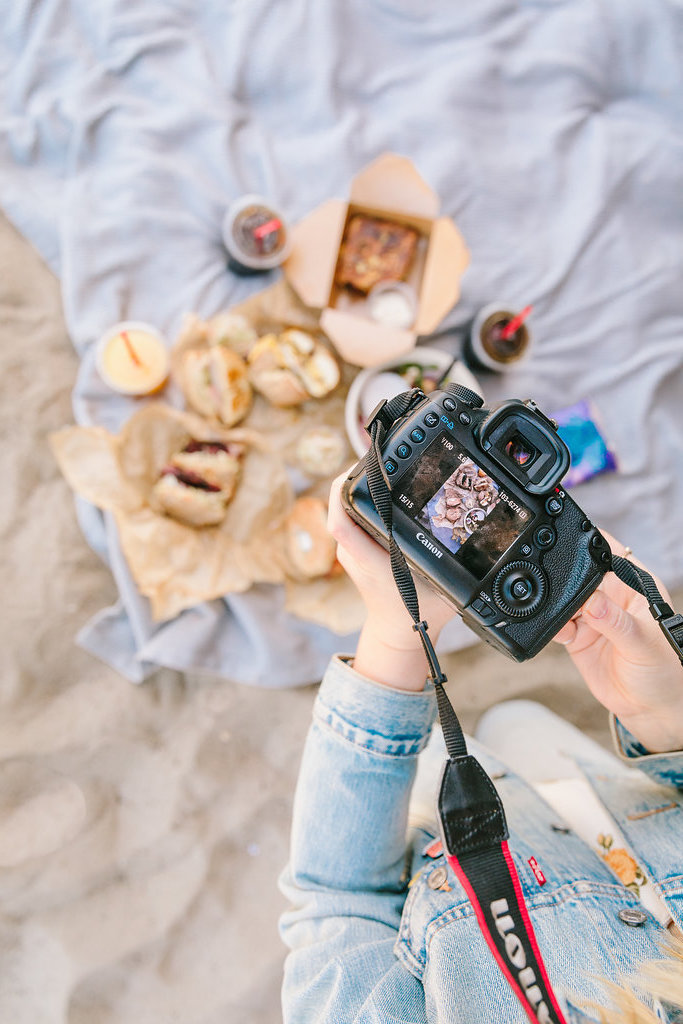 Leaving Wexler's, my friends and I took our food haul and headed to the beach.
Once we found an ideal spot to spread out our towels, we unpacked our provisions and had to ward off some seagulls trying to steal our food. My friend Sydney aka @whatcouldbebutter and I snapped some shots of the spread before we let everyone eat. In order to work off some of our breakfast we took a leisurely walk towards Venice.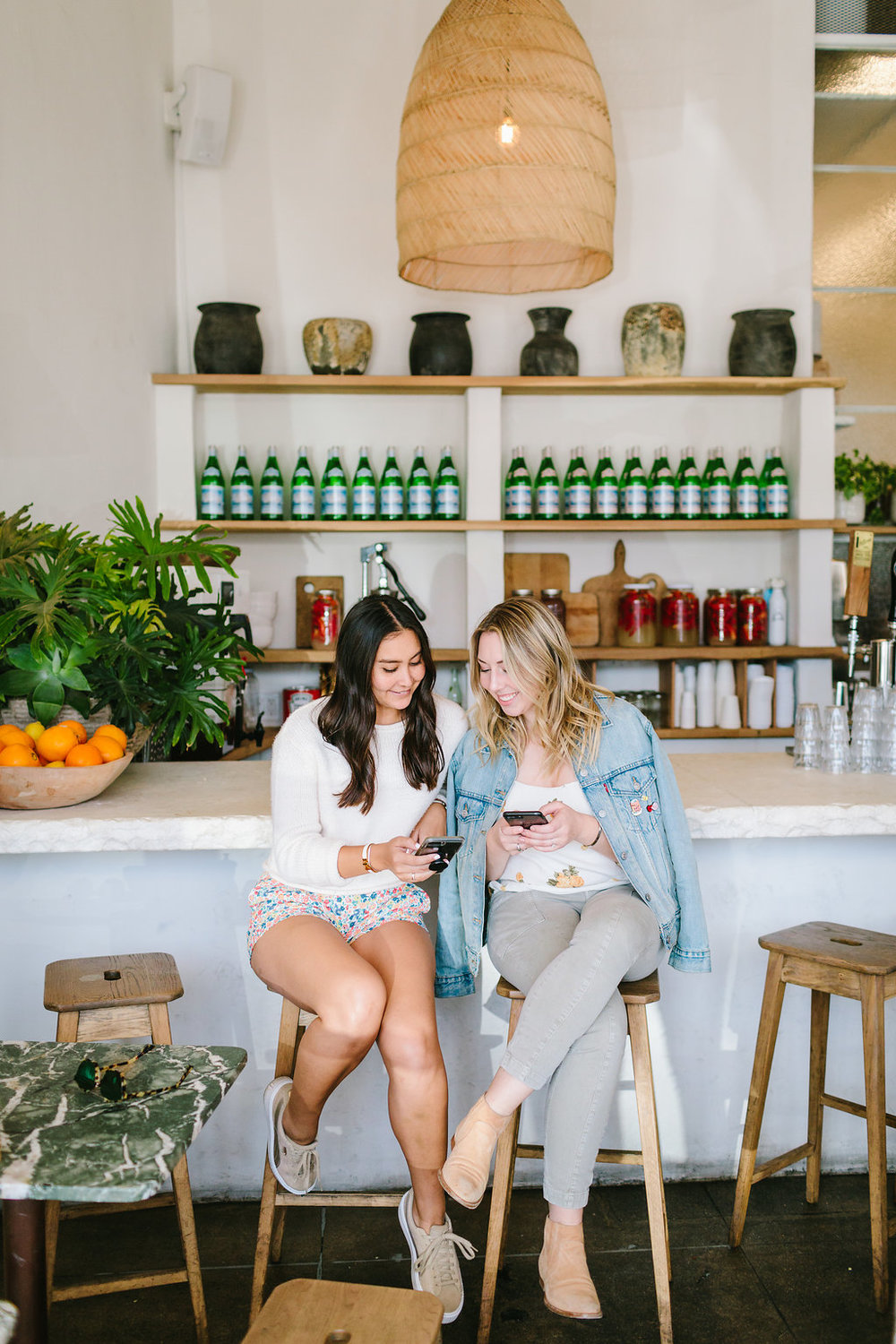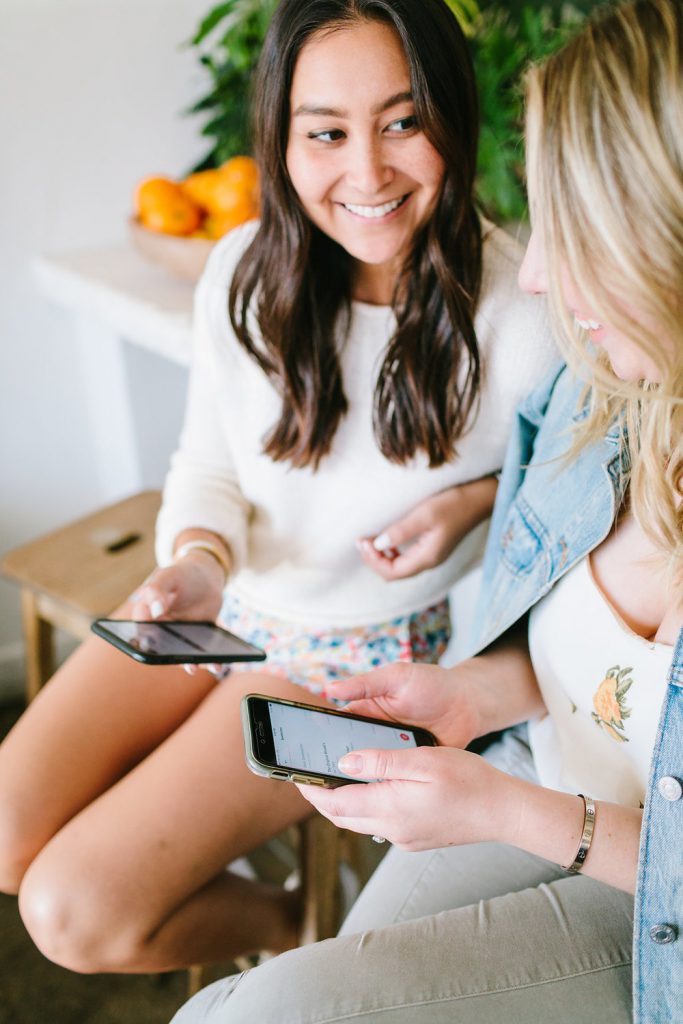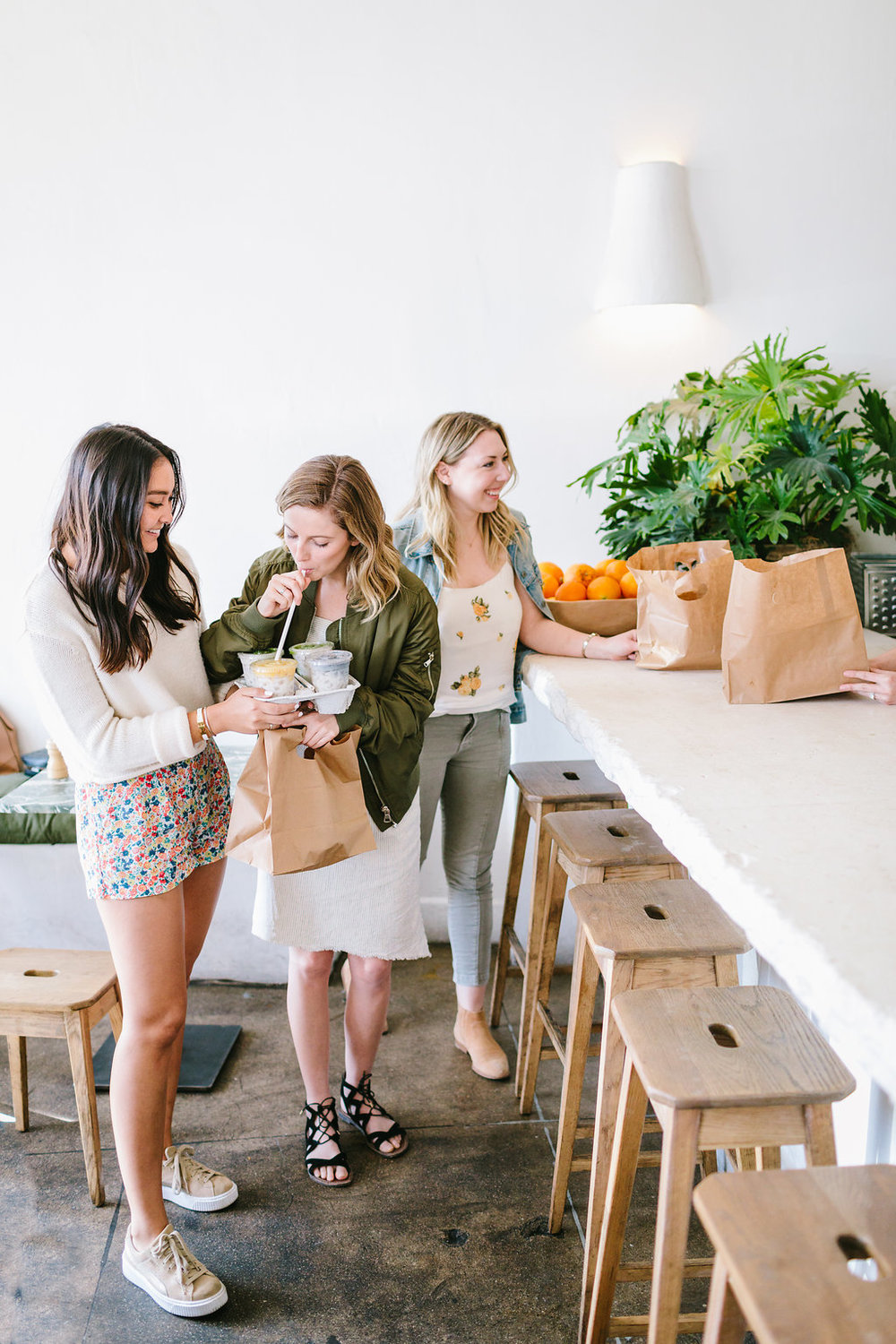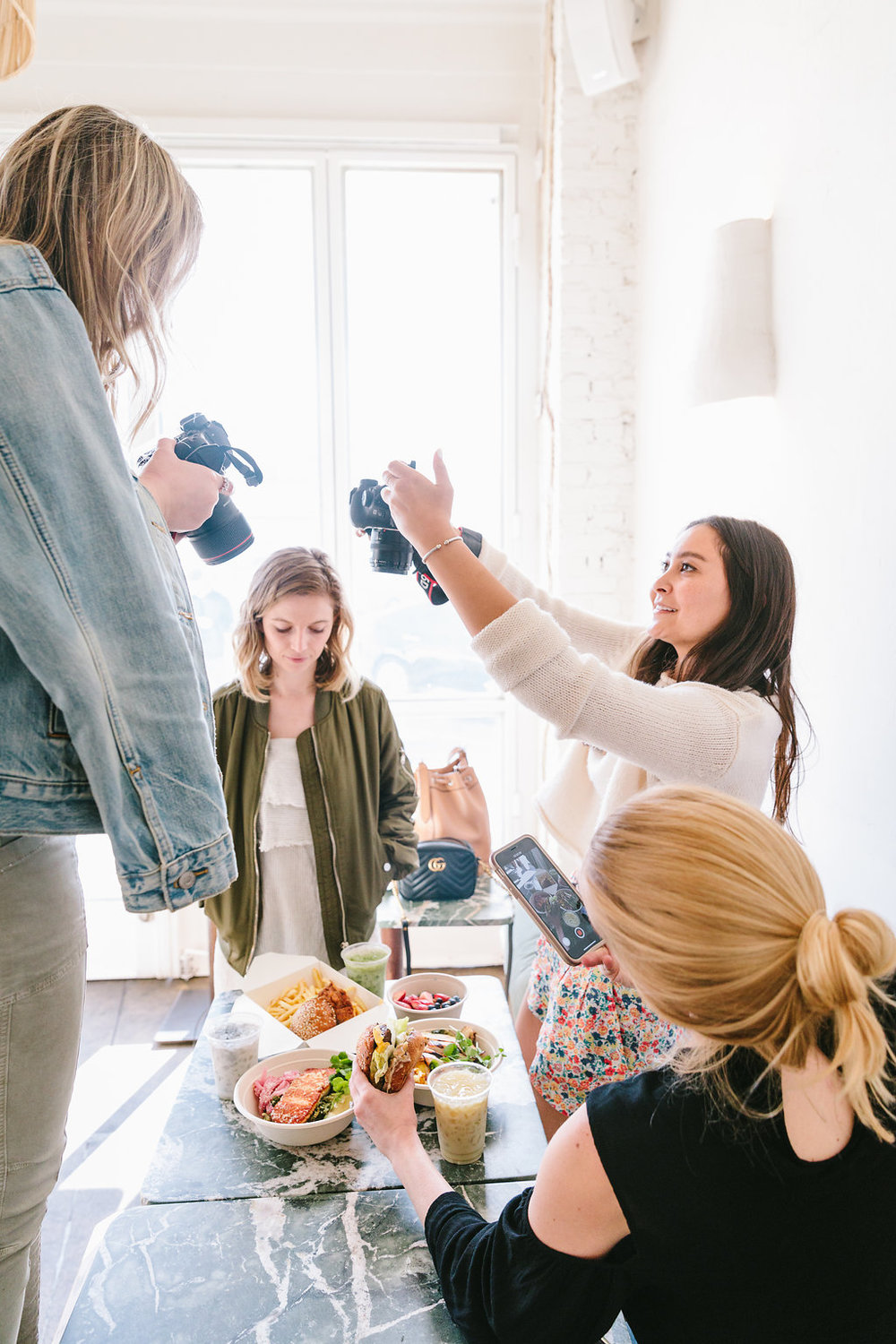 Great White
Great White is a fairly new spot in Venice, located just off the boardwalk serving an all-day menu of healthy-ish Australian fare (not to mention you can bank on seeing some very attractive people). We decided that it would make the perfect spot for lunch. While we walked, we ordered ahead using the ChowNow app. We scrolled through and decided what we wanted to order.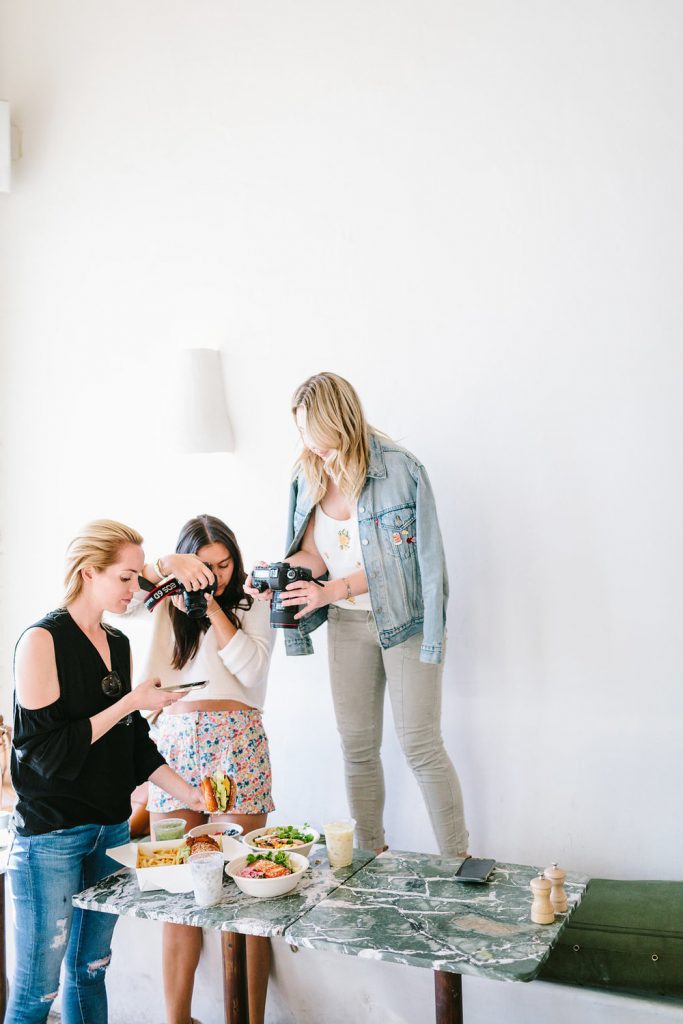 You have probably seen photos of Great White's pretty blue smoothie bowl made with blue algae, berries and granola plastered all over Instagram. While it's certainly delicious, they have some other great lunch plates as well, like my personal favorite, the green grain bowl with charred greens, quinoa, pesto, pickled onion and avocado topped with crispy perfectly cooked salmon. Another standout is the crispy chicken sandwich served with house made pickles and butter lettuce.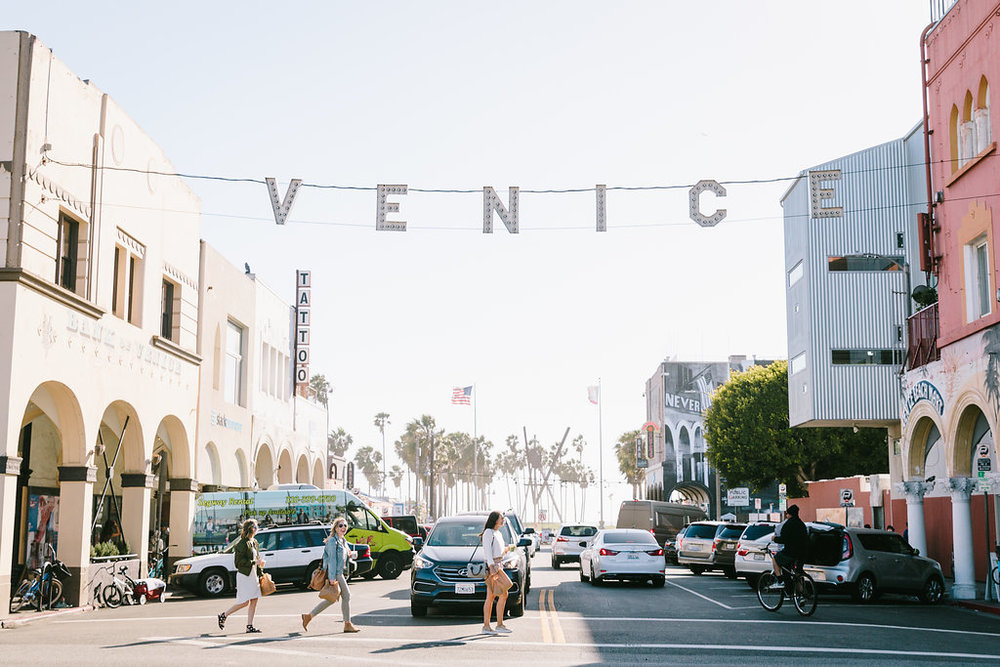 Venice
After snapping some photos (and causing a scene) in the restaurant, and, while our food was at its freshest, we walked across the street and under the famed "Venice" sign to the boardwalk. The Venice beach boardwalk is an eclectic area with no shortage of people watching while we ate and sipped our matcha lattes.
The new craze in city transportation is a company called Bird. It provides electric scooters distributed around cities and is activated with use of an app and QR code. This was my first time riding one. It was way more fun than I expected and definitely my new favorite way to speed around town – those things go fast! When you're done all you do it lock it using your app and aimlessly abandon it on the sidewalk.
We found a nest of birds (I'm told that's what it's called). We used them to get from the boardwalk to Abbot Kinney, my favorite street in Venice. This area in particular has changed a lot in the past few years. It is now lined with trendy, upscale shops and restaurants. I can never resist taking some time to stop in to shops like "Le Labo" to pick out perfumes or "Burro" to pick out artsy cards, cards that I end up hoarding because I don't want to give them up.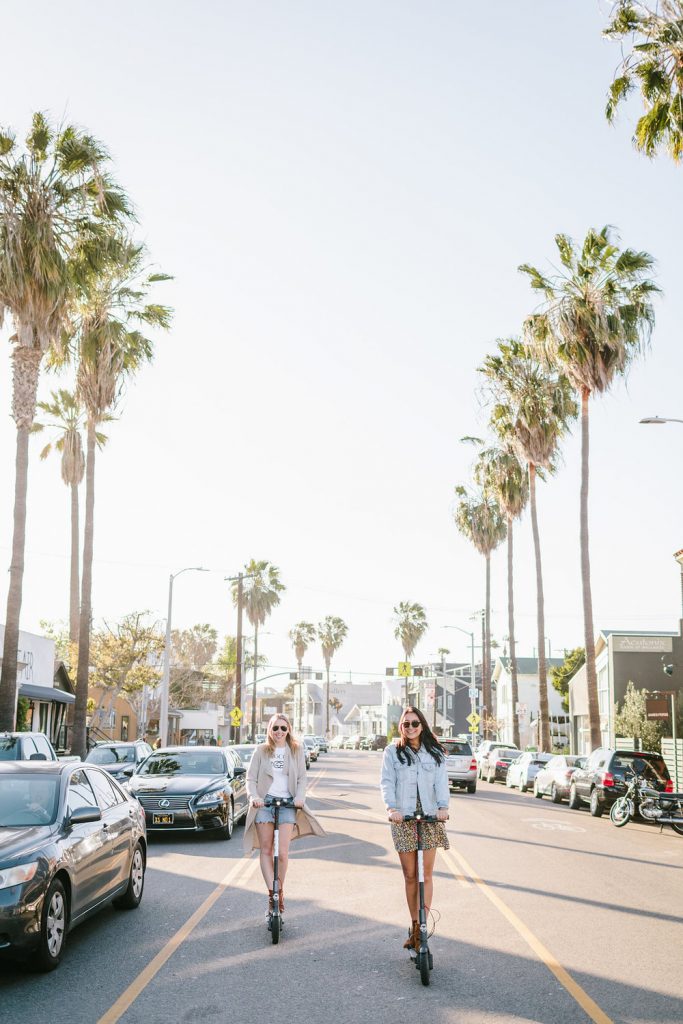 Zinque
The best way to end any day is happy hour. Do it with wine and tapas with a few of your closest friends. Zinque is an all-day coffee and wine bar. It's located on the cross-section of Abbot Kinney and Venice Boulevard and is also available on ChowNow. I like to support local restaurants in any way I can. ChowNow shares that ideal by currently being the only way to order food online. They don't take a large percentage of commissions from the restaurants that it works with. We found a small table on the patio to where we could the sunset. As the weather cooled down we clinked glasses to toast the end of an enjoyable day over a spread of burrata and prosciutto, flatbread with pancetta, Gruyère and onion, a tomato avocado tartine and smoked salmon tartine with crème fraiche, dill and hard-boiled egg.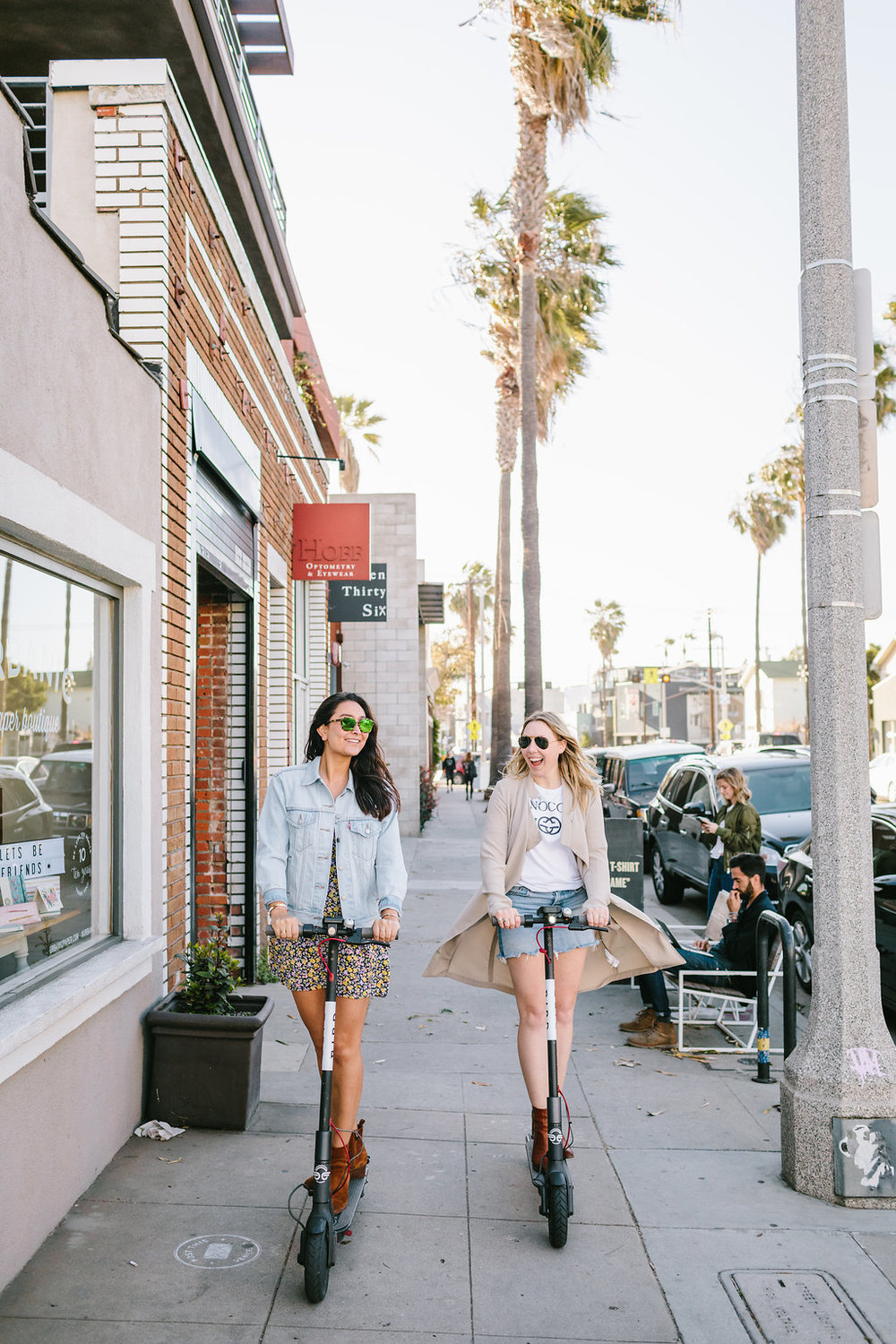 What a wonderful day. Take some California sunshine, add in great food and drink, a little lazy shopping and top it off with conversations with good friends. It doesn't get much better than this.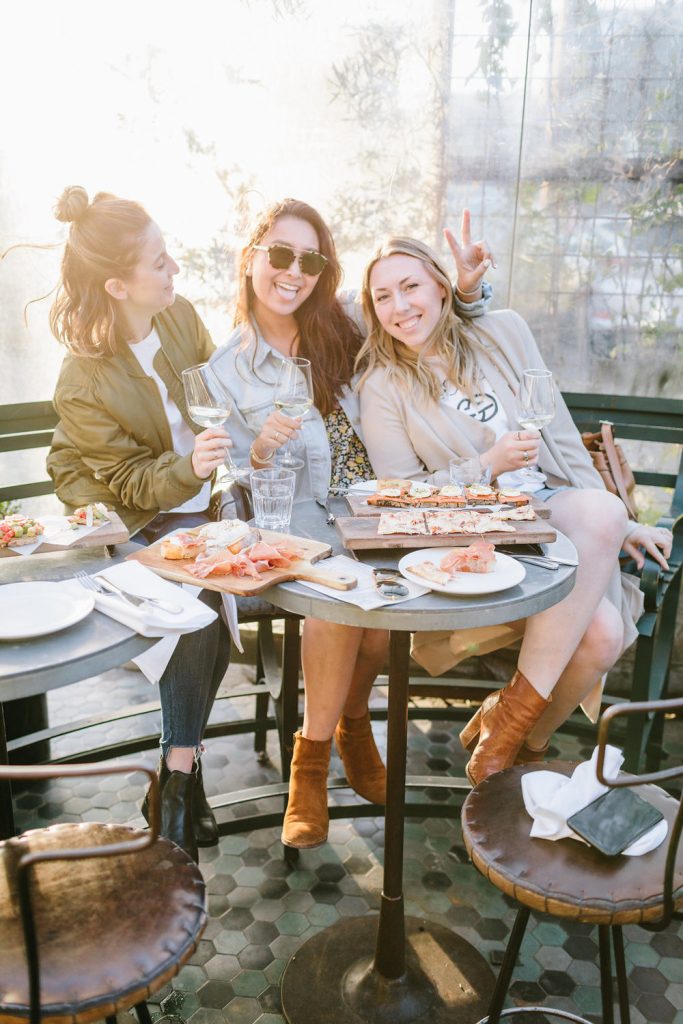 This post was created in partnership with ChowNow – all opinions expressed are my own.