BLT Bagel with Hatch Chili Cream Cheese
Hatch peppers are in season starting in August through the end of September and their short seasonality leads to high demand meaning that I have to take advantage of the availability of these coveted peppers while I can. Once the chilies are roasted using the method below, they can easily be vacuum-sealed and frozen for later use.
Hatch peppers/ chilies are similar to the Anaheim pepper and are harvested in the Hatch Valley in New Mexico. They are a great mix of slight heat and sweet flavors making them very versatile. These coveted peppers can be more on the mild side, hitting at about 1,000 on the Scoville scale (like a Anaheim or poblano) while some can be a little spicier and closer to a Jalapeño at (2,000 – 4,000) SHU.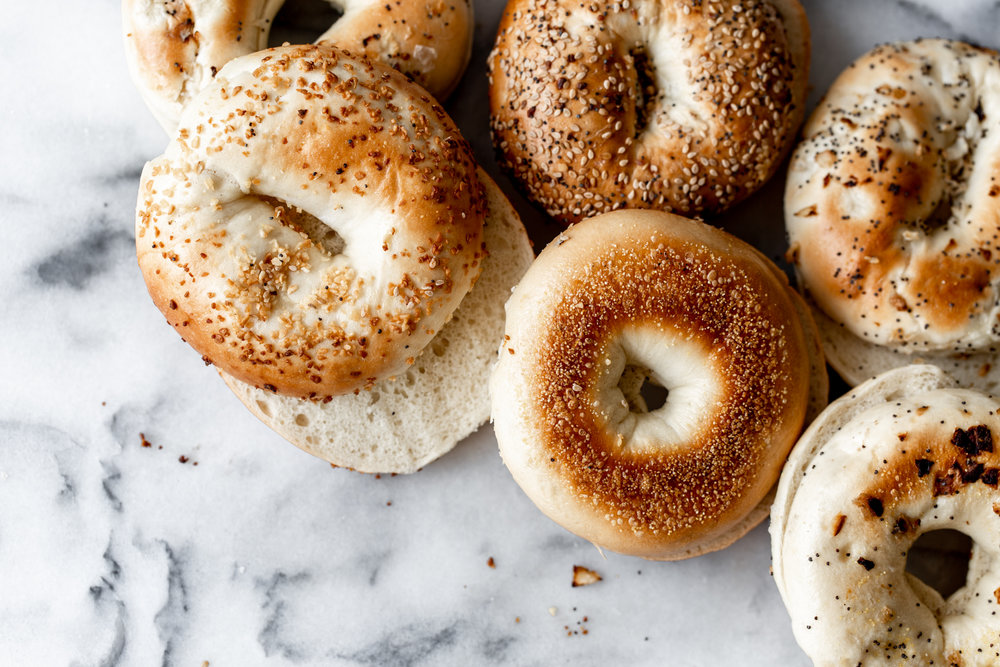 I prefer to bake my strips of bacon rather than cook them in a pan because they bake in much more even strips that are easy to arrange on sandwiches. Cooking the bacon this way also makes for easier cleanup – just wait for the fat to harden on the parchment paper-lined baking sheet and fold it up and toss it.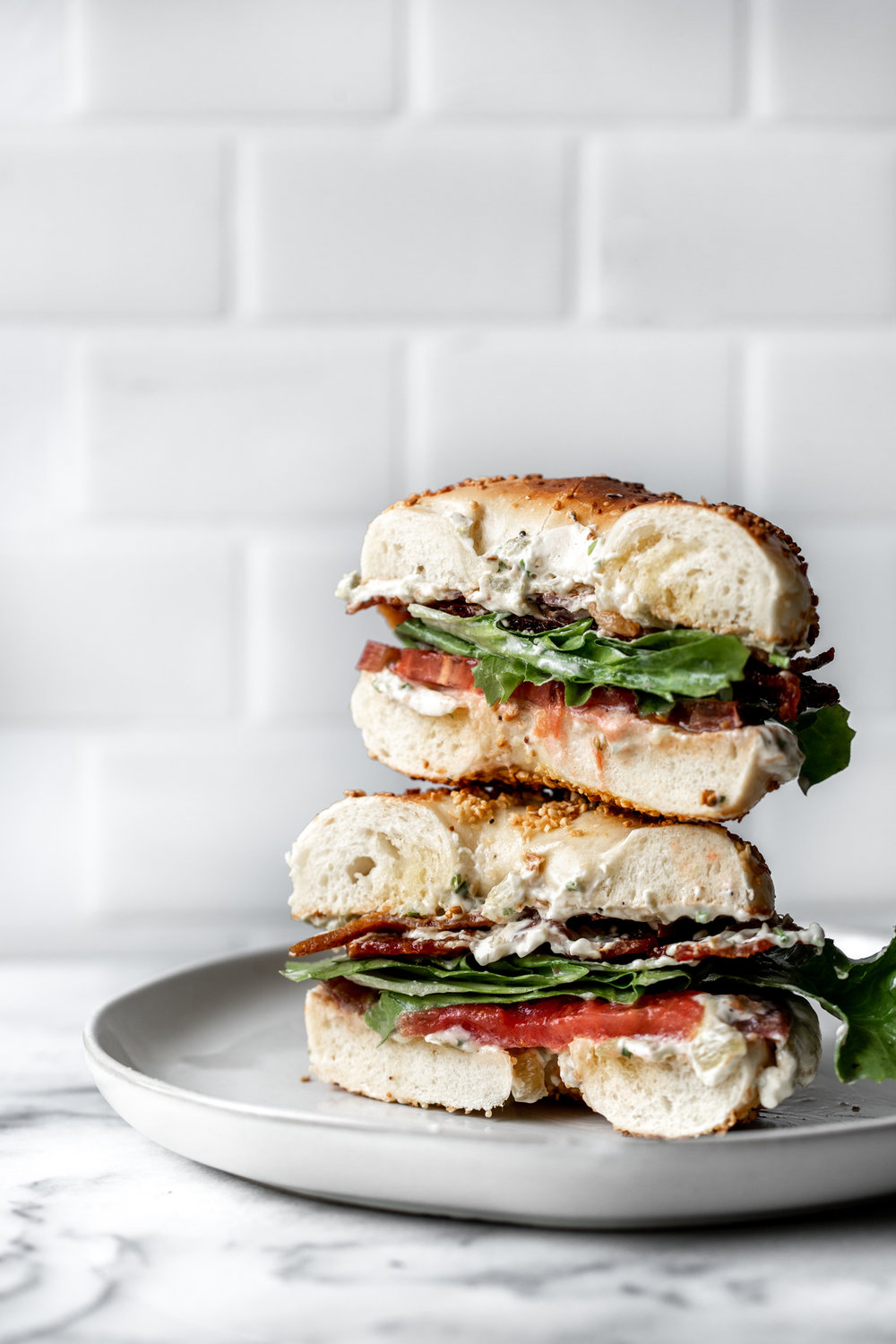 BLT Bagel with Hatch Chili Cream Cheese
For the hatch chili cream cheese:
3

medium Hatch peppers

1

8-ounce package cream cheese, at room temperature

2

tablespoons

chopped chives

¼

teaspoon

freshly ground black pepper
For assembly:
¾

pound

thick-cut Applewood smoked bacon

1

large heirloom tomato,

thinly sliced

1

tablespoon

extra-virgin olive oil

Kosher salt,

as needed

4

bagels of choice,

sliced in half lengthwise (I use garlic or onion bagels)

8

pieces

green leaf lettuce
For the hatch chili cream cheese:
Heat broiler on high and position a rack about 6 inches below the broiler. Arrange hatch chilies on a baking sheet and broil, turning occasionally until charred and blistered all over, for about 3 to 5 minutes on each side. Transfer the charred chilies to a large plastic or paper bag and let stand for 10 to 15 minutes to steam the chilies.

Use your hands to peel the charred skin away from the chilies and remove the seeds with a sharp knife and discard. Finely chop the chilies and pat dry to remove some of the moisture.

Add the cream cheese to the bowl of a stand mixer fitted with the paddle attachment and beat the cream cheese on medium speed for a minute, scraping down the sides of the bowl as needed. Add 1/3 cup of the diced chilies, the chives and pepper and continue to beat until completely incorporated. Add to an airtight container and refrigerate for at least an hour or until ready to use.
For assembly:
Heat oven to 400ºF. Arrange strips of bacon in a single layer on a parchment paper-lined baking sheet. Bake until the bacon is crispy and golden brown, about 15 minutes. Remove to a paper towel-lined plate to drain.

Arrange the sliced tomato on a plate and drizzle with olive oil and sprinkle with salt. Let sit for about 5 to 10 minutes.

Toast the bagels in a toaster or under a broiler on high until golden brown. Spread the Hatch chili cream cheese on both halves and top bottom half with a slice of tomato, pieces of bacon and leaves of lettuce then close the sandwich. Cut in half and serve immediately.
DID YOU MAKE THIS?
TAG ME ON INSTAGRAM TO BE FEATURED ON MY STORIES! @cookingwithcocktailrings