Blueberry-Cured Salmon Gravlax
For this recipe I use Copper River sockeye salmon, coming from Alaska's 290-mile long Copper River – which boasts some of the best wild salmon in the world. While it can be substituted for another type of salmon, I love the deep red color (so bright it reminds me of Swedish Fish) and the outstanding flavor of the Copper River sockeye.
The Copper River sockeye salmon season lasts from May through August so be sure to jump on it when you see the coveted fish (it's like the Tesla of salmon) in stores, as they are well worth the price.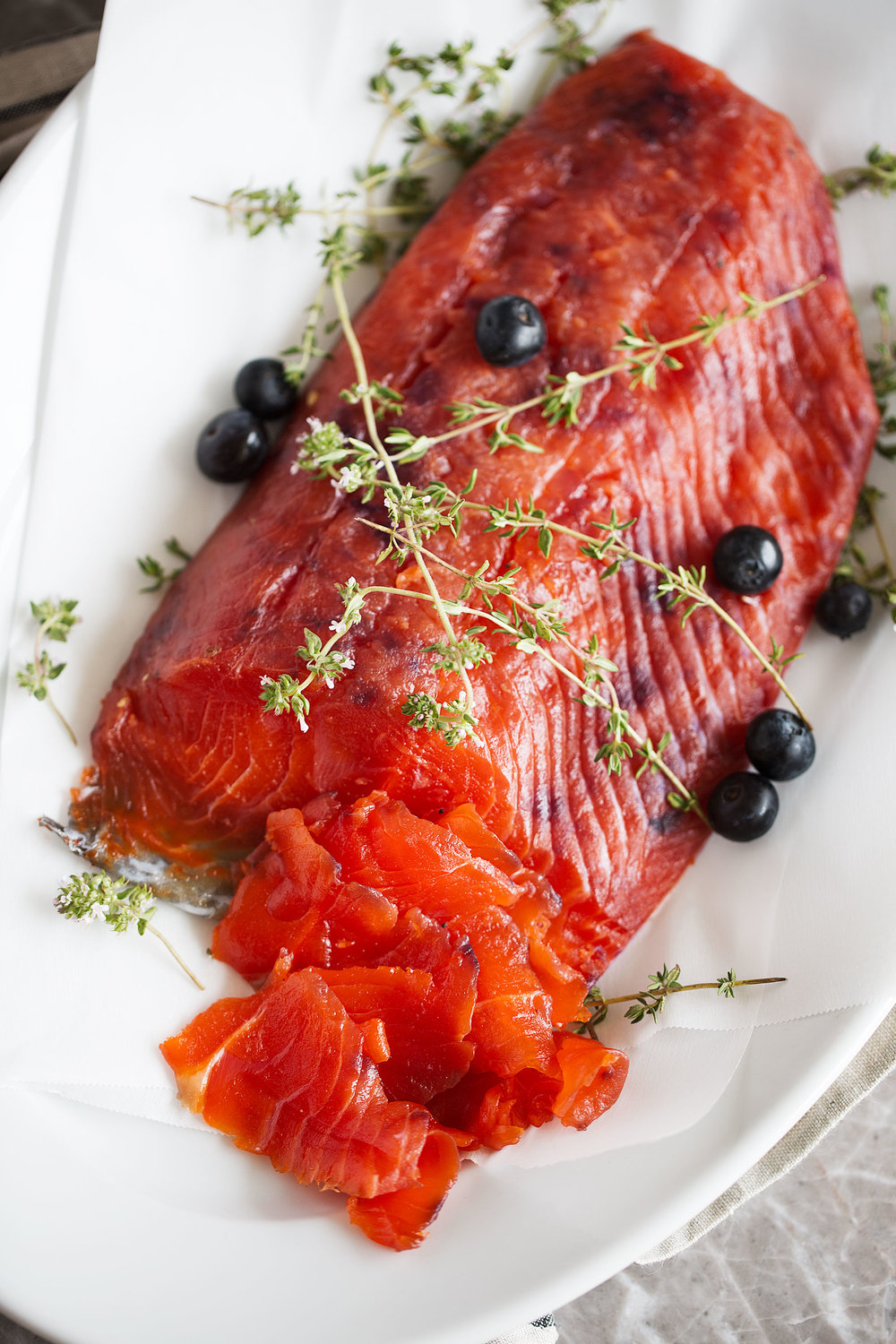 I love the combination of salmon with blueberry – I first had this flavor mix when I was a picky eater in my early teens in Seattle. For some reason the contrast of the bitter/ sweet fruit and the fatty salmon stuck with me. For this recipe I use equal parts sugar and salt for the cure mix to keep that salty/ sweet flavor profile. Store-bought gravlax can be expensive so I suggest that you pay for a nice filet of salmon and make your own for less.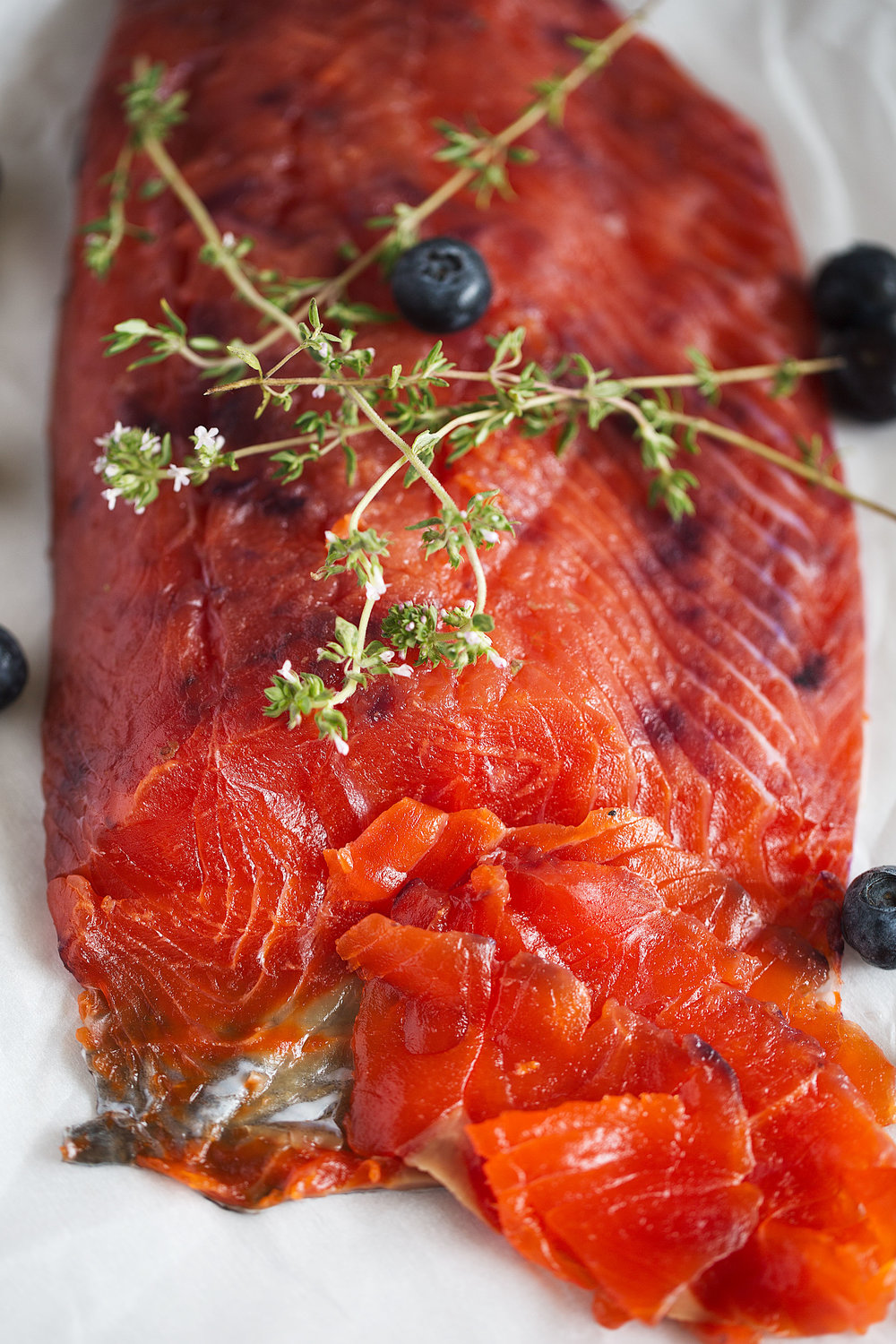 Confused at all the words used to describe cured salmon: gravlax, lox, smoked salmon, kippered salmon? Let me drop some knowledge to try to clear it up a bit. Gravlax is Scandinavian cured (but not smoked) salmon made with a combination of salt, sugar and traditionally dill although other herbs and flavors can be added.
Lox or belly lox is salmon cured in salt (and not smoked). Finally, smoked salmon is traditionally wet-or dry brined in salt and sugar and then cold smoked so that it still looks like lox but has that smoky flavor. Kippered salmon is wet-brined but hot smoked at a controlled temperature which gives it a cooked salmon texture but lots of smoke.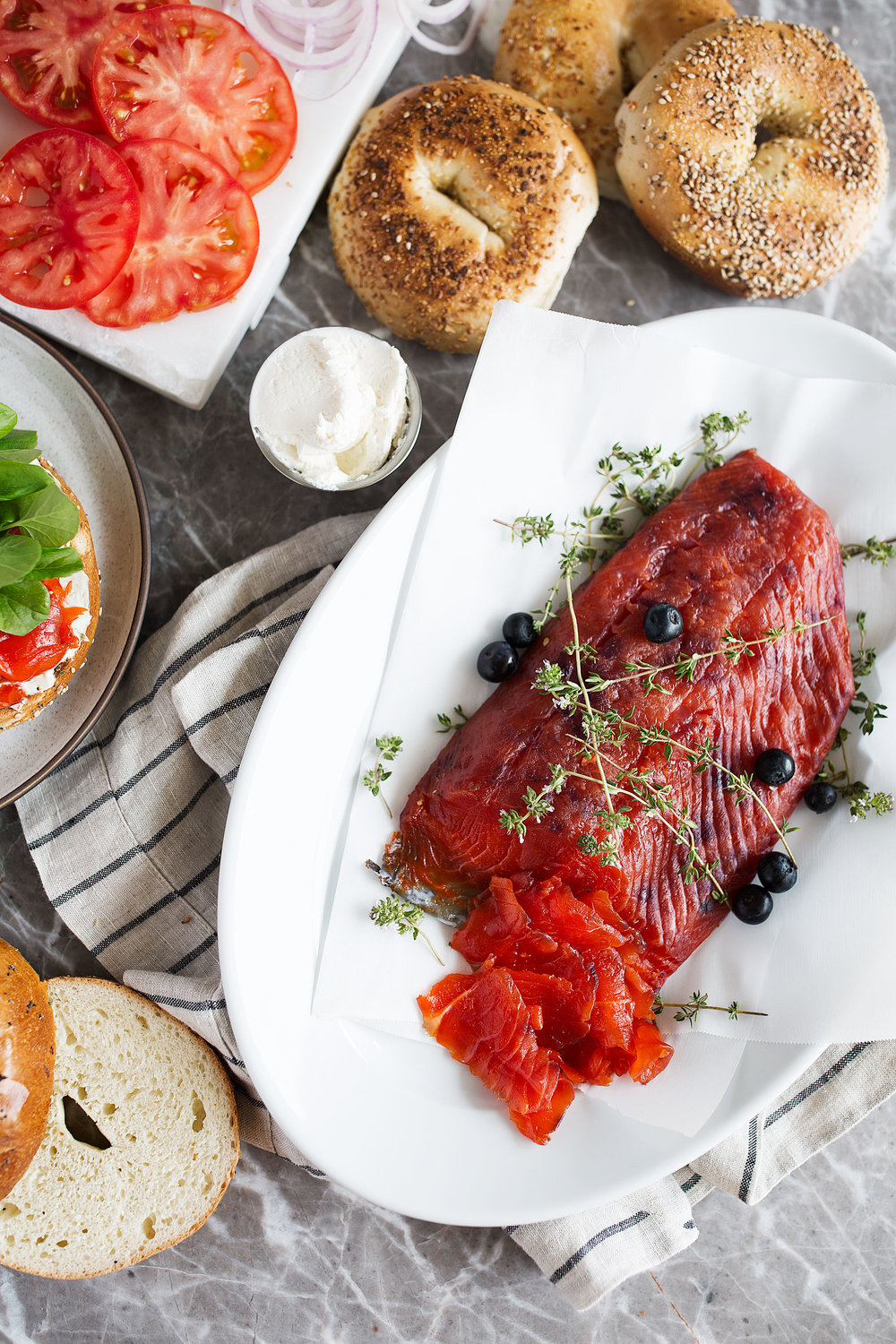 I get my fish from a local store, Santa Monica Seafood, as it has a great selection of fish with plenty of sustainable options. During soft-shell crab season they get shipments in on Wednesday & Fridays.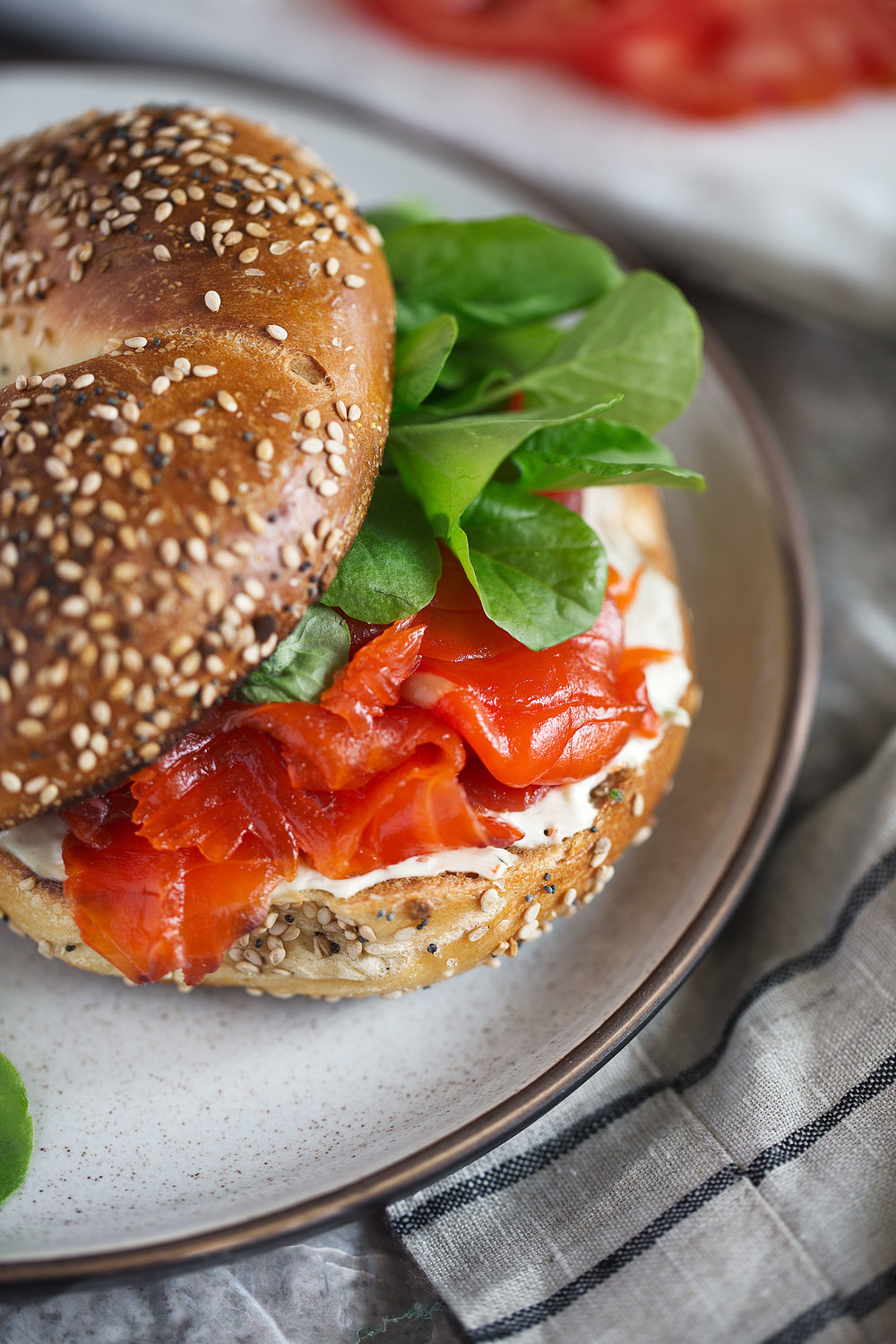 Blueberry-Cured Salmon Gravlax
Stir together the salt and sugar until combined to make the cure mixture. Pat the salmon dry with paper towels. Place skin side up on a piece of parchment paper. Rub half of the cure mixture on the skin side of the filet.

Arrange half of the thyme on the bottom of a baking dish. Place the salmon fillet skin-side down and spread the cure over the top.

Use your hands to mash up the blueberries to form a paste. Rub the paste all over the top of the salmon. Cover with the remaining thyme and cover the baking dish with plastic wrap. Refrigerate and let cure for one day.

Unwrap the fish and flip over so that it's skin side up. Cover with plastic once more and let cure for at 2 additional days. The gravlax should be firm to the touch at the thickest part.

Unwrap the salmon and discard any excess brine. Place skin side down on a cutting board and use a sharp knife to thinly slice the salmon crosswise.

Serve on toast or with bagels and cream cheese.
DID YOU MAKE THIS?
TAG ME ON INSTAGRAM TO BE FEATURED ON MY STORIES! @cookingwithcocktailrings