Because I grew up in New Jersey and my affinity for food and restaurants, I frequently get asked for recommendations by friends visiting the New York City for the first time. I figured I would put together a list of some classics and "can't miss spots". Before anyone gets up-in-arms about anything I left out – remember I had to draw the line somewhere! There are a lot of restaurants in NYC and they are constantly changing! These are the ones that I think have a cool history and good food perfect for first time visitors. I've limited this list to Manhattan though I love the outer boroughs. Find more about my Chinatown favorites here and Williamsburg, Brooklyn favorites here.
Beginners Guide To New York City
Hate scrolling? Use the links below to take you directly to that portion of the article.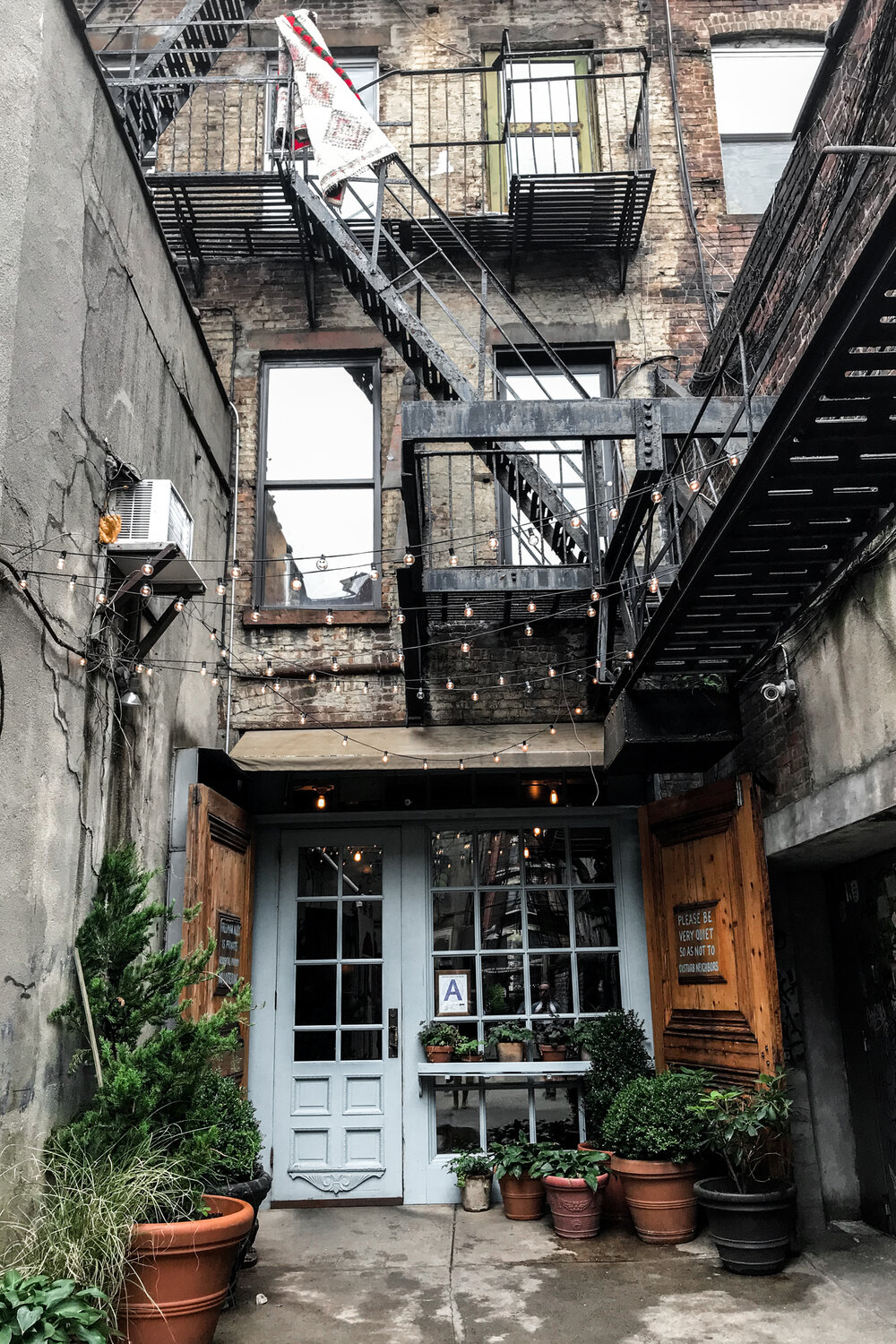 Why am I Recommending NY Restaurants?
As a kid driving into the city meant going in to see the Thanksgiving Day parade, going ice-skating in Central Park for my dad's work events, going to see concerts or sporting events at Madison Square Garden (my first concert ever was Dave Matthews Band). It also meant visiting all of the major museums for educational experiences or taking school field trips to Liberty Island or Ellis Island to visit the Statue of Liberty.
I also had many doctor appointments at Sloan Kettering on the Upper East Side which meant frequently missing school. Luckily my mom made it much more enjoyable by giving me permission to invite friends for afternoons filled with Dylan's Candy Bar and loading up on all the sugar we could manage while we waited for our reservation at Serendipity 3. And despite all these visits, I didn't realize just how much good food I was around (though it was back in my picky eater days sadly) until I read Ruth Reichl's "Garlic & Sapphires" detailing her time working as the NY Times food critic and realized I had been to many of the restaurants.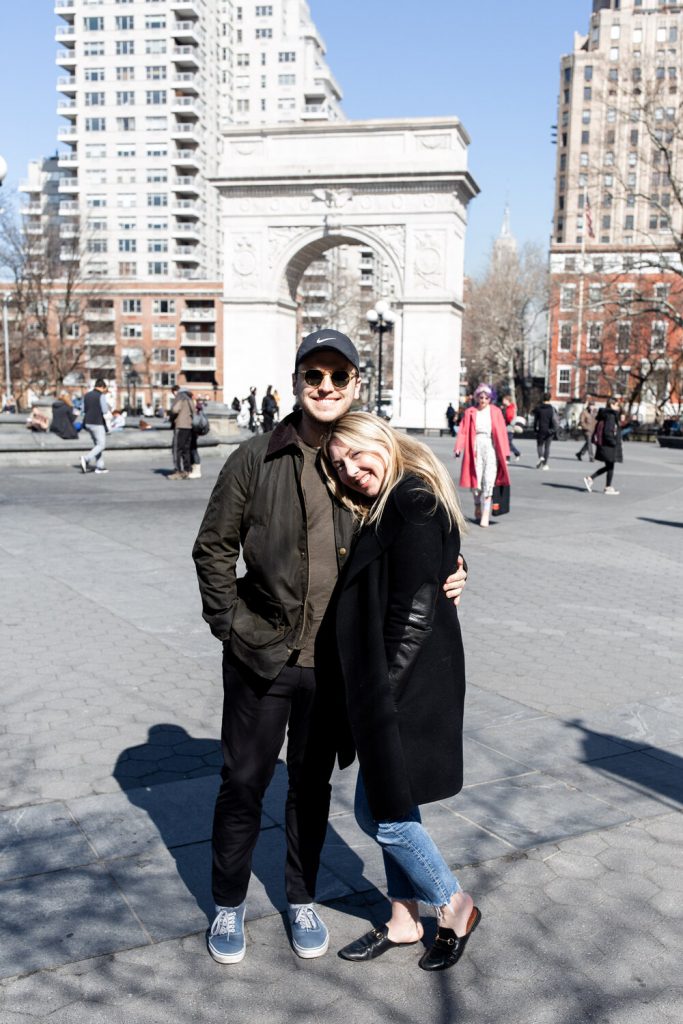 In high school going to the city meant taking the train in with friends for days and nights inspired by "Gossip Girl". We went on shopping sprees at Bloomingdales or tried on designer prom dresses we could never afford at Henri Bendel. It also meant taking in numerous Broadway shows – everything from "Les Misérables" and "Chicago" to "Legally Blonde" and multiple viewings of "Wicked". We rarely went below 14th Street or above 80th, but during this period I fell in love with the magic of this city – trash-filled streets and all. I also briefly worked in Bryant Park after college before moving back to Los Angeles.
Nowadays taking a trip to New York City is filled with food, exploring the streets (and rooftop bars) and navigating the subway system since, as it turns out taking cabs everywhere is expensive. I personally think New York has great public transportation especially in comparison to cities like LA. Not only can you save money using the public transportation system but with NY traffic you usually save time. It's also extremely easy – Google maps will tell you what subways to take.
While I love the nostalgia of revisiting so many places around Manhattan there are always new places to explore. The turnover in restaurants is crazy and frequent but the restaurants I've included here are some that I can always rely on. Even if it's your first time to New York you should still try to avoid Times Square (for eating!) at all costs.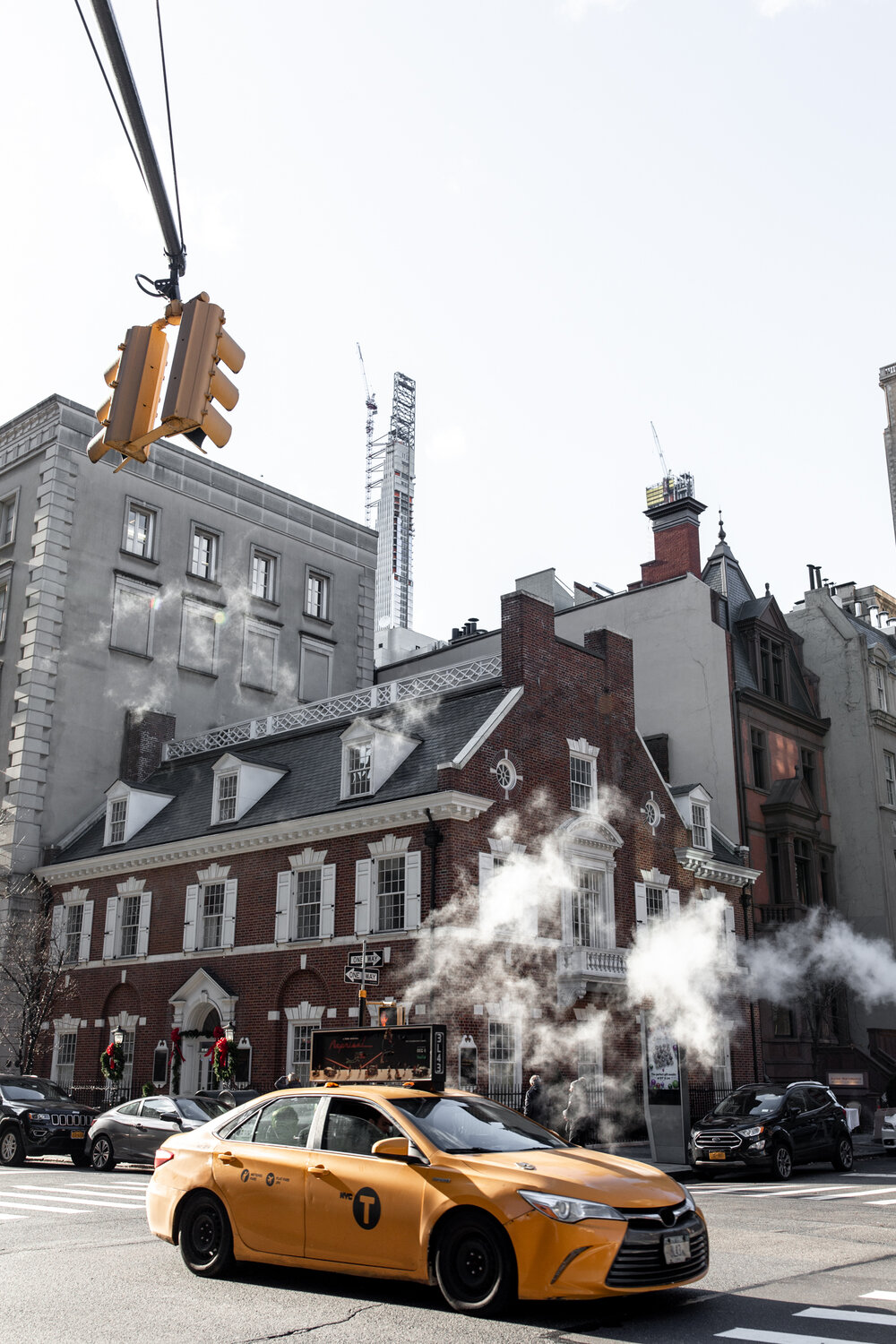 Bagels
New York (and New Jersey) bagels are unparalleled. While I can find many foods around Los Angeles it is really tough to find a good bagel outside of the tri-state area. I've heard of LA restaurants importing water from New York City in order to imitate the coveted NY bagel. While I've heard there is some science to the low pH levels of the water (also known as soft water), LA bagels still can't compete.
Bagels first made their appearance in New York towards the end of the 19th century. Everyone has his or her go-to bagel spot. Sometimes it's because it is conveniently located or because delivered right to their apartment door or because they have unique toppings and combinations. Check out my recipe for a classic smoked salmon bagel and how to host your own bagel brunch.
What do I consider to be a good bagel? It should be a hand rolled bagel with a soft and chewy center with an almost-glossy crunchy, bubbled exterior. What is it not? A cake-like bread with a hole in it. No matter where you get it, one thing is for certain, few things go together as well as bagels and schmear.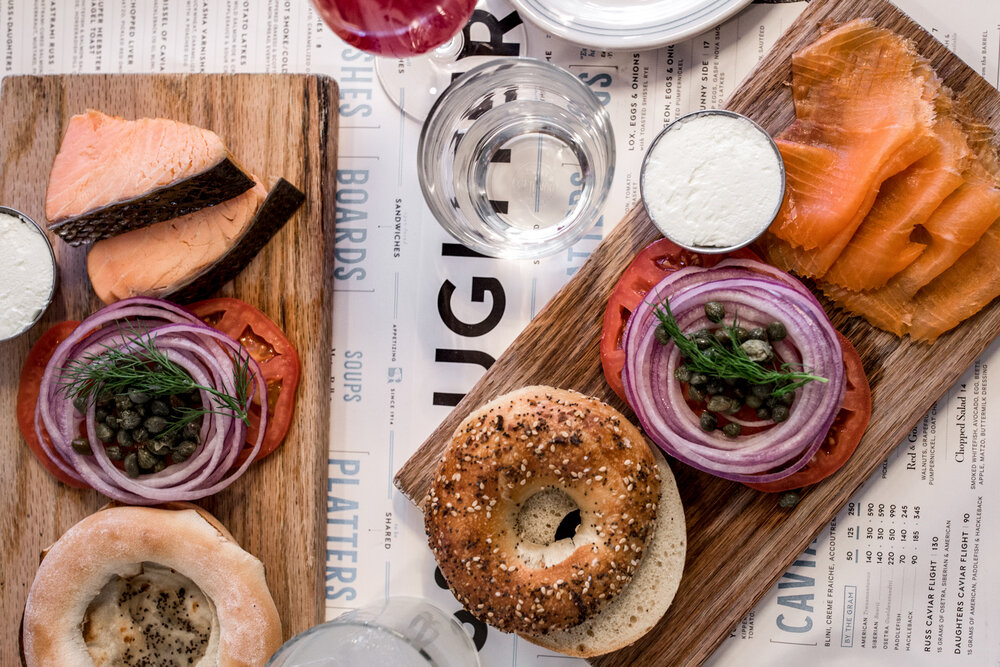 179 E Houston St, New York, NY | russanddaughters.com
Any trip I take to New York City includes at least one stop at Russ & Daughters. The shop on 179 E Houston St. has been open since 1914. You know how a store is good? It's remained open for over 100 years. In more recent years they have opened a Café, a location at the Jewish museum and one at the Brooklyn Navy Yard. One of my idols, Ruth Bader Ginsburg, grew up going there. It is actually the first known business in the US to include "& daughters" in the name (rather than "& sons") after the owner made his daughters equal partners in the business.
They offer a variety of bagel sandwiches and a deli counter filled with a variety of smoked/ cured fish as well as roe, knishes and chocolate babka. Without fail I always order the pastrami cured salmon. Cold-smoked salmon is covered in a mixture of 14 spices. This isn't the kind of salmon you can grab pre-packaged at your local grocery store, and while it is a bit pricier per pound, the flavor and buttery texture is worth it. I have even ordered it delivered across the country through Goldbelly.
Must-order: Pastrami smoked salmon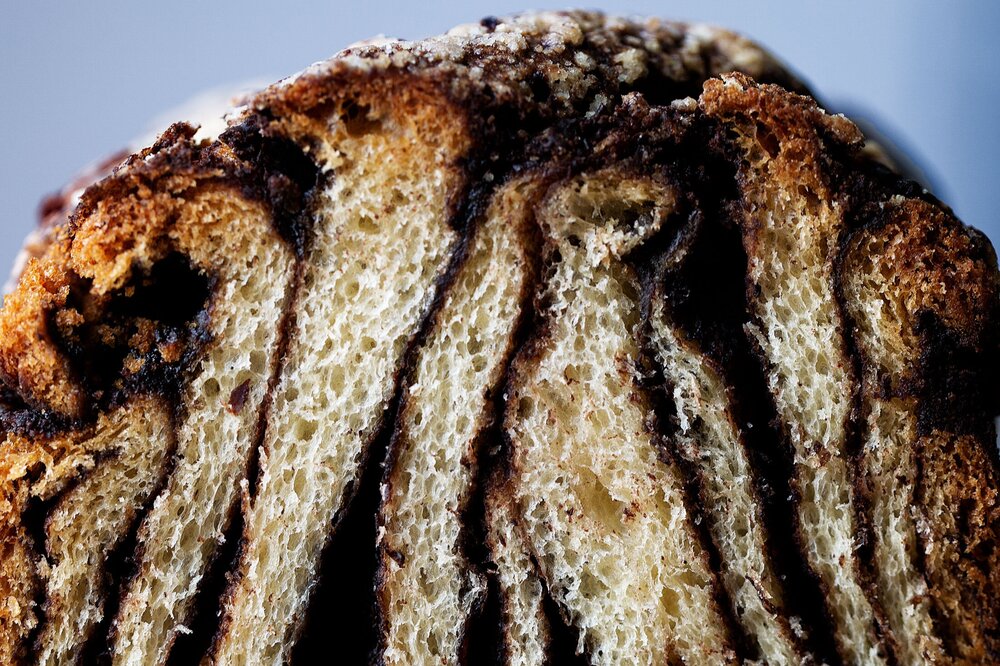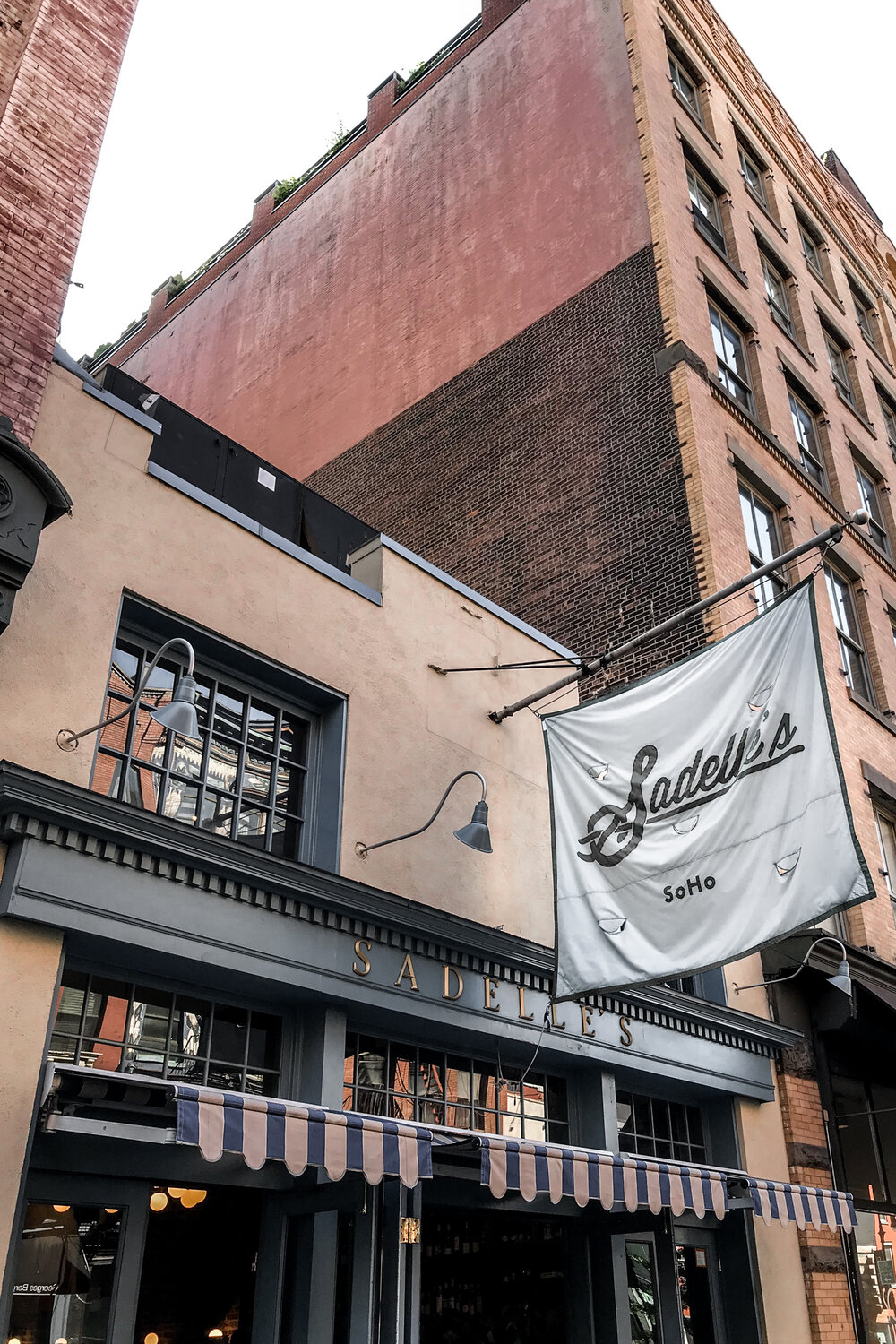 463 W Broadway, New York, NY 10012 | sadelles.com
Sadelle's, located in SoHo, serves traditional Jewish brunch (as well as Russian caviar and vodka service at night). The restaurant belongs to the Major Food Group which also operates another personal favorite, Carbone, as well as Dirty French among others. The restaurant space is split into a bakery with a take-out window and a large open-concept restaurant.
If you land a brunch reservation you must order the bagel tower. The tower comes with unlimited bagels, always served hot and fresh, marinated tomato, cucumber, onion and capers. The fish is selected from a menu including house salmon, sable and whitefish salad among others. Waiters move through the restaurant with the bagels on a long pole, yelling "HOT BAGELS" anytime a fresh order appears, to which the floor staff shouts back "HOT BAGELS". While the bagels are most well-known, the sticky buns really shine. Lacquered layers of pastry dough similar to a kouign-amann are baked into a crispy, sticky, glorious mess and are well-worth the days' worth of calories they contain.
Must-order: Bagel tower & sticky buns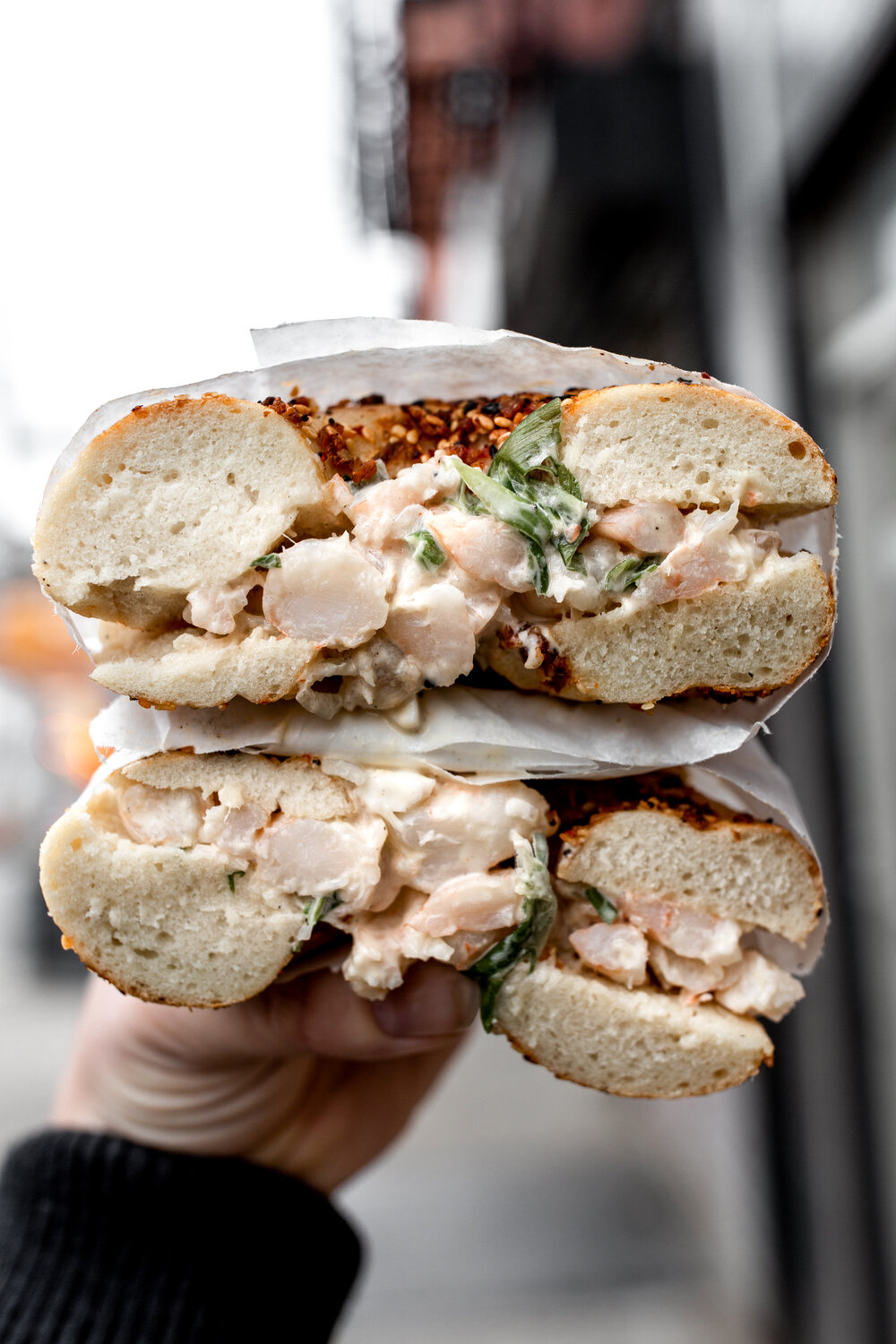 Multiple locations | blackseedbagels.com
Even though Black Seed Bagel sells Montréal-style bagels (as opposed to NYC-style), they have some of the best bagel sandwiches in the city and a big following on social media. Their combinations range from AB&J (house-made almond butter and jelly) for $4; to their salmon tobiko bagel sandwich with tobiko cream cheese, smoked salmon and butter lettuce; and they do monthly special collaborations with other restaurants around the city.
One of my favorite collaborations is a Sichuan peppercorn bagel with ghost pepper chicken salad with Little Tong Noodle Shop. They recently did another collaboration with Win Son in Brooklyn producing a red pepper and fried shallot bagel filled with doufu ru shrimp salad and sliced scallions. Black Seed has multiple locations across the city, making picking up bagels easy.
Must-order: Monthly Special Bagel or the Salmon Tobiko Bagel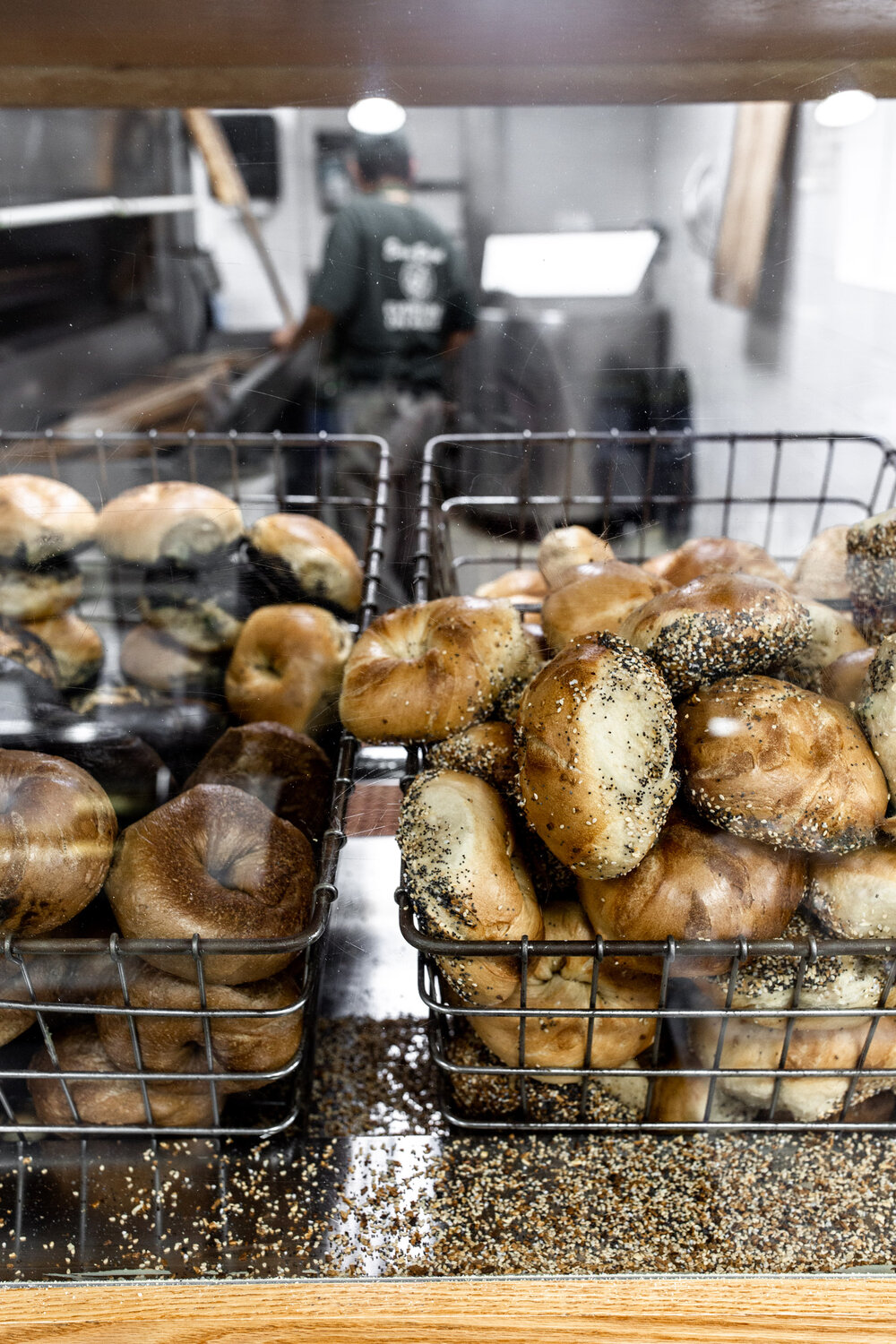 831 3rd Avenue (between 50th & 51st Street), New York, NY 10022 | ess-a-bagel.com
Ess-a-bagel is the more low-key, weekend bagel spot favored by many New Yorkers. Established in 1976, the shop is located on 3rd Avenue between 50th and 51st but ships nationwide through Goldbelly if you want a taste from afar.
They are famed for their hand-rolled bagels and variety of flavored cream cheese including cheddar jalapeño and the off- the- menu avocado-garlic spread. Ess-a-bagel goes beyond the ordinary "bagels with cream cheese and lox" and offers a long list of meats, fish and cheese for a reasonable price in comparison to many other places. Want a Rueben on a sandwich? You got it. Chicken cordon bleu? Sure. My personal favorite for Sunday mornings, bacon, egg and cheese? Done.
Must-order: Classic bagel of choice with cream cheese
Multiple locations | pickabagelnyc.com
Pick a Bagel is another favorite of mine. While they have multiple locations I find myself at their Upper East Side location whenever I take a walk through Central Park. They've been open for business dating back over 30 years and are known for their hand rolled, kettle-boiled bagels. They are smaller and more manageable to eat than the more oversized Ess-a-bagel with crispy little bubbles all over the surface. While they specialize in bagels you can order sandwiches as well.
Must-order: Everything bagel with scallion cream cheese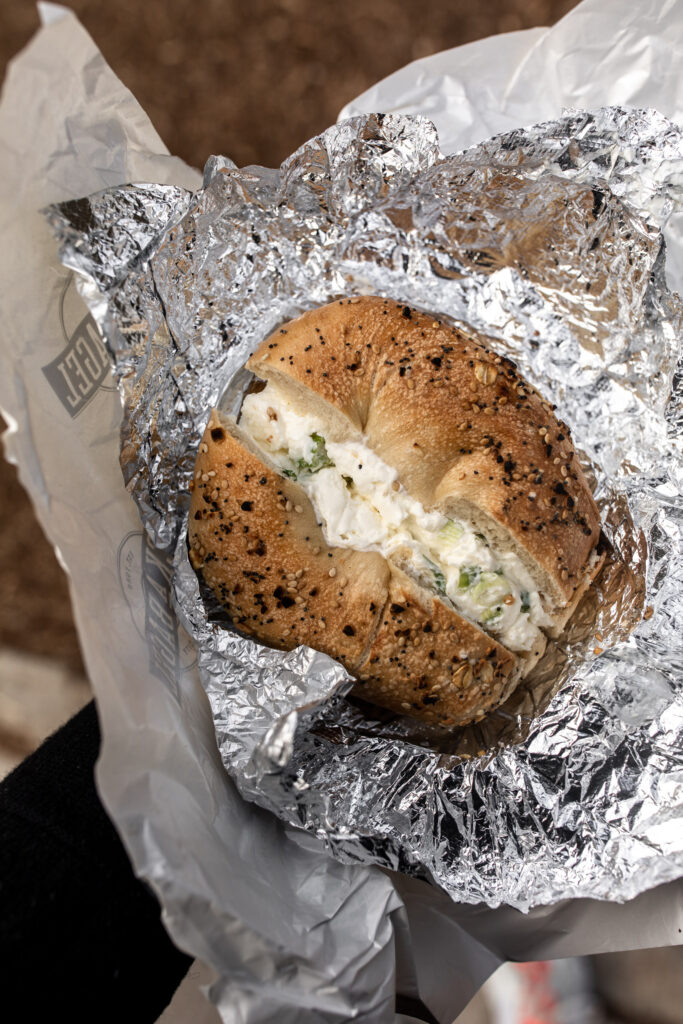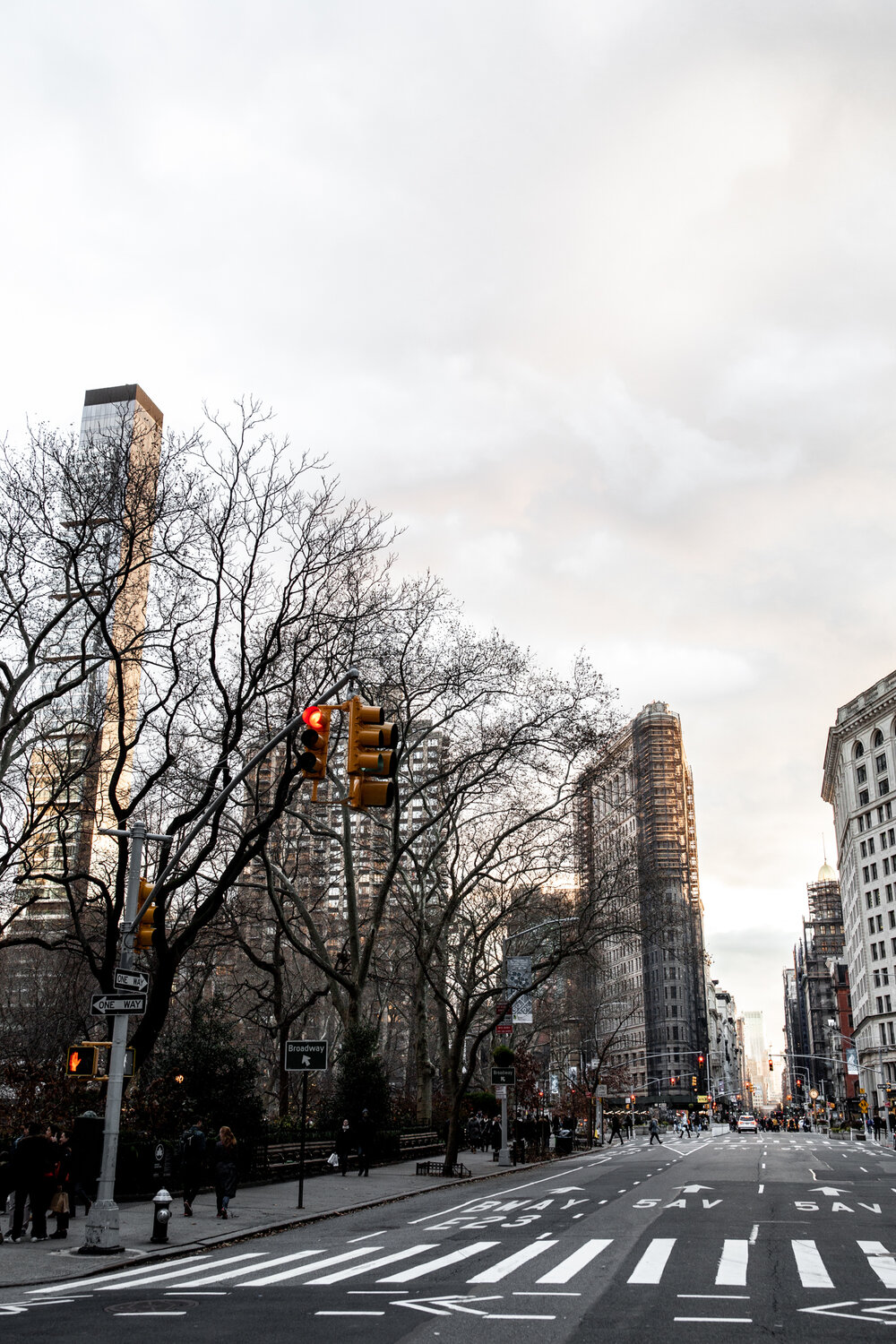 Pizza
From thin-crust by-the-slice pizza joints to sit-down and order-a-full-pie casual restaurants, New York City has no shortage of good pizza. Part of the thill about New York pizza is that you can get it just about anywhere you look and you can buy it by the slice on-the-go without committing to a whole pie. In LA there aren't too many places where you can buy good pizza by the slice, especially late at night. How do I judge my pizza? Does it have structural integrity? When you hold it with one hand does the end flop? What is the sauce to cheese ratio? Is the dough airy yet chewy?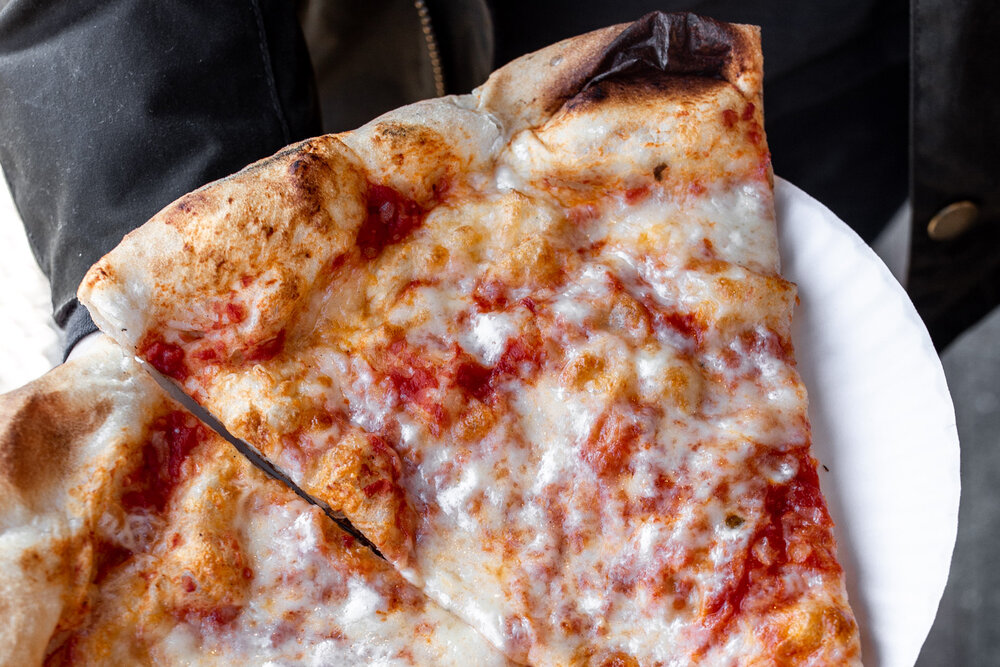 Multiple locations; Original – 7 Carmine Street, New York, NY 10014 | joespizzanyc.com
Joe's is a no-frills stand with multiple locations around the city, though my favorite is the original location on Carmine street. This is the place to go for the so-called "quintessential New York slice". Don't look for anything fancy at Joe's, it's cash only, $3 a slice and the line is frequently out the door but with only a few options it moves fast. It's my favorite place for a late-night slice after leaving bars with friends since it's open until 5am on weekends. Don't count on seating, you will most likely stand around on the street with your pizza. Each slice is reheated in the oven, thin and crisp on the bottom with a doughy crust, and good sauce to cheese ratio. I typically go for a slice of plain and a slice of pepperoni and load up on red pepper flakes and cheese from the little silver-topped shakers.
Must-order: Slice (or 2) of Pepperoni Pizza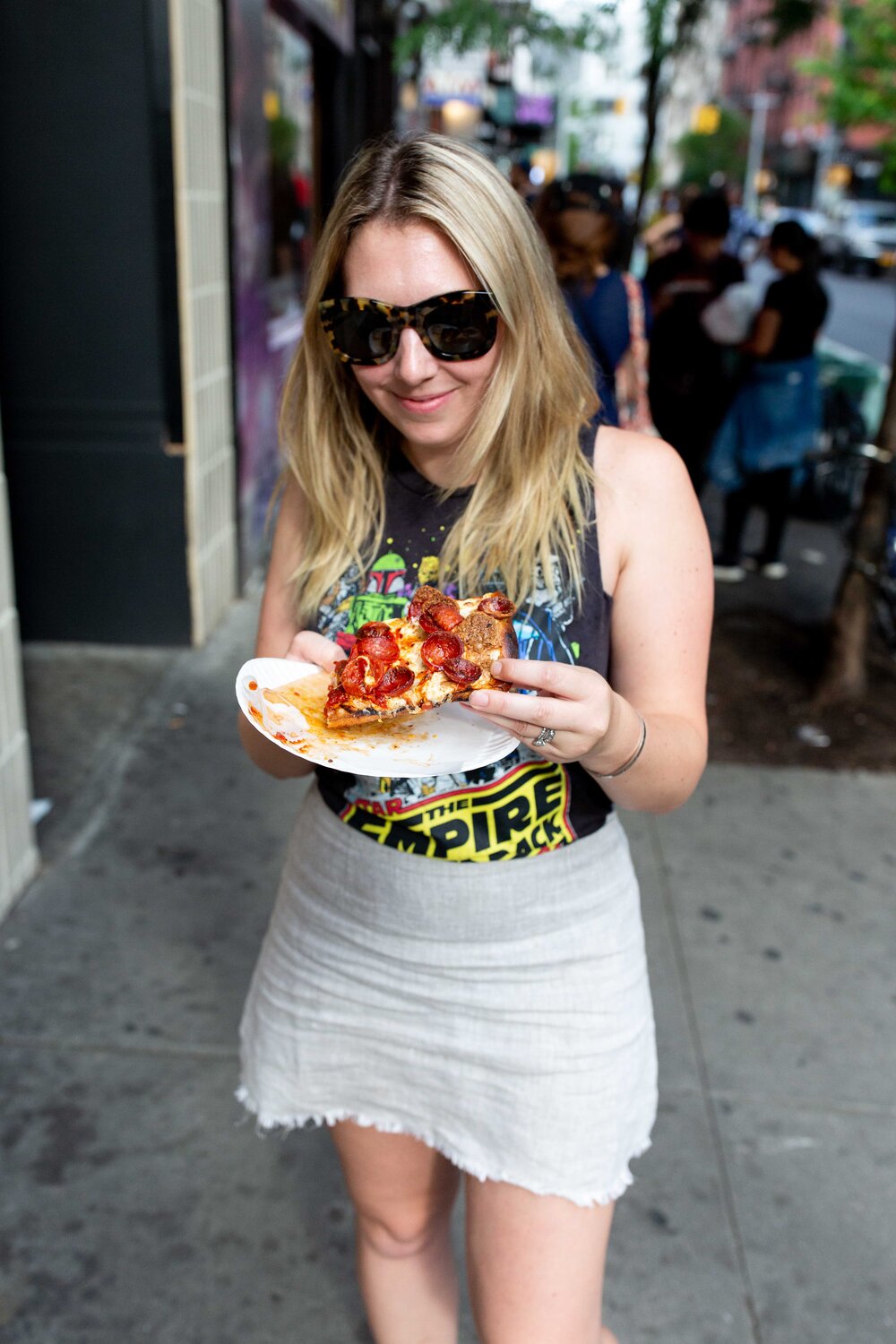 27 Prince St A, New York, NY 10012 | princestreetpizzamenu.com
I think it's an unwritten rule that every popular NYC pizza spot has to have a wall of framed photos of celebrities that have visited and Prince St. is no different. It's popular for their pepperoni Sicilian-style square slice. Each piece has about ½ an inch of yeasty crust topped with sauce, cheese and crispy pepperoni cups filled with just enough grease. These "grandma-slices" are photogenic and most certainly recognizable on your Instagram feed. Heads up – there will be a line. They make a pizza, then sell off the slices and can't keep up with the demand, but the good news is that your slice will always be fresh.
Must-order: Square slice of Pepperoni Pizza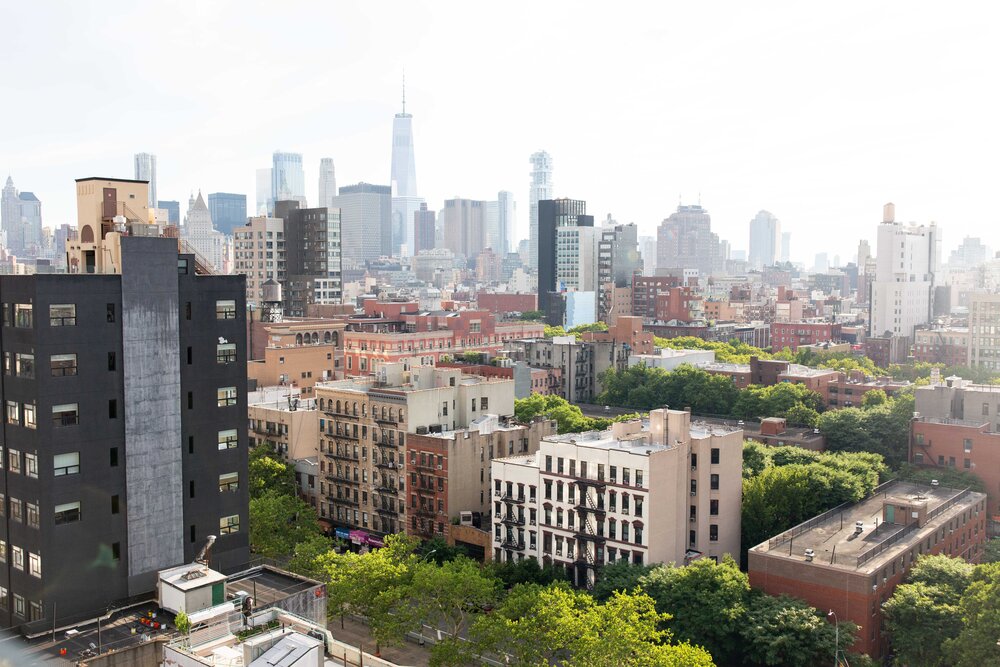 Multiple locations; Original location 321 East 14th Street, New York, NY 10003 | artichokepizza.com
This spot became a quick fan favorite after it was opened by two cousins in 2008. Referred to usually as "Artichoke Pizza" there are many locations around the city with the original in the East Village. They are most famous for their namesake artichoke pizza. Served topped with artichoke hearts, spinach, cream sauce, mozzarella and Pecorino Romano cheese.
It's like eating a slice of pizza with a thin, crisp crust topped with creamy spinach artichoke dip. Back in 2015 I was watching the US Women's soccer team play Japan in the World Cup finals at a bar in the East Village with some friends and we decided to ordered a whole artichoke pizza delivered. That night the US won and so did we.
Must-order: spinach artichoke pizza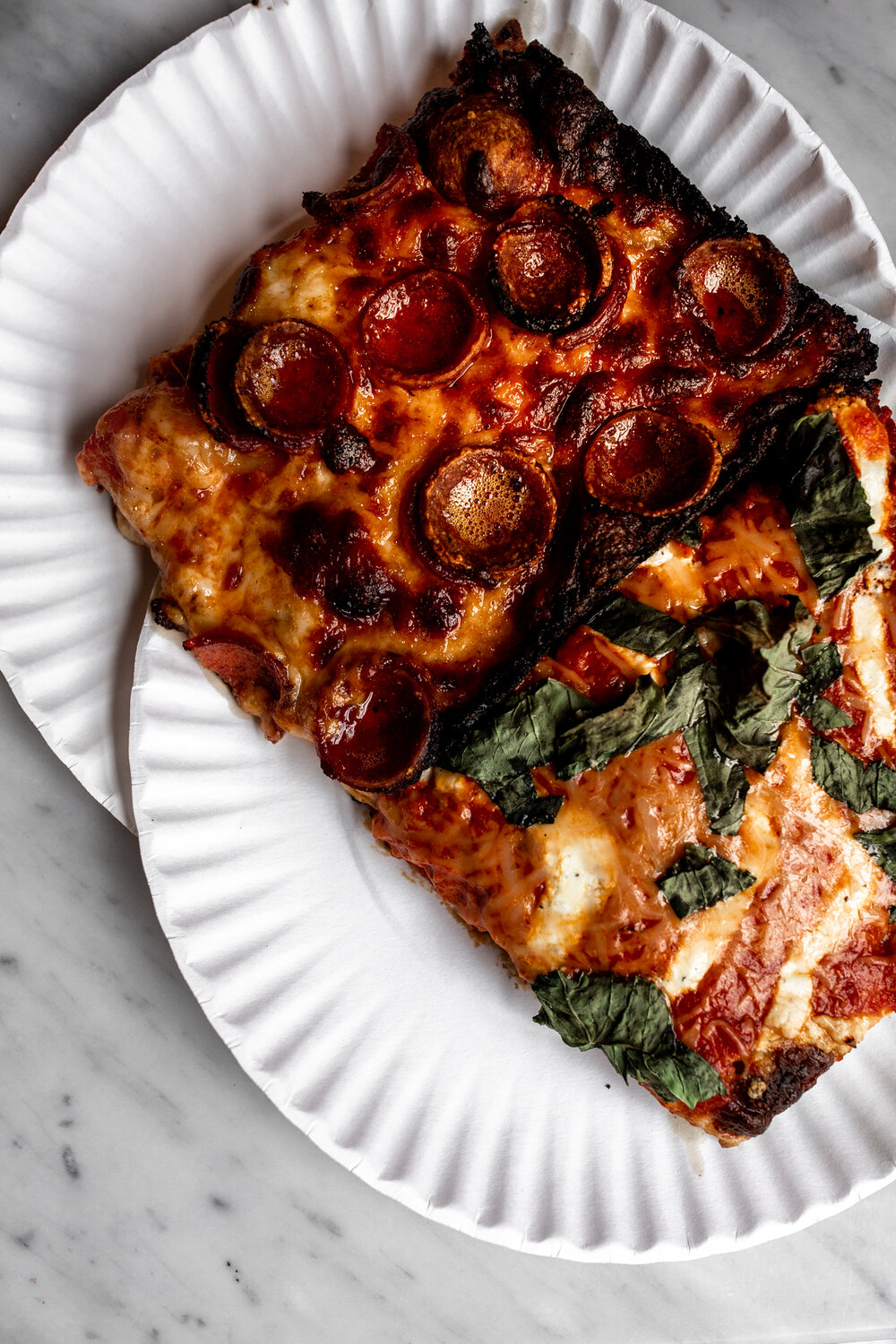 2750 Broadway, New York, NY 10025 | mamastoo.com
Mama's Too, like Prince Street serves Sicilian style pizza and while it doesn't have quite the same cult following, it may be even better. Unfortunately, it's generally out of the way, located on the Upper West Side on 105th St. and Broadway. The small shop with counter seating has a garage door that opens for summer and closes for cold winter days. I ordered a slice of the vodka square and the pepperoni topped with crispy cups of pepperoni filled with pools of grease which, to clarify is a good thing. You shouldn't blot your pizza with napkins like a savage.
Must-order: Sicilian slice of pepperoni or vodka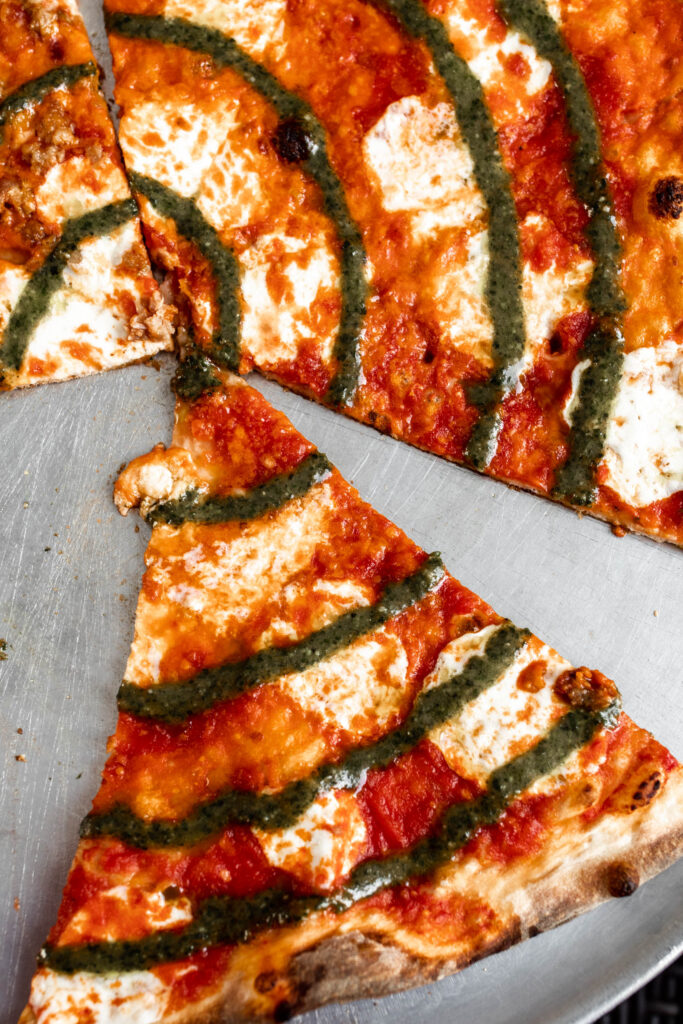 235 Mulberry St, New York, NY 10012 | rubirosa.com
Enjoy a small or large pie in a dark bar-like setting in the heart of Nolita just steps from the subway. There are no reservations, so opt to only go there with two to three other people for fast seating. Rubirosa is a family-run restaurant. It was opened by the son of the owner of the Staten Island favorite Joe & Pat's, mixing old-school recipes with new twists. I ordered a large pizza (8 slices vs. 6 on the pie) that was half vodka (vodka sauce and fresh mozzarella) and half tye-die (vodka sauce, tomato sauce, and fresh mozzarella topped with a swirl of pesto).
Must-order: Tye-dye pizza pie
Italian
I wish I had more photos of these Italian restaurants but I tend to go for dinner when the light isn't good for photography. Bar Pitti and Lil Frankies are both more old-school places – both are cash only while Vic's and Carbone are newer. Valbella is another Italian Restaurant I've gone to for years with my family but their Meatpacking location recently closed due to a rent increase, and while they still have a midtown location it's just not the same.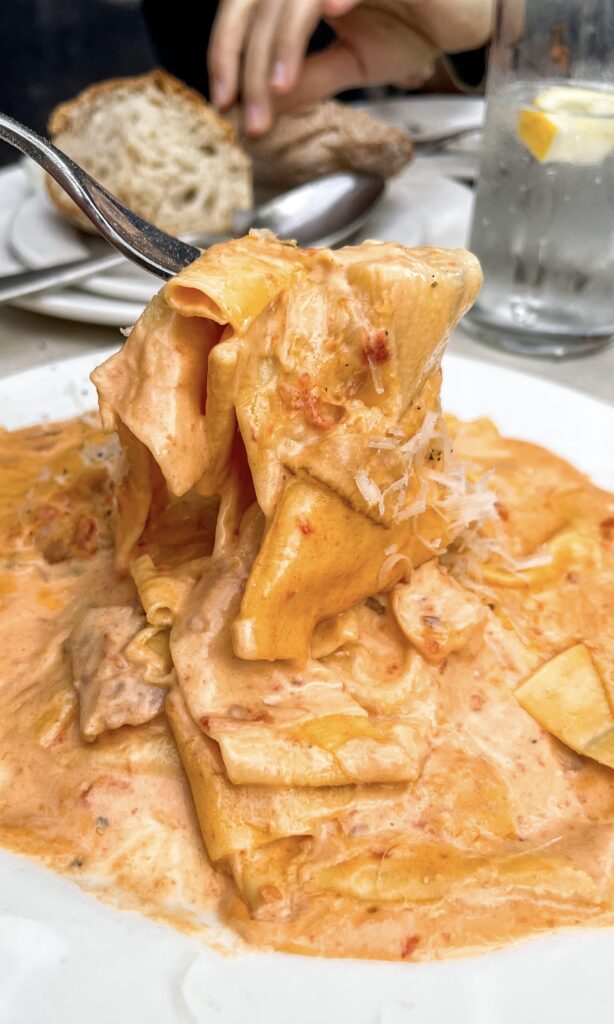 268 6th Ave, New York, NY 10014 | barpitty.com
This "cash only" Greenwich Village Tuscan trattoria can be difficult to get into, but it's worth it. It's busy, but they do things quickly. In the summer months they open up the doors to a sidewalk patio. It's perfect for "people watching", while in the winter the tables are more tightly packed but cozy. Order the Pappardelle alla Fiesolana – flat, large, homemade pasta in a rich tomato cream sauce with smoked bacon and parmesan cheese. The spaghetti with lobster is a chalkboard special (but it's always there) and you can't go wrong.
Must-order: Pappardelle alla Fiesolana
19 1st Ave, New York, NY 10003 | lilfrankies.com
Lil Frankie's is another "cash-only" spot in the East Village (not too far from both Russ & Daughters and Katz's). It's cozy and intimate setting is good for both groups or and date nights alike. The restaurant has an exposed brick and old-school feel. The whole roasted eggplant is tender on the inside and drizzled with oil, then seasoned with salt and pepper table-side. Their spaghetti limone is a simple dish made with lemon, butter and cheese but they execute it well, and it's a favorite among diners. Their gnocchi is handmade daily and the serving style changes frequently.
Must-order: Spaghetti Limone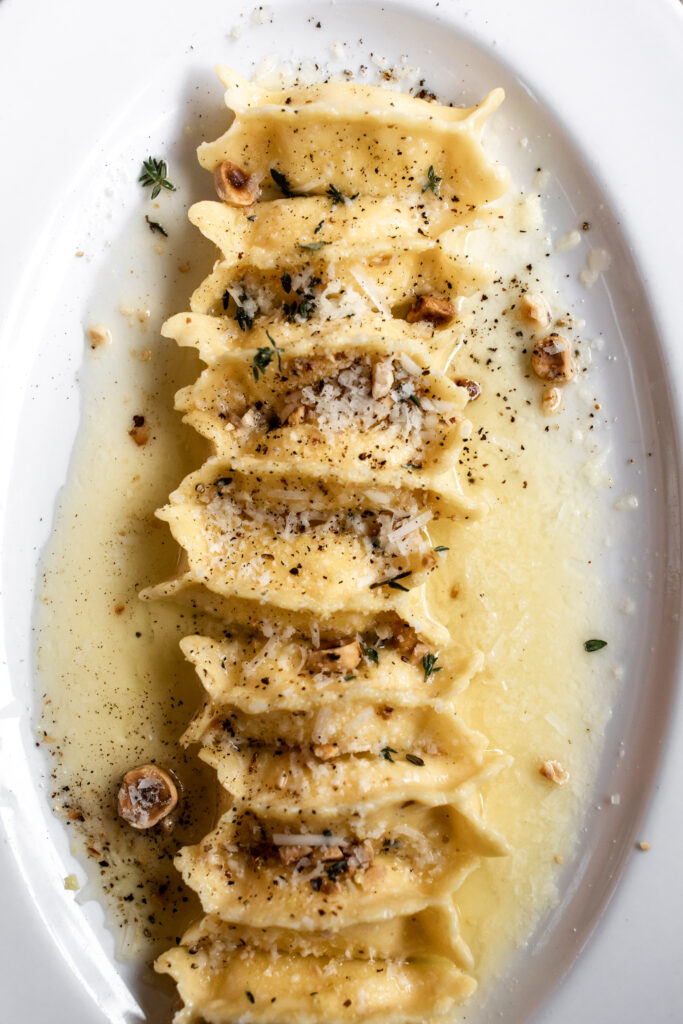 31 Great Jones St, New York, NY 10012 | vicsnewyork.com
This NoHo Italian-Mediterranean bistro opened in 2014 with a menu filled with bold flavors thanks to Chef Vicki Freeman. I came for the light and airy whipped pecorino dip served with pizza bianca and stayed for the pasta.
Absolutely order the Borsa which means "little purse" an comes filled with ricotta, hazelnut & lemon. They explode with creamy sheep's milk ricotta coated in a light lemon butter sauce. My friend disciplined me for trying to cut them into as many bites as possible to savor them for as long as possible. If you are a fan of simpler more classic pasta you can't go wrong with the cacio e pepe.
Must-order: Whipped Pecorino dip & Borsa
181 Thompson St, New York, NY 10012 | carbonenewyork.com
This one you have definitely seen scrolling though Instagram and believe me, it is worth the hype. The Italian-American high-end red sauce restaurant was favored for date nights by the Obamas. It's famous for their spicy rigatoni vodka (find a similar recipe for the dish here).
The dish draws endless "East Coast vs. West Coast" comparisons with the beloved Hollywood spot, Jon & Vinny's spicy rigatoni. Carbone's unique u-shaped rigatoni is served al dente and perfectly holds the creamy arrabiata/ vodka-like sauce. Studded with Calabrian chilies, Parmesan and onion soubise, slowly buttery simmered onions that are not quite caramelized but richer in flavor the sauce is one of my favorites. I'd recommend under-ordering since they provide pickled vegetables, Parmesan and charcuterie complementary to start.
Must-order: Spicy Rigatoni Vodka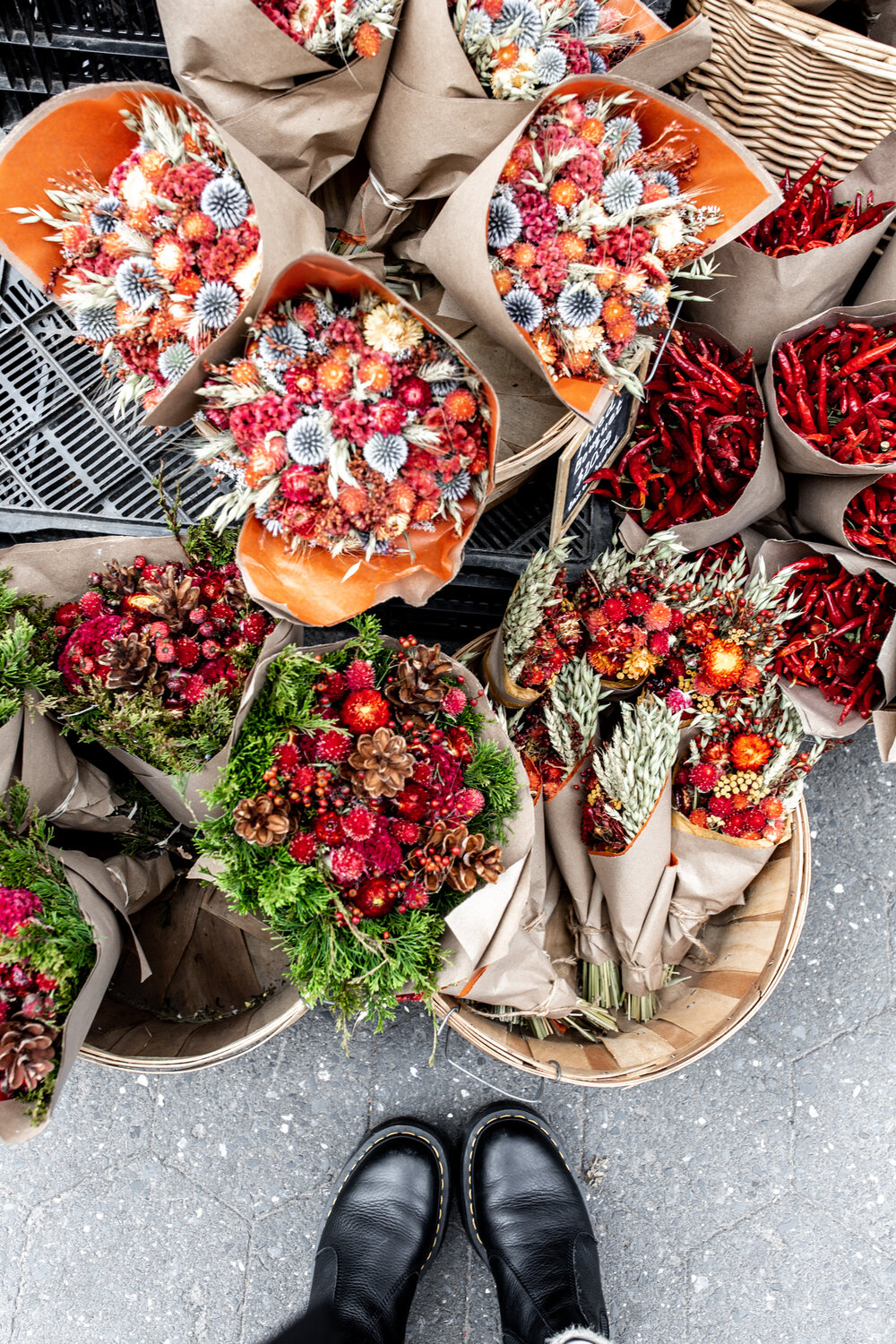 Other Classics
These are some of my iconic New York restaurant's you need to do to even if they aren't the most trendy. They are special for a reason!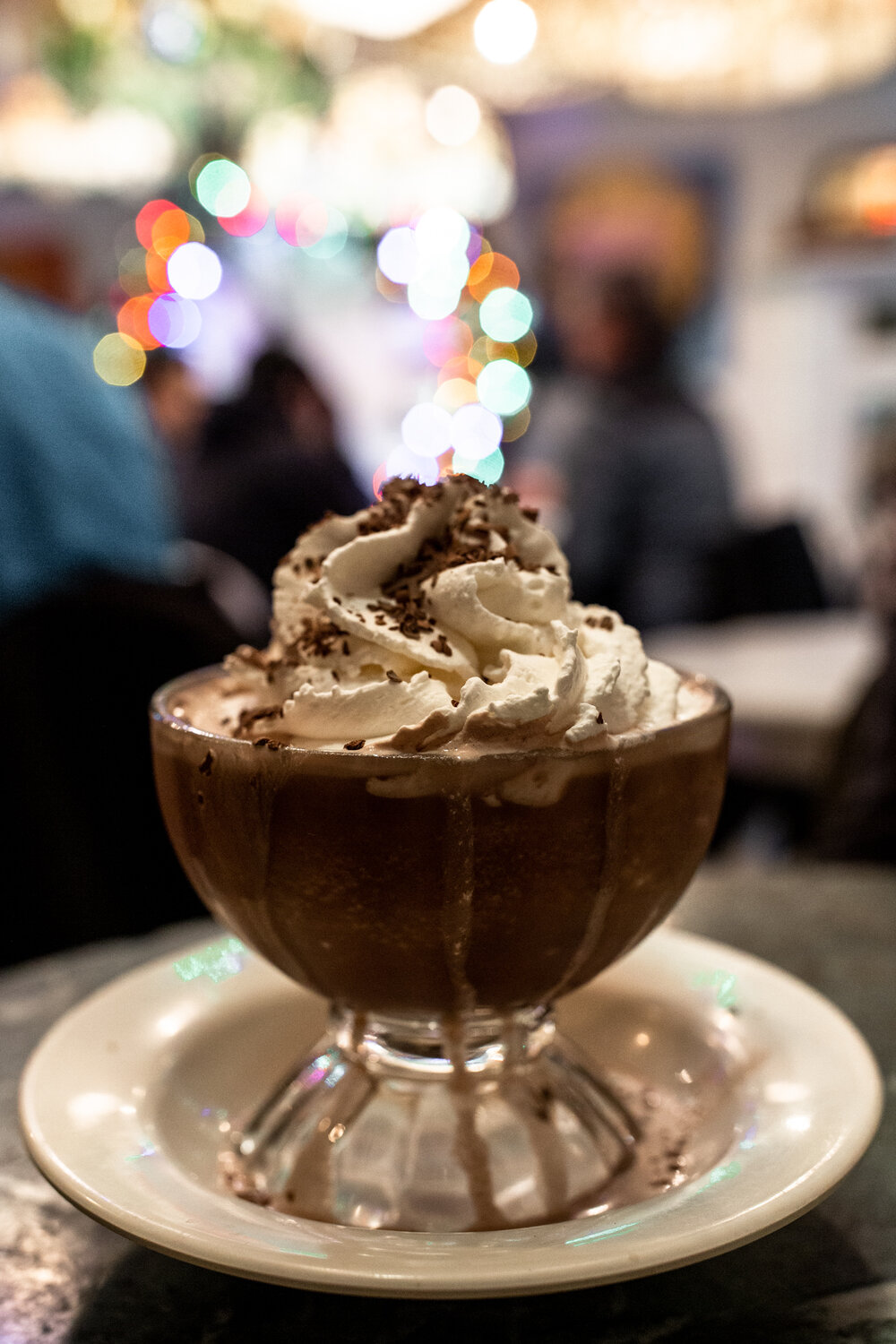 225 E 60th St, New York, NY 10022 | serendipity3.com
Serendipity is one of my favorite words, it means a happy accident. I've been coming to this Upper East Side staple synonymous with the 90's movie of the same name since I was a kid. Year after year it became routine to stop here after my doctors' appointments at Sloan Kettering nearby. It started as a treat and became a tradition. It makes me think, not of the doctors' appointments that took up a majority of the day, but of days spent with my mom and my friends enjoying a frozen hot chocolate and burger. There's something about this kitschy restaurant filled with little knick-knack gifts, stained-glass window-panes hanging from the ceiling, vintage lamps and old posters that makes it feel cozy and fun.
Their "golden opulence sundae", has ranked in the Guinness book of world records for the most expensive sundae in the world. It's a mere $1000 for one order. With 48-hours notice Serendipity creates a luxurious sundae. The sundae includes three scoops of Tahitian vanilla ice cream covered with 23-karat gold leaf, almonds, caviar and an orchid made from sugar. The drink is served in a Baccarat crystal goblet and eaten with an 18-karat gold spoon. I'm unsure if you get to keep the goblet and spoon for that price.
If you aren't prepared to spend grand for a dessert then order the Frozen Hot Chocolate. This drink more similar to the consistency of an ice cream based slushie (not quite a creamy milkshake) comes in a large glass goblet filled with an icy blended chocolate. Frozen hot chocolate comes heaped with rich homemade whipped cream, chocolate shavings and two straws for sharing.
Must-order: Frozen hot chocolate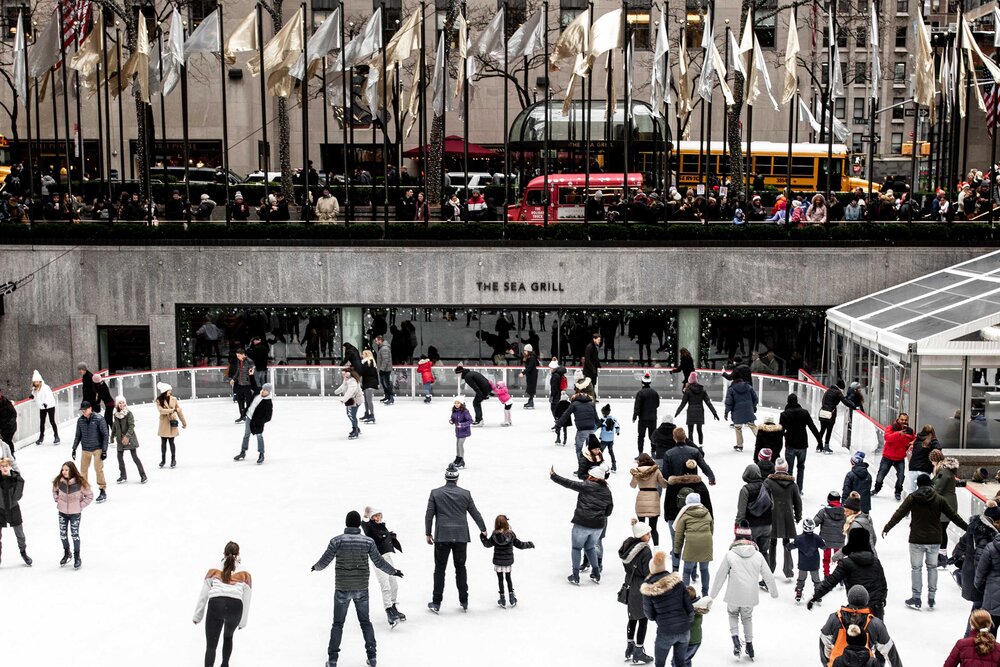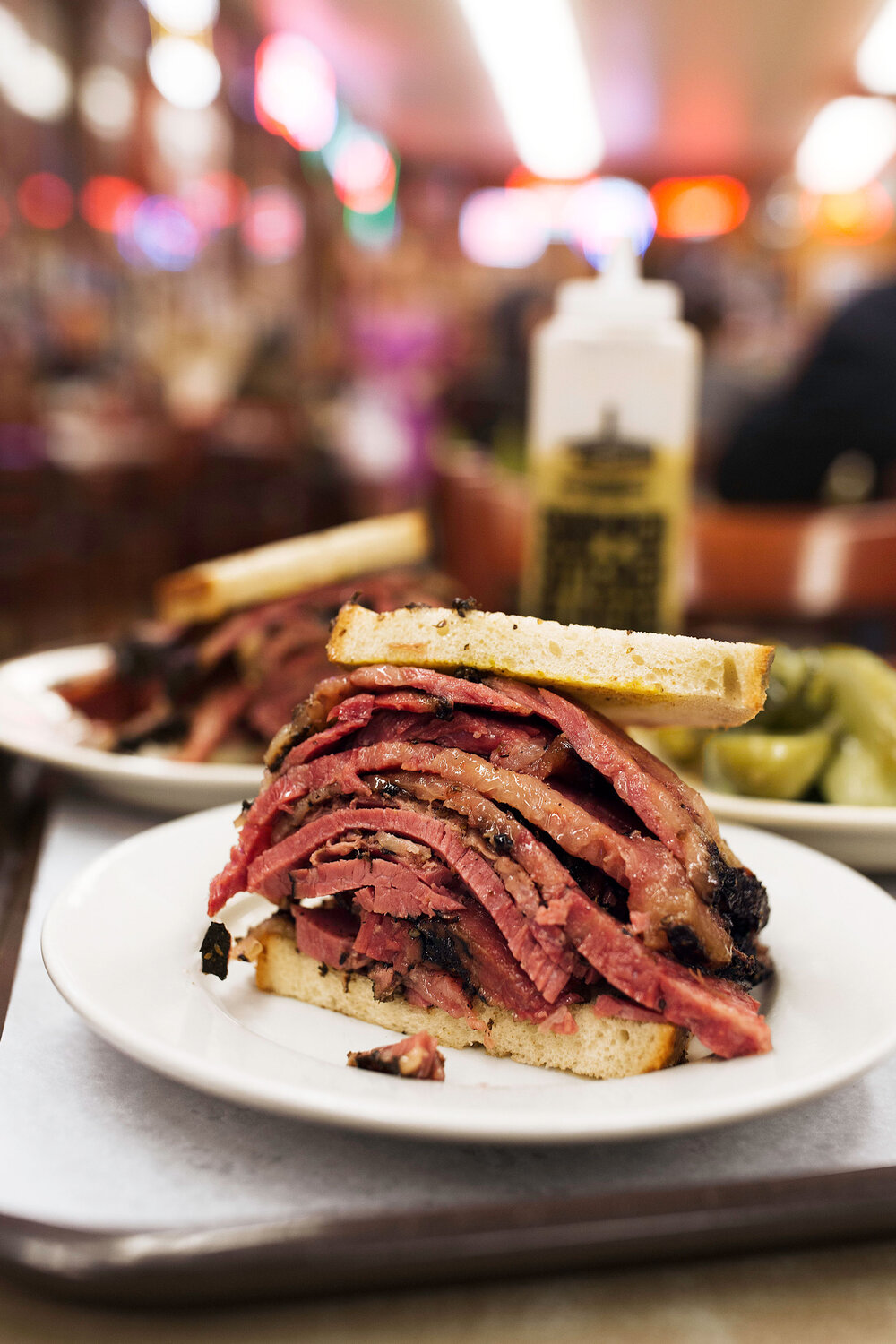 205 E Houston St, New York, NY 10002 | katzdelicatessen.com
Katz's deli is possibly the most famous from "that scene" in When Harry Met Sally. You know – "I'll have what she's having". There's even a sign hanging overhead pointing to where Meg Ryan sat. It's been open on the Lower East Side (just down Houston from Russ & Daughters) since 1888 and it stays open a remarkable 24 hours a day on weekends. Bon Appétit even did a piece showcasing what it's like to work there for 24 hours straight. This is one of those places that can be intimidating, you have to know what you're in for. It's set up cafeteria-style. When you enter you grab a ticket and then you order from a designated area at the counter. Take your food, sit down, enjoy, and then pay on your way out. Bring cash and don't lose your ticket or you won't make it through the turn-style as you leave!
The most famous item on the menu is the pastrami sandwich. The meat can take up to 30 days to cure before it's smoked. A row of designated slicers hand-carve the pastrami into thick slices piled high on rye bread and served with mustard.
Must-order: Pastrami sandwich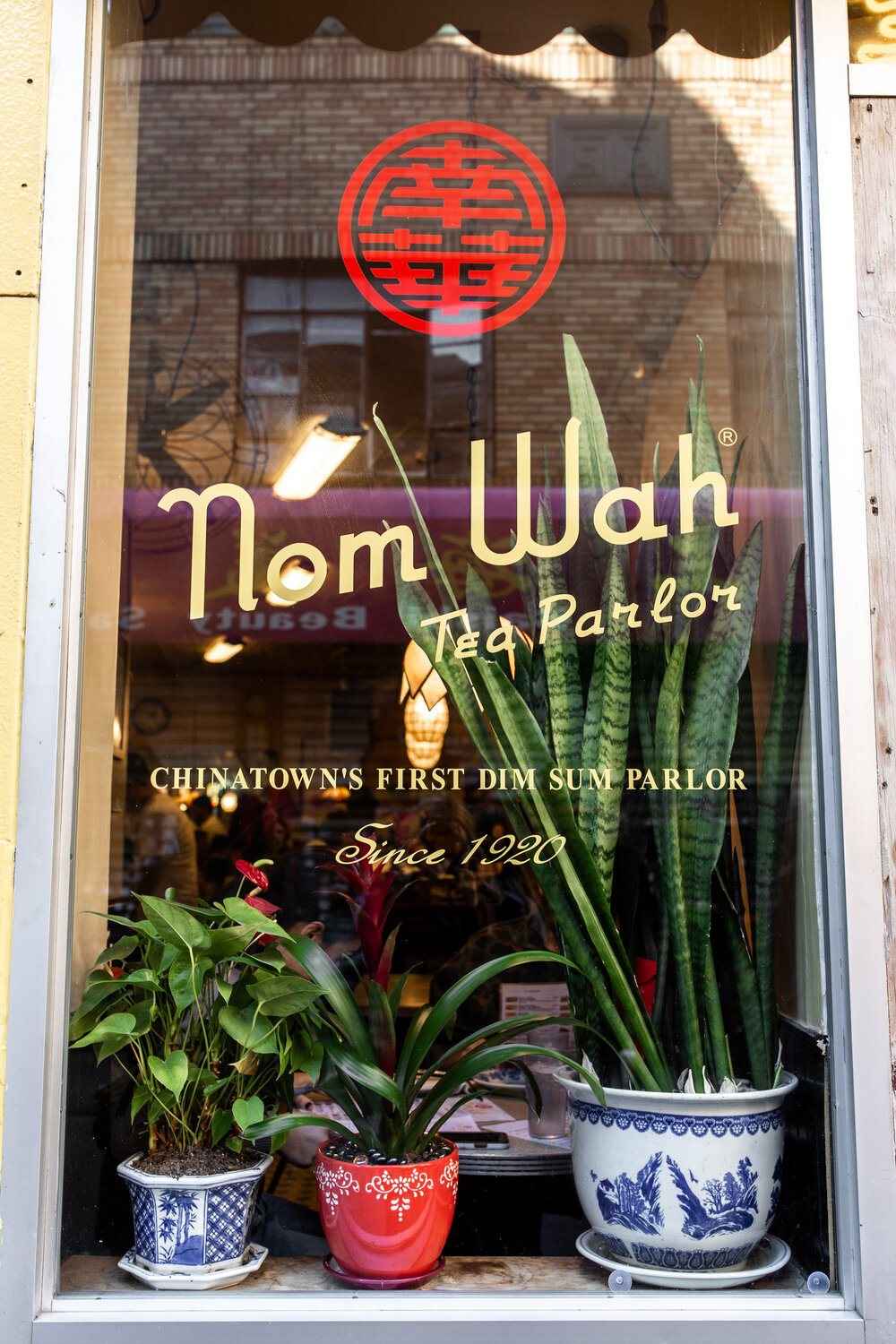 13 Doyers St, New York, NY 10013 | nomwah.com
Nom Wah Tea Parlor is New York City's first dim sum restaurant, serving dumplings and more in Chinatown since 1920. Unlike most dim sum restaurants, the food does not come around on a pushcart as it's all made to order and delivered to your table. You write your order on a checklist menu and turn it in to the waiter to order. One of the most popular items on the menu is the rice roll. They are made from sheets of steamed rice flour noodles rolled and topped with sweet soy sauce. Be sure to get both the house special roast pork bun (a fluffy bao bun stuffed with sticky sweet roast pork) and their shumai (pork and shrimp dumplings).
Must-order: rice roll and roast pork bun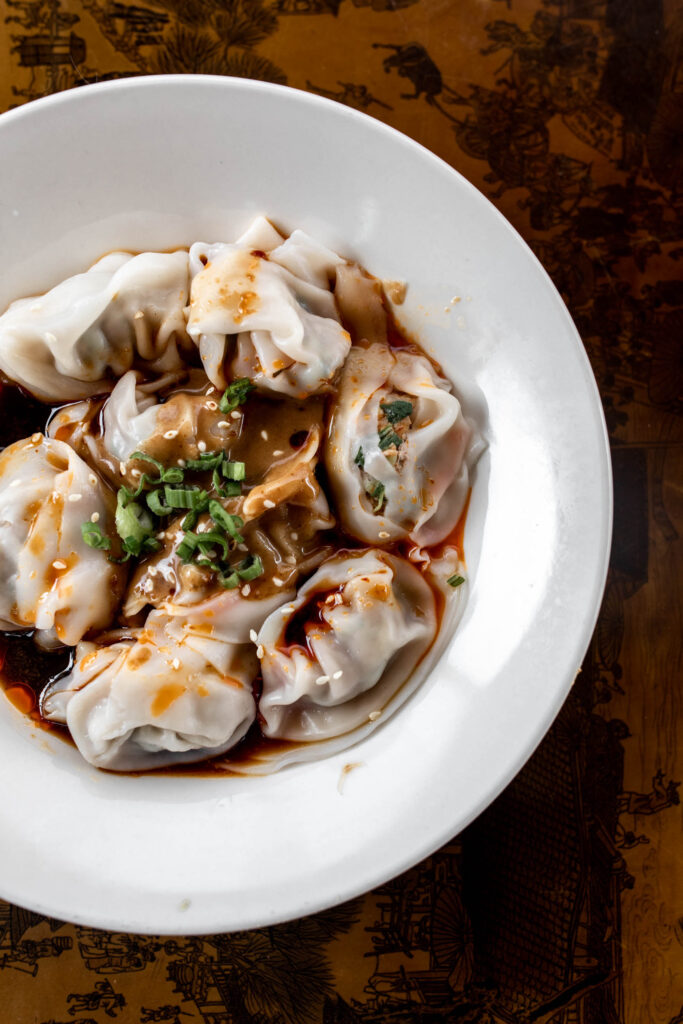 66 Bayard St, New York, NY 10013 | deluxegreenbo.com
Deluxe Green Bo is one of my favorite spots in Chinatown. Open since 1982 and cash only, it's one of those places that I always take people visiting New York. My friend Emily of @foodloversdiary introduced me to their crispy, doughy scallion pancakes, wontons tossed in peanut butter sauce and chili oil and pork and crab XLB (xiao long bao).
Their fried tiny buns with pork are like a cross between Sheng Jian Bao and BBQ pork buns. They're fried on the bottom and fluffy with juicy pork in the middle. I go through orders of the hot and spicy wontons myself. Boiled dumplings are tossed in a savory peanut sauce and spicy chili oil. The peanut sauce cools down the chili oil for a delicious bowl of dumplings.
Must-order: scallion pancakes and hot and spicy wontons
144 2nd Ave, New York, NY 10003 | veselka.com
Located on the Lower East Side, Veselka has been serving Ukrainian favorites since 1954. It's the ideal place to warm up on a snowy winter day. While it used to serve plates of pierogi (varenyky) and bowls of borscht more 24 hours a day, it has since revised its hours through COVID to a more normalized schedule. Coming in orders of either four or eight, the pierogi can either be boiled or fried. I recommend getting an order or two to share. I like to mix and match boiled orders of potato and mushroom with pierogi filled with tangy farmers cheese served with sides of sautéed onions, sour cream and applesauce. The short rib pierogi are considered a specialty and are a bit more expensive than the others ($9 for an order of 4 compared to $8) but are worth it. I prefer getting these fried.
Must-order: Split order of potato and mushroom pierogi and cheese pierogi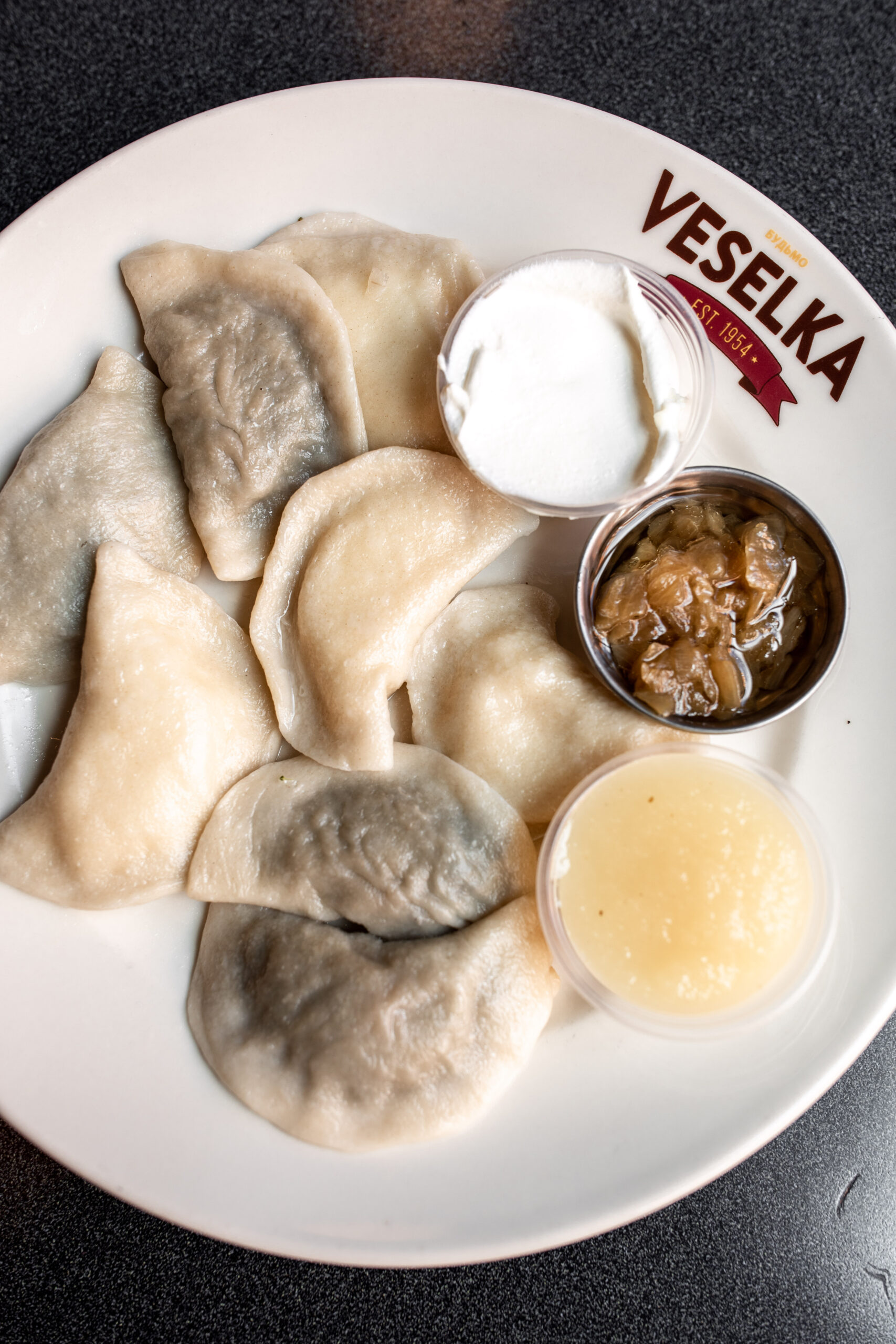 1291 3rd Ave, New York, NY 10021 | jgmelon-nyc.com
If you're looking for a classic yet casual Upper East Side restaurant oozing Americana, this is the place. After an afternoon visiting museums or walking through Central Park, stop for a classic burger and fries paired with a martini. JG Melon opened back in 1972 and remains cash only to this day. The satisfying cheeseburger comes with a thick juicy patty topped simply with tomato, pickles and slices of red onion. JG Melon's fries resemble pickle chips – cut into small circles with textuted ridges (they can be ordered topped with chili and cheese).
Must-order: Cheeseburger and cottage fries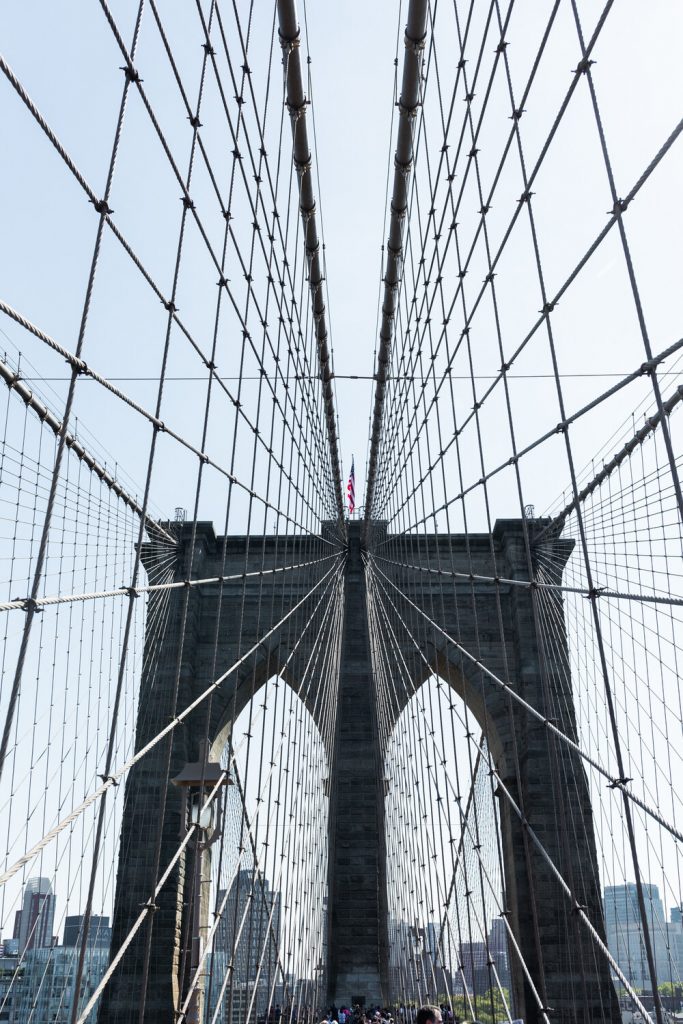 Hot Tips for NYC
Take the subway. Public transportation is usually faster and much cheaper. You can also use Apple pay rather than buying subway tickets at most stations now. If you aren't familiar with the subway system just type your destination into Google maps and use the train option.
Don't go to the Empire State building if you want photos of the city. You will probably want the Empire state building in your photos so go to the top of the Rock instead! The observation deck at the top of the 30 Rockefeller center building offers city skyline views with the Empire state building in them!
For a cheap tour around the city take the ferry! Take the red line from East 90th Street all the way down to Wall Street for $2.75. From there you will have a view of the statute of liberty as well as the Brooklyn Bridge.
Get a hotel in a convenient area. Figure out where you are going to be spending most of your time and get a hotel in close proximity to that area. Know that it's going to take some time to get from Central Park to the West Village. It's ok to want to explore lots of areas but plan accordingly.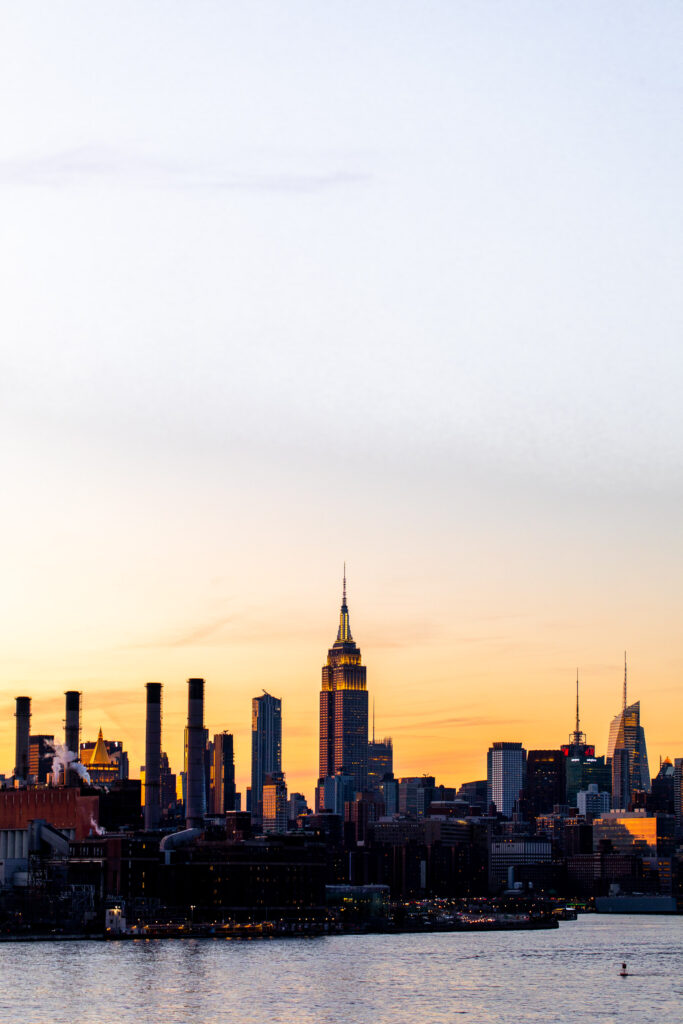 FAQ – Frequently Asked Questions
Where should I stay when I visit NYC?
The majority of my favorite restaurants are downtown so I prefer staying around there! My absolute favorite area of the city is the West Village.
What makes New York's food scene so great?
The fact that you can get almost anything delivered any time, the wide variety of cuisines and world famous chef's! I just love it all.
What are the best food neighborhoods in Manhattan?
There are great restaurants all over but I love Chinatown, the West Village, Soho and the Lower East Side.
Why is New York City called the "Big Apple"
Apparently the city's nickname dates back to the 1920's and refers to prizes awarded at horse-racing in the area.
What are the five boroughs?
There are 5 boroughs that make up New York and each has its charms and plenty of unique neighborhoods. They are: the Bronx, Brooklyn, Manhattan, Queens and Staten Island.
Is the city safe with COVID?
As of updating this post April 14, 2021, the city has great precautions set up with COVID, and a majority of New Yorkers have at least one of their vaccine shots. I feel safe riding the subway around and eating at restaurants. There are plenty of outdoor eating options available around the city. Restaurants and bars are able to stay open until midnight now. Consult the New York City travel guidelines if you have any questions.
Top touristy things to do?
1. Go to a Broadway show.
2. Walk the Brooklyn Bridge.
3. Visit Grand Central (I love the history of this station).
4. Go to a museum (the Metropolitan Museum of Art is my favorite but the MoMA, Museum of Natural History, the Whitney or Guggenheim are all great!)
5. Walk across the high line in Chelsea.