Homemade Pizza
Pizza is a no fork zone. Anyone who uses a fork to eat a cheap slice of pizza is shameful. But feel free to add any toppings that you like. Think summertime – nice weather, maybe a pool party and friends. This is the perfect setting for pizza on the grill. Just make sure you keep drinking water while you grill. It might get a little hot over there.
Since the pizza dough recipe makes about 2 10-inch size pizzas I usually like to make one margarita pizza and then play around with the pizza topping combinations on the other two to mix it up. A lot of times I will take whatever leftovers I have in the fridge and see what kind of toppings I can come up with using those.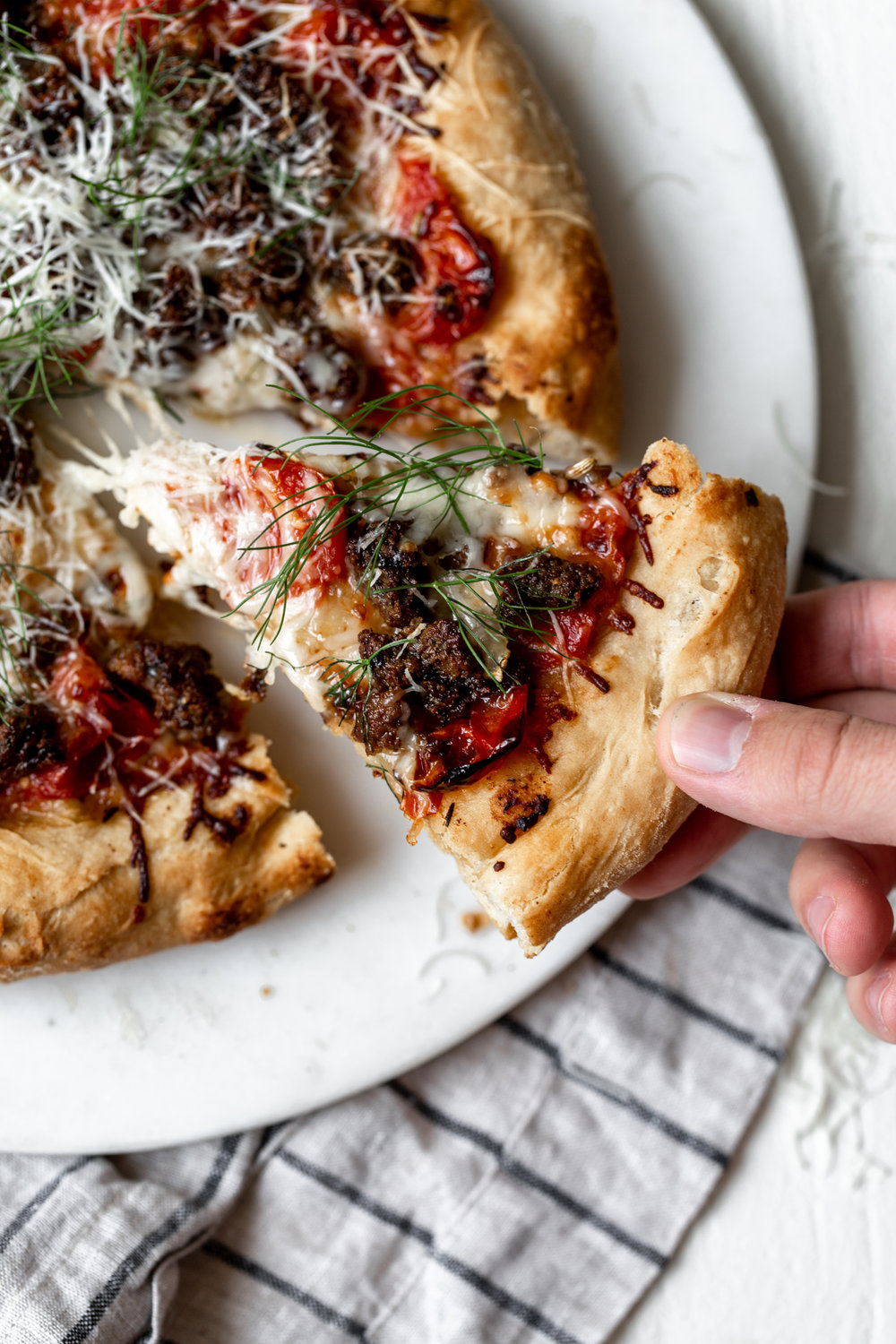 Some of my favorite pizza topping combinations:
Spinach Artichoke = white pizza + Spinach leaves + artichoke + Parmesan + crushed red pepper
Hawaiian = ham + diced pineapple + sliced jalapenos + cheddar cheese
Buffalo chicken = chicken thighs tossed in buffalo sauce, chopped + blue cheese + diced celery
BBQ = barbecue pulled pork + crispy onions + chopped cilantro + sliced Fresno peppers
BBQ chicken = shredded chicken + barbecue sauce + red onions + cilantro
Breakfast pizza = breakfast sausage + mushrooms + cheddar cheese + egg on top
Lamb pizza = slow roasted lamb shank + feta cheese + mozzarella + thyme + balsamic glaze
Pesto pizza = basil pesto + mozzarella + Parmesan + sausage
Prosciutto = Prosciutto + basil + mozzarella
Homemade Pizza
For the dough:
1 ½

teaspoons

active dry yeast

2

cups

all-purpose flour,

plus extra for kneading and shaping the dough

2

tablespoons

extra-virgin olive oil,

plus extra for oiling the bowl

1

teaspoon

kosher salt

2

teaspoons

granulated sugar
For the pizza:
½

cup

cornmeal*

1

10-ounce can crushed tomatoes

½

cup

fresh basil leaves

3

cups

shredded mozzarella cheese

1

cup

grated Parmesan cheese

1

tablespoon

extra-virgin olive oil

Plus any other desired pizza toppings
For the dough:
In a small bowl, dissolve yeast in 1 cup lukewarm water and let stand for about 10 minutes. Make sure that the water is lukewarm, not hot so that it does not kill the yeast.

In a large bowl, mix flour, olive oil, salt, sugar, and yeast mixture. Stir until combined then knead dough on a clean and lightly floured surface until the dough is smooth and elastic, about 5 to 6 minutes.

Place the dough in a lightly oiled bowl. Cover with a damp cloth and let rise in a warm place for about 1 hour. When ready to make the pizzas, punch down the dough.
For the pizza:
If you are making the pizza on the grill or in the oven you will get the best results using a pizza stone**. Preheat the grill or oven to 500°F with the pizza stone in the oven or on the grill.

Divide the pizza dough into 3 even pieces. Turn one of the thirds out onto a lightly floured surface. Roll it out into a pizza crust shape. Dust cornmeal on a pizza peel* then carefully move the pizza crust onto the peel.

Spread about ¼ cup of crushed tomatoes evenly on the dough. If you like your pizza with extra sauce, feel free to add a little more. Tear up ¼ cup of basil leaves and sprinkle over the dough.

Evenly sprinkle mozzarella and Parmesan cheese over dough. Brush the exposed crust with olive oil, then use the pizza peel to slide the pizza onto the pizza stone.

Cook until the crust is golden brown and the cheese is bubbling, about 10 minutes. Remove and repeat with the remaining dough.
*Note: If you don't have a pizza peel, you can use and upside down baking sheet.
** Note: When cooking pizza in the oven it can make a big mess. You can use parchment paper instead and then once the pizza is on the stone, simply grasp the corner edged of the paper and pull it out.
DID YOU MAKE THIS?
TAG ME ON INSTAGRAM TO BE FEATURED ON MY STORIES! @cookingwithcocktailrings