New York is famous for its pizza, but New Haven, Connecticut is famous for its own regional style. Located only about an hour and a half drive from New York City, it makes a great day trip. While in the area, it's worth stopping at Yale University, to walk off some of the pizza or just to take in the Gothic architecture. We brought our dog Benson along for the trip so we ordered our pizzas for pickup and ate in the warmth of the car.
Pizza in New Haven, CT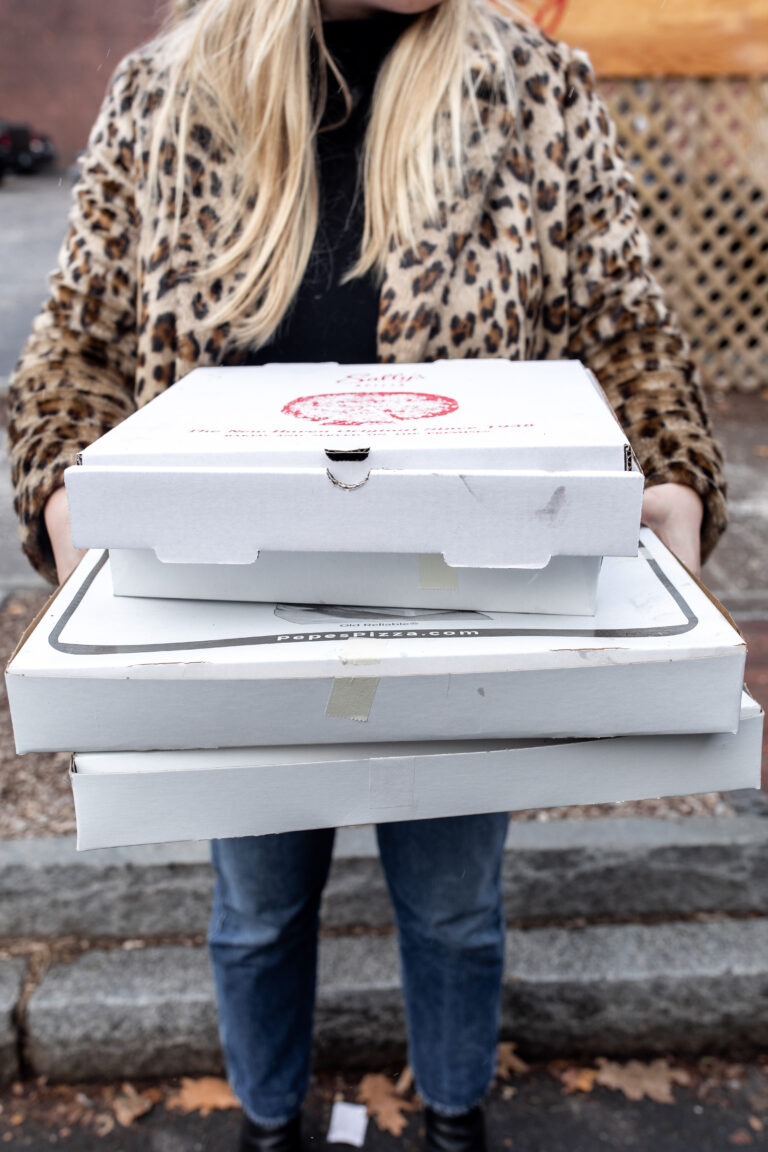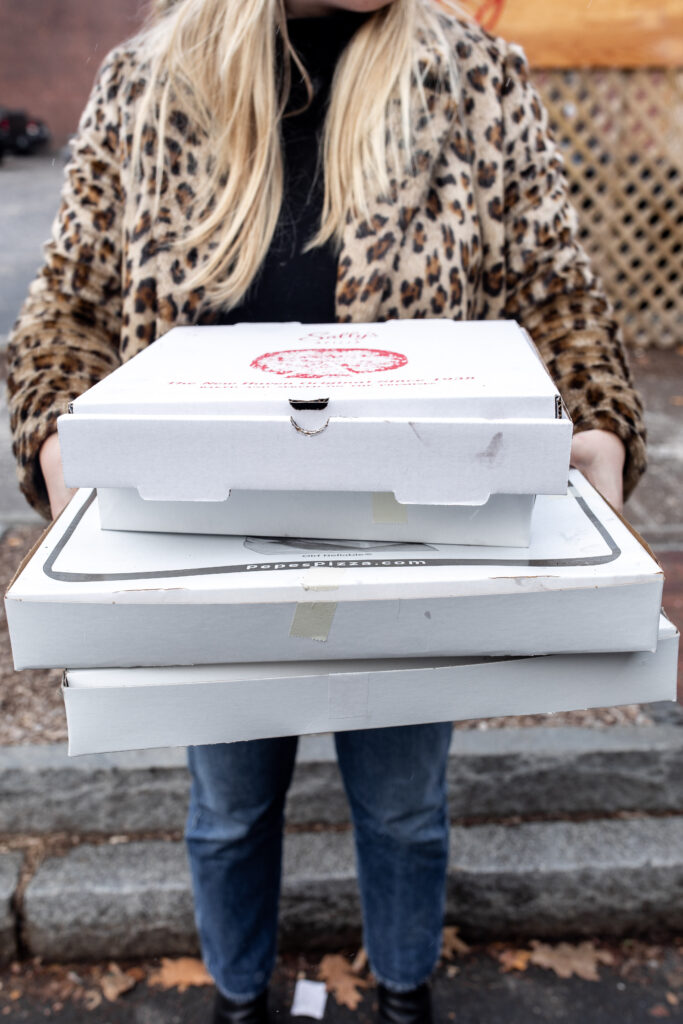 What is New Haven-style pizza?
First, it's called "apizza" not pizza. Pronounced ​"ah-BEETZ", it's an homage to the Neapolitan dialect of the Southern Italians who came to the area.
While this style of pizza is closely related to New York thin-crust pizza, it has its own distinct style. New Haven pizza has a signature cracker-thin crust and slightly oblong shape, usually cooked in a coal-fired oven.
The wafer-thin crust and high, dry heat (coal burns close to 1000ºF/ 538ºC) leaves the crust crunchy with charring on the edges, more than just the "leoparding" spots which are found on pizza cooked in wood fired ovens. In this style, the dough is made with a high water content and high-gluten flour. It has a longer fermentation time in a cold temperature which gives it a chewy texture.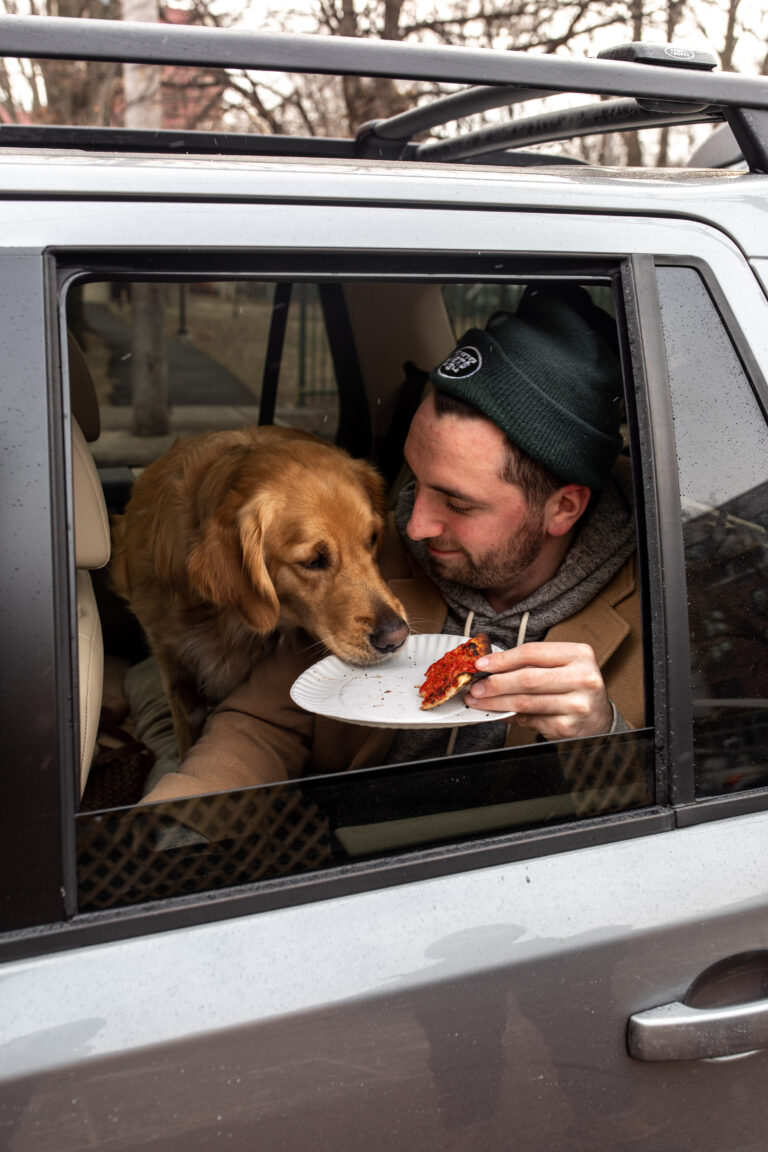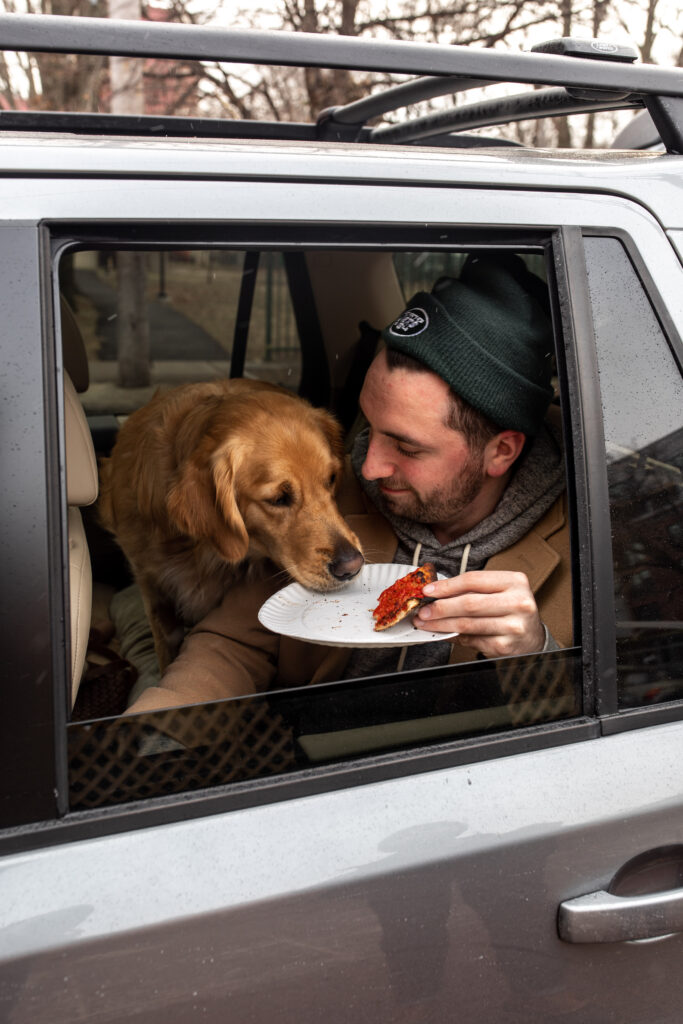 Tomato Pie
The first New Haven pizzas were topped only with tomatoes and no cheese. Cheese or "mootz", whole milk shredded mozzarella, is considered an additional topping. If you order a "plain" pizza, don't expect it to come heaped with cheese. The sweet tomato sauce made fairly simply with crushed San Marzano tomatoes shines in this pizza topped with a near imperceptible amount of freshly grated Parmesan (or Pecorino Romano) cheese. It could originally be ordered with or without anchovies.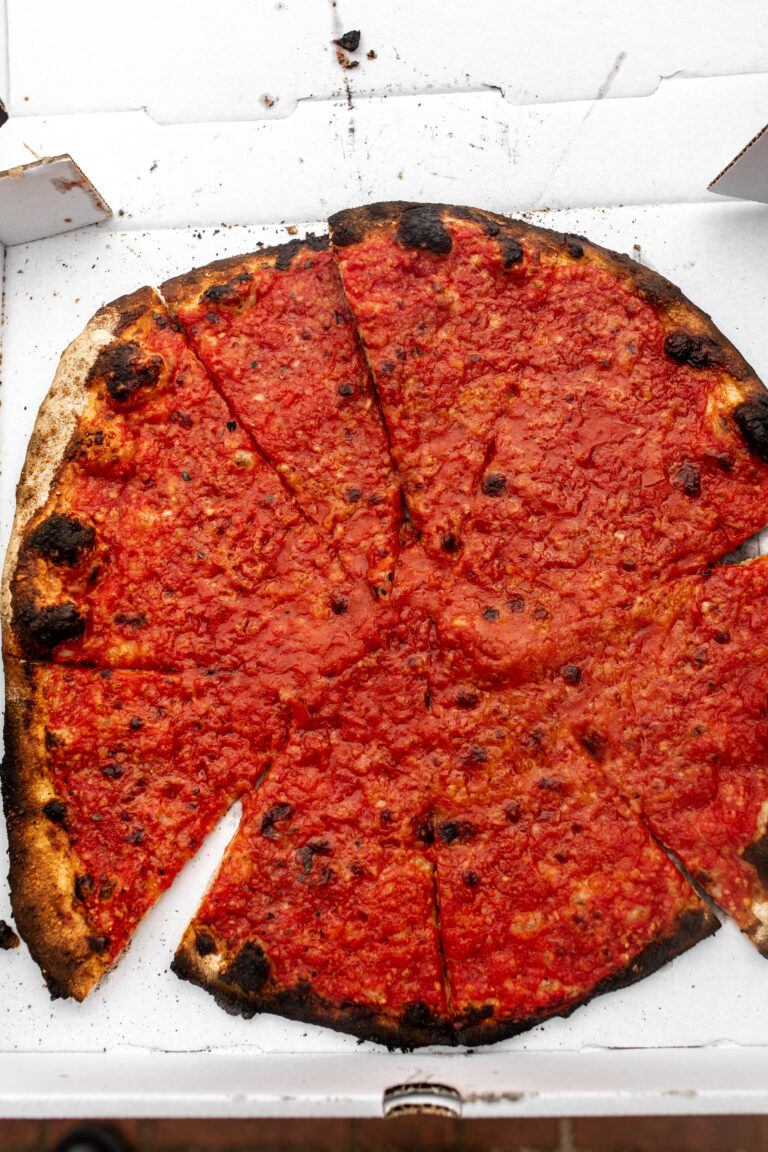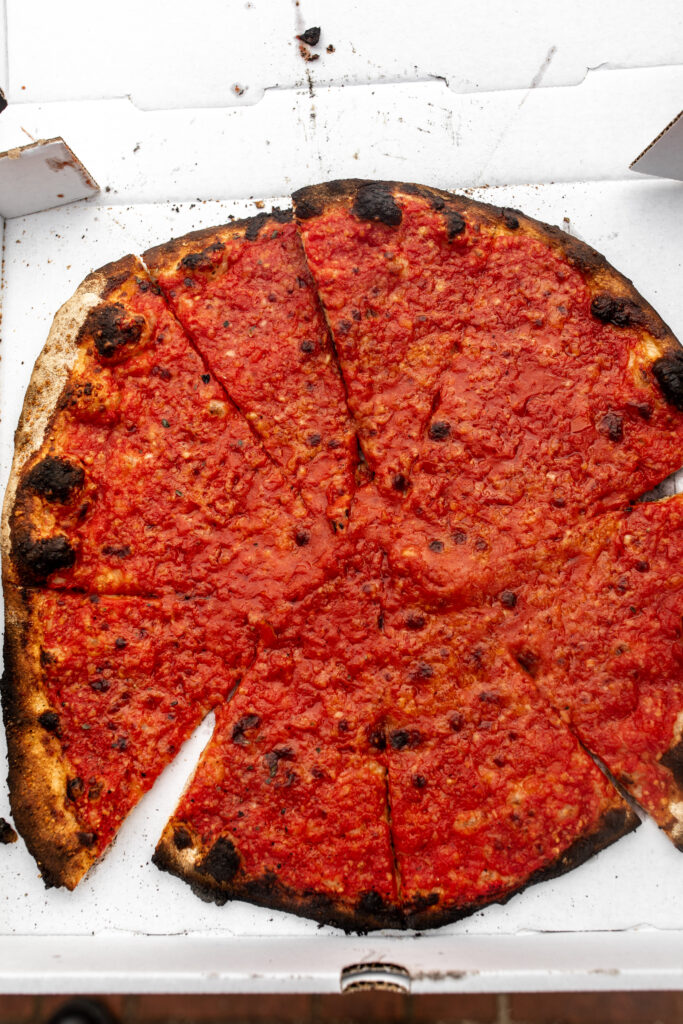 White Clam Pizza
Another thing New England is known for is its seafood. White clam pizza is another New Haven tradition. A white pizza is topped with chopped littleneck clams, generous amounts of garlic, olive oil, grated Pecorino Romano and oregano. Clams on pizza isn't a classic Italian topping. It was started at Frank Pepe's in the 1960s, taking advantage of local offerings using the restaurant's clams on the half shell appetizer.
The briny, chopped clams, aged cheese and garlic pair perfectly with the crispy crust. Some love adding bacon to the pizza for a salty contrast to the shellfish. You can find clam pizza in other areas outside New Haven including at New York's Pasquale Jones. They pair their clam pizza with sautéed broccoli rabe.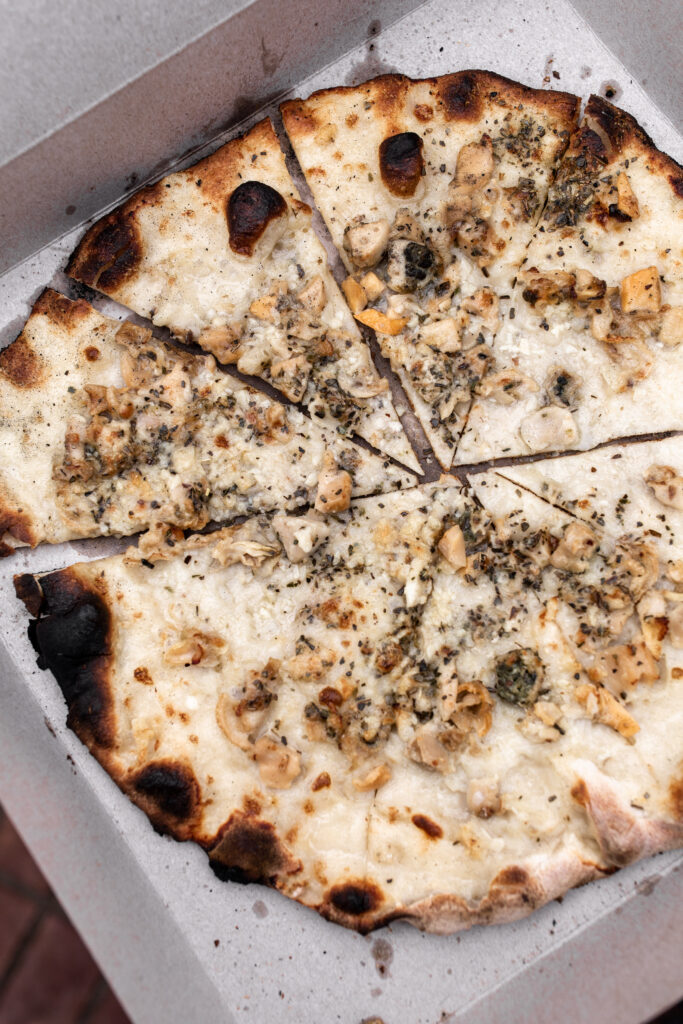 The Restaurants
There are no shortage of pizza spots to try in New Haven, many lining the Italian district of Wooster Street. So how did I choose which three to visit in one afternoon? While everyone has their favorites (BAR ranking high up there) – I wanted to try three classic restaurants on this trip. We started at Modern, Apizza then made our way to Frank Pepe's and Sally's Apizza.
Next time I am going to BAR; they're newer on the scene, opening in 1996, to try their famous mashed potato pie with bacon! Unfortunately, an impending blizzard forced us to make the drive back to Brooklyn before we got to stop at one of the newer New Haven favorites.
On an optimistic note, most of these restaurants often have lines out the door, but an impending snow storm shortened wait times! In addition to pizza, Louis's Lunch in New Haven considers itself to be the birthplace of the hamburger (making them since 1900) so that will require another trip!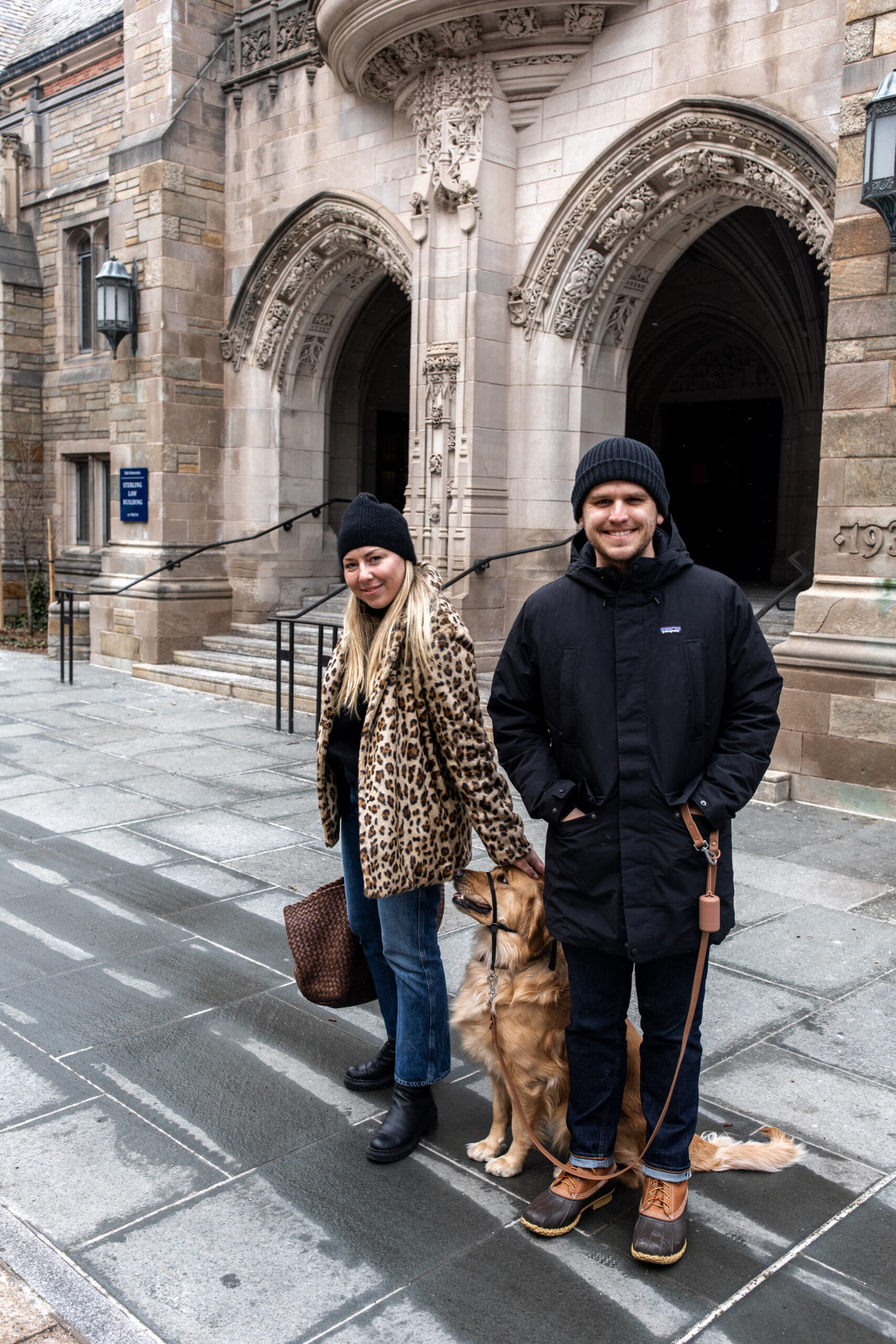 Frank Pepe's
157 Wooster St, New Haven, CT 06511 | www.pepespizzeria.com/
New Haven pizza began with Frank Pepe's in 1925. Frank Pepe was an Italian immigrant who began his foray into pizza by sharing his baked breads with the neighborhood by cart. The restaurant moved to its current location in 1937 and has since expanded to 11 locations throughout the Northeast. Frank Pepe's started with tomato pie, with or without anchovies, kicking off a long tradition of pizza. If the line is long, order from The Spot, a nearly identical operation at what is actually the original Pepe's location just across the parking lot.
We ordered a small (12") white clam pizza as well as a medium (16") cheese pizza. The cheese pizza was given a score of 9.4 by Barstool's Dave Portnoy – one of the highest ever. I loved the thin crust and slightly sweet sauce bursting with tomato flavor. I loved the clam pizza, but the cheese pizza was my favorite of the day. We finished the visit off with a slice of cannoli pie – cannoli pie crust with a sweet ricotta filling garnished with chocolate shavings.
Must order: White clam pizza, cheese pizza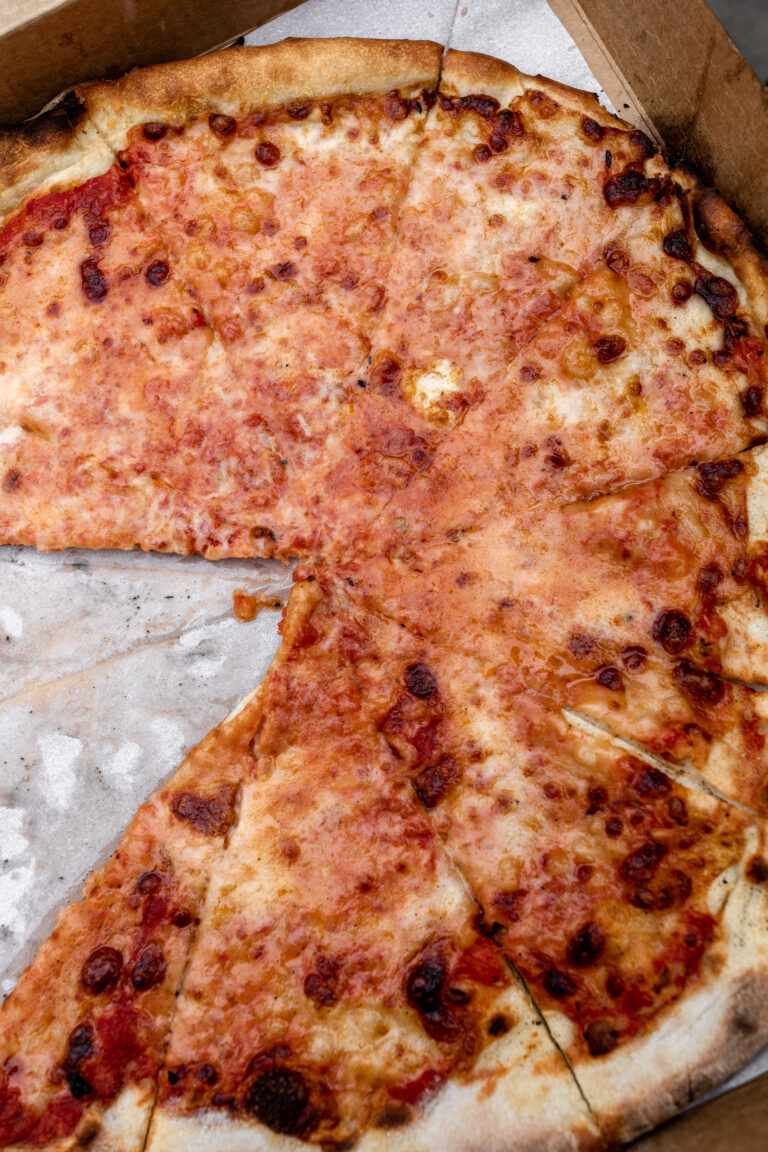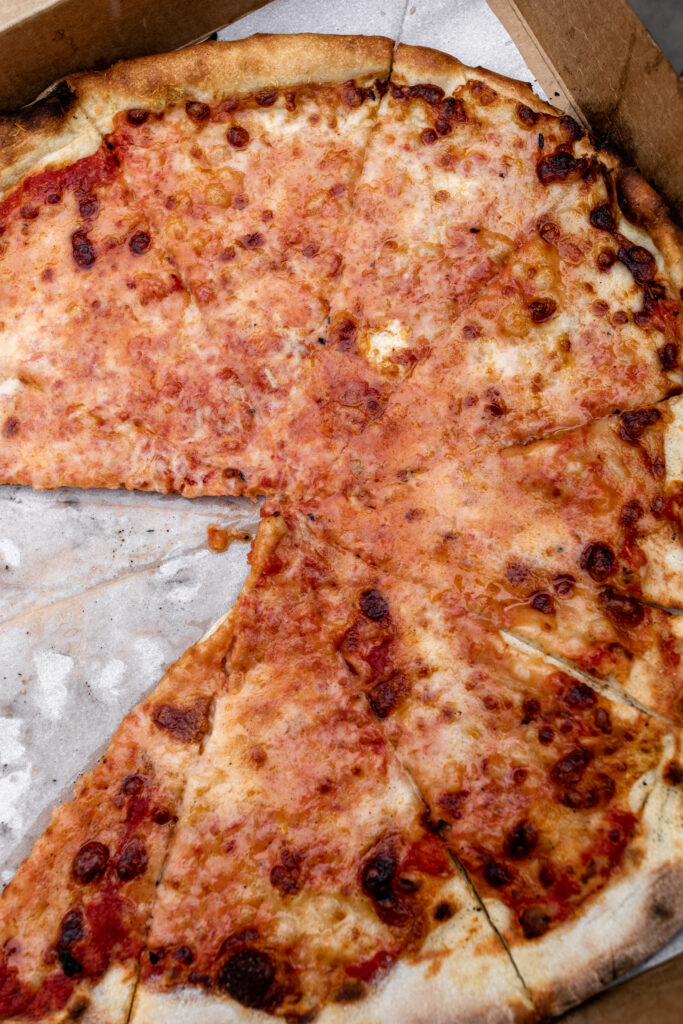 Sally's Apizza
237 Wooster St, New Haven, CT 06511 | www.sallysapizza.com/
Sally's Apizza, a noted favorite of Frank Sinatra, was opened in 1938 by Frank Pepe's nephew, Salvatore Consiglio on Wooster Street. Like Frank Pepe's, Sally's uses a coal-fired brick oven to cook their pies. Unlike Pepe's which has updated the interior, Sally's remains mostly the same as when it opened and is known for its consistency.
We ordered the tomato pie with a crisp crust topped with a house-made blend of tomatoes and grated Parmesan. Sally's Apizza ties their boxes with a white and red string making it feel like you're unboxing a pastry box rather than a pizza.
Must order: Tomato pie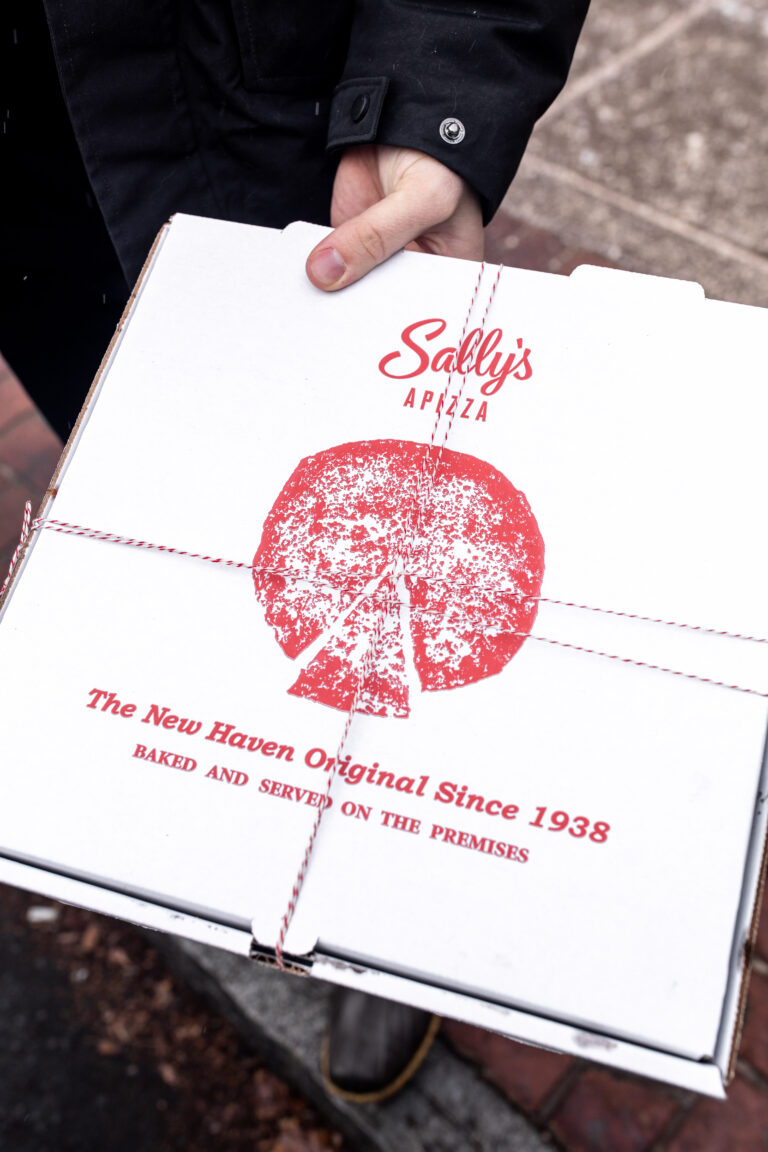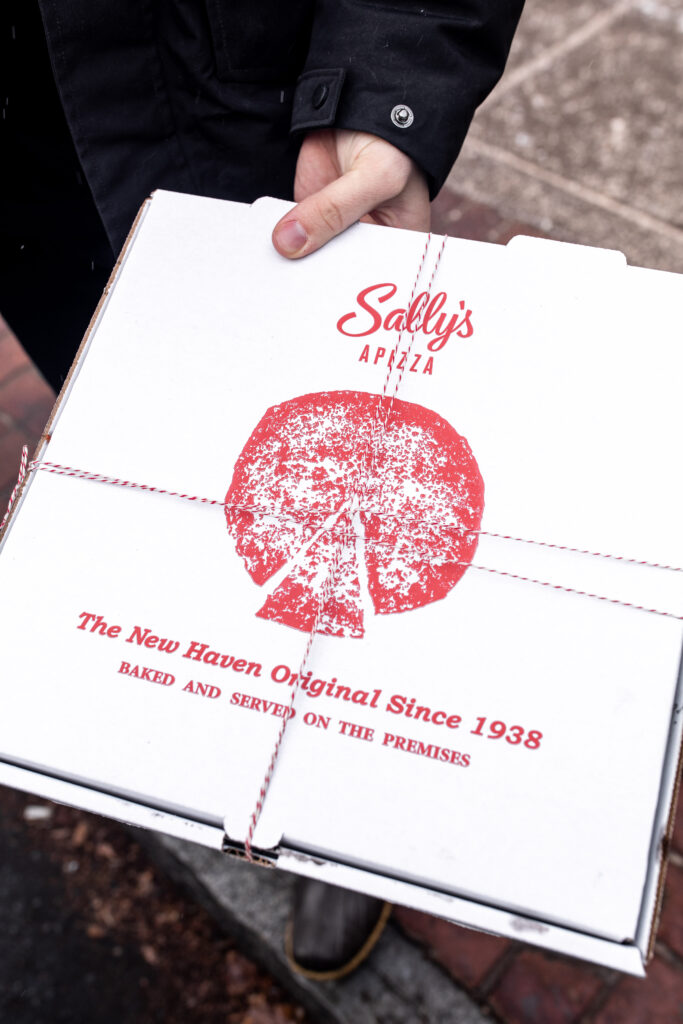 Modern Apizza
874 State St, New Haven, CT 06511 | www.modernapizza.com/
Founded in 1934 on State Street, Modern Apizza differs from the other two of the New Haven "holy trinity" of pizza because it uses an oil-fired brick oven which gives it a lighter colored, golden brown crust than the pizza from coal-fired ovens. Modern is still family-owned to this day.
Unlike the other spots, at Modern we went with a specialty pie. The "Italian bomb" pizza comes topped with pepperoni, sausage, meatball, peppers, mushrooms & onions. The sheer number of toppings kept the crust of this pizza from getting as crispy but the flavor was great. Modern uses noticeably more cheese than the others, piling on the whole milk aged mozzarella. I loved the light char on the outside, which was noticeably lighter than the other stops. Rather than cornmeal which is used by many pizza places to help move the crust in and out of the ovens, Modern uses breadcrumbs.
Must order: The Italian bomb