Grilled Green Spring Veggie Pizza
This pizza might be filled with veggies but the addition of the black truffle salt and creamy burrata cheese makes it a little more extravagant. And I have also included a spring root vegetable called "ramps" in the recipe. Many people are unfamiliar with ramps – outside of the food community they are quite obscure.
The food-obsessed go nuts for ramps in the spring and they have been known to cause a brawl or two at farmers markets. They are only available for a few weeks in the spring and usually have to be foraged so they aren't readily available. The scallion-looking, leek/garlicky tasting root veggie is a hot commodity, so if you see ramps be sure to snatch some up.
I try to use the thinnest asparagus I can find for this pizza – I don't cook it beforehand so asparagus that is too thick will be raw. The thin asparagus gives you a nice crunch and it gets a nice char from the grill. If you can't find any pencil-thin asparagus at the store, use a knife or mandolin to thinly slice or shave the asparagus for your pizza.
Using the grill to cook the pizza adds a little smokiness to the flavor and also adds extra crunch to the dough. The grill can also get to a higher heat than the oven, which allows it to cook more quickly.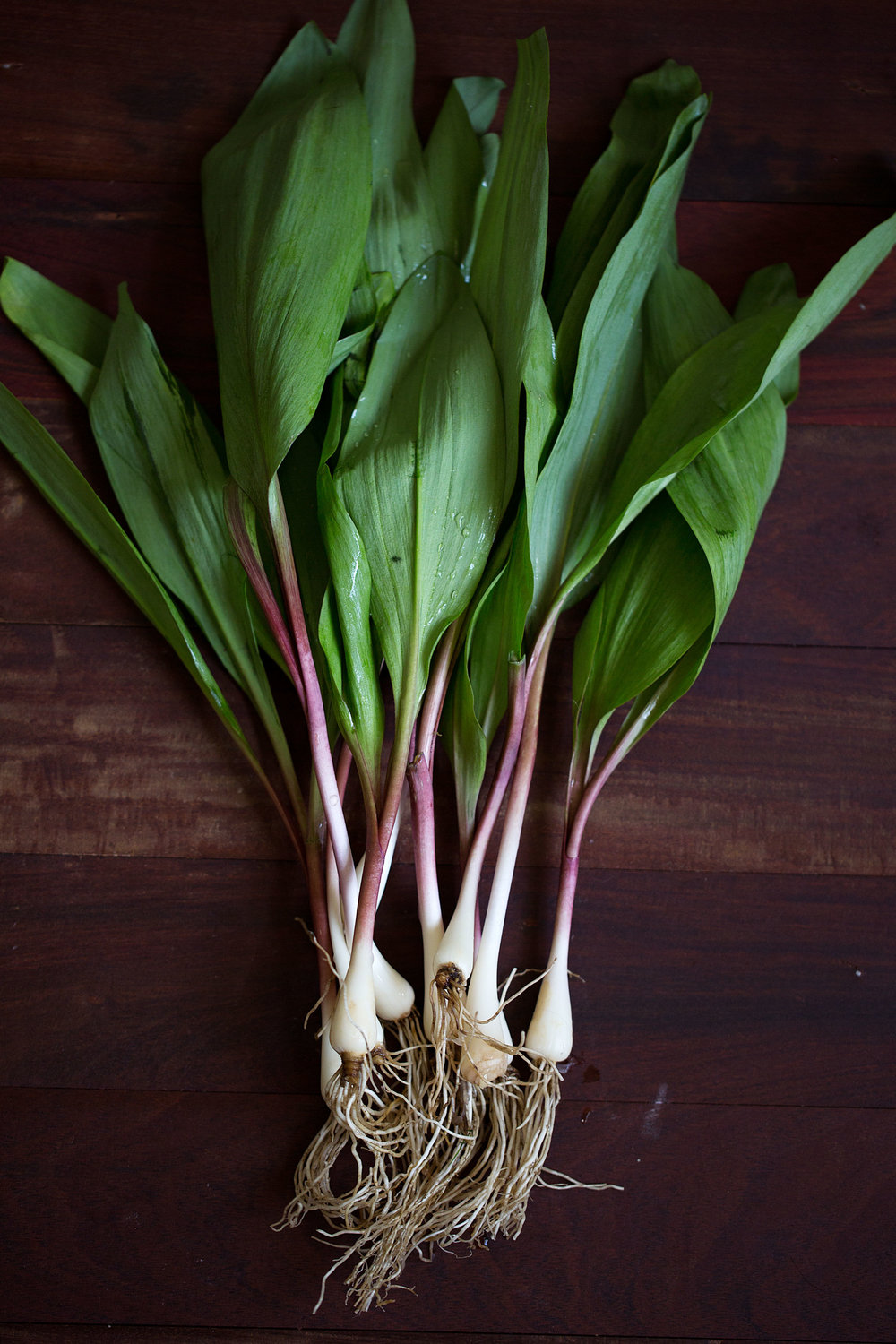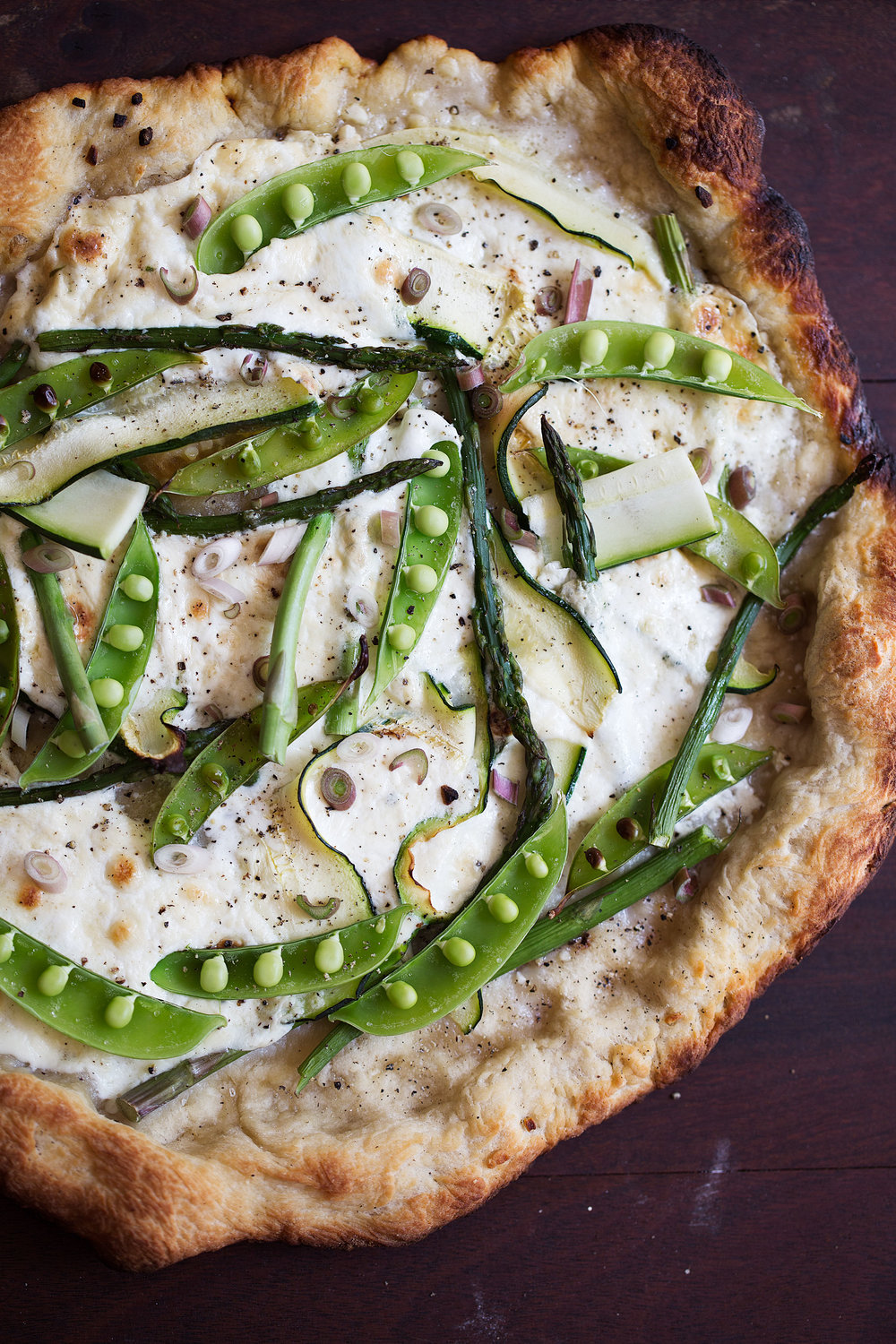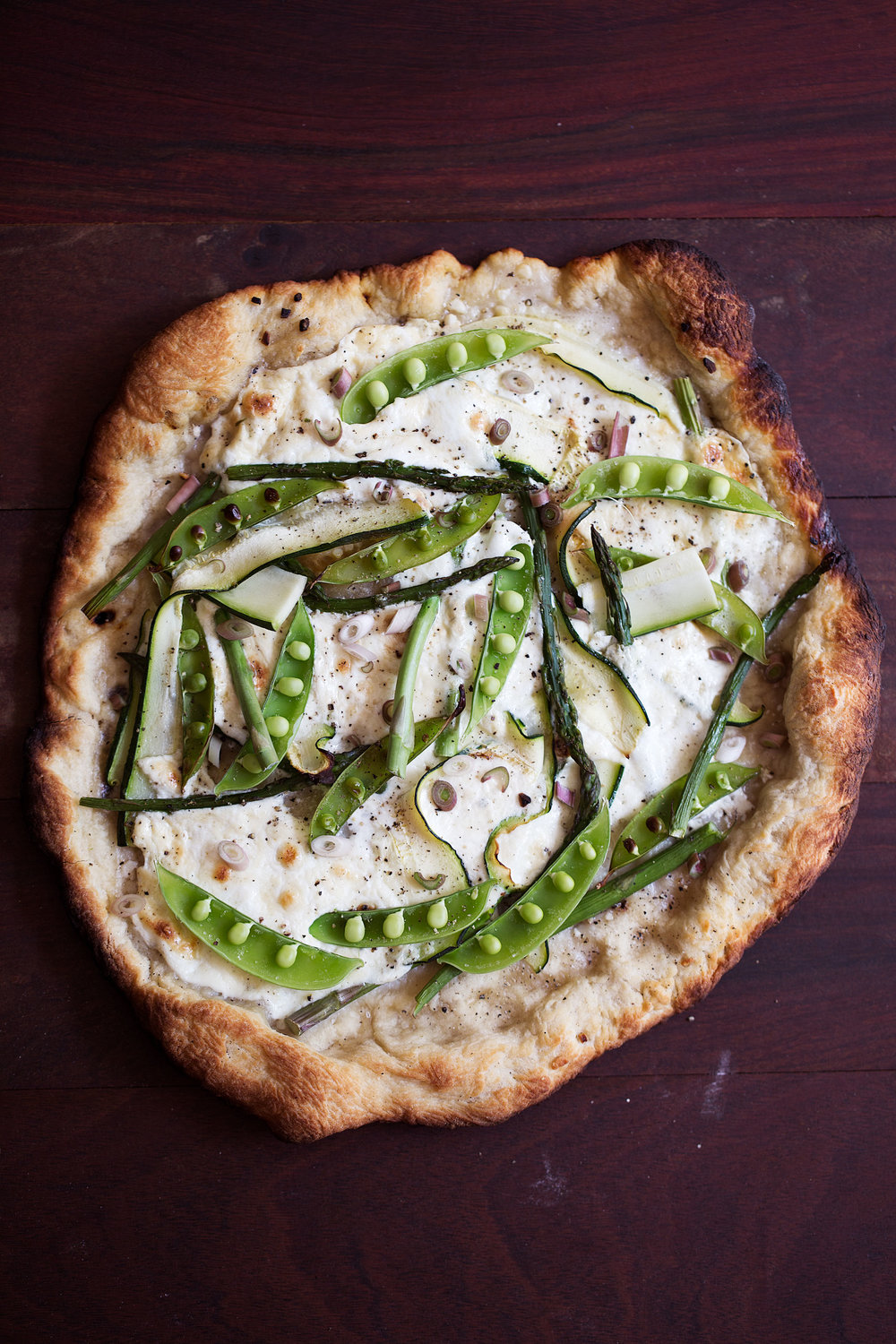 Grilled Green Spring Veggie Pizza
1

pound

homemade or store-bought pizza dough,

at room temperature

Cornmeal,

as needed

4

teaspoons

extra-virgin olive oil,

divided

4

cloves

garlic,

minced

6

ounces

burrata cheese

1

medium zucchini,

thinly sliced

1

cup

halved lengthwise snow peas

3

ounces

thin asparagus tips

2

ramps,

white section only, thinly sliced

½

teaspoon

black truffle salt

½

teaspoon

freshly ground black pepper
Preheat grill to high heat, about 550ºF.

Divide the pizza dough in half. On a lightly floured surface roll out one of the halves of dough into about a 10-inch circle. The dough should be fairly thin. Spread half of the cornmeal around on the pizza peel and place the dough on top. If you do not have a pizza peel then prepare the dough on a lightly greased baking sheet.

Rub 2 teaspoons of olive oil and garlic over the pizza dough including the edges. Grill the pizza for 3 minutes then use the pizza peel or large tongs to remove it from the grill. Arrange the burrata cheese, zucchini, snow peas, asparagus tips and ramps around the pizza. Leave about 1" around the edge of the pizza for the crust.

Grill until the pizza is crisp and golden brown and the cheese is bubbling, about an additional 5 to 6 minutes. Sprinkle with truffle salt and black pepper. Cut into equal slices and serve immediately. Repeat with the remaining pizza dough.
DID YOU MAKE THIS?
TAG ME ON INSTAGRAM TO BE FEATURED ON MY STORIES! @cookingwithcocktailrings