BBQ Steak Pizza
This post is sponsored by Visit California. 
This recipe is inspired by my recent trip to California's Conejo, Santa Ynez, and Santa Maria Valleys around the central coast which you can read more about here (thank you to those who followed along with my trip on my "Instagram Stories"!).
So many of my recipes are inspired by my travel and this was no different. In Santa Maria Valley I visited a restaurant favored by locals, the Hitching Post, famous for their Santa Maria style BBQ. Then, the next day, I ate at Pizza Bella Forno, another Santa Maria pizza place with some unique pizza toppings.
I was inspired by the simplicity of the ingredients used in the Santa Maria-style BBQ so I topped this pizza with steak seasoned similarly to how they did it at The Hitching Post, minus the Red Oak wood it's cooked over.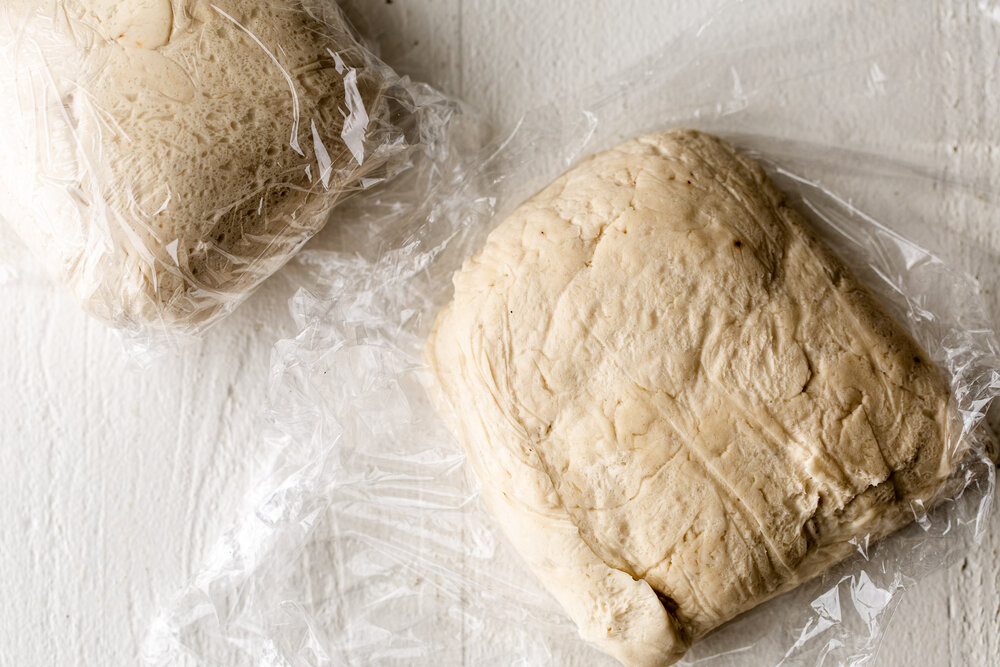 This steak is seasoned with kosher salt, black pepper and garlic powder. It is then seared in a screaming hot cast iron pan to develop a flavorful and crisp crust on the outside, then sliced and arranged over pizza dough drizzled with olive oil from Global Gardens (read more about my olive oil tasting experience here), and topped with crushed fire-roasted tomatoes, shredded mozzarella, Romano cheese, red onion, jalapenos and cilantro.
While Pizzeria Bello Forno uses wood-fired ovens that I am most certainly jealous of, this pizza can be created in either an oven or grill on the highest heat (500ºF).
This flavorful BBQ steak pizza goes with either wine or beer – it's a classic Friday night pairing. I like to serve it with a red ale like the X Redded beer made in house at Conejo Valley's Twisted Oak Tavern or a light-bodied red wine like the 2017 Pinot Noir from Pence Winery in Santa Ynez. It had bright red notes of raspberry and cherry and undertones of orange and sandalwood.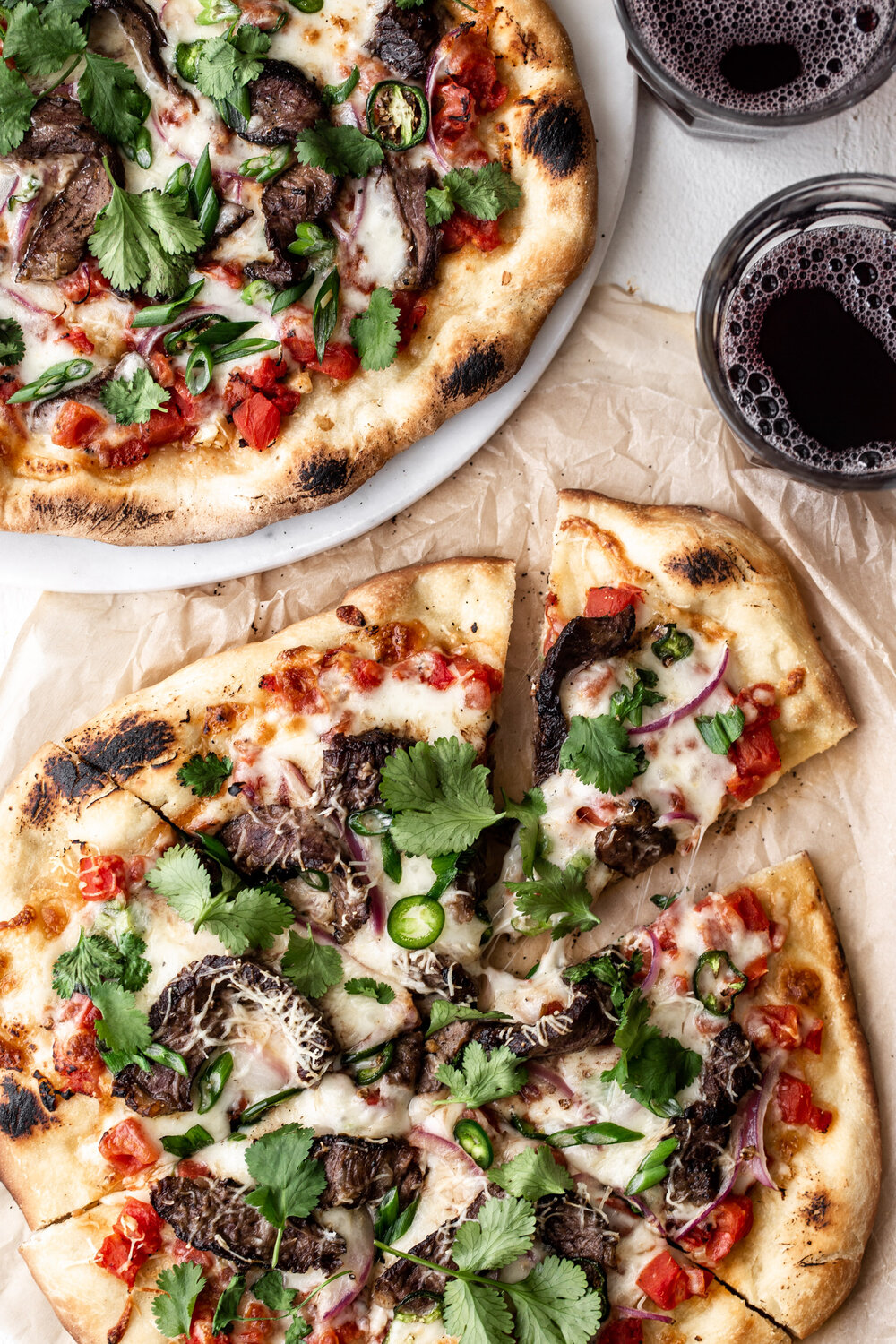 BBQ Steak Pizza
For the steak:
1

pound

boneless ribeye steak

1

teaspoon

garlic powder

Kosher salt

as needed

Freshly ground pepper

as needed
For the pizza:
1

pound

prepared pizza dough

¼

cup

cornmeal

2

tablespoons

extra-virgin olive oil

3

cloves

garlic

minced

1

14.5-ounce can diced fire-roasted tomatoes, drained

2

green onions

thinly sliced

2

cups

shredded part-skim mozzarella cheese

½

cup

grated Pecorino Romano cheese

¼

cup

thinly sliced red onion

2

medium jalapeños

thinly sliced

Handful cilantro leaves

for garnish
For the steak:
Heat a cast iron pan over medium-high heat. Season the steak generously on both sides with salt, pepper and the garlic powder. When pan is smoking hot, add the steaks to the pan and let sizzle for about 1 minute. Flip the steaks and press down with tongs so that all parts of the steak touch the pan.

Continue to cook the steaks over medium-high heat, flipping the steaks every 30 seconds to ensure a crisp golden-brown crust (without burning). For medium-rare steaks this should take about 8 minutes total (internal temperature should read 125ºF – 130ºF). Remove to a cutting board, tent with foil and let rest for 5 minutes. Thinly slice the steaks across the grain and set aside.
For the pizza:
If you are making the pizza on the grill or in the oven you will get the best results using a pizza stone. Preheat the grill or oven to 500°F with the pizza stone in the oven or on the grill.

Divide the pizza dough into 2 equal pieces. Working one at a time turn a piece of the dough out onto a lightly floured surface. Roll it out into a circular pizza crust shape. Dust cornmeal on a pizza peel then carefully move the pizza crust onto the peel.

Rub the crust with 1 tablespoon of the olive oil and top with half of the garlic. Par-bake the crust for 4 minutes. This will help the crust to remain crispy throughout. Spread about ½ cup of the fire roasted tomatoes over the dough, leaving about ½" all the way around for the crust.  Top with green onions, 1 cup of the mozzarella, ¼ cup of the Pecorino cheese, a handful of the red onion and 1 of the sliced jalapeños. Bake until the cheese has melted and the crust is golden brown, about an additional 8 to 10 minutes.

Repeat with the remaining dough and ingredients then cut into equal pieces and serve immediately.
DID YOU MAKE THIS?
TAG ME ON INSTAGRAM TO BE FEATURED ON MY STORIES! @cookingwithcocktailrings
Note: If you do not have a pizza stone and pizza peel the pizza can be made on a baking sheet.
This post is sponsored by Visit California – all thoughts and opinions are my own. Thank you for supporting companies that I love!