I particularly like this garlic confit cream cheese added to a bacon, egg and cheese breakfast sandwich (as pictured), but it also is perfect spread on a golden brown toasted bagel first spread with butter then cream cheese. The garlic cloves are poached at a low heat in olive oil which infuses the oil with flavor and results in melt in your mouth garlic cloves. With a subtly sweet, mellow and savory garlic flavor it makes the perfect addition to simple cream cheese.
Garlic Confit Cream Cheese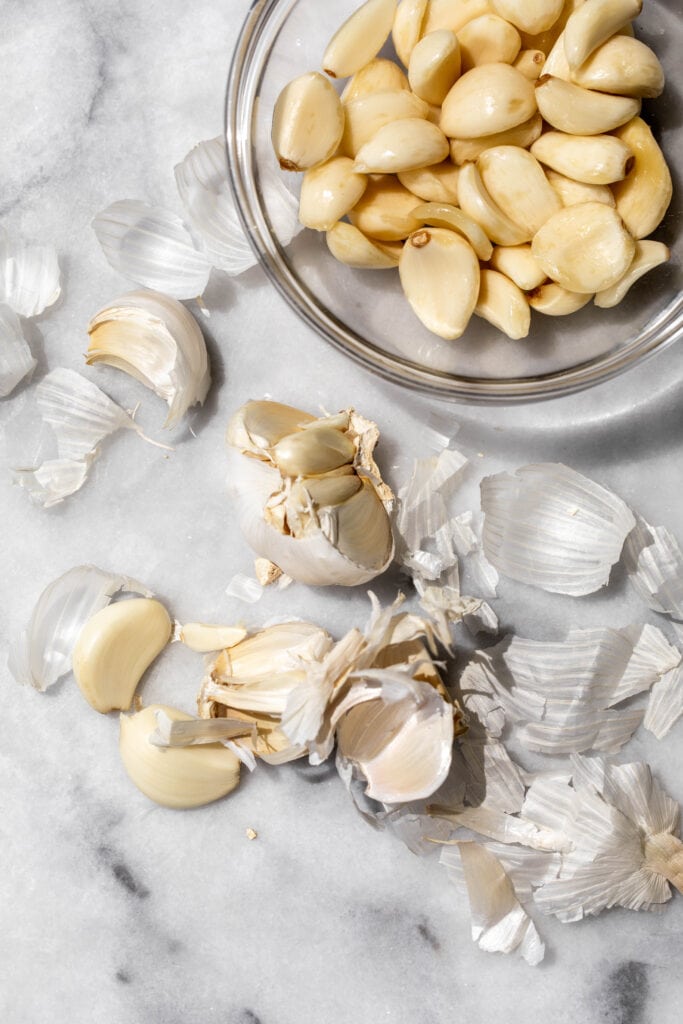 What does confit mean?
This French method of cooking typically means cooking something slowly in its own fat (think duck confit). In this instance the cloves of garlic are slowly cooked in olive oil (a neutral oil like vegetable oil can also be used) until they infuse the oil with garlic and the cloves themselves become extremely tender and spreadable with a mellow garlic flavor.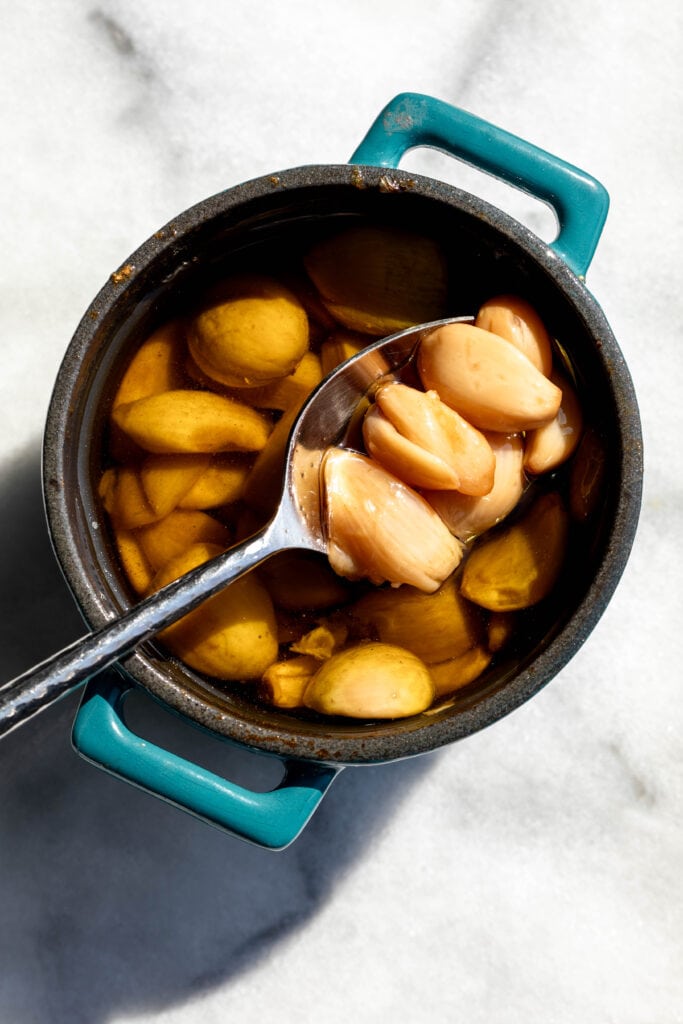 Key Ingredients in This Recipe
Garlic – The peeled cloves are slowly cooked in olive oil and become soft and easily spreadable. While I prefer to use freshly peeled cloves of garlic for the purest flavor, you can substitute with ¾ cup of store bought peeled garlic cloves. A rule of thumb is 1 head of garlic will hold about 10 to 12 cloves or about ¼ cup of cloves.
Olive oil – Using a flavorful oil like olive oil adds a grassy flavor that compliments the confit garlic.
Cream cheese – I always recommend using regular cream cheese rather than non-fat varieties. Allowing the cream cheese to soften at room temperature makes it much easier to combine with the other ingredients.
How to make garlic confit cream cheese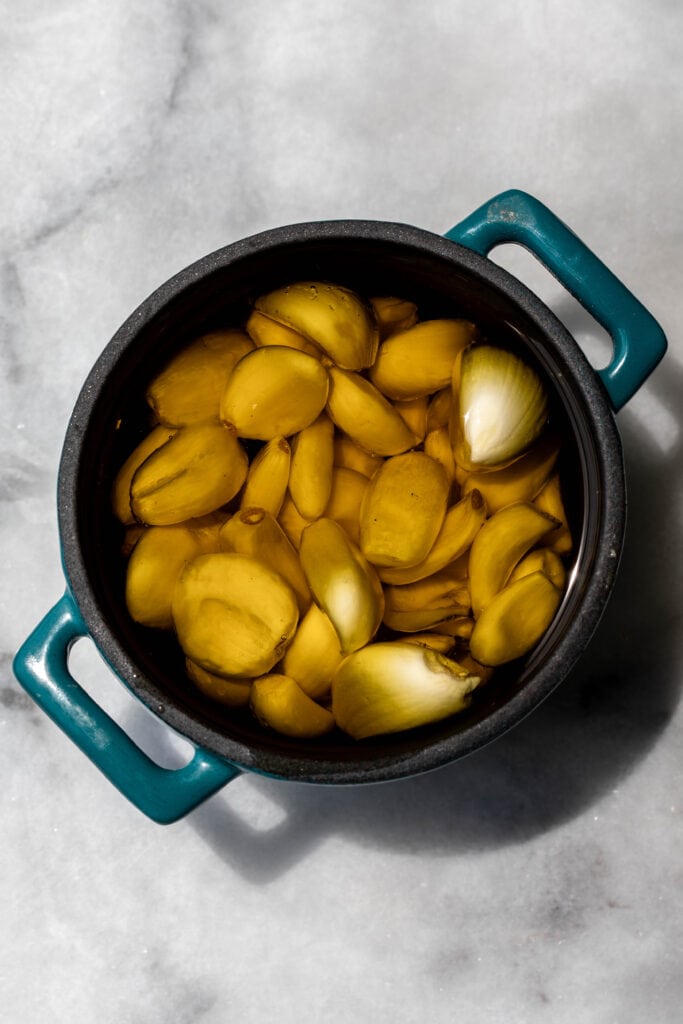 Step 1: Make garlic confit.
Heat oven to 250ºF (120ºC). Add the cloves to a baking dish or cocotte with a cover. Pour olive oil over the top, adding more if needed so the cloves are covered. Cover with a lid or oven-safe cover and bake until cloves are tender and golden, about 2 hours.
Step 2: Let cool and store if needed.
Let the mixture cool to room temperature. Set aside ⅓ cup of the roasted garlic cloves. Reserve the remaining oil and confit garlic for another use. Store refrigerated in an airtight container for up to 2 weeks.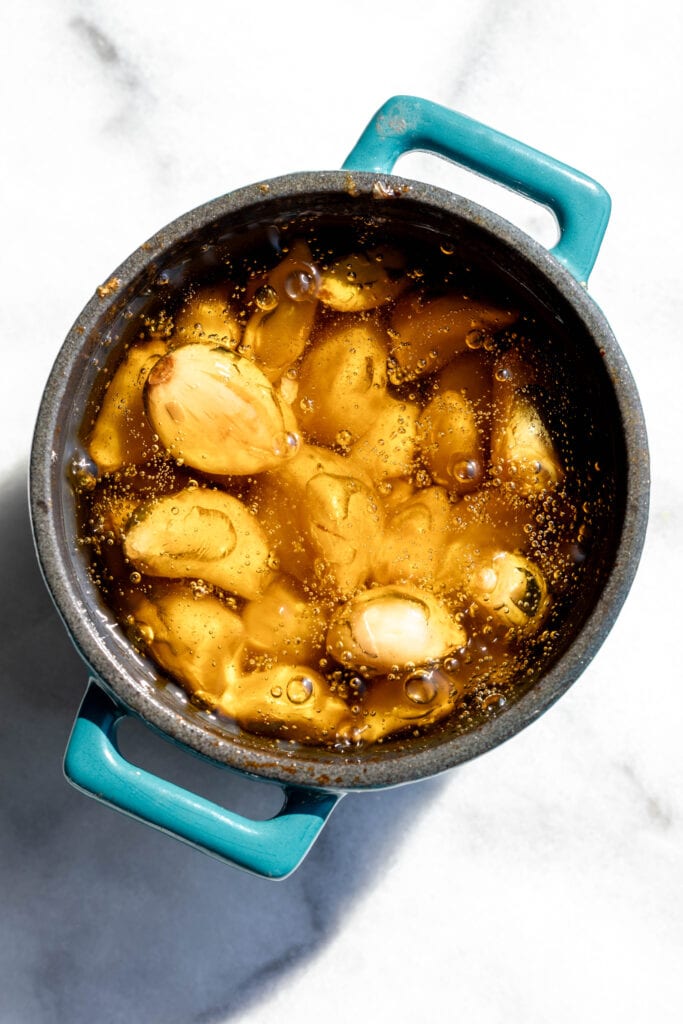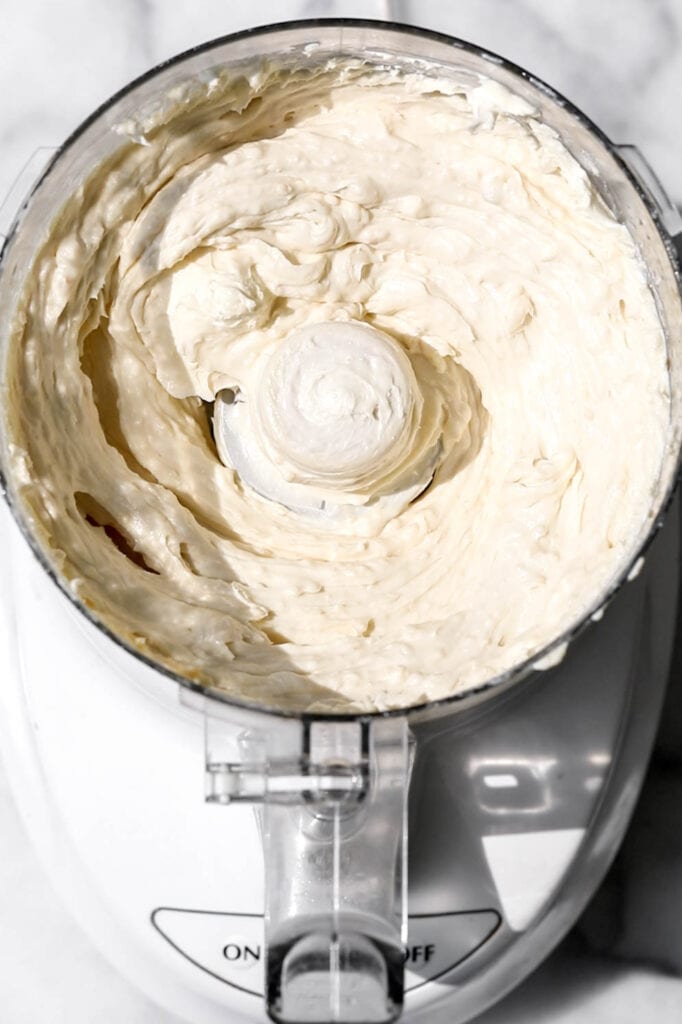 Step 3: Mix cream cheese.
Add the ⅓ cup confit garlic cloves and cream cheese to a food processor fitted with the blade attachment or the bowl of a stand mixer fitted with the paddle attachment. Mix or blend on low speed until smooth, about 1 minute.
Step 4: Use or store.
Spread on your favorite bagel or bagel sandwich. If not using right away, store confit garlic cream cheese refrigerated in an airtight container for up to 1 week.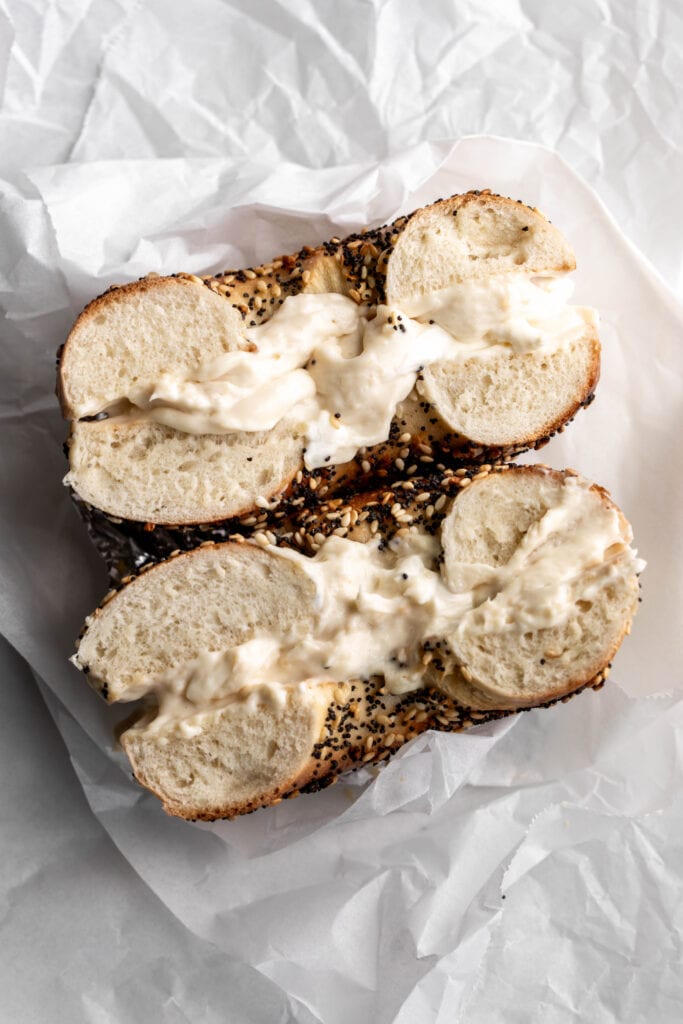 Tips and Tricks for This Recipe
How to Get the Garlic Smell Off Your Hands
Rub your hands on something stainless steel (like a lid/ pan) under a sink faucet of running water for 30 seconds.
In your hands mix a bit of baking soda, kosher salt and just enough water to make a paste and rub between your hands to exfoliate then clean with soap and water.
Swaps and Substitutions
Oil. The grassy olive oil can be replaced with a neutral oil like vegetable oil or canola oil instead for a more straightforward garlic flavor.
Herbs. Add a handful of your favorite herbs like fresh rosemary or thyme sprigs to add an extra flavor to the garlic confit mixture.
Shallots. If desired you can substitute half the garlic cloves for 1 large shallot, quartered.
How to Make on the Stove
While I prefer the oven method because it's more hands-off and you get a more consistent temperature throughout the cooking process, the confit garlic can also be made on the stove. Add the cloves and oil to a medium saucepan, making sure the cloves are covered. Simmer over low heat until the cloves are tender and golden, about 30 to 40 minutes.
Other Uses for confit garlic
Since garlic confit takes time to make I always make more than I need and use it for various other things. Either make more cream cheese or add it with the oil to a pasta, spread it over toasted bread and make cheesy garlic bread or top with some of your favorite roast vegetables, avocado or heirloom tomatoes.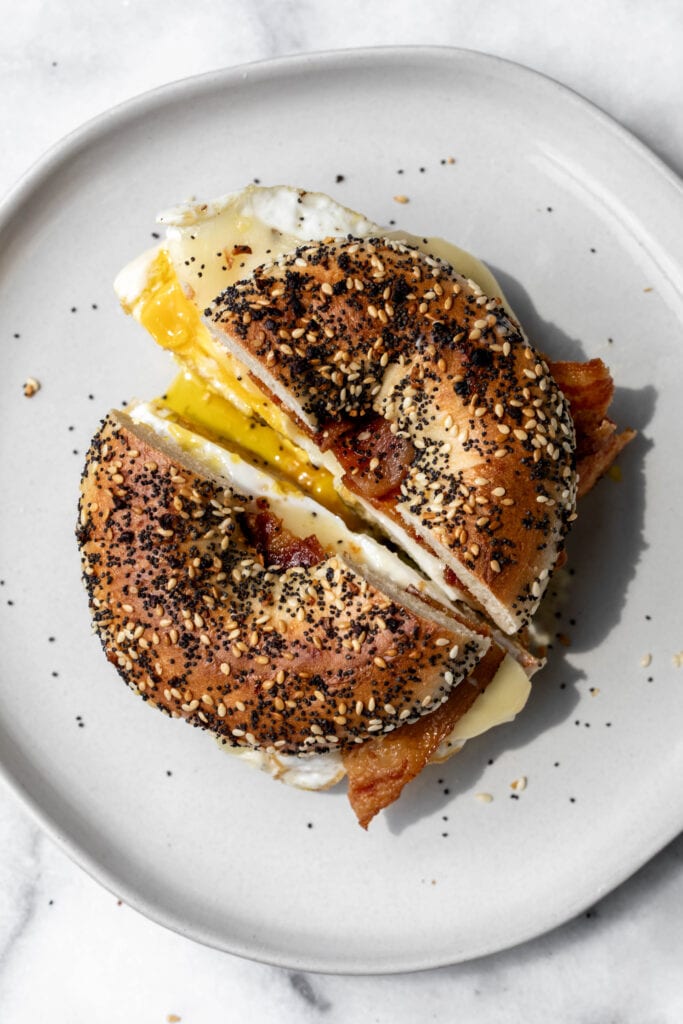 Other Recipes to Try
If you enjoy this garlic confit cream cheese, give these recipes a try and follow me on Instagram: 
Confit Garlic Cream Cheese
DID YOU MAKE THIS?
TAG ME ON INSTAGRAM TO BE FEATURED ON MY STORIES! @cookingwithcocktailrings