Every trip we make to Tuscaloosa, Alabama for football games includes a trip to the local Mexican restaurant, Don Toños. Specifically, we make a trip just to drink liter mugs of frozen mango margaritas. The sweet cocktail is perfect for any hot (or even cold) day, it gets you a bit buzzed and pairs perfectly with your favorite tacos. My aunt had the brilliant idea to add a Tajin-honey rim to offset the sweetness of the fruit.
This recipe will make a batch of two (8-ounce) glasses. Double or even triple the recipe for a group. Make them for your next dinner party or to cool down poolside this summer. The frozen chunks of mango can be substituted for another frozen fruit like strawberries or raspberries though mango will always be my favorite.
Frozen Mango Margarita
Table of contents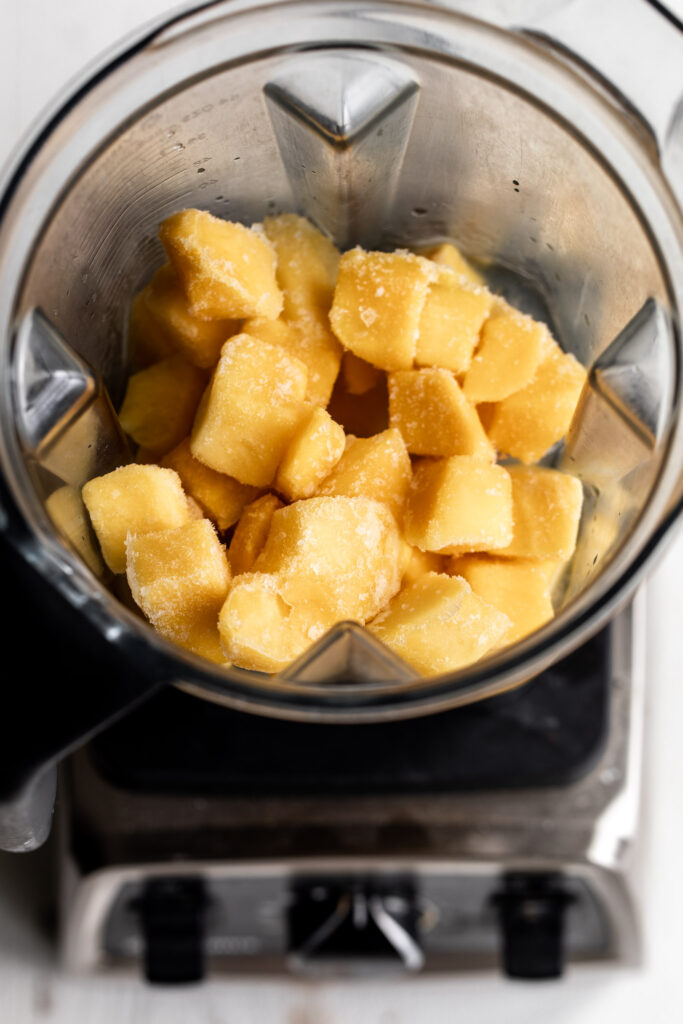 Ingredients in a Mango Margarita
Simple syrup
Simple syrup is made by boiling equal parts sugar and water to form a sticky, smooth syrup that will mix easily into cocktails. The simple syrup can be easily made ahead of time to cut down on prep time. This is also beneficial since you want it to cool before mixing it into the drink so it doesn't melt the frozen drink. Store it, refrigerated in an airtight container for up to two weeks in advance.
Tajin
Tajin® is a Mexican seasoning blend of chili peppers, lime and sea salt and is often used to enhance the flavor of fruits like watermelon or mango. Here it adds a mild, spicy contrast to the sweet mangos.
Honey
Rather than using lime juice to adhere the Tajin to the rim, the honey adds a natural sweetness that offsets the spice from the seasoning blend. Use Mike's Hot Honey for a spicy twist.
Mangos
Frozen, pre-cut mangoes are easy to use in this recipe. Using frozen mangos adds the chill without watering down the cocktail too much. If you can only find concentrate, omit the simple syrup since it will typically already be much more sweet. If you use fresh mangos, add more ice.
Tequila
When choosing a tequila, I use tequila blanco also known as silver tequila in my margaritas. Look for a higher end brand (trust me it will help with your hangover the next morning) – the label should say 100% agave.
Lime juice
The lime juice adds a bit more flavor to the margarita, complementing the fruity blended mango.
Triple sec
Triple sec is a sweet, clear, orange liqueur made with 15%-40% alcohol from sweet and bitter orange peels. Cointreau is a type of triple sec. It's a higher end label with a higher alcohol content than most other triple secs.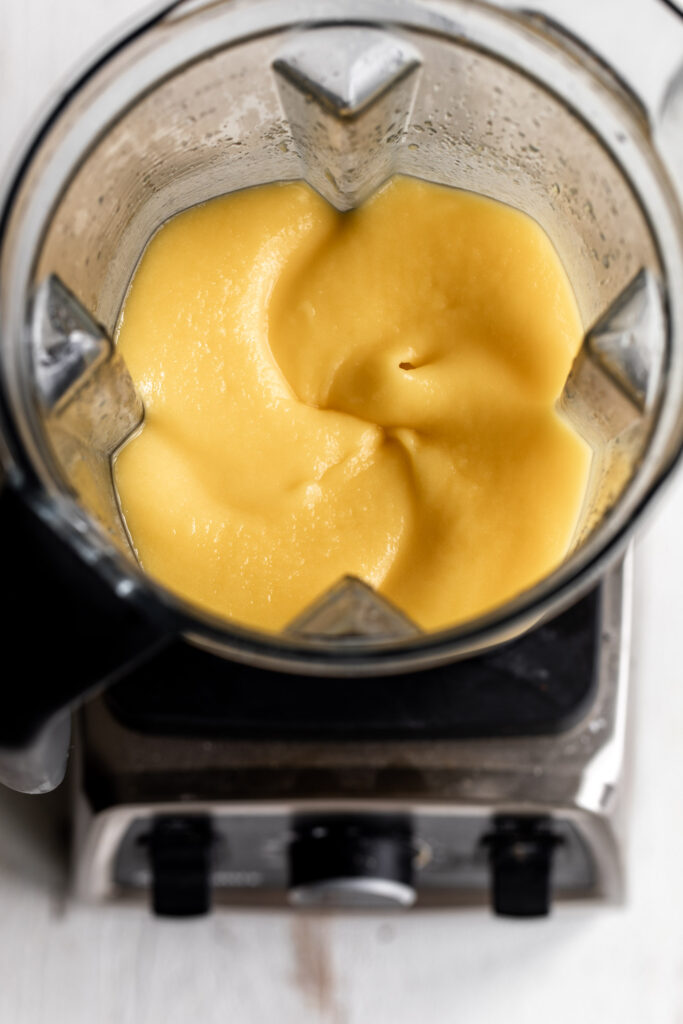 Instructions for making a frozen margarita
Step 1
Make the simple syrup and let cool completely.
Step 2
Dip the glasses in honey and Tajin and set aside.
Step 3
Add the mango, ice, tequila, lime juice, Cointreau and simple syrup to a blender. Next, puree the mixture until the mixture is completely smooth.
Step 4
Pour into the rimmed glasses and serve.
FAQ – Frequently Asked Questions
Can the simple syrup be made in advance?
Yes! The syrup can be made up to 2 weeks in advance and kept refrigerated in an airtight container. 
What if I don't like spice?
Rather than using Tajin, use kosher salt or granulated sugar for the rim instead. 
How much does this recipe make?
This recipe makes a batch of two (8-ounce) glasses.
Do you have any other margarita recipes?
Yes! Check them out here.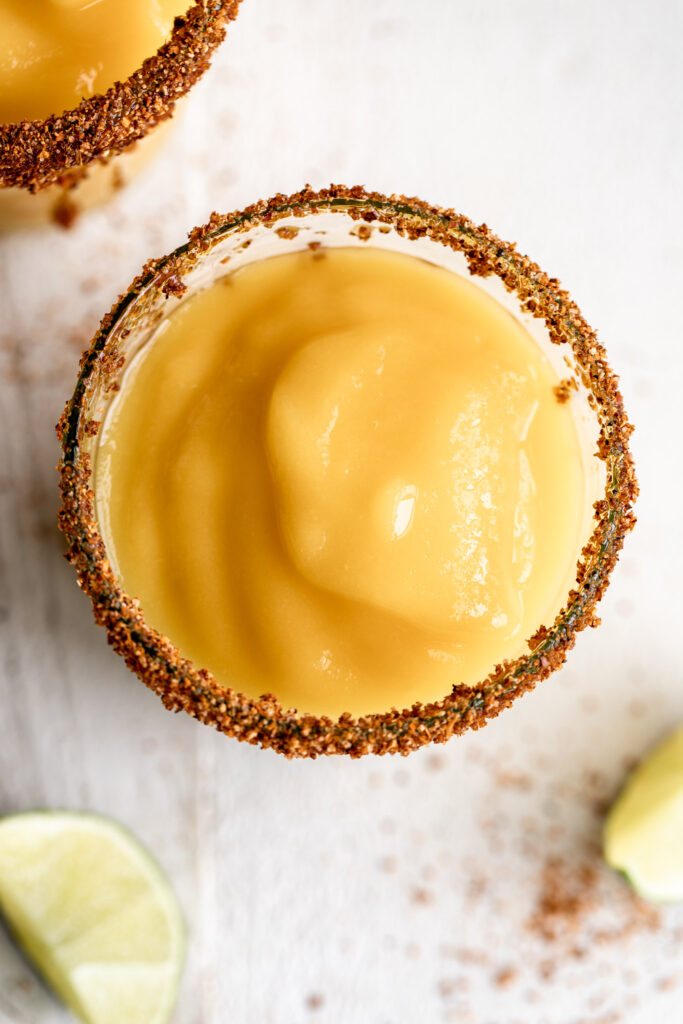 Frozen Mango Margarita
For the mango margarita:
1

16-ounce bag frozen mango chunks

1

cup

ice

½

cup

blanco tequila

¼

cup

freshly squeezed lime juice

¼

cup

triple sec orange liqueur

Lime slices.

as needed, for serving
For the simple syrup:
In a small saucepan over medium heat, whisk together sugar with 1 cup of water until the sugar has dissolved. Bring to a boil then lower heat to medium-low and simmer until thick and syrupy, about 15 minutes.

Remove from heat and let cool completely. The syrup can be made up to 2 weeks in advance and kept refrigerated in an airtight container.
For the spicy rim:
Cover the bottom of a medium plate with honey. Cover the bottom of a shallow bowl with tajin. Flip each cup upside down and dip the rim in the honey then in the Tajin.
DID YOU MAKE THIS?
TAG ME ON INSTAGRAM TO BE FEATURED ON MY STORIES! @cookingwithcocktailrings