In this Mexican dish, fiery shrimp are marinated and cooked in a spicy homemade chili and tomato sauce. Diablo shrimp, also known as "camarones a la diabla" translates in English to "deviled shrimp". As the name implies it's spicy – the heat of the sauce is balanced by the sweet, light flavors of shrimp.
While this quick and easy dish has deep, rich flavors, it comes together for a weeknight meal. The sauce is made with a base of rehydrated guajillo chilies and chiles de arbol, sautéed onions, diced tomatoes and lime juice blended and used as a marinade for the plump, juicy shrimp.
Seafood is not prevalent in all types of Mexican cuisine since many regions are landlocked. However, with over 6,000 miles of coastline, pescado (fish) and seafood (mariscos) are frequently found in regional coastal Mexican cuisines. Camarones la diabla is a specialty from Veracruz on the Gulf of Mexico.
How to Make Shrimp Diablo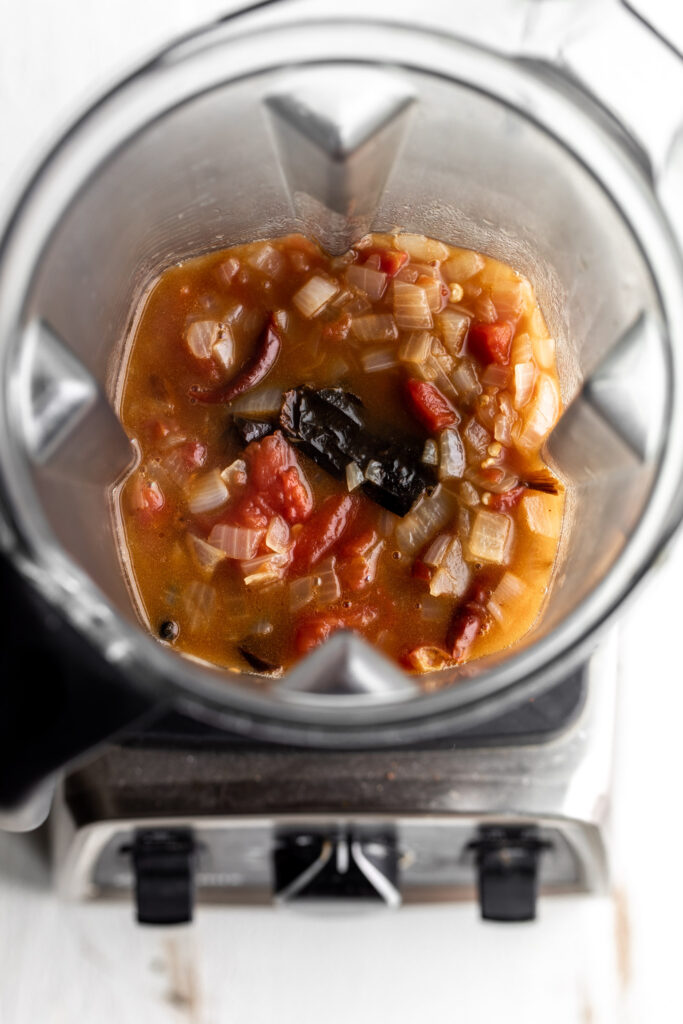 How to Make Shrimp Diablo
This recipe is great for anyone who loves spicy food though it isn't overpowering since it's mixed with onions and diced tomatoes to help cut the heat! It can be served on its own alongside rice or with bread for soaking up the sauce, with fresh, warmed corn tortillas or even over pasta for a twist. It's easy to prepare, making it great for weeknight dinners or special occasions. The sauce can even be made a few days ahead of time so the shrimp can be quickly marinated and cooked for a 30 minute dinner.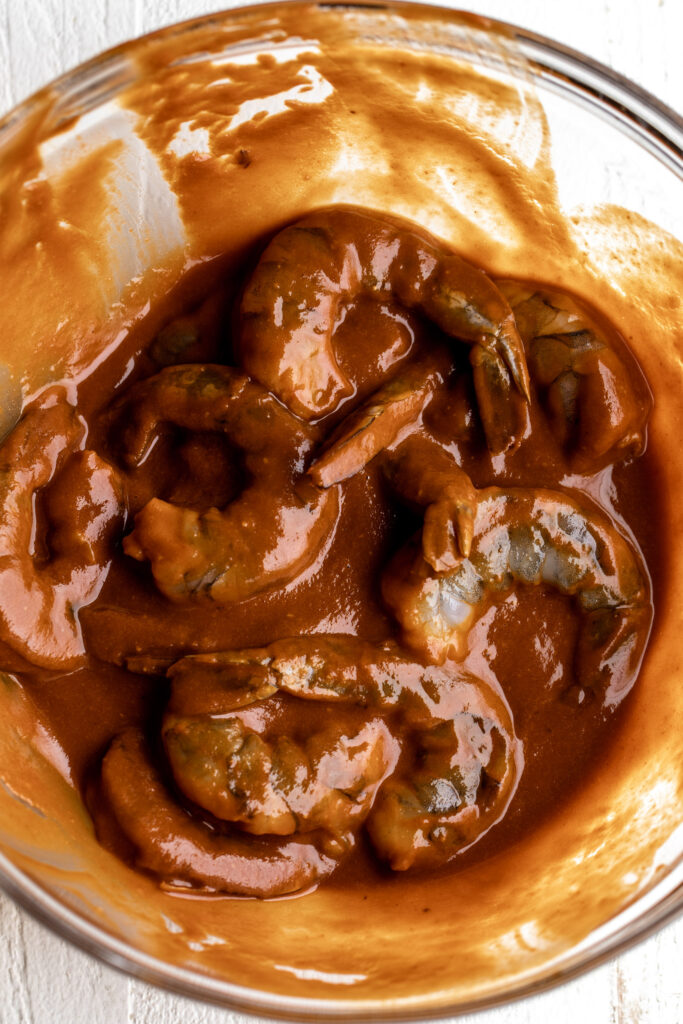 Ingredients
Chilies – The main flavors of this dish come from a combination of reconstituted guajillo chilies and chilies de arbol.
Onion – I use yellow onion in this dish. It doesn't have to be a perfect dice since the sauce will be blended before the shrimp are added.
Diced tomatoes – The tomatoes add depth and acidity to this sauce. They also add to the deep red color of the sauce.
Lime juice – Freshly squeezed lime juice adds some acidity to the dish and balances the flavors.
Shrimp – The terms "jumbo" and "extra jumbo" and "colossal" aren't standardized terms within the industry. Instead look at the numbers – they estimate approximately how many shrimp are in 1 pound. I use a 16/20 count size shrimp in this recipe. The shrimp should be peeled and deveined before beginning the recipe. If desired you can use head-on, shell-on shrimp instead. They are great served whole!
Salt – I always use coarse kosher salt in my recipes unless I instruct otherwise. In most recipes I give a directive to "salt to taste" rather than listing it as " teaspoon salt" because saltiness is a personal preference in most dishes.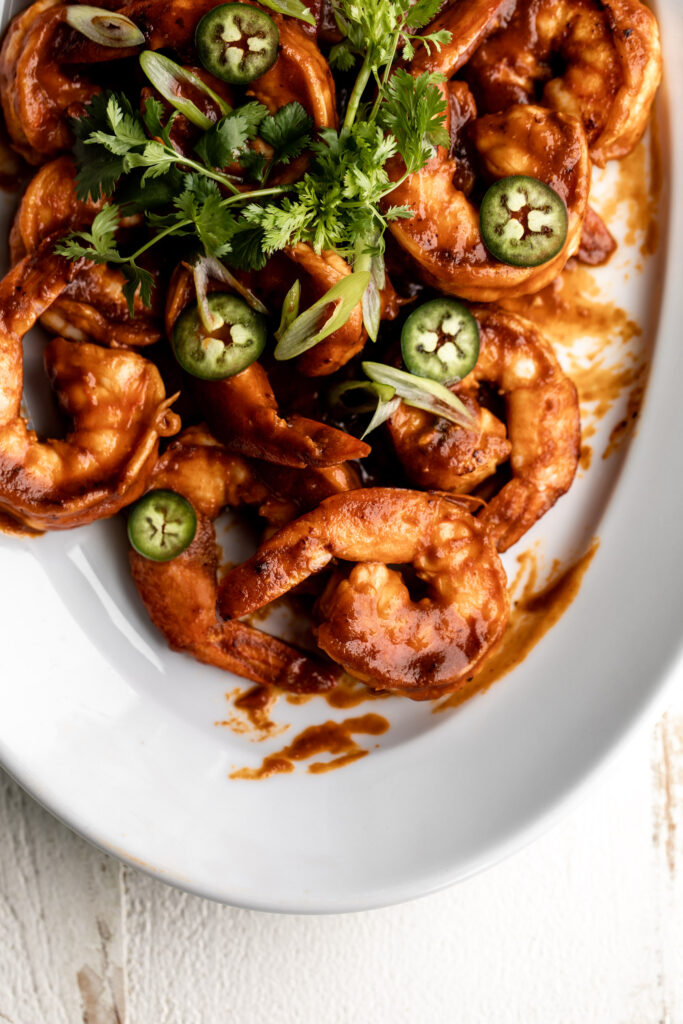 Steps to Make Shrimp Diablo
Step 1:
Make the marinade/ sauce. Sauté the onions then add the chicken stock and tomatoes and bring to a boil. Add the chilies to rehydrate and simmer, stirring occasionally.
Step 2:
Bend the sauce until smooth.
Step 3:
Add the shrimp to a large bowl and pour the sauce over the top. Let marinate for 10 minutes.
Step 4:
Cook the shrimp in a skillet over medium high heat. Reduce the remaining marinade
Step 5:
Serve topped with serrano peppers, greed onions and cilantro.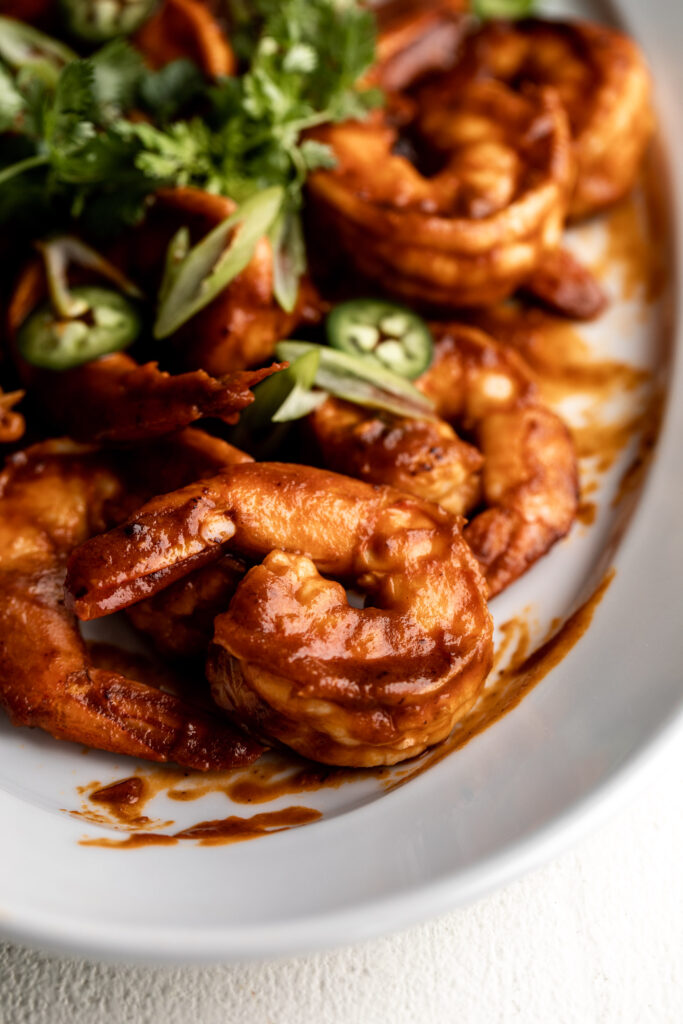 How to Serve this Recipe
On their own as an appetizer. 
As an entrée with rice and vegetables.
Over corn tortillas as tacos with garnishes like cilantro and avocado.
Over a burrito bowl instead of serving with carnitas or chicken. I also like serving it with romaine lettuce, crispy rice, tomatoes, sour cream and guacamole or avocado. 
Tossed with spaghetti for a quick and spicy pasta dish.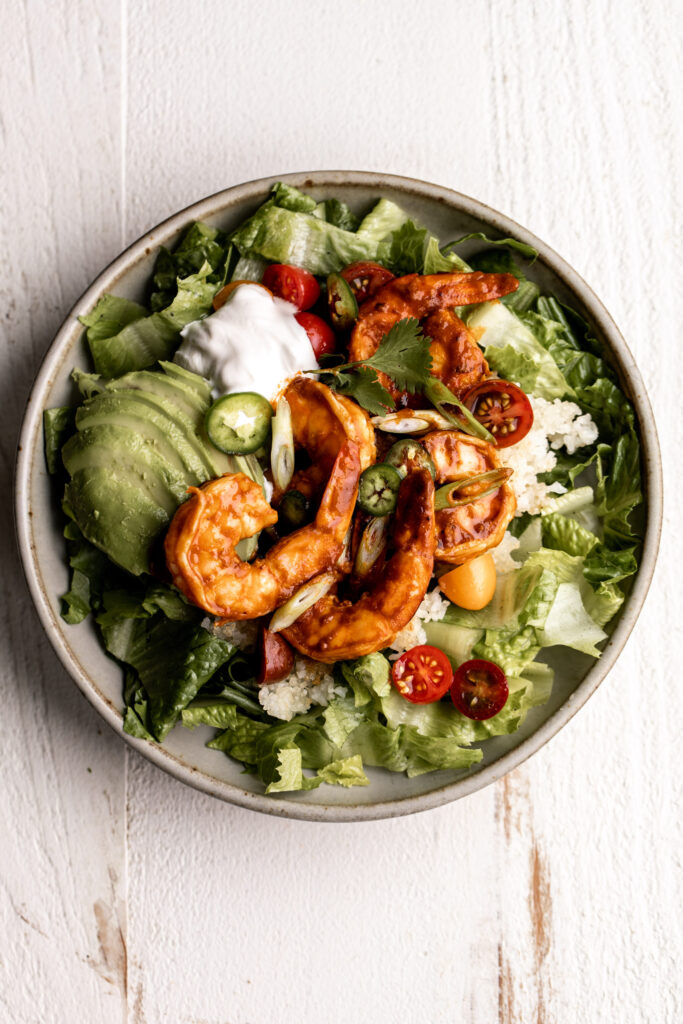 FAQ – Frequently Asked Questions
How long should I marinate shrimp? 
While meat can and should be marinated for an hour or longer to let the flavors really sink in, shrimp and other seafood don't need to marinate that long. This tomato and chili sauce is fairly acidic so marinating it any longer than 30 minutes will cause it to become gummy. It's a great recipe because the flavors come together so quickly. 
Can this be made ahead of time? 
I would recommend making the sauce ahead of time but wait to combine the sauce with the shrimp until just before you are ready to cook the recipe. The sauce can be made up to a few days in advance and stored refrigerated in an airtight container. 
How spicy is this recipe? 
While the name is intimidating I made this recipe with a moderate spice level in mind. If you really like spicy food then double the chilies used for a really hot dish. 
Can I substitute the chilies with red pepper flakes? 
This is not a dish where you can substitute crushed red pepper flakes for the complex flavors of guajillo and chiles de arbol. Chilies can be found on the ends of aisles at a lot of grocery stores or near the spices or other "Latin" ingredients. They can also be ordered online from places like Amazon. 
How to Make Shrimp Diablo
For serving:
1½

pound

extra jumbo,

16/20 count shrimp, peeled and deveined

1

medium serrano,

thinly sliced

2

green onions,

thinly sliced on the bias, for garnish

2

tablespoons

chopped cilantro,

for garnish
For the sauce:
Heat a medium pot over medium-high heat, add the oil and heat through. Add the onion and sauté, stirring occasionally, until tender and no longer opaque, about 5 minutes.

Add the tomatoes and chicken stock and bring to a boil then add the guajillo chilies and chiles de arbol. Reduce heat to medium and let simmer for 10 minutes until the chilies are rehydrated and the sauce is slightly thickened.

Let the sauce cool, then add to a blender and puree until completely smooth. Stir in lemon juice and season the sauce to taste with salt.
For serving:
Add the shrimp to a large mixing bowl and season with salt and pepper. Pour the chili sauce over the top and marinate for about 10 minutes.

Heat a large skillet pan over medium high heat, add the remaining oil and heat through. Working in batches so as not to overcrowd the pan, remove the shrimp from the marinade, shaking off any excess and add to the pan. Cook the shrimp until pink and no longer translucent, about 1 minute per side.

Remove the cooked shrimp to a platter and repeat with the remaining shrimp.

If you want more of a sauce return the pan to medium-low heat, add the remaining marinade to the pan and reduce by half, about 3 to 5 minutes. Toss with the cooked shrimp.

Top the cooked shrimp with serrano, green onions and cilantro. Serve immediately.
DID YOU MAKE THIS?
TAG ME ON INSTAGRAM TO BE FEATURED ON MY STORIES! @cookingwithcocktailrings