When I found out that prickly pear is not in fact pear with a jazzy name, I felt deceived. I had been ordering the margarita with that name for years thinking it was pear and always wondered why it didn't taste like ear. Of course I didn't care enough to ask, it's a really delicious drink!
Prickly pear margaritas utilizes the juice made from the orange flower of cacti for a fruity, sweet yet tart cocktail perfect for your Cinco de Mayo celebrations. The prickly pear gives it a unique flavor and bright pink hue. Pair it with some chips, salsa and guacamole for a party.
Prickly Pear Margarita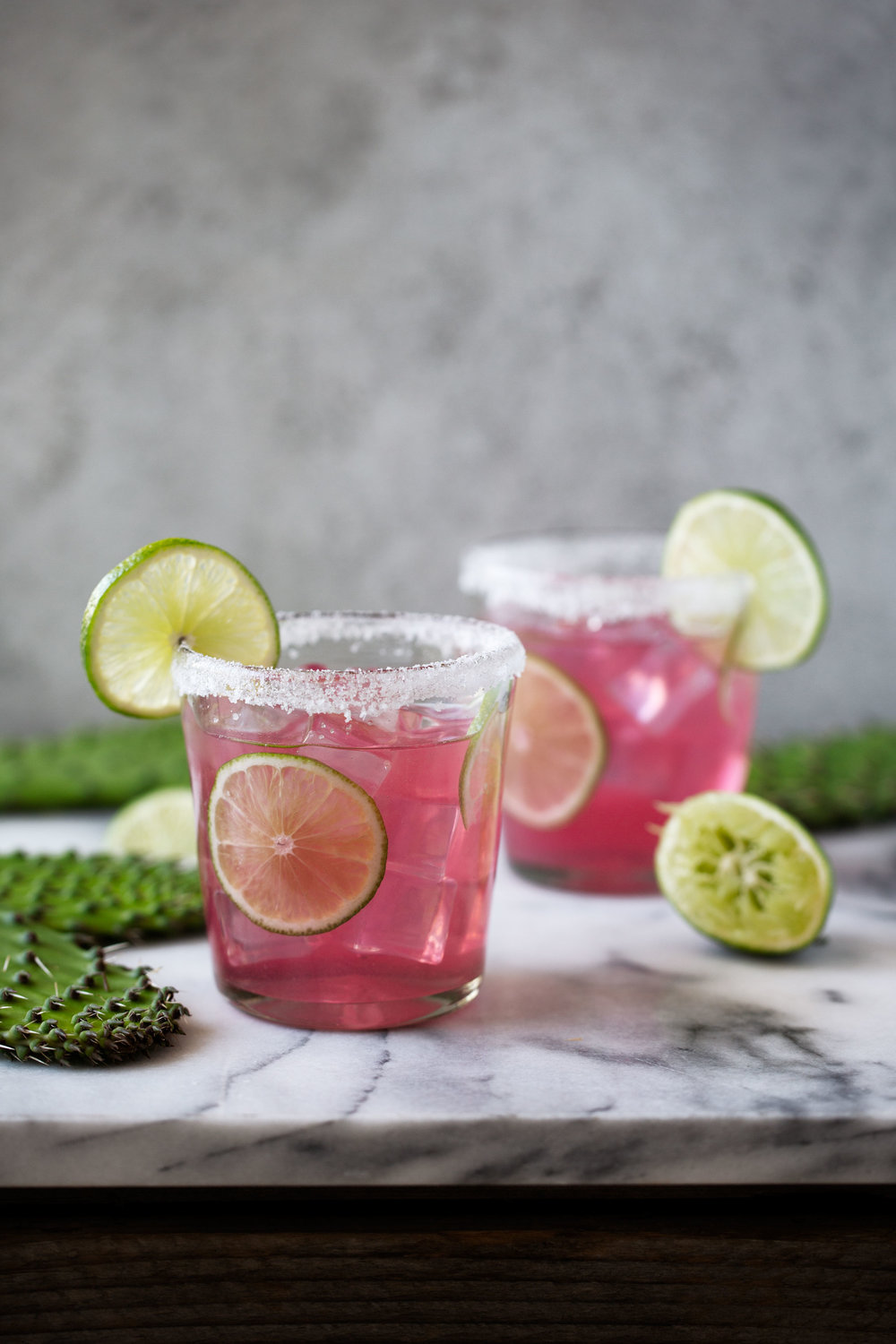 Key Ingredients in This Recipe
Prickly pear syrup – Prickly pear actually comes from the orange flower from a type of cactus. Prickly pear syrup can be found at larger liquor stores like Bevmo, some health food stores or online here.
Tequila – When choosing a tequila, I use tequila blanco also known as silver tequila in my margaritas. Look for a higher end brand (trust me it will help with your hangover the next morning) – the label should say 100% agave. 
Lime juice – The acid from the fresh lime juice balances the sharpness of the alcohol and sweet flavor of the added agave.
Triple sec – Triple sec is a sweet, clear, orange liqueur made with 15%-40% alcohol from sweet and bitter orange peels. Cointreau is a type of triple sec. It's a higher end label with a higher alcohol content than most other triple secs.
How to Make a Prickly Pear Margarita Recipe
Shake with ice. Add the tequila, triple sec, lime juice, prickly pear syrup and agave to a cocktail shaker filled with ice. Shake vigorously.
Rim glasses with salt. Add kosher salt and sugar to a shallow dish, mixing to combine. Rub the rim of glass with the lime slice then dip the glass in the salt and sugar mixture to garnish the rim of a margarita glass.
Pour and enjoy! Fill a glass with ice cubes. Then strain the shaken margarita into the glass. Garnish with the lime slice or lime wedge and serve immediately.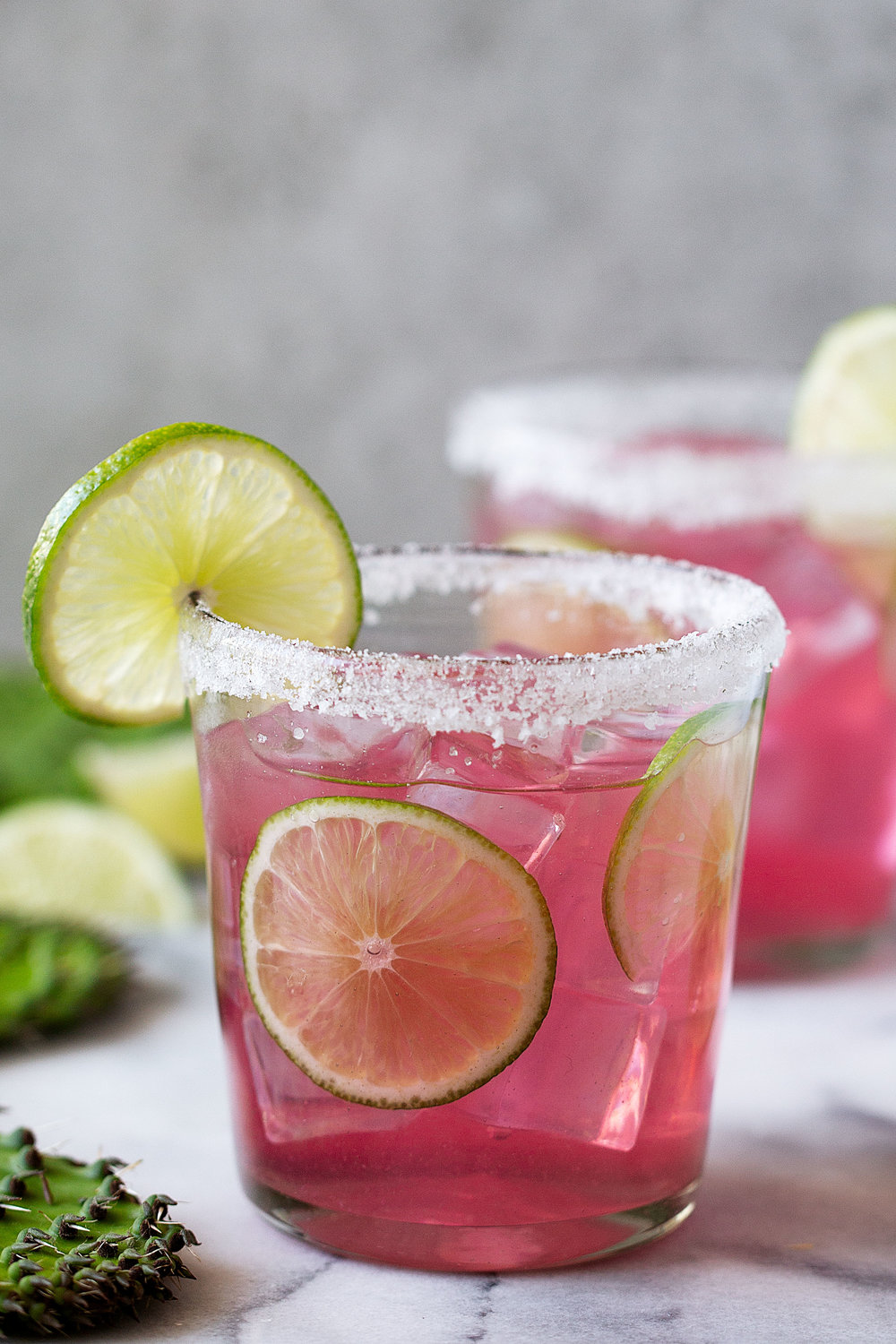 Tips and Tricks for This Recipe
Swaps and substitutions
While I use a combination of both salt and sugar for the rim of the glass, either one or the other can be used for garnish.
If needed lemon juice can be swapped for the lime.
If running low on agave nectar swap for simple syrup or honey.
For a large batch
To make a pitcher of these prickly pear margaritas I multiply the recipe by 8 servings. Combine 1.5 cups tequila, ¾ cup triple sec, ¾ cup lime juice, 1¼ cups prickly pear syrup and ¼ cup agave (or simple syrup or honey). Add to a pitcher and chill until ready to use. Pour over ice.
Other Recipes to Try
If you enjoy this prickly pear margarita recipe, give these cocktail recipes a try:
Prickly Pear Margarita
DID YOU MAKE THIS?
TAG ME ON INSTAGRAM TO BE FEATURED ON MY STORIES! @cookingwithcocktailrings