Seared Steak Tacos with Salsa Macha
This seared steak taco recipe comes together quickly and is great for a weeknight meal. I recommend using corn tortillas in this recipe, the corn adds to the overall flavor profile of the tacos. Add avocados for an optional creamy element.
What is salsa macha?
Salsa macha is vibrant Mexican chili oil made with toasted chilies, nuts and/or seeds blended into a neutral oil. Since it is not widely available I'd recommend to make your own oil using the recipe here.
It also adds a deep spice flavor and pairs perfectly with the seared steak. But if you don't want to make or buy salsa macha you can substitute with chili crisp. It also pairs well on anything from seafood to vegetables or meat.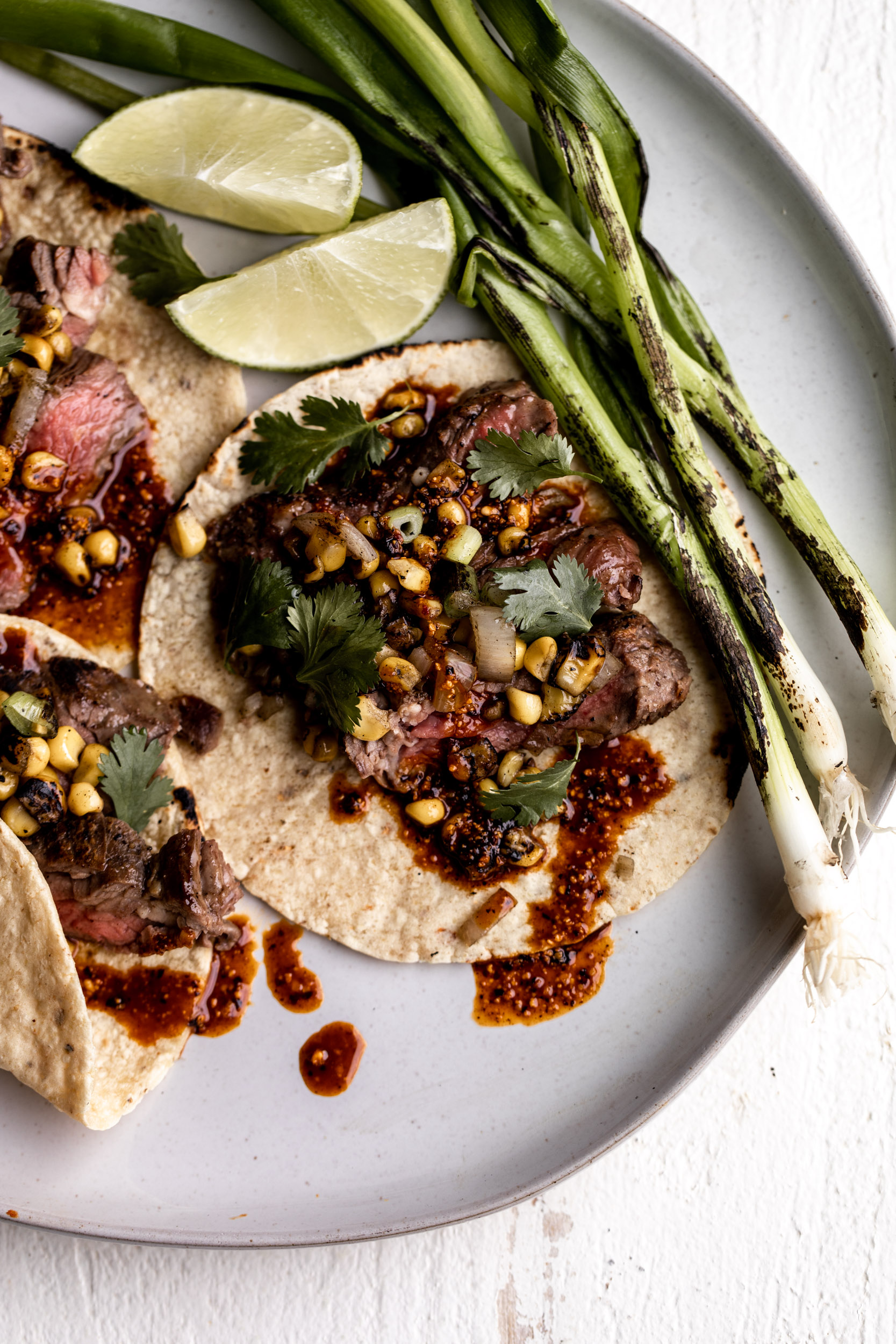 How should I char the corn?
It is so easy to char things over a gas stove, just set the flame of a burner to high and use tongs to carefully char the corn or green onions all over. But if you do not have a gas stove, char the corn and green onion by spreading them on a sheet pan in an even single layer. Next, put them under the broiler set to high, turning occasionally until charred all over.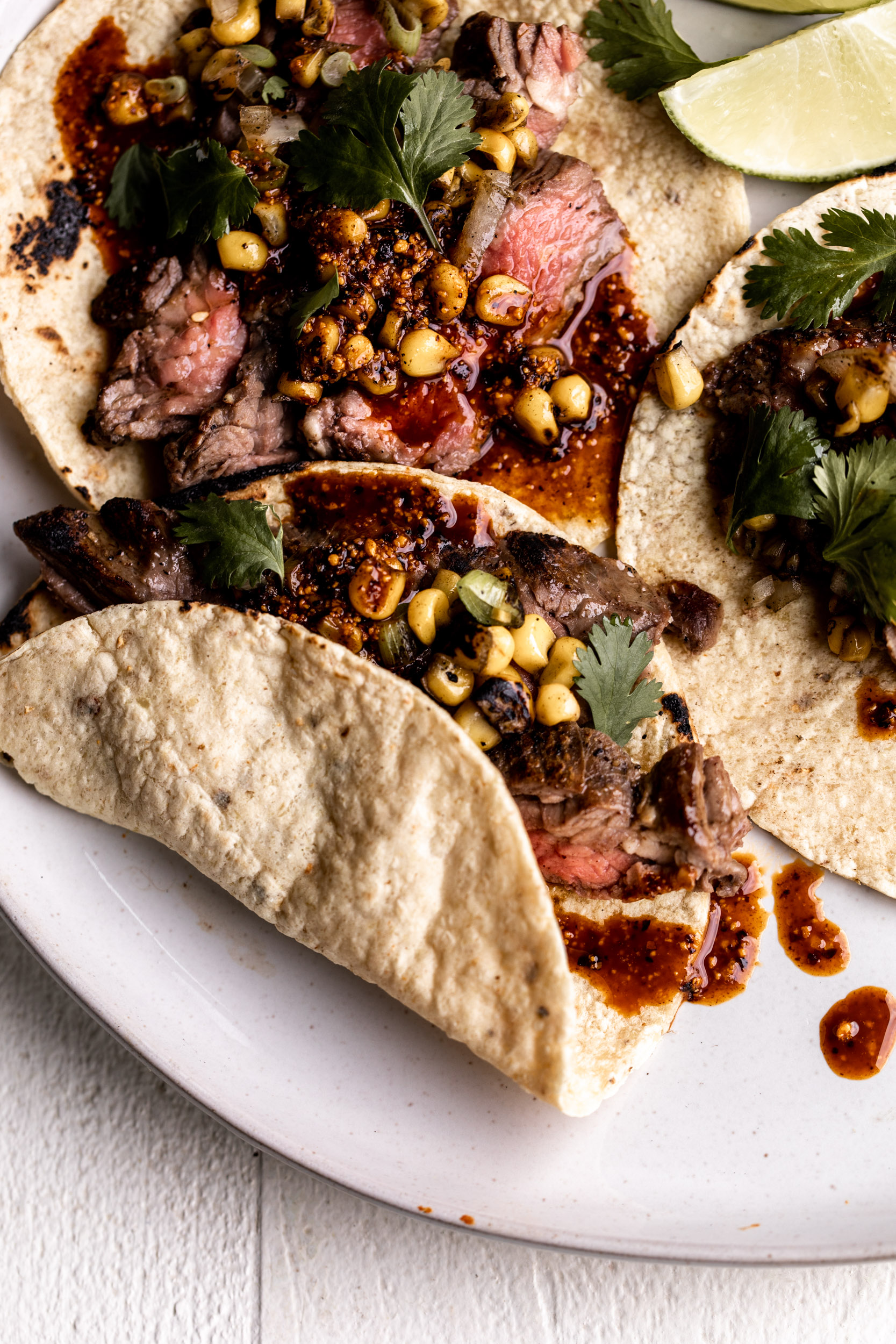 What is skirt steak?
Skirt steak is a tough, long cut with a thick visible grain that comes from the plate of the cow, the underside of the cow. It has an intense beef flavor and is best cooked quickly in an extremely hot pan or on a grill since it is a tougher and thin cut of meat. While flank steak is a different cut, it is similar and can be easily substituted if skirt steak is unavailable.
Seared Steak Tacos with Salsa Macha
1

pound

skirt steak,

cut into 6-inch long pieces

Kosher salt,

as needed

Freshly ground black pepper,

as needed

2

ears corn,

husks removed

1

small bunch green onions

¼

cup

diced yellow onion

Corn tortillas

¼

cup

Salsa macha

2

tablespoons

chopped cilantro

Lime wedges,

for serving
Season the steak on both sides with salt and pepper. Heat a large cast iron pan over medium-high heat. Add the steak and sear until a crust forms, about 4 minutes. Flip and continue to sear until medium rare, about an additional 4 minutes.

Remove the steak to a cutting board and let rest for 10 minutes.

Over a medium-high flame, use tongs and char the corn all over, about 4 minutes total. Remove to a cutting board and use a knife to carefully cut the kernels off the cob.

Use tongs to char the green onion over a medium flame, about 1 minute total and remove. Slice the green onion, discarding the ends. Stir together in a small bowl with the corn and yellow onion.

Use tongs to carefully hold the tortillas over a medium flame to warm and slightly char them.

Thinly slice the pieces of skirt steak against the grain and divide among the tortillas. Top with the charred corn mixture then spoon the salsa macha over the top and garnish with cilantro. Serve immediately with a side of lime wedges.
DID YOU MAKE THIS?
TAG ME ON INSTAGRAM TO BE FEATURED ON MY STORIES! @cookingwithcocktailrings