This Post is Sponsored by Swift Meats.
This sugo made from wholesome ingredients is perfect for Sunday family dinners. I like to pop it in the oven early in the day so it has time to braise (it makes the house smell amazing) and it can quickly be served over pasta in time for dinner. It's a very hands-off recipe. Swift Meats pork roast is cooked until it's extremely tender and falls apart easily, essentially melting into the light tomato sauce.
I believe in finding brands whose ethics align with my own. Swift Meats is not only dedicated to quality meat, but also to sustainability. The company rates highly on animal welfare index scores, and they are committed to reaching net zero greenhouse emissions by 2040.
Creamy Spicy Pork Sugo with Buttered Breadcrumbs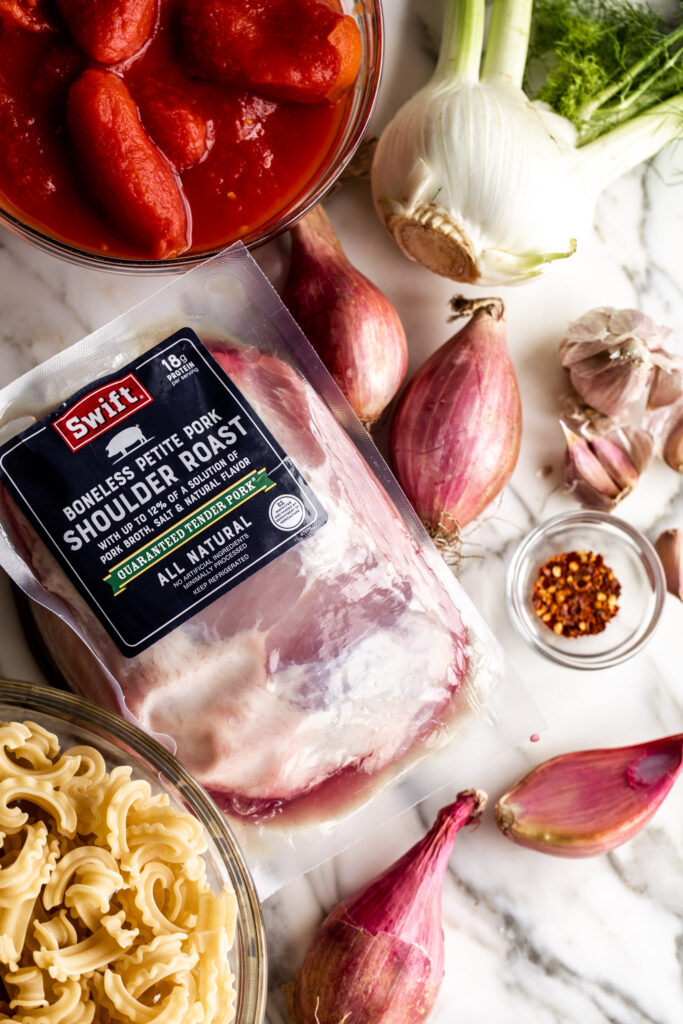 About Pork Roast
This Swift Meats petite pork roast cut comes from the shoulder area of the pig and is a great source of protein. It can also be referred to as the pork shoulder, picnic shoulder or picnic ham. Because this cut gets a lot of work, it is a very muscle-heavy cut, making it ideal for braising. Slowly cooking the meat at a low temperature helps to break down the tough meat, resulting in tender, succulent pork.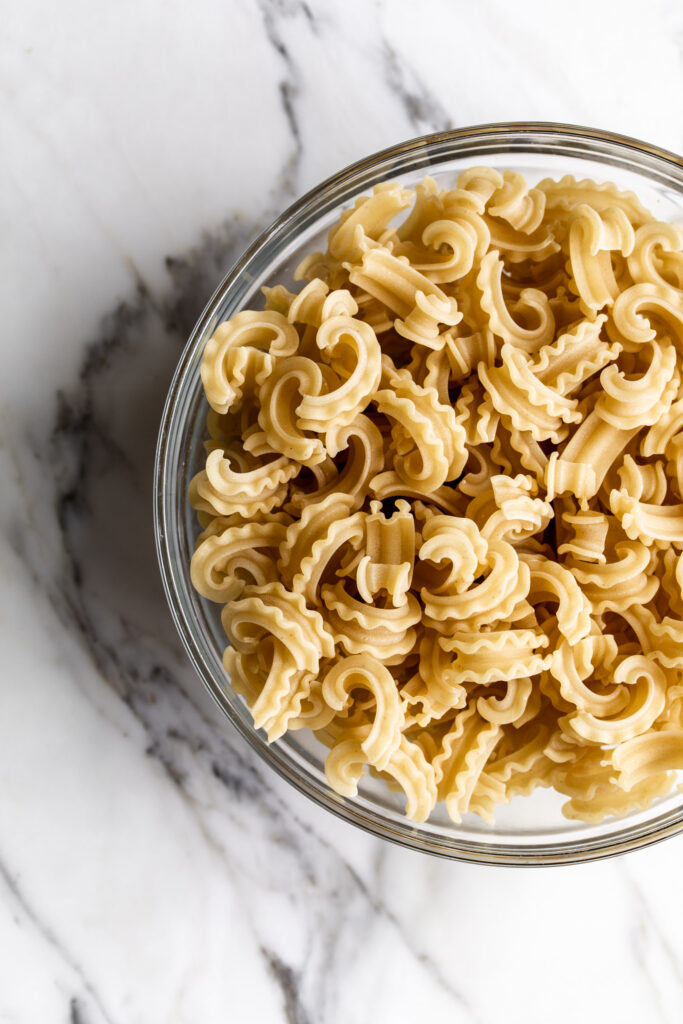 Why You Should Braise Your Meat
Braising is the method of cooking meat at a low temperature for a long period of time in a tightly sealed container like a Dutch oven. It's a forgiving method of cooking that allows for tough, lean (and often cheaper) cuts of meat to break down and become tender and juicy. I love a good braise because you really can't mess it up. With this "hands-off" method, the meat is first seared to lock in the juices. It's then added to a tightly covered oven-safe pot. Cook it for a long time at a low temperature, so you don't run the risk of overcooking as you would using other methods.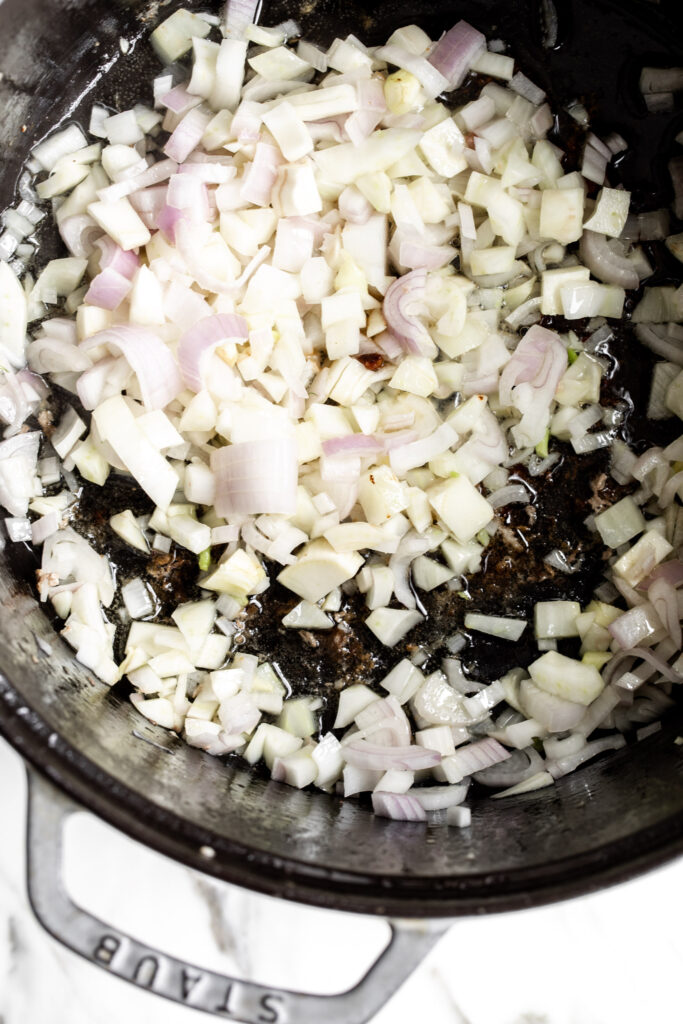 How Is Sugo Different from Ragu or Bolognese?
Sugo actually just means sauce in Italian! Sugo typically refers to a simple sauce that is less complex than a ragu. In this case, the Swift Meats' pork shoulder is braised with tomatoes, onion, garlic and fennel. There is a geometric comparison here – similar to how all squares are rectangles but not all rectangles are squares. All Bolognese is ragu but not all ragu is Bolognese. Filled with ground meat, Bolognese, often called Ragu alla Bolognese, is a specific type of ragu.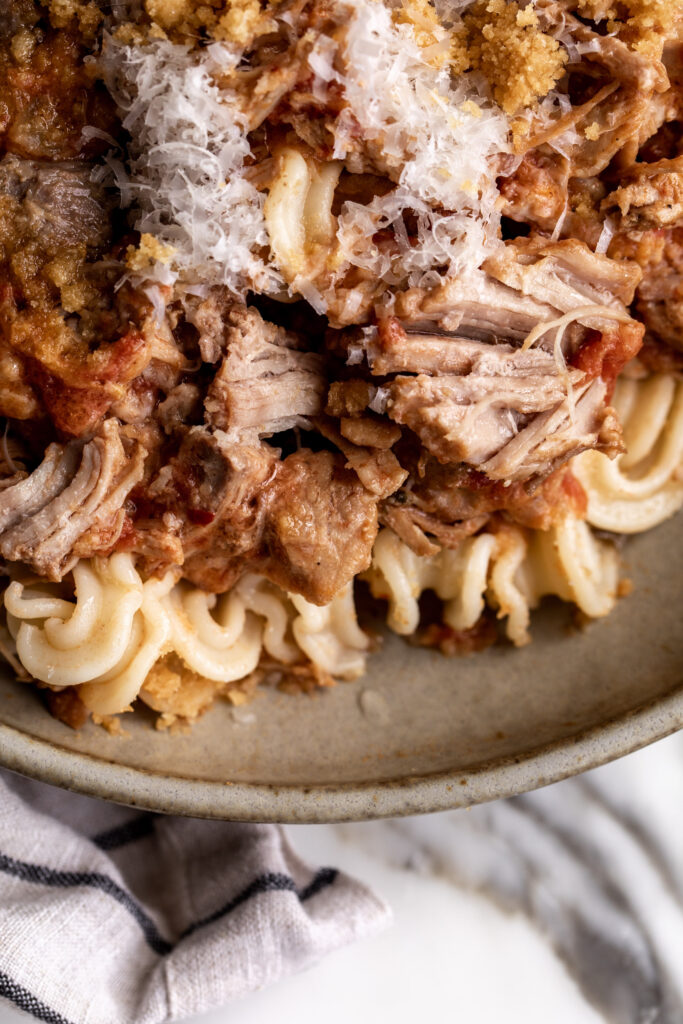 Key Ingredients in This Recipe
Pork roast – The Swift pork roast is about 3 pounds. To cut down on the braising time and help the meat break down into the sauce, I cut the pork into 2" cubes. Searing the pork first helps to lock in the juices. Pork is a great source of protein, and you can rely on Swift for high-quality meat.
Shallots – Shallots have a mild, slightly sweet flavor. If needed, swap in yellow or red onion in this recipe. The general rule of thumb is 3 medium shallots equal 1 medium onion.
Whole peeled tomatoes – Canned whole peeled tomatoes are extremely versatile. They are picked when ripe, then cooked and peeled before they are canned and packed in tomato juice or tomato puree. They have a rich tomato flavor perfect for tomato sauces. Look for cans with no preservatives – this way, they break down quickly into the sauce.
Plain breadcrumbs – I love making my own breadcrumbs out of leftover stale bread. Simply add bread to a food processor or blender and pulse until ground. They can be made ahead of time and stored in an airtight container.
White wine – White wine is the base for the braised pork sauce. Use a dry white wine for this ragu, since it won't overpower the dish by making it too sweet. While I will use just about any white wine in a pinch, I prefer cooking with Sauvignon Blanc. Never cook with a wine you wouldn't drink!
Pasta – This sauce is extremely versatile – it can be served over your favorite pasta shape. It's often served with flat noodles like pappardelle, although I like cascatelli for a more unique take.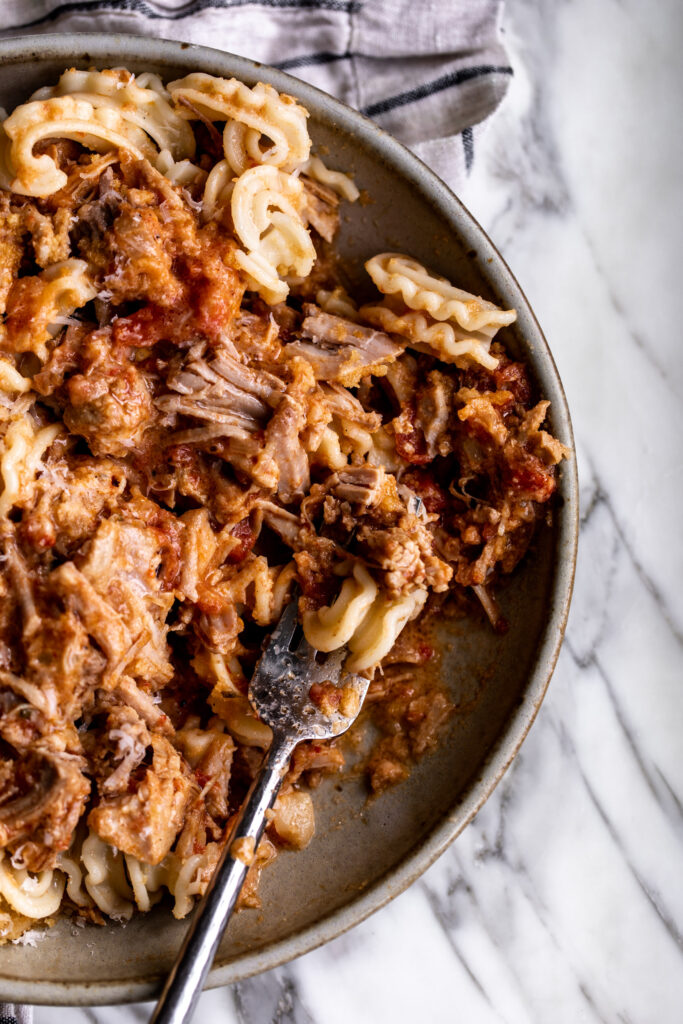 Other Recipes to Try
If you enjoy this recipe, I recommend checking out some of these:
Creamy Spicy Pork Sugo with Buttered Breadcrumbs
For the pork sugo:
1

(3-pound)

Swift Petite Pork Shoulder Roast, cut into 2" chunks

Kosher salt,

as needed

Freshly ground black pepper,

as needed

2

tablespoons

all-purpose flour

¼

cup

extra-virgin olive oil

1

medium fennel bulb,

diced

2

medium shallots,

diced

3

cloves

garlic,

chopped

1

cup

dry white wine

1

cup

chicken stock

1

(28-ounce)

can chopped tomatoes

1

teaspoon

crushed red pepper flakes

½

cup

heavy cream
For the buttered breadcrumbs:
2

tablespoons

extra-virgin olive oil

3

tablespoons

unsalted butter

1

cup

plain breadcrumbs
For serving:
1

pound

pasta

Parmesan cheese,

as needed, for serving
For the pork sugo:
Heat oven to 325ºF.

Season the cubes of pork all over with salt and pepper then toss in the flour. Heat a large Dutch oven or heavy-bottomed pan over medium heat, then add the olive oil and heat through.

Working in batches, sear the pork until browned on all sides. Remove to a plate or bowl and set aside. Add the fennel and shallots to the pan and sauté until soft, about 6 minutes. Add the garlic and stir to combine, letting it cook for just a few seconds.

Add the wine to the pan followed by the chicken stock and tomatoes. Return the pork to the pan and bring to a simmer. Cover and move the pot to the oven to braise. Cook until the meat is falling apart, about 3 hours.

Break the meat apart with tongs in the sauce and stir in the red pepper and cream.
For the buttered breadcrumbs:
Heat a large sauté pan over medium-low heat. Add the olive oil and heat through, then add the butter and allow it to melt.

Add the breadcrumbs, shaking the pan or stirring constantly until the breadcrumbs are uniformly golden brown, about 4 minutes. Immediately transfer from the pan to a bowl or container and store in an airtight container until ready to use.
For serving:
Place a large pot with salted water over medium heat and bring to a boil. Add the pasta and cook until just al dente, about 8 minutes. Drain the pasta, reserving about 1 cup of the pasta cooking water and return it to the pot.

Stir the reserved pasta cooking water into the sauce. Divide the pasta among serving bowls and top with the sauce, breadcrumbs and Parmesan cheese. Serve immediately.
DID YOU MAKE THIS?
TAG ME ON INSTAGRAM TO BE FEATURED ON MY STORIES! @cookingwithcocktailrings