This is the perfect summer sandwich – great for outdoor poolside entertaining. Tender braised pulled pork sandwiches are served topped with homemade orange BBQ sauce. I kick this classic sandwich up a notch with the addition of crispy onion rings, sharp cheddar cheese and crunchy hickory smoked bacon on rich brioche buns. In this recipe, I use both Swift Meats pork and Swift's Hickory Double Smoked Thick Cut Bacon. Swift Meats is committed to quality as well as sustainability. Their goal is to reach net zero greenhouse gas emissions by 2040.
Braised Pork Sandwich with Orange BBQ Sauce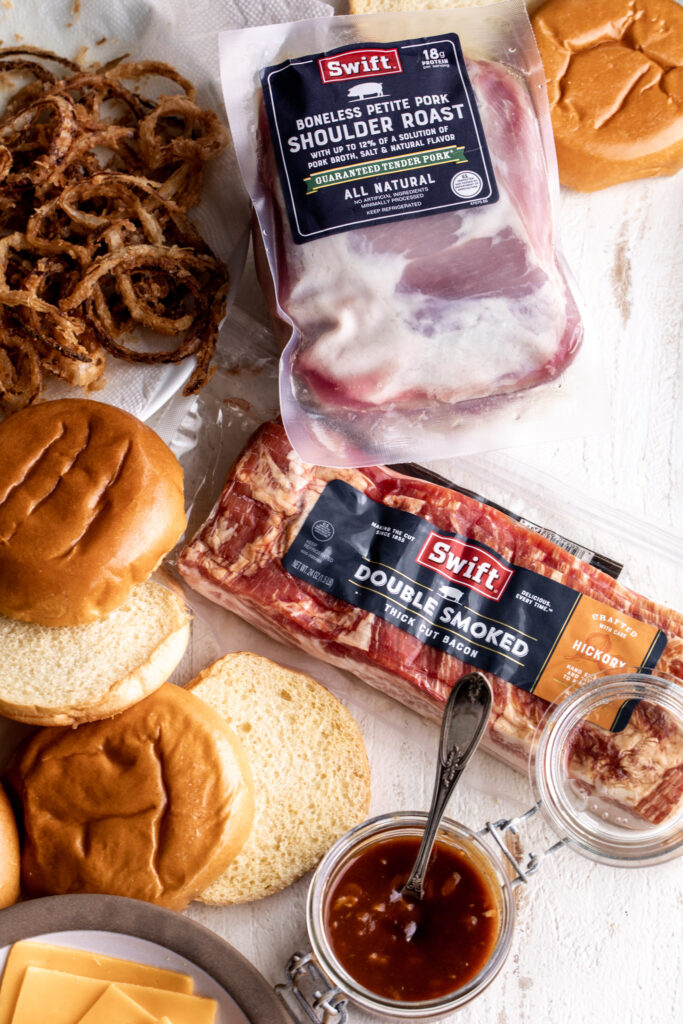 About Pork Roast
This Swift Meats petite pork roast cut comes from the shoulder area of the pig and is a great source of protein. It can also be referred to as the pork shoulder, picnic shoulder or picnic ham. Because this cut gets a lot of work, it is a very muscle-heavy cut, making it ideal for braising. Slowly cooking the meat at a low temperature helps to break down the tough meat, resulting in tender, succulent pork.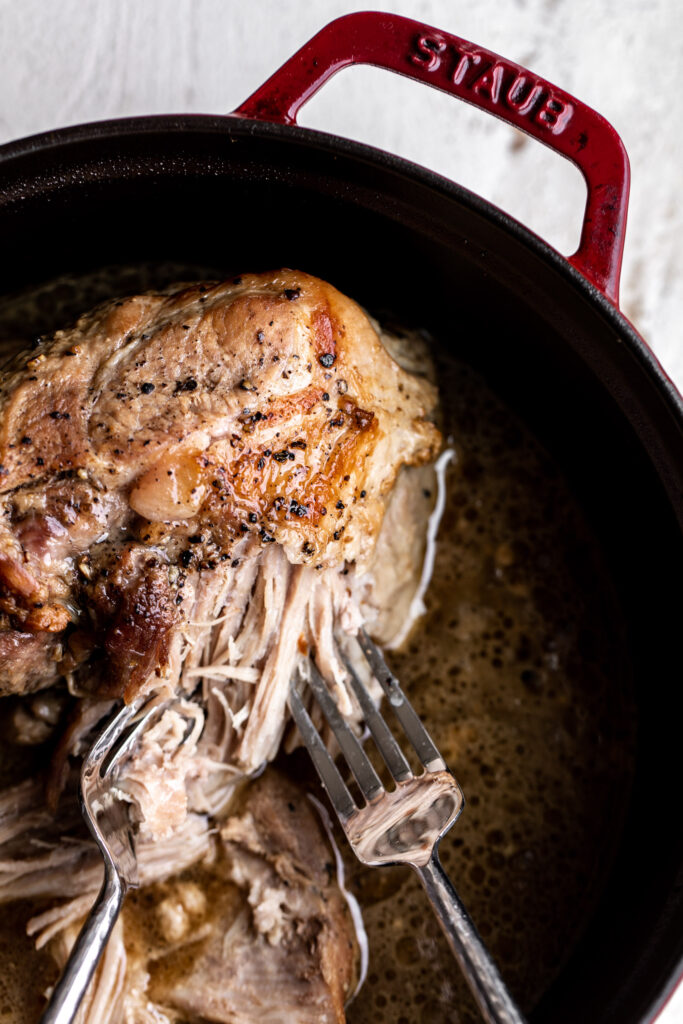 Why You Should Braise Your Meat
Braising is the method of cooking meat at a low temperature for a long period of time in a tightly sealed container like a Dutch oven. It's a forgiving method of cooking. Slowly cooking the meat allows for tough, lean (and often cheaper) cuts of meat to break down and become tender and juicy. I love a good braise because you really can't mess it up. With this "hands-off" method, the meat is first seared to lock in the juices. It's then added to a tightly covered oven-safe pot. Cook it for a long time at a low temperature, so you don't run the risk of overcooking as you would using other methods.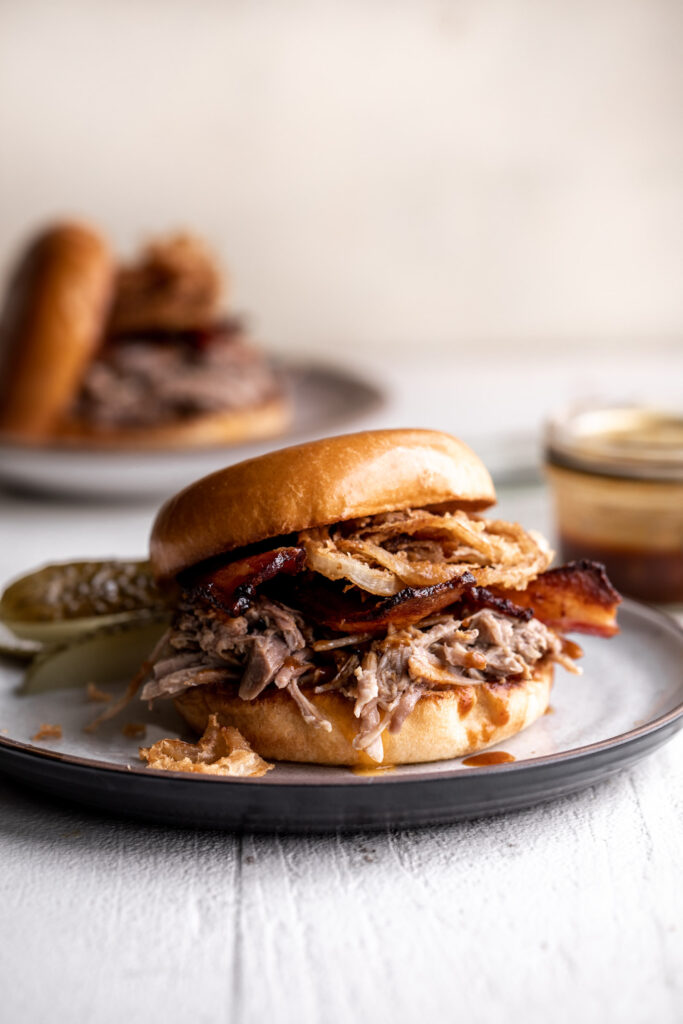 Key Ingredients in This Recipe
Pork – Since I use a 3-pound petite pork roast, I opt to keep it whole while it braises.
Beer – I recommend using a lighter beer like a lager in this recipe. Since the beer will be the base of the flavor for the braised pork, you don't want anything with too many overpowering flavors.
Orange – The orange adds a complex citrusy note that complements the vinegary homemade BBQ sauce.
Bacon – I love using thick-cut bacon for sandwiches. It is baked so that the slices cook evenly and remain flat so they can be easily stacked on the sandwich. The hickory smoke adds a southern, smokey flavor to the bacon that complements the braised, pulled pork.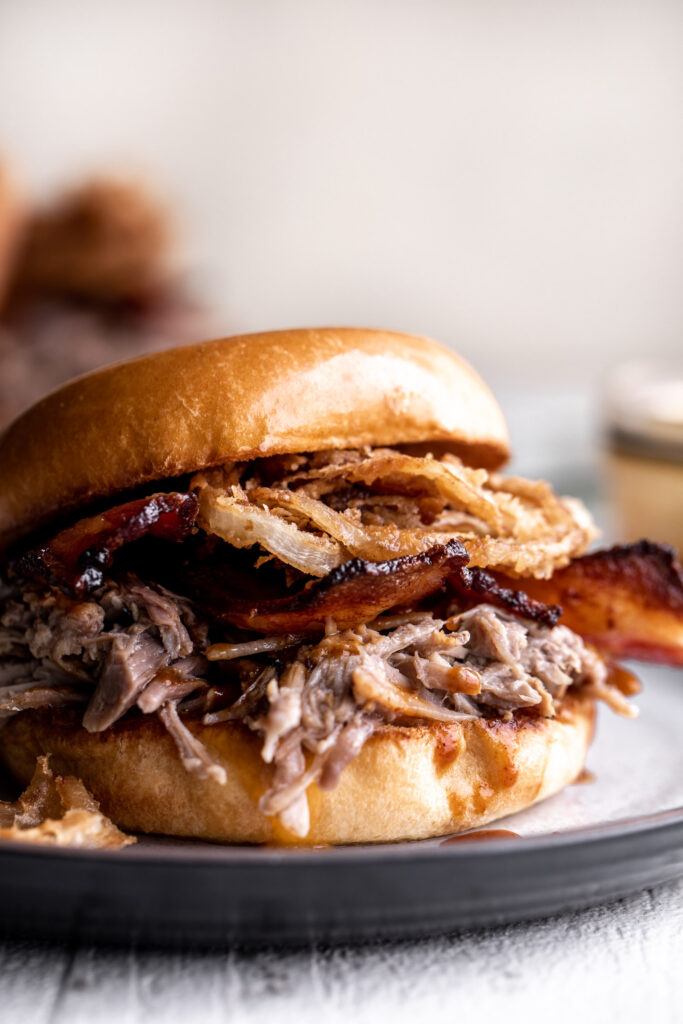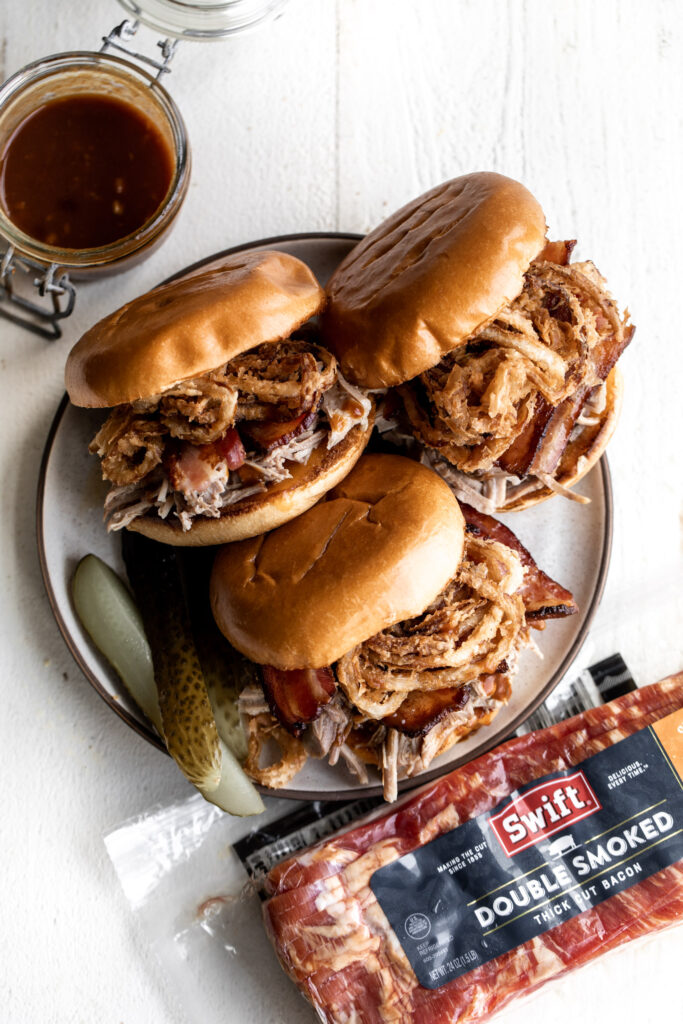 Follow me on Instagram for more updates.
Braised Pork Sandwich with Orange BBQ Sauce
Braised pork:
1

(3-pound)

Swift Petite Pork Shoulder Roast

Kosher salt,

as needed

Freshly ground black pepper,

as needed

2

tablespoons

vegetable oil

1

(12-ounce)

bottle lager beer

1

head garlic,

¼" trimmed off the top
For the orange BBQ sauce:
1

cup

freshly squeezed orange juice

¾

cup

ketchup

¼

cup

(packed) dark brown sugar

2

tablespoons

Dijon mustard

4

cloves

garlic,

minced

1

tablespoon

Worcestershire

1

tablespoon

white vinegar

2

teaspoons

chili powder

¼

teaspoon

liquid smoke
For the sandwich:
½

pound

Swift's Hickory Double Smoked Thick Cut Bacon

4

slices

deli-sliced yellow cheddar cheese

4

brioche buns,

toasted
Braised pork:
Heat oven to 325ºF.

Season the pork all over with salt and pepper. Heat a Dutch oven over medium heat, add the oil and heat through. Sear the pork on all sides, about 8 minutes total. Add the beer and garlic and bring to a boil, then cover and move to the oven. Braise until the meat is fork tender, about 2½ hours.

Remove the meat from the braising liquid and let cool. Shred the meat and return it to the braising liquid.
For the orange BBQ sauce:
Add the orange juice, ketchup, dark brown sugar, Dijon mustard, minced garlic, Worcestershire, vinegar, chili powder and liquid smoke to a small saucepan. Simmer over medium-low heat until the sauce has thickened. It should coat the back of a spoon. Remove from heat and let cool.
For the onion rings:
In a large sauté pan over medium heat, heat enough vegetable oil to fill about an inch up the pan. Heat the oil to 350°F. Add the milk to a medium mixing bowl and whisk together the flour, salt and pepper in another medium bowl.

Dip a handful of the onions into the milk then toss them in the flour mixture to coat. Add to the hot oil and fry until golden brown all over. Remove to a paper towel-lined plate to drain.
For the sandwich:
Heat oven to 400ºF. Line a baking sheet with aluminum foil and arrange the bacon in an even single layer. Bake until crispy, about 16 minutes. Use tongs to move the bacon to a paper towel-lined plate to drain.

Heat oven to broil. Add the buns, cut side up on a baking sheet. Broil until toasted. Add a slice of cheese to the bottom half of each bun and continue to broil until melted.

Top each with some of the shredded pork and drizzle with the orange BBQ sauce. Add slices of bacon and onion rings over the top. Close the sandwiches and serve.
DID YOU MAKE THIS?
TAG ME ON INSTAGRAM TO BE FEATURED ON MY STORIES! @cookingwithcocktailrings