The "Adobada" in the title of the recipe refers to the tangy chili marinade with deep, rich flavor. While adobada is typically made with cuts of pork, I use the tangy marinade for beef tri-tip in this recipe. I always love using Swift Meats' wholesome ingredients.
This is a great recipe for summer entertaining that the whole family will love! The meat can be marinated ahead of time, grilled and cut up so that the tacos can be assembled and served or set out like a taco bar. Swift Meats are always a great choice when choosing your proteins. The company has been making high-quality products you can feel good about since 1855.
Carne Adobada Tri-Tip Tacos
Table of contents
Key Ingredients in This Recipe
Chilies – I use a mix of guajillo, chiles de arbol and chipotles in adobo sauce in this marinade. The dried chilies are reconstituted in hot water and blended with canned chipotle chilies in adobo sauce, onion, garlic, lime juice and orange juice.
Citrus – The freshly squeezed lime juice and orange juice added to the marinade help to tenderize the meat.
Onion – While onion is used in the marinade, the beef tacos are also served finished with a simple spiced chopped onion mixture to add some fresh flavor. I love the contrast of the raw onions over the meat.
Tri-tip – Not only is steak a great source of protein, but the lean meat lends itself well to grilling. Look for a tri-tip with good marbling and bright red color. When cutting the tri-tip, always cut against the grain.
What is Beef Tri -Tip?
The tri-tip comes from the portion of meat at the tip of the sirloin. There is only one per cow, making them highly sought after. The lean cut is rich in beef flavor and extremely tender. Because of its lean nature, it is best served grilled. Tri-tip is frequently found cooked in the Santa-Maria style of BBQ, also known as California BBQ. Simply seasoned meat is cooked over a red oak, open-fire grill with the meat being raised and lowered over the flame.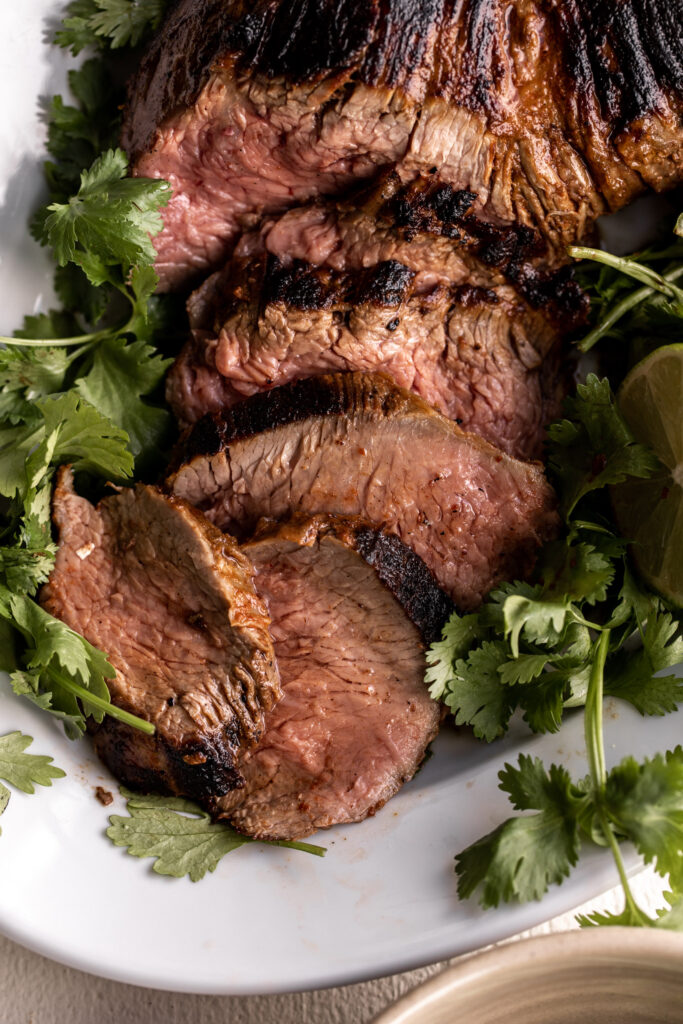 How to Cook Tri-Tip
Since it's a lean cut, tri-tip is best cooked using high heat, quick methods like grilling. I marinate the meat ahead of time, quickly grill it, then slice it and serve over tacos. The cooked tri-tip can also be sliced and served over rice and beans as a burrito and rice bowl.
What Is the Difference Between Adobada and Al Pastor?
Traditionally, both al pastor and adobada are made with pork, though I use tri-tip in this recipe. The marinade is similar, but the cooking style is where things really differ. With al pastor, marinated pork is loaded onto a spit (with pineapple) and slowly cooked over a flame. With adobada, it's typically cooked quickly on a grill.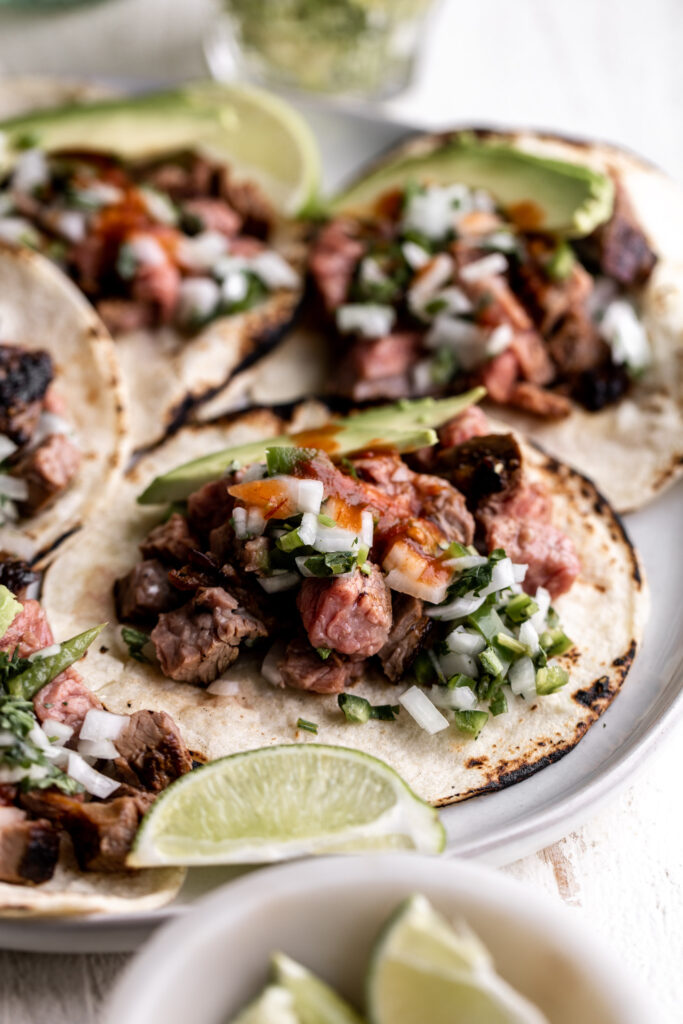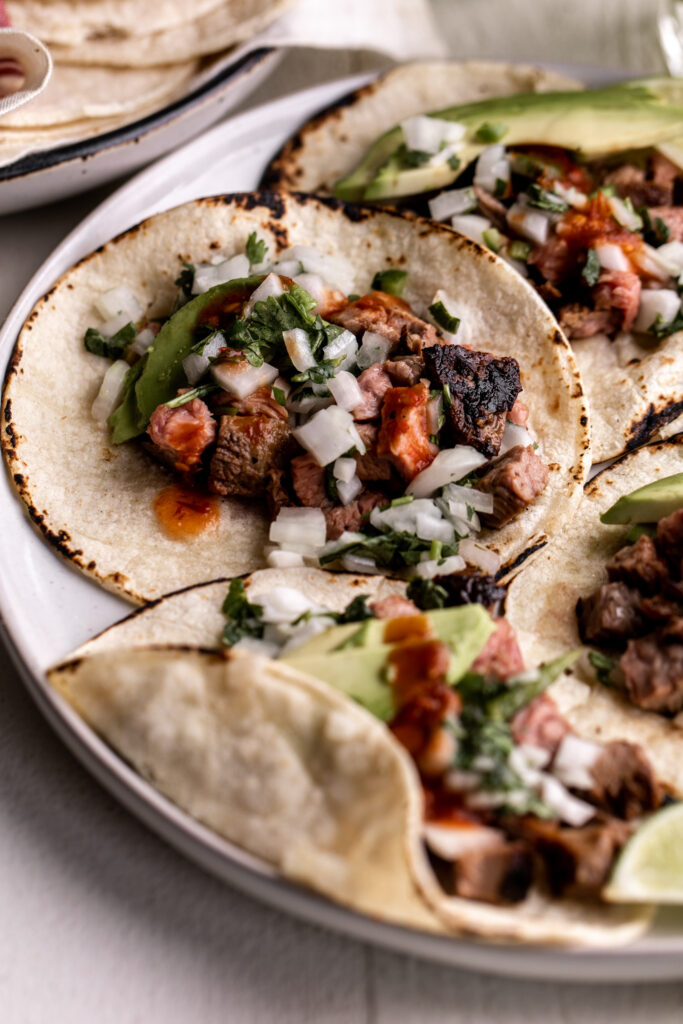 Carne Adobada Tri-Tip Tacos
For the adobada tri tip:
6

guajillo chilies,

stemmed and seeded

3

chiles de arbol,

stemmed and seeded

1

chipotle chili in adobo,

plus 1 tablespoon of the adobo sauce

½

medium yellow onion

5

cloves

garlic,

smashed

½

cup

freshly squeezed orange juice

2

tablespoons

freshly squeezed lime juice

1

teaspoon

dried oregano

Kosher salt,

as needed

1

(2-pound)

Swift Meats beef tri-tip
For serving:
½

medium yellow onion,

finely diced

½

cup (packed) cilantro, chopped

1

medium serrano pepper,

seeds removed and diced

1

tablespoon

freshly squeezed lime juice

Kosher salt,

as needed

6"

corn tortillas,

warmed

1

medium Hass avocado,

pitted, peeled and sliced
For the adobada tri-tip:
Add the guajillo chilies and chiles de arbol to a medium bowl and pour hot water over the top, letting it sit until the chilies soften, about 10 minutes.

Add the softened chilies and ¾ cup of the soaking water to a blender with the chipotle and adobo sauce, onion, garlic, orange juice, lime juice and oregano. Blend until smooth, then season to taste with salt.

Add the Swift Meats beef tri-tip to a large bowl or resealable container and pour the marinade over the top, turning to coat. Cover and refrigerate for at least an hour or up to overnight.

When ready to grill, remove the meat from the marinade, wiping off any excess marinade. Heat the gas grill to medium-high.

Add the tri-tip and sear for about 8 minutes. Turn the meat over and cook for an additional 8 minutes. Turn and cook once more for another 5 minutes. Repeat until a thermometer inserted into the thickest part of the meat reads 130ºF. A 2-pound tri-tip should take a total of about 25 minutes to cook.

Remove the meat from the grill and let rest on a cutting board for 15 minutes.

Thinly slice the meat and set aside on a serving platter.
For serving:
In a small bowl, stir to combine the onion, cilantro, serrano and lime juice. Season to taste with salt.

To assemble the tacos, lay slices of the steak onto the tortillas and top with avocado and a spoonful of the onion mixture. Serve immediately.
DID YOU MAKE THIS?
TAG ME ON INSTAGRAM TO BE FEATURED ON MY STORIES! @cookingwithcocktailrings