I love making my own chicken stock because it's a great way to stretch food and reinvent scraps, cutting down on food waste for home cooks. I worked for a chef that always had a pot of stock simmering on the stove from leftover bones. Another pro of making your own stock is that you have the ability to control the flavor (and salt) and create a stock that has a deep, savory chicken flavor. Stock is a versatile ingredient for other recipes or can be sipped on it's own for its health benefits.
The building blocks for a good stock are quite simple; chicken bones + vegetables + aromatics + water in a large pot. While you can make it using other appliances like an Instant pot or slow cooker, I prefer the old fashioned method, simmering in a big pot on the stove. Since you first have to roast a chicken for the bones, try this recipe for roasted chicken here or this dry-brined roast herb chicken.
How To Make Homemade Chicken Stock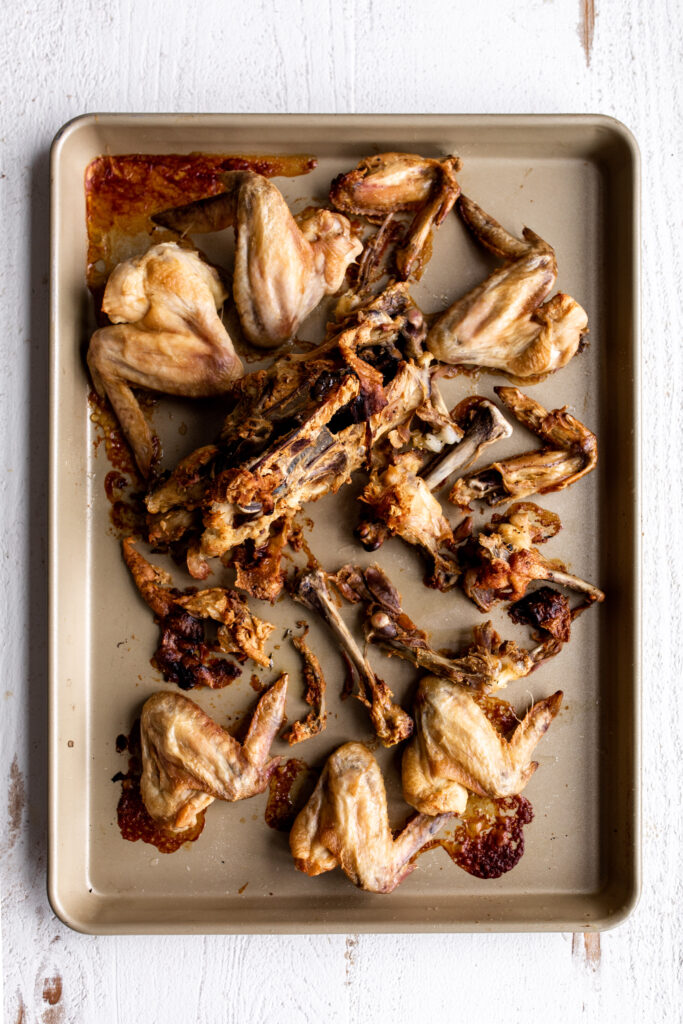 Broth vs. Stock
Chicken stock is typically made from chicken bones as well as aromatics and vegetables, while broth is made with the meat (think a chicken soup). Chicken stock has a much richer, more robust flavor that comes from the collagen released from the simmering bones. On the other hand, chicken broth is much more mellow in flavor. I typically use chicken stock when cooking as it can be used for any recipe that calls for broth.
Roasted vs. Unroasted Bones
While the bones can be added raw, roasting the bones and vegetables adds a more robust flavor and helps to remove impurities. Roasting the bones until they are browned caramelizes them and any leftover meat. It also helps to draw out any collagen from the bones and makes for a beautiful golden stock with deep flavor.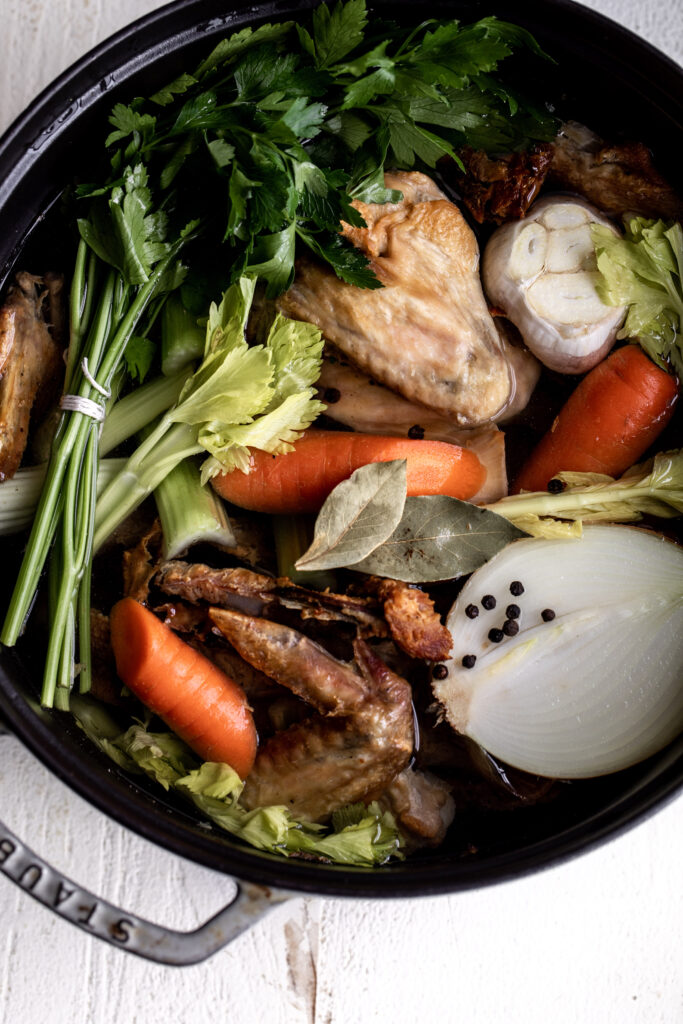 Key Ingredients in Chicken Stock
Chicken – This chicken stock recipe is extremely flexible and can be made with any cut of chicken from the wings or backbones or whole chicken carcass. Save the bones from meals (simply freeze them in a bag), use scraps from the leftover chicken carcass from roasted or rotisserie chickens. Chicken feet are full of collagen and add great flavor. They can be purchased from the meat counter at grocery stores. While you don't have to roast the bones, I recommend it.
Vegetables – While just chicken bones and water can be used, any combination of roughly chopped vegetables can be added to develop the deep flavors in stock. The most common basic combination is mirepoix – a combination of onion, carrots and celery. Anise-flavored fennel, earthy mushrooms or slices of sharp ginger can also be added. Roast them or add them roughly chopped. Don't add too many vegetables – the chicken flavor should still be the star.
Garlic – Slice the top ¼" off a head of garlic and simply add to the pot. The paper can be left on the garlic since it will be strained out later.
Seasoning – It's best to add whole spices to broth so they can be strained out later while the flavor remains. I add whole peppercorns as well as fresh herbs, typically a few bay leaves, to the stock. I wait to season the stock with salt until it is ready to use – the stock can easily be added to a variety of recipes and then seasoned as needed.
Water – For each pound of chicken you use, plan to use one quart of water. This is a general rule of course – the longer you simmer the stock the more water you may need to add.
Instructions
Step 1
Roast the bones
Step 2
Add the bones and vegetables to the pot
Step 3
Add the aromatics and simmer the stock
Step 4
Skim any impurities
Step 5
Strain the broth (I like to double strain)
Step 6
Store the broth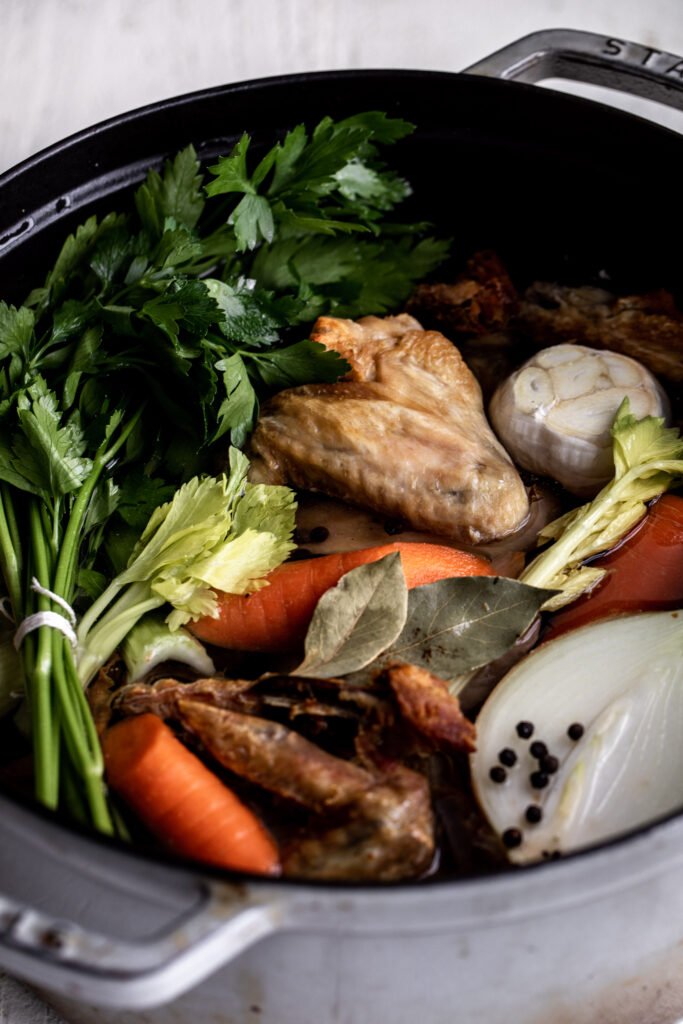 Best Herbs for Chicken Stock
Bay leaves
Bay leaves are an aromatic leaf from the laurel plant and are used in many French and Italian dishes. I often just use bay leaves in my stock. I prefer to keep the herbs simple so the stock can be versatile in dishes and other herbs can be added later on.
Parsley
Adding a bunch of flat-leaf parsley adds a subtle flavor to the broth.
Cilantro
Substitute the carrots for the sliced ginger and add fresh cilantro to the broth. This makes a great base for Asian recipes.
Rosemary
For a more complex flavored broth, add one sprig of rosemary. Any more will overpower the flavor.
Thyme
Adding two sprigs of thyme will add a subtle flavor.
Oregano
Whole sprigs of oregano are great for seasoning broth used in Italian recipes. Adding the leftover rinds from Parmesan adds a cheesy flavor and complements herbs like oregano. This is a great base to use to cook beans or make soup.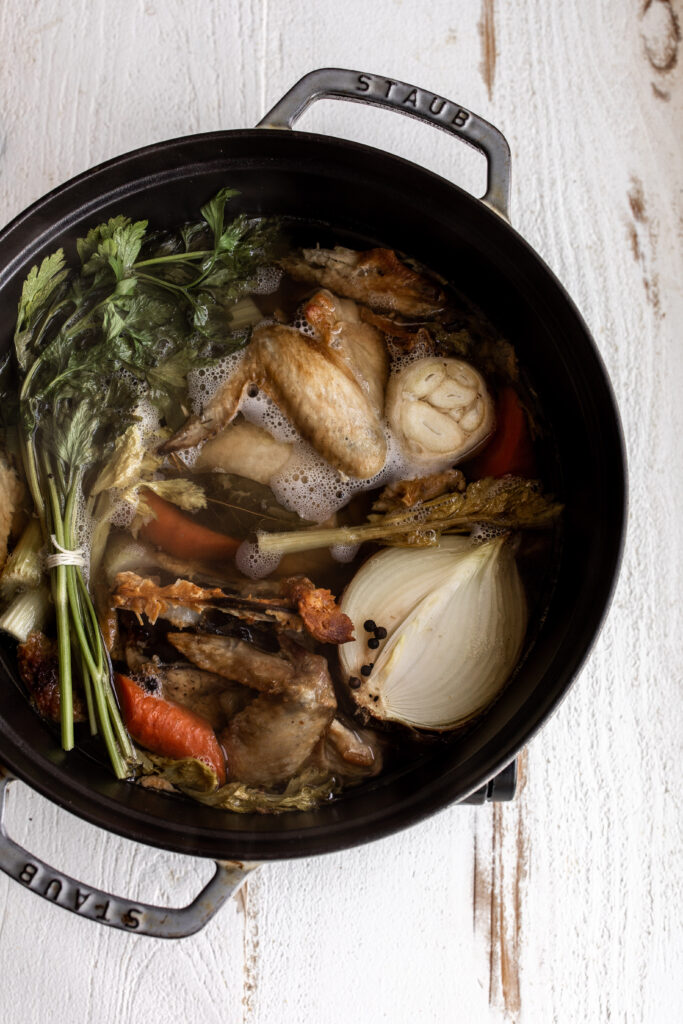 How long should I simmer chicken stock?
I recommend simmering chicken stock for at least two hours at a medium-low heat as it draws out enough chicken flavor to create a good stock. Simmering the stock at a high heat will cause it to evaporate too quickly. Simmer the stock longer, anywhere from 6 to 8 hours, for deeper flavor. Add water as needed though it's important to note a reduced stock will have a more concentrated flavor.
Homemade Chicken Stock Nutrition Facts
The gelatin and collagen from the bones which are released through the slow cooking process are thought to have health benefits. You will notice a jelly-like consistency on the top of the stock – that is the collagen. That's the reason people recommend chicken soup when you're sick! Plus it's easy on the stomach and gut. When the stock chills, fat will rise to the top. It can be removed with a spoon and discarded – though remember, fat equals flavor!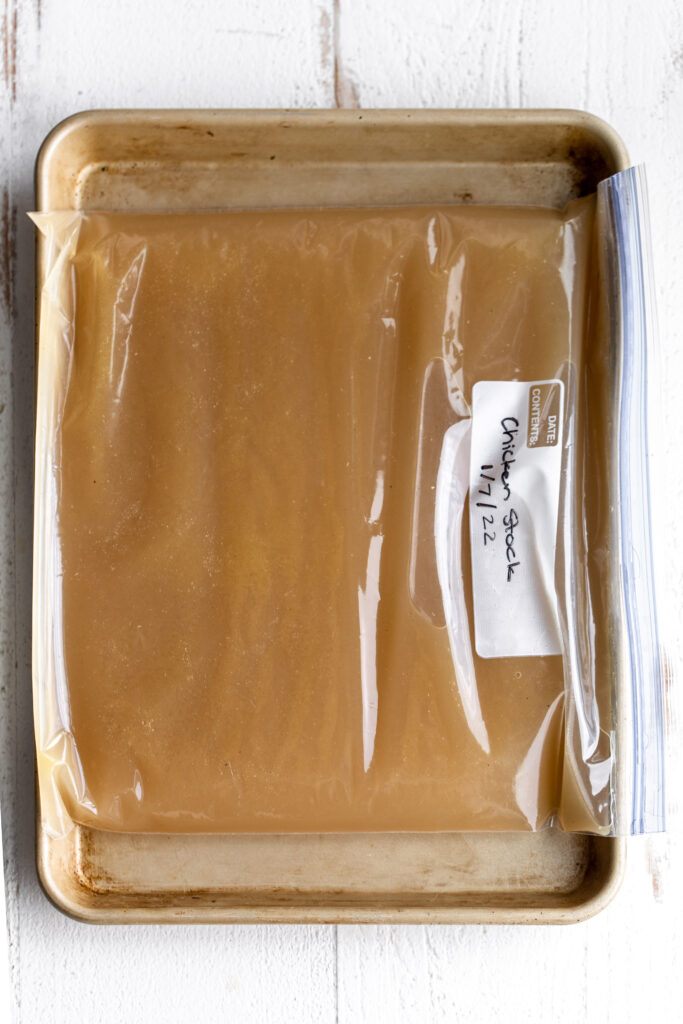 How to Use Homemade Chicken Stock
As a soup base
Cooking rice or risotto
Braising meat or vegetables
As a sauce base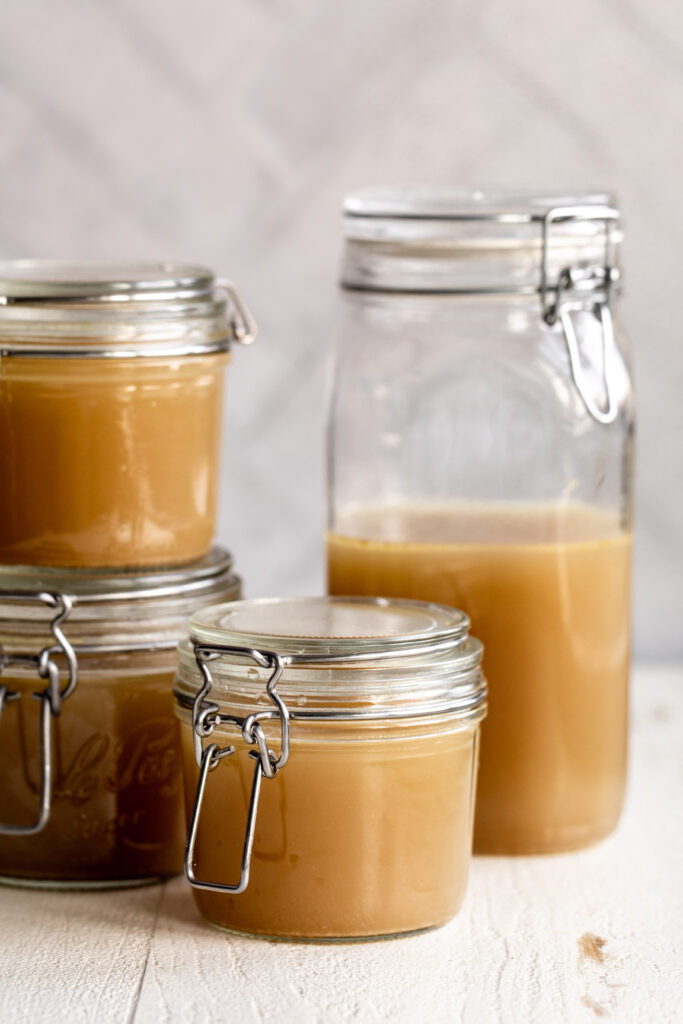 How to Freeze Homemade Chicken Stock
What container to use
To make the most of space I recommend letting the chicken stock cool to room temperature so it's easier to handle. Pour the chicken stock into several resealable plastic bags labeled with the date. Seal and place flat on a small baking sheet in the freezer so it freezes flat. Once it's frozen it can be moved and the baking sheet can be removed. Other airtight containers can also be used.
How to Concentrate Stock
To save on precious freezer room you can also continue to boil the stock until it's reduced by half and concentrated. You can then store in smaller containers or ice cube trays and reconstitute with an equal portion of water.
How to thaw before using frozen chicken stock
Let the chicken stock sit at room temperature for 15 minutes then break up the frozen pieces in the plastic bag and add to a saucepan. Bring it to a simmer and use as needed.
Fill a large bowl or container with hot water and submerge the frozen bag to thaw the stock.
Run the frozen bag under warm tap water to thaw and heat in a saucepan or in the microwave.
How long can you store chicken stock in the freezer?
Chicken stock can be stored in the freezer for up to 6 months. Though it should only be reheated once when it is thawed.
How to Store Homemade Chicken Stock
Tips for Storing in the Fridge
To store chicken stock first, let it come to room temperature then add to storage containers and move to the fridge. Putting the hot chicken stock in the fridge can bring down the whole temperature of the fridge.
I recommend saving plastic deli containers – the clear white ones are the best for storing liquids. I like them because you can still see what's inside.
Mason jars are also great because they can easily be microwaved for use (without the metal lid of course).
How Long Can You Store Chicken Stock in the Fridge?
Homemade chicken stock will keep in the fridge for about 4 to 5 days or freeze until ready to use.
How To Make Homemade Chicken Stock
Preheat the oven to 400ºF (200ºC). Arrange the chicken bones in an even single layer on a baking sheet. Roast the bones until browned, about 1 hour.

Add the bones to a large stock pot or large Dutch oven. Add the onion, celery, carrot and garlic. Cover with water (about 4 quarts / 3.8L of water) and add the parsley, bay leaves and peppercorns.

Bring to a boil over medium heat then lower the temperature and simmer, using a spoon to skim off any scum that rises to the surface and discard it.

Continue to keep at a gentle simmer (just a few small bubbles) for about 6 hours, until reduced by about half. Add additional water as needed.

Once the stock is done, remove from heat and let cool. Use tongs to remove any large bones, then strain the stock through a fine mesh strainer into a large bowl, discarding any solids.

Let cool for about an hour then transfer the broth to storage containers or resealable plastic bags and refrigerate or freeze until ready to use.
DID YOU MAKE THIS?
TAG ME ON INSTAGRAM TO BE FEATURED ON MY STORIES! @cookingwithcocktailrings