The sauce, salsa macha, often used like a salsa or condiment, originates in Veracruz, Mexico – the eastern part of the country, and has recently become much more frequently used throughout the United States, going so far as to be deemed the "most valuable condiment of 2020" by the New York Times.
Best Salsa Macha Recipe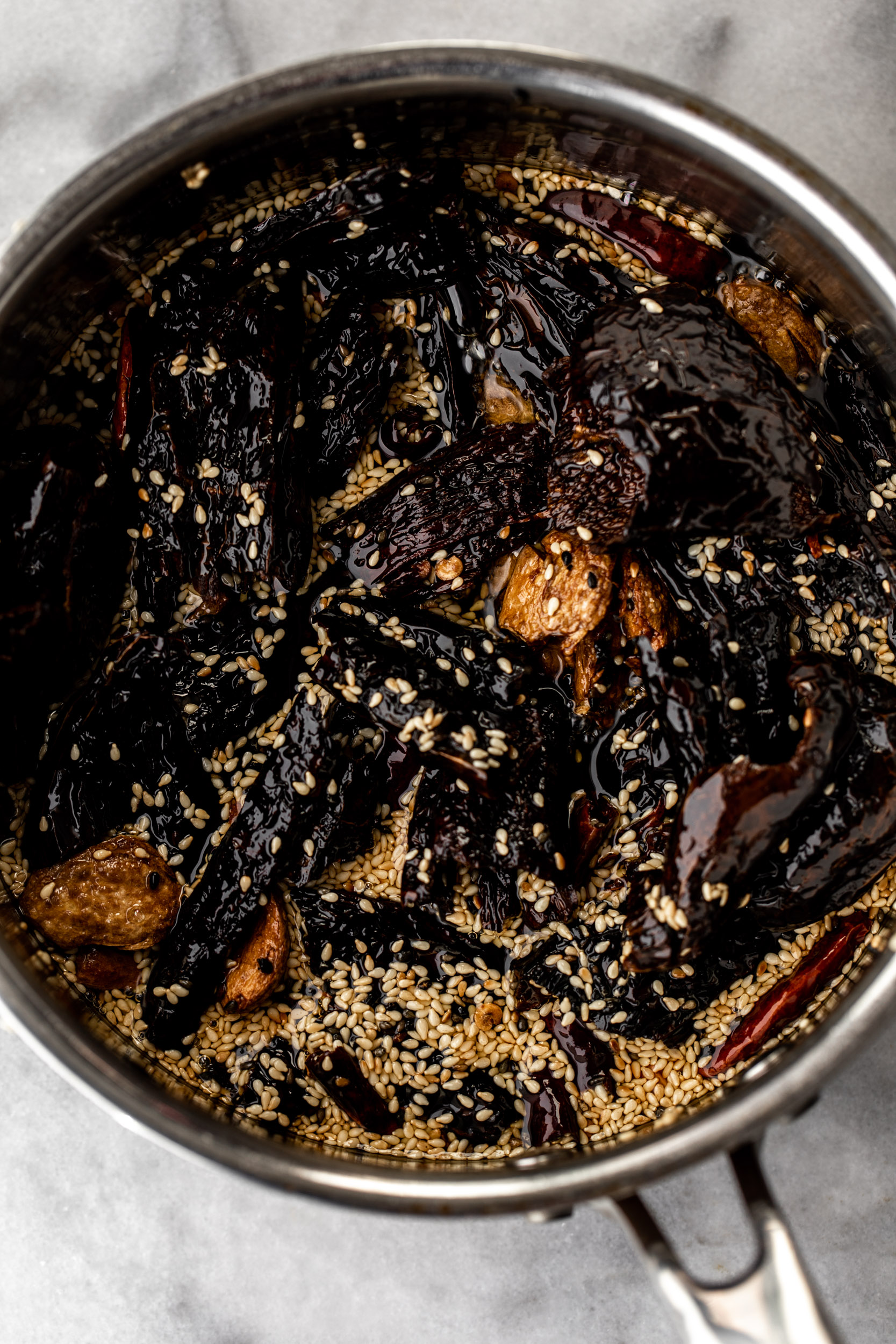 More About Salsa Macha
I had a version using sesame seeds at the michelin stared restaurant, Oxomoxo, in Green Point, Brooklyn where tuna tostadas were served topped with the bright red salsa sauce. The smoky sauce perfectly complemented the light tuna with citrusy guacamole on a crisp tortilla.
In my recipe I use a combination of pasilla, guajillo and chilies de arbol in the salsa macha. I could put this on everything – it's great just scooped up with tortilla chips!
This sauce is simple but requires attention because the chilies and seeds are fried in the oil until they are toasted and golden brown but not burned or blackened. While it's becoming more popular in grocery stores it's so easy to make your own at home.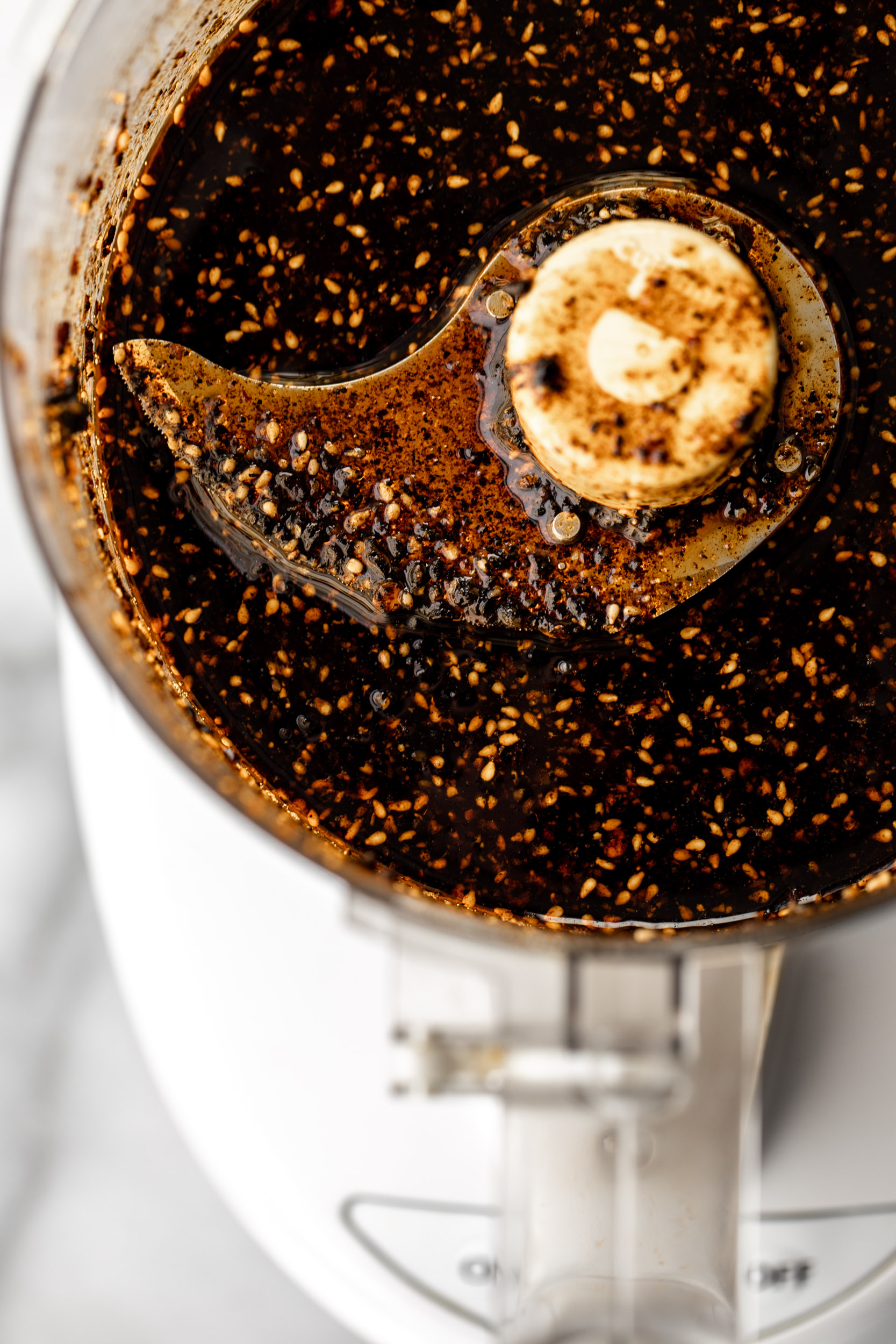 How to use salsa macha:
As a sauce, served over fish tacos, steak tacos, sweet potato tacos or even breakfast tacos.
Add to a bowl of simple garlic noodles for a quick meal.
Use as a marinade for beef or chicken with lime.
Spoon it over avocado toast as a finishing oil.
Serve it simply as a salsa with tortilla chips.
Add to tortas (a Mexican sandwich) as a sauce.
Try drizzling it on top of pizza to spice it up (pairs especially well with pizza topped with sausage or chorizo).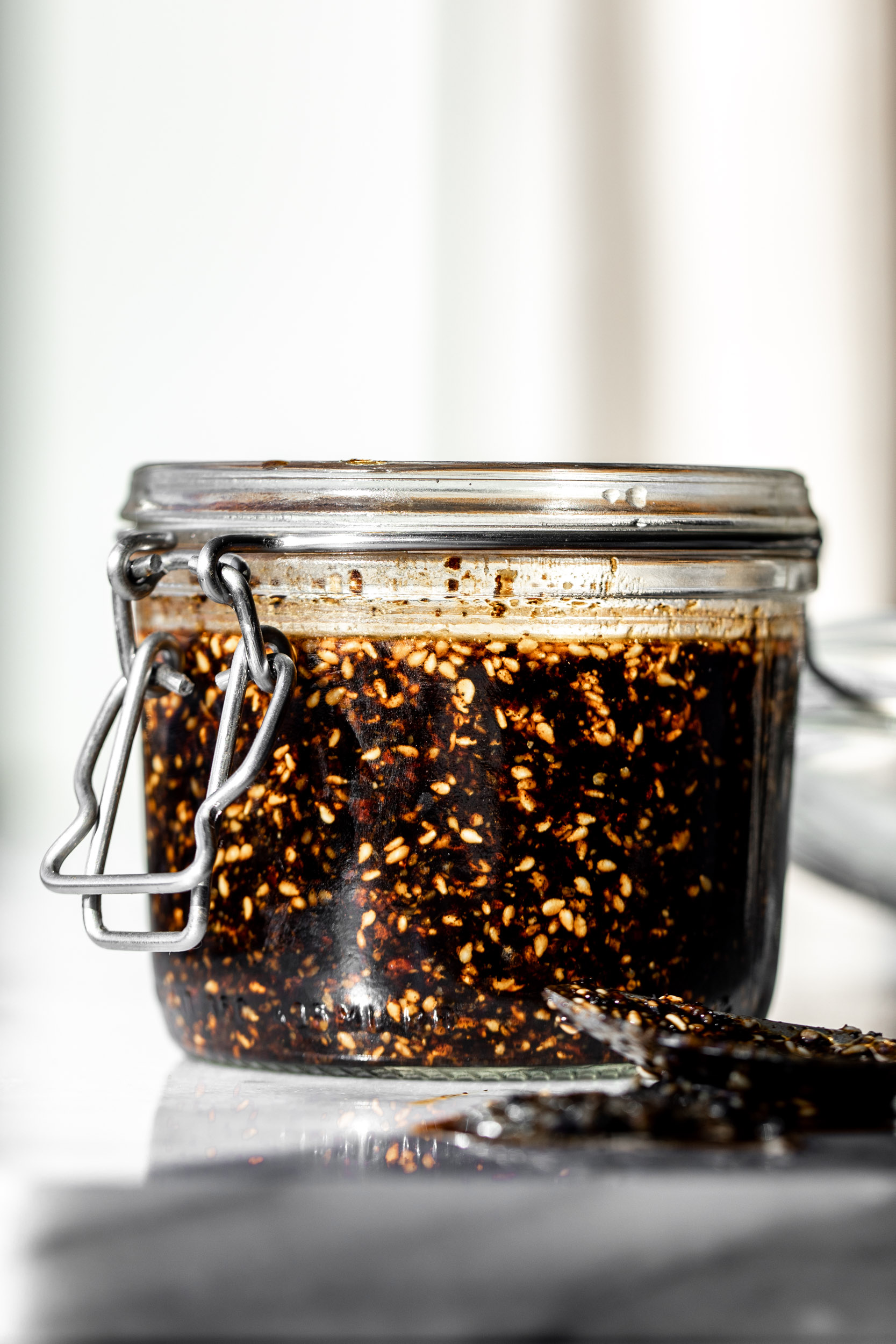 Key Ingredients in salsa macha: 
Grapeseed oil – using a neutral oil instead of a more flavorful oil like olive oil is important so the flavor of the chili can shine. If you can't find grapeseed oil, substitute with vegetable or canola oil.
Sesame seeds – I use a mix of white and black sesame seeds but it's mainly for aesthetics so if you only have one or the other feel free to use that.
Garlic – I love the subtle garlic flavor the fried cloves of golden brown garlic add to the sauce.
Dried chilies – Changing the dried chilies used will change the flavor of the salsa macha. I use a combination of pasilla chilies, guajillo chilies and chiles de arbol. Substitute the pasilla chilies with ancho chilies based on availability. If you can't find them at your local grocery store or I suggest ordering them online from someplace like Amazon. Removing the stems and seeds ensures for a flavorful salsa without making it overly spicy.
Vinegar – I use apple cider vinegar, the acidity helps to bring out the flavors in the chilies and balance the spice.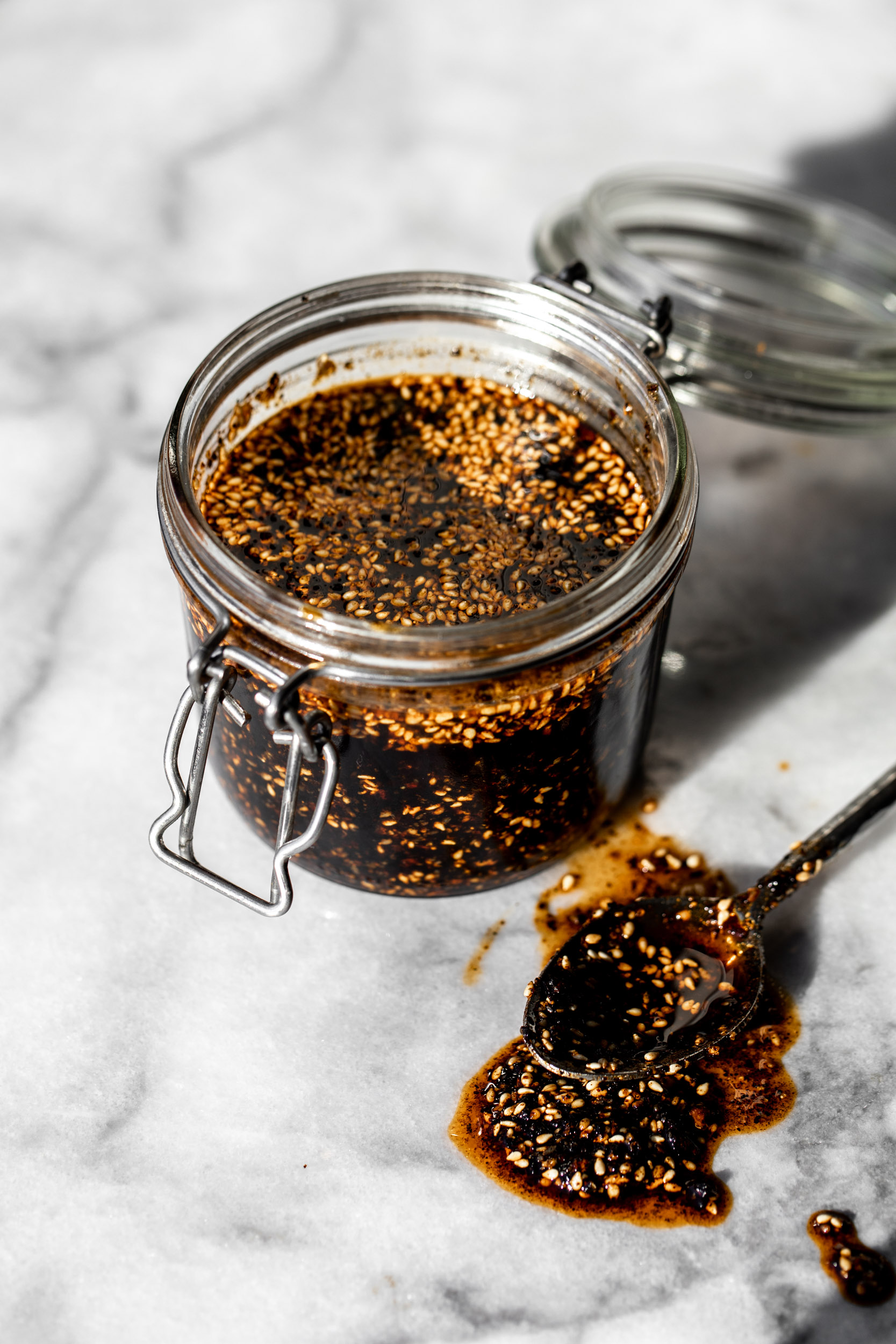 Tips for the best salsa macha:
Frying them at a low temperature over a longer period of time keeps this from happening too quickly.
Removing the seeds from the chilies leaves the flavor of the chilies without making the sauce too spicy.
I use grapeseed oil for it's high smoke point and general health benefits though it can easily be swapped with another neutral oil like vegetable or canola oil.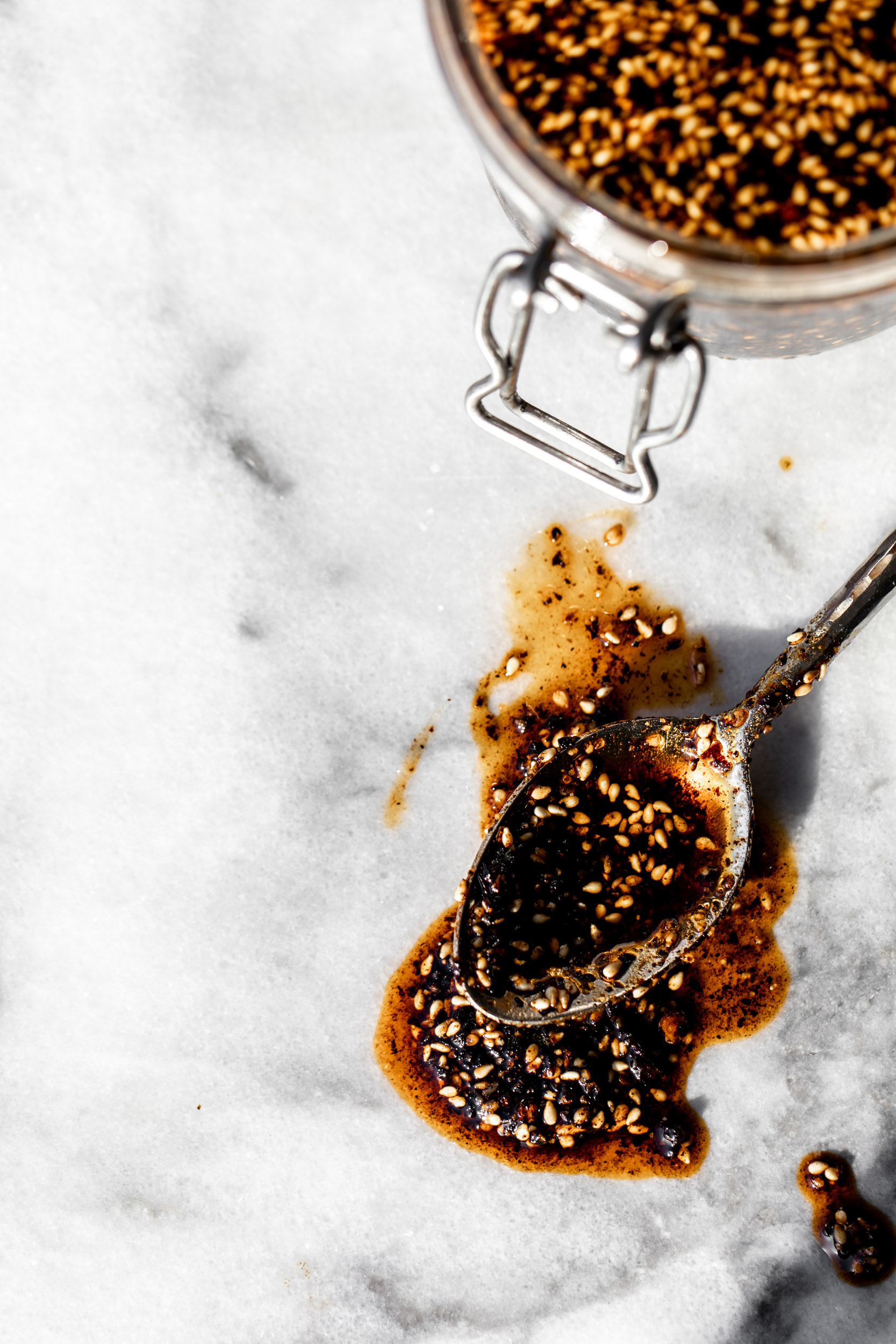 Recipe steps:
Step 1:
Fry the garlic and sesame seeds in the oil.
Step 2:
Add the chilies to the oil and continue to fry until they're fragrant.
Step 3:
Let cool slightly.
Step 4:
Add the mixture to a blender or food processor and pulse until the chilies and sesame seeds are finely chopped.
Step 5:
Serve or store in an airtight container.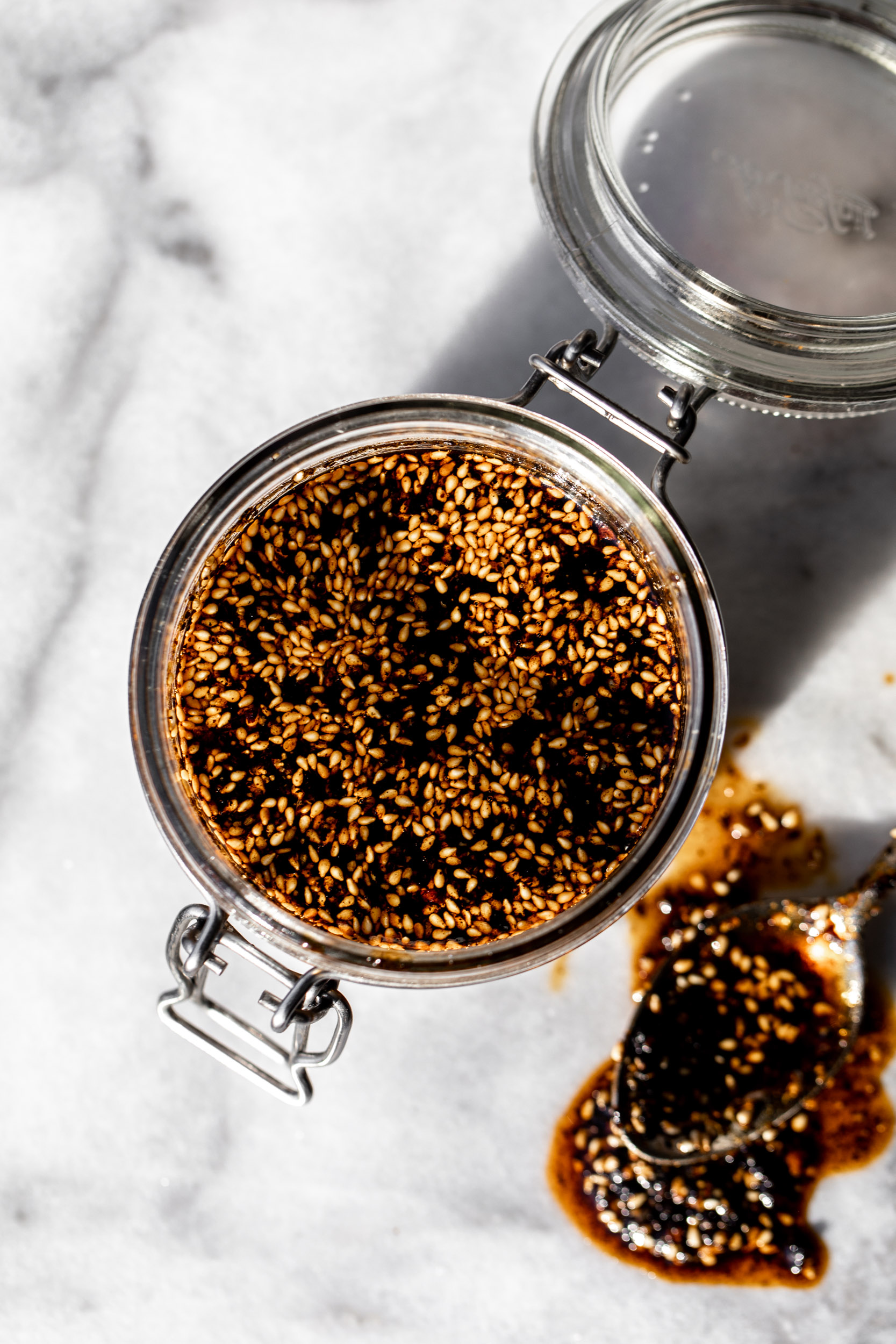 Salsa macha is typically used as a sauce, spooned over fish or steak tacos, though it also makes for a flavorful addition to a bowl of noodles, marinades, dressings or even avocado toast. I use it much like I would use this Asian chili crisp. It can be made and stored refrigerated in an airtight jar for up to a month.
Best Salsa Macha Recipe
1½

cups

grapeseed oil

¼

cup

raw white sesame seeds

¼

cup

black sesame seeds

6

cloves

garlic

4

pasilla chilies,

seeds removed and roughly chopped

3

guajillo chilies,

seeds removed and roughly chopped

10

chiles de arbol,

seeds removed and roughly chopped

1

tablespoon

apple cider vinegar

Kosher salt,

as needed
Add the oil to a small saucepan over medium-low heat and heat through. Add the white sesame seeds, black sesame seeds and garlic and cook, stirring occasionally, until the garlic and white sesame seeds are a light pale golden color (not get fully golden brown), about 6 minutes.

Add the chilies and continue to cook until just fragrant and the garlic is golden brown, about 2 additional minutes (they will continue cooking as the oil cools).

Remove from heat and let cool for 10 minutes.

Add to a blender or food processor fitted with the blade attachment with vinegar and pulse until the chilies are finely chopped but not smooth.

Pour into a bowl or container and season to taste with salt.

Store, refrigerated in an airtight container for up to a month.
DID YOU MAKE THIS?
TAG ME ON INSTAGRAM TO BE FEATURED ON MY STORIES! @cookingwithcocktailrings