While this sauce is frequently referred to as "Thai peanut sauce" it actually originated in Indonesia. Most traditional Indonesian versions are made simply with roasted peanuts, kecap manis (a sweet soy sauce), chilies, shallots and lime. This version of peanut sauce is closer to satay sauce served with Thai or Malaysian recipes. This super easy sauce comes together in just a few minutes using simple ingredients! I use a combination of peanut butter, rice vinegar, sesame oil, sambal oelek, soy sauce and lemongrass for a sauce that is salty, savory and has just a little kick.
Lemongrass Peanut Sauce Recipe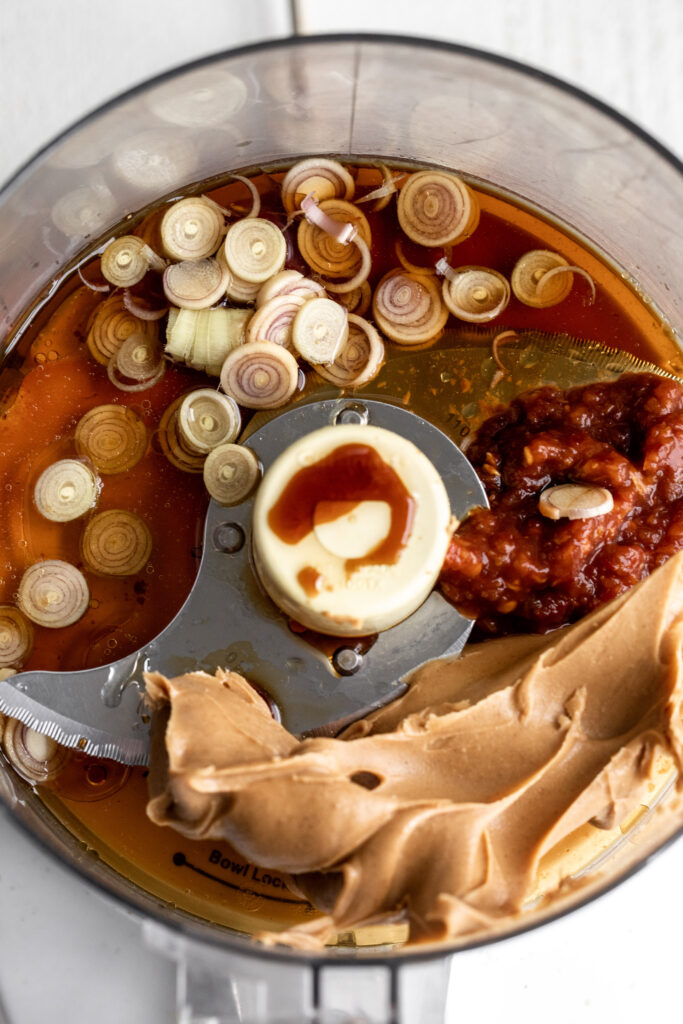 Key Ingredients in Lemongrass Peanut Sauce
Peanut butter – You can use chunky peanut butter, but I prefer smooth to get a creamy sauce more easily. I recommend looking for a brand that only uses peanuts and salt in their ingredients.
Rice vinegar – Rice vinegar is made through the process of fermenting rice. It has a much more mellow, less acidic flavor than other vinegars.
Sesame oil – Sesame oil is made from pressing raw sesame seeds. It's nutty flavor and high smoke point (410ºF/ 210ºC) make it a great cooking oil and flavoring for dishes. Darker toasted sesame oil has a stronger flavor and is great for finishing dishes while light sesame oil is more neutral in flavor.
Sambal oelek – Sambal oelek can be found in the international sections of most grocery stores. It is a spicy Southeast Asian chili sauce that adds a sweet and spicy kick to any foods. Substitute with sriracha if you cannot find sambal.
Soy sauce – I use reduced sodium soy sauce so that I can control the amount of salt in the recipe, adding more if needed. For a gluten free sauce substitute the soy sauce with tamari or coconut aminos.
Lemongrass – Lemongrass adds a bright, lemony flavor to dishes. Fresh lemongrass is best for this recipe since it has a more complex flavor. Using a pre-packaged paste or dried lemongrass is also fine if needed. Only the bottom yellow part of the lemongrass stalk is used in cooking, the top part is typically much too tough.
Water – I use a bit of warm water to help thin the sauce and achieve the desired consistency. A thinner sauce blends much easier and becomes smooth and creamy.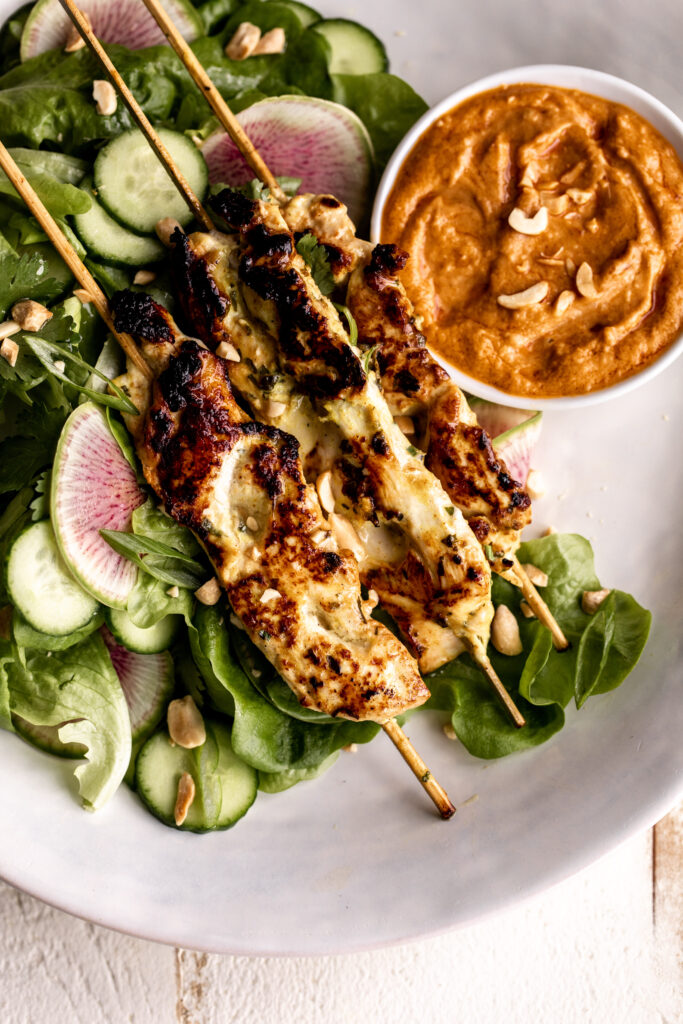 How to Make Lemongrass Peanut Sauce
Blend sauce. Add all ingredients to the bowl of a food processor or blender with ¼ cup warm water and process until smooth.
Store sauce. Use or store refrigerated in an airtight container for up to 2 weeks.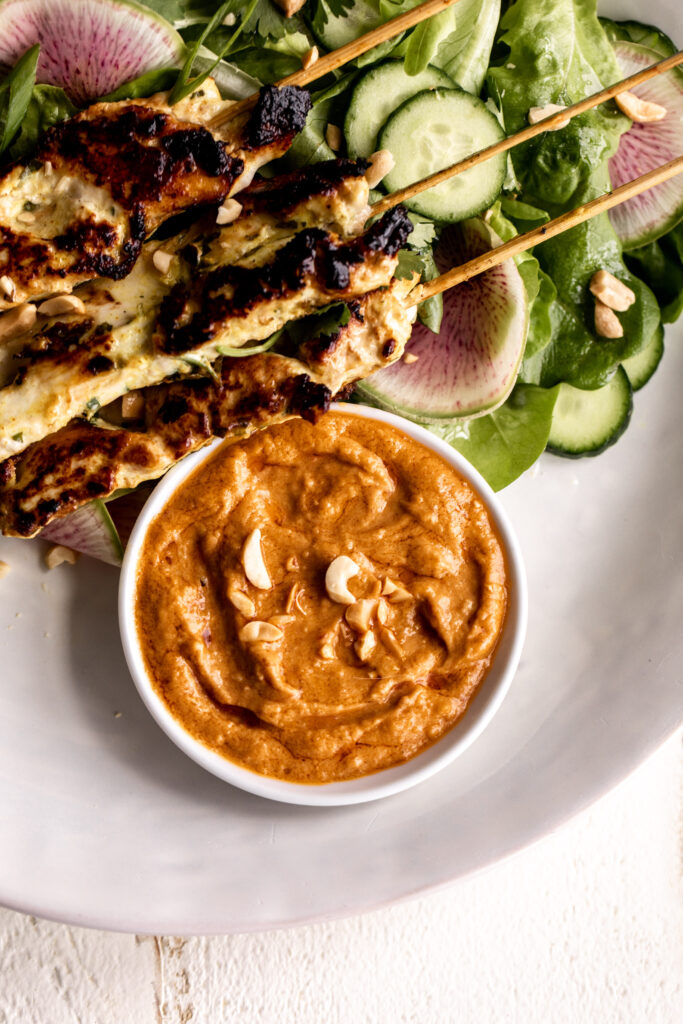 Serving Suggestions for Lemongrass Peanut Sauce
I love making a batch of sauce and storing it in the fridge for a multitude of uses.
Satay – Serve as a dipping sauce with simple grilled chicken satay skewers marinated in soy sauce or yogurt.
Noodles – Toss stir fry rice noodles or spaghetti in this peanut sauce and then top with chicken, shrimp or tofu for an easy weeknight meal. But if you prefer a thinner sauce, combine it with a bit of coconut milk and lime juice.
Spring rolls – Use the peanut sauce for dipping spring rolls. Vietnamese Gỏi cuốn (also called fresh spring rolls or summer rolls) are a classic pairing with peanut sauce.
Dumplings – One of my favorite Chinese restaurants in New York, Deluxe Green Bo , serves wontons in a combination of peanut sauce and chili oil for a contrast of flavors.
Lettuce wraps – Dip lettuce wraps filled with ground pork and rice in this flavorful sauce.
Dressing – Thin the sauce out more with additional water and then toss with mixed greens or butter lettuce for a simple salad. Top the salad with a bit of julienned cucumber, carrots and green onion. Then finish with chicken, shrimp, beef or tofu or serve as is.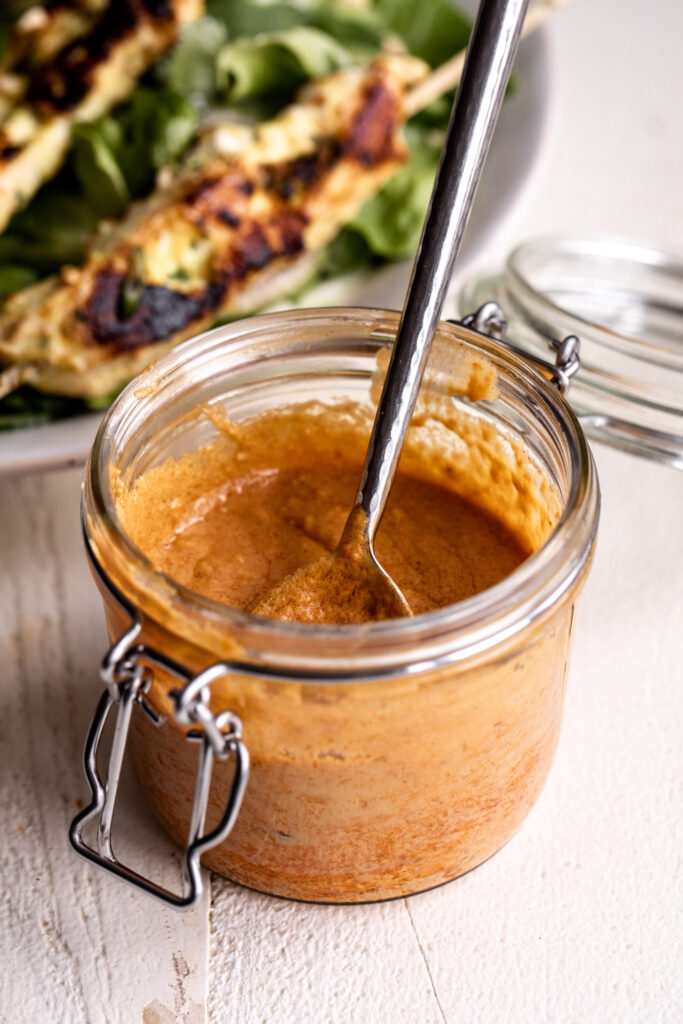 Tips and Tricks for This Recipe
Variations
Swapping the peanut butter for almond butter will change the flavor though the trade can be done based on preference.
For a spicier sauce, add ½ teaspoon red pepper flakes to the food processor before blending the sauce.
Try grating a teaspoon of fresh ginger into the sauce for a zesty kick.
If you like your sauce on the sweeter side, add 1 teaspoon of brown sugar or maple syrup.
For storing the sauce
This sauce can easily be made ahead of time and stored refrigerated in an airtight container until ready to use, about 2 weeks.
Other Recipes to Try
If you enjoy this recipe, I recommend checking out these:
Lemongrass Peanut Sauce Recipe
Add all ingredients to the bowl of a food processor or blender with ¼ cup warm water and process until smooth.

Use or store refrigerated in an airtight container for up to 2 weeks.
DID YOU MAKE THIS?
TAG ME ON INSTAGRAM TO BE FEATURED ON MY STORIES! @cookingwithcocktailrings