12 Best Cheeses for Grilled Cheese Sandwich
Grilled cheese is a wonderful comfort food. It's nostalgic. It reminds me of sick days at home with my mom watching daytime tv, and on freezing cold snow days, dipping a grilled cheese into tomato soup to warm up after an afternoon in the snow or even enjoying one for a nighttime snack. My husband and I also had the Grilled Cheese Truck at our wedding in Santa Barbara, California as a snack for guests. While you can use just about any semi-hard cheese for grilled cheese sandwiches, there are some that work better than others to achieve a signature gooey cheese pull. I'm sharing my favorite types of cheese for superior sandwiches!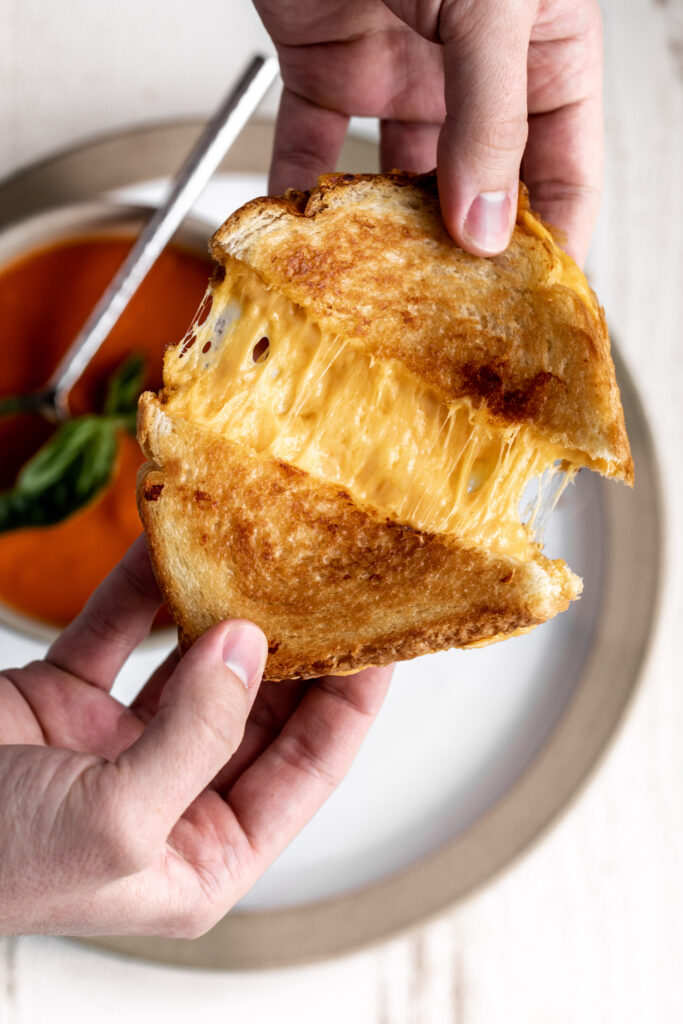 Tips for Perfect Grilled Cheese
How do I get such an even golden, crispy crust on my grilled cheese with a melty inside?
Mayonnaise & butter. The key is spreading mayonnaise on the outside of each piece of bread! Don't knock it until you try it! The grilled cheese is then cooked at a low heat in butter until perfectly golden brown and crisp.
Low heat. Cooking the sandwiches at a low heat ensures the cheese melts at the same rate the exterior browns. You don't want a crisp outside with cold cheese inside.
Shredded cheese. Using shredded cheese or thin slices of cheese (if you're using a softer cheese) melt faster ensuring a quick melting time. I recommend buying a block of cheese and shredding it yourself. Bags of shredded cheese can sometimes contain additives that keep the shredded cheese separated in the bag but can hinder melting.
The bread. Use slices of white bread for a classic grilled cheese with a light and fluffy interior or a crusty loaf like sourdough for a crunchier exterior. I like a sturdier bread for a more complex grilled cheese.
The pan. I like to use a pan that evenly conducts heat like a cast iron skillet or non-stick sauté pan to perfectly toast bread while melting the cheese.
My favorite formula for grilled cheese comes from the tv show, Jane the Virgin. The main character says the perfect grilled cheese is made with equal parts American cheese, yellow Cheddar and white Cheddar cheese. Since yellow and white Cheddar don't have much of a difference I opt for ½ American and ½ cheddar.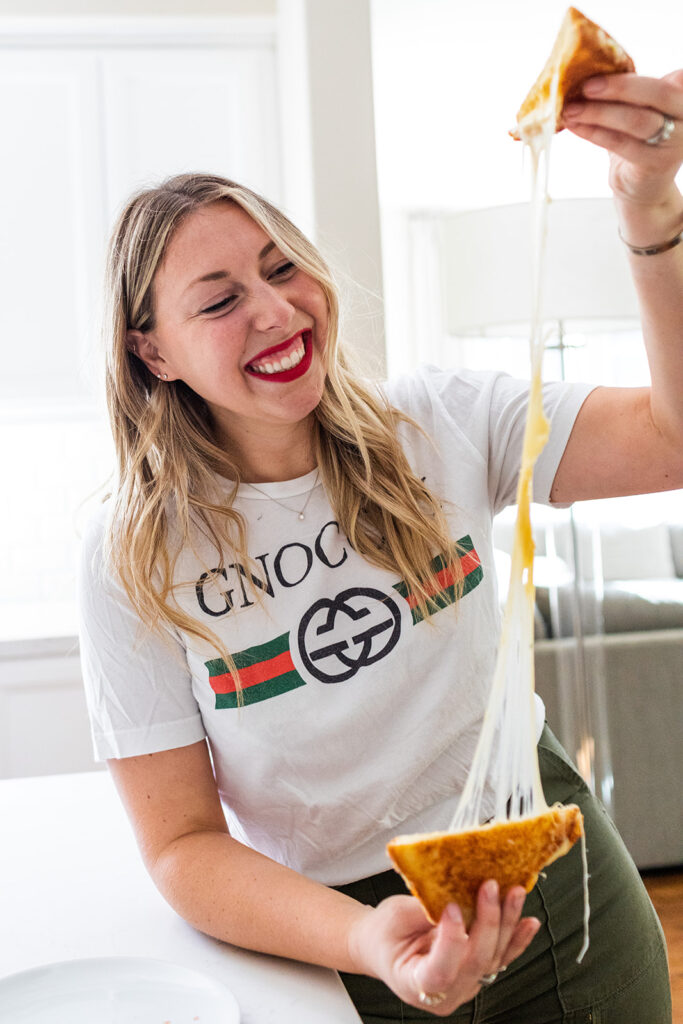 American cheese
American cheese may be processed but it is perfect for a classic grilled cheese. It has superior melting ability and gooey texture. From Kraft to Velveeta, the mild flavor is the great addition to a grilled cheese, plus they are pre-packaged and portioned in individual slices for easy layering. Fun fact: the process used to make American cheese was actually developed in Switzerland to reduce waste when making other cheese.
Pair it with: I prefer to serve grilled cheese sandwiches filled with American cheese on their own without any additional fillings. Serve with a bowl of tomato soup for dipping or with a side of ketchup. Combine with Cheddar cheese or Monterey Jack for a more flavorful sandwich.
Cheddar cheese
While I am typically "team sharp Cheddar", this is one of my exceptions. Cooking with mild or medium Cheddar melts better than sharp which can turn oily and waxy. There is not a large difference in flavor between white and yellow Cheddar cheeses. The yellow variety includes annatto to create the yellow color.
Pair it with: Add some chopped pimento peppers for a pimento and Cheddar sandwich with a bit of Southern flair. Throw in some slices of tomato and strips of crispy bacon. Pickles on the side or sliced and added inside complement the rich, buttery sandwich. If you really want to go big, add some mac and cheese inside your sandwich.
Brie
I recommend using double cream Brie rather than a gooey triple cream Brie in your grilled cheese sandwich. Triple cream can become too melty – yes, there's such a thing. Brie provides a rich, mild flavor and gooey consistency.
Pair it with: Brie pairs really well with cured meats like prosciutto or shaved ham. Add a bit of fig jam or some chopped blackberries for a sweet and savory pairing.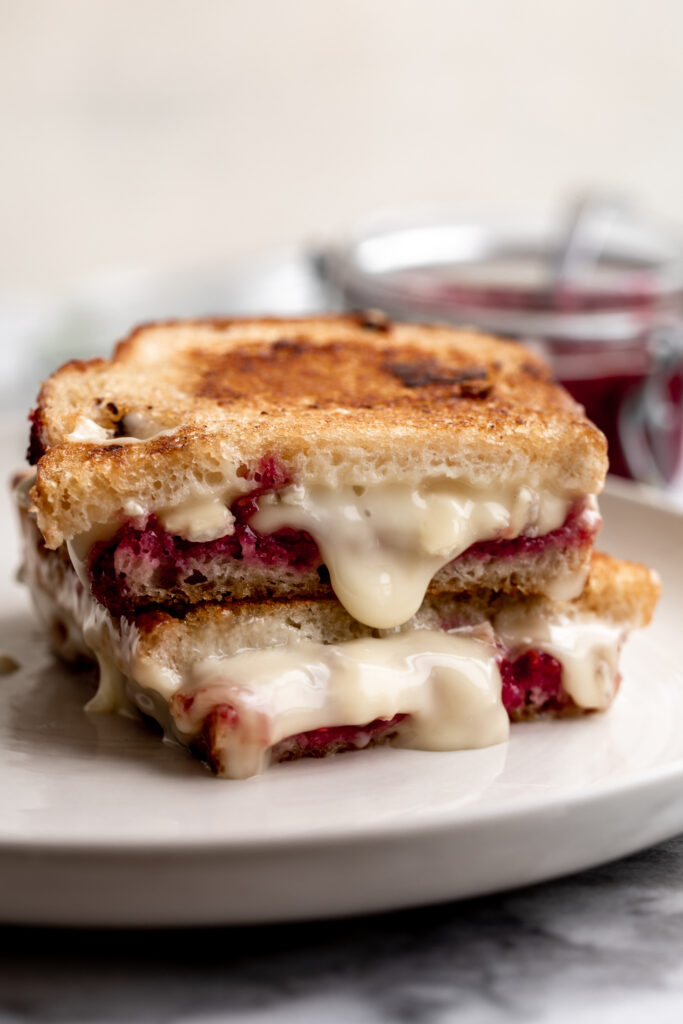 Monterey Jack cheese
Monterey Jack is a semi-hard, white cow's milk cheese. It has a mild, buttery flavor and melts well. I love making quesadillas with Monterey Jack exactly for that reason, and it translates just as well to a grilled cheese sandwich. Using this cheese will give you a great cheese pull when cut in half.
Pair it with: Combine Monterey Jack with Cheddar or American cheese for a great taste and texture. Add fillings like buffalo chicken, pulled pork, or chopped kimchi for a more complex sandwich. Try adding a few pickled jalapeños for a bit of spice.
Pepper Jack cheese
Pepper Jack cheese is Monterey Jack cheese with the addition of red pepper. The cheese has the buttery taste and creamy texture of Monterey Jack with the addition of some spice making it a great flavor combination.
Pair it with: I use Pepper Jack with fillings I would typically add to a quesadilla. That can be anything from grilled peppers and onions to leftover chicken tinga, pulled pork and other braised meat or roasted corn.
Gouda
This Dutch cheese, pronounced "how-da" in the Netherlands, is a semi-hard cow's milk cheese with a mild, caramel-like flavor. Aged Gouda is stronger in flavor – it is saltier and has a crystalline texture similar to Parmesan. Unfortunately aged Gouda does not melt as well.
Pair it with: While Gouda melts well, it also tastes great mixed with other cheeses. Chop up some roasted red peppers to add to your Gouda grilled cheese.
Havarti
Havarti, a semi-soft Danish cow's milk cheese is great for grilled cheese sandwiches because it melts well. It has a subtle flavor and is fairly similar to provolone or mild Cheddar. Like many semi-soft cheeses, Havarti shreds well and is very versatile.
Pair it with: Add some sautéed and chopped broccoli rabe or sautéed spinach and artichoke hearts to your Havarti grilled cheese. For a unique combination try my lobster and avocado grilled cheese recipe.
Fontina
Fontina is a mild, cow's milk cheese from Italy. It melts really well, creating that gooey, stringy cheese pull of your dreams. If you can't find Fontina, Gouda makes a good substitute.
Pair it with: I use fontina in my truffle grilled cheese recipe combined with sautéed mushrooms, truffle oil and arugula. Try adding a bit of honey or hot honey.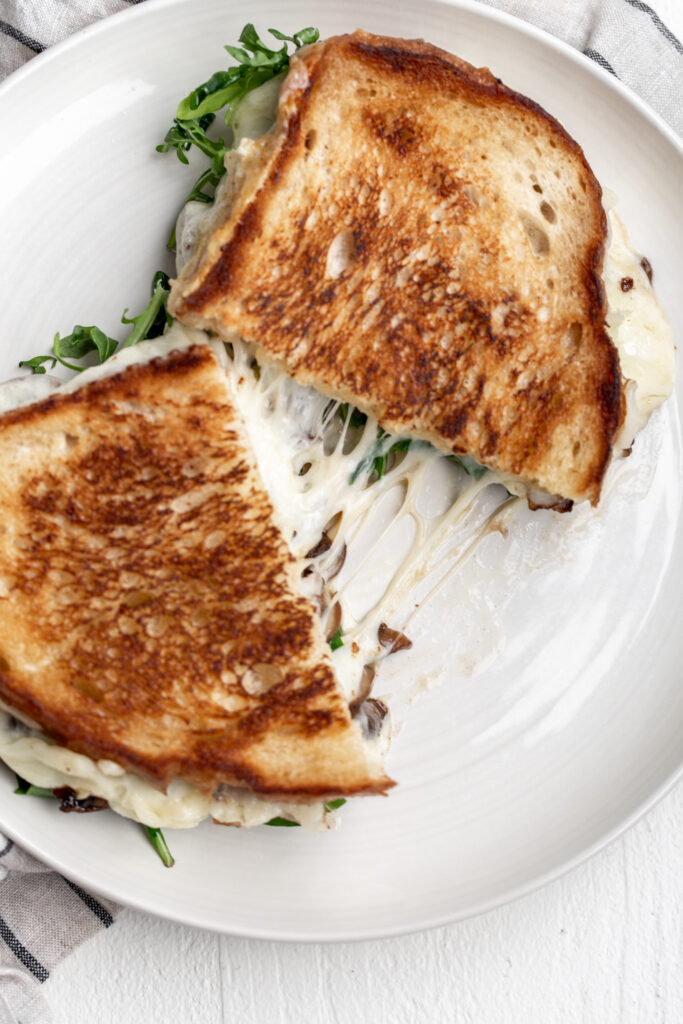 Gruyère
Gruyère is a hard cheese with a nutty, warm, sweet flavor from Switzerland. The fact that it melts well (due to a high water to oil ratio) mixed with its distinct flavor, makes it the perfect addition to a grilled cheese sandwich. If you can't find Gruyère, I recommend substituting with another Swiss cheese like Emmental in any recipe.
Pair it with: The nutty flavor of Gruyère pairs really well with shaved meats like ham – there's a reason it's included in the French classic, croque madame. I love pairing a Gruyère grilled cheese with fresh chopped herbs and caramelized onions.
Provolone
Provolone is a smooth, creamy, mild semi-firm Italian cheese. Think of it as a cousin to part-skim mozzarella. It's great for a melty stringy sandwich. Provolone is similar in flavor to fontina if you need to make a substitution.
Pair it with: Melt provolone with slices of tomato (try adding some confit tomatoes) and a spoonful of homemade pesto or chopped oregano and basil for a garlic bread-inspired sandwich.
Mozzarella
I prefer using part-skim mozzarella cheese for grilled cheese because the low-moisture, dry, rubbery texture melts better. Fresh mozzarella has a softer, more buttery texture and a higher water content so it becomes runny rather than gooey as the cheese melts.
Pair it with: Like provolone, it pairs well with tomato slices, fresh basil and balsamic glaze for a Caprese grilled cheese.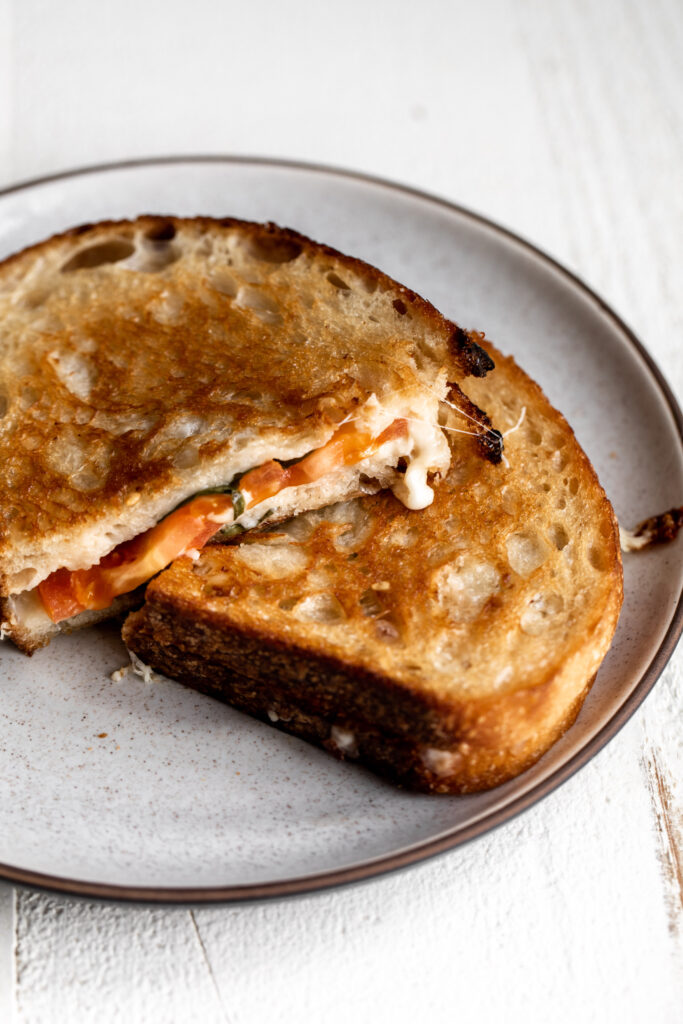 Blue Cheese
While it's not the most traditional grilled cheese it melts very well. Blue veined cheeses have a characteristic sharp, tangy, salty flavor, however, not all blue cheeses are the same. I recommend using a crumbled blue cheese like Gorgonzola. I don't recommend only using blue cheese on a grilled cheese – it will be much too overpowering. Instead, combine it with another cheese like Fontina or mild white Cheddar cheese.
Pair it with: Combine with another mild cheese and other ingredients like sautéed mushrooms, caramelized onions, thinly sliced steak or with slices of fruit like apples or pears. It also pairs well with salty bacon and sweet fig jam.