These simple toasts are inspired by a memorable dish at the popular New York restaurant, Bar Primi. I love the mix of sweet and salty resulting from the combination of light and airy whipped ricotta with hazelnuts and honey. These hazelnut toasts are a great appetizer to serve when entertaining during any season.
Whipped Ricotta and Hazelnut Toasts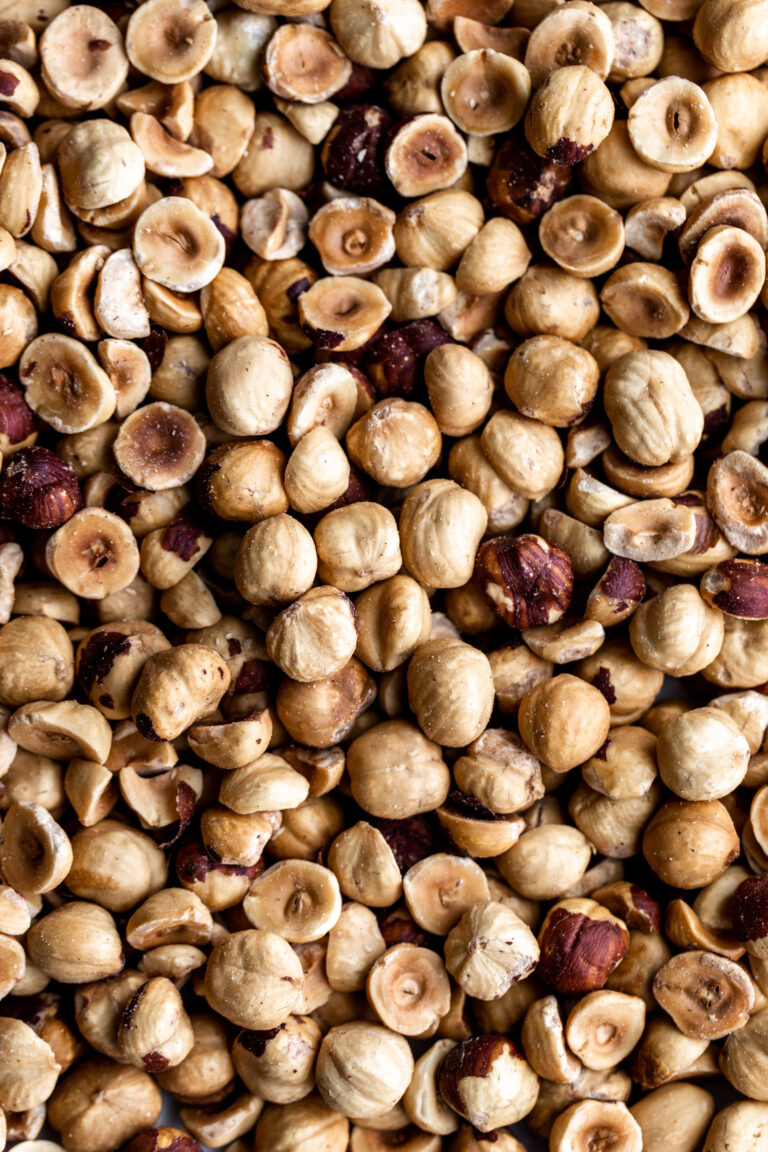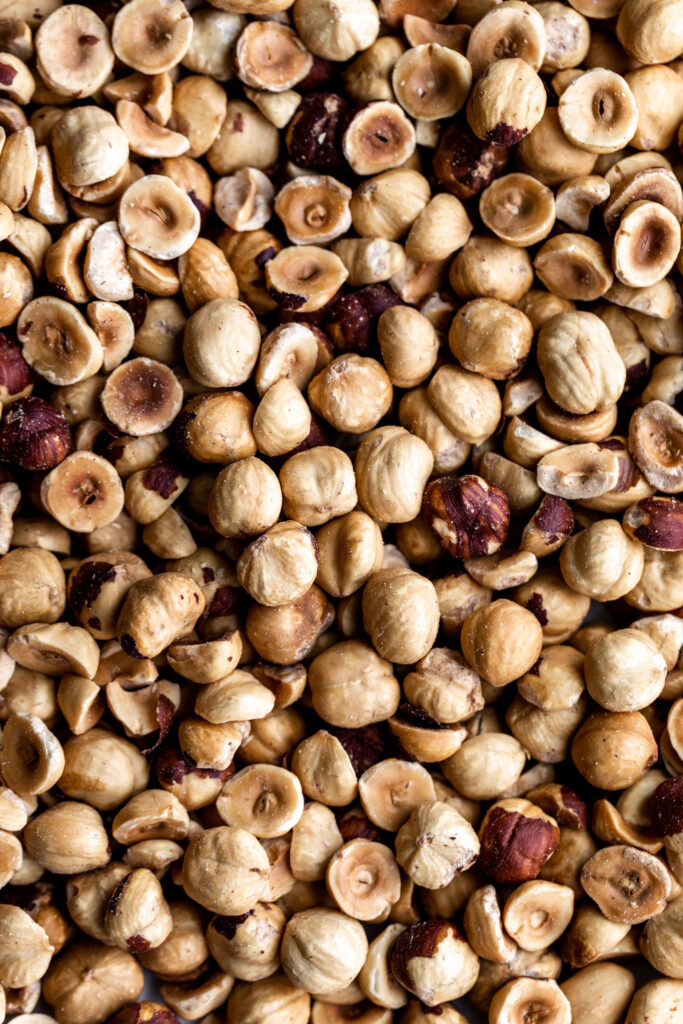 Hazelnuts have a moderate flavor; they complement the other ingredients without overpowering the other flavors in the dish. Rather than just toasting them,I take it a step further by making candied hazelnuts with butter, sugar, rosemary and a touch of salt. The mixture can be made ahead of time and stored for up to a week in an airtight container.
Rubbing the toasts with raw garlic after they are toasted and crispy gives the bread a hint of garlicky flavor without overpowering it. This method is inspired by the Tuscan dish, fettunta, where bread is grilled then rubbed with garlic cloves.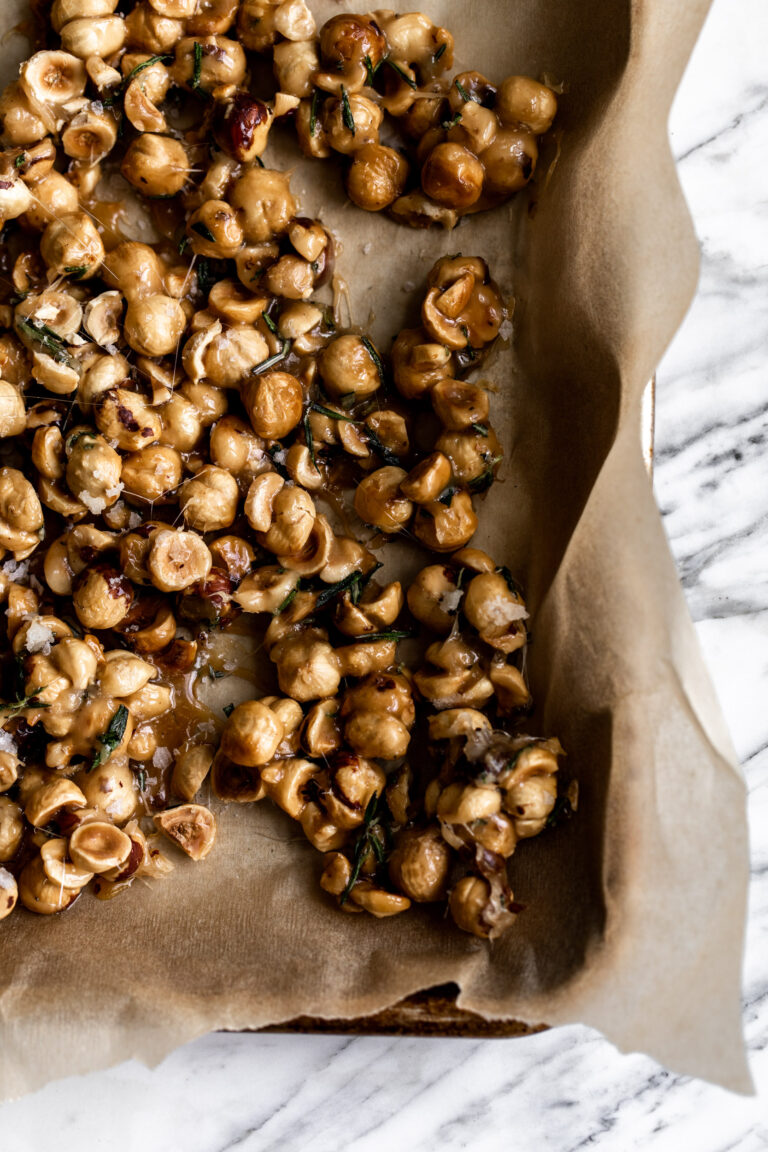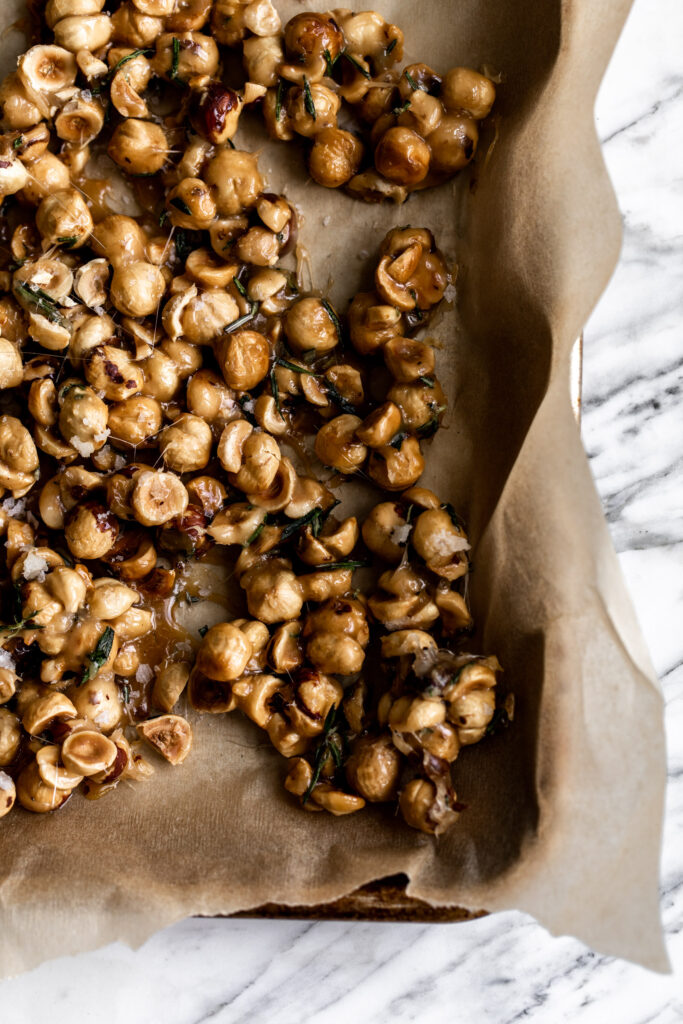 Why whip ricotta?
Whipping ricotta changes the texture of it, making it completely smooth and fluffy rather than grainy. This popular Italian cheese is made from the whey leftover from the production of other cheeses. It has a mildly sweet flavor and is extremely versatile. The whipped ricotta pairs perfectly with crisp toasts. For a more savory flavor profile I'd recommend this whipped spiced ricotta toast.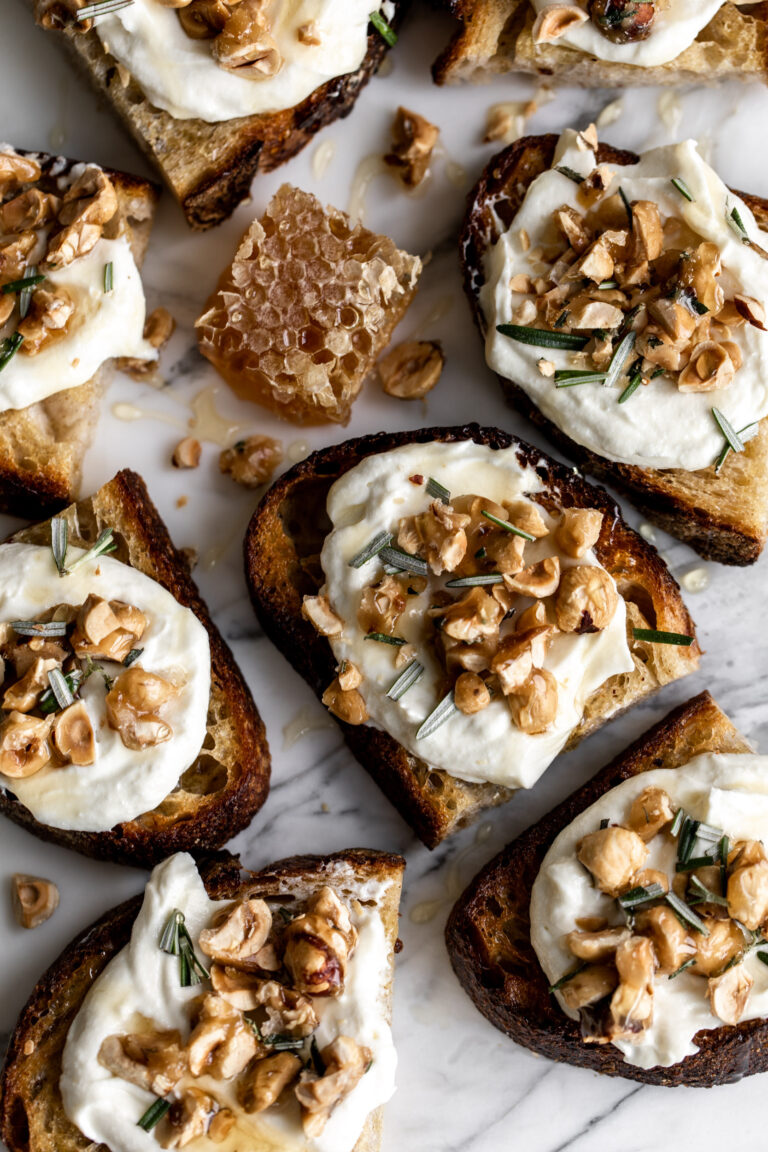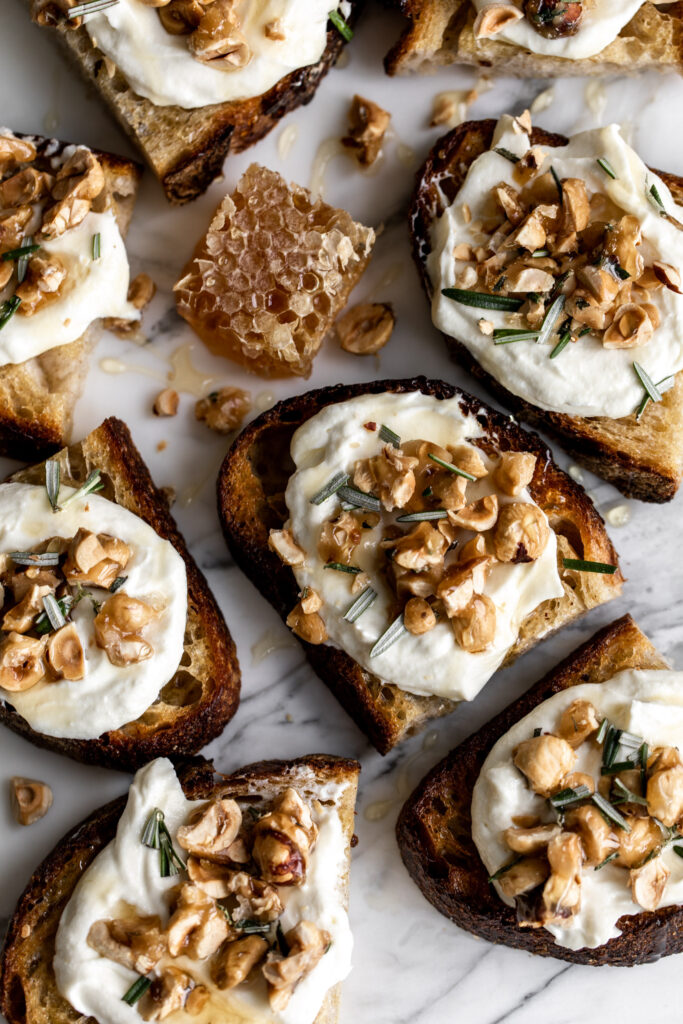 Ingredients for whipped ricotta and hazelnut toasts
Hazelnuts – Hazelnuts grow within shells which must be removed before consuming. Also referred to as filbert nuts, they are roasted to remove the papery exterior which is then easily rubbed off. In this recipe they are roasted, then candied in sugar with a touch of salt, butter and rosemary to balance the sweetness.
Rosemary – The fresh rosemary in this recipe is added to the candied hazelnuts.
Ricotta – Be sure to use whole milk ricotta for this, as the extra butter fat creates the best light and fluffy texture.
Crusty bread – I like using a crusty bread though you can also slice up a baguette for crostini rather than halved toasts.
Garlic – I always use fresh garlic in my recipes. Using jarred pre-minced garlic doesn't have the same flavor. It will have a much more bitter flavor that just seems "off" and can change the flavor of dishes. Pre-minced garlic also has additional ingredients like preservatives to keep it fresh longer which can also change the flavor. Take the few seconds to peel a single clove of garlic used in this recipe. For a shortcut I recommend buying the bags of pre-peeled whole cloves.
Truffle honey – High-quality honey infused with slices of truffle for a luxurious garnish on these toasts. If you can't track down truffle honey simply substitute regular honey or a mix of honey with a touch of truffle oil.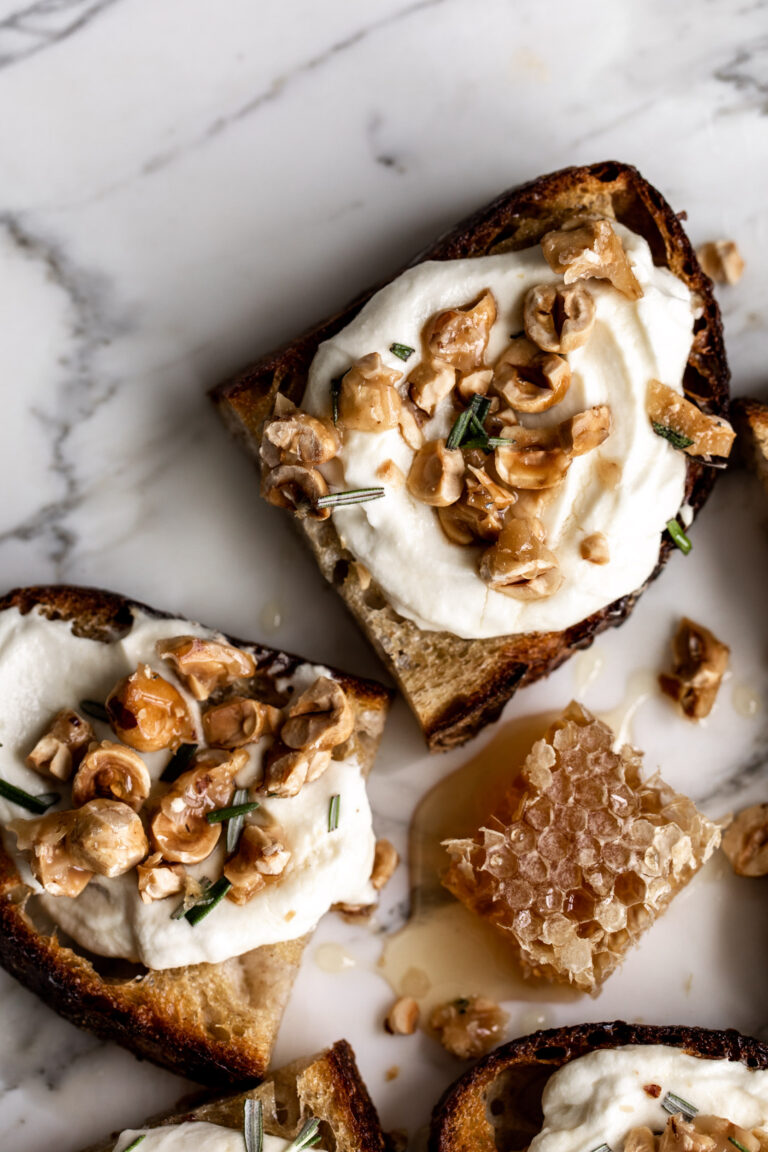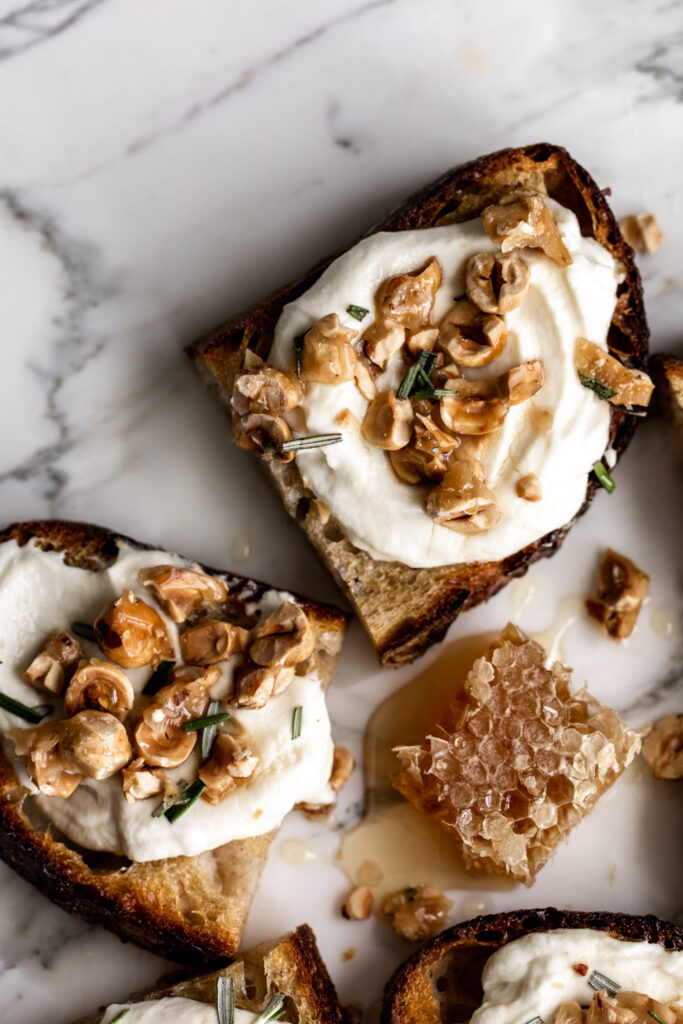 Steps for making whipped ricotta and hazelnut toasts:
Step 1:
Roast the hazelnuts and remove their papery exterior.
Step 2:
Candy the hazelnuts in a sugar and butter mixture, then combine with the rosemary and salt. Spread out the candied nuts to cool.
Step 3:
Make the whipped ricotta by adding the ricotta, olive oil and lemon juice to a food processor and blend until smooth.
Step 4:
Dip the slices of bread in olive oil and broil until crispy.
Step 5:
Rub a clove of garlic on each of the slices of bread.
Step 6:
Top with whipped ricotta and top with candied hazelnuts, and truffle honey then serve immediately.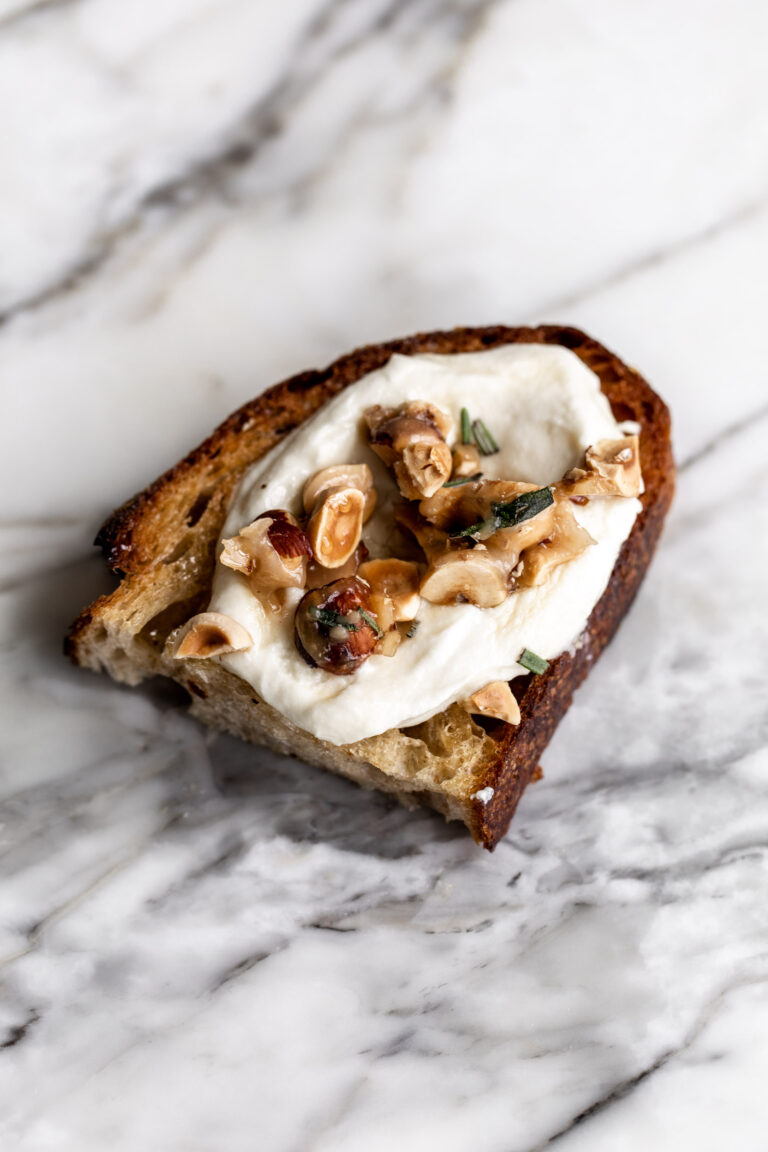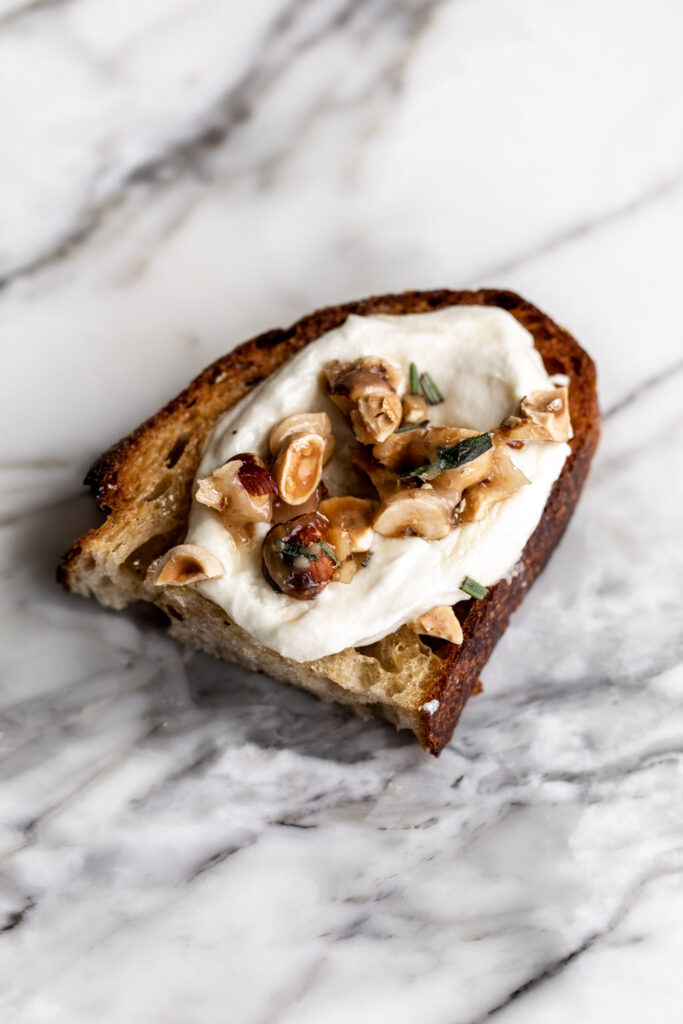 Whipped Ricotta and Hazelnut Toasts
For the candied hazelnuts:
½

cup

shelled hazelnuts

2

tablespoons

unsalted butter

¼

cup

granulated sugar

2

tablespoons

warm water

2

teaspoons

chopped fresh rosemary

½

teaspoon

flake salt
For the candied hazelnuts:
Preheat oven to 350ºF (180ºC). Spread the nuts in an even single layer on a rimmed baking sheet and roast, shaking the pan occasionally, until golden inside (break open to check), about 15 minutes.

Let cool slightly then wrap the nuts in a kitchen towel and rub to remove the loose skins then set aside.

Heat a small sauté pan over medium heat, add the butter and allow to melt. Add the sugar and 2 tablespoons water and cook, stirring constantly, until the sugar completely dissolves and the mixture turns a pale golden color, about 8 minutes.

Add the nuts, rosemary and salt and stir to combine and completely coat the nuts. Spread in an even layer on a parchment paper-lined baking sheet and let cool completely, about 20 minutes.

Roughly chop the hazelnut mixture and set aside.
For serving:
Add the olive oil to a shallow dish and dip one of the cut sides of each slice of bread in the olive oil, then arrange the slices, oil-side up on a baking sheet.

Broil them just until golden brown, about 1 minute. Rub each slice with the clove of garlic.

Arrange the toasts on a platter and spread ricotta over the top. Sprinkle with the hazelnuts then finish with a drizzle of the truffle honey and serve.
DID YOU MAKE THIS?
TAG ME ON INSTAGRAM TO BE FEATURED ON MY STORIES! @cookingwithcocktailrings